Catch up on all the Suite Extension posts HERE.
It's been a while since I've shared a good old-fashioned furniture upcylce.
And I absolutely love the way this one turned out!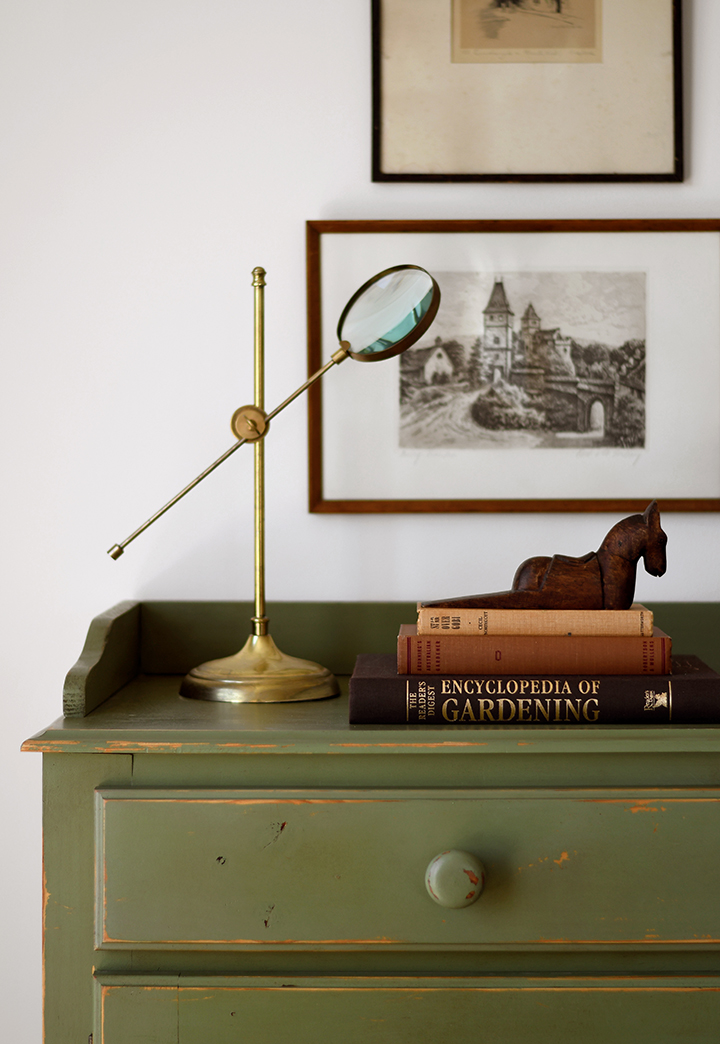 I'd been on the hunt for some kind of cabinet for my parent's suite extension for a while, something to act as a kitchenette extension of sorts – an item to provide additional storage for things like groceries and servingware.
I was really keen on something old with lots of character to off-set the fresh, new kitchenette, though most of what I came across was too petite or too expensive. It was time to start thinking more creatively.
So when I came across this dated pine hutch on Marketplace I could see the potential.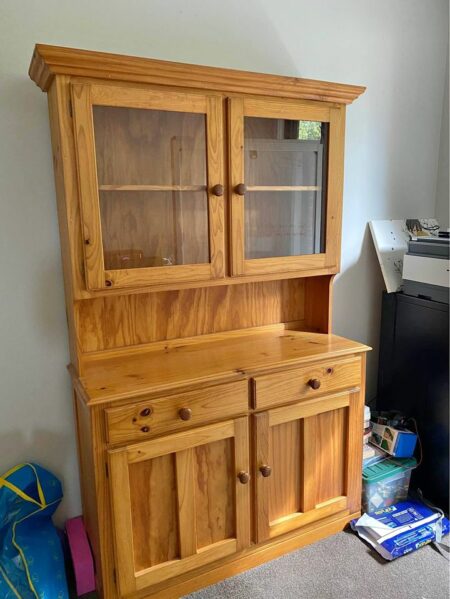 Priced at only $30, it had the right proportions and simple, primitive look I was after.
But…due to an air conditioning unit on the wall where I planned to position it, and the fact the nearby kitchenette already had open shelving, the hutch section wasn't needed.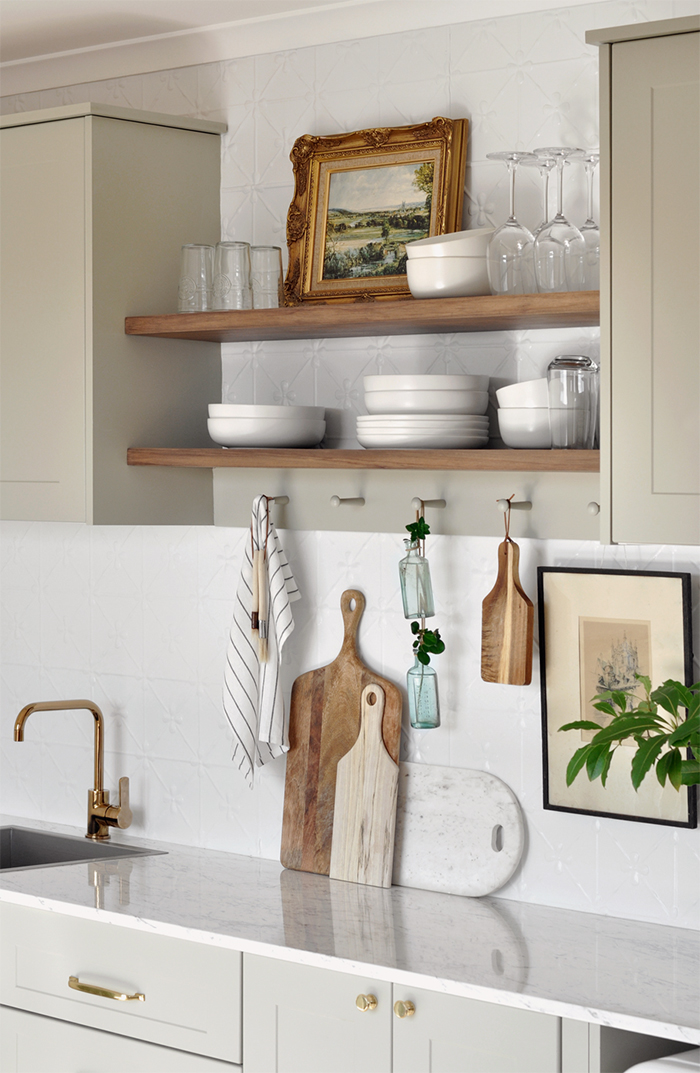 Most hutch units are constructed in two sections so are generally easy enough to dissect (many are even made to be dismantled for transport). Luckily that was the case in this instance so removing the top portion was quick and simple.
It's at this point I should apologise for my lack of photos. This project was undertaken during my blogging absence so I didn't capture it in detail. It was actually a rather hurried makeover done in anticipation of my sister's family moving in to the suite extension. Although I completed it over a year ago it wasn't until this week I actually hung the art and styled it properly which really brought the space to life!
Although I wanted this piece to be quite basic and unassuming, I also wanted it to be somewhat unique.
So, after removing the hutch section, we added some trim to the base to create a more prominent plinth (just so it wasn't so straight up-and-down – if that makes sense?), along with a raised apron to the top.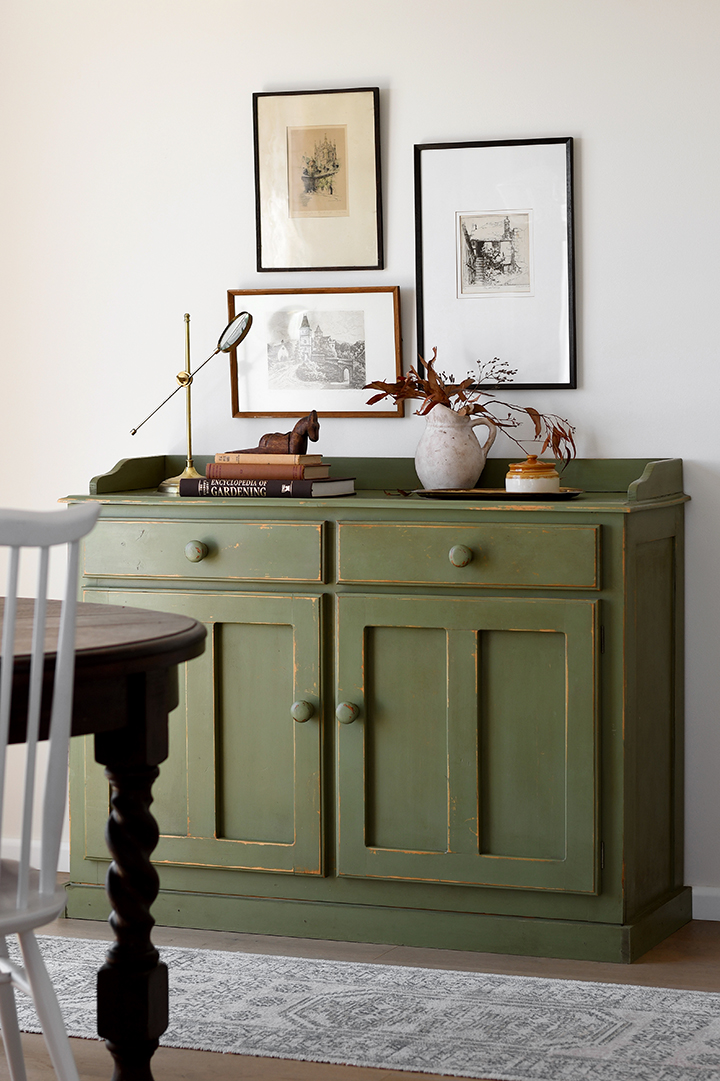 I love the way the apron gives it a 'servery' type feel.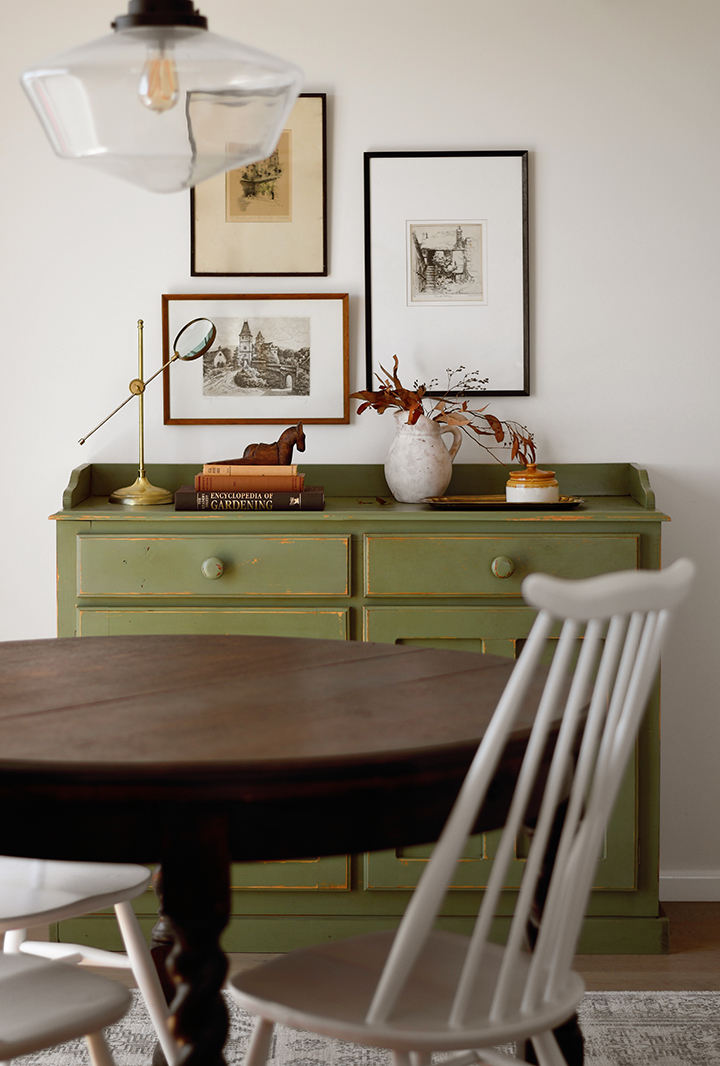 Both the plinth and apron were made from left-over pine we already had. They were simply cut to size (for the sides of the apron we used a jigsaw to create the curves) then glued and screwed in place. It was super easy.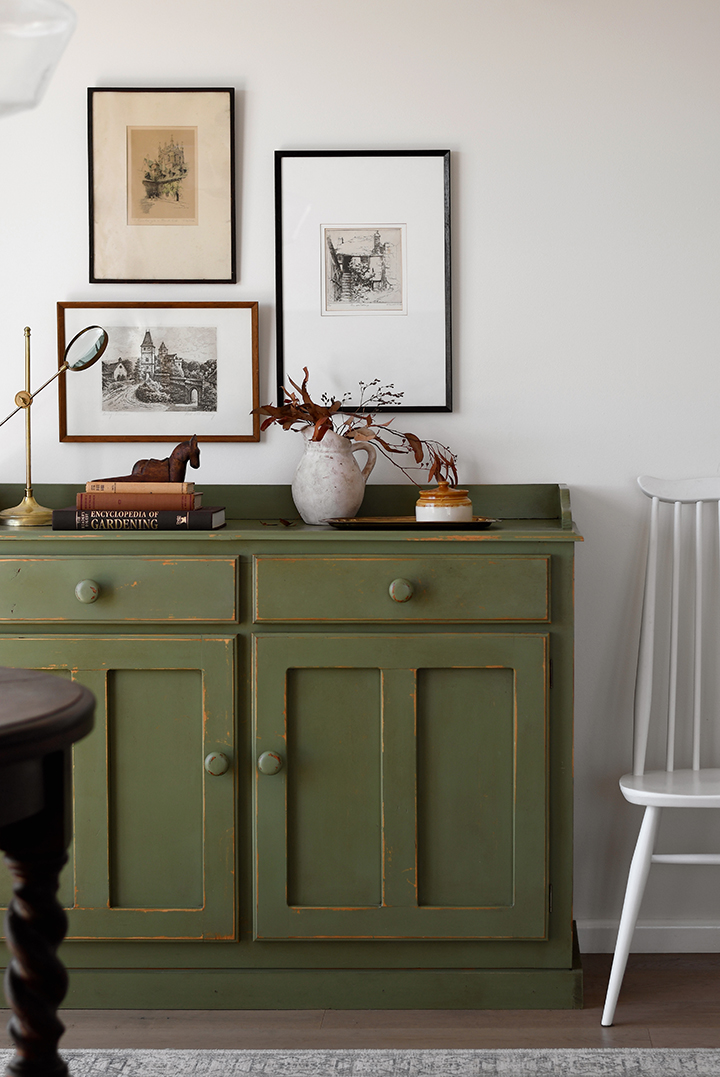 I always planned to paint this piece, and after contemplating the obvious choices of varying shades of white or black, I opted for a deep olive (this was a custom colour I made using paints I already had though it's very similar to Dulux 'Gunmetal Green').
I know, I know, you're probably sick of seeing me use green, but setting aside the fact it's my favourite colour, it really made the most sense here. It compliments the prominent undertone in the kitchenette cabinets, and works to reference the powder room walls (I'll be sharing that soon!) along with the bathroom stool I upcycled a few years back.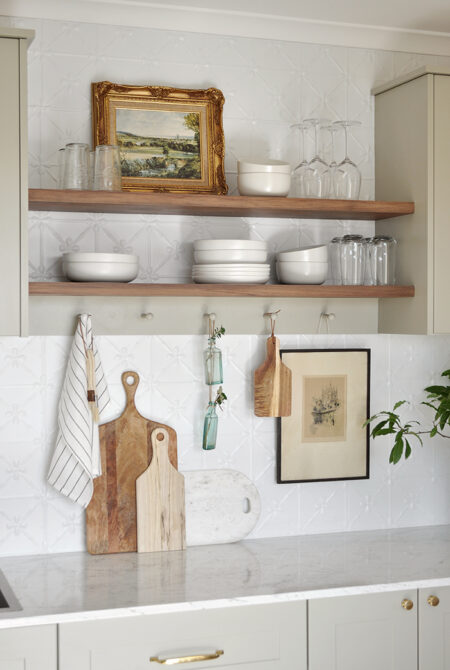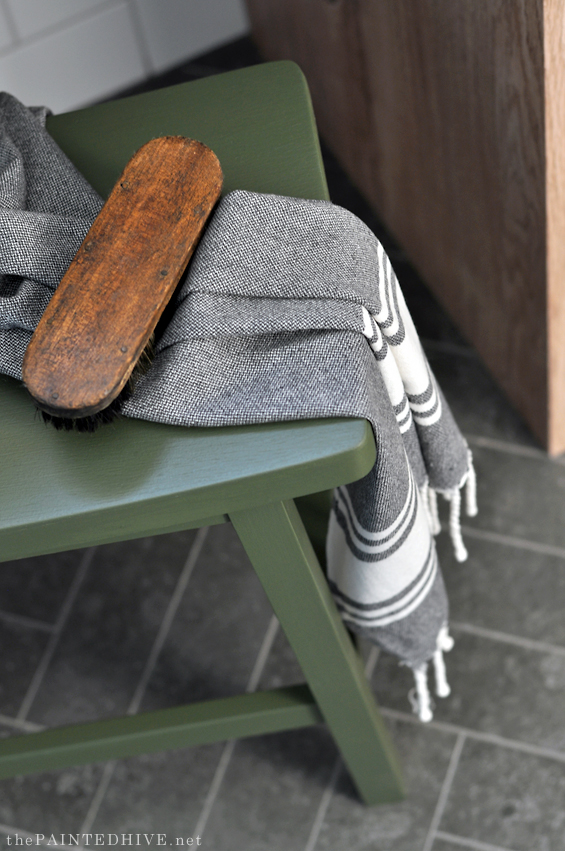 Teamed with the rolling hilltop views, and other splashes of green in the decor, it really helps create a sense of harmony in the suite extension overall.
As mentioned earlier, I wanted to balance the clean new kitchenette with something with character so I also decided to distress and dark wax the sideboard.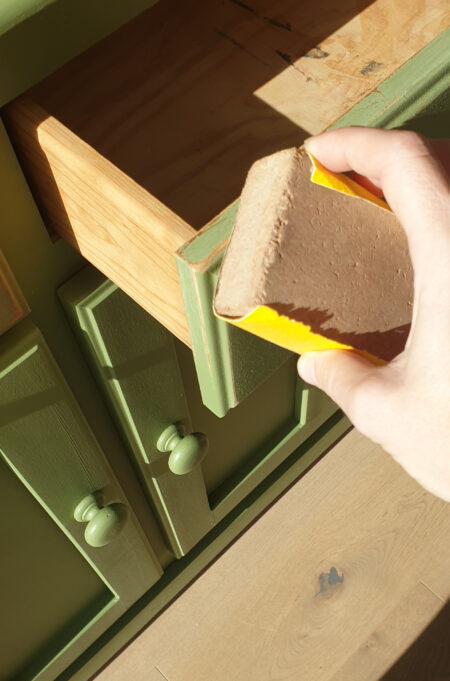 Yes, I realise distressed finishes aren't exactly "in" at the moment, and some of you are probably rolling your eyes right now, but I've never been one to worry about trends. I'm really happy with the way it came together and love the rustic patina.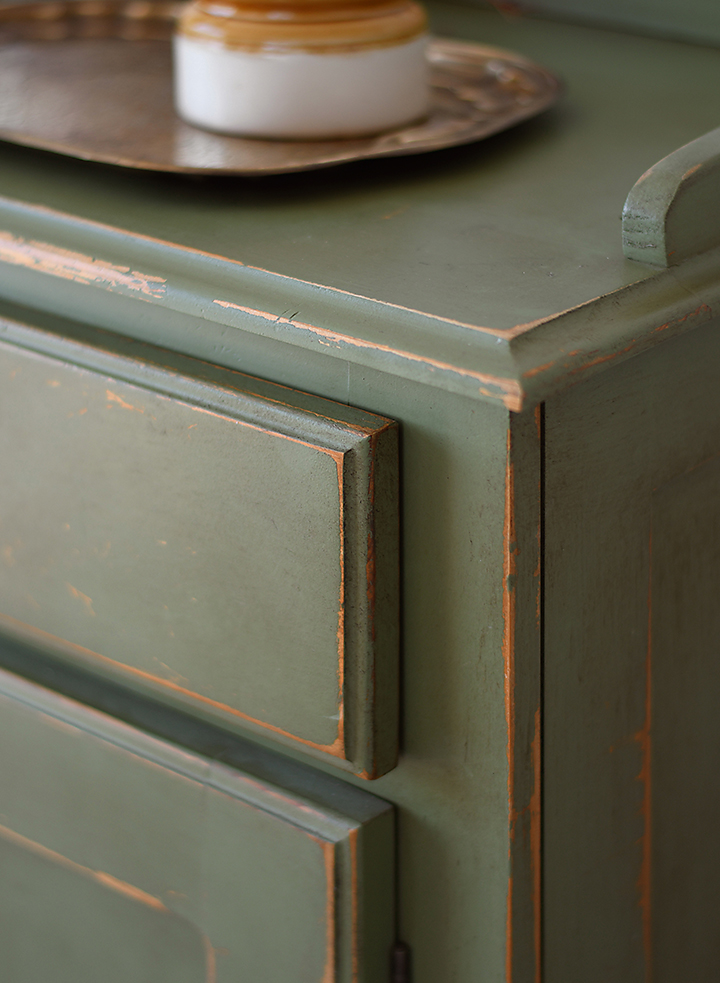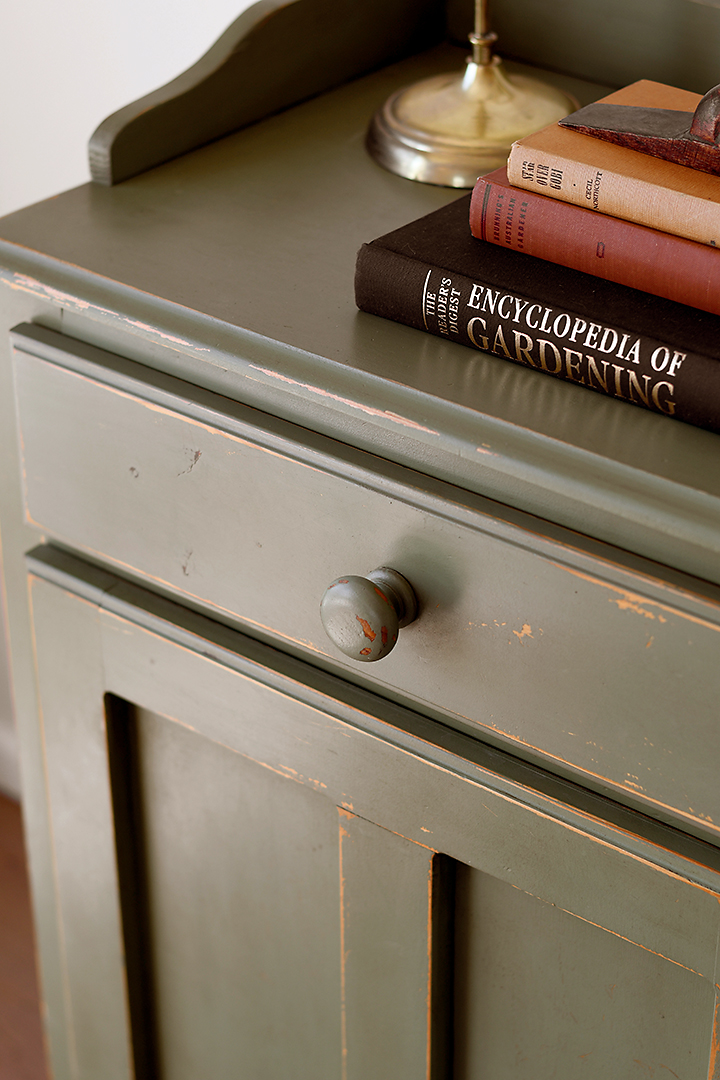 In terms of styling, I began with the collection of antique artworks then went from there. A hint of brass and some books (as per normal) then, rather unusually for me, some dried brown leaves in place of the fresh foliage I generally opt for. I guess I figured the paint colour provided enough green!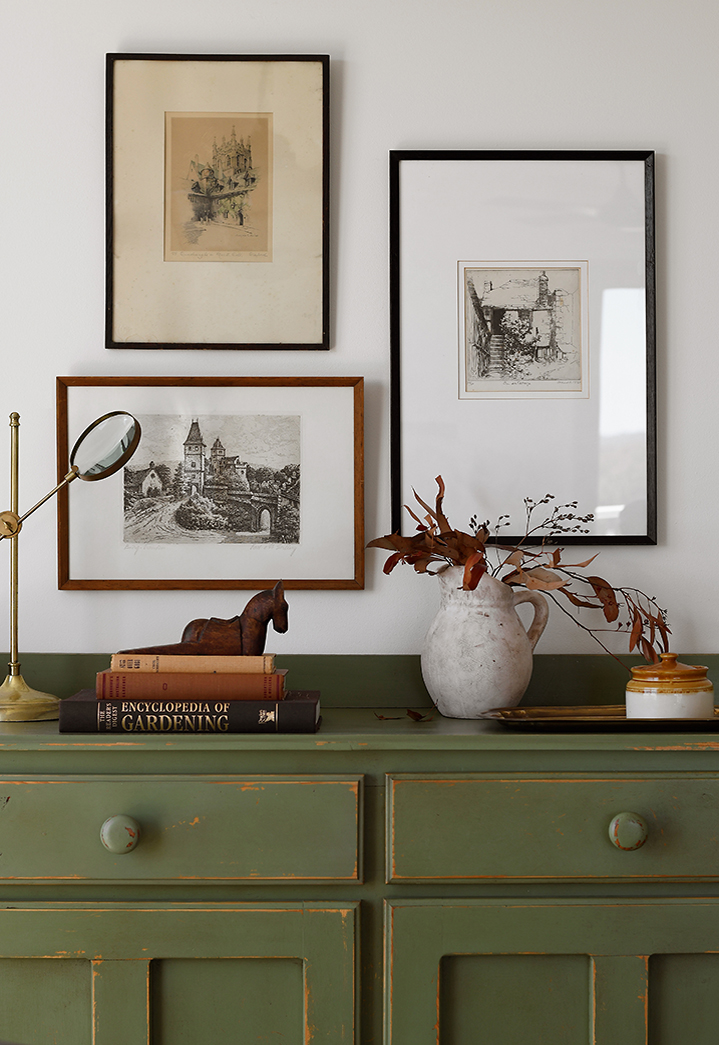 Here's the before and after…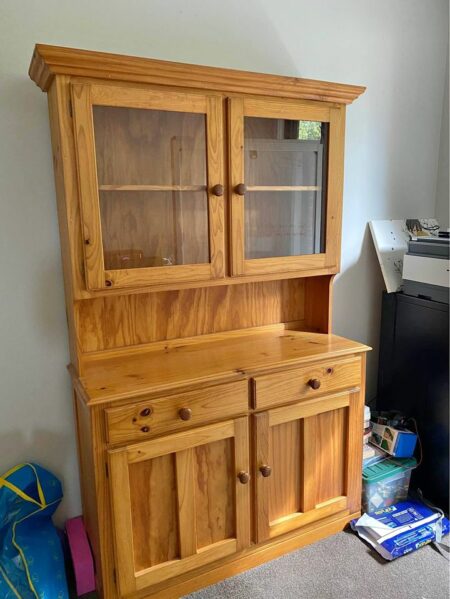 And here's a wider shot which gives a sneak peek of a few other pieces in the room…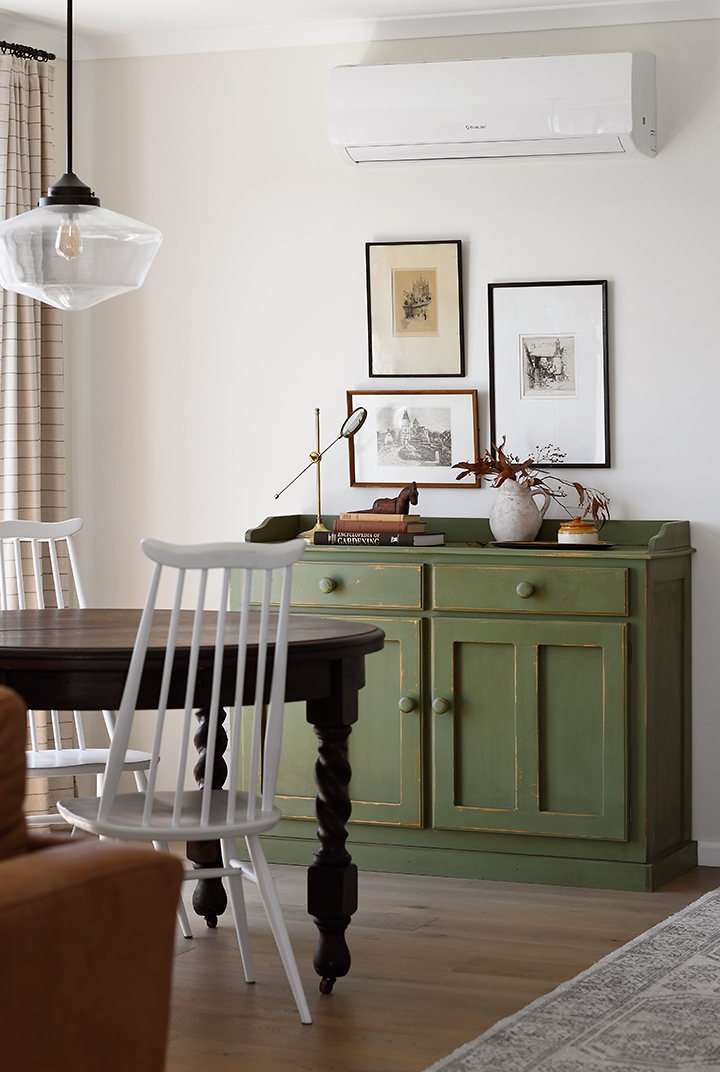 As always, feel free to ask questions if you're after more info about the process or any featured items.
Catch up on all the Suite Extension posts HERE.