If you're not new here you might be wondering just what's going on with my previously blogged about home office space.
Well, between scrubbing breakfast cereal off my walls (no-one warned me that, once dry, milk and weetbix actually forms a NASA-grade adhesive) and all of life's other rigmarole, the room has actually been slowly evolving and is finally nearly done!
I'm looking forward to sharing it soon, along with dedicated posts for a few of the remaining projects, though whilst I complete them, I thought I'd work simultaneously on a little revamp of my less-demanding entryway.
I don't have a proper before before shot of my entryway (as it was when we first moved in) so just imagine a boring un-dressed space with dirty beige carpet, a dirty green wall and dirty brown trim. It's teeny-tiny (as evidenced by the floor plan below, it's virtually swallowed-up entirely once the front door is opened) though there is just enough room for a little vignette to help give the space its own welcoming identity.
I first shared my entryway back in 2010 – not long after I began blogging, when I was still using a pocket point-n-shoot camera and had no idea what a digital SLR even was.
There was nothing wrong with it (you may even prefer it 'before') though as is the catalyst for most of my re-decorating, I just wanted a change, in this case – a move away from the rustic, coastal vibe to something a little more classic and refined.
We rarely use the front door as our main entrance so there's little need for practical paraphernalia (such as coat hooks, hat stands, mail dumping drawers or key collecting dishes) which gave me free reign to focus purely on aesthetics. Because it's such a small space it is awkward to photograph so please excuse the lack of perspective. Anyhoo, here it is now…
After a long search I found the sweet antique barley twist table on eBay and it was just what I'd been looking for. As can be seen in the above floor plan, the front door swings open to leave a petite gap between the adjacent wall so I needed something suitably narrow and the proportions and style of the barley twist table were just perfect.
I always get questions about my wallpaper. I put it up about five years ago, long before I started blogging, so sadly it never occurred to me to keep a record of the brand or design. All I can recall is that I purchased it from a Bristol Paint Centre and at the time it was around $45 a roll (at the low end of the price scale). I assume that by now it's likely discontinued.
I already owned the jute rug. It was initially intended for use in a different room though it never quite worked in there so I decided to try it in the entry where it is surprisingly perfect. When I originally bought the rug (for its intended room), I couldn't find one with the dimensions I needed, and after contemplating – then dismissing – various methods of making my own, I decided to have one custom made (argh, I know, the term 'custom made' makes me flinch too, though in this case it's not nearly as scary as it sounds). Because the rug is quite narrow I negotiated to have it made from an off-cut that was left-over after a carpet installation (rather than having it freshly cut from a new roll). I saved over $100!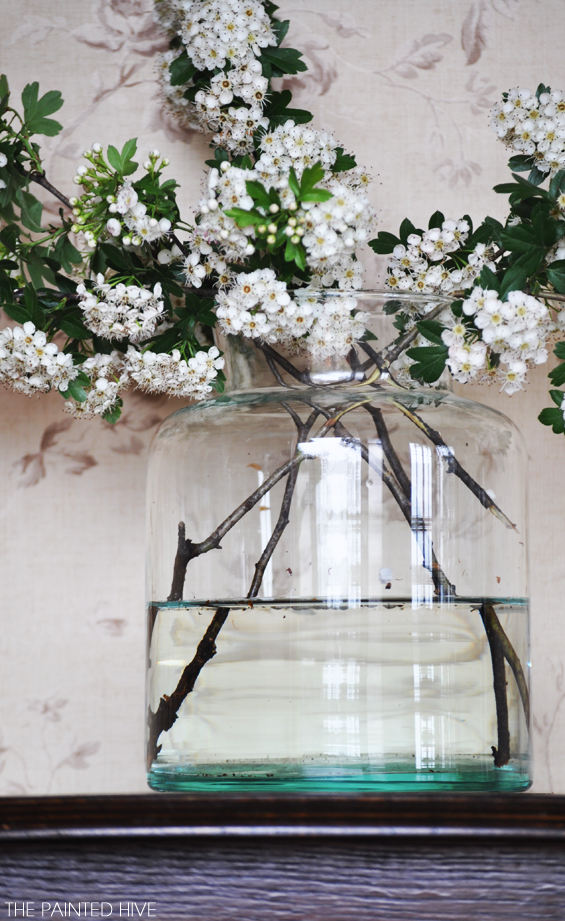 The mirrors are encased in cheap vintage frames I found at charity stores. I replaced the original artworks with mirrors I had cut by a local glazier. Don't dismiss having mirrors cut because you think it might be too costly. My mirrors were only $5 each! Add that to the few measly dollars I spent on the second-hand frames and that's two pretty thrifty pieces of wall decor!
Given it's mid-Spring here down-under, I couldn't resist filling my oversized glass canister with apple blossom branches, though ordinarily I might use some fresh flowers (lots of options via flowers delivery Sydney), or even a potted fern as a more permanent solution.
Although I've moved towards a more traditional, vintage look the space feels somehow new. I'm sure in the future I'll be nudged once again by the inevitable desire for change though for now I'm loving my revitalised entryway.