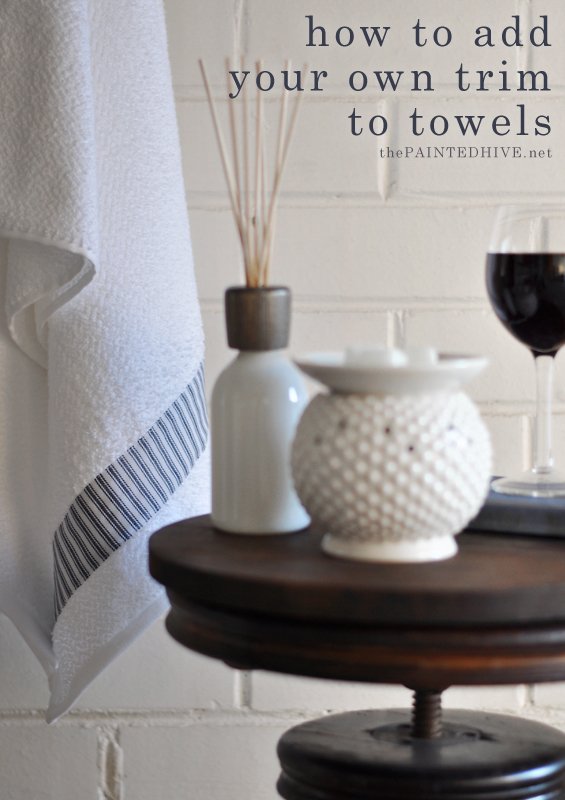 If you're anything like me, you probably have a stash of lovely left-over fabric scraps testing the seams of an old box somewhere.
There's heaps you can do with those pretty remnants though this particular project is something I've been meaning to try for a few years now.
And I finally got the perfect excuse!
When Circa Home invited me to share some inspiration around creating a sanctuary at home, the first room that came to mind was the bathroom*.
* Granted, if you too have adhesive offspring, preferably a lockable one…with some soundproofing…and maybe even a mini bar!
Not only because bathrooms are often thought of as potential havens, though also because I've been secretly working on a new bathroom re-do of my own (more on that soon – and some sneak peeks below!).
And what's a lovely bathroom without some lovely towels?
This is a simple and effective little project which is fast and affordable.
YOU WILL NEED…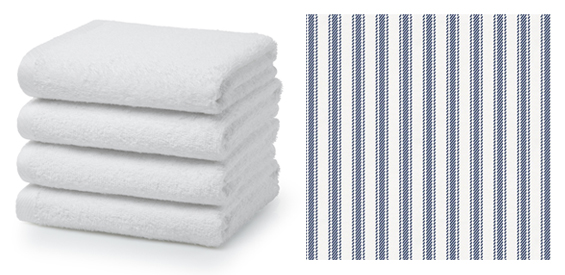 PLAIN TOWELS
Of course, you can use whatever you like. I went with classic white with a subtle herringbone weave. If you're extra adventurous, you don't even need to start with plain towels!
FABRIC, RIBBON OR BRAID/GIMP
As mentioned above, one of the best things about this project is the fact it's a vehicle for using your left-over fabric scraps. That said, you can of course buy new fabric or use ribbon or braid/gimp (ribbon or braid/gimp is an even easier alternative as you can omit cutting and hemming the long sides). From the start I envisioned pairing my white towels with timeless ticking. Luckily, I always seem to have a supply of ticking off-cuts lying around!
STEP 1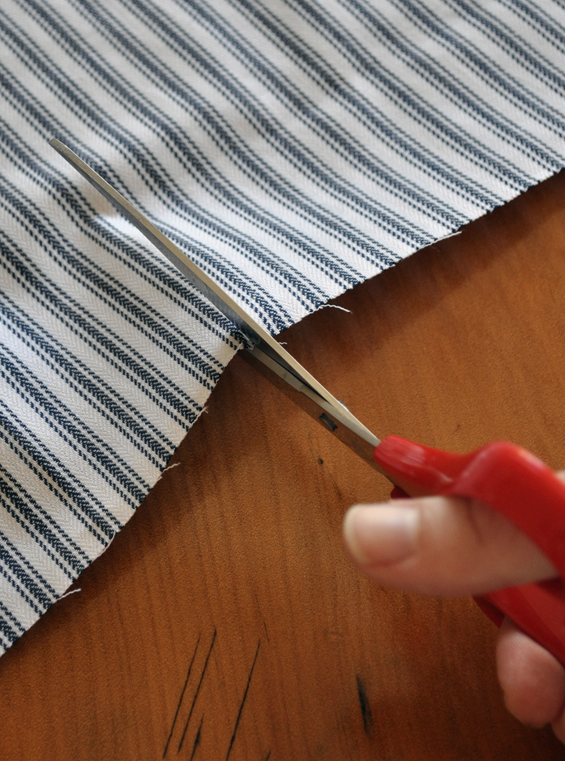 STEP 1 Measure, mark and cut fabric.
Decide how wide you'd like your decorative trim to be then measure the width of your towel to determine how long it needs to be. Add around 1cm/.5″ all around (this is the turn-under allowance) then mark and cut your fabric.
For example, I wanted my trim to be 6cm/2″ wide and the width of my hand towel was 40cm/16″. Taking into account the turn-under I needed to cut my piece of trim for my hand towel to 8cm/3″ wide x 42cm/17″ long.
Note: To avoid uneven future shrinkage (which may cause the trim to pucker, pull or sag) it's a good idea to launder the towel and fabric first. It also helps to iron them both following laundering.
STEP 2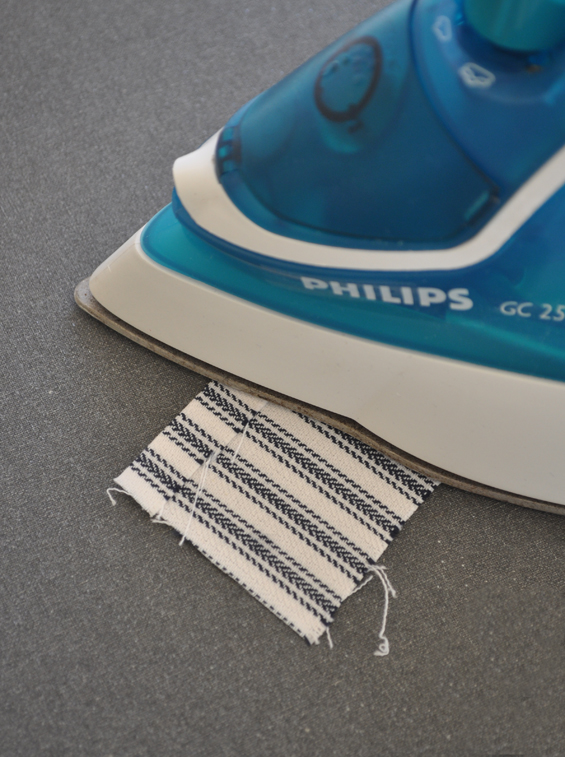 STEP 2 Fold in edges and press into place.
Neatly fold each edge in and press into place with a hot iron. Start with the long sides and finish with the ends. Use your towel as a guide to ensure the length is correct.
STEP 3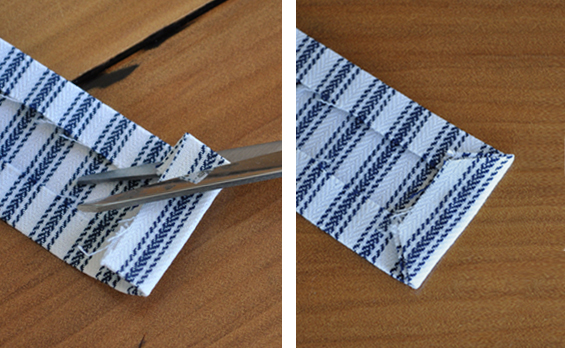 STEP 3 Cut off excess at corners.
Make a diagonal cut at each corner to create an envelope-like flap. This just removes bulkiness and makes for neater, easier sewing.
STEP 4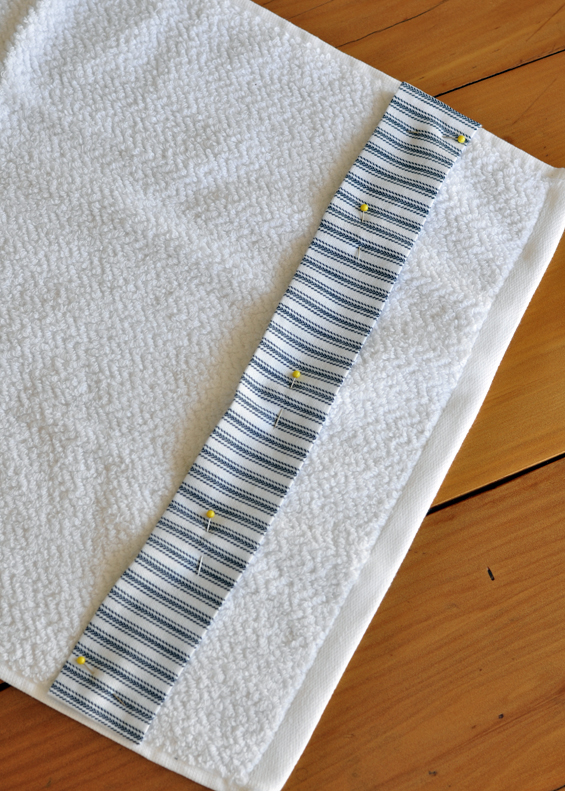 STEP 4 Pin fabric in place.
Position your piece of trim in place on your towel and secure it with pins.
STEP 5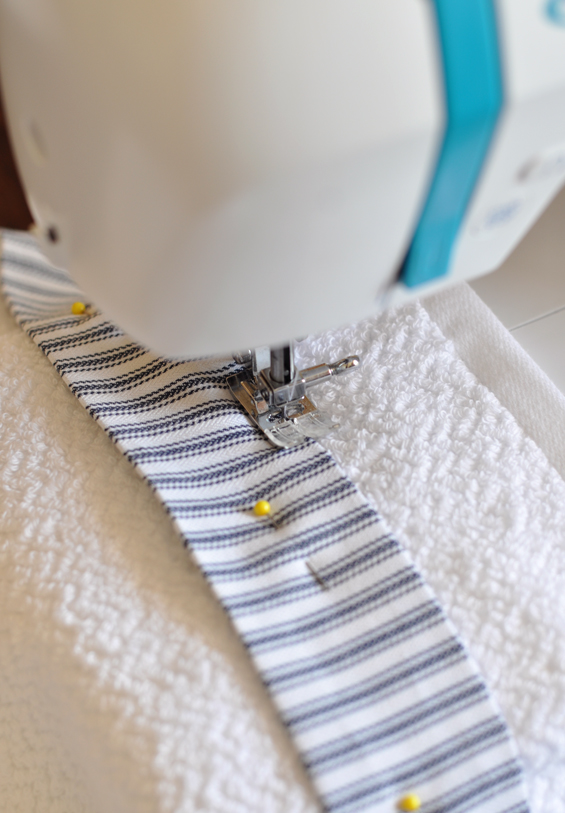 STEP 5 Sew.
Using a short stitch, carefully sew around the entire perimeter of the trim. Take your time and stay as close as possible to the edge of the fabric. Too much of a gap between the stitch line and fabric edge may cause the sides to lift slightly.
STEP 6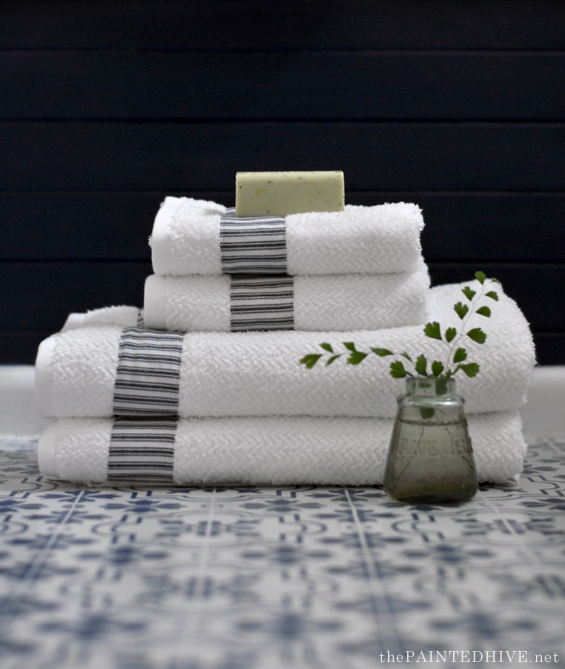 STEP 6 Done!
That little added detail makes such a difference.
Suddenly my inexpensive plain white towels look tailored and special.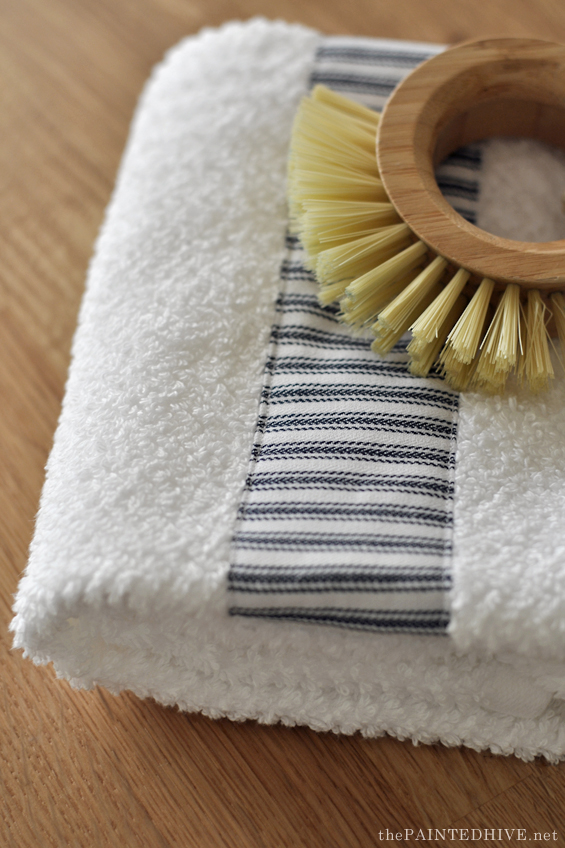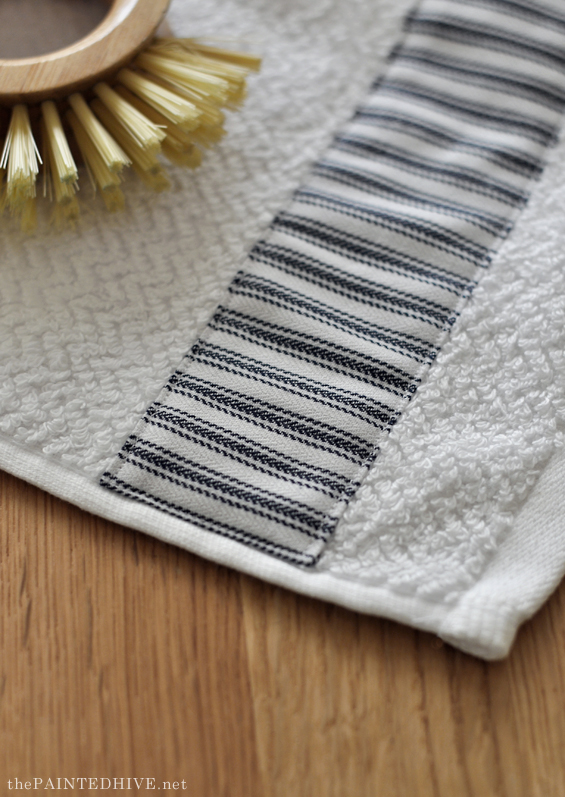 Just for fun I styled the towels in a few different ways incorporating some of the beautiful Circa Home products.
They look perfectly at home in my parent's recently made-over powder/laundry room…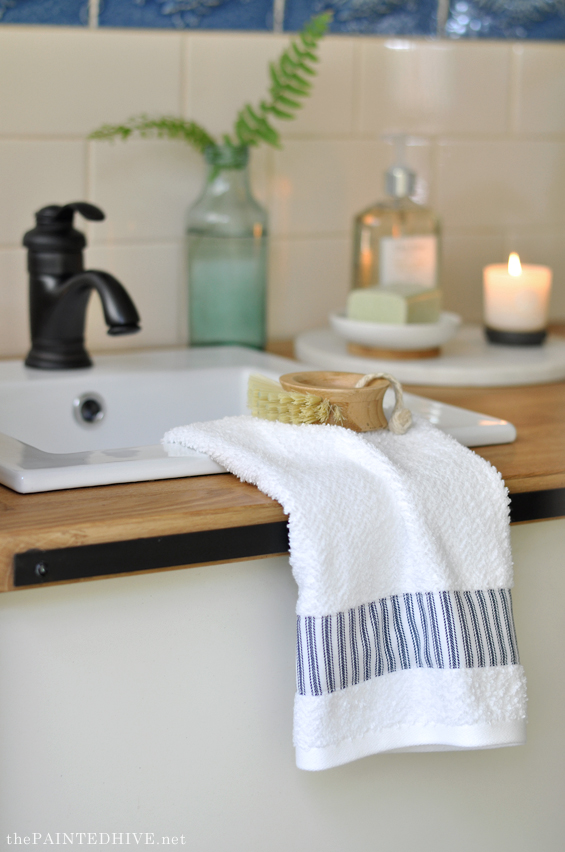 And I'm loving the Circa Home hand wash paired with their sweet candle. Not to mention the amazing aroma!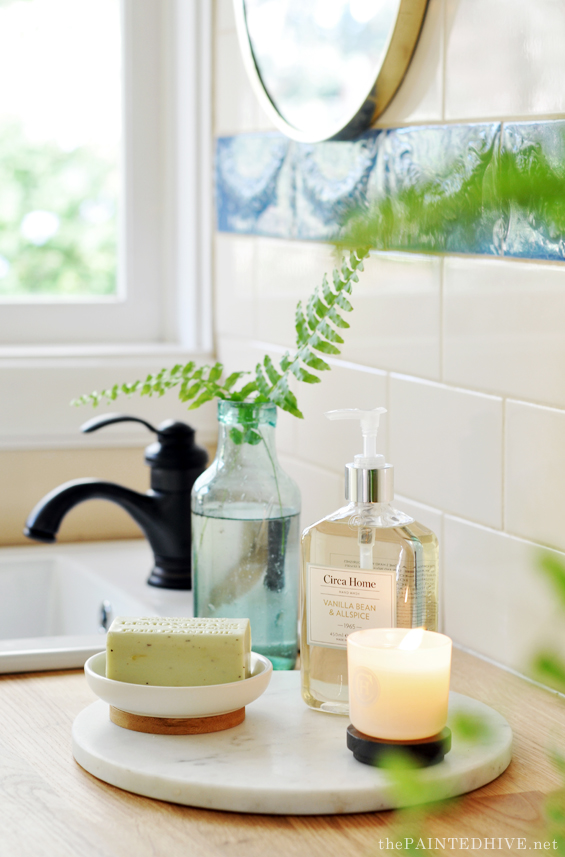 So simple, classic and understated.
In my second life I imagine I might have a trendy, minimal-meets-grungy bathroom kinda like this…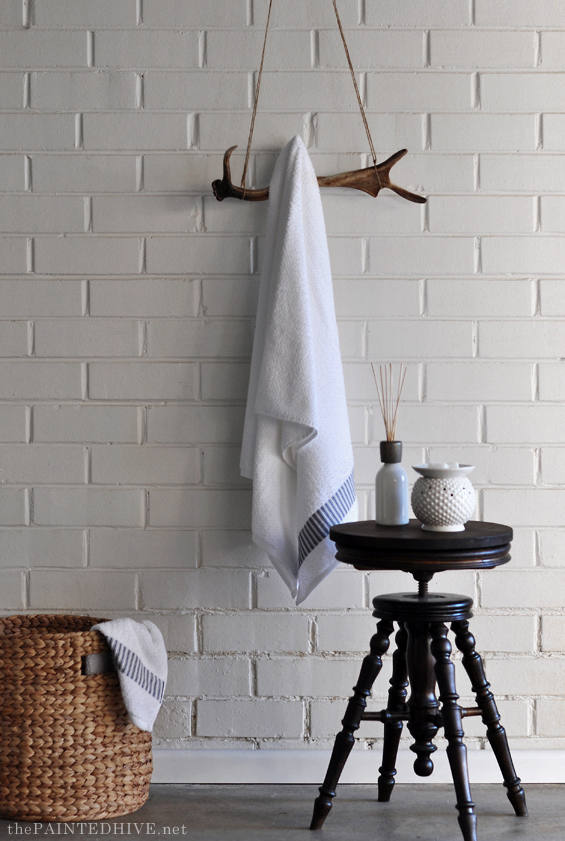 Complete with obligatory glass of red wine, handsome wax warmer and stylish fragrance diffuser.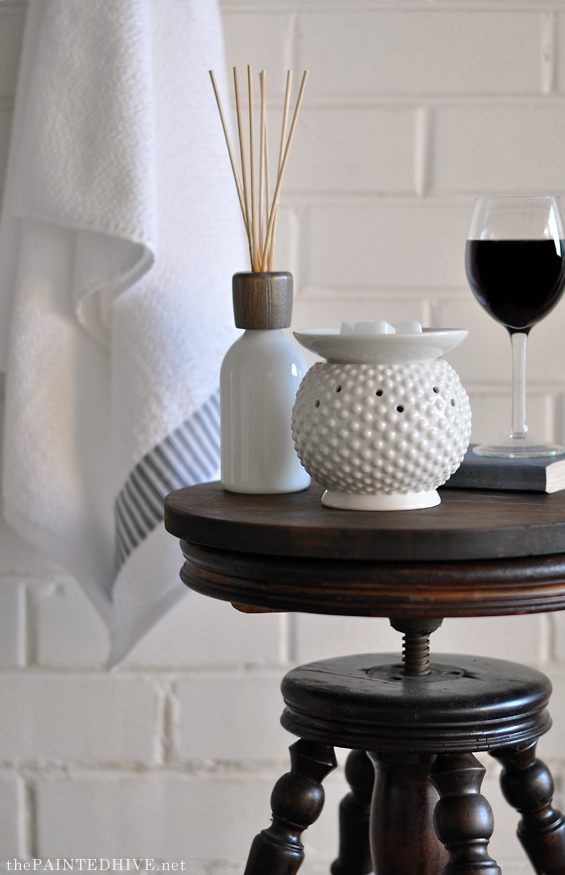 And here's a sneak peek of the bathroom I've been working on…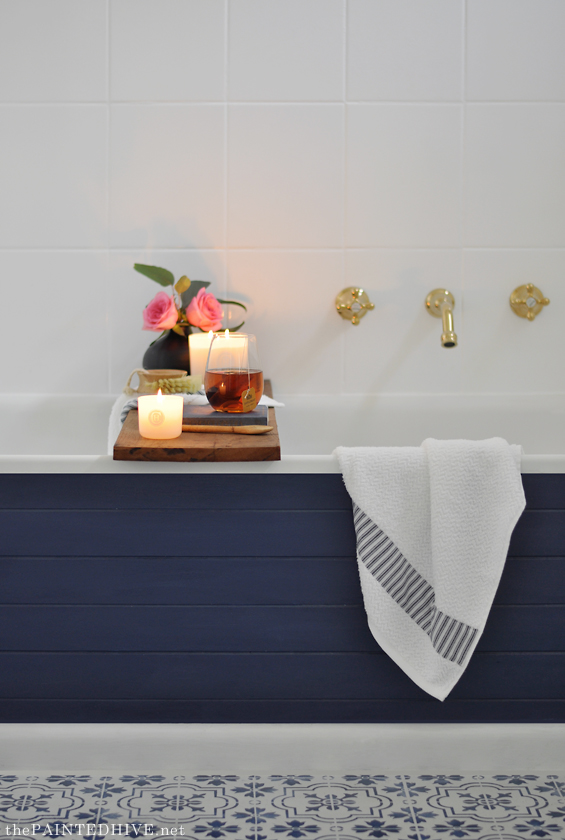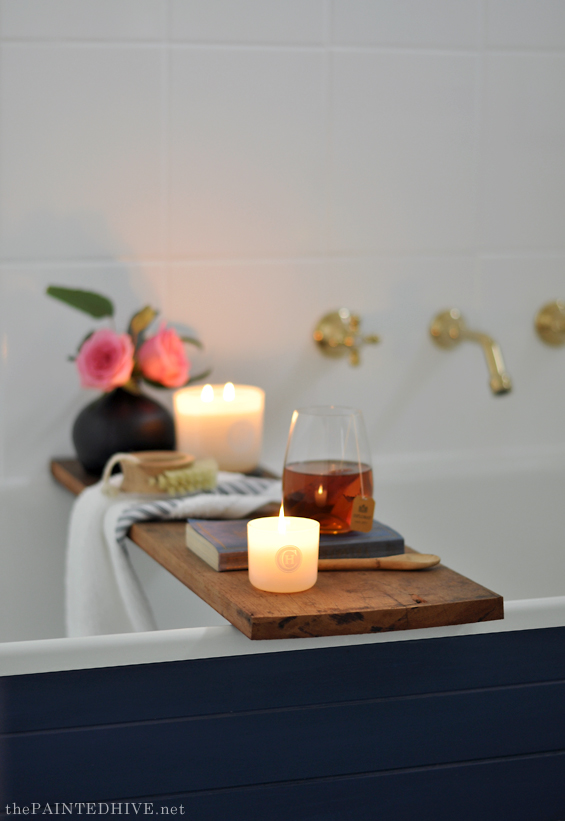 You will not believe the before pics of this space – I can't wait to share more!
I still need to purchase/DIY a ceiling light and some sconces though even incomplete it looks so, so pretty all dressed up.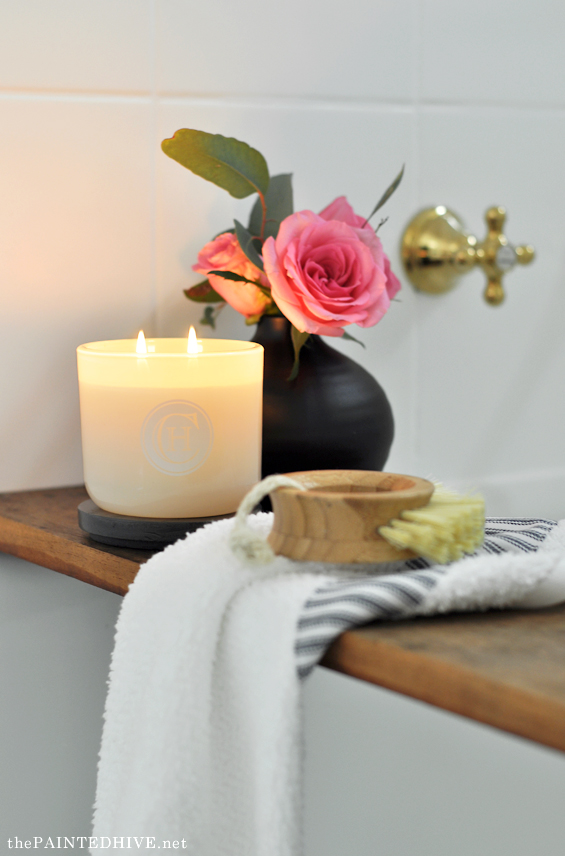 As a bonus it now also smells amazing too! Seriously, I've never been a huge fan of home fragrances, though after using the Circa Home products for this post figure I must've been doing something wrong all these years! The scents are just gorgeous – harmoniously subtle and uncomplicated with a pleasing linger.
What are your favourite home fragrances?
I must admit, just like my colour schemes I'm a neutral and natural gal so adore subtle, earthy fragrances. Vanilla Bean and All-Spice is an absolute go-to. Yum!
If you'd like to save this project for a later date, you can pin the image below.

Thank you to Circa Home for working with me on this project.