When I first became a Mum (almost two whole years ago now – yikes!) I felt the need to share with my readers my intentions regarding my blog, so I mentioned that whilst it was always my ambition to continue blogging ('cause I LOVE it!), family would inevitably be my top priority, so posts might be a little less frequent. At that time I was unsure what 'less frequent' meant though when I launched my newly designed blog (a few months back now) I set myself a little resolution to try and post at least once a week.
Now, I know many 'proper' bloggers who'd rather die than publish just one measly post in SEVEN WHOLE DAYS though for me it felt like a realistic goal, and whilst I was never completely confident I'd be able to maintain my measly weekly post, I was actually doing surprisingly okay up until about a fortnight ago when a few little occurrences derailed my flow.
You see, as I'm sure is the case with many Mummy-bloggers, post writing is pretty much reserved for during naps times and late in the evenings. Soooo…when your 20 month old decides to stop sleeping during the day and you finally concede, at nine months pregnant, that you're too tired and top-heavy to bother staying up beyond 9pm, your only designated blogging slots suddenly disappear – phoof!
Though, not all is lost! Whilst post writing time is currently scarce, I have actually been working on, and dreaming up, lots of exciting new projects which I'll be sure to share as soon as I can (some of these include the home office reveal, Charlotte's big girl's room, a few budget room transformations over at my Mum's place, easy bed skirts, a re-purposed glass ceiling light, a faux hide rug, another mini drawer hack, and some new free printable labels, large scale wall art and textiles – plus lots, lots more!).
Anyhoo, rather than waste a precious posting opportunity by blabbing on about why I haven't been posting (oxymoron?), I thought I should use some of my time to actually post about something home related…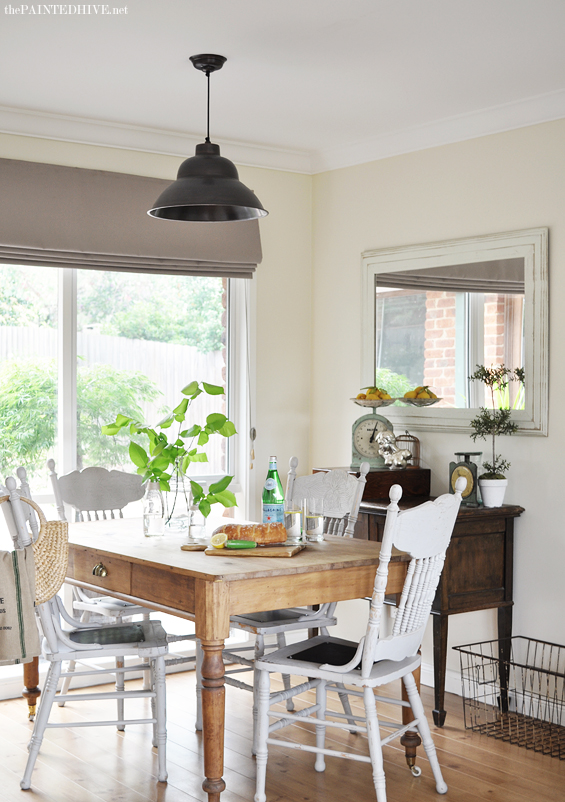 As mentioned in a few previous posts, a little while back I styled and shot some of my rooms for inclusion in a soon-to-be-released book. One of the spaces was my little dining nook.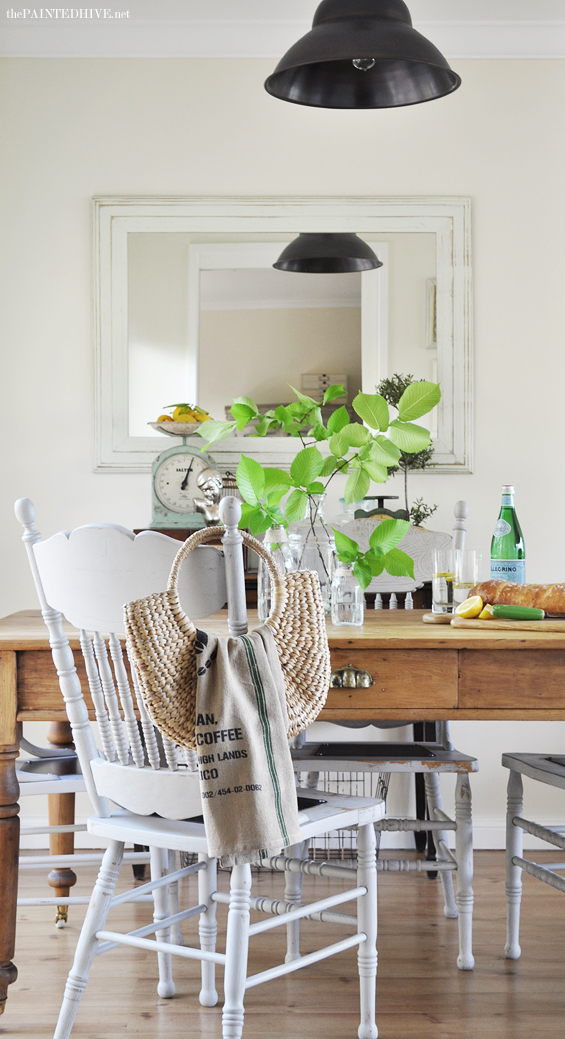 At the time of the shoot we were using the pressed-back cottage chairs I refurbished with some grey paint and metal seat plates. They have since been sold as they were actually a set of six – two too many for our little dining nook. We're currently back to using our galvanised Tolix replicas.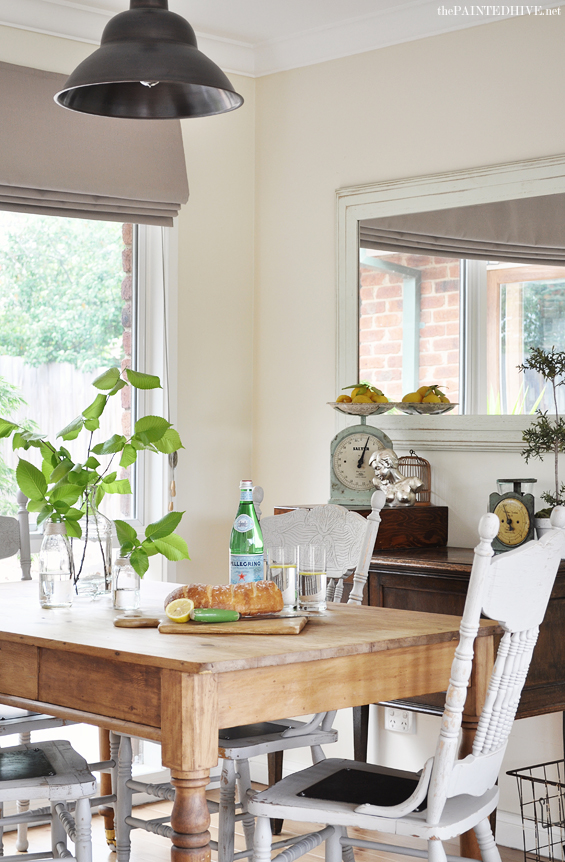 In some of these pics you can see my lumbar pillow when it was still a tea towel!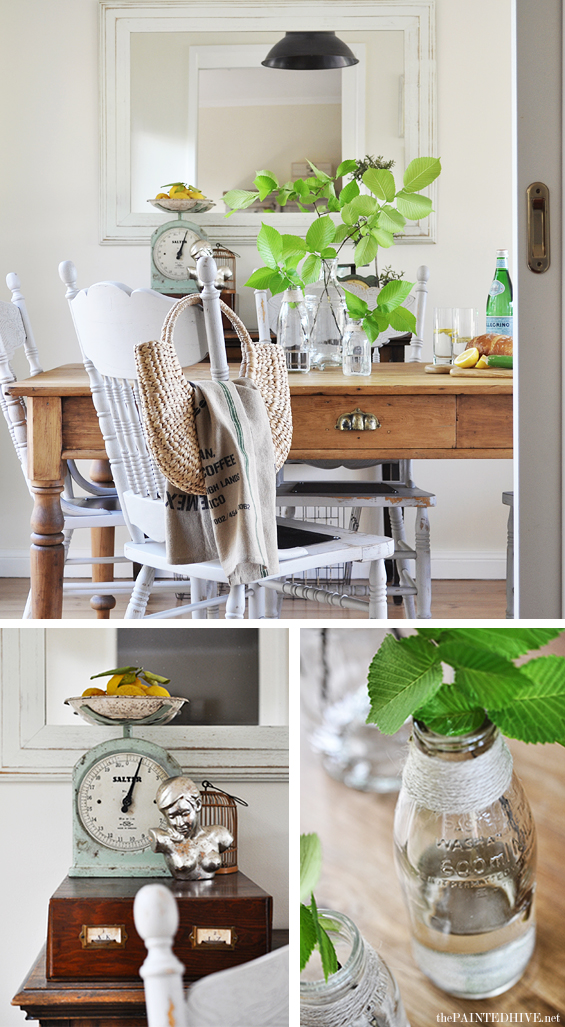 I've blogged about most of the furniture and décor in this room before though if you're new here and are seeking further info check out the 'At A Glance' section at the end of this post for a list of sources and prices. Otherwise, feel free to ask any questions :-)

PS Today is my due date and apart from a popped belly button sadly I haven't really got too much to show for it…waiting, waiting. If things don't progress naturally I'll have to have another c-section in a few days time :-( so I'm super hopeful something does happen shortly!
Either way this baby needs to come out soon 'cause at the moment I'm at serious risk of honey smeared carbohydrate overdose!
AT A GLANCE
SOURCES
Dining Table – eBay ($80)
Dining Chairs – eBay ($5 for a set of six)
Sideboard – eBay ($50)
Block-out Day/Night Roman Blind – Spotlight ($180)
Pendant Light – Recollections ($80)
Mirror – Local Market (Yarra Valley) ($40)
Wall Colour – Dulux Chalk USA
Most of the décor accents are thrifted second-hand items from charity stores, garage sales and antique shops.