Every now and again, I get a question from a reader asking why I haven't yet shared photos of my kitchen, bathroom and laundry. My usual response is generally along the lines of "because they're pretty darn crappy".
Yep, I know it might seem hard to believe, though all of our 'wet' areas still remain un-touched. Without going into too much detail, our kitchen, bathroom and laundry all require more than a mere aesthetic update, and whilst there are always temporary cosmetic changes I could have made, over the past few years I've chosen to focus my decorating energy elsewhere, and have been happily chipping away at our less demanding 'dry' areas (and walking through my kitchen wearing blinker hands).
Recently though, I have come to realise two, well actually, three, things; 1) we have reached the last of our 'dry' spaces (inevitable tweaking and updating aside), 2) I think I have finally found the motivation, courage, commitment and decisiveness needed to tackle some bigger, more permanent room re-dos, and 3) our shower is about to fall apart!
At the moment, finishing Charlotte's room is my top priority, though once it's done I'll be moving straight on to our bathroom (which I may, or may not, have already started planning – so excitement!).

As is the case with most spaces in our home, Charlotte's room is pretty miniature. It measures just 2.5 x 2.5 meters (8 x 8 feet), has a small built-in robe and a full length window.
It was originally our guest room, which was never properly decorated, though it became more of a storage space/dumping ground after Charlotte was born…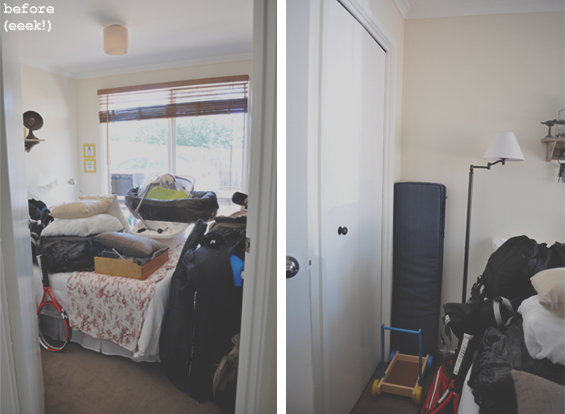 Holy moly! I had totally forgotten just how bad these before pics were! In my defence, I only remembered to take before photos after I'd already purged the entire wardrobe. The room was ordinarily much less hoarder-ly (my inner neat freak is hyperventilating just looking at these shots!). Here's a much more respectable pic from about five years ago…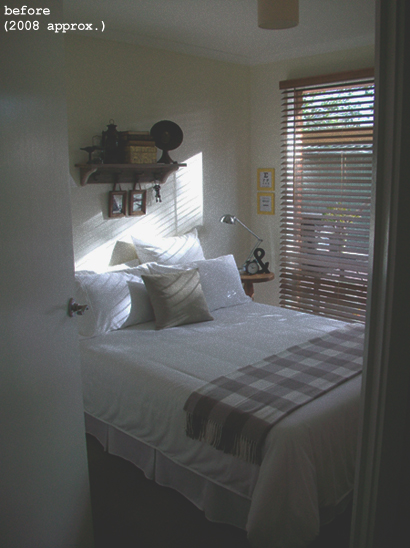 Ah, that's better (kinda). As you can see, that standard double-sized bed consumes pretty much the entire floor area. It looks like the door is partially closed, though it opens onto an angled wall and is actually fully ajar.
I'm a bit ashamed to admit that poor Charlotte has been in her new room for around six months now with little more than a solitary single-sized bed. Thankfully, that's all about to change!
So, here's my rough plan (furniture configuration and mood concept). Of course, the design of the actual room will be dictated by what bargains I can hunt down. Bear in mind that the virtual renderings are relatively basic. I hope to inject lots of personality with cute accessories and a sense of comfort with cozy bedding.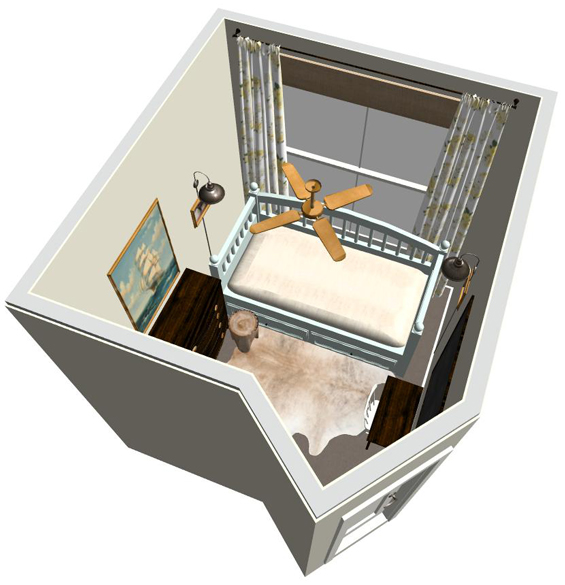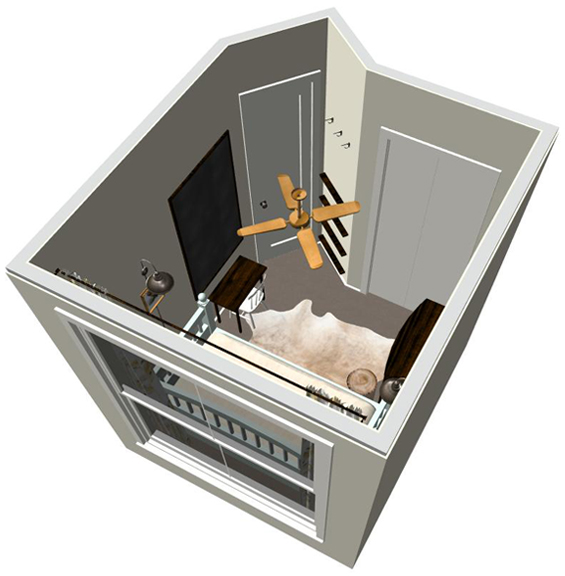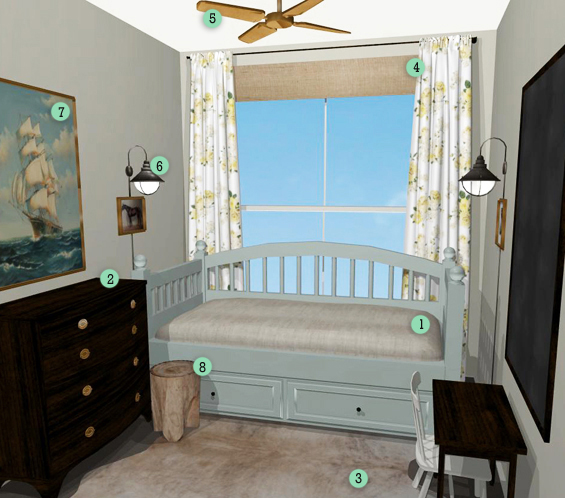 1 BED Deciding on the style and placement of the bed helped govern the overall scheme and layout. The best position for a single bed is against the window, and so it can be centrally aligned, a symmetrical 'day bed' style bed is ideal. As touched on above, and briefly blogged about here, I have already bought and re-finished (heavily modified) the bed (well, technically, beds – more on that to come!). I'm yet to finalise linen, blankets and pillows. The bed shown in the virtual plan is merely a basic representation of the actual bed which doesn't have underneath drawers. I plan to create some large rolling baskets for storage instead.
2 CHEST OF DRAWERS To incorporate some warmth and character, and provide additional storage, I want a generously proportioned dark timber antique chest of drawers, similar to the one in our nursery. I contemplated using a free-standing cupboard or tall shelving unit instead though decided they would be too imposing in the small room. I also considered using a smaller, more traditional bedside table though figured a larger chest of drawers would provide more storage and better capitalise on the existing wall space.
3 RUG There is nothing wrong with our dark taupe carpet though I really like the dimension, texture and sense of cohesion a rug can bring to a space. Given the size and shape of the room, a rug with organic lines would be lovely (something like a faux hide or sheepskin). Failing that, a rectangular or circular jute rug would be almost equally as welcome.
4 WINDOW DRESSING This is brave for me! I generally like to keep window dressings plain and neutral, introducing sparing colour and pattern in more transient items, though I just can't kick my craving for vintage style yellow floral drapes! I have been searching (slightly obsessively) for the perfect fabric, concentrating my hunt on affordable vintage bed sheets. I plan to hang the curtains from a natural bamboo pole. We have already installed a very dull, though perfectly practical, black-out roller blind which I plan to zhush-up with some textural fabric. The curtains will be functional though will remain predominately stationary, their main roles being to; hide the ugly ends of the roller blind, block the sneaky light creeping in from the sides, and look pretty.
5 CEILING FAN The big west facing window greedily consumes all of the hot afternoon sunshine, turning Charlotte's room into a little oven! A ceiling fan is mandatory and we have already installed a simple antique brass one. I'm not a big fan of ceiling fans with attached lights though, as is the case with the fan in our master bedroom, Charlotte's fan replaced the original ceiling light so re-incorporating it just makes too much practical sense (unfortunately).
6 WALL LAMPS I love the look of hard-wired sconces though given Charlotte's room will likely see numerous configurations over the coming few years, I'm not ready to commit to that just yet. I'm contemplating installing corded wall lamps instead. We'll see.
7 ARTWORK The wall décor shown in the renderings is simply suggestive. I like the idea of a big chalkboard, an eclectic gallery wall, small vintage prints, educational charts, large scale antique oil paintings in decorative gilt frames….I could go on :-) I'll make a decision regarding artwork once the big elements are all in place and I can actually see the vacant wall space.
8 STUMP TABLE/STEP STOOL This is just a thought. I like the idea of placing a small, quirky element beside the bed though I'm yet to determine if it will realistically work in the space. We'll see.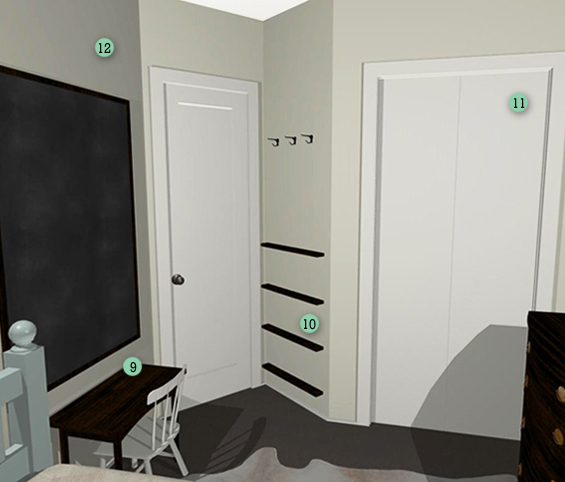 9 TABLE & CHAIR To avoid impeding the flow from the door, quite a narrow table is needed. I've found that most kid's tables are far too deep, so I've been searching for a petite hall or coffee table to use instead, however finding something with appropriate proportions has proven tricky. We just might end up making something custom from scratch. To reference the chest of drawers I like the idea of a dark timber table with simple lines. To contrast this I want a rustic white chair with some character. I have been hunting for a cute cottage-y style kid's chair forever! If you're in Victoria (Australia) and happen to stumble across one, feel free to let me know :-)
10 BOOKSHELVES To utilise the 'dead' space behind the door, I want to install a series of minimal floating bookshelves. Above these, a row of hooks can neatly collect strewn coats and hats.
11 BUILT-IN ROBE I have plans to clad the plain bi-fold panels with decorative timber trim to resemble antique barn doors.
12 WALLS Call me lazy, though we're not painting. The existing soft cream (Chalk USA by Dulux) forms a great neutral canvas. In a few years time, when Charlotte claims greater ownership of her space, I'm sure the walls will probably wear some shade of pink (probably much to my dismay :-)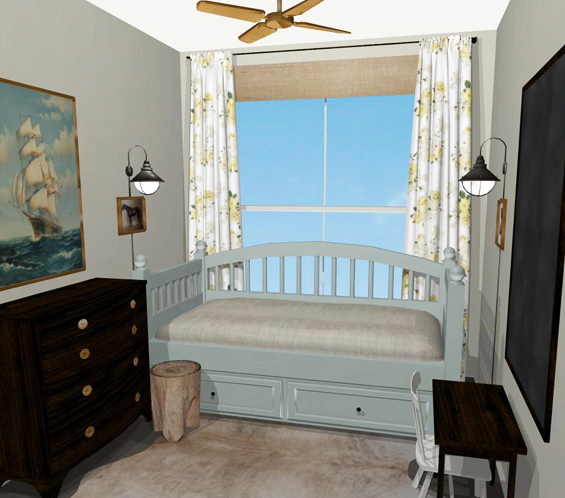 Soooo, whadya think? This will be my first attempt at a kid's room so any ideas, suggestions or well wishes are more than welcome.

UPDATE There has been quite a bit of interest in the program I use to create my virtual designs. I'm lucky to have Chief Architect software (which I received as a birthday present a few years ago). They offer lots of different products, ranging in price from $60 (for home enthusiasts) to over $2000 (for professionals). It's a powerful and complex program which takes time, patience and persistence to master (heck, I'm still learning) though it is pretty awesome.