I've coveted barn style doors for almost as long as I can remember. Something about their exposed hardware, diagonal trim and gracious nod to yesteryear just gets me.
A few years back I tried quelling my desire for them with a simple barn door-esque update of my built-in master bedroom wardrobe…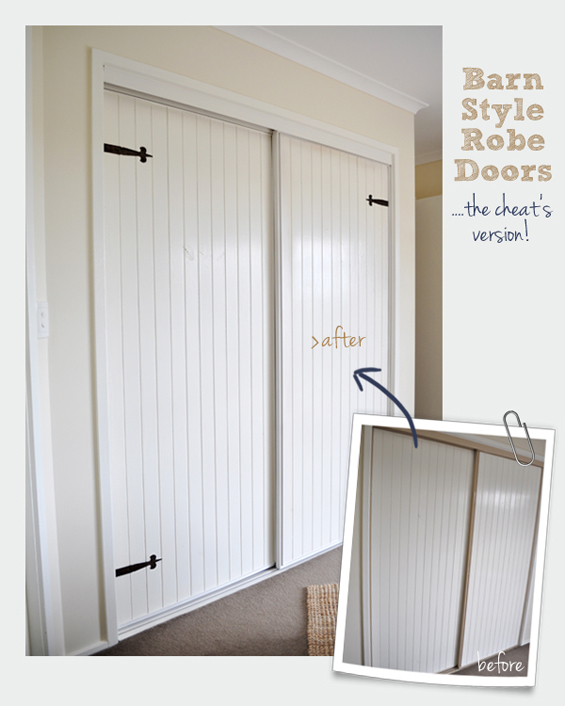 …though still my craving lingered.
So, when it came time to transform our neglected guest room into a proper 'big girl's' room for Charlotte, the boring bi-fold was high on my hit list. Though, rather than reach straight for the concrete boots, I thought I'd 'take care of it' in a more sustainable way with a little cosmetic rehab!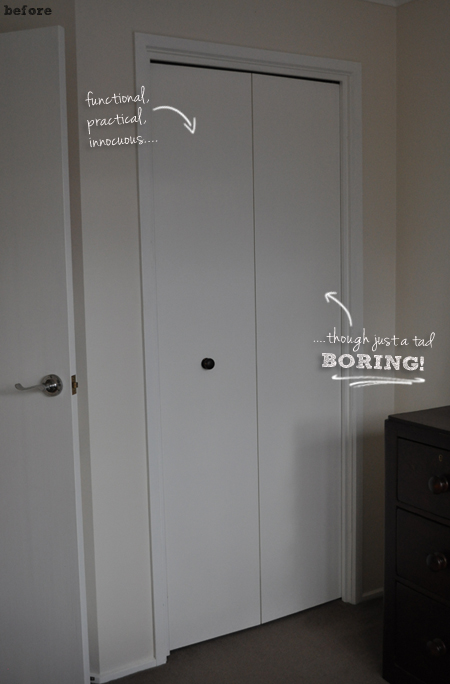 I'm going to keep the existing door, which is still in perfectly good nic, and simply clad the plain exterior in a decorative, yet simple, barn-style manner using trim, cosmetic hardware and a fresh lick of paint. I also plan to customise the outer frame with the seamless addition of some crown moulding.
Here are a few inspiration pics…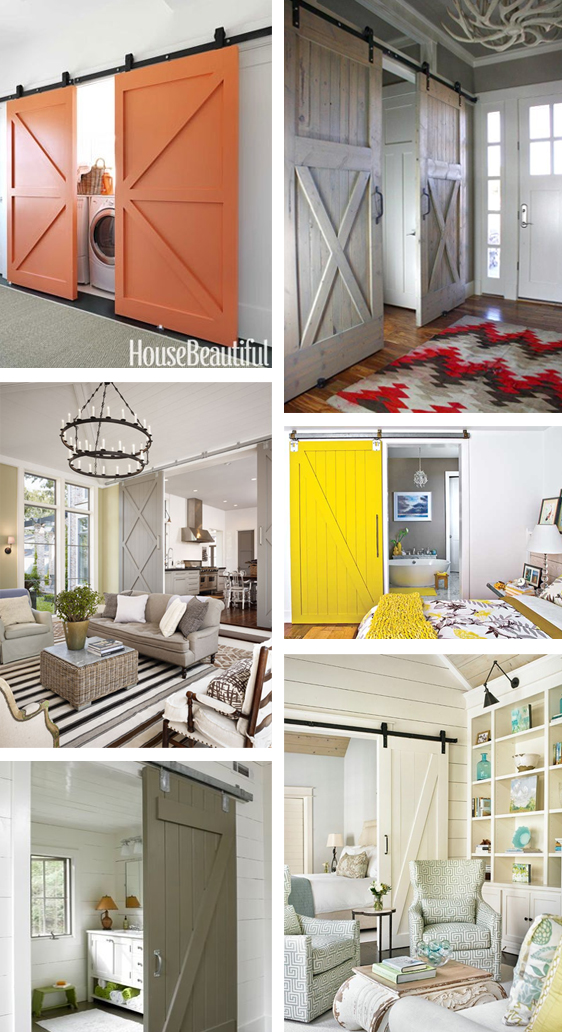 Clockwise from top left:
House Beautiful | Design Sponge | Southern Living | Tillman Long Interiors | Decorpad | Dillon Kyle Architecture
And here is my rough rendered concept…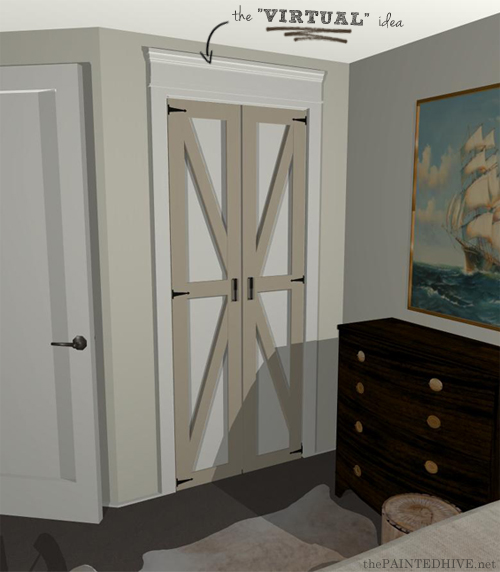 You can catch up with my previous posts about Charlotte's room here.
Yep, I'm aware that barn doors are typically, though not exclusively, on sliding tracks though as I have no provisions for that I'm making the most of what I've got :-) And I'm not totally certain what's going on with the whole dual tone thing…for whatever reason it's just the vision I've had from the beginning.
My first port of call for this project was, of course, the hardware store. I'm fortunate to have a Masters within fifteen minutes of my home though before I dragged two unpredictable kids in-store I first jumped online to do some preliminary scouring.
I know from past experience that ideally proportioned timber trim can be pretty elusive, so I was kinda excited to see that Masters offers a completely FREE cutting service (which is also handy for minimizing those otherwise overly large lengths and panels to fit in your car). I also took advantage of their Live Chat (which I found via their Facebook page) to ask whether the cutting service extended to MDF (as, due to health concerns, this is no longer commonly practised). Not surprisingly, the answer was no. Though that's okay, there's always plywood instead.
Anyhoo, after a quick* visit to the actual store, here are some of the project materials and supplies I decided on (*warning: there is really no such thing as a "quick" visit to Masters. Home improvement distractions abound – in a very welcome way!)…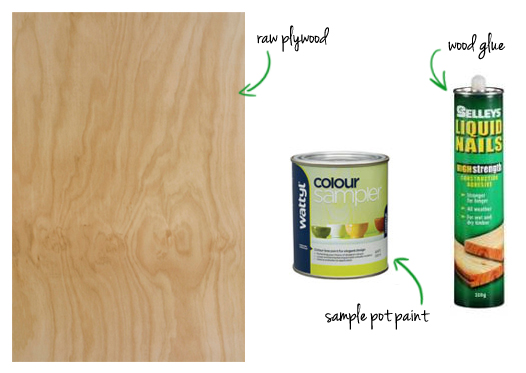 TIMBER
There were three good options for the decorative cladding:
1 Primed MDF (64mm x 11mm x 2.4m long) $3.77 each.
2 DAR Poplar (64mm x 6mm x 1.2m long) $4.46 each.
3 Raw Plywood Board (1200mm x 900mm x 9mm) $16.89 each.
To keep costs low, and because I wanted something reasonably thin, I decided to go with the plywood board which I had cut (for FREE – awesome!) into 60mm wide lengths (15 in total).
PAINT
I bought a $5 sample pot in a colour called 'Lyndhurst Castle' by Wattle. It's a soft, yet warm, brown-green-grey.
LIQUID NAILS
No explanation needed :-)
And here is the splurge item I just couldn't resist…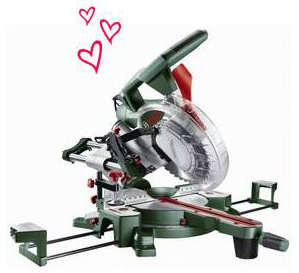 One of the best things about undertaking a project like this is having a somewhat legitimate excuse to finally purchase some of those loooooong desired DIY toys. Like this totally awesome sliding mitre saw which doubles as a hovering spacecraft when not in conventional use – handy. Can't wait to try this baby out!
I'm still yet to choose hardware (hinges and handles) and am not totally certain how to go about the crown architrave though will be sure to divulge all in an upcoming post (which will feature a full tutorial and, of course, after pics!).
So, whada you think? What type of barn door would you opt for? You can find some amazingly gorgeous options in the White Shanty closet barn door collection which has a huge range to choose from.



This is part one in a three post series sponsored by Masters Home Improvement.
All opinions expressed are my own.