I have about a zillion project ideas whirring around in my brain at the mo', though for now I'm still sloooowly grinding through my 'To Do' list for Charlotte's bedroom. My most recently crossed-off project being this cute little table…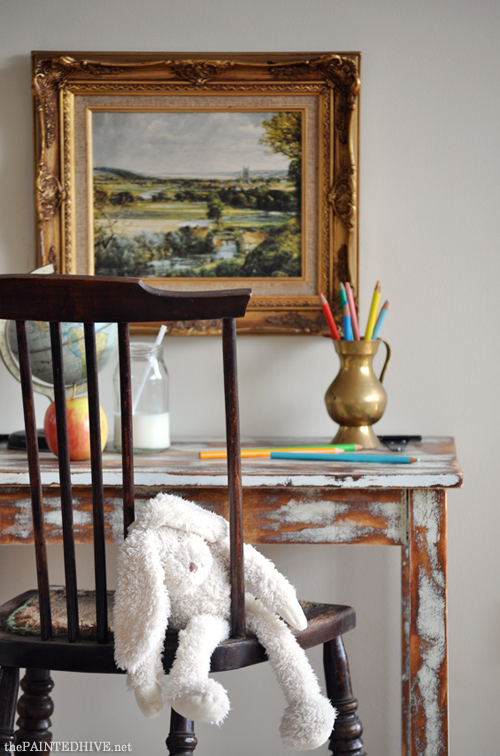 I should probably mention that the 'after' shots were not actually taken in Charlotte's room and have been temporarily styled purely for photographic purposes (is that cheating?). Aside from the fact I'm still yet to decide on actual décor (though the chair, which I just bought from eBay for $20, will be staying), Charlotte's room is sooooo tiny I couldn't properly capture the table in situ anyway. Oh, and please excuse the fact the chair is un-finished.  I'll be re-upholstering it shortly (with accompanying tutorial!).
I originally envisaged something old and primitive, naturally mellowed by the years, though quickly discovered that finding something with appropriate proportions was gonna be tricky. Given the space restrictions, I needed something pretty compact, though I found that most tables of suitable height were too deep, and most of suitable depth were too long. So, after three months of fruitless searching, two minor headaches and one ridiculously over-priced custom quote (gheesh!), we decided to build something ourselves (by 'we' I mean me, and by 'ourselves', I mean hubby – don't get me wrong, I'm not opposed to turning my hand to a bit of carpentry, though in fairness Luke does trump me here).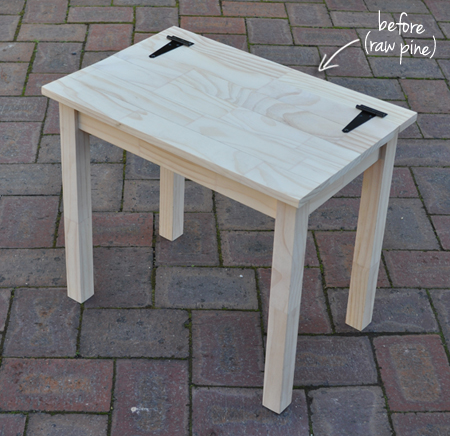 Sorry, though I don't have a tutorial for the table construction. Luke whipped it up whilst I kept two 'helpful' kids out of his hair! Ana White has some great tutorials for stuff like this though.
I  was pretty tempted to build something quirky, like a 'shelf table' (attached to the wall in some clever and creative way), or a folding table (which could be stowed away completely when not in use), though as this will be Charlotte's main play table, I decided to stick with something simple, sturdy and re-positionable, as she will likely try and drag it around the whole house!
I originally wanted a timber finish for the table, though once I bought an old wooden chair to pair with it, I felt there needed to be more contrast between them, so I decided to paint and distress the table instead. Problem is: Charlotte's bed is already lightly distressed and I didn't want the table to look matchy-matchy, so in the interest of differentiation I got totally carried away with the palm sander to create a HEAVILY distressed finish.
And here is the process I used…
Of course, there are endless ways to distress furniture, and numerous starting points for said furniture (raw, varnished, already painted, etc). This is simply how I chose to transform my particular piece of raw furniture. If you're looking to re-create a similar finish, of course you may need/want to tweak the process to suit your specific requirements.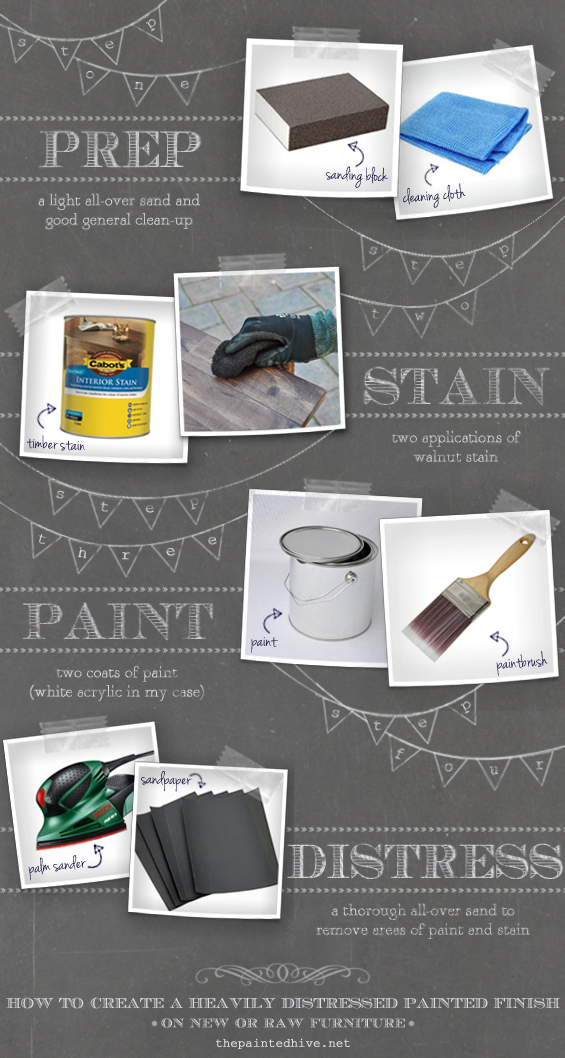 1 PREP
I removed the hardware (hinges) and lightly sanded all timber surfaces with fine grit paper. I then removed any dust residue and grime by wiping with a damp cloth. This step just creates a smooth, clean starting point.
2 STAIN
I applied two coats of timber stain (I used Cabots Water-Based Interior Stain in Walnut, though you could use any type of stain). The stain helps provide dimension, and a more realistic impression of age, once the furniture is distressed. I love the look of layered wood tones peeking through the painted top coat!
3 PAINT
I applied two coats of standard acrylic wall paint (you could use any type of paint though keep in mind that some distress better than others – generally, water-based paints perform well). I mixed up a colour using left-overs I already had. It ended up being a fresh, cool white with a hint of blue-green.
4 DISTRESS
I used a palm/mouse sander, with a medium-heavy grit paper, to heavily distress the paint work. Rather than sand in selective areas I decided to just go with it, and sanded the entire surface – in some places expanses of raw wood were revealed, in other areas hints of walnut stain peek through chippy spatterings of intact paint. I worked in both small and large circular motions in an attempt to keep the distressing somewhat organic and to better disguise the subtle lacy swirls that the palm sander vibrations tend to create. If in certain areas the initial distressing appeared too perfect and purposeful, I concentrated on manipulating the sander to take further paint off in a more random manner (a contradiction, I know, though sometimes it's the things which appear most natural that have actually required the greatest amount of intervention!).
I chose not to seal the table to retain the matte finish and because I'm happy for it to wear over time. To create a smooth, silky surface I finished by hand sanding with very fine grit paper (you could also use steel wool).
REMEMBER: Creating a certain look might take some practice and technique, and the result is almost always dictated by the individual piece (wood species, type of paint, thickness of paint, etc). Sometimes it pays to be bold and brave (as I have been here), at other times a more subtle and cautious approach is best. Just remember, in the end it's only paint. If you don't like the way something looks you can always easily change it.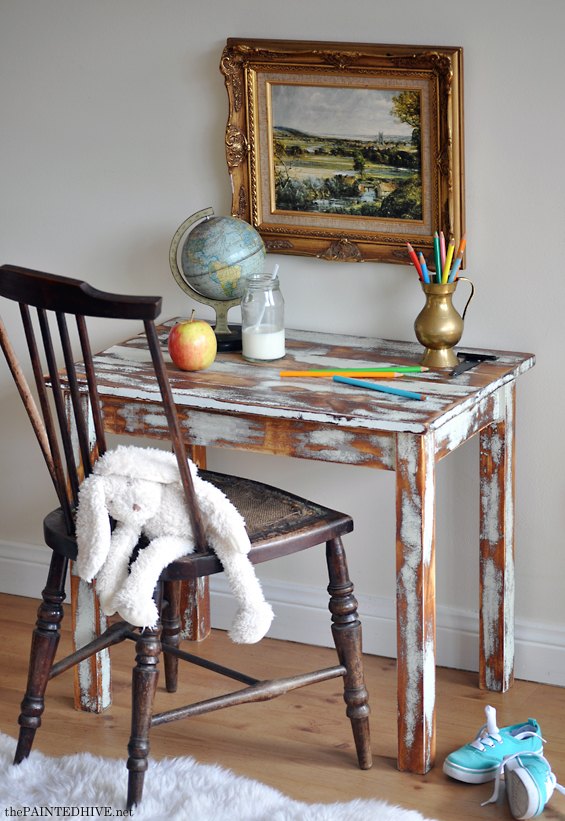 As I'm sure is the case with furniture in many small homes, much of my furniture does double-duty as storage. Charlotte's little table is no exception. We managed to sneak in a shallow storage cavity by hinging the top and installing a base in line with the apron. It's the perfect place to keep books and little crafty knick knacks. For a touch of fun I painted the inside with a cheery pop of yellow…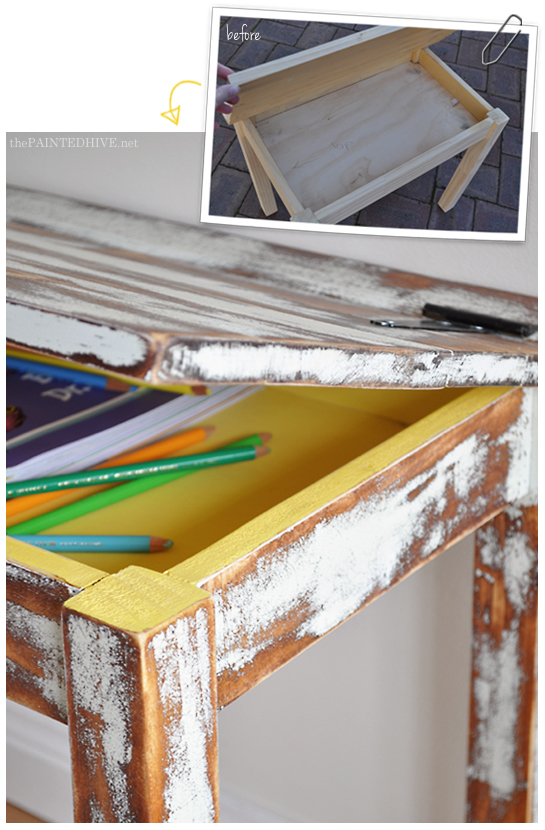 The hinges are inexpensive steel T-hinges from the hardware store. I could only get them in silver, so I simply spray painted them black and once they were attached I coloured the screws with a marker to match.
In the close-up shot below you can make out some of the subtle lacy swirls made by the palm sander vibrations. You can also see the colour variation between the raw and stained wood, and areas of natural contrast where the lovely timber grain has been revealed.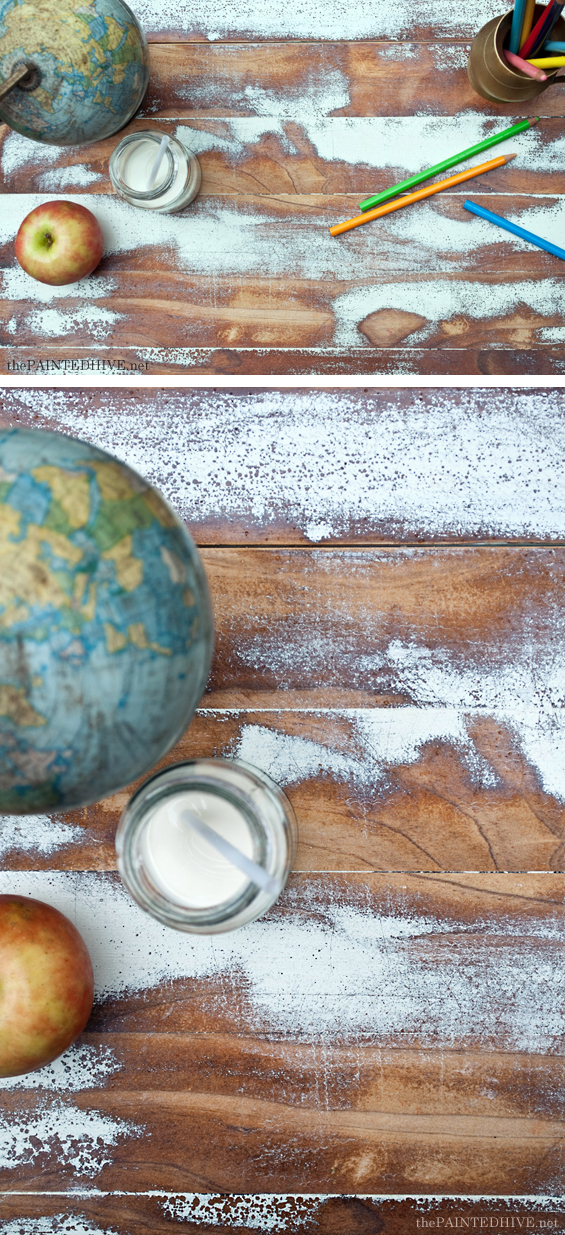 Distressing is such a sure-fire way to inject some personality into a piece that might otherwise have been lacking a little life!