Do you remember when I posted about this budget DIY sconce light update…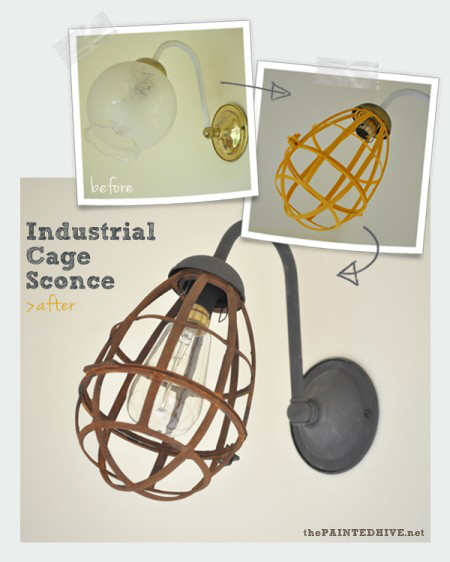 …which I mentioned was part of a refresh of the sitting room (conjoined 'retreat' off the master bedroom) over at my parent's house?
No?
Well, that's okay. I don't blame you. That was over two years ago now and that little room re-do is still far from minty fresh. Well, I mean, it's okay, just not blog-worthy or anything (yet).
Anyhoo, whilst that particular space still languishes, we did recently make some serious progress in the adjoining master bedroom! One of the changes being a fresh set of prints for above the bed.
Mum is going for a soothing palette of predominant neutrals accented with deep blues and fresh greens so I couldn't help but suggest my 'go-to' of antique fern illustrations – to me, they are just so amiable!
Although we only hung six prints above the bed (I'll be sure to share pics soon!), I am offering a collection of nine botanical images. These illustrations are originally from Botanicus (more specifically, from this reference book: The Ferns of Great Britain and Ireland by Thomas Moore). I have optimised each image for print, including having completely recreated the text elements for crispness, and re-sized them to fit standard 11″ x 14″ frames. Of course you could always shrink them to fit smaller frames if desired, or matte them and use even larger frames.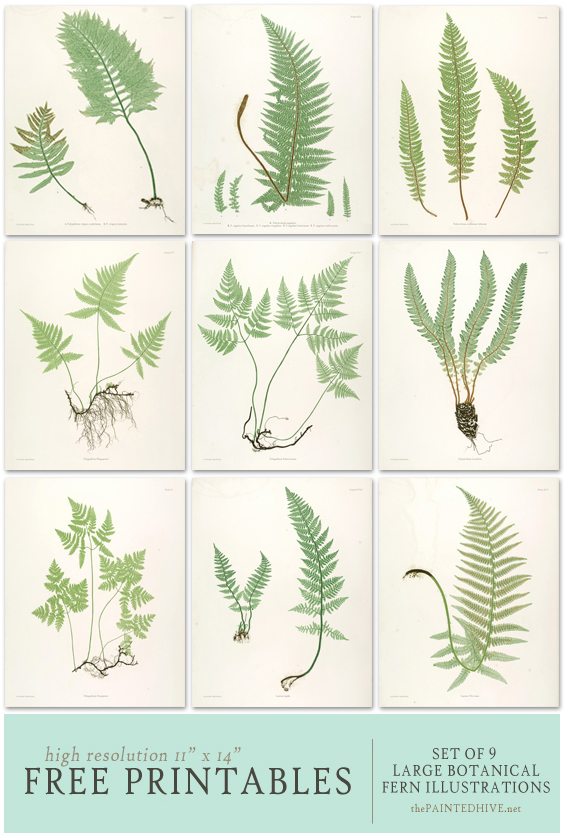 I chose to retain all the imperfections (aka perfections!) visible on the scanned pages; watermarks, age spots, discolouration – I think they add interest, charm and a sense of authenticity.
These prints would make a beautiful statement in so many different configurations…a grid above a sofa, a horizontal line in a hallway, a haphazard cluster in a corner, a pair of vertical rows flanking a hutch or window.
Download this collection of nine high resolution 11″ x 14″ botanicals below.

Here's an example of one larger image to give you a better idea of what they really look like…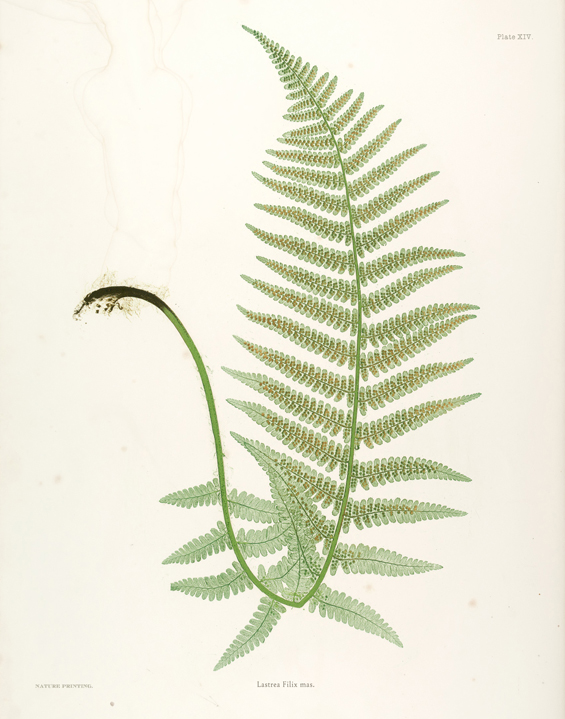 If you'd like a larger preview of all images in the collection prior to download, simply click here.
If you have a good quality large format printer you could always print theses at home though I recommend having them professionally printed for best results. I used the Officeworks online 'Document Printing' service (only $2.08 per print – so much cheaper than the comparable photo prints which cost almost $14 each!) and was super pleased with the quality.
Note: Ensure image proportions are retained during printing. If printing at home be certain that "fit to frame" (or equivalent) is not checked and all other printer options are correctly set. If printing professionally, make sure auto re-scaling isn't applied. To remove any doubt regarding out-put size, I recommend first placing each image onto a digital 'canvas' sized to match your chosen printer paper. For example, I printed my images onto A3 sized paper so I first created an A3 sized document (in Photoshop, though you could use GIMP) then copy and pasted each image into it before saving them individually. Need more info or advice? Feel free to ask – I'm happy to try and help :-)
Anyhoo, enjoy!
Oh, and BTW…although it's not totally spectacular or anything (it's more one of those "power or accessorising" kinda makeovers) I hope to share some before and after pics of my parent's refreshed bedroom soon, so keep an eye out!
* UPDATE *
You can now check out my parent's room makeover, complete with six of these free fern printables, here.
Just a little glimpse…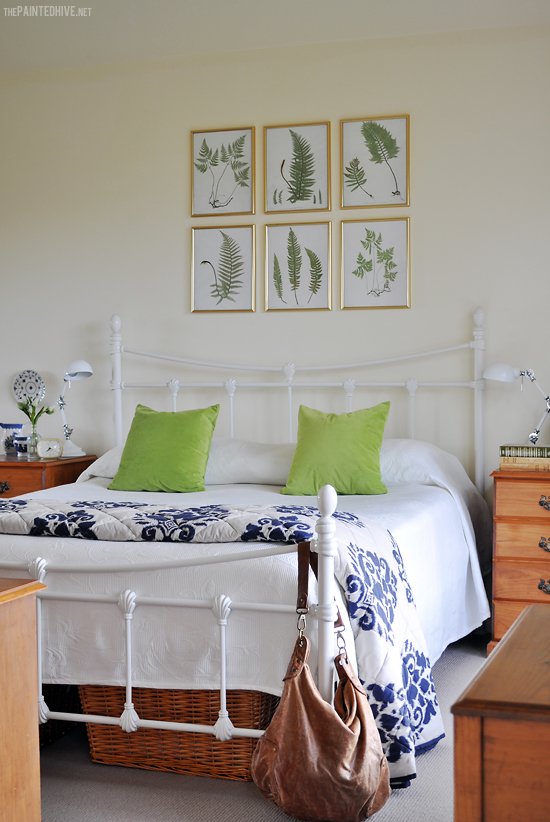 Free for personal, non-commercial use only.
Consent to edit and share these images was expressly granted by Botanicus – thank you!