UPDATE
You can now download my full-size, high-resolution edited heron artwork as a FREE printable here.
Before I get into how an inanimate object brought me to tears, let's talk about this artwork.
If you've been following along with the living-dining room makeover at my parent's house, you might recall I was initially planning to incorporate an art piece featuring birds of prey…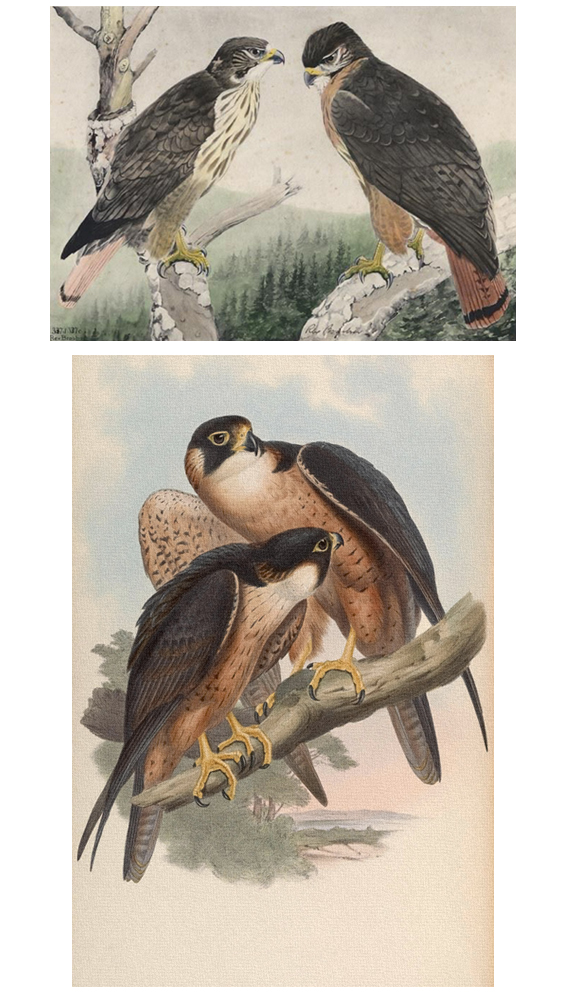 I felt the masculine vibe would give the space a bit of edge and depth.
Though as things progressed in the room, it became apparent that a softer touch was actually called for. A hint of femininity to subdue all the browns and greys and reconcile the overall scheme.
So, despite days (yes, days!) already spent scouring the internet for the perfect free large-scale image of predatory birds, I tasked myself with a new hunt for something a little more elegant – and was immediately drawn to tall water birds. There's something sculptural about their lanky yet graceful form which walks that perfect line between powerful and pretty.
If you follow me socially (via Instagram or Facebook) you may already have seen, and possibly even weighed-in on, the four choices I eventually narrowed my selection down to…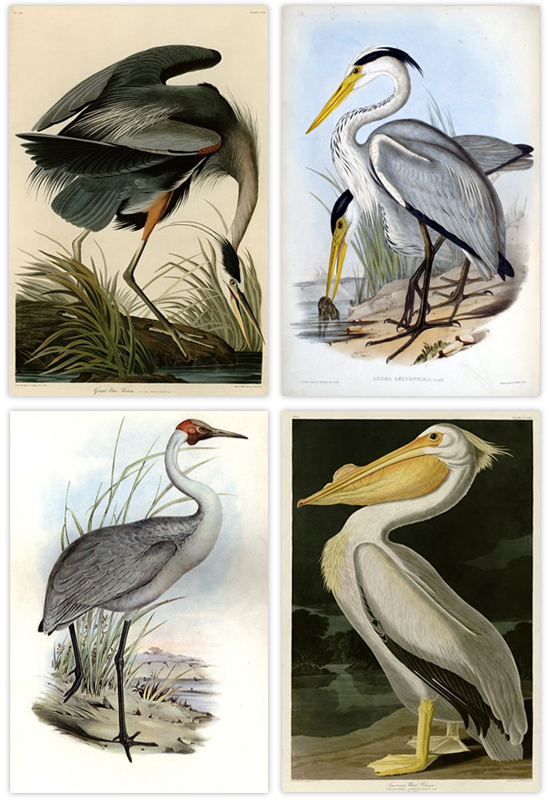 Clockwise from top left:
Great Blue Heron (Audubon), Australian Heron (Gould), American White Pelican (Audubon), Australian Crane (Gould)
The contrast in opinions between Facebook and Instagram was really interesting! The Audubon Pelican was the clear favourite on Instagram, whereas Gould's Herons were by far the preferred choice on Facebook. There was also lots of love for the other two illustrations as well. And, naturally, a bit of downright "noooo" for some of my choices!
Thanks so much to everyone for the feedback. It wasn't an easy decision! I weighed-up lots of pros and cons and in the end Gould's Herons won out.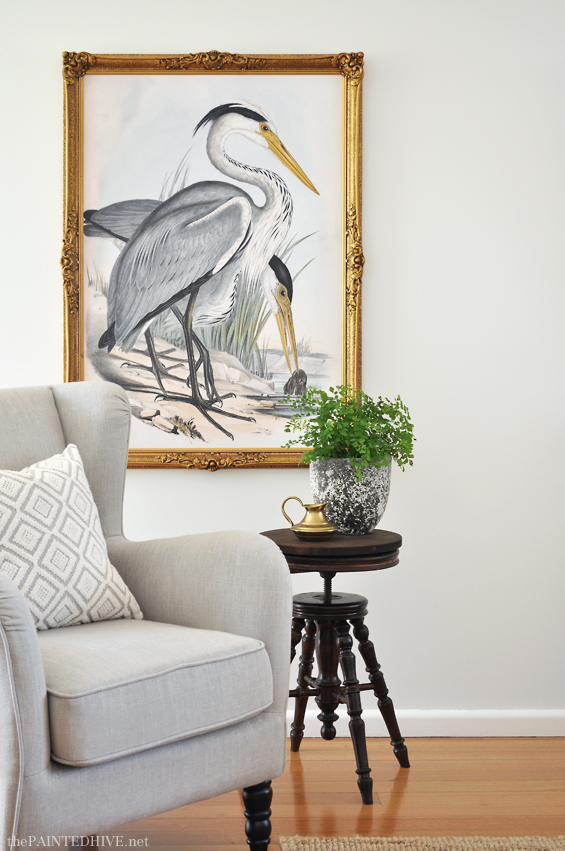 The main deciding factors were; the fact the subject is Australian (which gives context to the artwork), the dominant use of soft blue-grey with hints of golden yellow (which perfectly references the overall scheme of the room), the form of the birds (which expresses a gentle fluidity and lovely balance I find personally appealing), and finally, the fact it's a relatively unknown work (which makes it more unique – I love the Audubon illustrations though they are much more prolific).
As touched on above, I needed my digital image to be large enough to allow for over-size printing (as my artwork is around 100cm x 70cm/40″ x 27″) so not just any image would do. Luckily, nowadays there are heaps of large-scale online images freely available for download!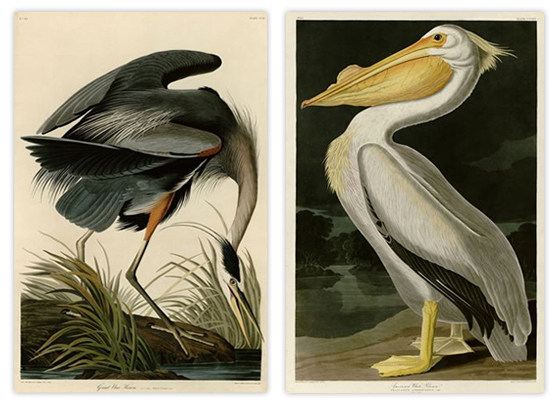 The Audubon illustrations can be found on the Audubon Society website (you've probably seen my gushing posts about the awesomeness of the Audubon Society before, though if not you can read more here – where I offer search and download instructions).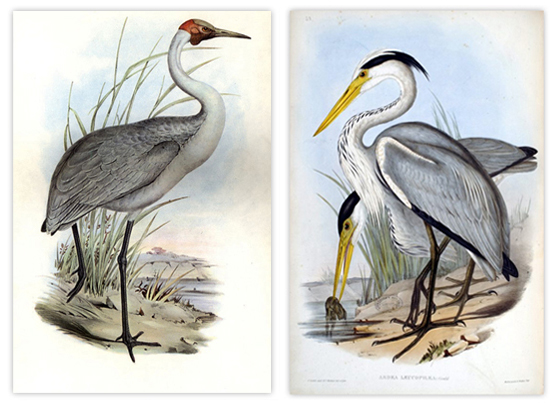 I found the Gould illustrations on Internet Archive, a site which is new-ish to me. Are you familiar with it?
Internet Archive is an extensive online library featuring free large-scale scans of millions of books. Yes, millions!

TO FIND AND DOWNLOAD ILLUSTRATIONS FROM INTERNET ARCHIVE
1 Visit the Internet Archive website and search by title or author (or use the 'Advanced Search' option).
I'd already come across – and fallen a bit in love with – a small-scale image of Gould's Herons via a Google search. After some investigation I discovered the artist and book. So, I jumped on Internet Archive and searched for "Birds of Australia, Gould" to see if it was part of their collection…and it was!
2 Click a book title from the returned results.
3 Once open, click the "Fullscreen View" icon (top right – four arrows) then the "Thumbnail View" icon (bottom right – four squares) for easy viewing.
4 Scroll through the book pages until you find an image you like (if you like my Herons, you can find them here) then click it.
5 Click the "Zoom In" icon (bottom right – plus magnifying glass) until you are at full zoom then right click the image and save it to your computer.
6 Once saved, you can use an editing program to check the size of the image (my Herons were 202cm x 128cm/80″ x 50″ at 72 PPI) and make any changes.
I used Photoshop to custom size the image and adjust the brightness, contrast, saturation and sharpness. I also gave the image a general tidy-up, added a subtle canvas texture and flipped (mirrored) it so the orientation better suited my room. You can learn more about setting-up, customising and editing large-scale images for print in part three of my extensive Free Printables series here.
7 Say "Yay"!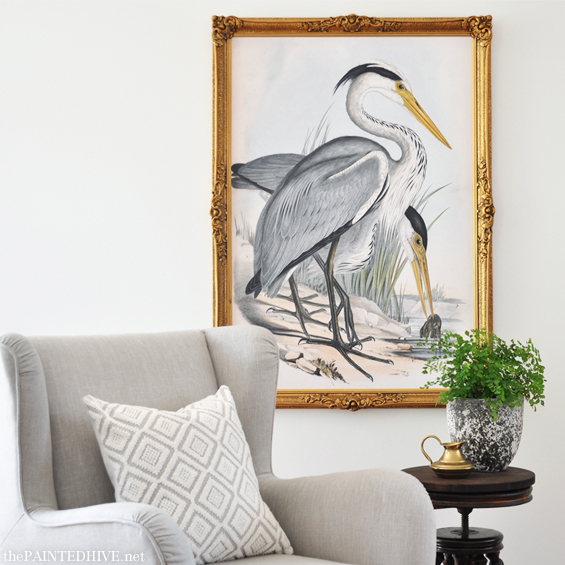 Originally, I was going to DIY the frame using simple timber trim (similar to this one I previously made). However, I happened to come across this large gilt frame for just $15 at a charity store one day…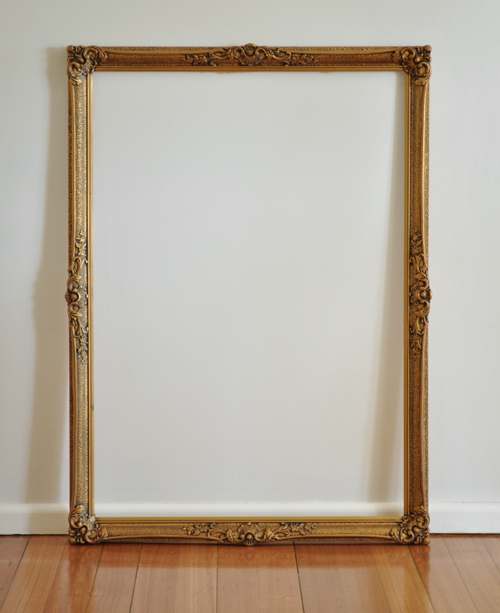 It was the perfect size, and mum really loved it, so we decided to use it instead.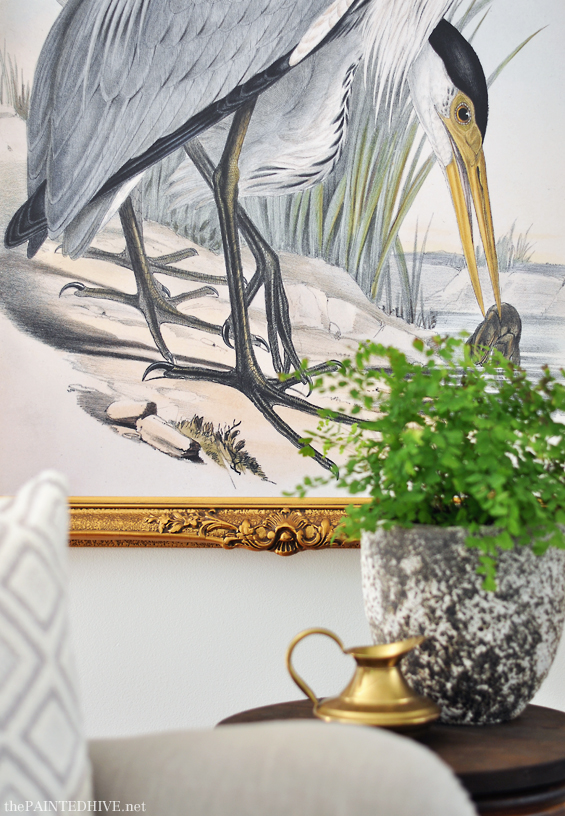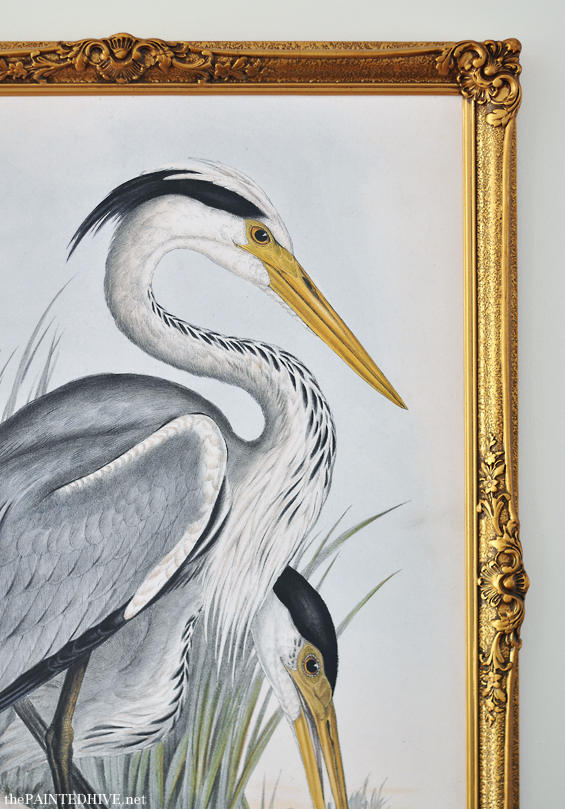 So, as touched-on above, I custom sized my image to fit perfectly and had it printed through Officeworks via their online print service for just $30 – bargain! I then used a jigsaw to cut a thin sheet of MDF to form the new backing for the frame and went about attaching my print to it using a diluted mixture of water and PVA – as I've done several times in the past.
And, here's where things start to go downhill…
I completely stuffed up my first attempt. I'm not sure what it was (kids were yelling, dogs were barking, I was rushing) though there was no saving the crinkled mess I had created!
I'm a rational person though. "Oh well, these things happen. I'll cut my losses and have another go tomorrow".
And it had to be tomorrow. Swift redemption was called for to soothe the sting of my failure.
So, early the next morning, USB in pocket, I took the twenty minute drive to my local Officeworks store to have a new image printed in person.
Only my USB wasn't "in pocket". What the? Where the heck was the dang thing?
A fleeting image of a USB atop my kitchen counter crossed my vision. Oh man!
I'm a rational person though. "Oh well, these things happen. I'll just drive home, with my screaming toddler and over-it four year old, grab the effing thing then drive all the way back again".
So, I did. And I had my new image printed super promptly while my kids happily tested all the pens in the "Try Me" section.
Onto round two.
Given my confidence had been a little crushed by my first failed attempt, this time around I decided to go with trusty spray adhesive. It's almost fool proof. And extra handy when you actually have some! I swear, there was a full can in the shed last week.
"Okay kids, back in the car".
I'm a rational person though. "Oh well".
Back home, spray adhesive in hand. Right, let's do this thing already.
So, I did. Very meticulously. I was just so conscious of stuffing it up again I really needed every ounce of my concentration.
The kids grew understandably bored by my inattention and curious new center of focus, so started playing around. Running, jumping, rolling. Just regular kiddy things which normally wouldn't bother me but today, oh today, I could feel the heat rising from my collar.
Then, it happened.
I was around half way through adhering my new print to the backboard when I heard it.
"Riley, noooo". It was my daughter Charlotte chastising her little brother for what was about to ensue.
I turned just in time to see it.
The beautiful gold frame I had so carefully propped up on the lawnmover arms (what, isn't that a perfectly safe place to leave an object which to children doubles as a personal picture show?) was falling fast toward the concrete garage floor.
BANG!
A gazillion little gold pieces flew up into the air (okay, it was more like fifteen though you feelin' me?).
I didn't yell, I didn't pick the frame up, I didn't scurry to collect the fragments.
I just stood there…and cried.
It started slowly. Soon, however, great big heaving sobs – that seemed to scare the heck out of my kids – were escaping my body.
It was bad. I am, by no means, a graceful crier.
My reign of rational had ended!
Of course, after a short while I giggled at my silliness, hugged my kids, miraculously found all the little gold pieces and fixed the frame.
I then finished adhering my print to the backboard, mounted it in the frame and hung it on the wall.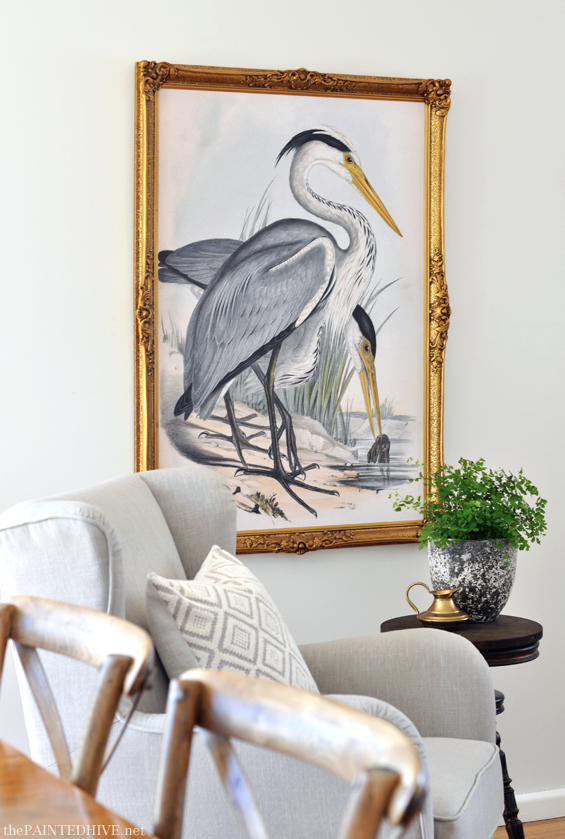 This simple project might have taken me all day and cost $30 more than it needed to, though in the end all was good in the world once more.
I should probably attempt to claw-back some dignity and separate myself from the title of "basketcase" by mentioning this was a rare moment for me. I'm aware that the whole scenario qualifies as little more than a "first world problem" and if it's the worst series of events I encounter all year I'm a very lucky girl indeed!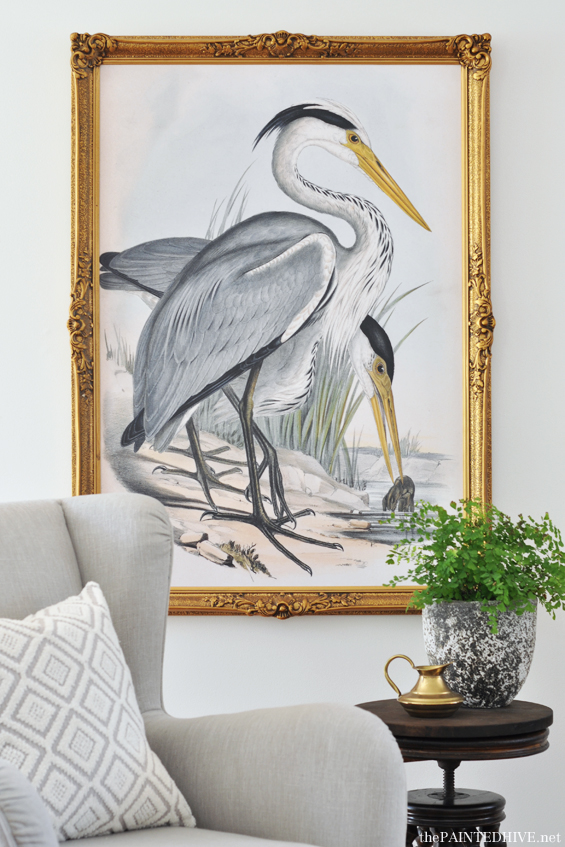 Catch up on all posts related to this room makeover here.