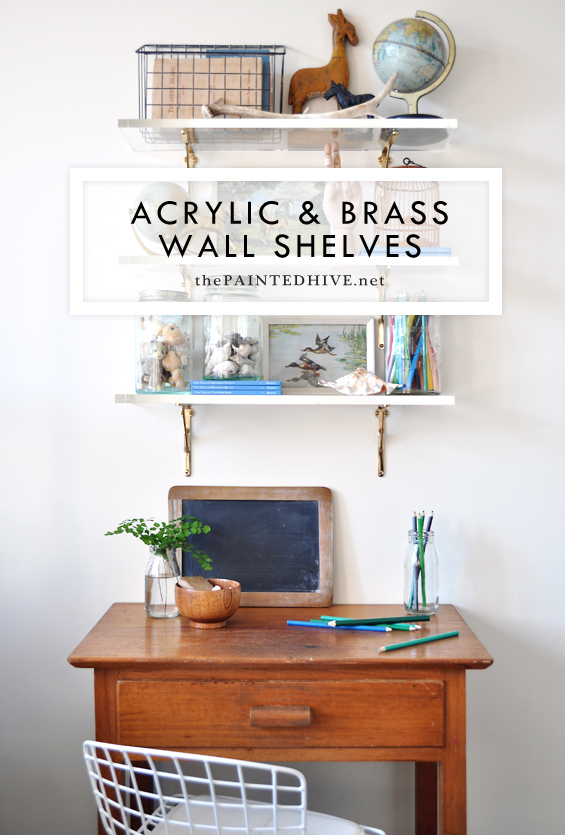 I've been meaning to share this little project for ages.
About six months back, I decided it was finally time to get something up on the blank wall above Charlotte's desk.
Initially, I'd been toying with the idea of a big chalkboard or over-sized art piece (like a vintage number chart or old world map)…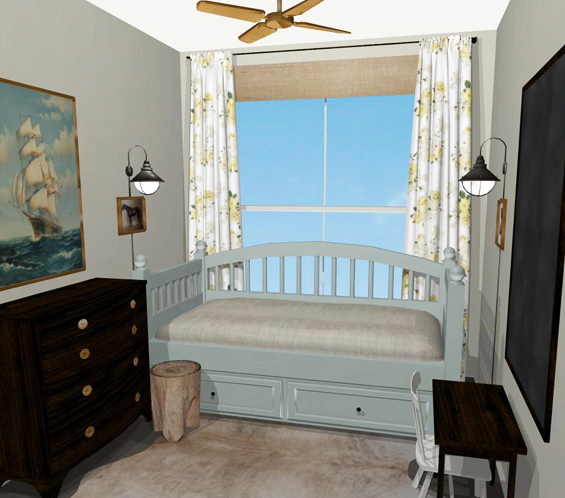 Above is my original (very rough) concept rendering from a few years back where I included a massive chalkboard. You can see more of the virtual plan here.
Though as the room progressed it became apparent that some kind of display/storage surface was actually called for.
You see, Charlotte's room is pretty tiny (2.5 x 2.5 meters/8 x 8 feet). Obviously, this means there's limited floor space for furniture so the walls need to pick-up some of the slack.
I'd already installed floating bookshelves behind her door to make the most of that dead space…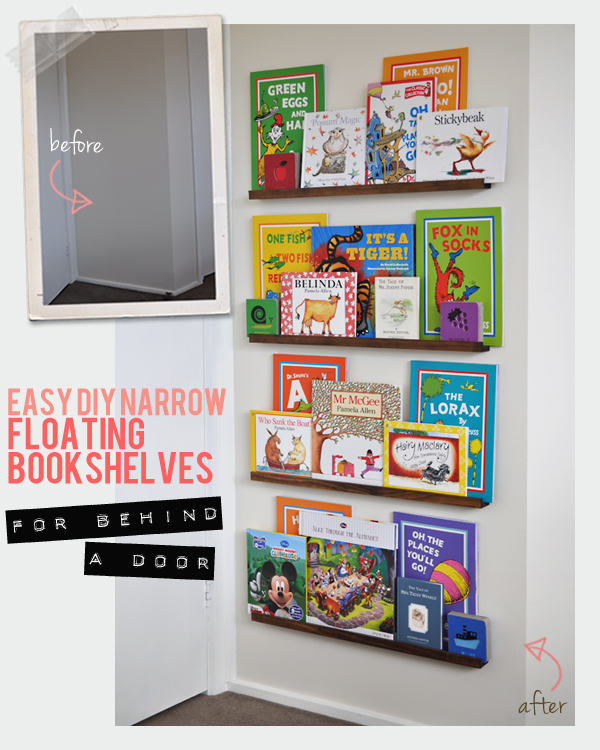 And a second series of little shelves on the wall above her desk seemed like the best use of that area too.
But what style of shelves?
I had a zillion different ideas and had almost settled on using reclaimed wooden floorboards (I even went to a salvage yard to look at some) when I suddenly changed my mind. Something about them just didn't "feel" right when I imagined them in the space. I think it was their visual heaviness (as Charlotte's angled doorway means you would basically be looking straight into the side of them) and the fact there was already quite a bit of wood in the room. I mean, I don't mind an eclectic mix of timbers, and I think they still would have looked nice, I just knew they weren't the best choice.
So, I went back to the drawing board and eventually decided to step outside my comfort zone and go with something a little bit fun in the form of contemporary acrylic shelves on traditional polished brass brackets!
Sourcing the brackets was easy enough (I bought them online from Discount Brass).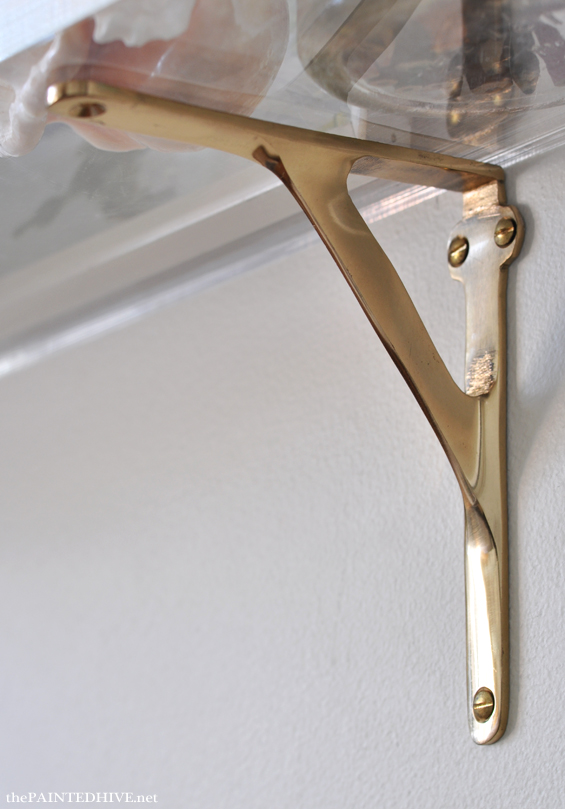 That said, it did take some shopping around to find the best price, and even then they were more costly than I would have liked at around $8 each – still, much better than $15 each which I'd also seen them being sold for (if you're in the US, I'm sure you'll be able to find them for much cheaper). I did contemplate saving some money by spray-painting some regular brackets though all the cheap ones I came across weren't shallow enough (so would extend too far over Charlotte's little desk – these ones are just 13cm/5″ deep). My husband even made some custom geometric plastic ones using a 3D printer. They were surprisingly cool, though the printer died before he got them all done. Besides, I really did want real brass.
The acrylic shelves were slightly more tricky to get my hands on.
I was open to DIY'ing them so did some research and discovered it would be easy enough. You can cut acrylic sheet with a regular wood saw then polish the sides with standard sandpaper (starting with a coarse paper and graduating down to something fine then finishing with a mild cleaning abrasive, such as Brasso). It would be a lot of polishing, though it was certainly doable.
The problem I had, however, was buying the acrylic sheet. The standard sizes just didn't suit my needs. They were too thin, too large, too narrow, too long. And they weren't cheap. I didn't want to spend a small fortune on a massive sheet of acrylic only to use one quarter of it!
So, I started enquiring about off-cuts. After visiting several factories and encountering numerous head shakes it became apparent that was a dead end. There were bins piled high with generous scraps of thin acrylic sheet, though nothing as thick as I needed. Apparently, the cost of acrylic sheet goes up exponentially with thickness so off-cuts of anything chunky are rarely discarded or on-sold to the general public at a discounted rate. Poo.
It was time to bite the bullet and find someone to make my shelves.
So, once again, I made my enquiries and it wasn't looking promising. $120 – $150 was the going rate for three small shelves with polished edges! Gah.
And then I came across a small business, not too far from my home, where I received a generous quote for $60 – SOLD!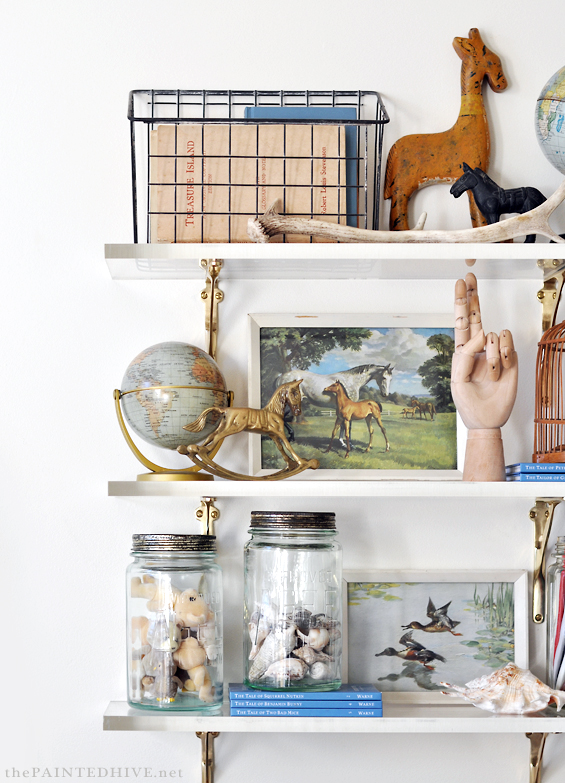 The edges look frosted in some of the pics though are actually clear and shiny. There also appear to be some imperfections in the acrylic, though it's just weird photographic reflections. They are perfect.
To hang the shelves I first checked the general area for any wall studs I could attach the brackets to. Although it wasn't entirely necessary to hang my shelves on studs, it does offer a bit more security (and is easier than messing around with plaster plugs). I located one vertical stud in the required vicinity so used that to attach one column of brackets to. The second column of brackets are attached to the plaster and held in place with small drywall screws.
I didn't want to screw into my lovely acrylic shelves, so they are simply held in place with a few neat dobs of clear silicone.
Didn't I just make that mounting process sound super quick and easy?
Truth?
It wasn't.
For some weird reason I thought it would be best to attempt hanging these shelves with the help of a second person. Ah, apparently I was wrong.
Here's what I learned…
1 Don't attempt to hang shelves, or do anything which requires mathematical accuracy, with the help of your sister (if your sister is my sister).
2 Spirit levels were invented for a reason. Use them.
3 When your husband gets home from work, throw your hands up in the air, make a face resembling "The Scream", use a few profane words then storm out. He will proceed to fix the crooked shelves.
4 If your sister holds a doctorate in mathematics, or doesn't come complete with two extra little kids (who, combined with your two existing little kids, create a noise, mess and distraction which neutralises the imagined benefits of a second person), ignore all of the above.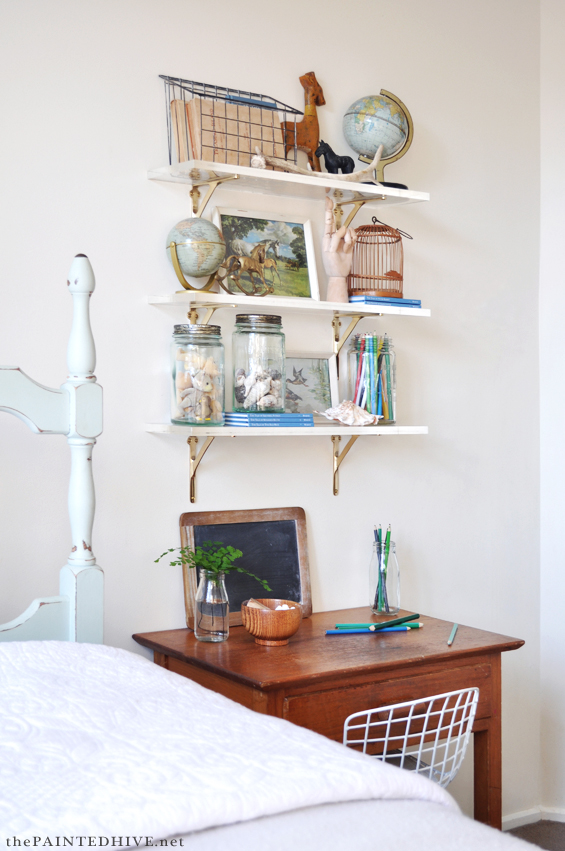 All up, this wasn't a cheap project, coming in at just over $100. That's a splurge for me. Had I used salvaged wood and cheaper brackets I probably could have done it for under $10!
That said, I LOVE these shelves. They are different, and fun, and perfect for Charlotte's little room. And I'm confident that I did get the best price I possibly could for them (short of going search crazy!).
The shelves are dressed with an assortment of thrifted and found objects along with a few trinkets that are special to Charlotte.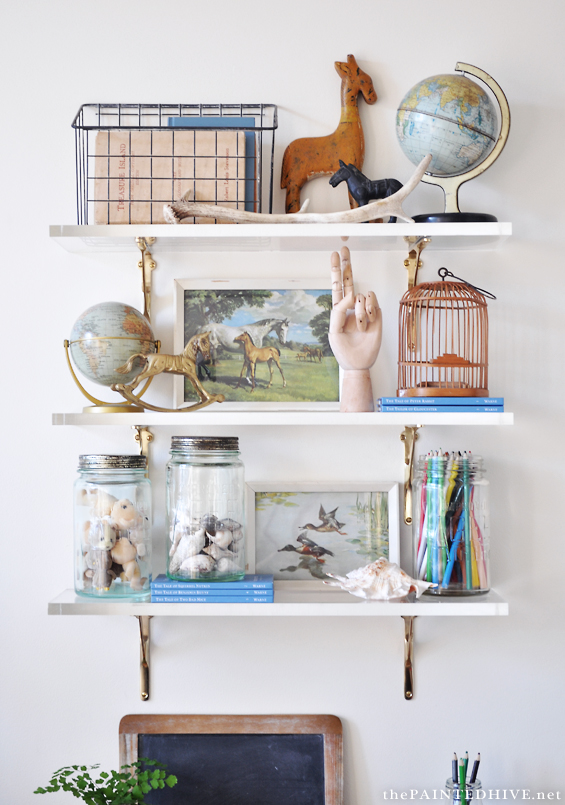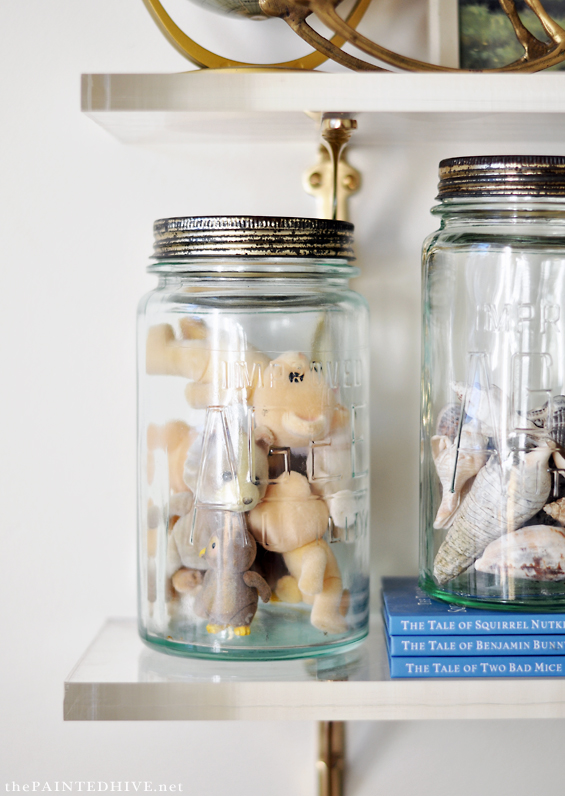 Vintage Agee jars house collections of shells and (slightly macabre looking!) Sylvanian Families figurines along with Charlotte's drawing pencils. Sweet retro artworks work to create layering. Beatrix potter books lend a linking colour and add interest with levels.
The wire basket was actually a cheap plastic coated one from the hardware store. I simply threw it in my parent's wood burner for a few hours. Voila!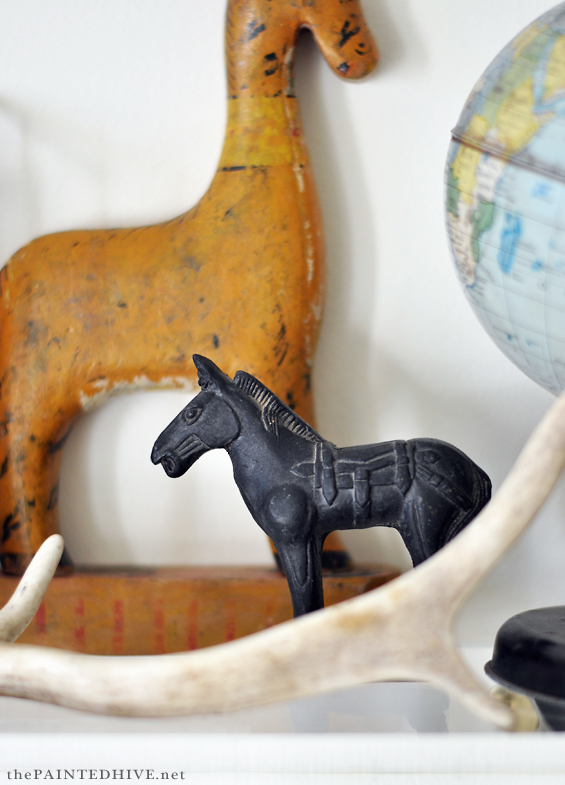 The charming wooden giraffe is a super old antique and the ceramic warhorse was bought at the Museum of Qin Terracotta Warriors in China. Charlotte believes it's her bedroom's guardian :)
If you're a regular visitor here, you might also have noticed that I switched out the original desk and chair…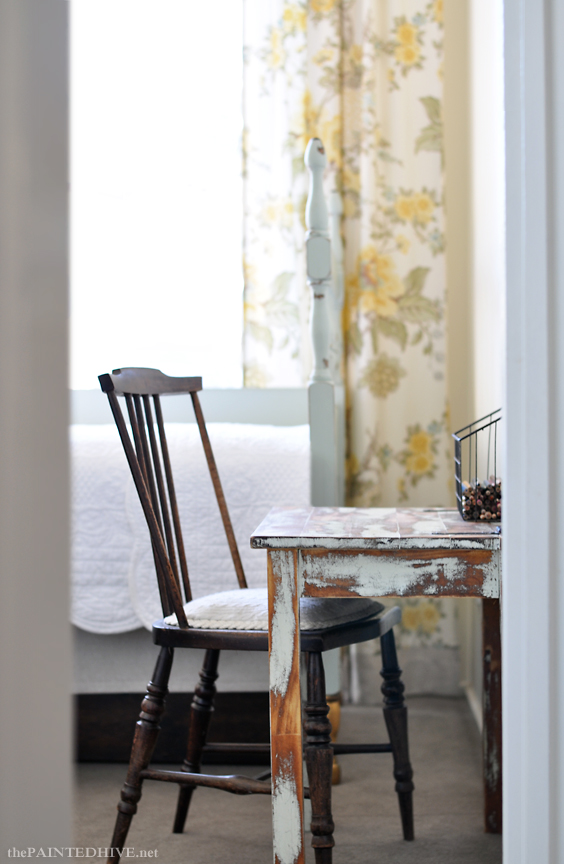 They were both super cute, though it was time for a change.
Charlotte was already out-growing the desk, so I swapped it for this vintage hall table which I found on eBay for just $20.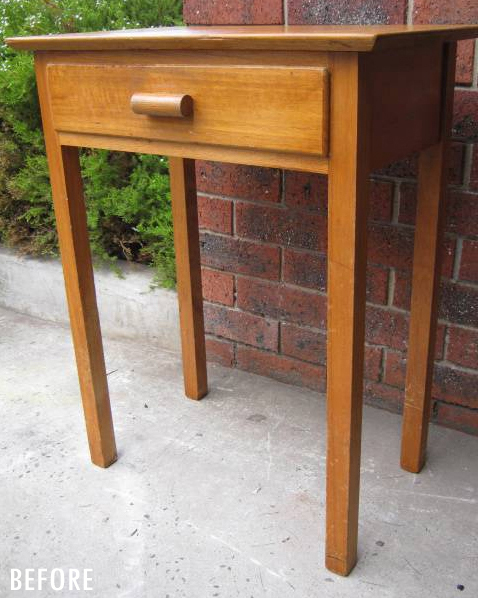 Photo from eBay.
The character-filled wood was lovely and warm so I just gave it a quick refresh with some linseed oil. The legs I simply cut down as required using a hand saw.
Well, when I say "simply", I really mean "stupidly". You see, I managed to shorten the same leg twice! Luckily, I'd decided to shrink the table gradually until I was happy with the height so even though I'd stuffed up it was still salvageable. My neighbour and I had a good laugh about it though :)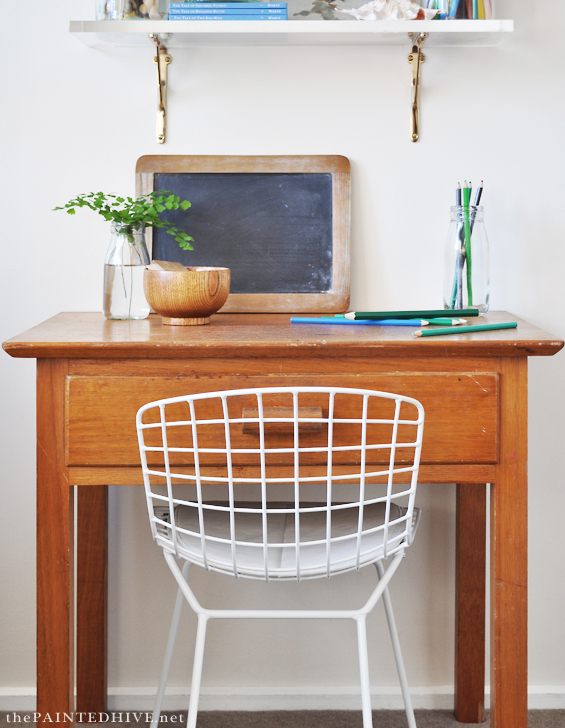 The original farmhouse-style chair was adorable, though never really practical. Even after trimming the legs it was still too tall, and its tapered feet were always difficult for Charlotte to maneuver on the carpet.
I decided to shop around for a more functional chair, with a playful modern nod to reference the shelves, and soon came across this replica Bertoia chair.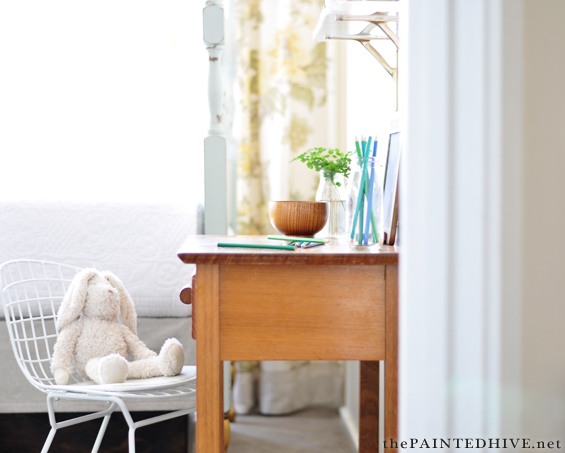 It was perfect. Not only is it incredibly practical, though its open wire frame and low slung back mean it doesn't impose on Charlotte's teeny space – and it compliments the shelves so well! I'm contemplating making a prettier seat pad, or perhaps simply painting the existing one, though for now the white vinyl is totally fine.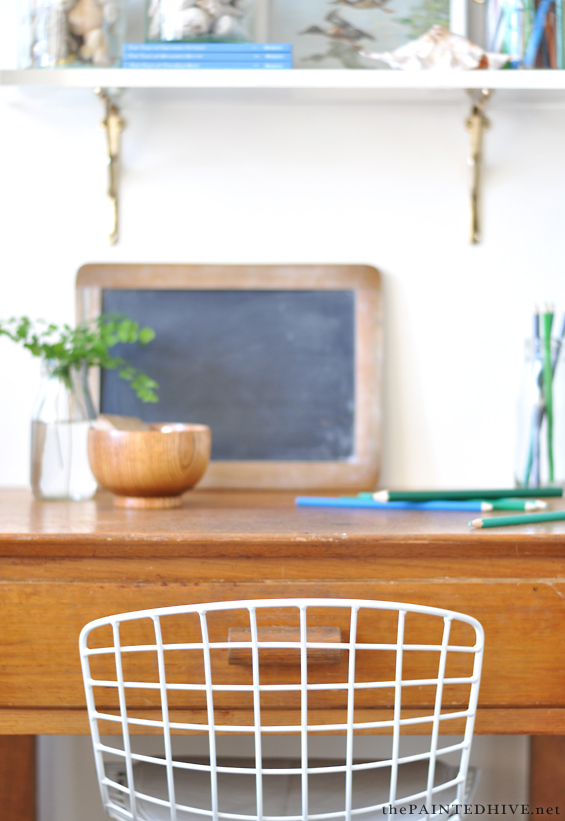 So in love with the evolution of this space!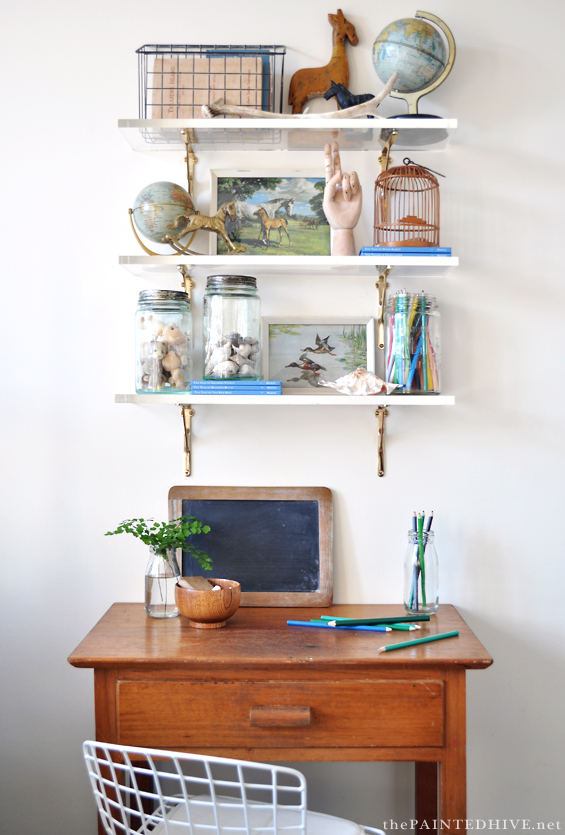 Catch up on all the previous posts about Charlotte's bedroom here.