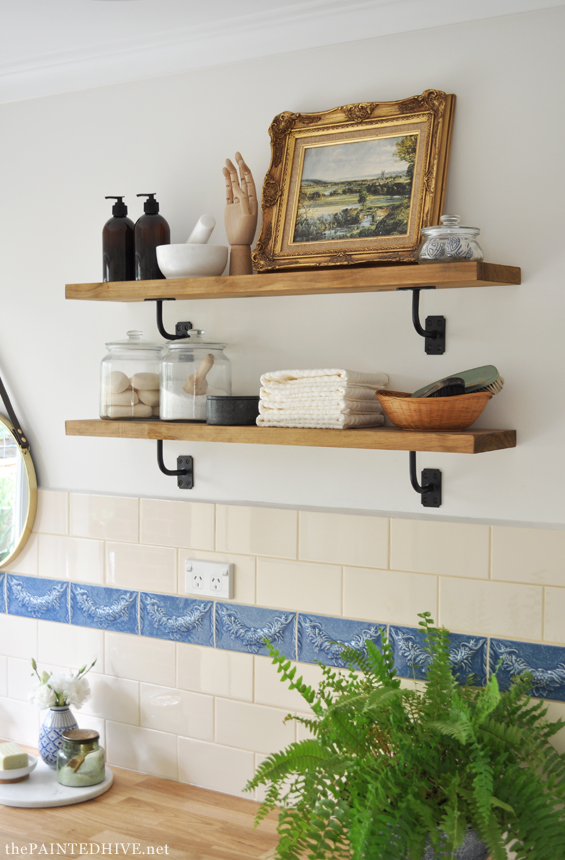 You know when you have a design idea, though the details are all a bit hazy and there are way too many options to consider, so you go to the hardware store in hopes a magical product will jump out and make the style decision for you?
That's pretty much what happened with these shelves.
I knew I wanted open shelves on the wall in my parent's laundry room, however I didn't have a clear vision of what they should look like. Nor, given the tight time-frame of the room makeover, did I have my usual luxury of spending days (or even weeks!) coming to a decision.
Enter my "just-choose-something-already" trip to the hardware store.
These were the brackets which first caught my eye as I was perusing the (rather dull, if I'm honest) offerings.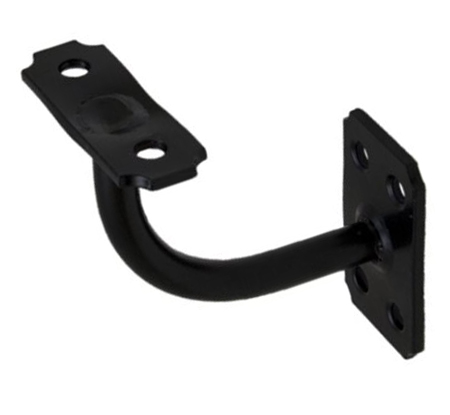 They are actually hand-rail brackets – and rather pragmatic ones at that. Still, I liked their somewhat crude industrial form and the fact they weren't traditional shelf brackets – they felt unique. I also thought they would tie-in nicely with the barn door hardware I was planning for the room. And, as a bonus, they were only $8 each!
If you like the idea of using hand-rail brackets yourself, turns out they are actually quite prolific and come in lots of styles and finishes…not to mention price-points! Here's just a small selection I found during a quick online search…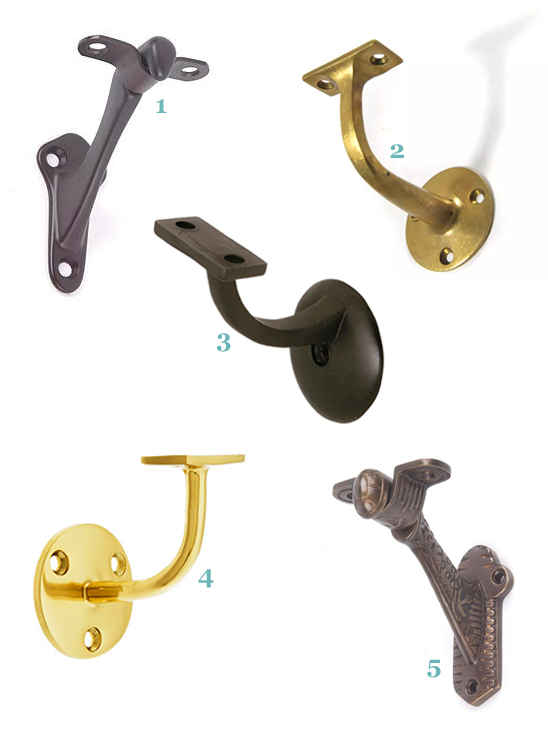 Note: Some handrail brackets are set on a slight angle. Ensure the ones you choose are at 90 degrees.
Aren't the ones with the separate "U" clasps cute?
To compliment the brackets, and reference the new butcher-block style counter, I decided on simple timber shelves.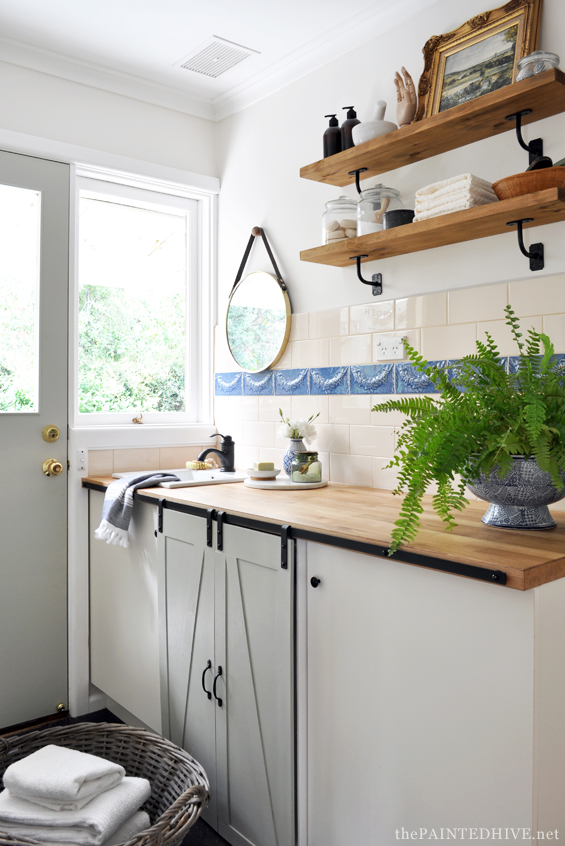 Initially, I was loving the idea of reclaimed wood though whilst at the hardware store I just happened upon the perfect pine plank for only $14. To make the shelves I simply cut it down as required then stained both lengths to co-ordinate with the counter (I used Feast Watson 'Old Baltic' which I already had on hand).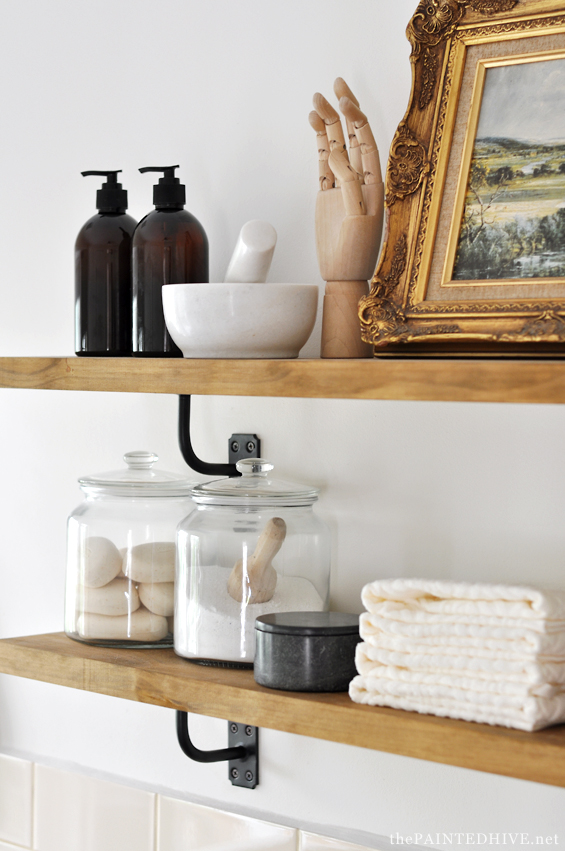 Now, I never intended to share a full "how-to" for the installation of the shelves. I mean, it's really not that interesting and is a pretty straight-forward DIY. That said, I do remember the last time I attempted to install shelves (#disaster #iblamescreamingchildren #Ialsoblamemysister), so here's my basic process…
1 Determine approximately where you need your brackets to go then check the wall for any studs. If possible, adjust the placement slightly so that at least one bracket per shelf is in a stud. If installing into a stud isn't an option for you, ensure you use appropriate plaster/drywall plugs to secure the brackets safely.
2 Once you have gauged the bracket placement, install one bracket, ensuring it is straight and level. Next, use a spirit level to determine the accurate placement of the second bracket. Whilst the bracket is in perfect position, accurately mark the screw points on the wall with a pencil or drill bit. If you're fortunate enough to have a second person around, it can make things easier.
3 Once the second bracket is installed, place the shelf on top then mark the screw points from the underside with a pencil. Remove the shelf to drill the pilot holes then reposition and attach with screws.
Tip: If your screws aren't the same colour/material as your brackets, once installed colour the heads with a permanent marker to match. That's exactly what I did!
Tip: As with any hardware which requires multiple screws, I don't like to fully tighten the screws until they are all in place. I find this just provides some wriggle room for getting the hardware and screw head positions properly aligned.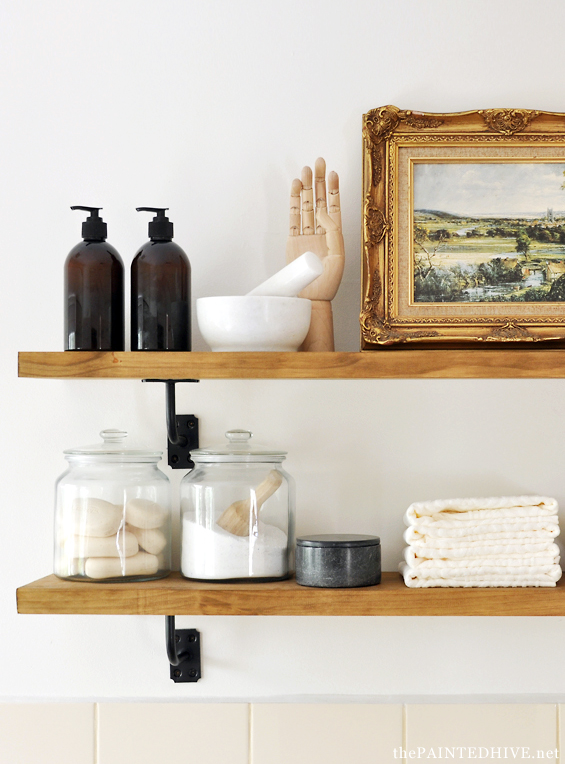 I realise that's a pretty blunt summary, though let me know if you have any questions :)
To style the shelves I used a selection of pretty, budget-friendly laundry/powder room-ish accessories.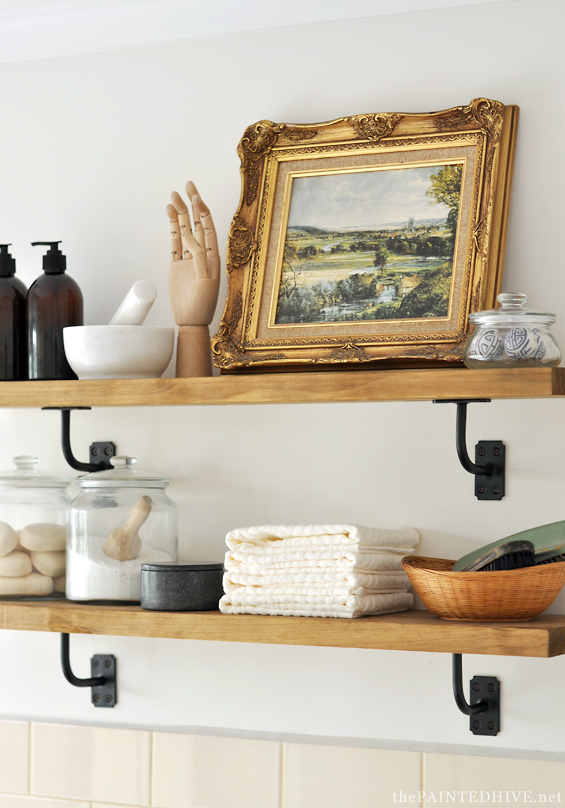 Glass Jars (Ikea)
Wooden Hand (eBay)
Hand Towels (H&M)
Mortar & Pestle, Marble Canister, Lotion Bottles (Kmart)
Everything Else (Thrifted)
So, for just over $20 per shelf, and less than an hour of my time, I managed to create a really cool focal point. Yay to that!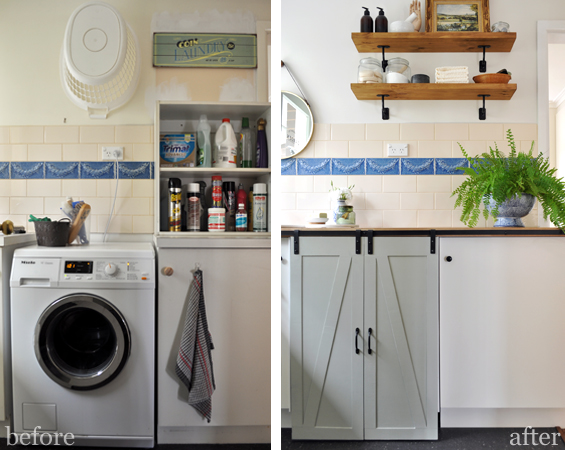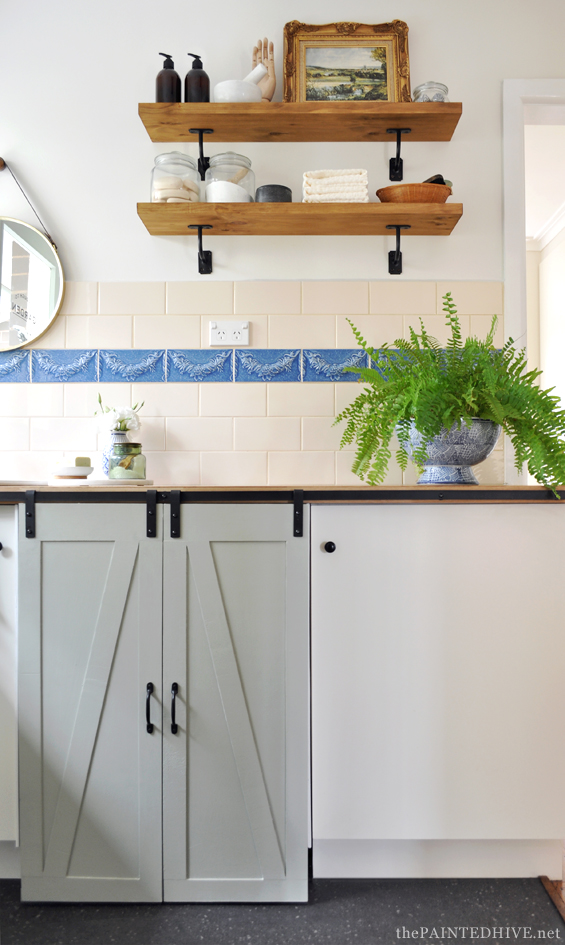 See the entire laundry room makeover here.
PS I didn't win the laundry refresh contest though thanks to your votes I came in a respectable fourth place, plus my parent's have a "new" laundry room they absolutely love, so in many ways I did win really! Thanks so, so much to everyone who took the time to vote for me.
PPS For those of you have been following me for a while, you might be interested to hear that my eldest started school yesterday! Do you remember when I was decorating her nursery? That was just last week, wasn't it?