I should be concentrating on finishing my little girl's bedroom…or sharing my next batch of free farmhouse style quote art (I know many of you guys are hanging out for these – don't worry, they're coming really soon!)…though last week I accidentally got lost designing a kitchen instead!
Over the Easter break we were lucky to be invited to stay with friends at their little beach house. It's a traditional 60's fibro in near original condition and sorely in need of a new kitchen. Our friends mentioned they were keen to renovate, though weren't quite sure how exactly. Basically, as is usually the case, they were having trouble visualising things. So, me being me (that is, a slightly obsessed decoraholic with zero willpower or desire to ignore a design dilemma!), I offered to play around with some ideas in my 3D rendering program.
Here's how the space currently looks…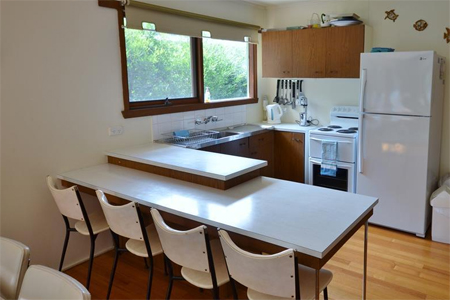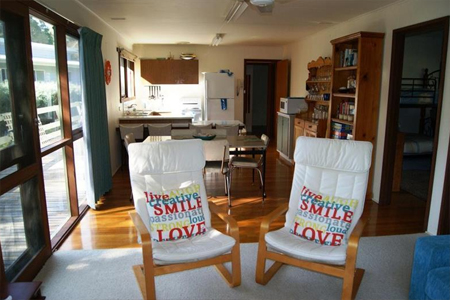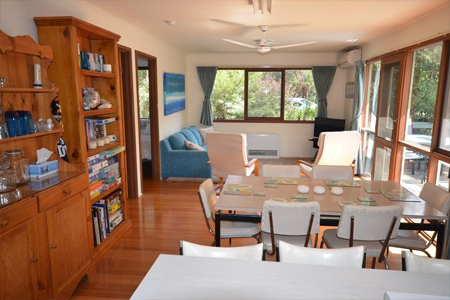 As you can see, the kitchen is part of an open plan room incorporating the dining area and living space. It's clean, homey and useable though dated, worn and cramped. There's no pantry or dishwasher, no housing for the rubbish bins or microwave, no ventilation for the stove, the ceiling lights are unattractive fluoros, and the pokey cabinets and tiered counter fail to make the most of the available space. Sadly, there's little scope for a mere cosmetic refresh here. This is a total gut job!
Along with retaining the current 'U' shaped configuration I also played around with the idea of an 'L' with a separate island.
CLICK THE BELOW IMAGES TO ENLARGE
'U' SHAPED KITCHEN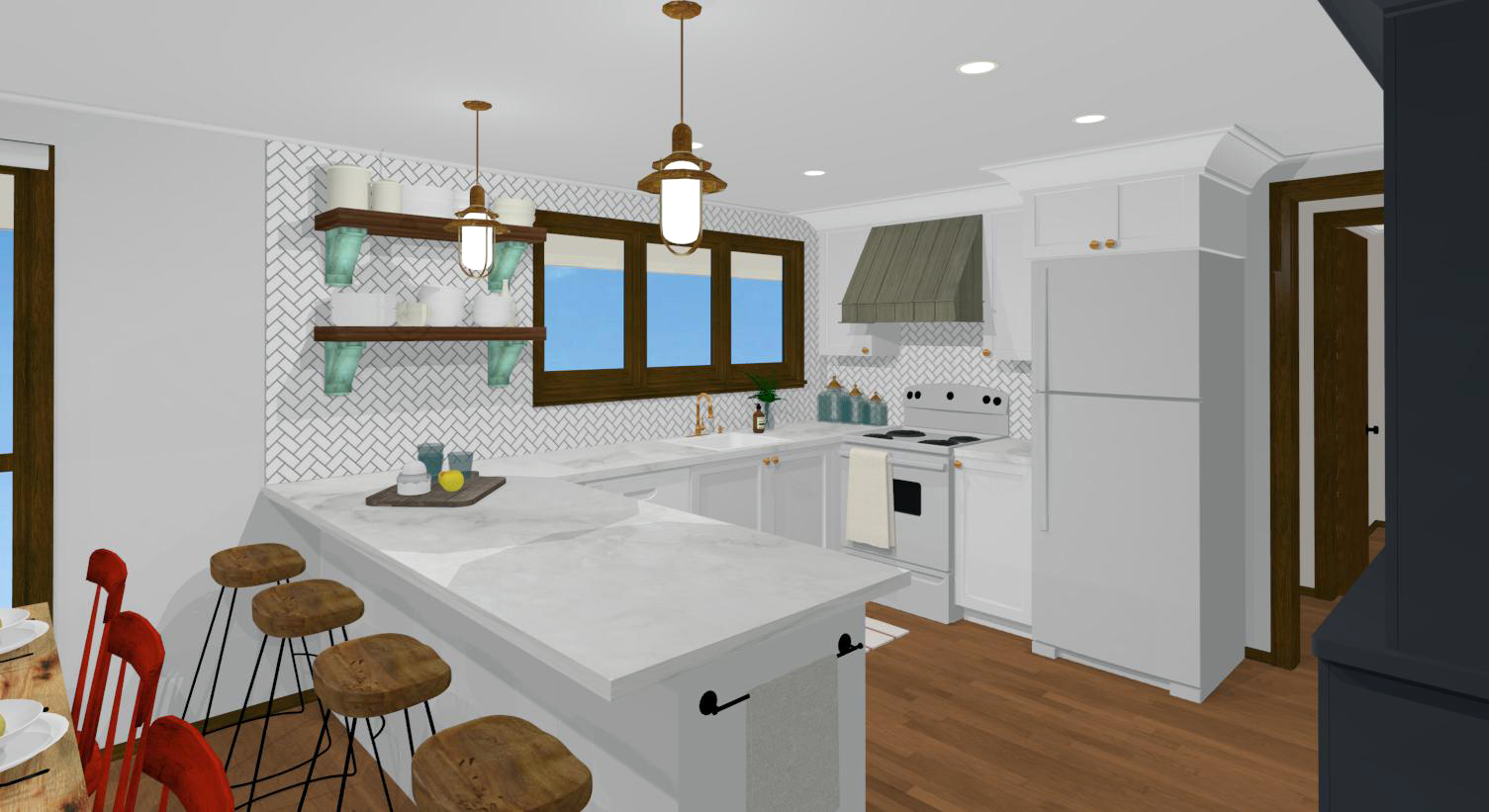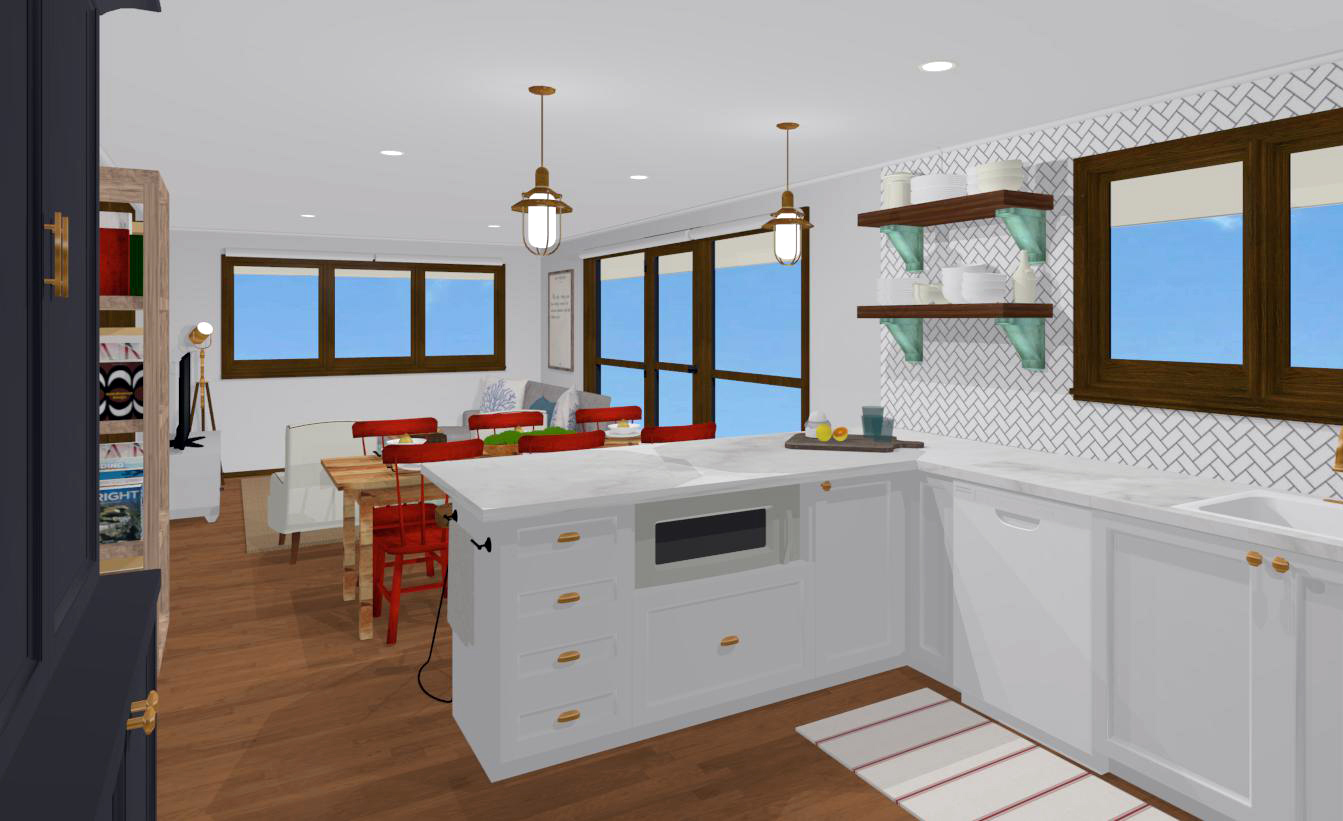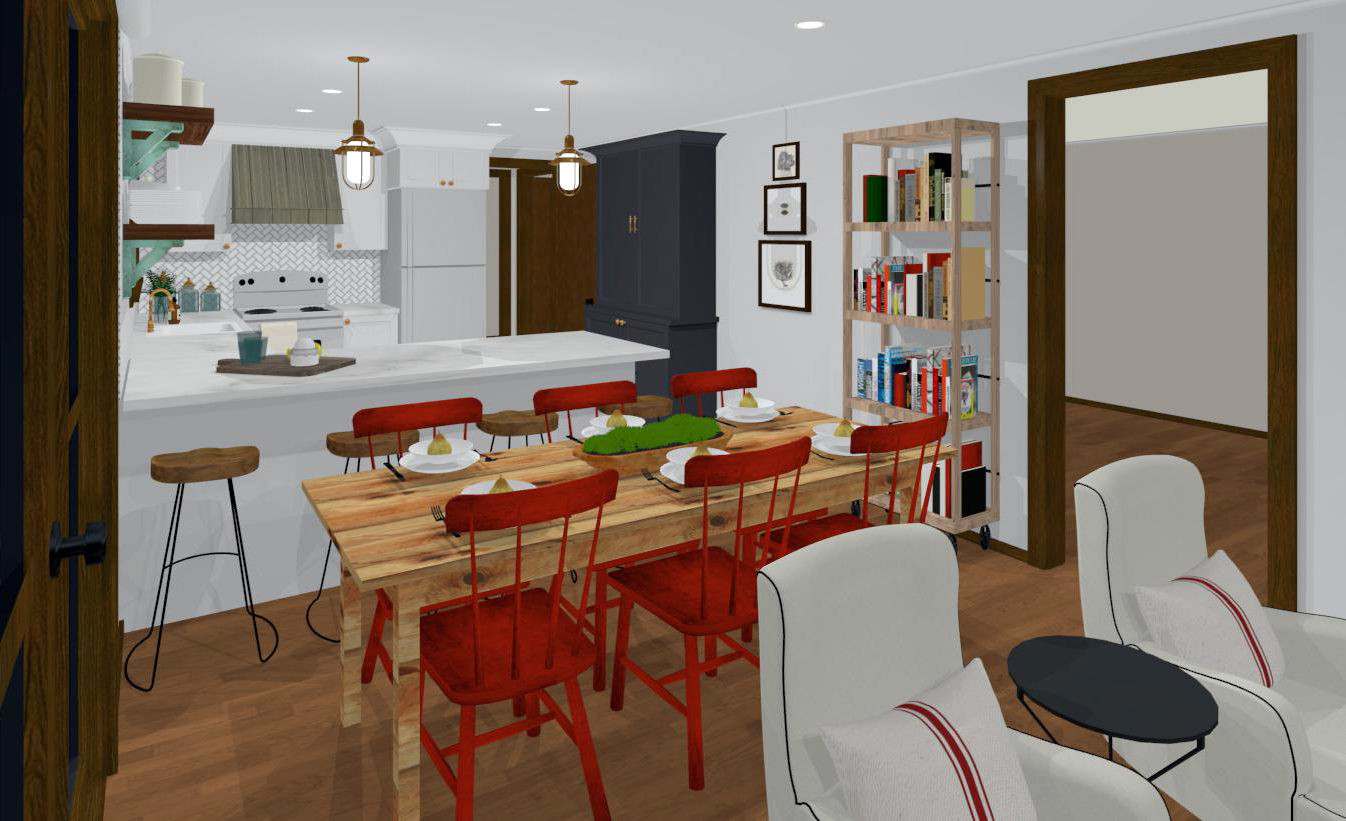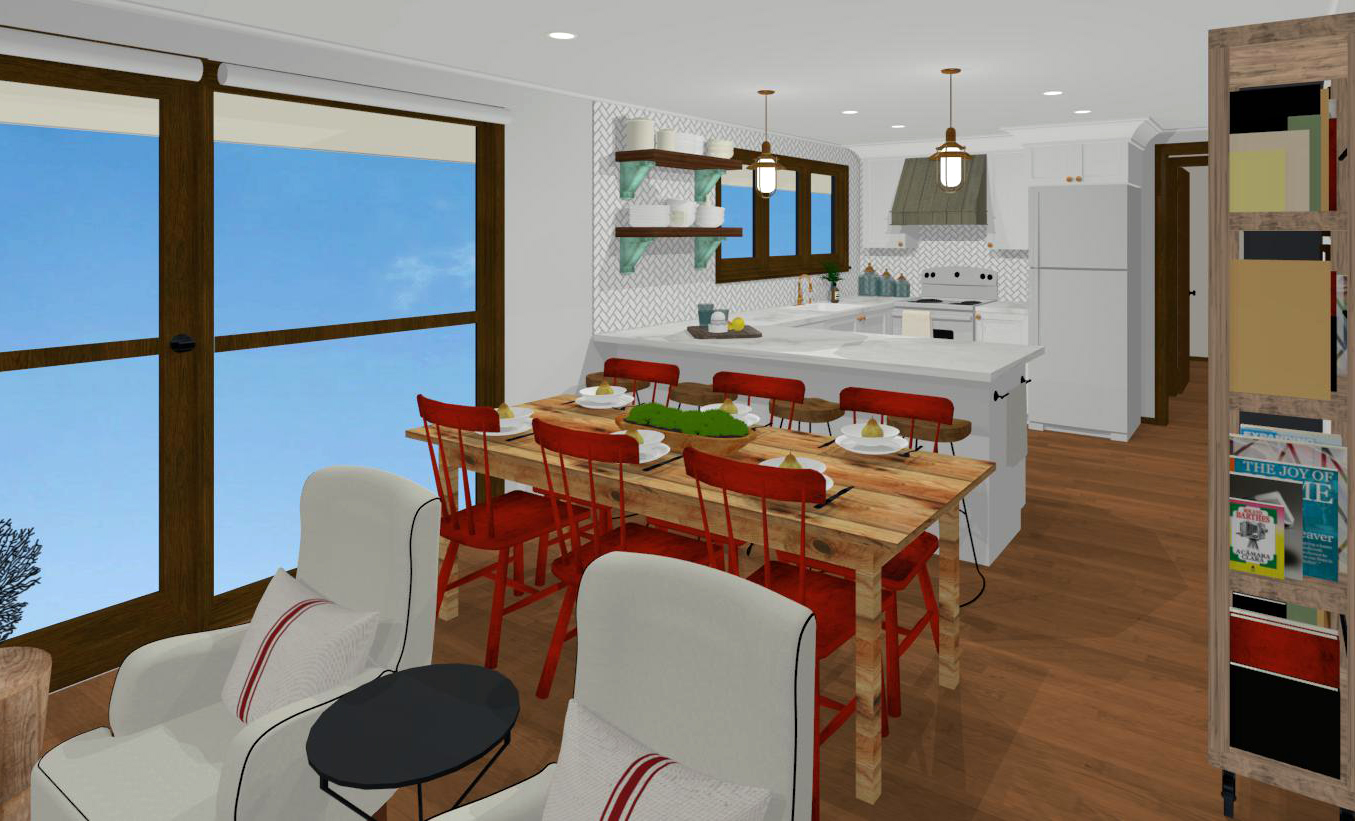 'L' SHAPED KITCHEN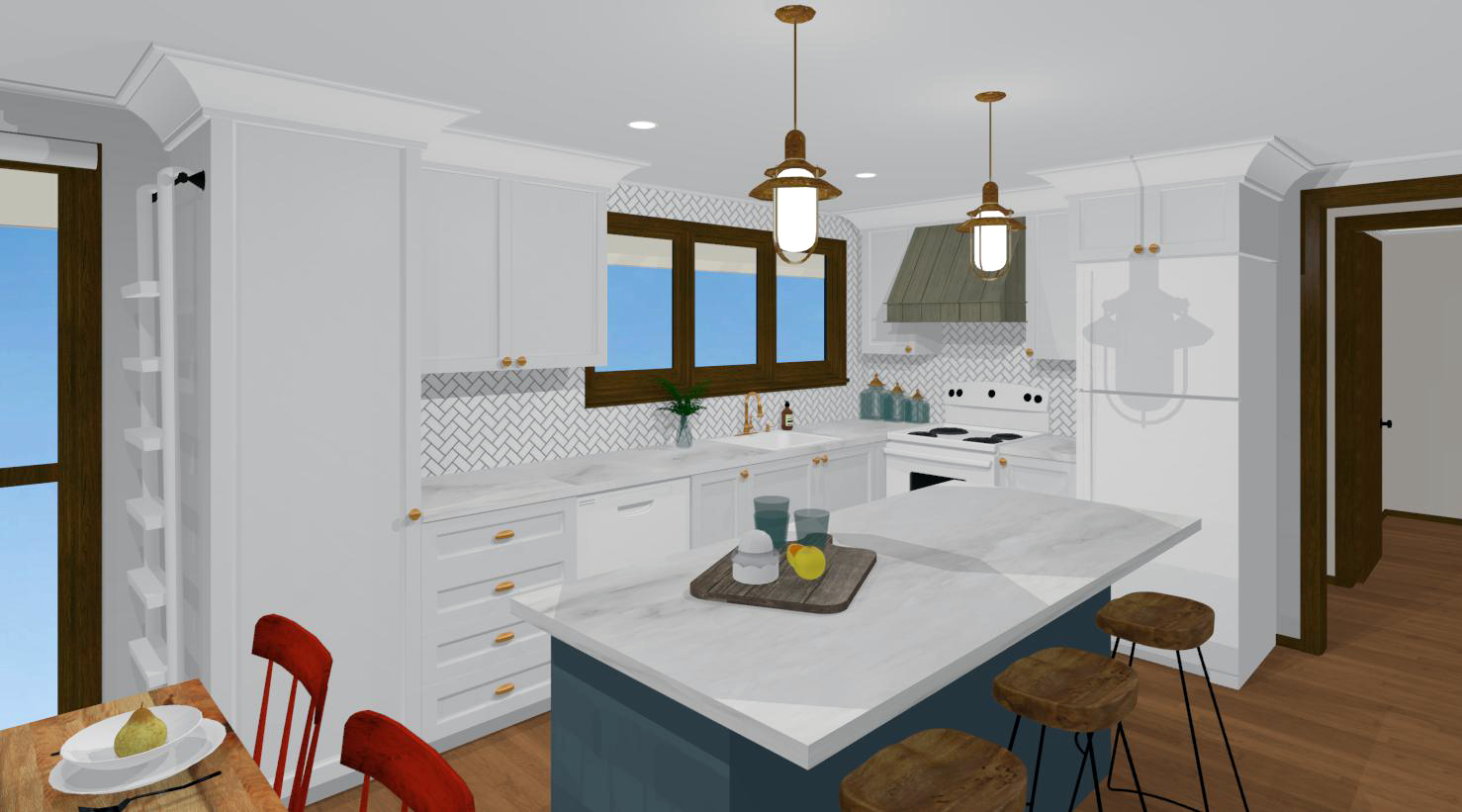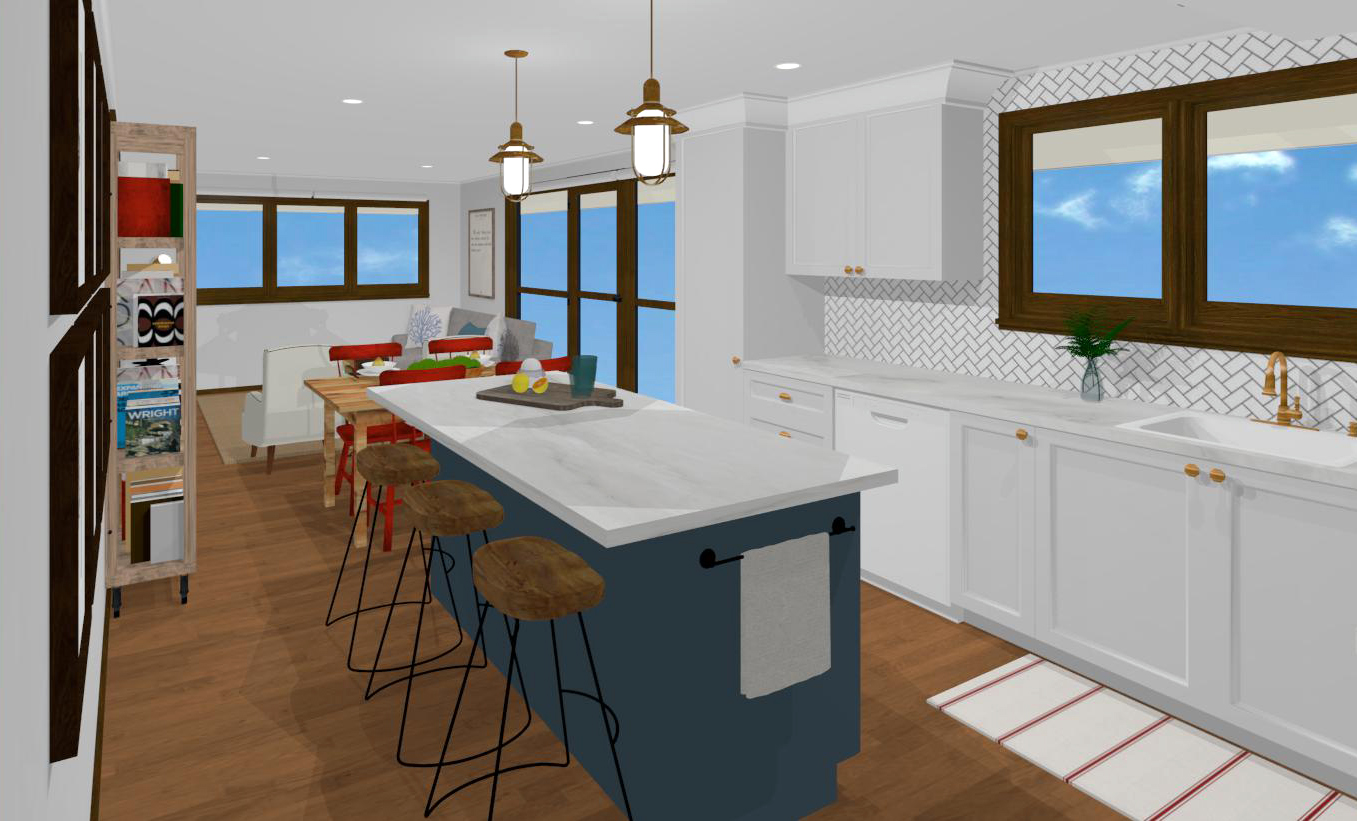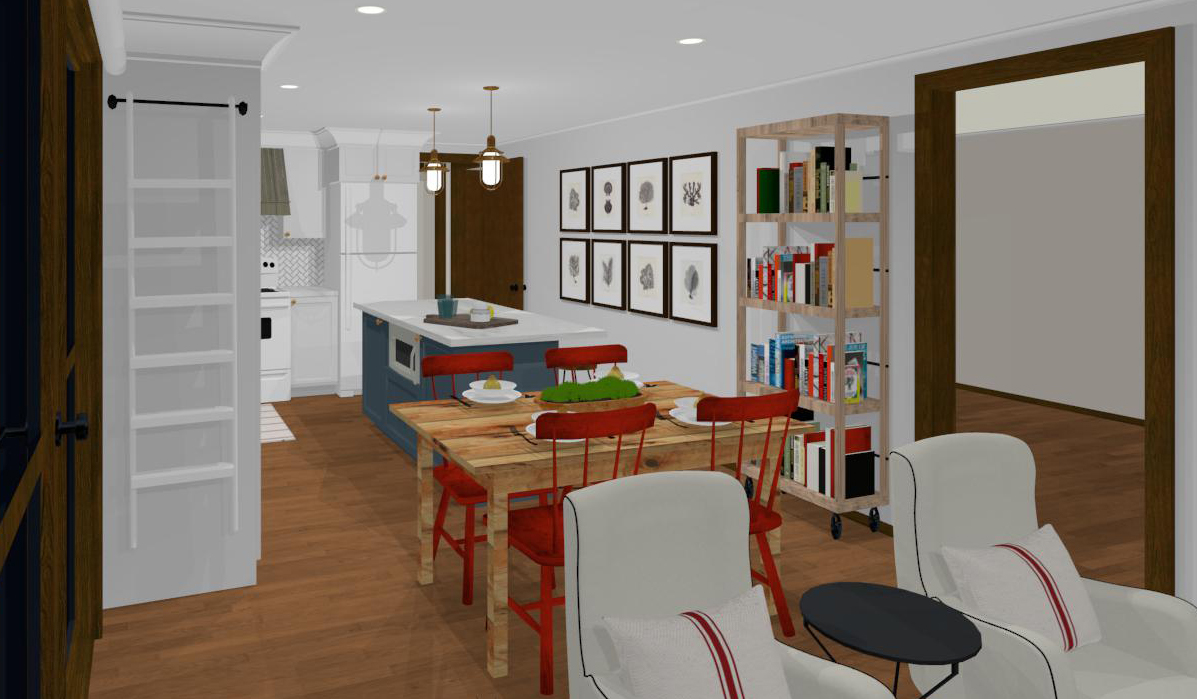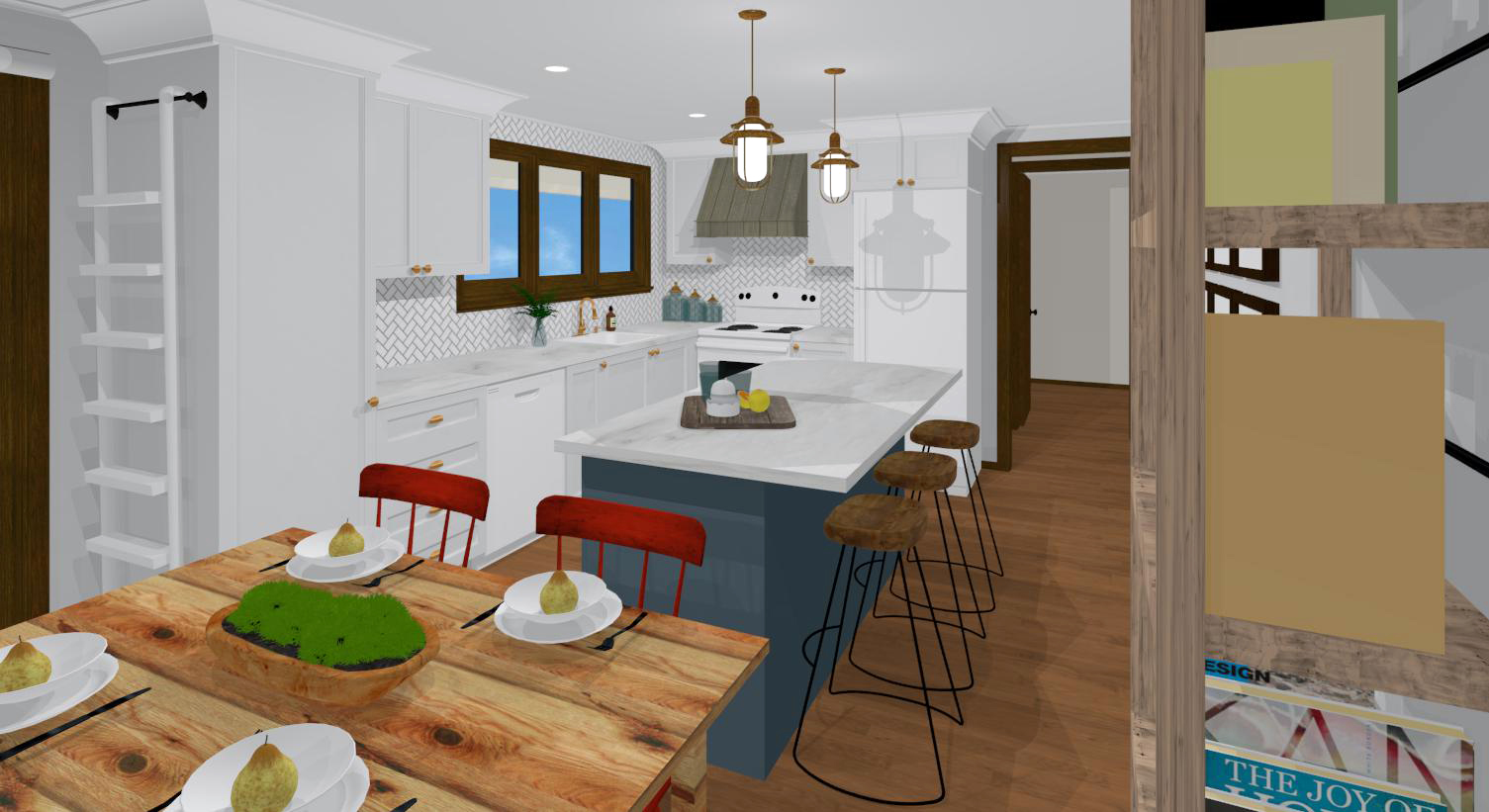 Which one do you prefer?
I like them both. The open and contemporary feel of the 'L' appeals to me though I think the 'U' perhaps sits more comfortably in the space. Does that make sense? It just seems a little more natural.
Also, it's easy to miss though the 'U' accommodates more seating at the counter than the 'L' does at the island. I couldn't make the island any longer or there would be no space to open the fridge or place the dining table. Plus, the 'U' allows for a longer dining table as the kitchen cabinets don't protrude into the dining zone as they do in the 'L'.
'U' SHAPE v 'L' SHAPE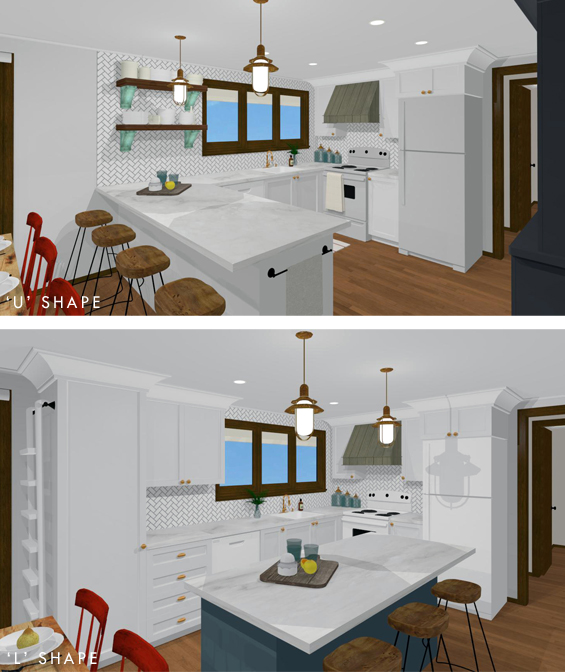 As I never fully discussed all of the specifications for the space with our friends, I've taken total creative license with these designs! Of course, everything is merely suggestive and open to customisation as desired. Let's face it, when it comes to decorating taste is subjective and the possibilities are endless!
I used a neutral base of white accented with bluey-charcoal and red. I'm not usually a red person though for some reason I love pops of it in a cosy cottage space, especially when paired with bluey-charcoal. The over-all vibe is classic cottage meets modern industrial – or something like that.
One thing our friends did mention was that they were considering a dark counter so I created another plan with black soapstone in place of the white marble…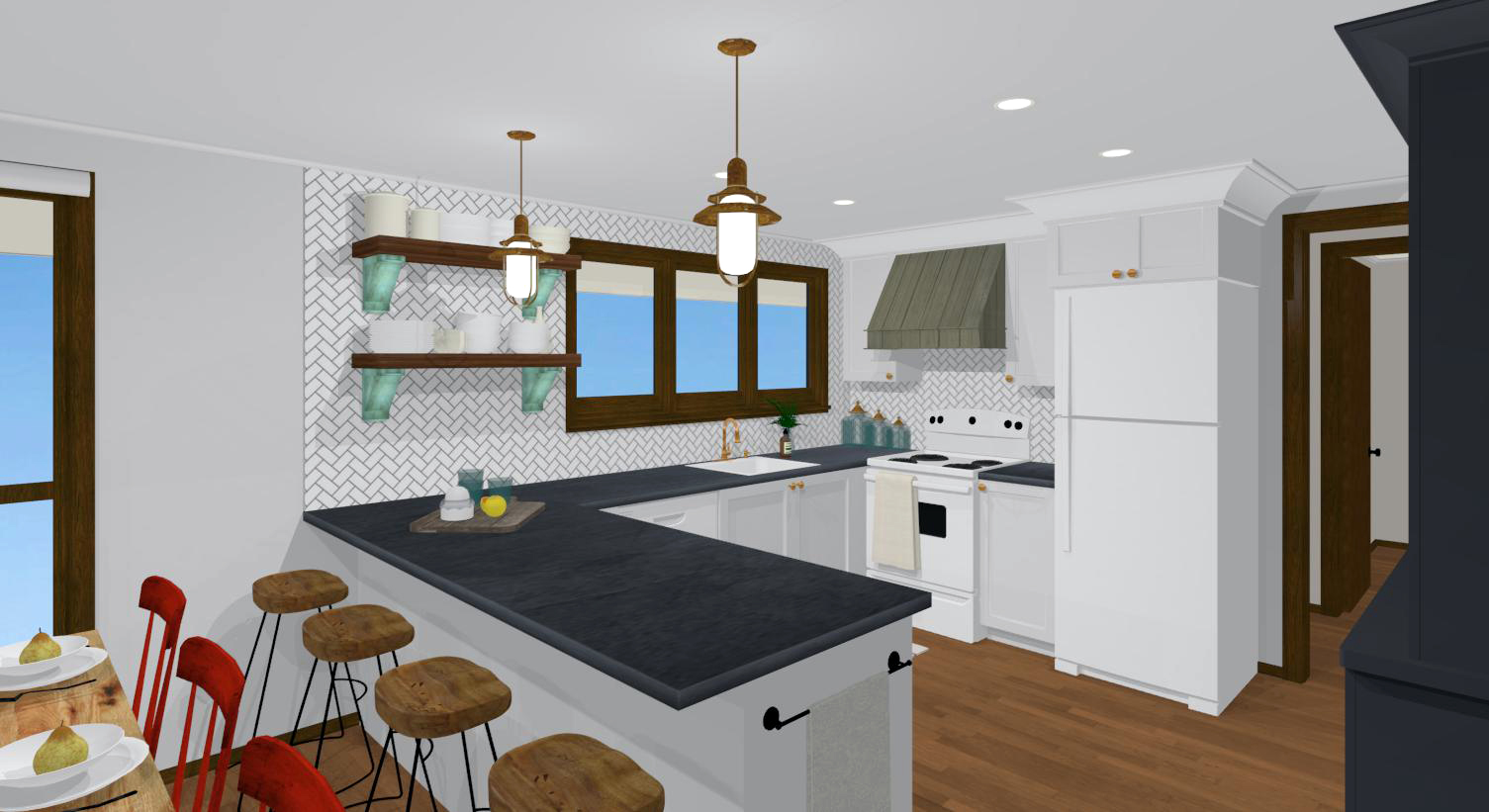 Do you prefer the contrast the dark counter offers? Or do you like the harmony of an all white kitchen?
DARK COUNTER v LIGHT COUNTER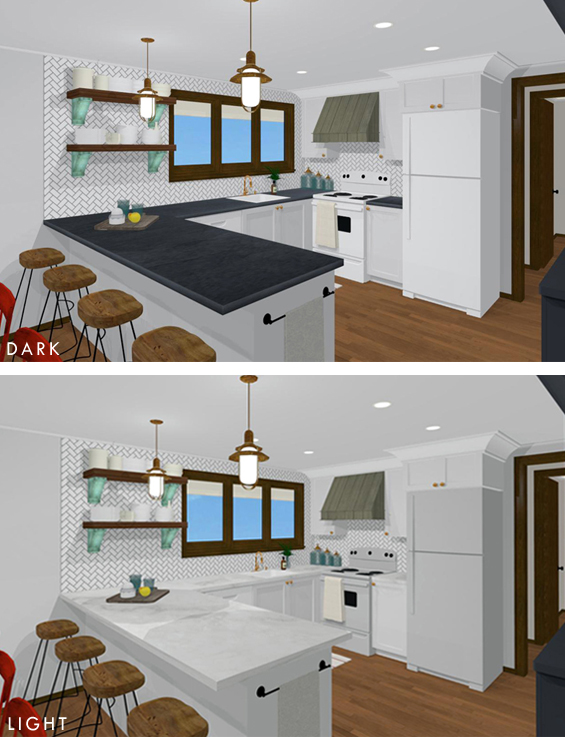 Again, I like both and there's really no right or wrong here. It's just a preference thing. I think I would choose the light counter.
Anyhoo, here are some before and afters just for comparison's sake…
'U' SHAPED BEFORE & AFTER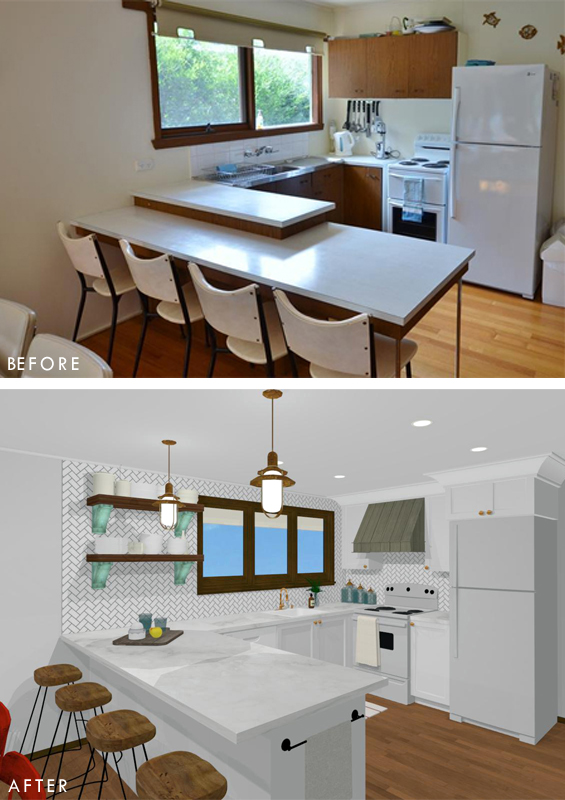 'L' SHAPED BEFORE & AFTER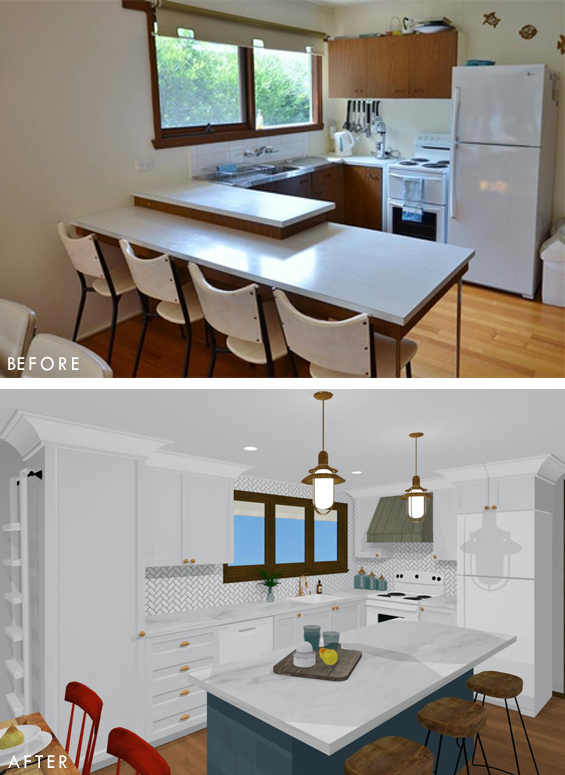 I had so much fun playing around with this kitchen and it's lovely to be able to offer our friends a visual guide before they dive into renovating. Hope you like it!
If you'd like some design help for a room in your home, don't hesitate to contact me.