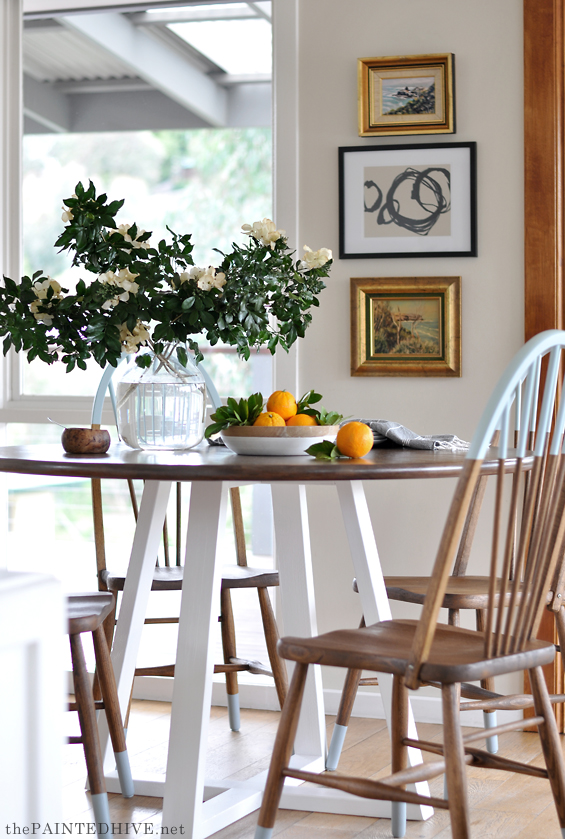 After lots of indecision, uncertainty, and sanding, it's done!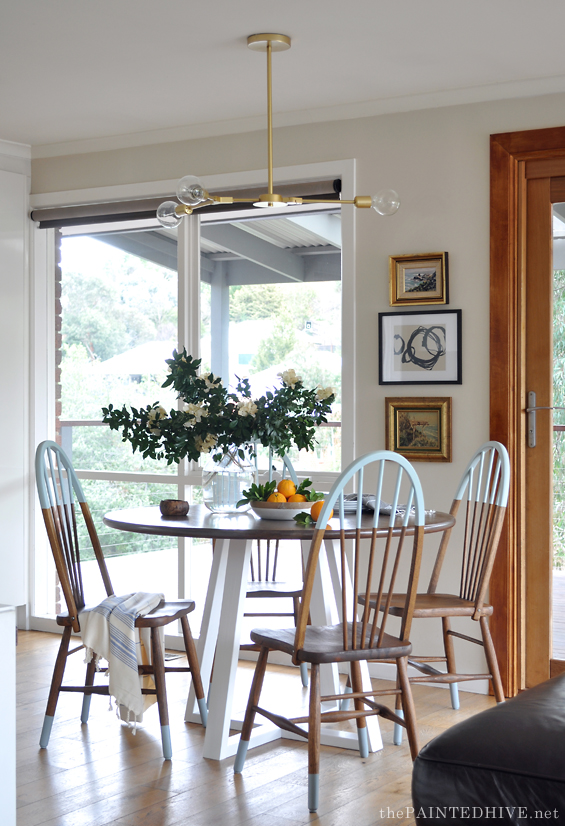 I questioned myself A LOT throughout this project, and it really wasn't until I pulled everything together that I realised I had actually pulled everything off!
In case you've missed my previous posts about this makeover, I was endeavoring to refresh my sister's dining room for free by selling her old furniture then using nothing but the money gained to fund the overhaul.
Here's how the room looked a month or so back…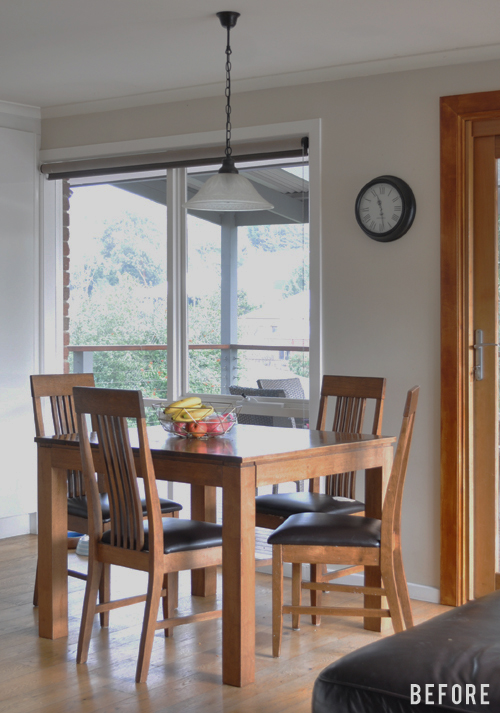 And this was the true state of the dining setting…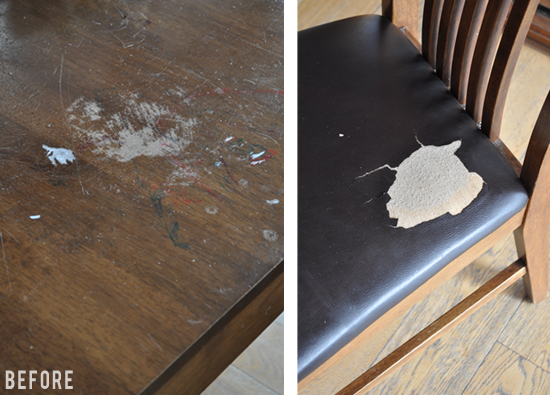 I managed to sell the dining setting (following a quick spruce up) and pendant light on Gumtree for a total of $200. This gave me a modest, yet very workable, budget to acquire some 'new' pieces…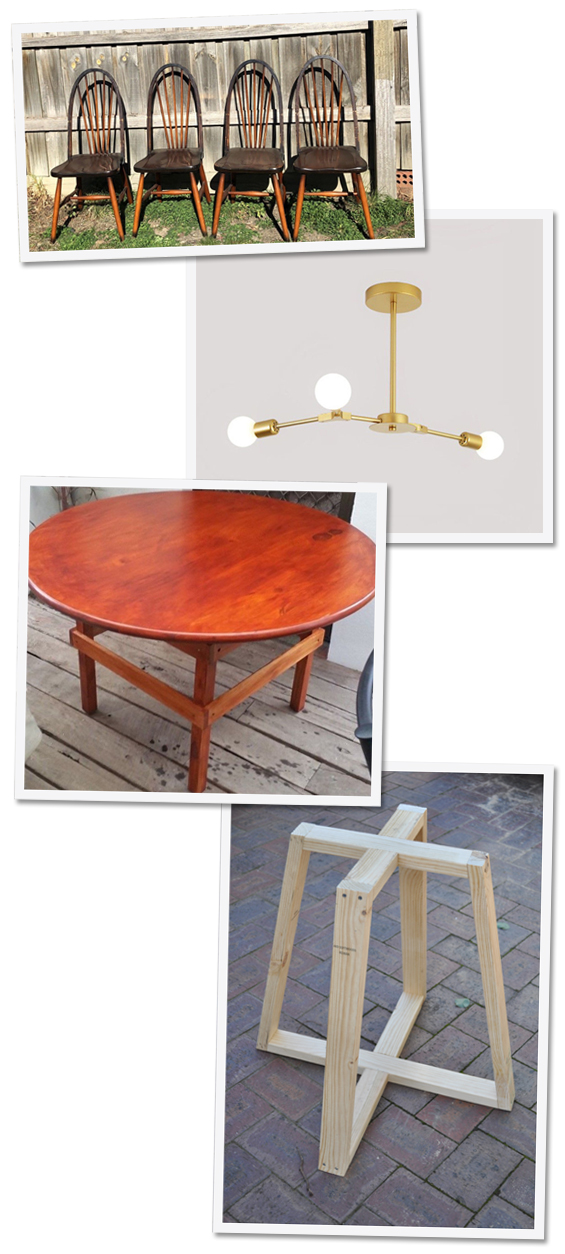 It was a ramshackle bunch, and, like I mentioned, I wasn't quite sure how things were going to come together!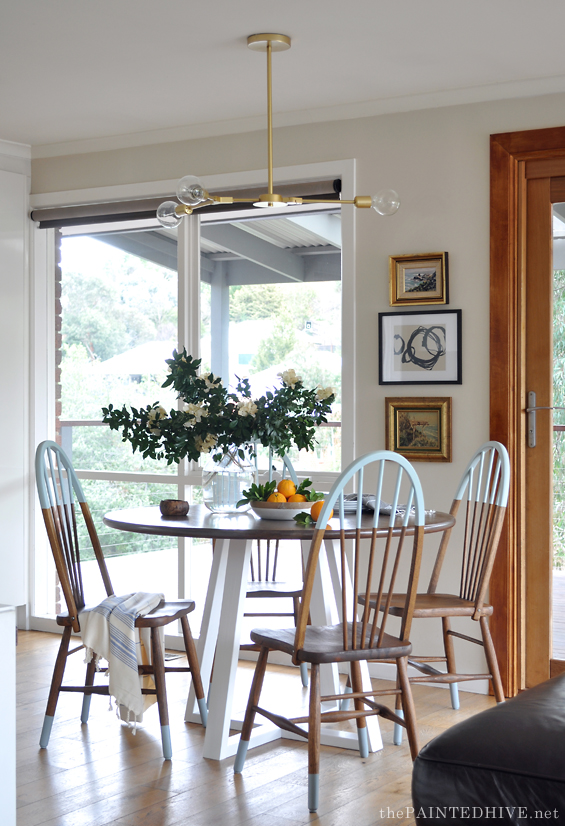 The new table, which I feared might be too large and disproportionate, is thankfully perfect.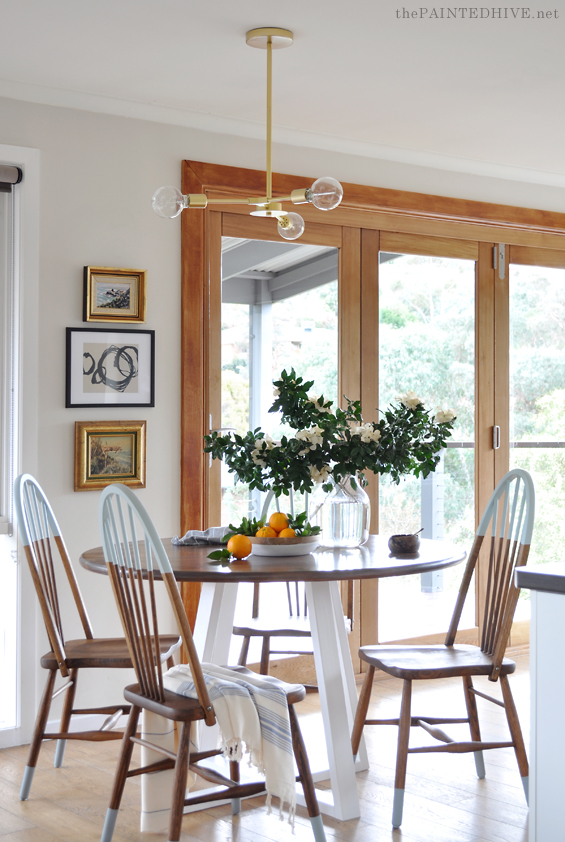 Even though it's bigger than the previous square table it makes the room look so much more spacious. The round top helps soften everything and really aids with the flow of the space whilst the geometric base adds a crisp, contemporary touch.
I completely refinished the pine top by sanding it back to raw before applying a mid-brown stain followed by a few coats of clear satin sealer.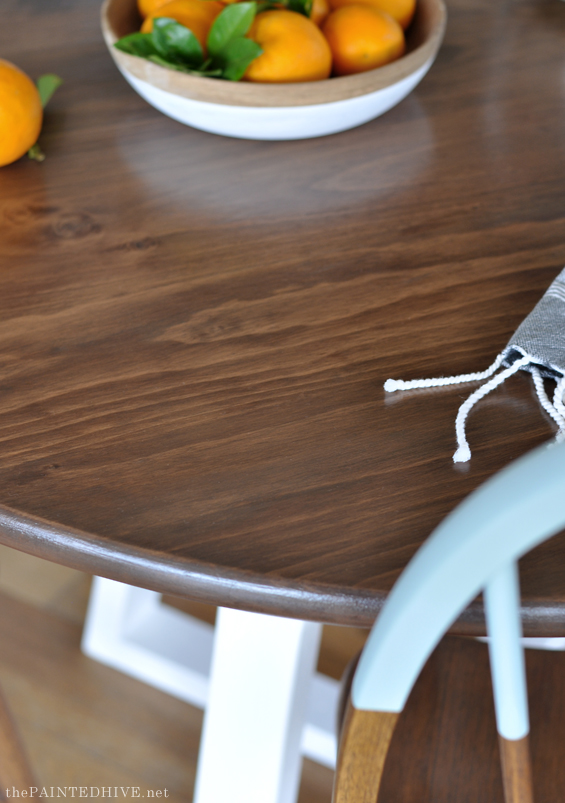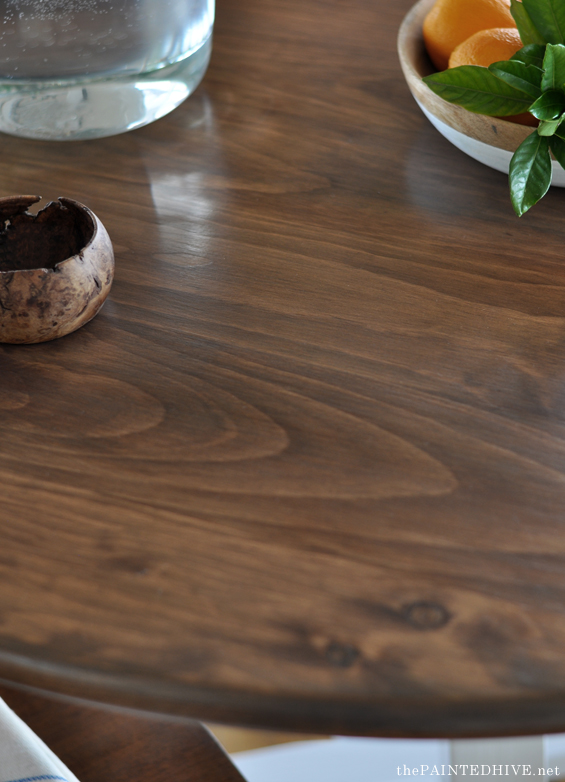 So much nicer than the streaky red mess it was before!
My DIY table base (find the full how-to HERE) got a lick of fresh white floor paint which I had left-over from a previous project.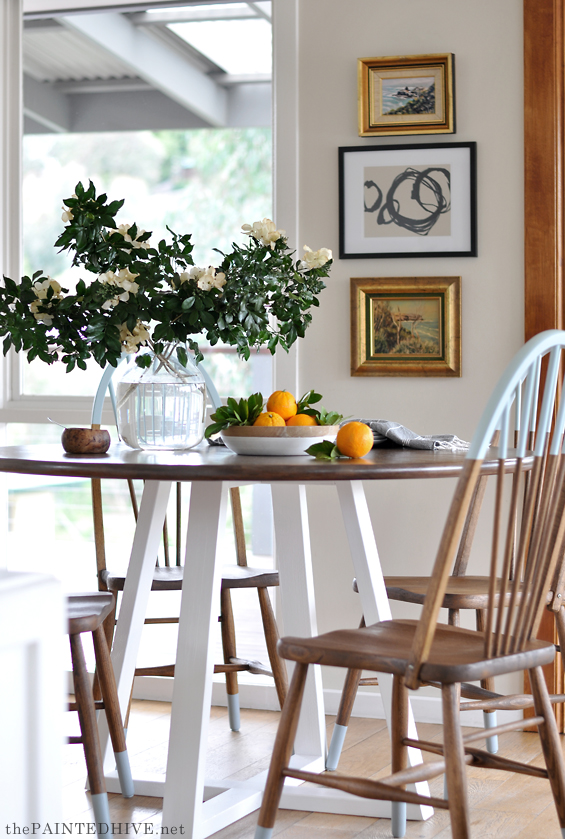 The dining chairs, which were never quite what I wanted, actually work really well.
The traditional Windsor style gives a timeless edge whilst the playful paint finish lends a youthful and relaxed vibe.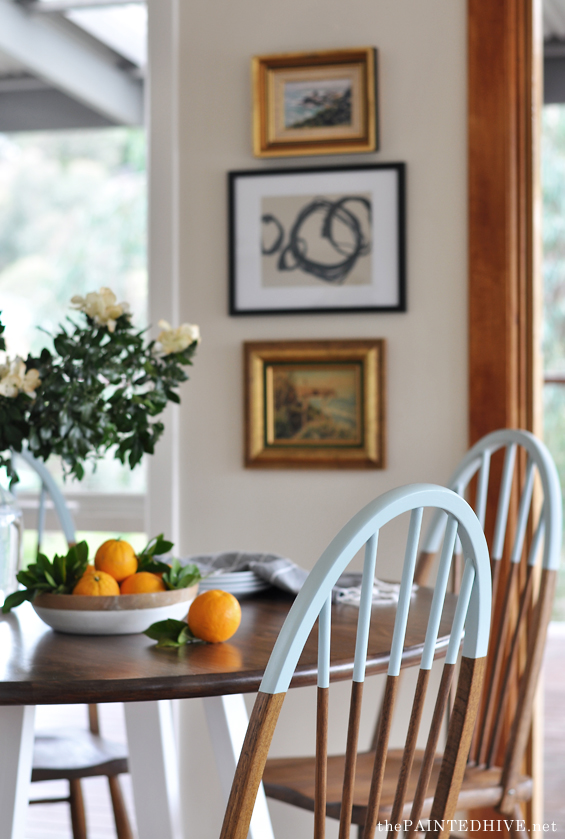 From the start I had envisioned a soft blue-grey colour for the dipped effect though was never convinced it was right. Thankfully it teams beautifully with all of the warm wood and gold. And it off-sets the white of the table base and neutral kitchen perfectly to create a bit of interest and vibrancy.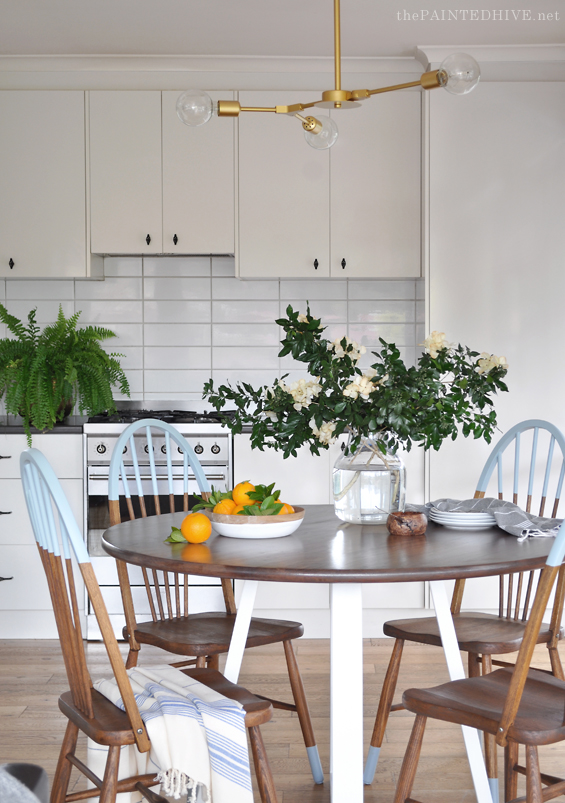 You can learn more about how I refinished the chairs in this post.
For the most part I love the light.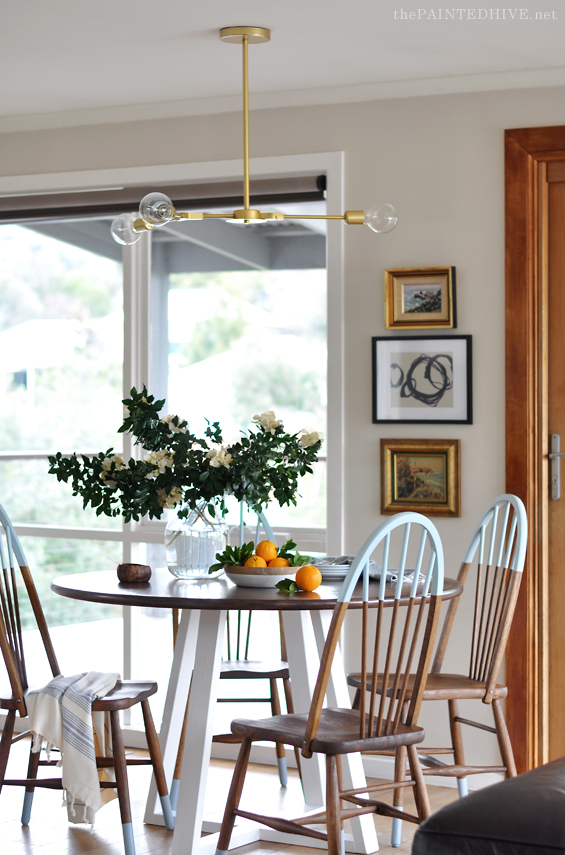 I'm sure some of you may think it's out of place though I wanted that unexpected modern punch to cut through the predominately classic feel. To me, it elevates the room and adds a bit of oomph.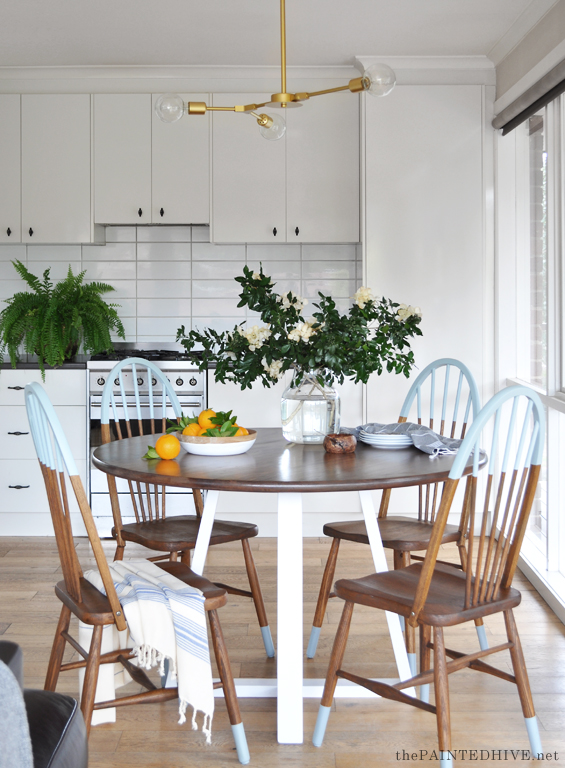 I must admit however that I'm a little disappointed with the gold finish. The eBay listing showed it as brilliant burnished brass whereas it's actually quite flat paint. Of course, for the price I really can't complain and when you buy things online there is always that element of risk. In all honestly though, it's fine.
To finish the space I added a mix of vintage and modern artwork. The two landscapes were only a few dollars each from charity stores and the abstract is an Etsy download in a Kmart frame.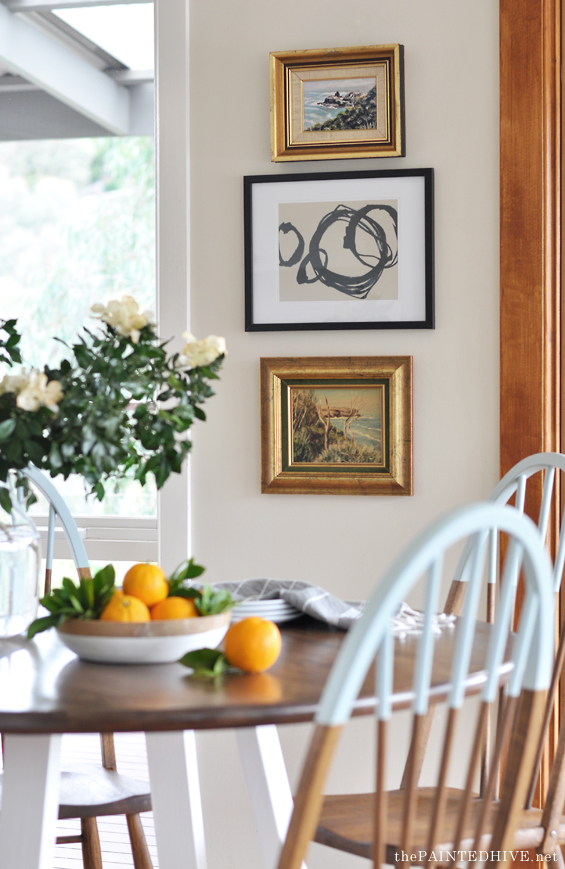 Yes, I realise they aren't evenly spaced. I did that deliberately to give them a less formal feel.
I agonised for ages over the wall decor. For a while I was going to go full modern, though this room made me realise something: vintage art is basically my patronus – seriously, it's a force not to be reckoned with!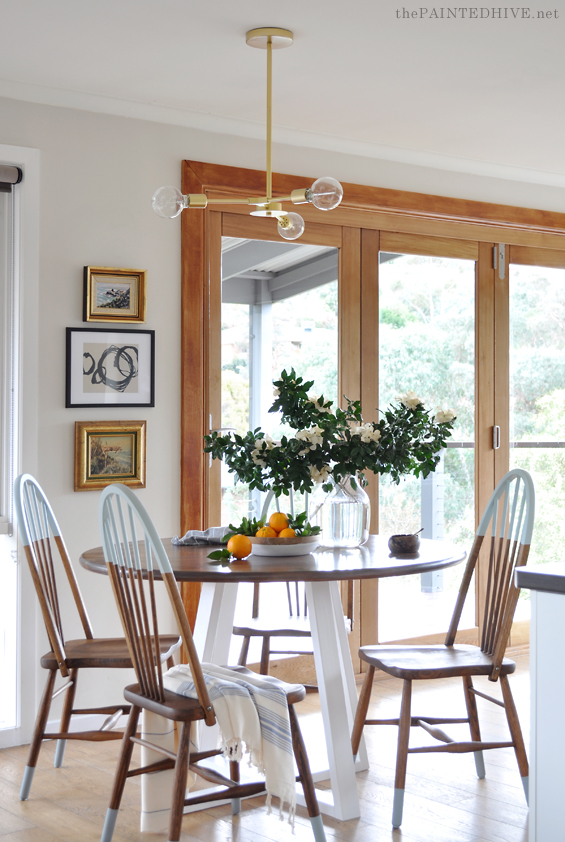 All of the styling pieces are things we already owned.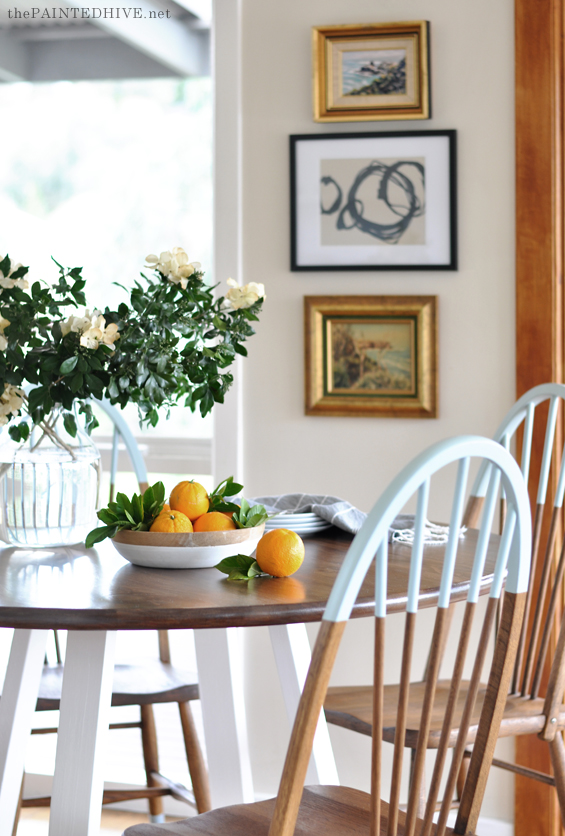 So now, let's see how I did budget-wise! Remember, in order to make this a free room makeover I can't spend more than $200 – based on how much I was able to sell my sister's original pieces for.
Below are all of my purchases for the space. This list excludes items and supplies I already had (such as paint and stain for the table and chairs and most of the decor).

TALLY
Pendant Light $72
Dining Chairs $40
Dining Table $8
Edison Bulbs $27
Paint Stripper $17
Clear Sealer $18
Artwork $23
TOTAL
$205
You can find out more about where I sourced the main items in this previous post.

Oh man, guess I need to start calling it "The $5 Dining Room Makeover". In all honesty, I never tallied everything up to the exact dollar until just then. I don't think my sis will begrudge me the slight overspend!
Hope you guys like it.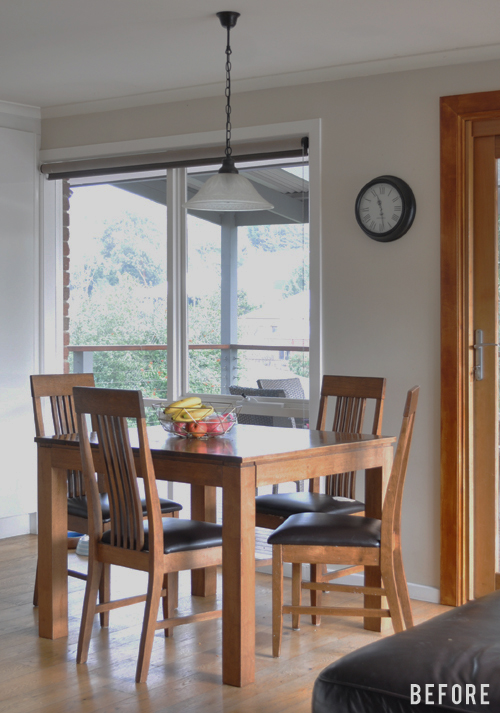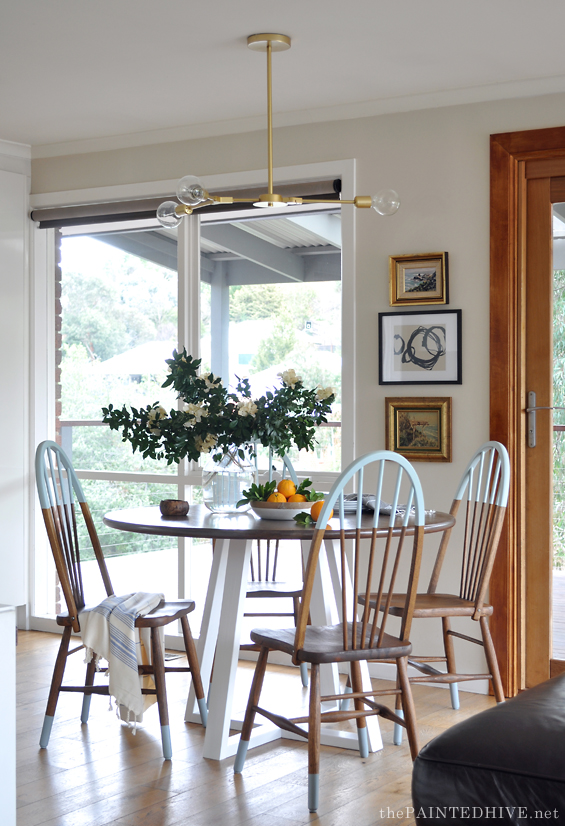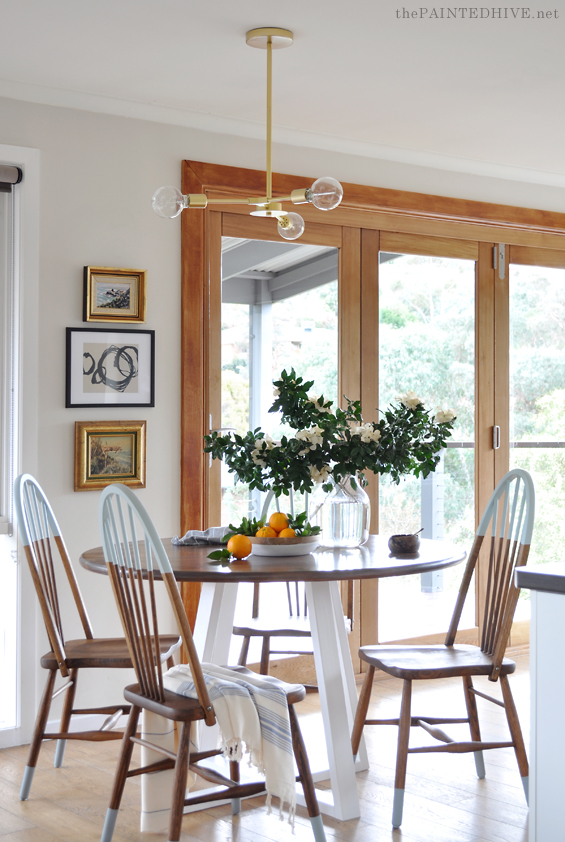 If you'd like to save this project you can pin the image below.