Now that things have finally settled down (in case you missed it I'd been helping my gran prepare her house for sale), it's time to get back into some decorating for my own home!
Starting with my little boy's half-finished bedroom.
If you've been following along with the makeover you'll know that…
The walls got a coat of paint…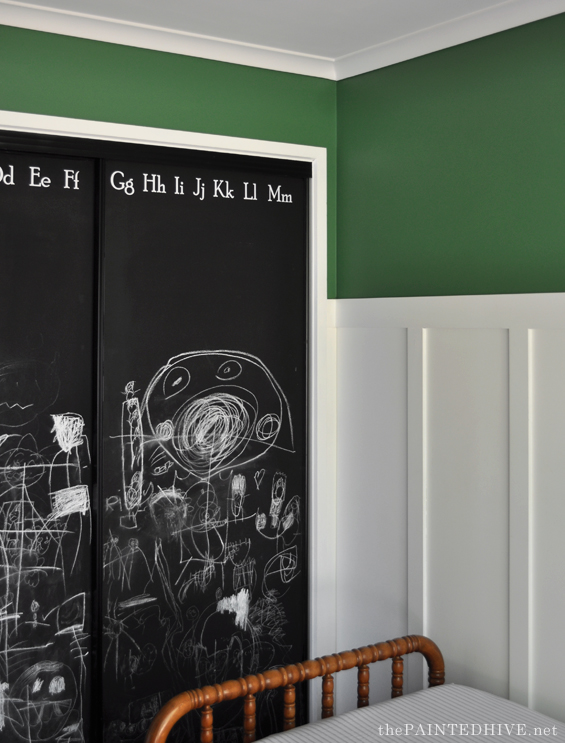 And the door got a mini makeover…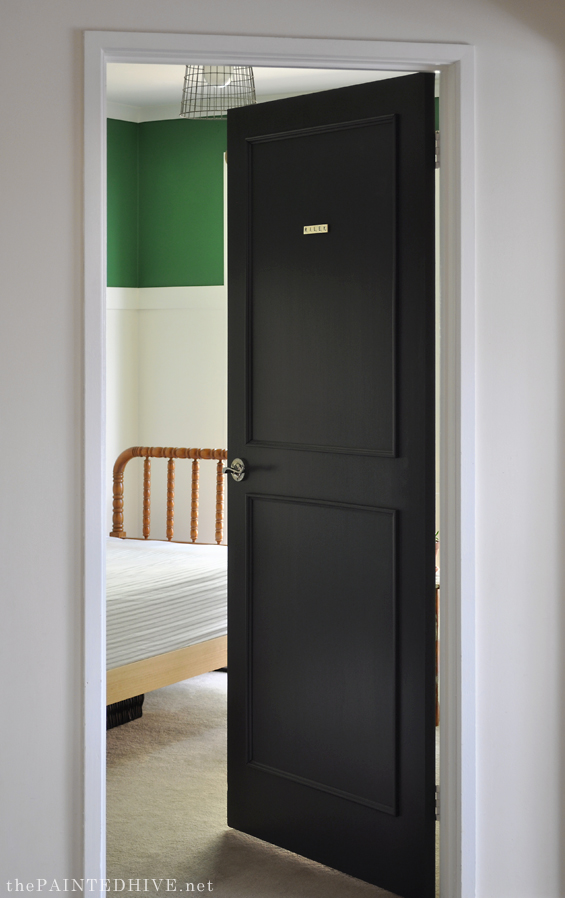 I made some easy repurposed book shelves…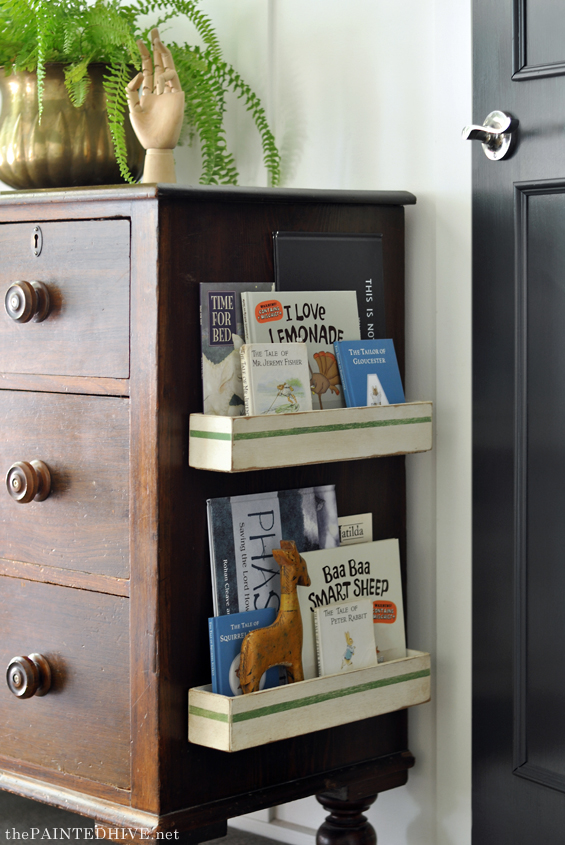 And simple landscape art…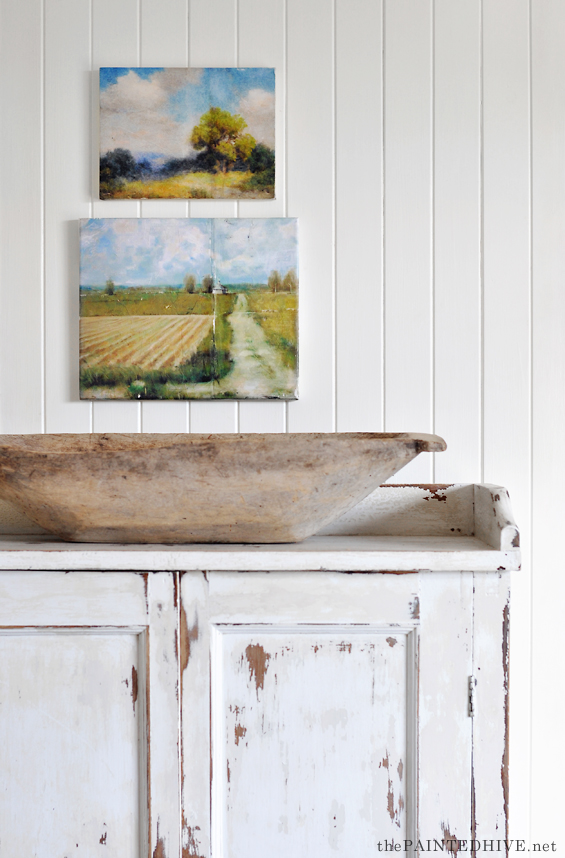 And purchased a 'new' desk and chair…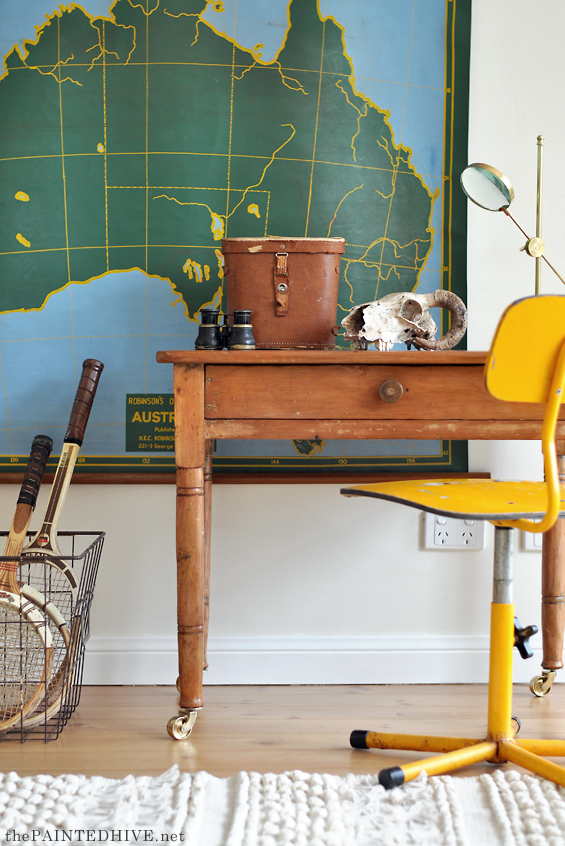 Then I got stuck.
You see, from the start I had envisioned using a cool wall lamp though I just couldn't seem to make things work.
Plug-in sconces are virtually non-existent here in Australia so I was always going to DIY something (similar to what I did in my daughter's room). I only had three requirements – it needed to be easy, it had to have a certain look, and it absolutely, definitely, positively could not negatively impact on my non-negotiable-landscape-art-gallery!
Suffice to say, after lots of shopping around and sideways thinking – and even a few attempts! – I didn't feel confident I could satisfy my criteria (clearly number one was already out the window!). Of course, I could have compromised, or bolstered my efforts, or dedicated more time, though things just suddenly felt all too hard. Besides, my indecision was holding up the most exciting aspect of the space…the landscape art gallery!
I decided to forgo the wall lamp all together and things suddenly progressed!
I hung the gallery…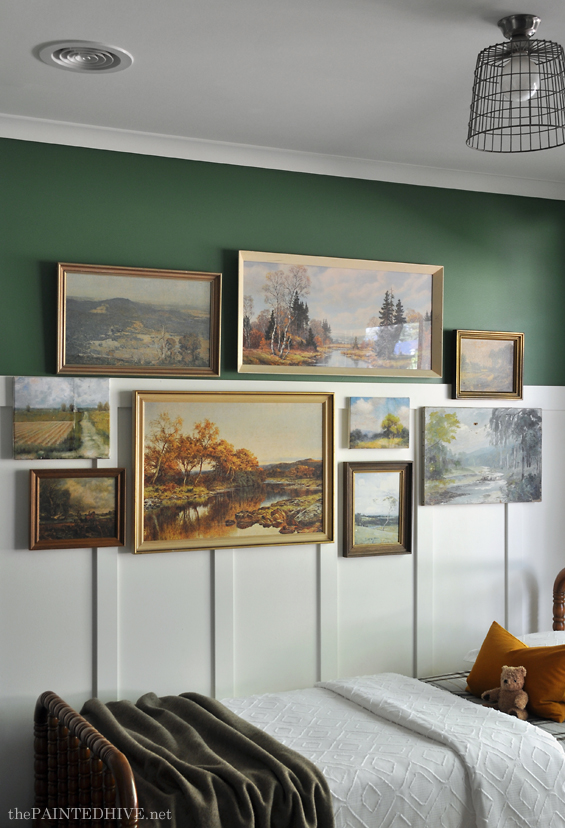 And some vintage tennis racquets…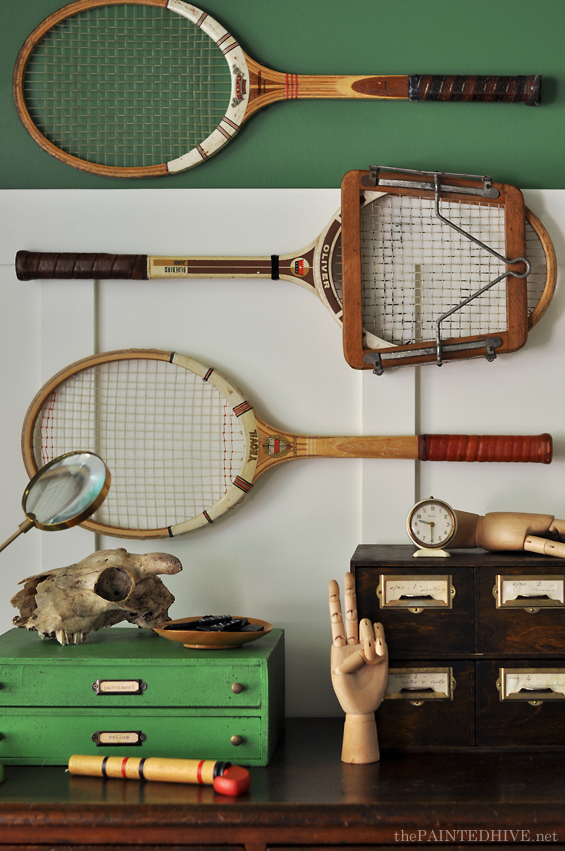 I made the bed…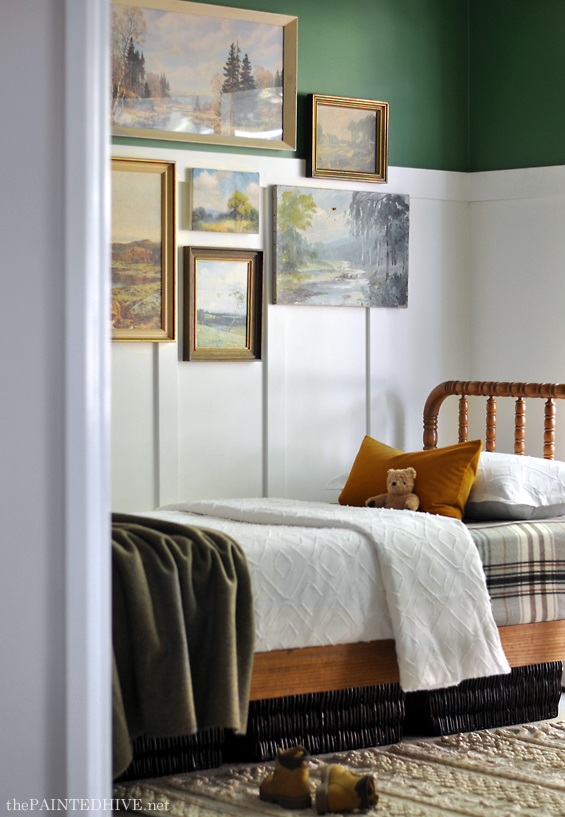 And played around with some decor…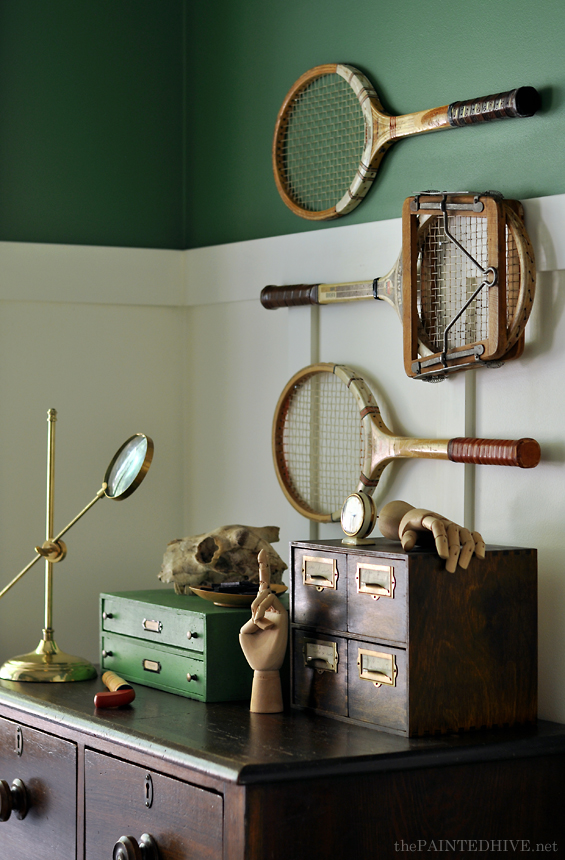 I have wanted a landscape art gallery somewhere in my home FOREVER and am so excited there's finally one! I absolutely love it!
Most of the works are thrifted with nothing costing more than $10. The two smaller canvases are easy DIY's which I shared here.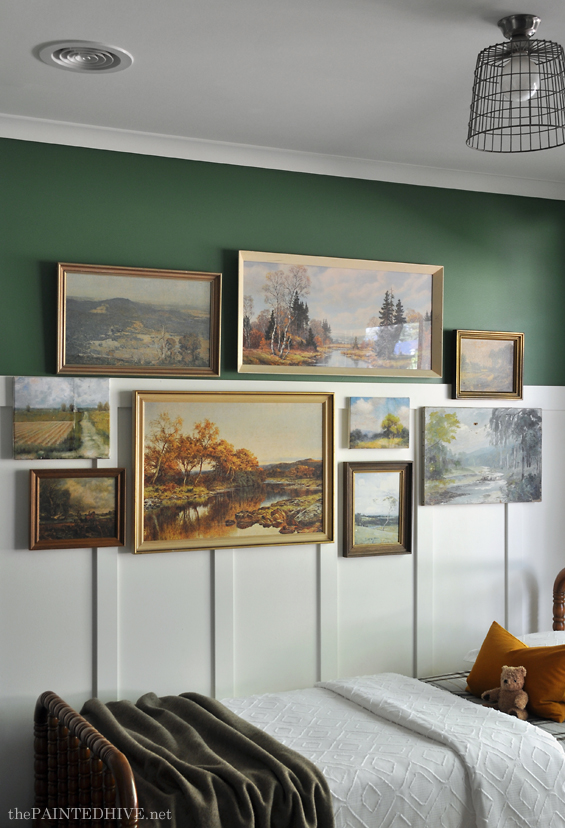 I didn't do any fancy gallery wall planning prior to hanging. I simply laid them on the floor and played around until I was happy with the configuration (I like to start with the largest artworks first then build from there) then transferred them to the wall. To keep everything straight and level I secure each frame with a small dob of adhesive putty (Blu-Tack) under one corner.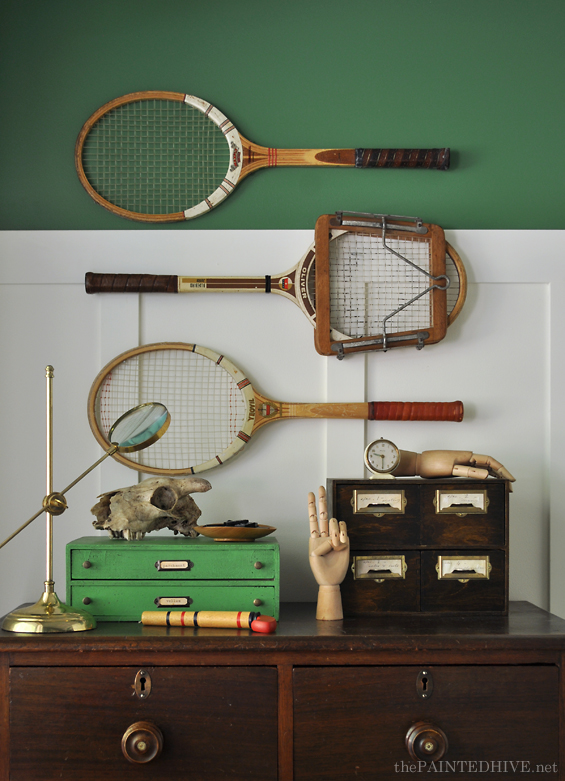 The old tennis racquets are also thrifted. They cost around $35 total. Riley plays tennis so they're just perfect.
Style-wise, the bedding is a bit of a mix of contemporary and vintage, fresh and moody.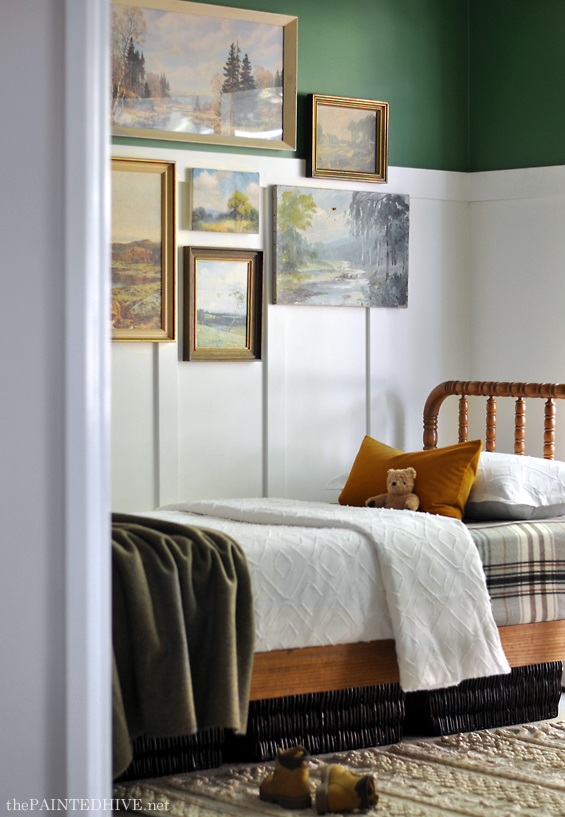 The plaid throw is the HERMINE from IKEA. They no longer seem to carry it here in Australia. I actually bought mine from Gumtree for $35. The army blanket was a $50 eBay find.
The quilt cover was a bit of a splurge (for me!). I wanted something white to freshen everything up (and because it's a dark room) and just fell in love with this diamond tufted one. It's the Kokomo from Bambury and was $100 (although the bed is a single I use a double quilt – I just find that up-sizing provides better coverage). I know I could have found something similar enough for half the price though I had been looking for a while and sometimes you've just gotta bite the bullet.
The mustard velvet lumbar cushion, which I kinda want to marry, is from H&M ($12). It links perfectly with all the warm woods and the autumn tones in the art.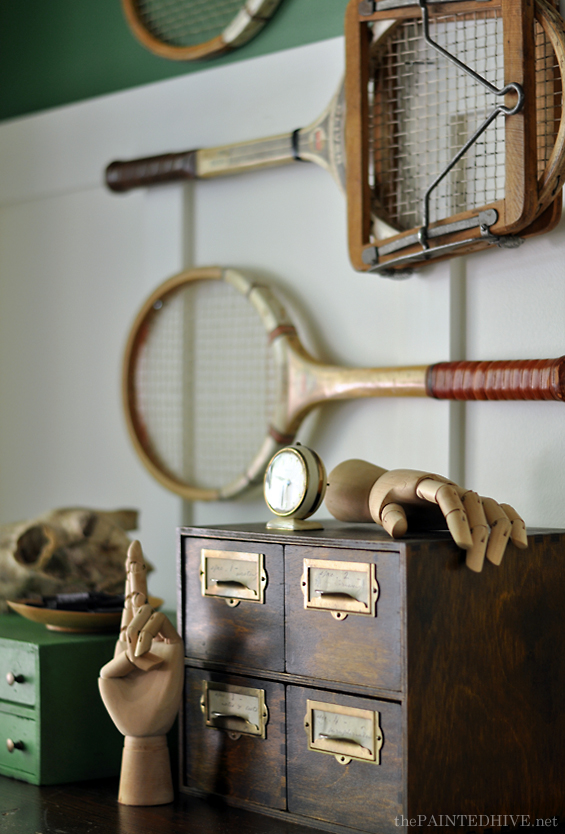 The two mini drawer cabinets are previous DIY projects (you can find my tutorial for the green file drawers here and the card catalogue here).
You can buy the timber hands on eBay and the brass magnifying stand is from TK Maxx.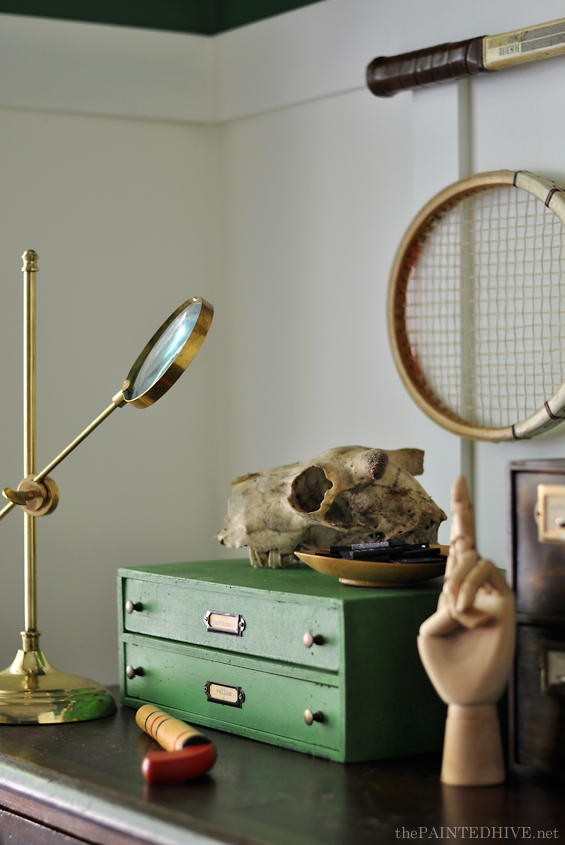 The sweet little clock, timber dish and pop gun are thrifted. The skull was found in the paddock behind our house.
I know it's hard to gather the configuration of the room from these pics (remember, this isn't the full reveal post!). Just to give you an idea, the chest of drawers is on the opposite wall to the bed. It's a tiny room at around 2.7 meters/8.5 feet square.
I still need curtains, an end-of-bed toy box and, strangely enough, a lamp (he, he). Some coat hooks, a whimsical accessory or two and probably to paint the desk. I know some of you won't like hearing that though all of the furniture is wood. Overall, things are just a tad too brown, and it's a dark room. I'm thinking either an off-white or warm grey?

In other news, I have an exciting announcement!
This Sunday at 4PM (Australia Eastern Standard Time – please check the world clock for your local comparable time) I'll be hosting a Facebook LIVE session centering around the easy transformation of an outdoor space!
Those of you who know me will know that I'm usually BEHIND the camera, so although this is gonna be fun it's also kinda scary! Please mark your calendar and be sure to pop on by. I'd love to see you there and any comments or questions during the feed are super welcome. Compliments such as "gee, your hair looks nice" or "those jeans totally don't make your butt look big" will score the most points :)
Click the image below to join my Facebook page if you're not already a follower.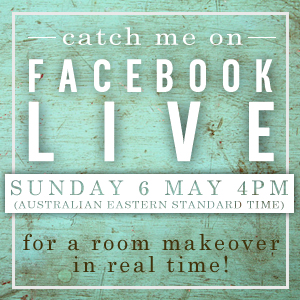 I hope you liked this little progress update.