UPDATE
You can now find the finished room HERE.

This should be some fun!
When my sister mentioned she'd like to makeover her little dining space, in virtually the same breath she dismissed the idea due to a lack of funds.
You see, my sister's not really into thrifty decorating, and having a non-existent budget seemed to pose some kind of problem for her.
Though anyone who knows me will know that I relish in a frugal challenge!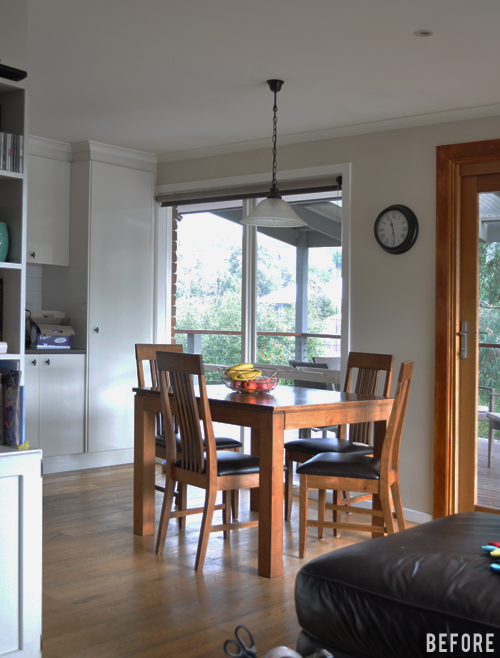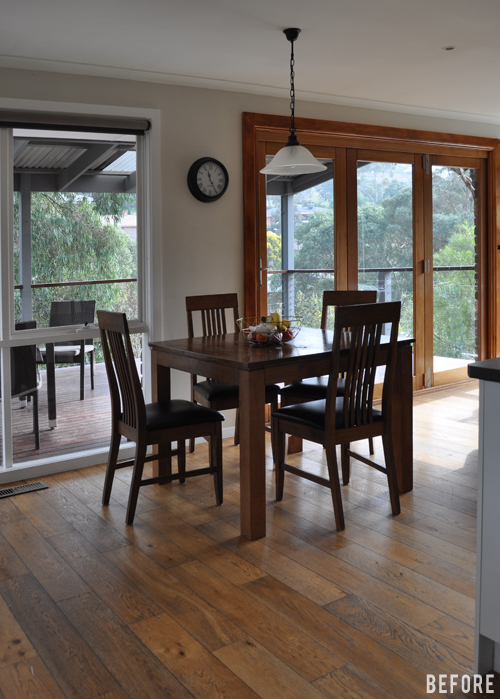 Like me, my sister has a small house. The dining area being little more than a throughway between the kitchen and living room. It looks deceptively spacious in the above pics though is actually quite tight.
Currently, although there's nothing terrible about it, there's nothing special either. And after eight years it's time for a change.
The dining setting has never been quite right. Dark, chunky and dominant it does few favours for the petite scale of the house. And the square table hinders flow between the living room and kitchen (it's hard to tell in the pics though the table is pushed right back towards the rear wall to allow enough room for a walkway – of course, this results in one dining chair being smooshed against the wall). In addition, it's seen better days with the table top and chair upholstery showing signs of wear.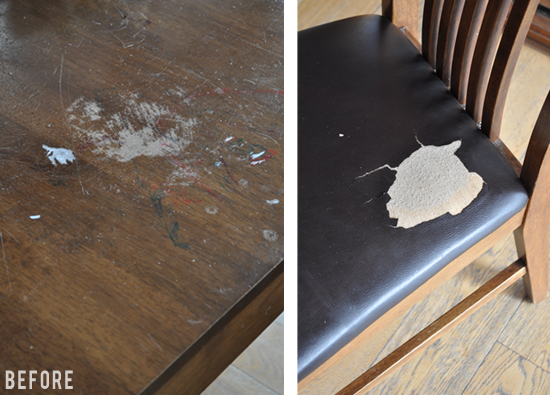 The traditional pendant light, whilst okay in a period home, just looks dated here.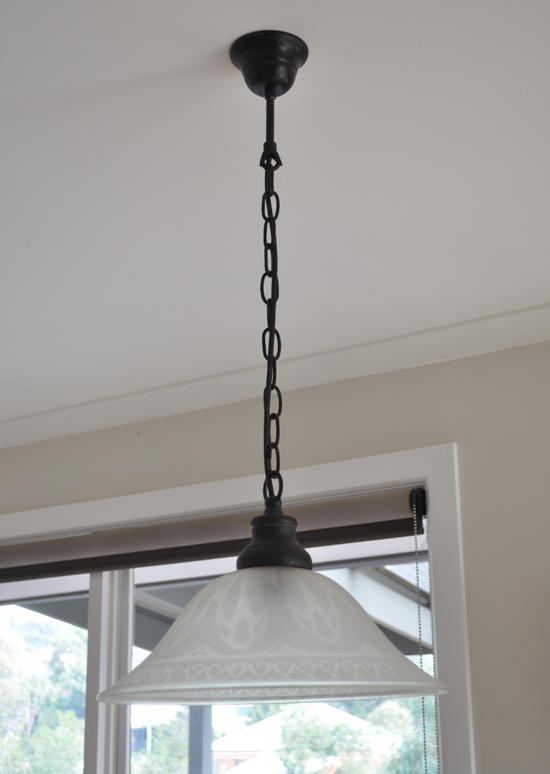 Ordinarily, I would try and work with what we already have, though in this case it's not really the best solution. The scale and shape of the dining setting would still be wrong, and I don't really want to alter a perfectly fine classic pendant someone else would be happy to have as is.
So, if I'm not planning to use the pieces already in the space, how am I going to pull off a super thrifty makeover?
By selling baby!
Yep. I'm going to list the original items on Gumtree then use the money gained from their sales to wholly fund the makeover, resulting in what will essentially be a FREE room refresh!
Of course, in order to secure the best possible price for my items they need to be in good shape. The light is in perfect condition though I will spruce-up the dining setting by refinishing the table top and reupholstering the chairs.
Wish me luck…and stay tuned – especially if you're in the market for a traditional pendant light or five piece dining setting ;)