You know how on home renovation shows they can completely transform an entire house in just five days?
Yeah, well, this in't a home renovation show. Clearly.
We've been grinding away at just the facade for over a month now and the finishing line is finally coming into view!
I know it's not the fast-paced, instantly-gratifying kinda makeover most consumers seem to crave, though I hope it offers some real-life perspective, and possibly even inspiration, to those of you who also can't commit long uninterrupted days and a massive team of people to your own home renos.
Last week my $14 DIY gable pediment went up.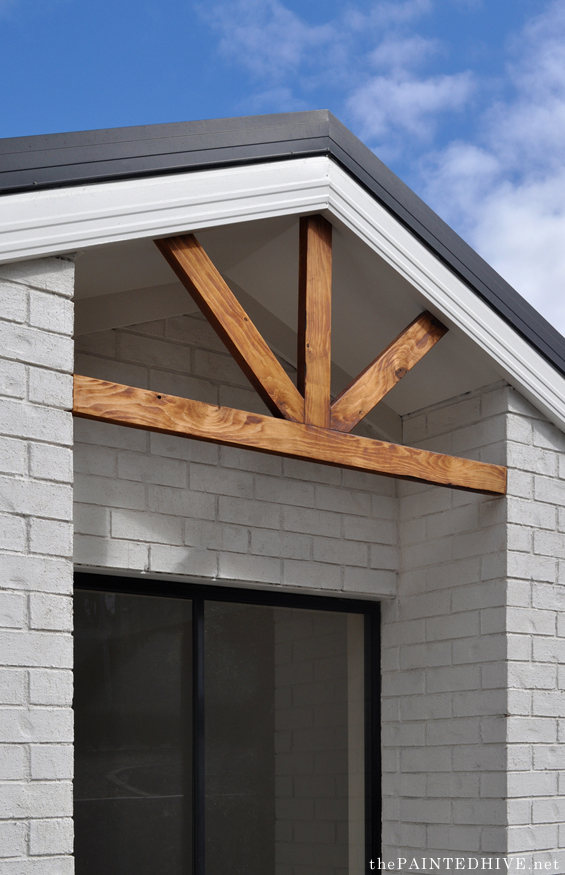 It's simply attached directly to the brick with some right angle brackets and masonry anchors.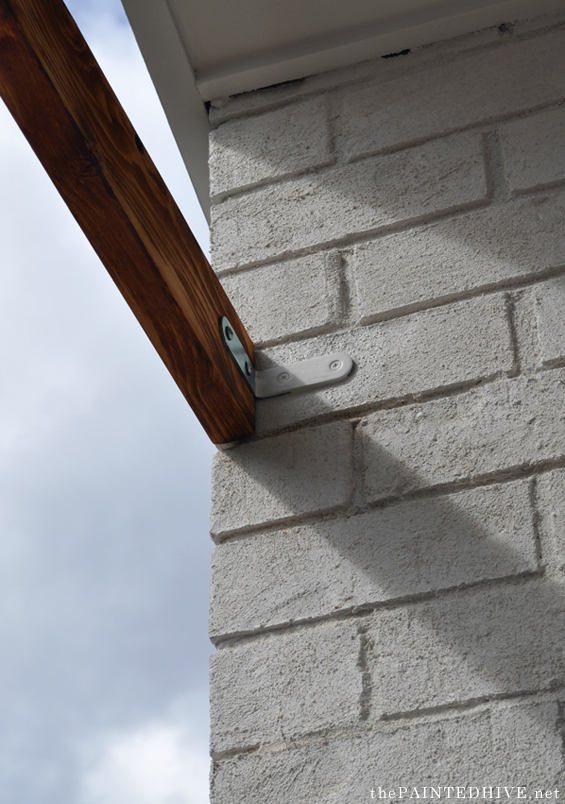 At the moment it's lightly stained and oiled, and I love the rustic warmth it brings, though I've been contemplating painting it black. It's currently the only natural timber element at the front of the house, and whilst I like the fact that makes it a real feature, I'm just a bit concerned that in the end it might look a little lonely. I'll wait until everything else is in place before I decide whether or not to change it though at this stage I think it will probably stay as is.
On a different note, the above pic shows the cool texture effect of the specialty Dulux paint we used really well.
I have also hung the shutters.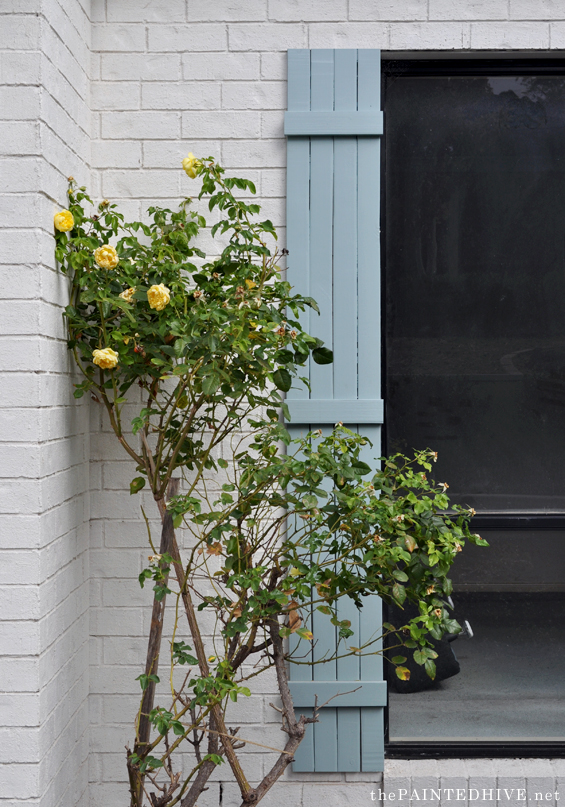 Now, I know some people loathe decorative shutters (especially those – like mine – which are clearly too small to give any impression that they may actually function), though I personally don't mind them. To me they're just like any other decorative element which is designed to do little more than look a certain way. I just wanted to add a bit of charm, interest and colour and they do that perfectly. If they bother you maybe pretend they're the fancy kind which fold. Or just loathe them in secret.
You might recall that I planned on painting them a soft duck-egg colour so it kinda makes sense that I landed on Dulux Weathershield Semi-Gloss in 'Duck Egg Blue'. Go figure.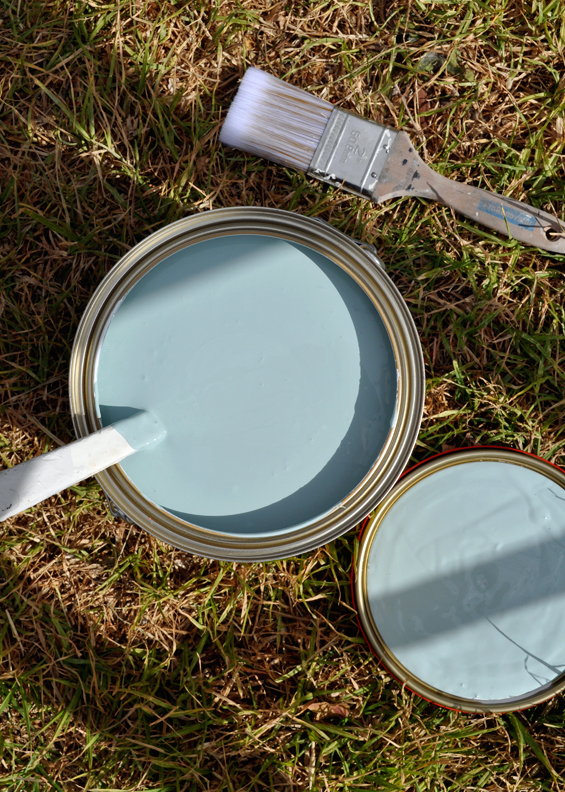 It's a gorgeous soft blue-green which just may be my most favourite exterior accent colour ever.
The dark indigo front door got the same splash of colour.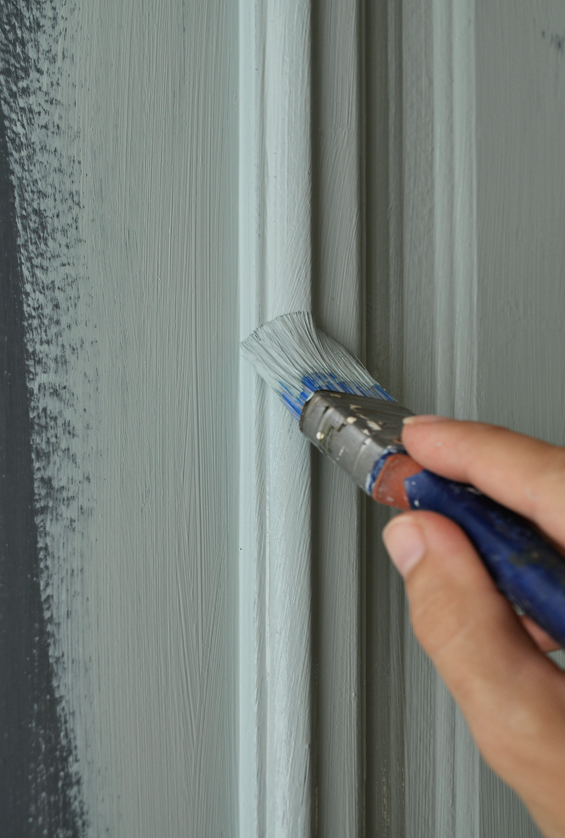 Although indigo can be lovely it was just a tad too dark and uninviting given the recessed entryway.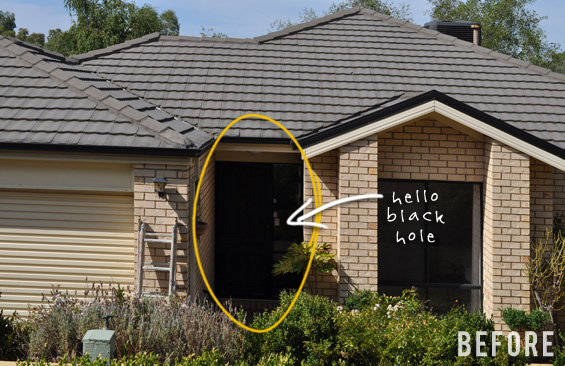 The duck-egg helps brighten everything up and now you can actually see the front door from the street – which is a nice novelty. LOL!
To add a touch of charm I dressed it up with these sweet nickel numbers.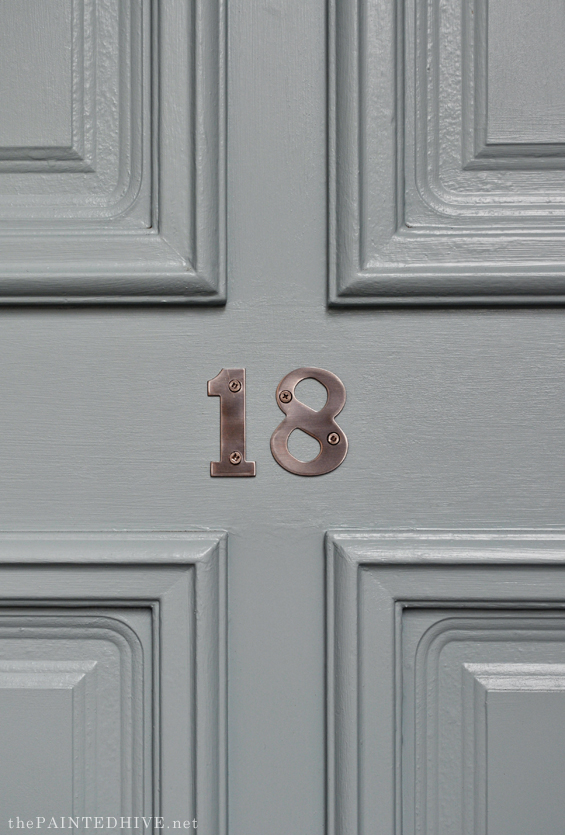 In addition we've started painting the concrete block retaining walls.
In the below pic the yellow is the original colour, the stone-grey is the new colour.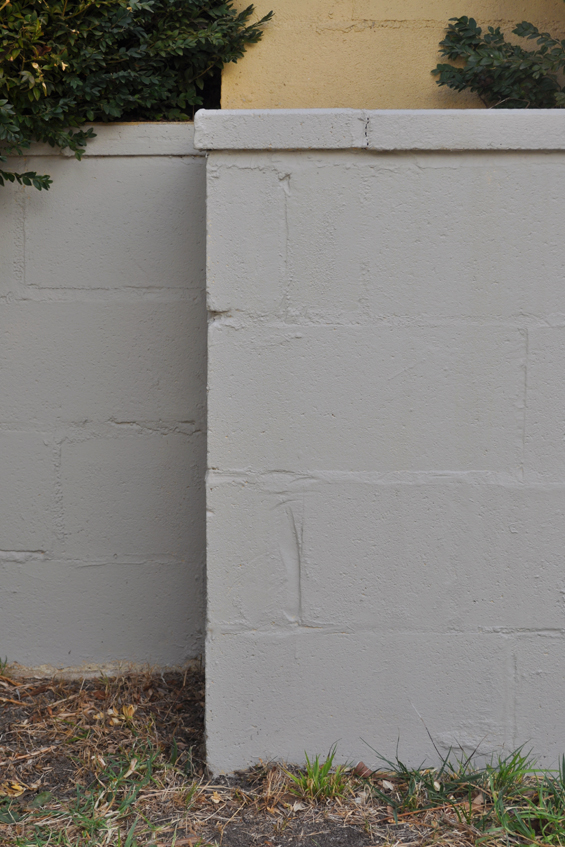 I was tossing up between black for drama, white for continuity and stone-grey for subtle contrast – obviously, stone-grey won out and I love how simple it is. The colour is Linseed by Dulux and I used Weathershield Masonry Matt which is fantastic to paint with!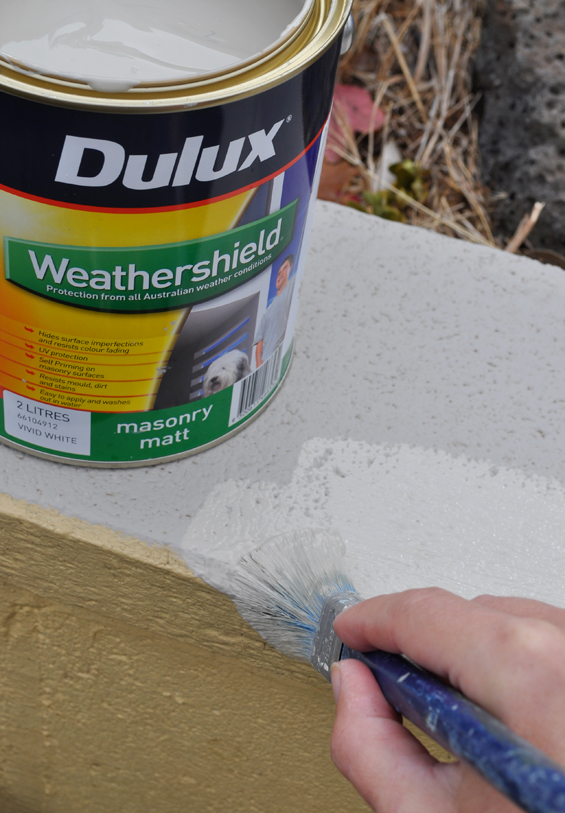 Unfortunately I don't have a great before shot which shows all of the walls though they are pretty extensive. For this reason we were originally going to leave them. They look like quite a neutral sandstone colour in the below pic though are definitely more of a mustard yellow in reality.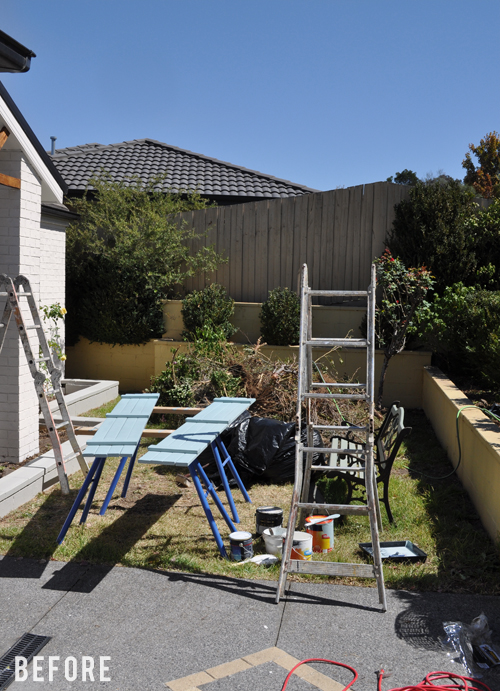 Although the colour could be worse, it had little relationship with the new scheme so I decided to try painting just the small wall around the front of the house (you can see it – after one coat of paint – on the left in the above pic).
Even though I only intended on painting that one wall, it was such a surprisingly quick and easy job that I figured I'd just keep going! After painting around half of all the retaining walls I finally ran out of paint so will finish things off next time.
There's been some progress in the garden too. A few new plants have gone in including Viburnum, Westringia and Pittosporum.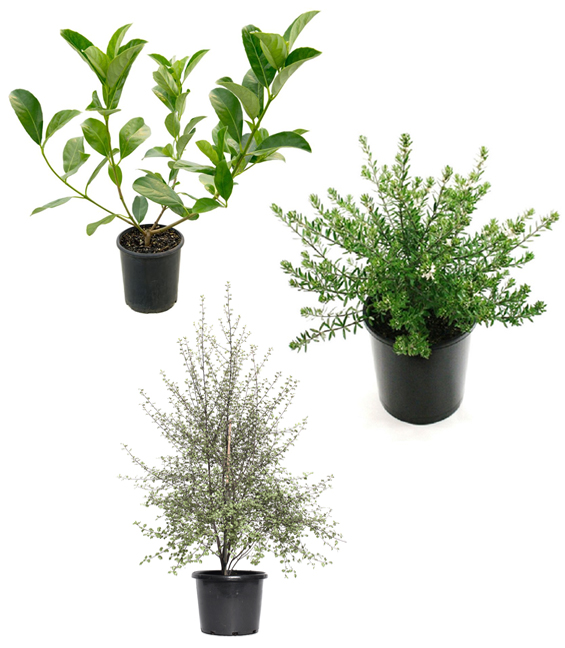 Given we're just coming out of a long, hot, dry summer and don't have the budget for lots of large established plants the garden is proving a bit of a challenge. Still, we're up to the task and will do our best to make it look as nice, neat and fresh as possible.
For me though, the most exciting aspect of our progression so far is the purchase of a few decor pieces!
From the start I envisioned one of these box lights in the entry and I couldn't love it more (still need to add a pretty bulb).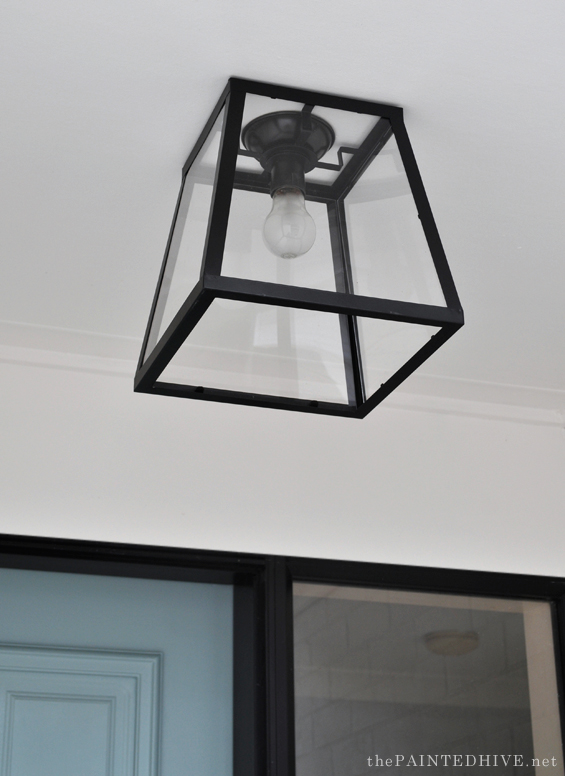 Makes such a nice change from the plastic "eyeball" light which was originally in place.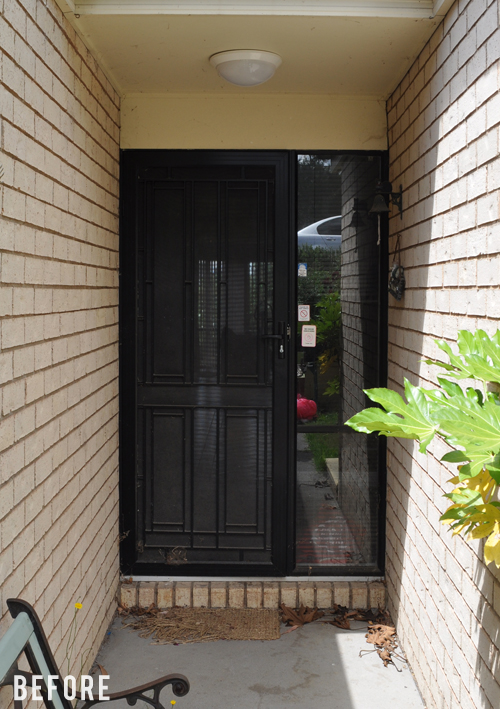 And I've also been playing around with some modern pots and a geometric door mat.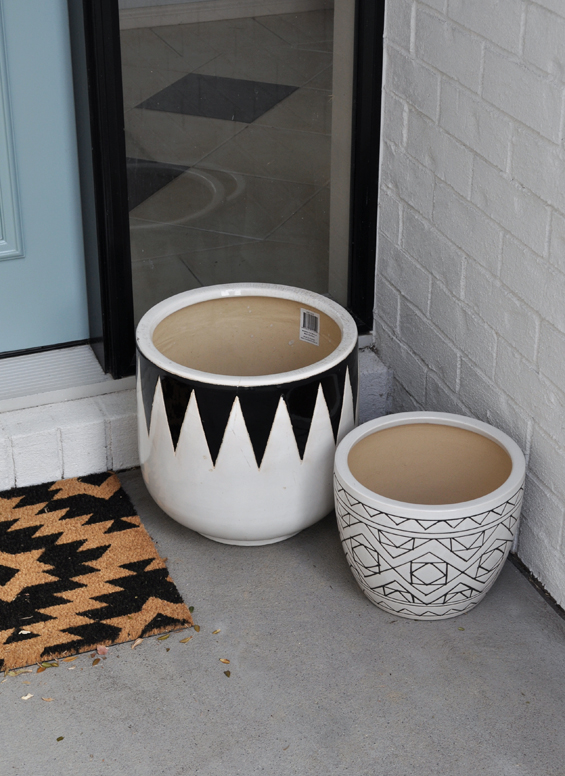 Deciding on plants for the pots has been tricky – in a good way!
My initial idea was for pretty cottage style shrubbery with white blooms, then I thought maybe something more rustic like a little olive tree and some rosemary would be nice, now I'm leaning toward lush statement greenery like a bird of paradise and blousy fern. Any preferences?
Anyhoo, that's where things currently stand. It's soooo close!
I'll be back as soon as I can to share further details, hopefully including the barn style garage door!
Thanks so much for following along.
Catch up on all of my previous posts about the flip house HERE.