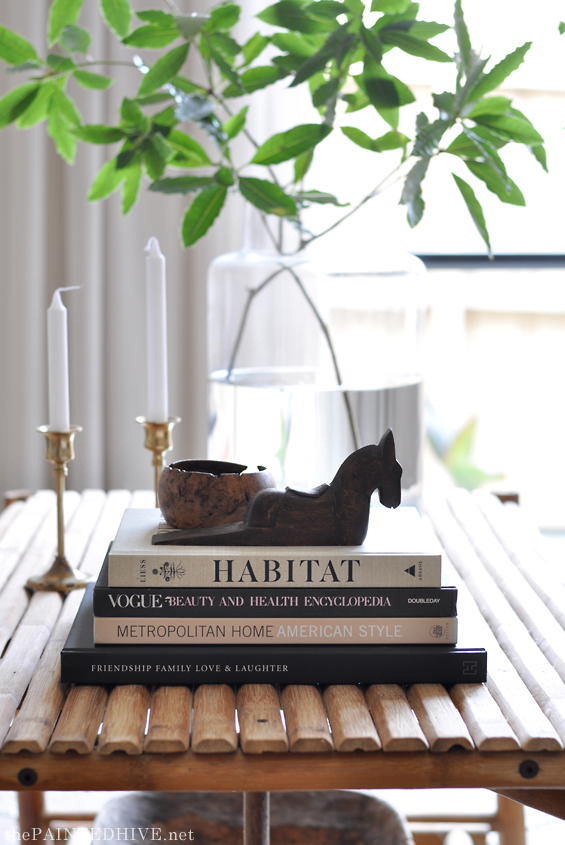 It's been so hard trying to decide which spaces to share first!
In the end I thought it made sense to lead you through the house from front to back, just like anyone might view it in reality, so I'm kicking-off with the entry and sitting room.
Here's how things looked a few months back…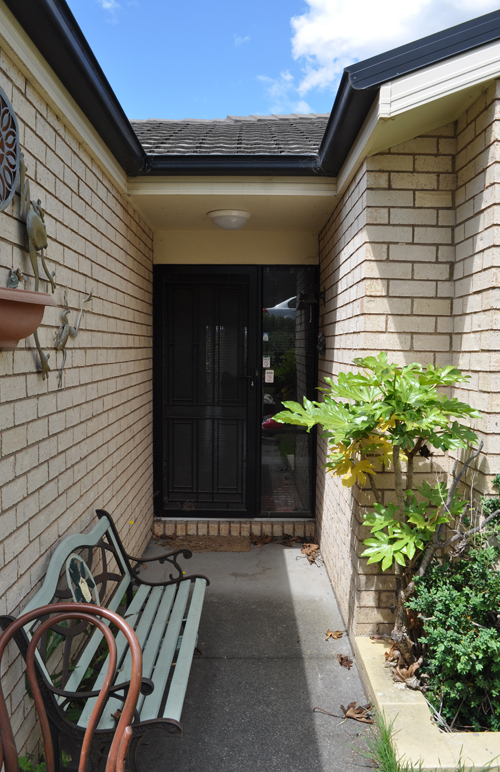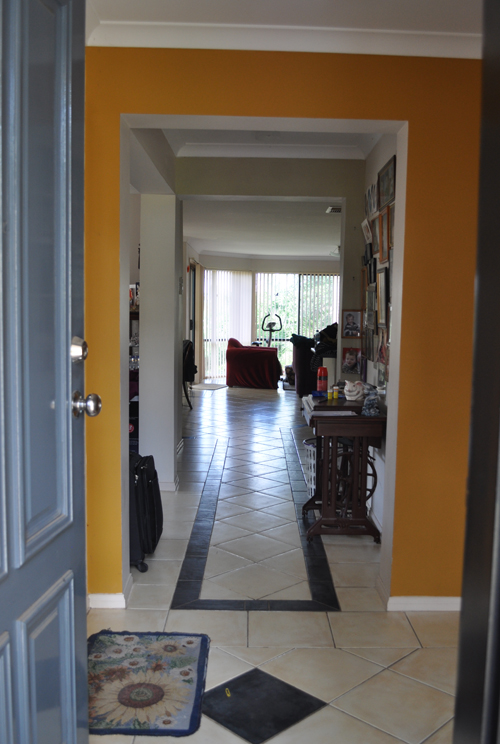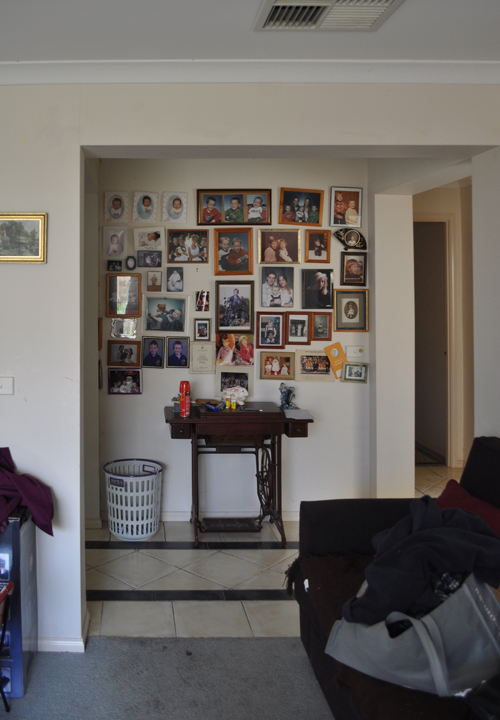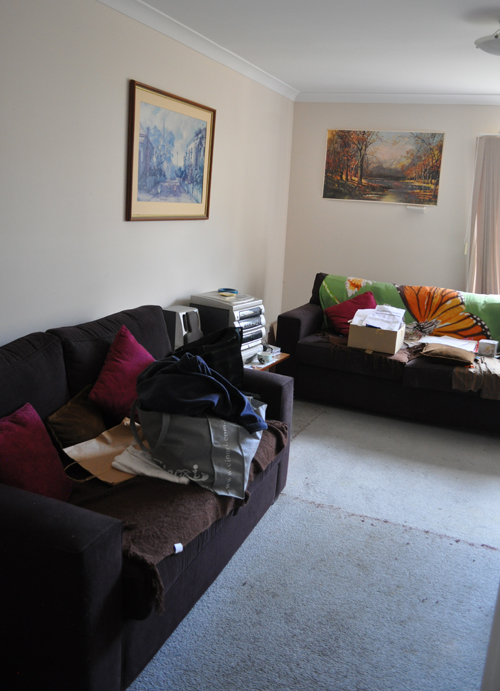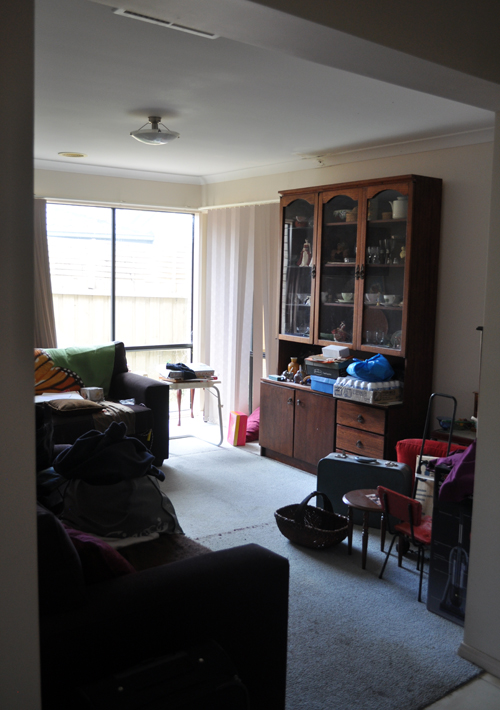 And here are the spaces now…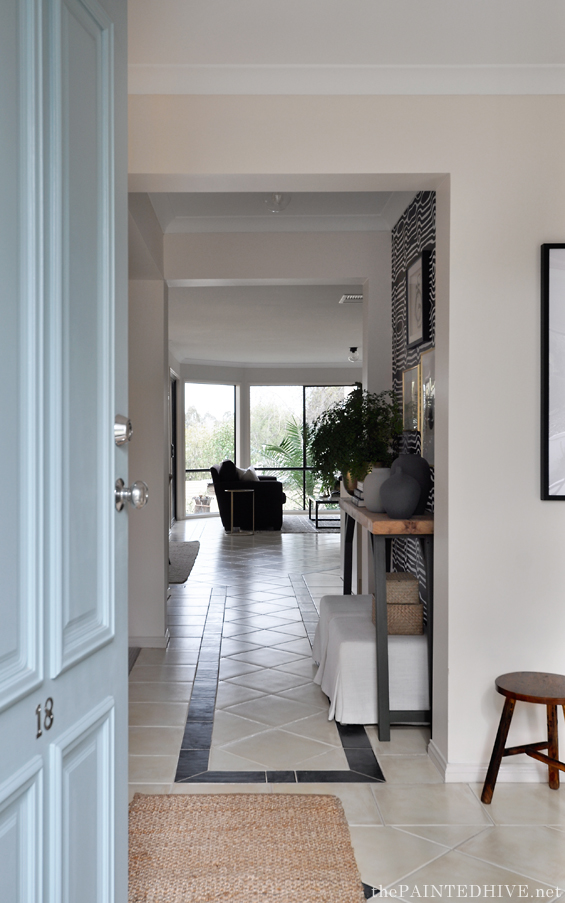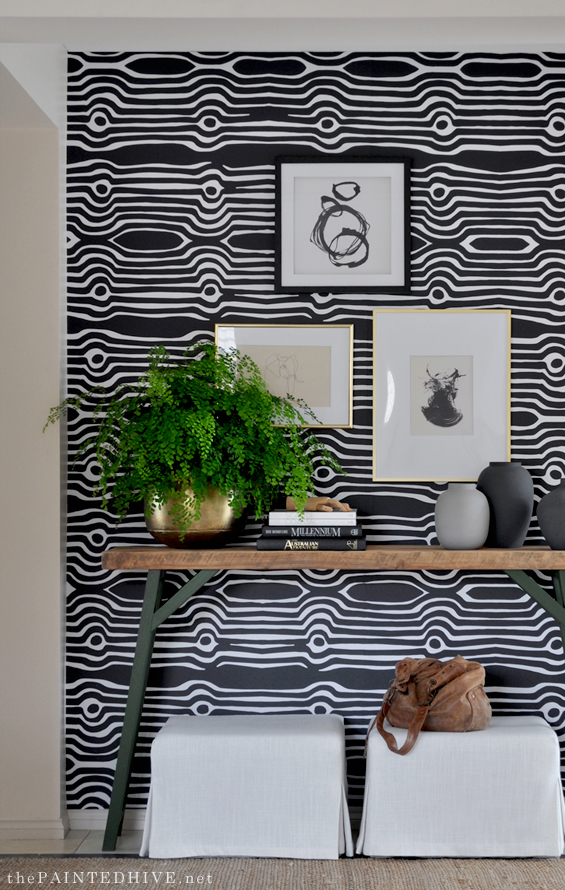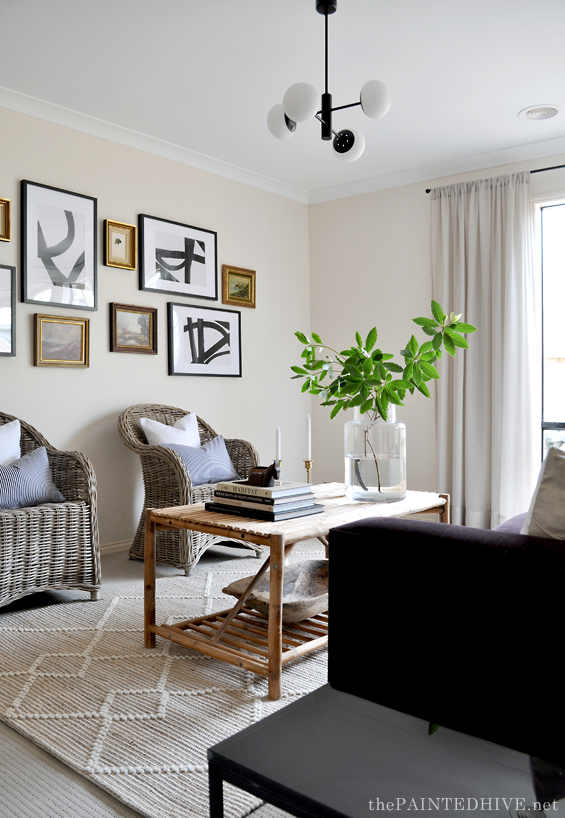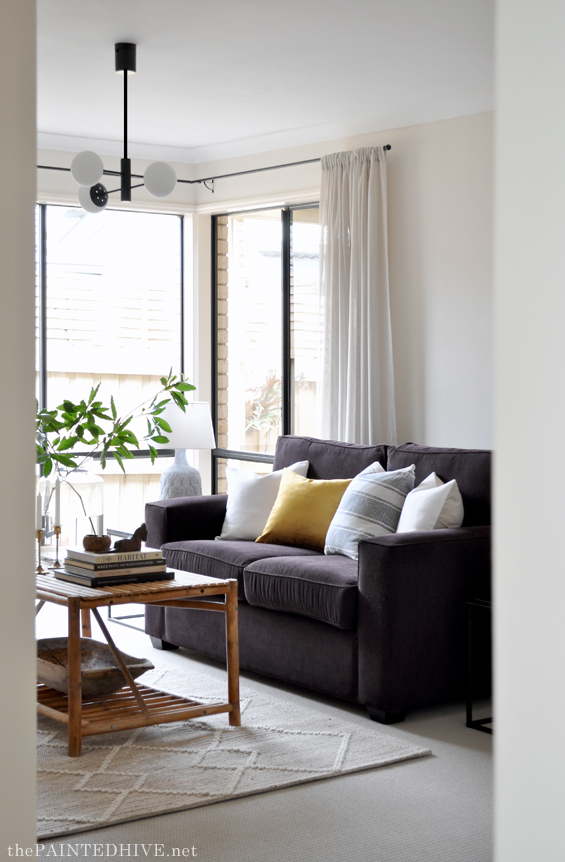 You can find side-by-side before and after images toward the end of the post.
Of course, I've already shared the exterior entrance in my facade reveal post.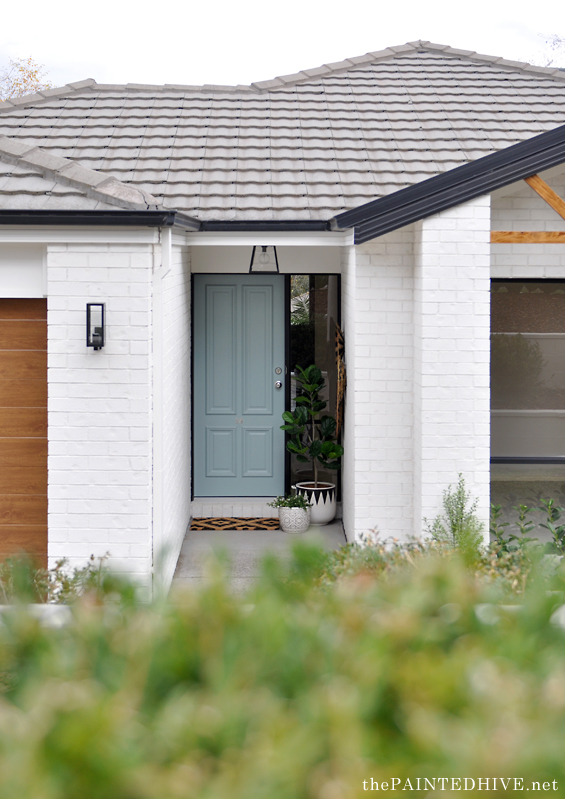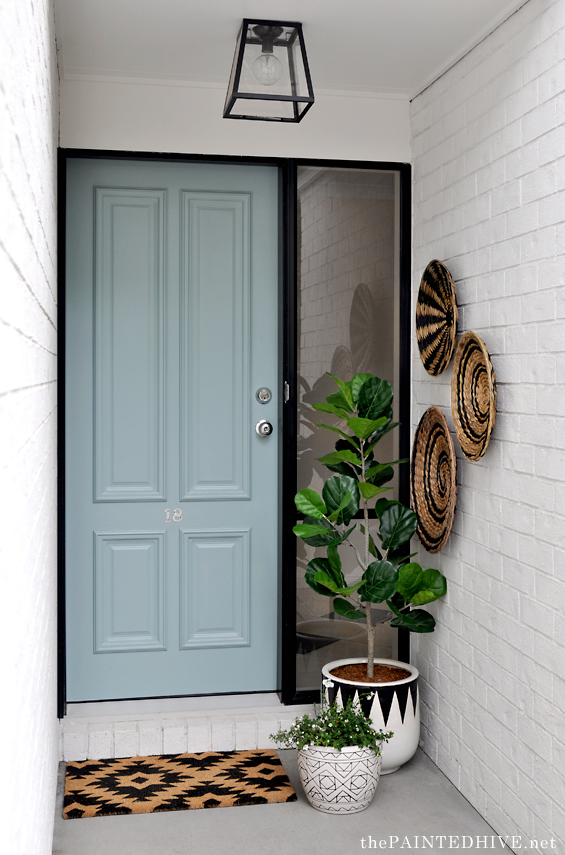 And the interior entrance in my entry reveal post.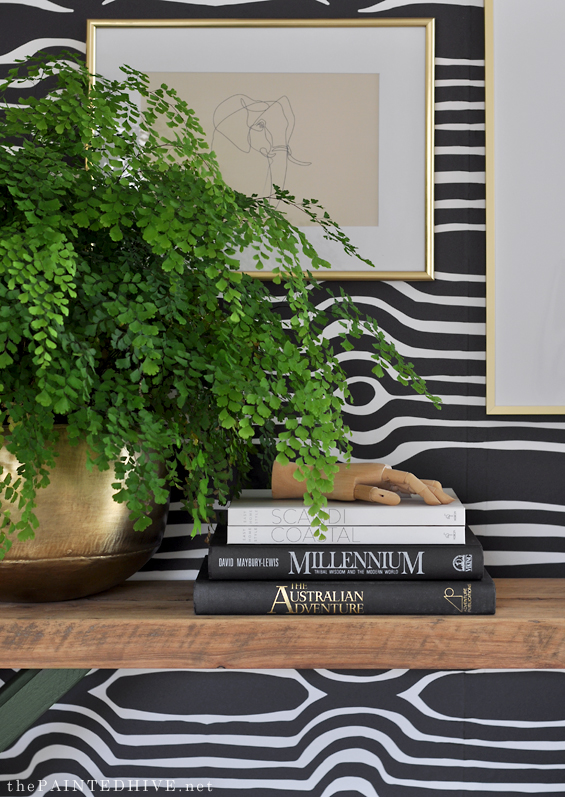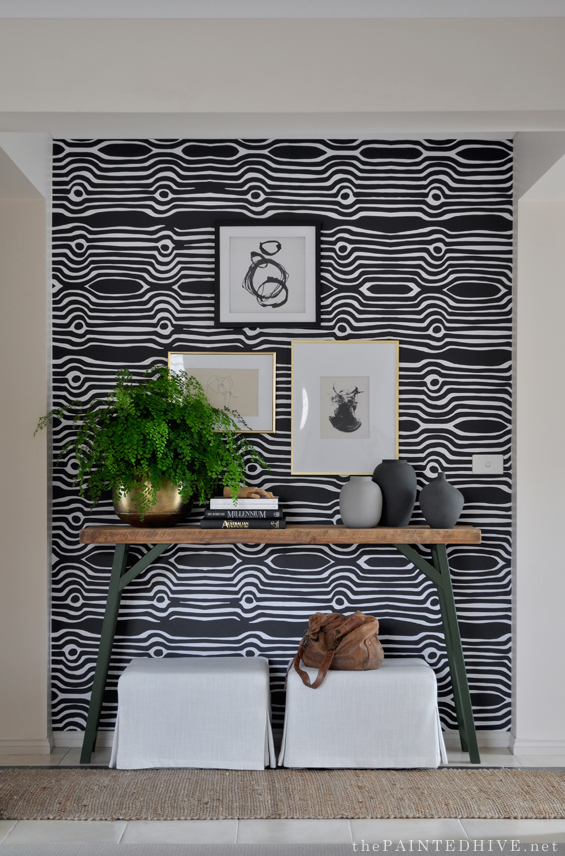 So what I really want to show you is the sitting room.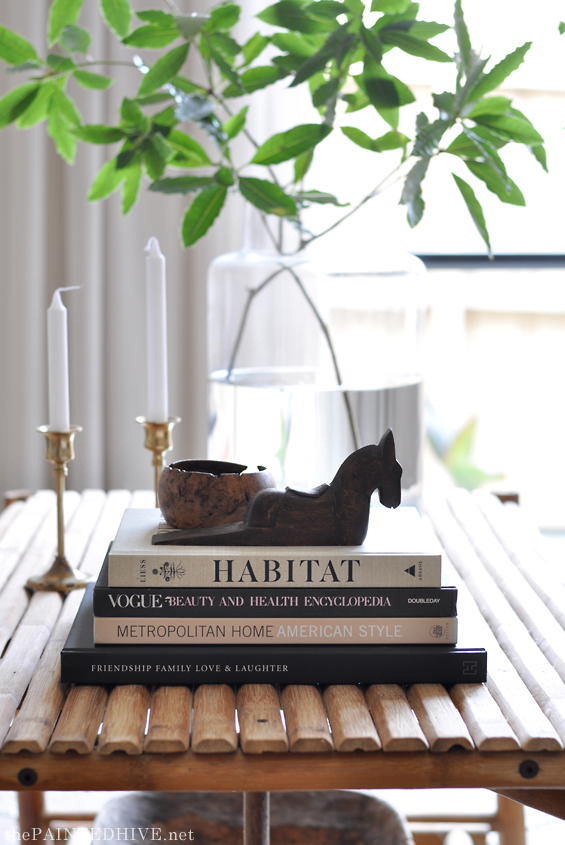 This space was a thorn in my side throughout most of the flip.
Whilst it might look well-resolved and purposeful now, for the longest time I really struggled to envision how things were going to come together in here.
I had a mish-mash of furniture to work with, no focal point (ideally I would have loved a free-standing fireplace – or similar – in here), and a slightly awkward room with asymmetrical corner windows. On top of that I needed a clever way of tying said 'mish-mash' in to the quite bold entry so there was a sense of cohesion between the adjoining areas.
This was very much a 'make-do' room. To begin with, I had the raisin-toned sofa (which, as you can see from the before pics, came with the house), the bamboo coffee table which I picked up for $50 from Marketplace, two sweet wicker armchairs I got from Early Settler and the DIY ceiling pendant which came from Bunnings.
Individually they were all pretty great pieces, though together nothing worked.
How was I going to make sense of all this?
With styling…that's how!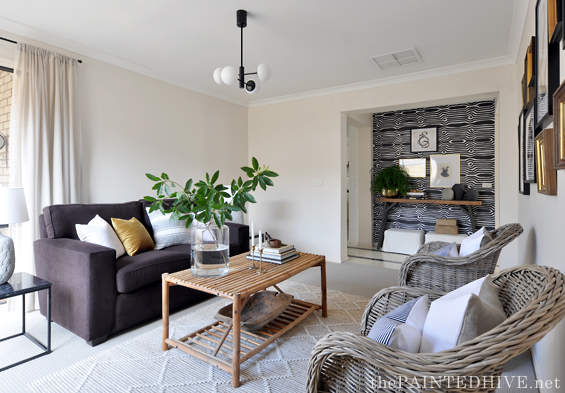 As much as I believe in the power or accessorising, I must admit that I still had my doubts. Though I could not be happier with the way this space has come together.
I started with one of the new Bunnings rugs (this is the Wemyss – which I absolutely LOVE!).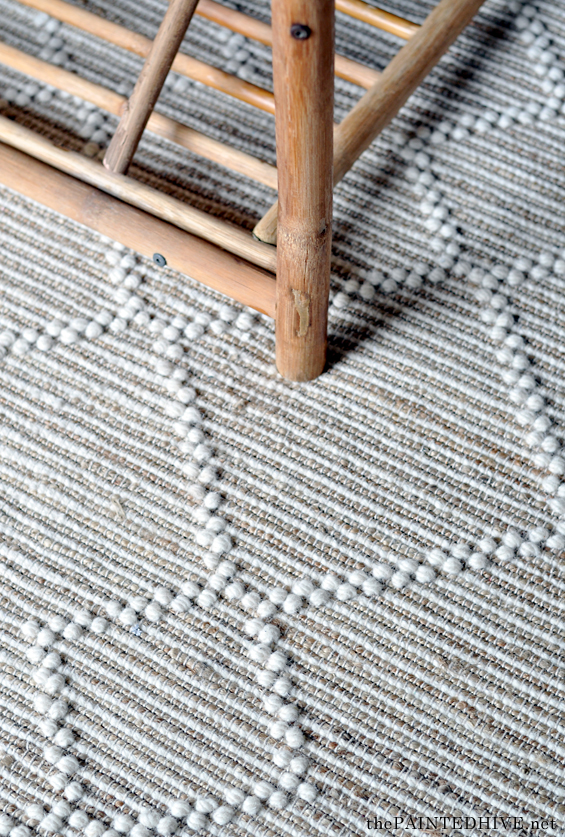 And then some simple sheer curtains (I got mine on sale for $40) to help soften the room.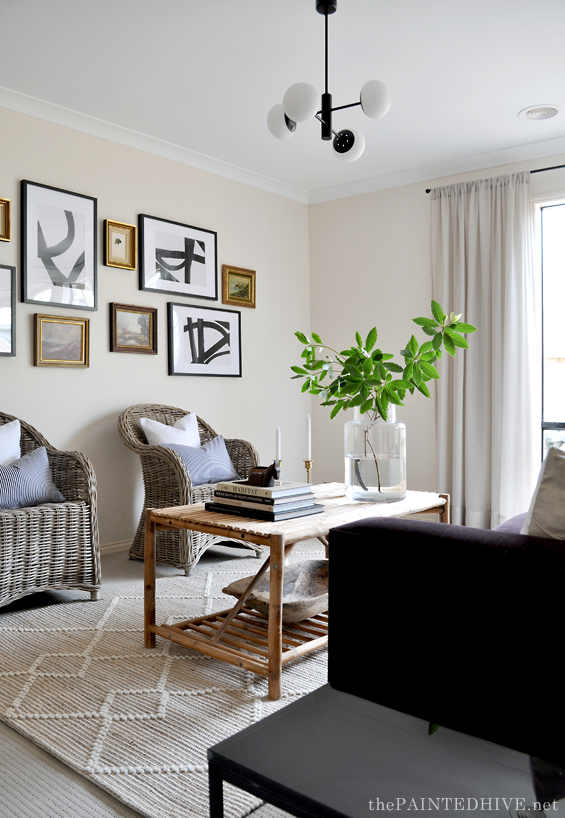 I added matching side tables (these are the Kmart black stone ones) to provide a sense of continuity.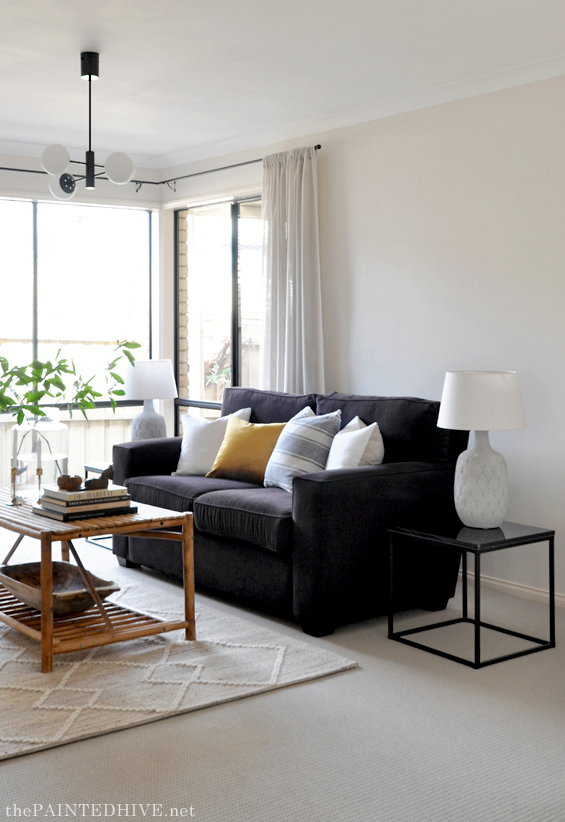 And a simple brass stand (which is actually a gold Kmart tray atop a metal pot tripod!).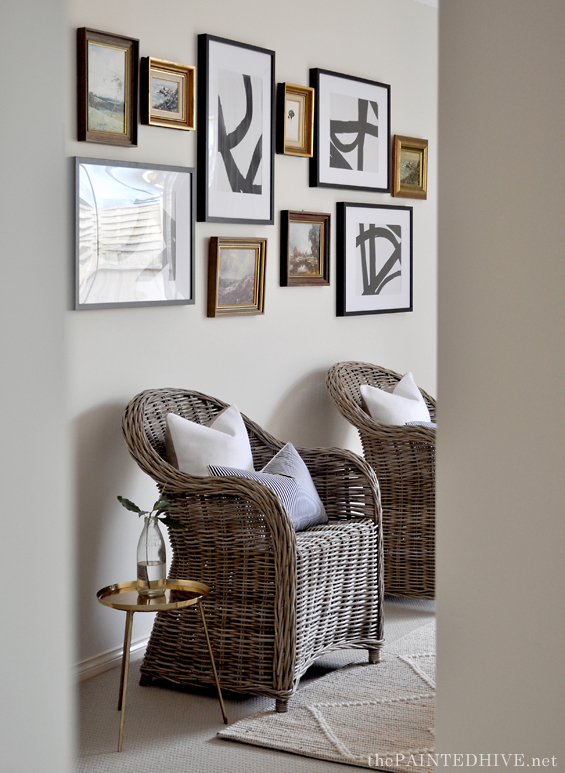 The biggest challenge was the long blank wall above the two wicker armchairs.
I wanted to do something really impactful here, which echoed the graphic nature of the entry wallpaper, without it being too full-on.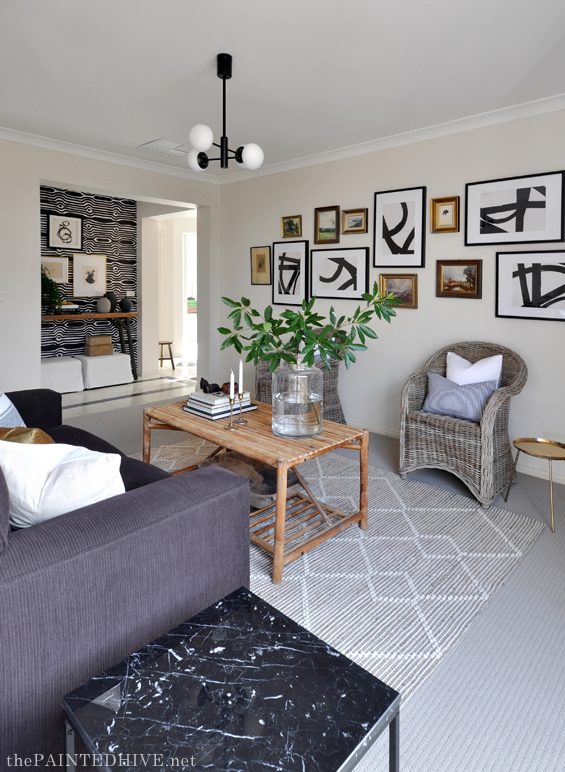 Well, it may be a bit too full-on for some people, though not for me :)
My initial idea was a simple row of four or five really large frames, though even the Kmart ones were going to be too expensive (the sitting room was one of the last rooms I decorated so funds were running low). Eventually I compromised by buying five smaller frames which I filled with a collection of downloadable abstracts from Etsy. I had the art printed as A3 documents at Officeworks for less than $2 each.
I was going to create a gallery with the black and white frames alone, though I just wasn't convinced they were going to span enough of the wall. This is quite a deep room and I wanted something to compliment the scale. So, at the last minute I decided to add in some of my own vintage artworks.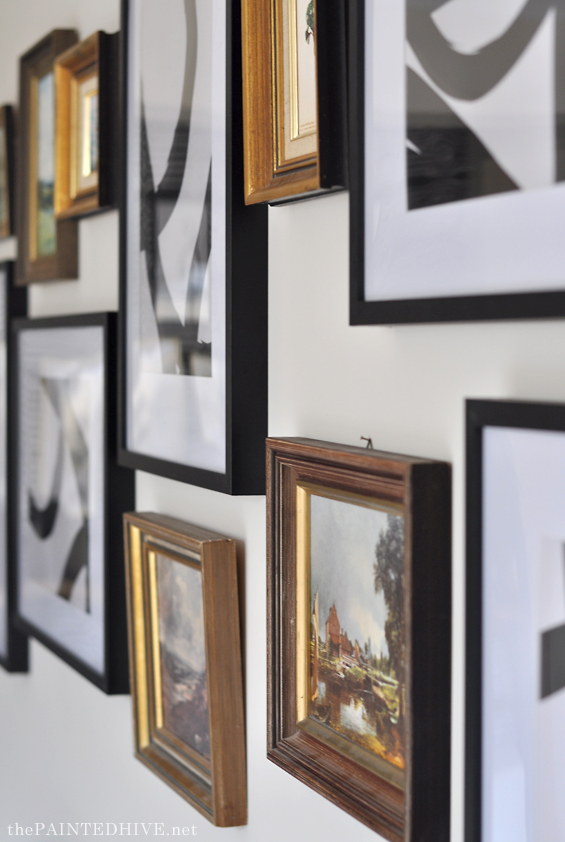 I couldn't love this gallery more!
One of the easy little projects was creating "lamps" for the side tables.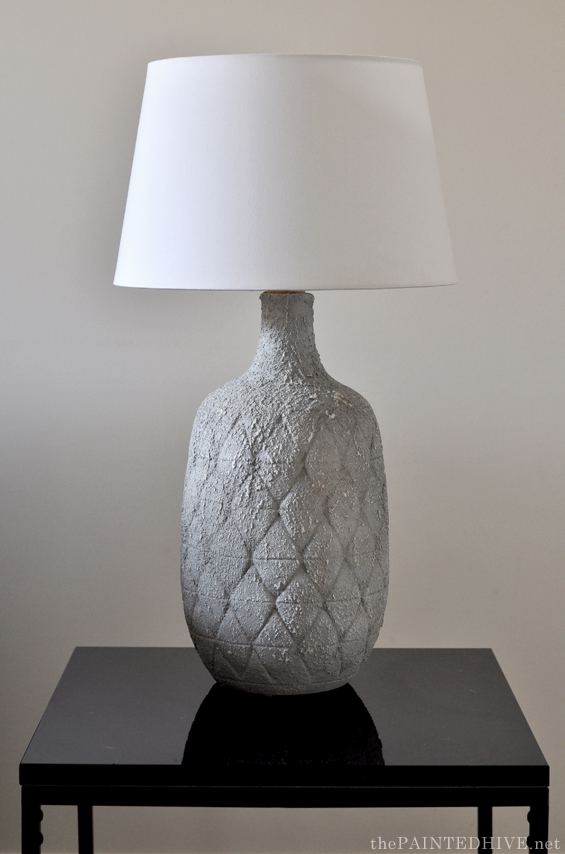 I had this vision of large matching stone lamps though they are sooooo expensive! I looked high and low on second-hand sites and in Op Shops however, whilst it's not that difficult to come across a cool individual lamp, finding a pre-loved pair isn't quite so easy.
Eventually I stumbled across two large ceramic vases and my mind went 'ding'. I could totally pop a shade on top and pretend they are lamps! Of course they wouldn't be operable though for staging purposes that's totally okay. And once I have time later on I can work out a way to make them function.
The vases were nice though had a bright blue glaze which clearly didn't suit the colour scheme of the house so I painted them using left-over Dulux Texture Paint from the facade. I then sprayed them grey (again, using left-over paint – Dulux Chalky Finish in Rivieria Grey) and dry brushed on some white to give them a rustic, weathered concrete look.
They shades were a $15 Marketplace find and whilst I could have simply sat them on the rim of the vases, I added little wooden raises (just made from some dowel off-cuts) to boost them up a bit.
All of the cushions are filled with feather inserts from mine and mum's personal stash. The mustard cover and wide stripe cover are old-stock from H&M. All of the other covers have been sewn by mum using inexpensive fabrics from Spotlight.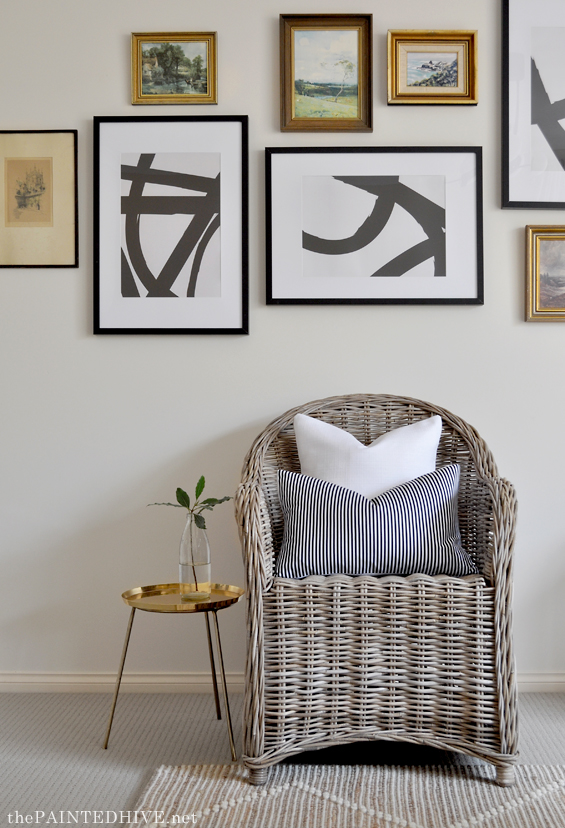 I wanted white to freshen the room and brighten-up the dark sofa. The mustard ties-in with the warm wood and gold elements and the classic black and white lumbars reference the wallpaper without competing.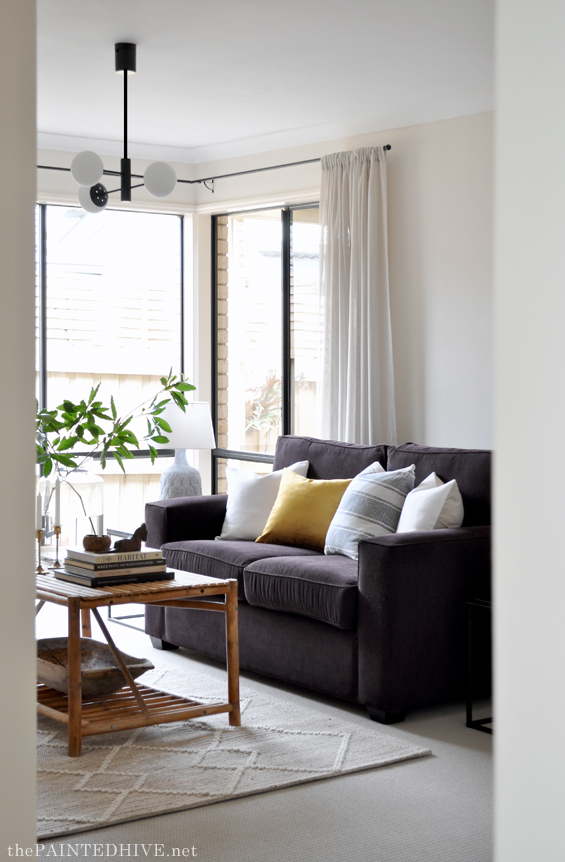 To bring everything together and give the room a sense of "life" I finished by adding a few simple decor pieces.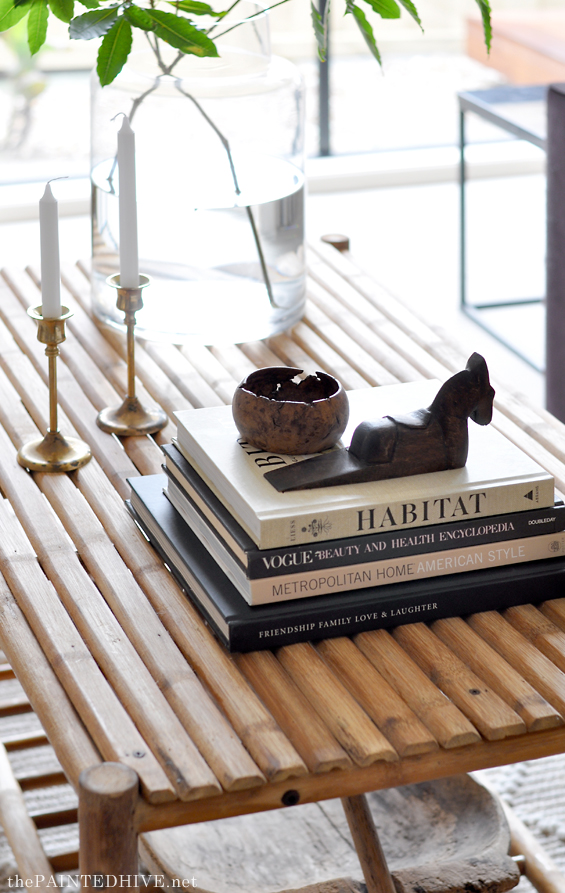 All of these items are things we already owned.
The large glass vase is still available at Kmart and is so perfect for displaying statement foliage. I simply picked these clippings from a massive tree I found on the side of the road and they add just the right amount of punch to the room.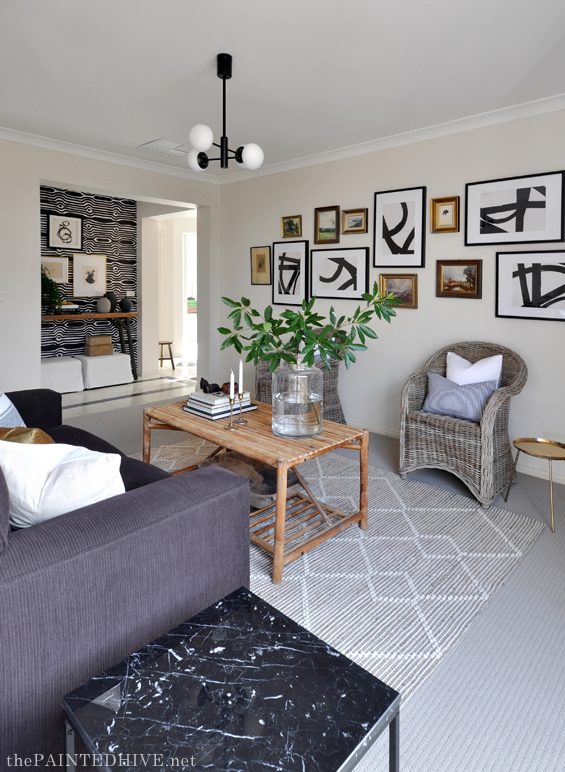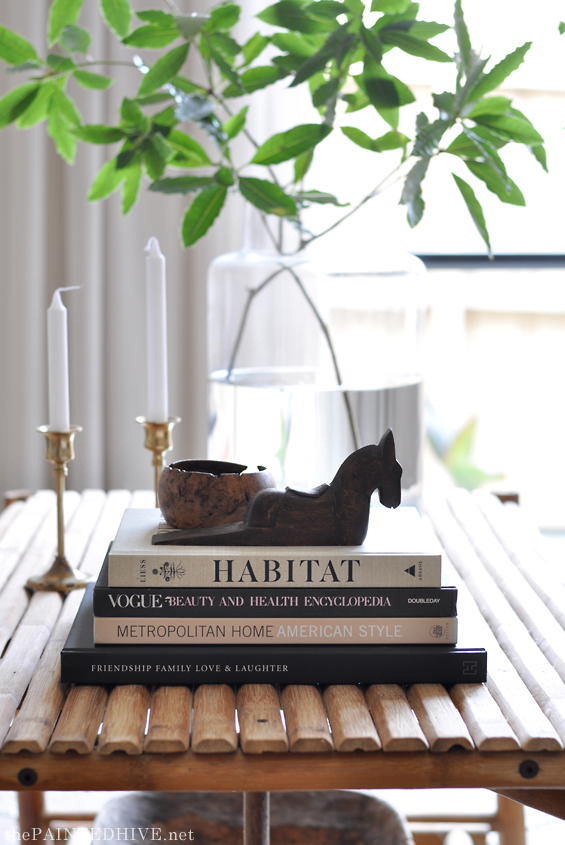 The Habitat book was a recent birthday gift and I highly recommend it. Author Lauren Liess is one of my all-time favourite designers!
So, that's pretty much it for this area. I hope you like it!

PRICE & SOURCE LIST
Carpet | Daytona by Beaulieu in 'Green Beige' | $500
Wicker Chairs | Martinique Arm Chair from Early Settler | $200 each*
Sofa | Already Owned | $0
Coffee Table | Facebook Marketplace | $50
Floor Rug | Wemyss from Bunnings | $149*
Light Fitting | Mika DIY Pendant Light from Bunnings | $156*
Curtains & Fittings | Caprice Montego Sheers in 'Ivory' (plus all hardware) from Spotlight | $65 on sale
Stone Side Tables | Kmart | $29 each
Brass Side Table | DIY (gold tray on plant stand tripod we already owned) | $0
Lamps | DIY (ceramic vases topped with IKEA shades) | $25 each
Abstract Wall Art | Kmart Frames with Digital Downloads from Etsy Printed by Officeworks | $53 total
Vintage Wall Art | Already Owned | $0
Large Glass Vase | Already Owned (originally from Kmart) | $0
Dough Bowl | Already Owned (originally from Etsy) | $0
Small Decor (Candlesticks, Wooden Horse, Burl Bowl) | Already Owned | $0 each
Books | Already Owned | $0
White Cushion Covers | DIY using Fabric from Spotlight | $15
Black & White Stripe Lumbar Cushion Covers | DIY using Fabric from Spotlight | $10
Gold & Wide Stripe Cushion Covers | Already Owned (originally from H&M) | $0
Feather Cushion Inserts | Already Owned | $0
TOTAL $791
*We were super lucky to be gifted some items from Early Settler and Bunnings. 
I've provided their costs however they are excluded from the total.

For further price and source information about the entry and facade, please refer to their original posts (as linked).

Find the side-by-side before and after images below.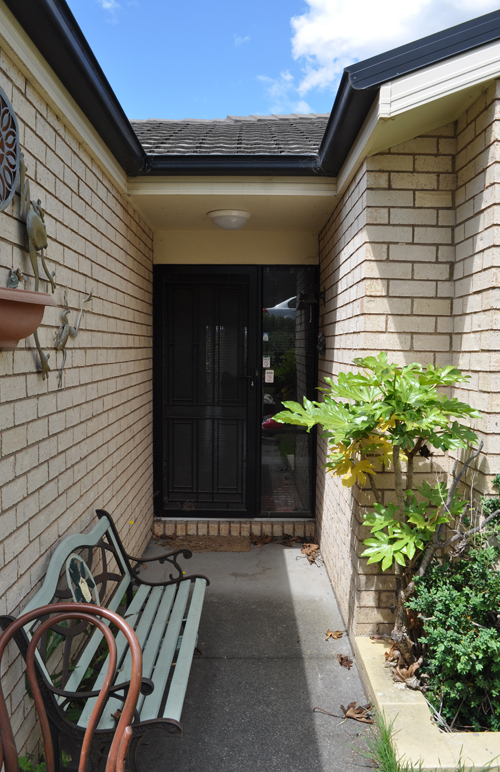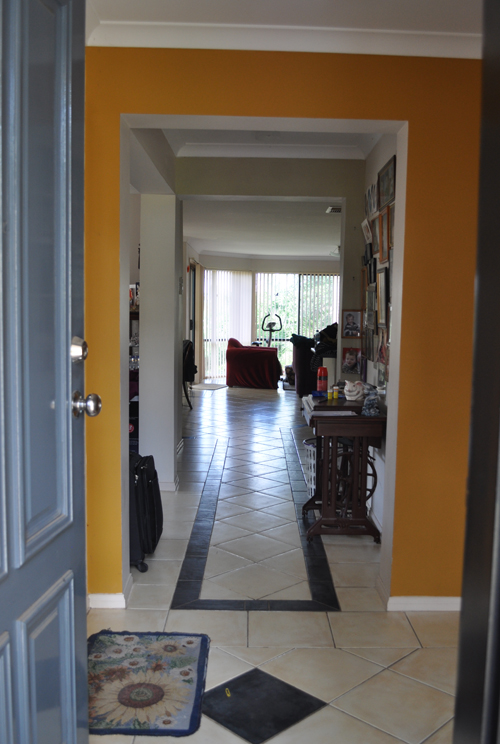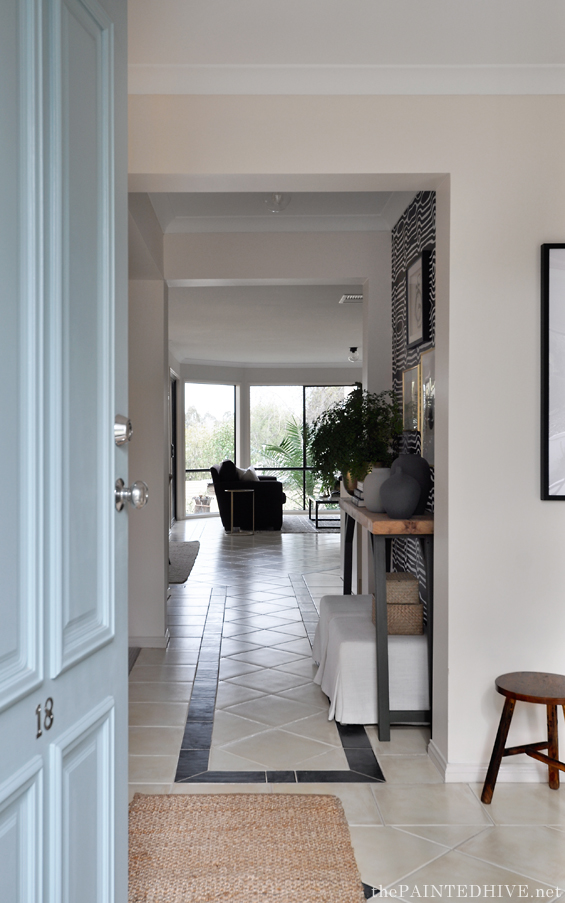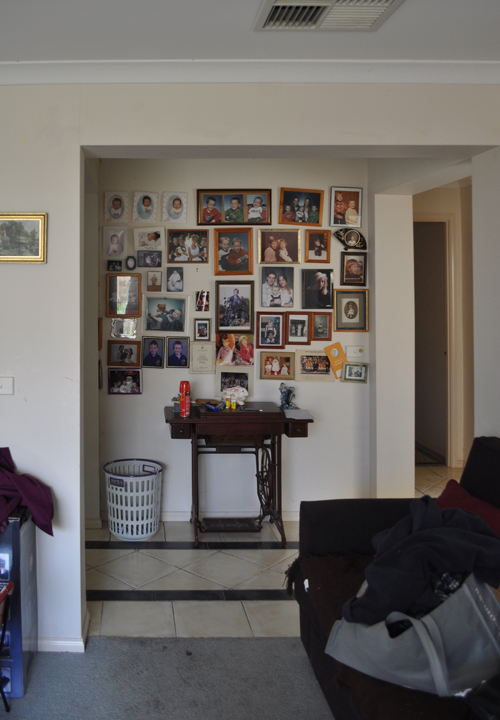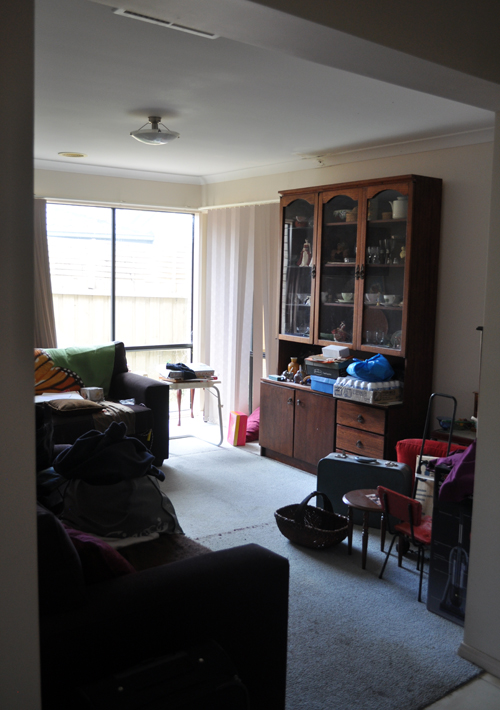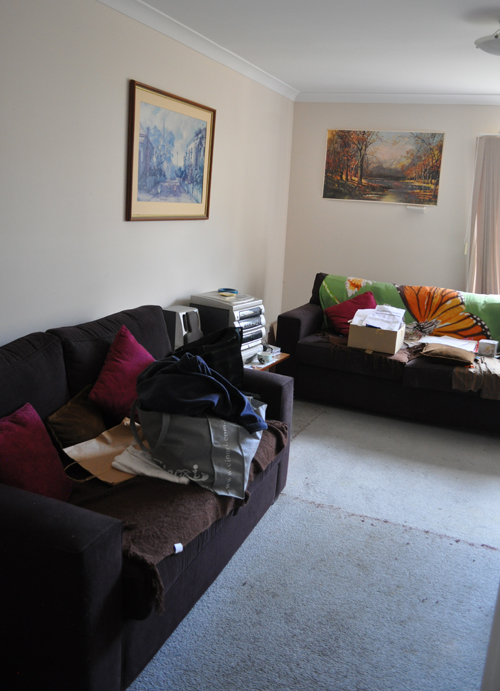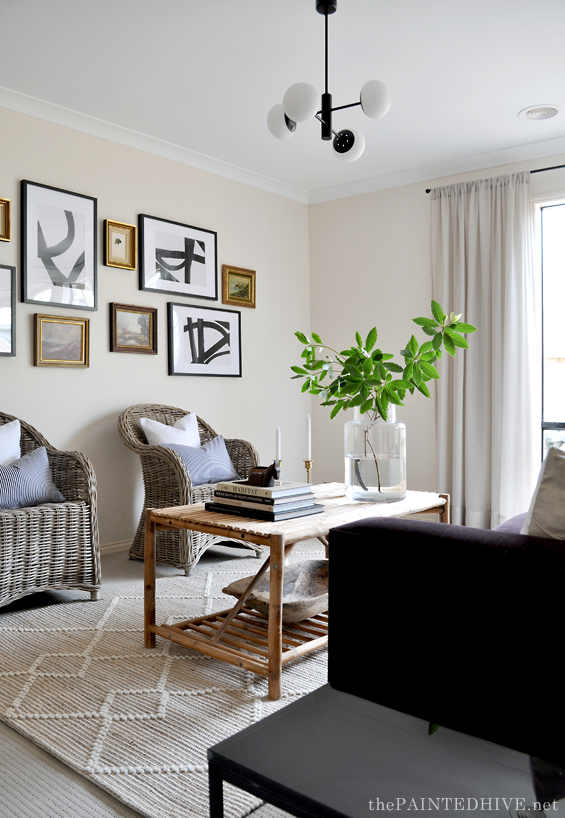 As always, feel free to ask any questions and I'll do my best to help. Looking forward to sharing more soon!
Catch up on all the flip house posts HERE.