Normally when someone mentions a kitchen reveal it's something to get excited about.
There'll be new shaker cabinets with sleek marble counters, fancy island pendant lights, cool open shelving, hardware that doubles as jewellery and an amazing tile backsplash.
Yeah, well, this isn't that kind of kitchen reveal.
As any of you who have been following along with the flip house will know, my friend wasn't interested in renovating (which is totally fair enough). So, we've done the best we can with a simple cosmetic update. And it's honestly amazing how much you can improve the feel of a space with little more than a good declutter and some fresh styling.
Here's how things looked at the beginning of the flip…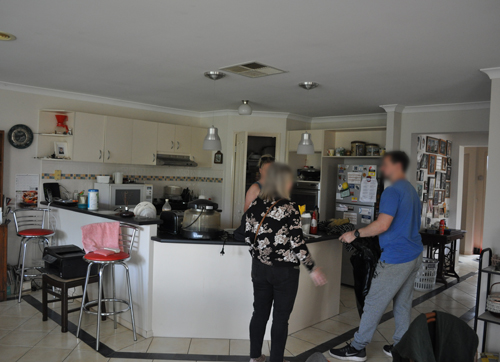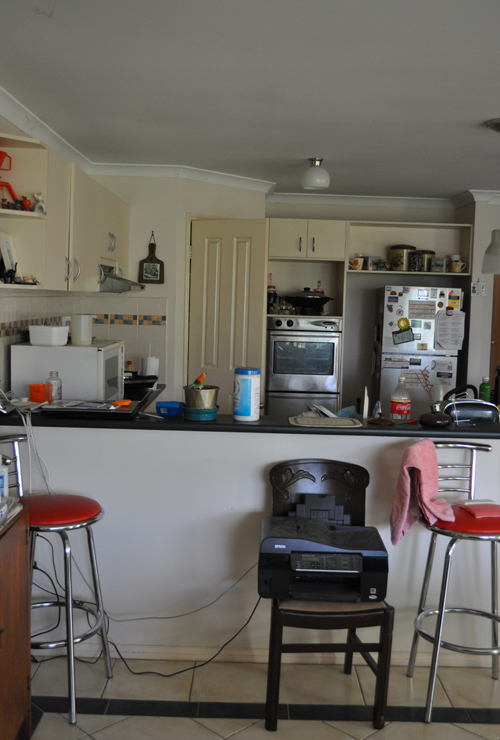 And here is the kitchen now…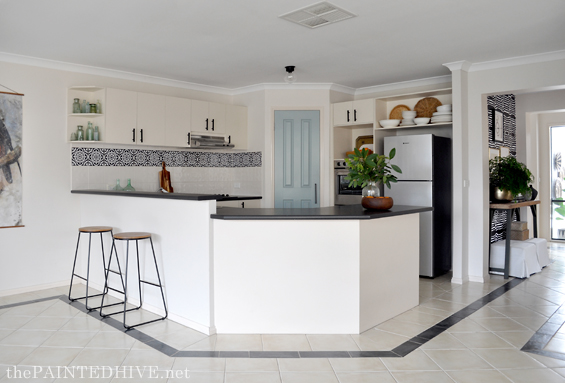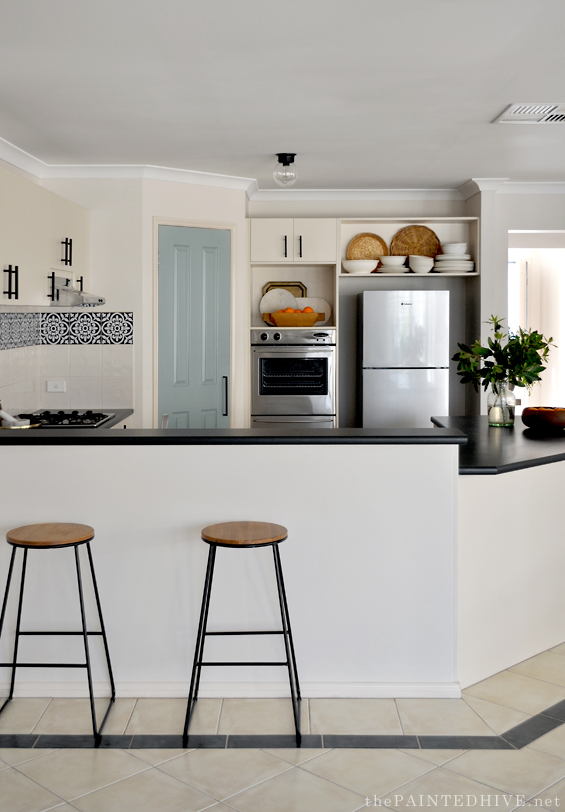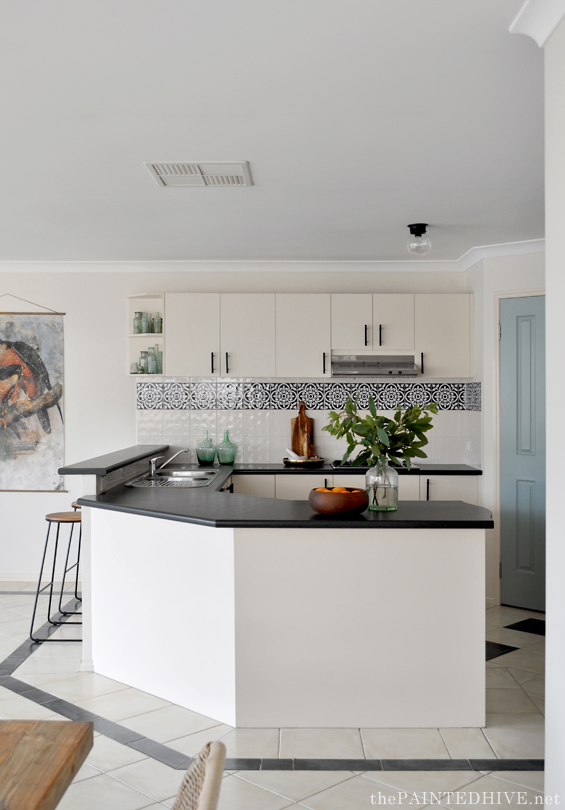 You can find side-by-side before and after images toward the end of the post.
In many ways we got lucky with this kitchen. It had a simple black and cream colour scheme, relatively modern stainless steel appliances and a nice functional layout.
To make it appealing, it really just needed a good tidy-up, a decent clean and a few simple updates.
I've spoken about most of the little projects in my previous flip house posts however will touch on them again briefly.
One of the bigger changes was painting the pantry door.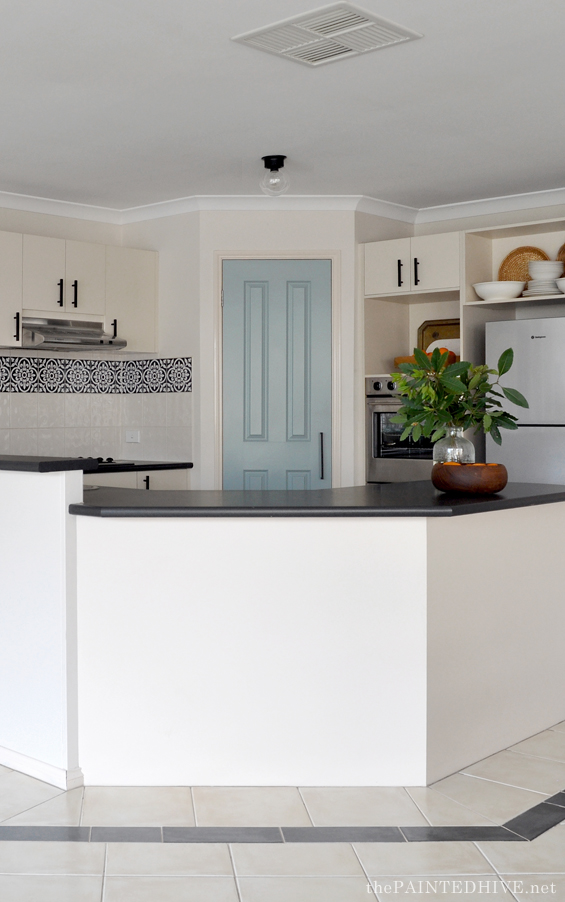 I wanted to break-up all of the cream and initially thought black would work to modernise things. I did one coat and hated it. With the benchtops and feature floor tiles it created a checkerboard feel which actually came across as dated.
So I decided to try some of the left-over Duck Egg paint from the exterior and it worked really well. It adds a fun colour hit which softens the black, updates the cream and introduces a touch of liveliness.
Another big-ish change was adding tile decals.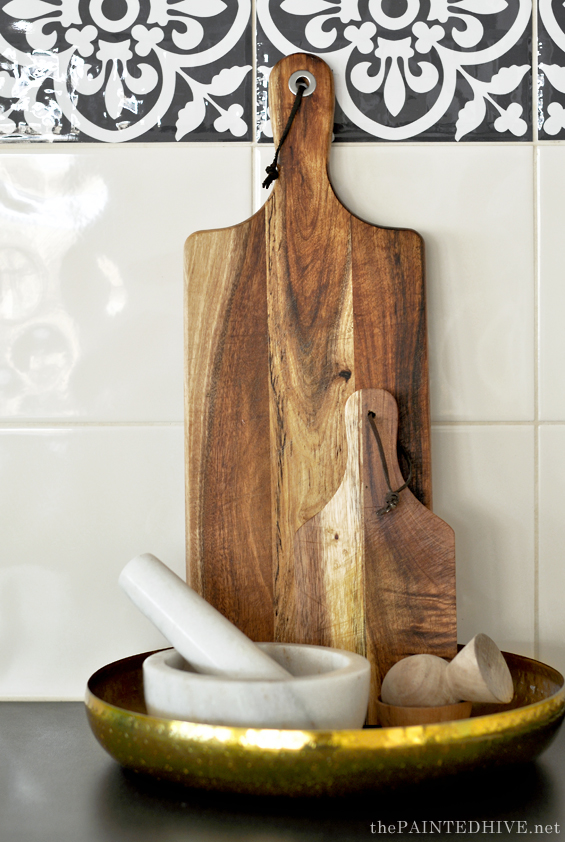 They look dimpled because the underlying tiles are textured. It doesn't adversely effect the overall appearance at all.
The original strip of multi-coloured feature tiles wasn't totally awful, though it didn't exactly enhance the room or gel with the new feel I was aiming to create.
Tile decals are a quick and easy solution which pack a big punch! You can learn more about them in my previous post HERE.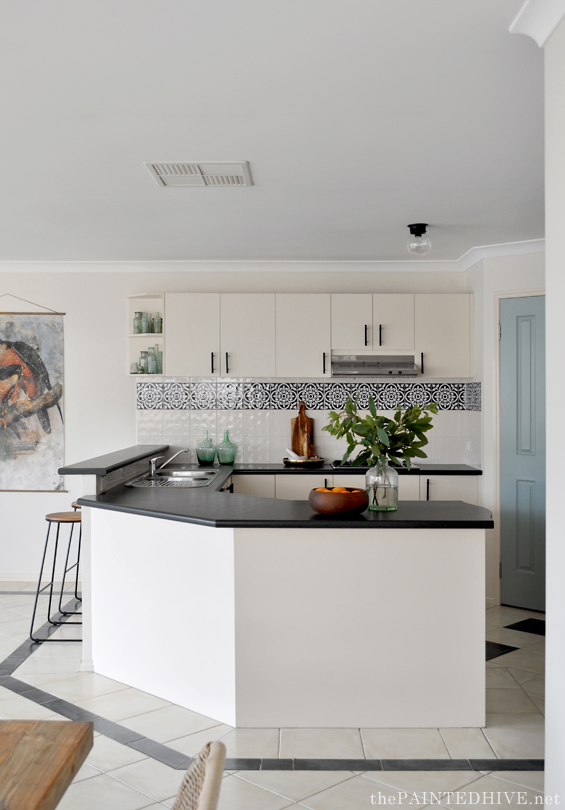 To further modernise and solidify things we also switched out the generic silver cabinet handles for more contemporary black ones.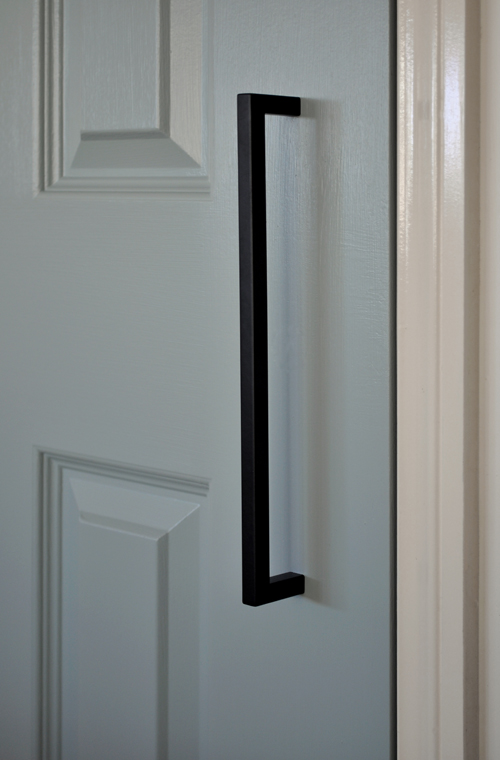 The pantry got this cool long bar pull and all of the cabinet doors got similar smaller ones.
For a point of difference I used bin pulls on the drawers.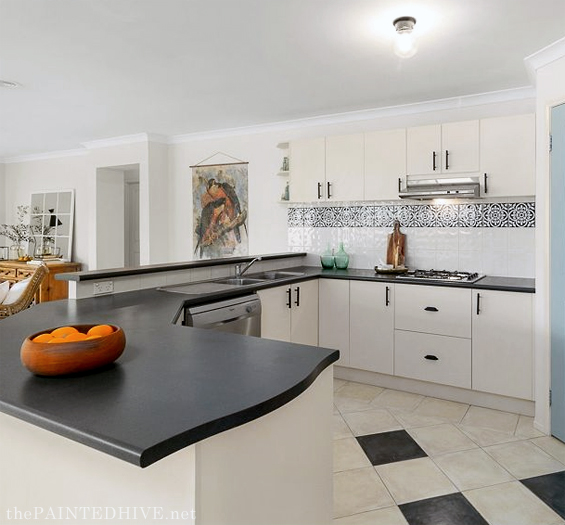 I couldn't find any really cheap bin pulls in the style I liked with the right hole centers (as obviously I wanted to use the existing holes in the drawer fronts from the previous handles) so I splurged a little here by spending a bit more than I normally would.
The only other notable change was swapping the old ceiling light for this more on-trend clear glass fixture from Bunnings.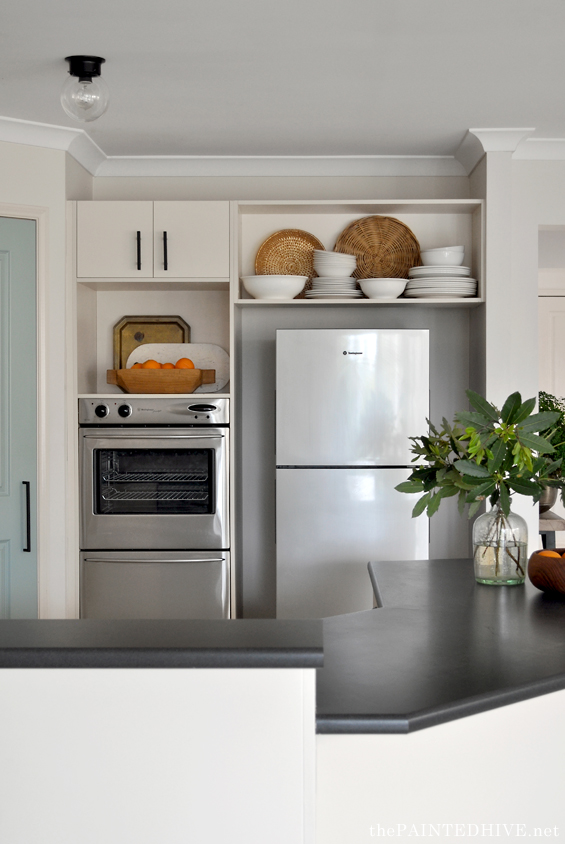 It's a subtle change, however we've used these simple fixtures throughout most of the house so it just helps with that sense of continuity.
Oh, and I should mention, the two 'pendants' over the peninsula you can see in the before pics were merely battery operated lights attached to the ceiling (they were not hard-wired). Although I do love island pendants I decided to remove these ones. Whilst I could have updated them style-wise, the peninsula is angled and they just didn't look right in the room, plus they obstructed the sight-line through this open-plan space.
I really wanted a shelving unit for the area beside the breakfast bar though unfortunately I was out of time and money. Still, the wall needed something (pretty BIG!) and I came across this large-scale bird wall chart when I was going through my decor stash.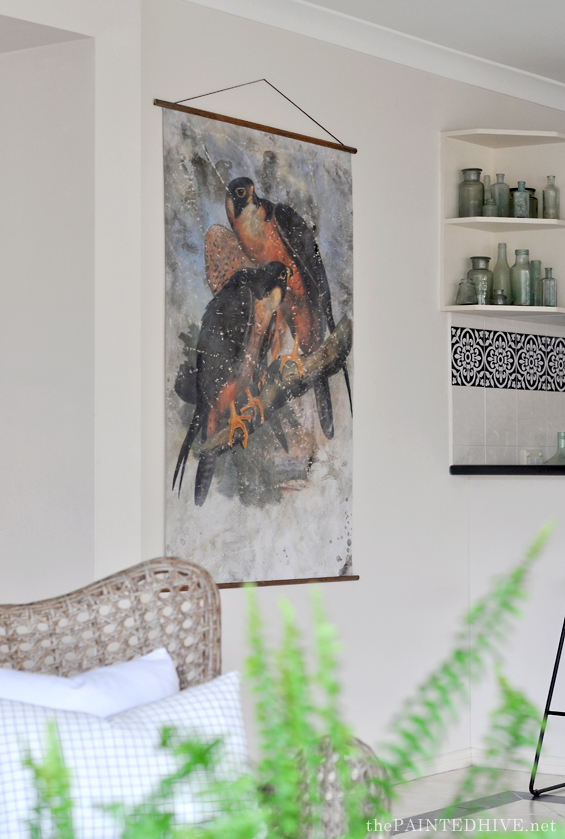 I created this a few years back when I was helping my parents refresh their living room. At the time it didn't make the cut (we ended up going for something a bit more feminine and refined) so it has been languishing in a dark wardrobe ever since! Surely it deserves better than that!
I found the free image online, did a bit of editing and had it printed on specialty canvas through a supplier on eBay for the super low price of $25. When I received it the colours were really over-saturated so I white washed it, antiqued it, then threw it in the washing machine.
As a result it has this distressed, grungy, weathered look which isn't for everyone though I personally love it! To finish, I hemmed the sides then added some basic timber trim and a leather hanging strap.
The bar stools are simply from Kmart and work to give purpose to the raised overhanging counter along with fill some of the vacant space.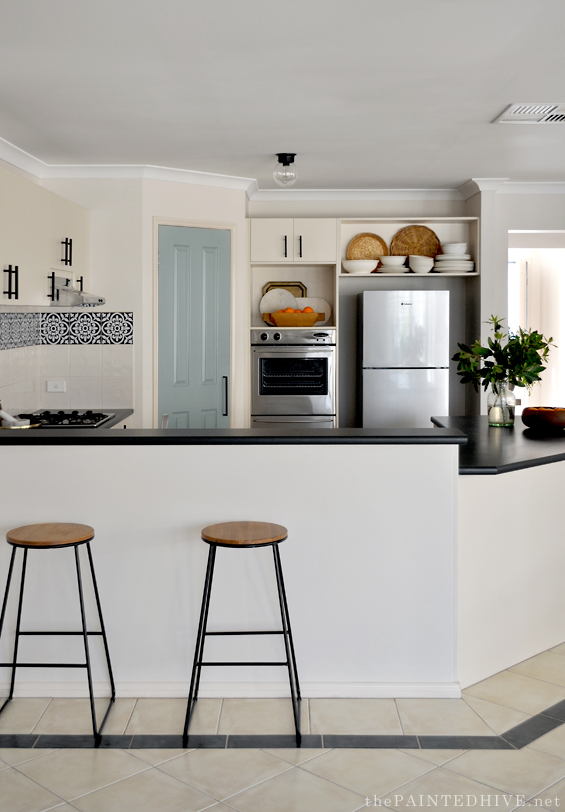 All of the decor are things we already owned.
My collection of blue-green glassware fills the open shelving.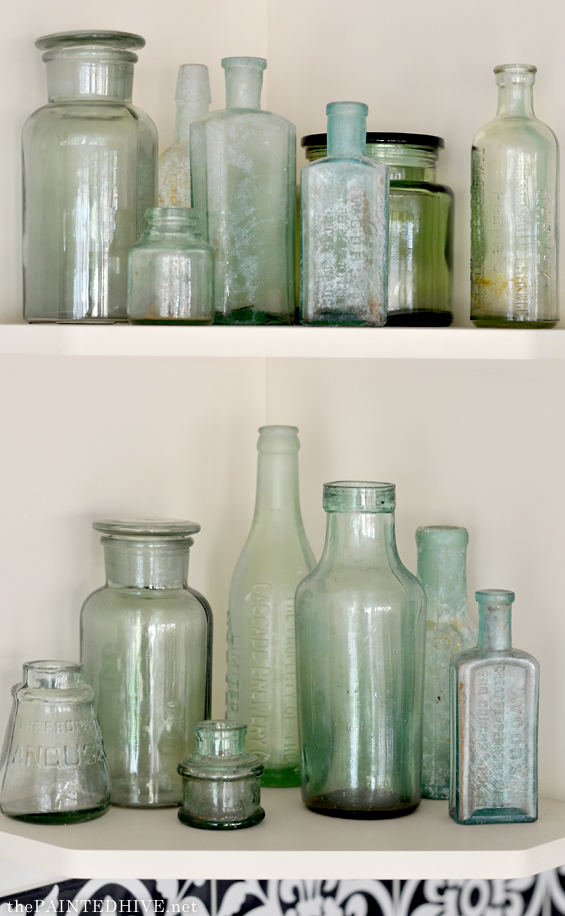 I originally wanted to take these shelves down because they're kinda my pet hate, however they were well and truly attached and I didn't want to risk damaging the walls or cabinets. I think this grouping does a good job of making them appear a little more current.
Above the fridge I kept things simple with white crockery layered with cane charging plates.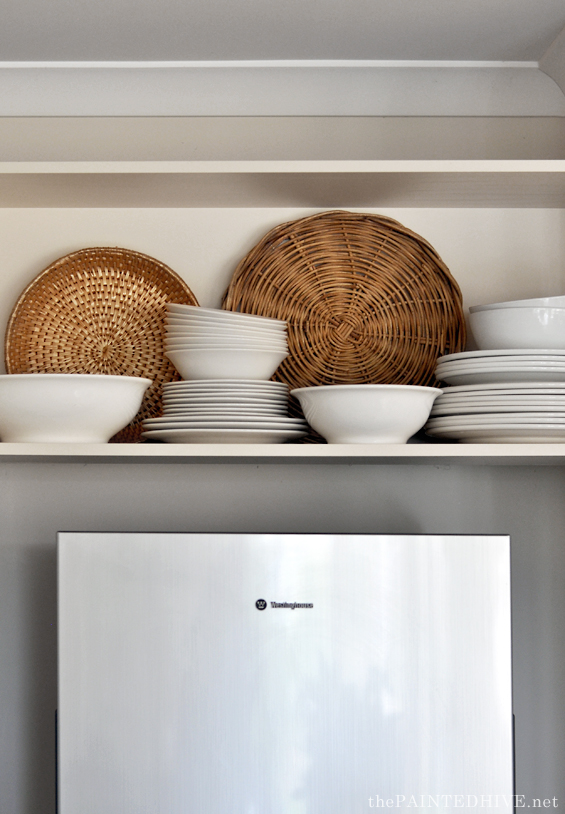 And the microwave nook holds a few trays and a rustic bowl filled with oranges.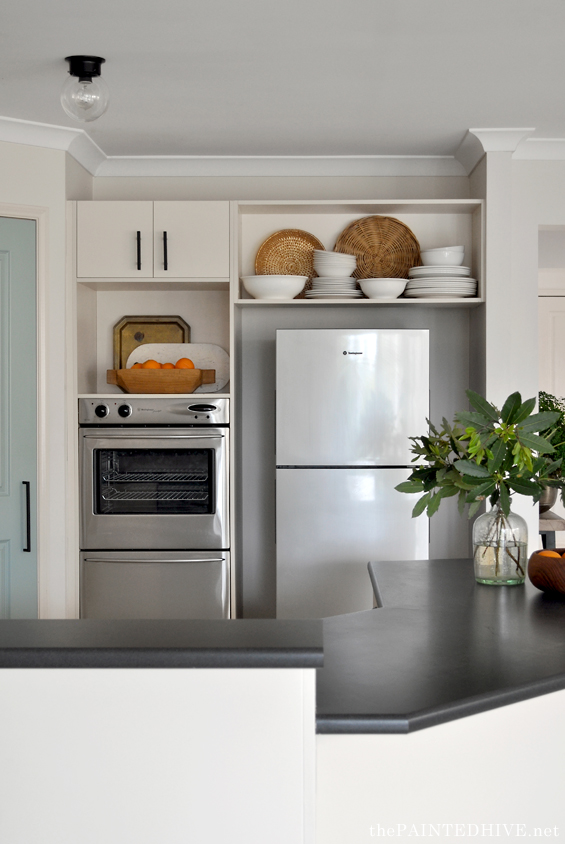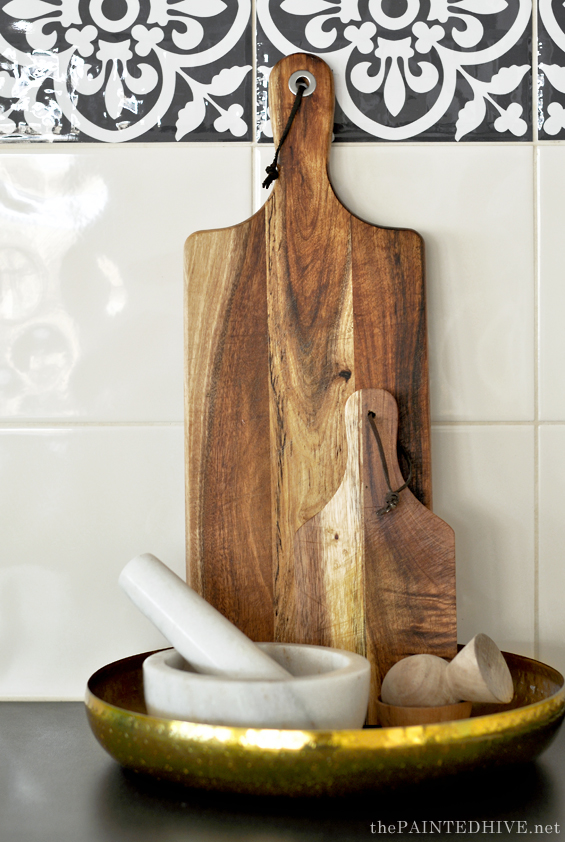 We didn't do much with the backyard (that old time and money thing) however the biggest single expense in the entire flip was building a deck.
The original paved area was wonky and weird and just plain unappealing. In fact, it was probably the single worst aspect of the whole property. Leaving it as is would have been a huge blight on all our other hard work. Fortunately my friend's son is training as a carpenter so he built the deck for us.
This was the state of things before the flip (well, after some of the pavers had already been ripped up)…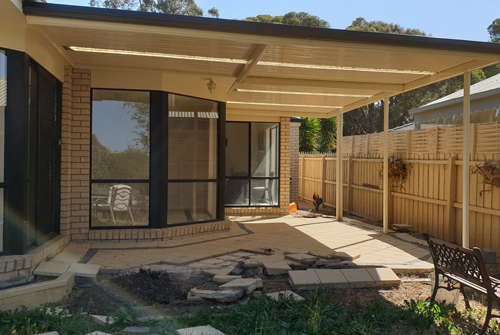 And here's the area now…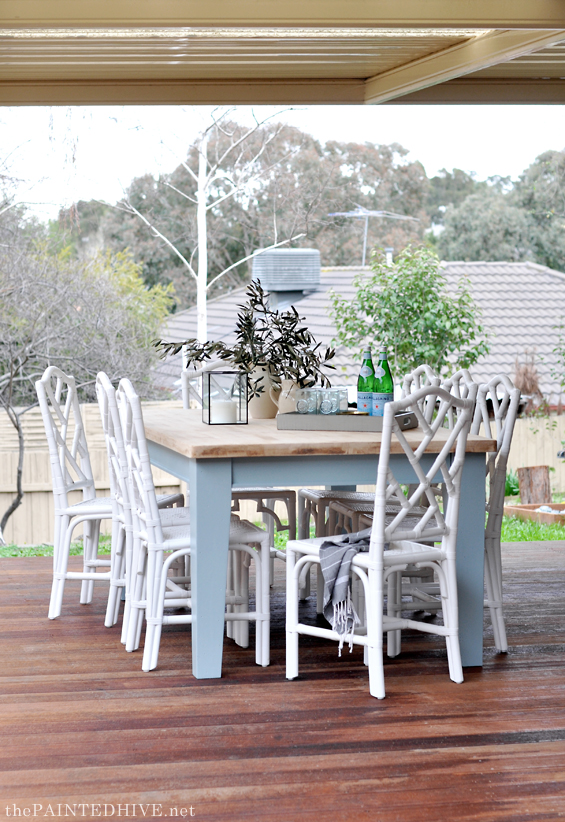 I'm so sorry, though I don't have a pic from the same aspect. Mainly because when I took my pics the grass hadn't been mowed and made everything look really untidy – LOL!
Originally, I had visions of dressing this space to the nines: a heap of string lights hanging from the pergola roof, a DIY pendant over the table, an outdoor lounge zone with rugs, ottomans, pot plants and other pretty things. Sadly though, it just wasn't gonna happen. We were out of time and money.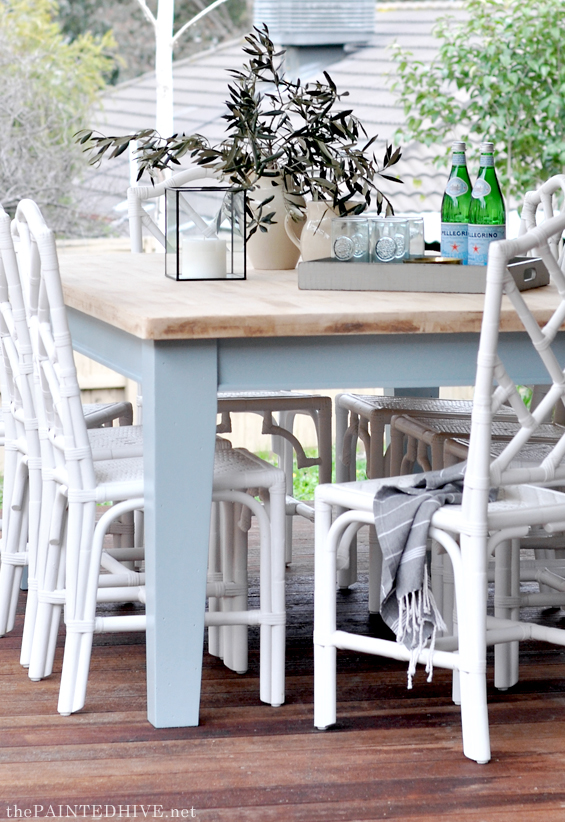 I simply had to make do.
In fairness though, as satisfying as it would have been to go all out, in the overall scheme of things it probably would have had little impact.
In the end I simply used this table I found on Gumtree for $50 and this set of eight Chippendale style chairs I picked up on Marketplace for $100.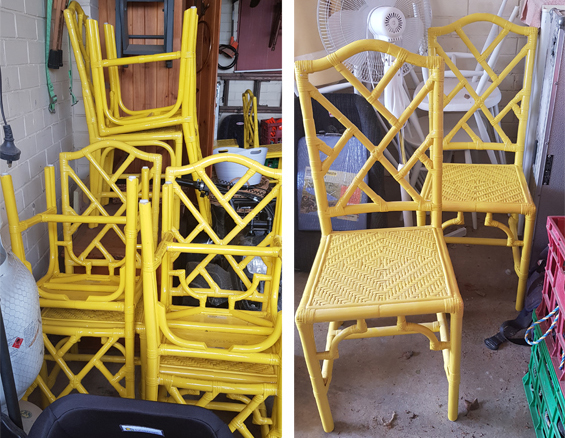 I ripped the table top back to raw using the coarsest sandpaper in the whole wide world (I was going for speed, not finesse, and still need to hit it with something finer for a smoother feel), and painted the base using leftover Duck Egg paint from the exterior.
The chairs were sprayed white though will probably need to be refinished at some stage. Again, I was going for speed and didn't bother with proper prep. At the time, my goal was simply to make them look white! I guess trying to finish staging an entire house in two weeks kinda depletes your usual care factor!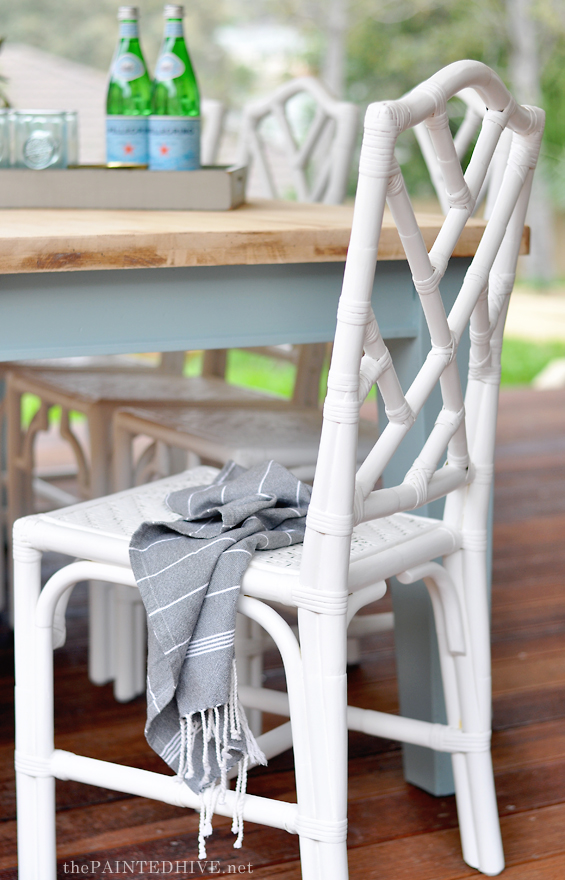 Again, the decor bits and pieces are all things we already owned.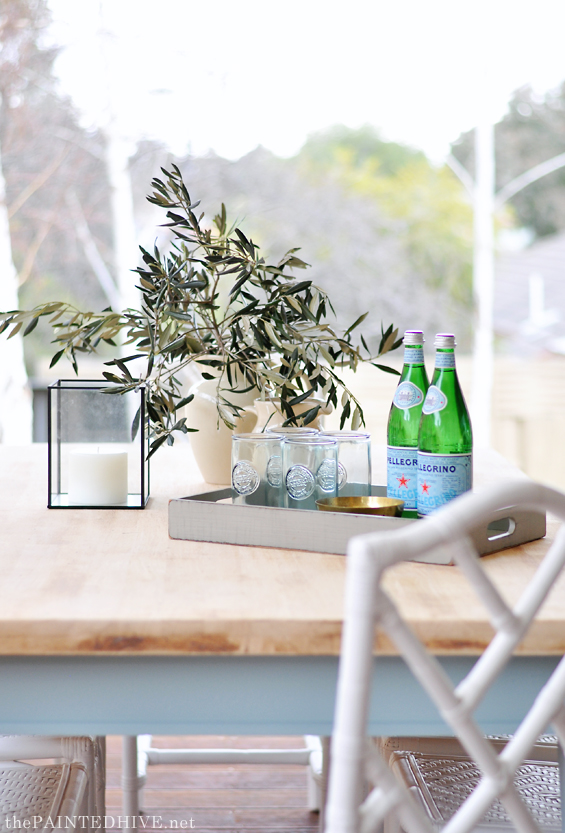 PRICE & SOURCE LIST (KITCHEN)
Tile Decals | Encaustic Moroccan Tile from Bleucoin on Etsy | $60
Cabinet Door Handles | eBay | $3 each
Cabinet Drawer Pulls | Etsy | $7 each
Pantry Door Handle | eBay | $8
Light Fitting | Bunnings | $14
Bar Stools | Kmart | $25 each
Wall Chart | DIY | $30
Decor | Already Owned | $0
TOTAL $256
PRICE & SOURCE LIST (DECK)
Deck | Merbau Deck (approx. 6 meters x 4 meters) | $4,000
Chairs | Marketplace | $12 each
Table | Gumtree | $50
Decor | Already Owned | $0
TOTAL $4,146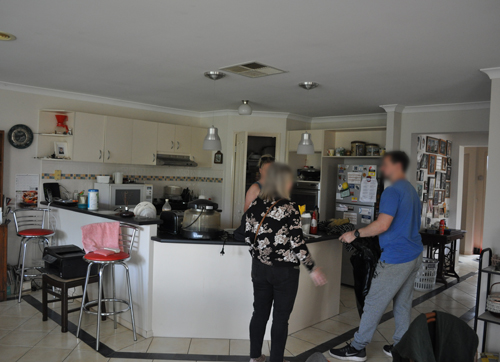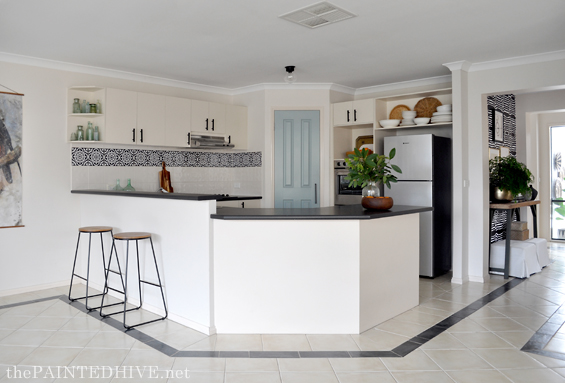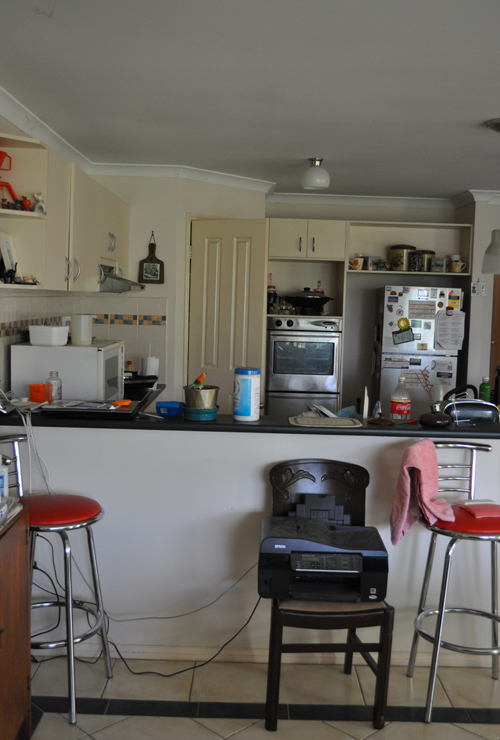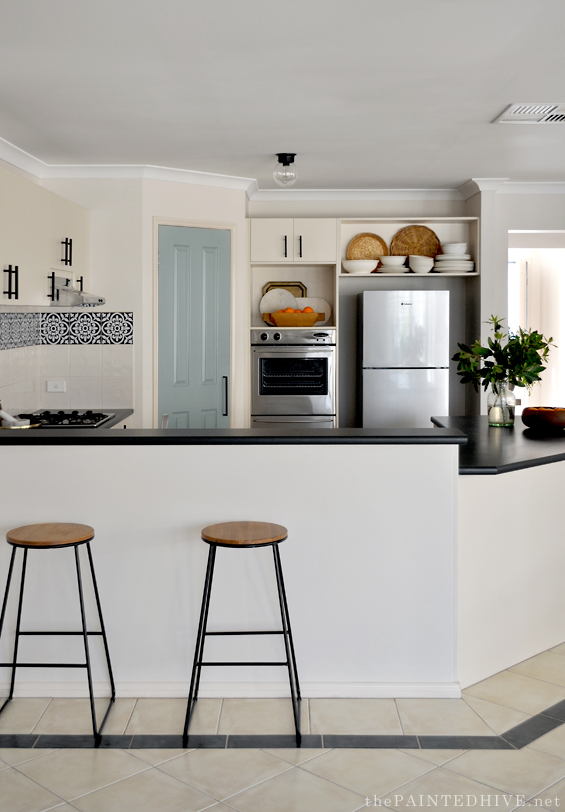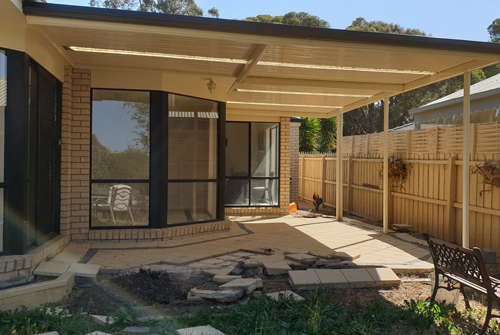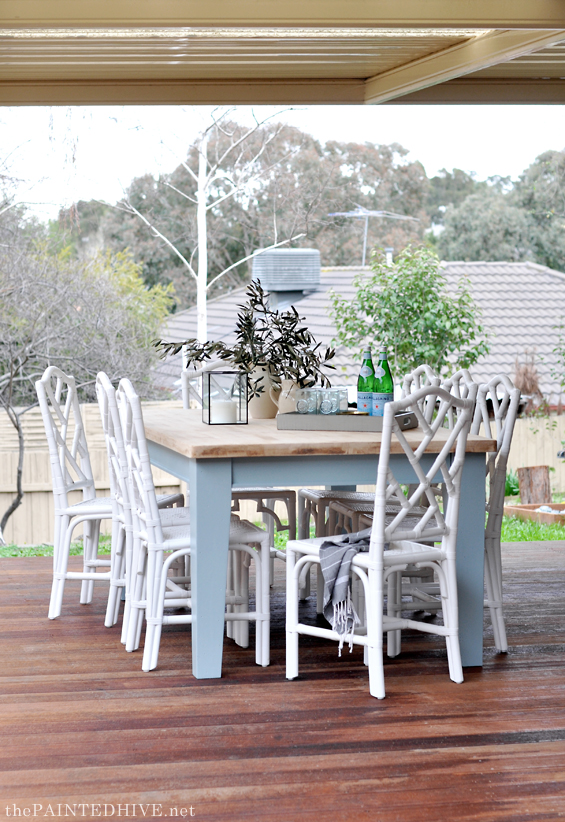 I know these makeovers are nothing special, though I hope they help inspire anyone who's trying to make the most of what they already have.
Oh, and I have some exciting news about the house I'll be sharing super soon. Stay tuned!
Find all of the previous flip house posts HERE.