I know I'm supposed to have shared at least some of the pics from my mother-in-laws house staging project, though I've been so flat out with client work lately I haven't even had a chance to properly look through the photos yet! So sorry!
One project I can quickly share however is these plant pots I transformed to dress-up the front entry.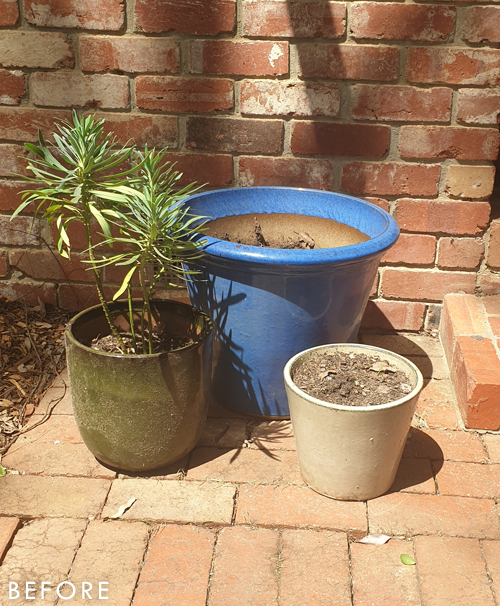 My mother-in-law had a heap of random pots laying around, but I wanted something cohesive for beside the front door. Of course, buying new pots would have been pricey and a bit excessive, so once again it was paint to the rescue!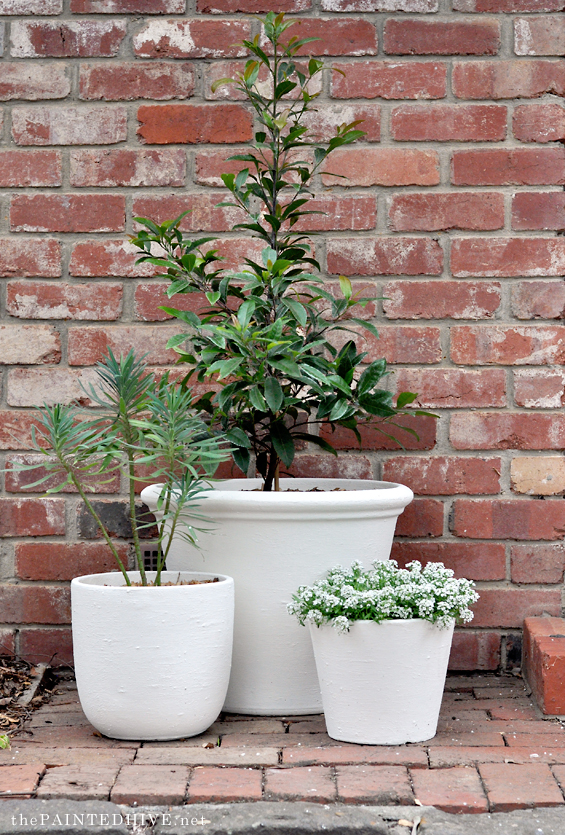 I was on a tight budget and time-frame so simply used some supplies I already had on hand – regular house paint mixed with Plaster of Paris.
If I'd planned things out 'properly' I probably would have used something more suited for outdoor conditions, such as mortar mix and exterior paint instead. But, Plaster of Paris can be sealed for outdoor use and although I never sealed ours it has held up perfectly for almost three months now! Yay!
All I did was pour some plaster powder into a bowl then gradually add paint, stirring with a stick paddle until I had a toothpaste-like consistency. I wasn't fussed about bumps and lumps so there were plenty – which I embraced!
To apply the paint I used a large brush which I haphazardly slapped around the pots until they were fully covered (around two-three coats). I undertook this project on quite a hot day so thankfully the paint dried fast which enabled me to layer it up quickly.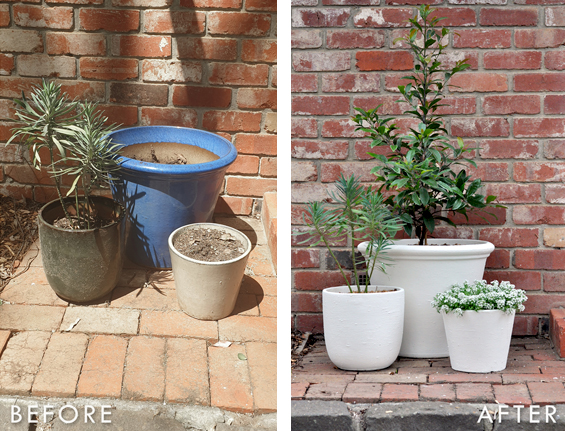 Sorry I don't have step-by-step tutorial photos though I literally did this in a frantic twenty minute window right before I needed to collect my kids from school. That's how quick and easy it was!
In terms of plants, as you can see the Euphorbia was existing, and I added a Prima Donna tree (Elaeocarpus Reticulatis) in the large pot for height and lushness, and some pretty Sweet Alyssum (Lobularia Maritima) in the smallest pot for a bit of fluffy cottage charm.
To conceal the exposed soil some fine Euchi Mulch did the trick.

Right at the beginning of this house staging project, when we were initially decluttering, no-one really knew what to do with these random pots. At one stage they even almost ended up in the trash! So it's nice to have given them a fresh lease on life.
Catch up on all the previous posts about my mother-in-laws house staging project HERE.