I've been slowly working through some of the photos I took of my late mother-in-law's property (which, for ease, I'm now coining 'The Staged House').
At first I wanted to share an over-arching post inclusive of all spaces (similar to what I did for my gran's house) but given I'm a little stretched for time at the moment, it's just taking too long for me to get everything together. Sorry.
So, room-by-room reveals it is! Starting with the 'guest' bedroom.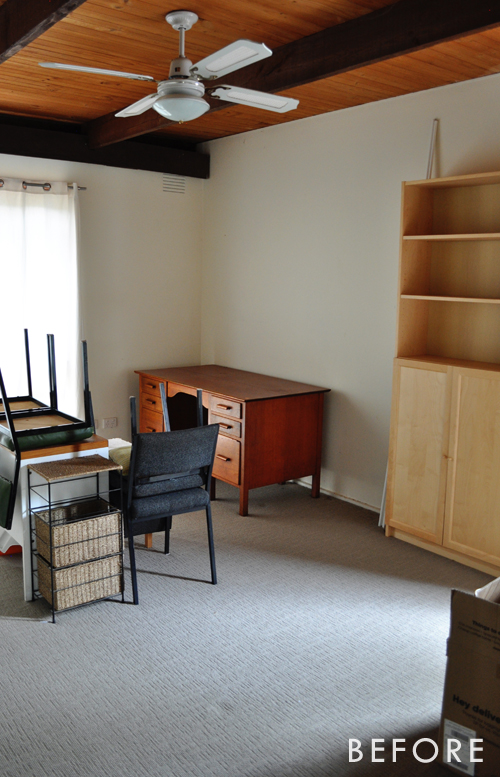 This was my mother-in-law's home-office/catch-all (we'd already started clearing it out when I took this before pic), but for sale purposes it just made sense to stage it as a regular bedroom.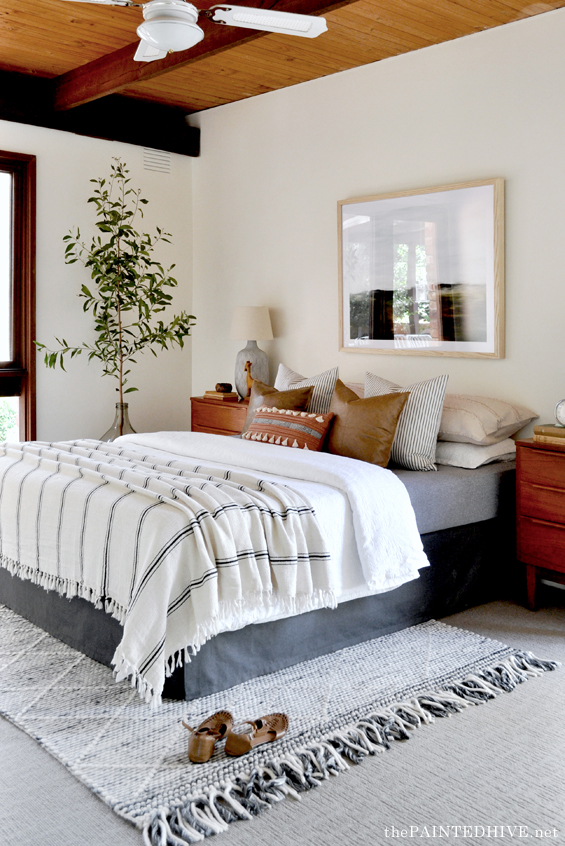 We didn't have a spare bed to use so I scoured Marketplace for a free queen-size mattress and base, then I added a simple skirt using my curtain trick from The Flip House. Except this time I didn't even need to buy curtains!
For sale purposes we had decided to remove all of the window furnishings in the house to help make things look bright and clean. At first I was simply going to throw the old curtain panels away, but right when I was about to use them as a rag for my grubby paint-covered hands, it dawned on me that they might actually be useful. And clearly they were!
The white curtains you can see in the guest bedroom before pic were used to make a skirt for the master bedroom (I'll share that space soon!). And the curtains for my guest bedroom skirt were taken from the third bedroom. Here they are before…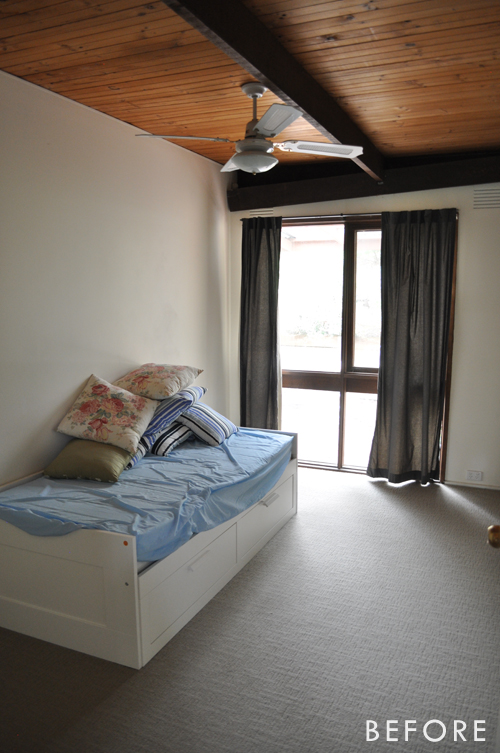 And here are some of my rough progress pics (refer to my past post for a complete how-to tutorial)…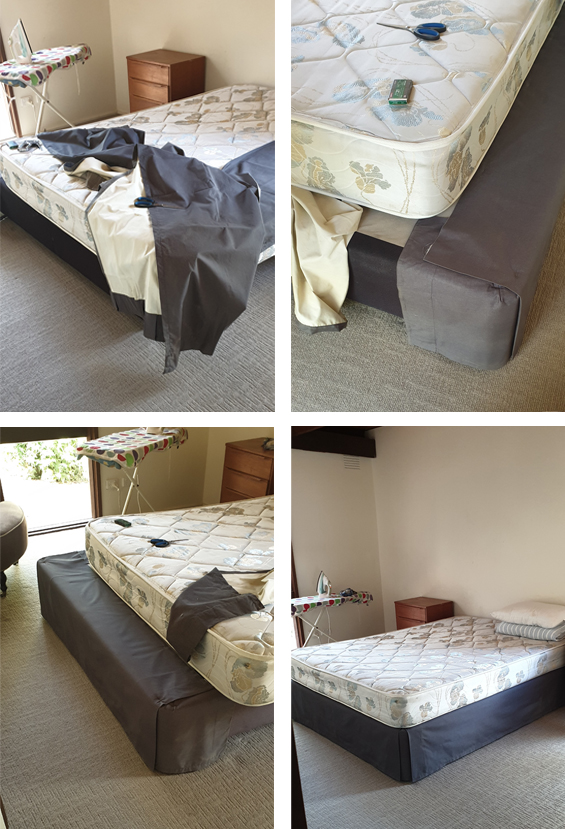 It took me about 15 minutes to completely finish. It's so quick and easy!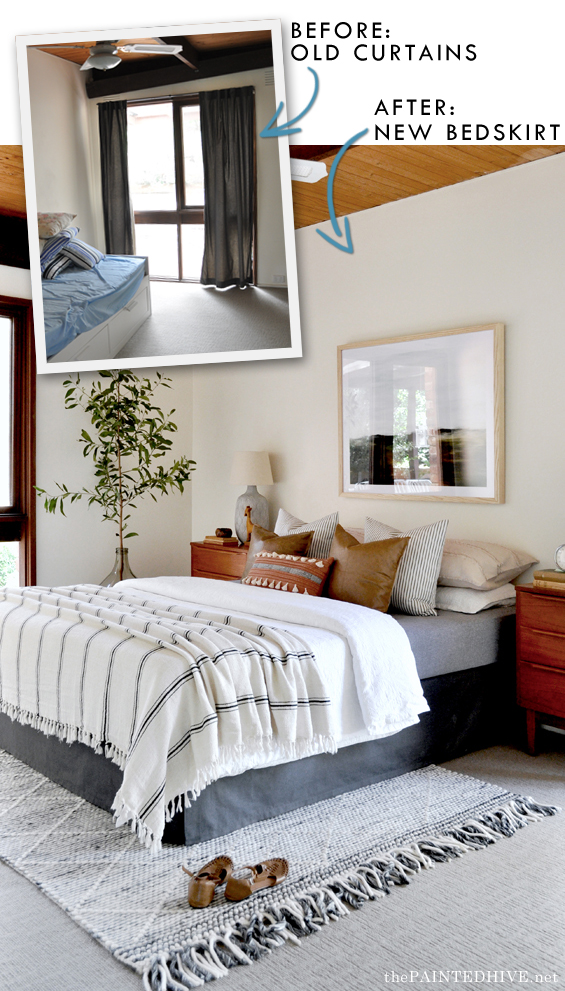 The mid-century side tables were originally in the master bedroom, but I decided to steal them for this space because they work so perfectly.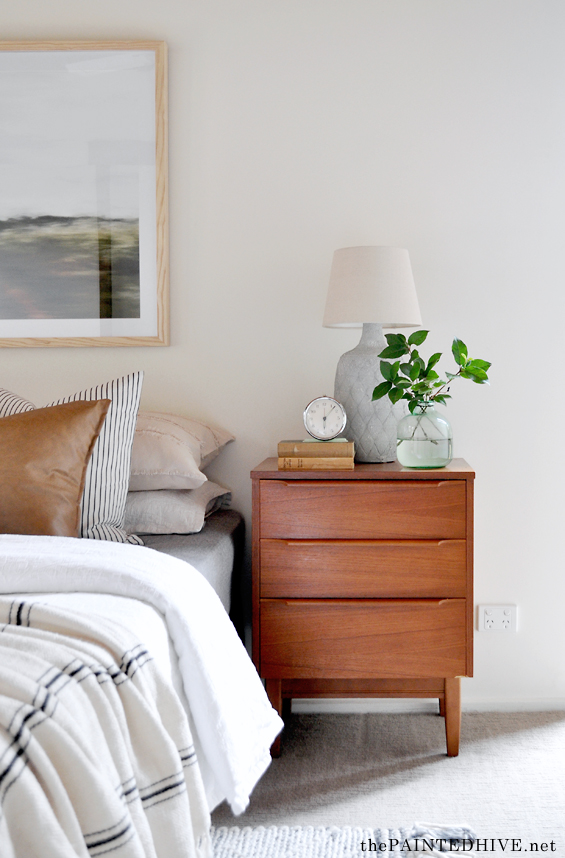 The master bedroom is actually a tad smaller due to the ensuite and this room could handle the bulk of them better.
I already owned the rug (you might recognise it from the girl's bedroom at The Flip House). It was originally from Spotlight.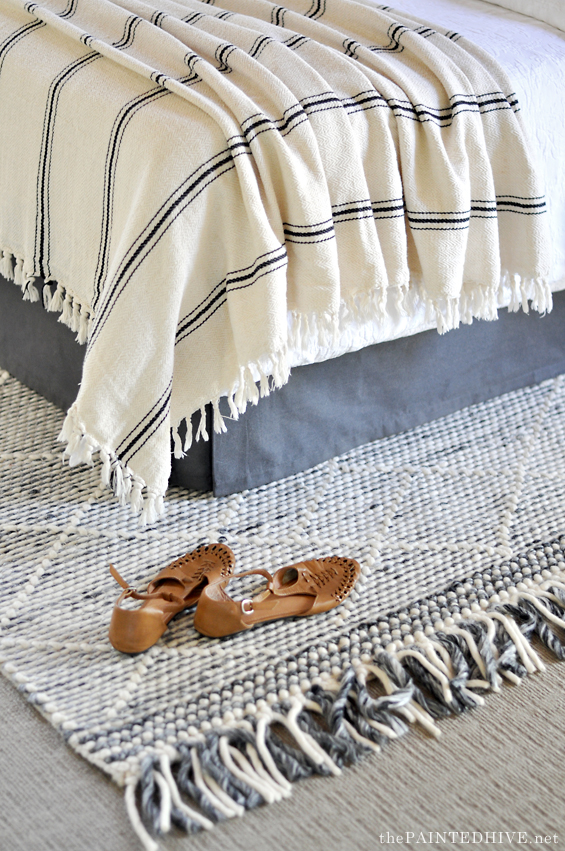 One of the more indulgent elements is the artwork over the bed. I was very lucky to be gifted this gorgeous piece from Urban Road which just works so beautifully in here.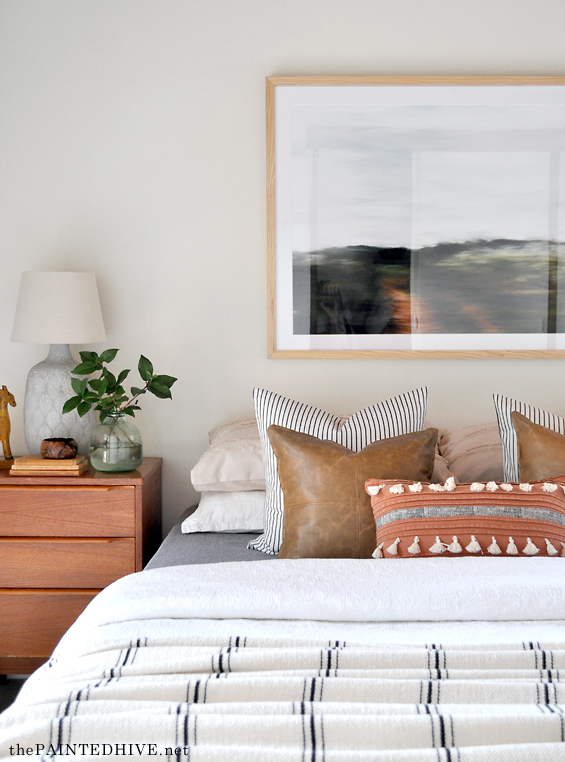 Pardon the reflections!
From the start I knew I wanted to include some tall greenery, but for staging purposes I have used my free cheat of 'borrowing' a tree (sometimes I will use a substantial branch) from the paddock behind my house (don't worry, there are still 5,694 more to choose from!). Sorry, but I actually have no idea what this particular tree is – feel free to share if you know!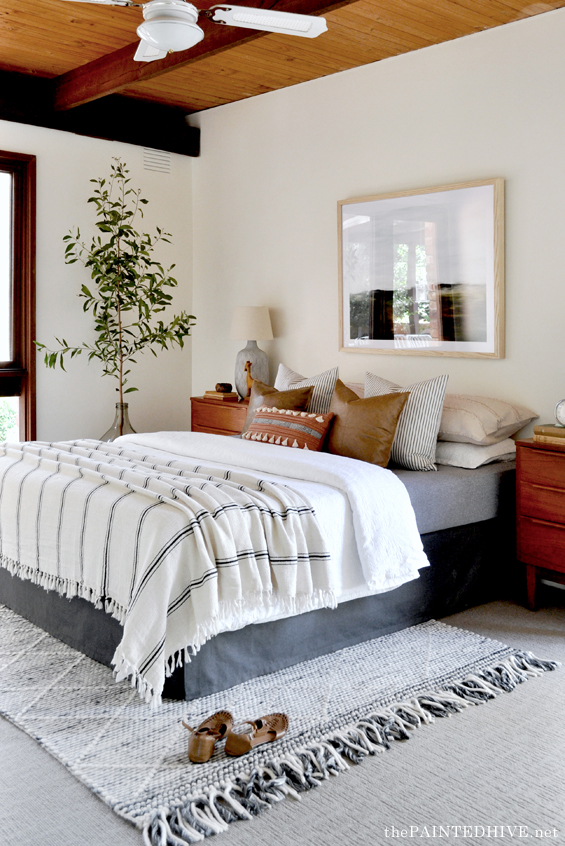 I've found that if you sit an established woody cutting in water it can last for several weeks. Here I've placed it in a large glass demijohn (unfortunately I didn't get a shot of it but you can just see it peeking out from over the bed).
Most of the bedding, and all of the decor items, are things I already owned.
You might recognise the lamps from The Flip House.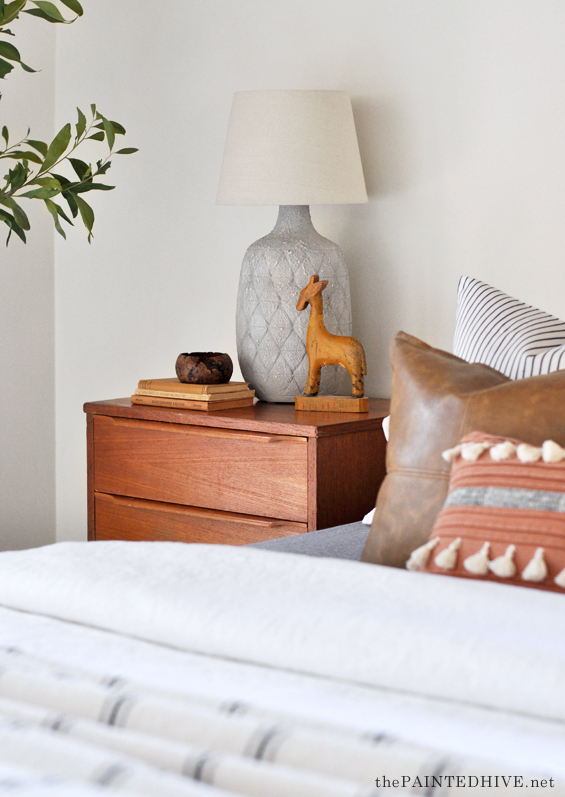 Again, this is just a total staging cheat where I've used inexpensive vases (large ceramic lamps can be so expensive!) with shades resting on top. I didn't add any light source when I used these in The Flip House but this time around I included some battery operated puck lights. The shades are a little smaller than I would have liked though the larger original shades I had were stolen when The Flip House was broken into. So, I've just made do with these smaller ones I found in the shed. They aren't ideal but they do the trick. I would also have liked to paint the bases white, but that was a low priority and never happened. Oh well.
The rust accent cushion is from Target, the faux leather cushions are from Kmart and the striped cushions are from IKEA. They are my new favourites!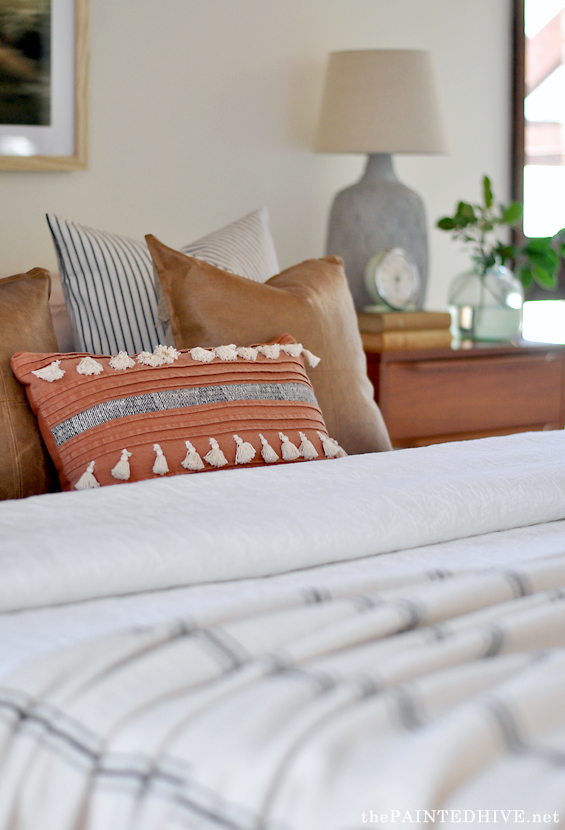 I bought the throw a few years ago from Etsy and the white quilt cover is just an old one of mine from Target.
Oh, and the 'flat' sheet is actually a Kmart tablecloth! This is another little hack I often use for staging purposes as I find the extra weight in the fabric helps it sit more neatly and appear less translucent than most regular sheets. When no-one is actually going to be sleeping in the bed you can get away with anything!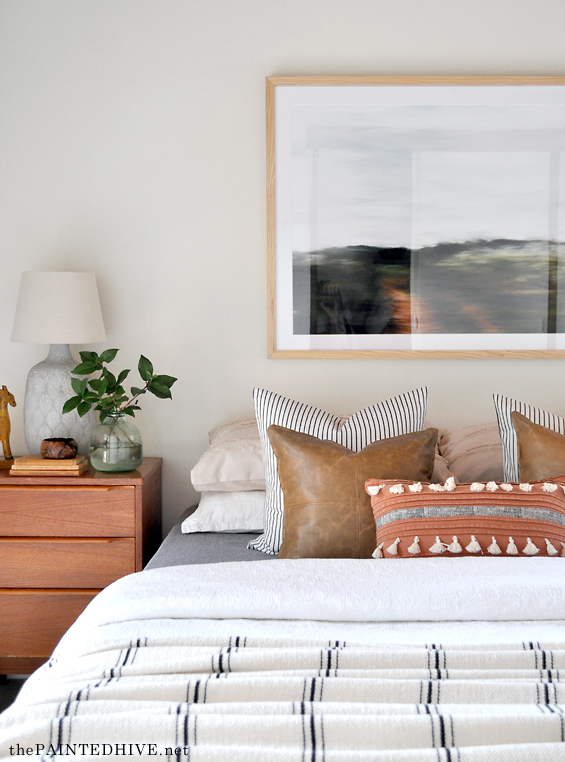 I didn't really have a set plan in mind when bringing this space together. For the most part I was just working with what I already had, though I just adore the way things evolved. To me it almost has a subtle Santa-Fe kinda vibe, which is something a little bit different to my usual modern-cottage style.
As always, here are the comparison pics…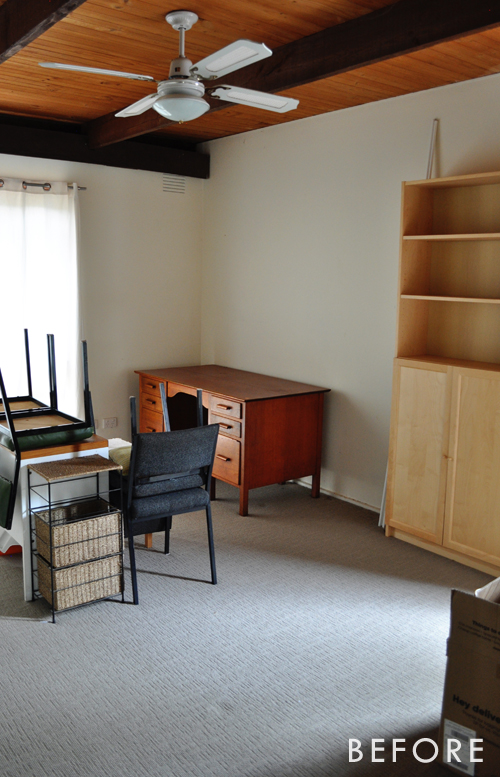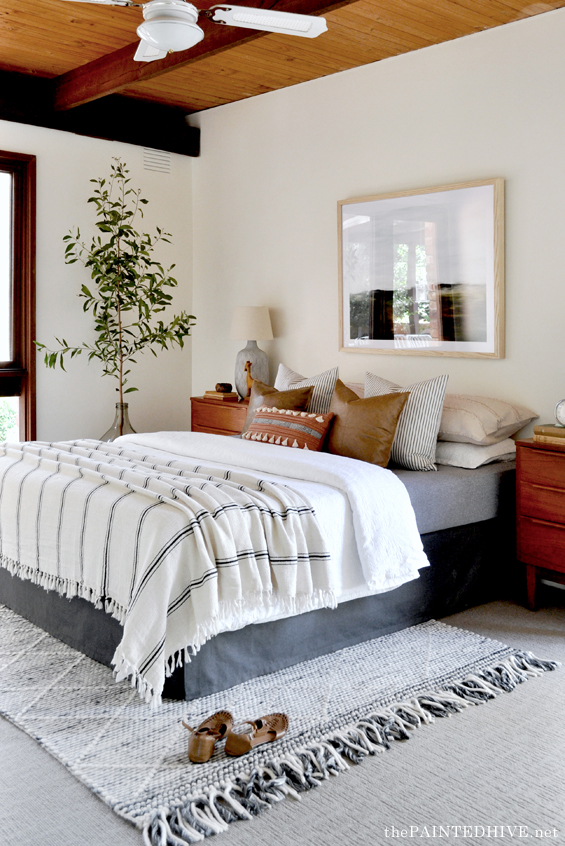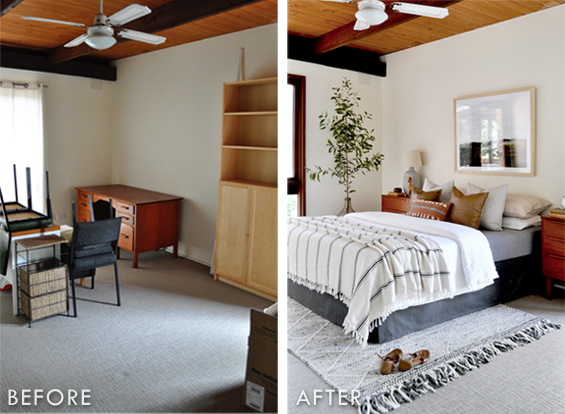 Because I'm a little behind in sharing these room reveals, I haven't really had a good chance to post about the whole sale campaign. Well, just to quickly summarise, our first open for inspection garnered a record agency attendance which was super flattering news. We received twelve separate offers within the first week and the house was under contract in just eight days! Less than two weeks after hitting the market it was officially SOLD – for just shy of 100K above the top price in our listing range! Great result.
Looking forward to sharing more spaces soon. Thanks so much for being patient with me.
Catch up on all the previous posts about 'The Staged House' HERE.