It was always my intention to finish and share the flip house facade first, though it appears this little entry has snuck in.
Kinda makes sense given it's about one zillionth the size of the exterior!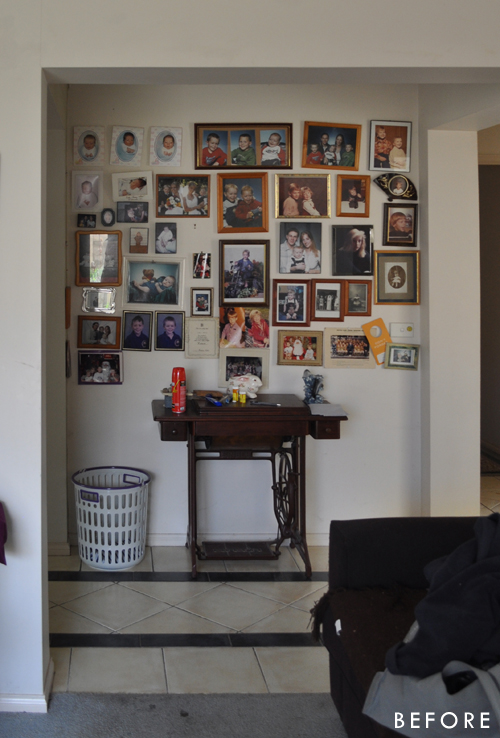 With good bones and a neutral palette the plan here was simple…strip it down then dress it up!
I often mention the importance of starting with a blank canvas, so before I even had an inkling of a design strategy, the room was cleared.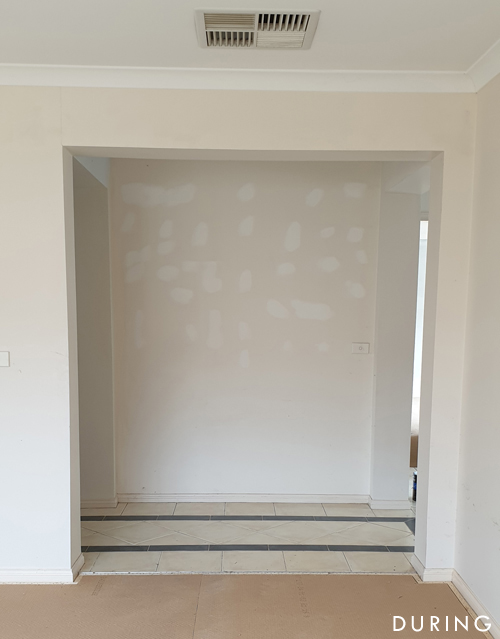 Ah, that's better.
Even half-finished, with obvious patches on the wall and visible underlay in the adjoining sitting room, it just seemed to 'breathe' so much better. Or maybe that's just me?
To complete the "clean slate" phase we simply painted the walls as needed (using the existing colour) and gave everything a good clean (new carpet was also laid over the visible underlay in the neighbouring room though that's not exactly part of the entry).
Sure, the wall and trim colour isn't the most up-to-date, and the floor tiles aren't exactly the prettiest, though it's amazing how styling can turn negatives into positives and make everything work.
So, with my blank canvas ready it was time to decorate!
If you read my previous post about the flip house entry, then you'll know that I was somewhat struggling with a design direction. In order to help narrow things down I decided to take some inspiration from House Rules on Channel 7 and create a set of guidelines based around the feel I wanted to achieve.
My rules were…
:: Use black and white with a hint of gold.
:: Add greenery for a vibrant punch.
:: Go for simple lines with a rustic twist.
And this is the result.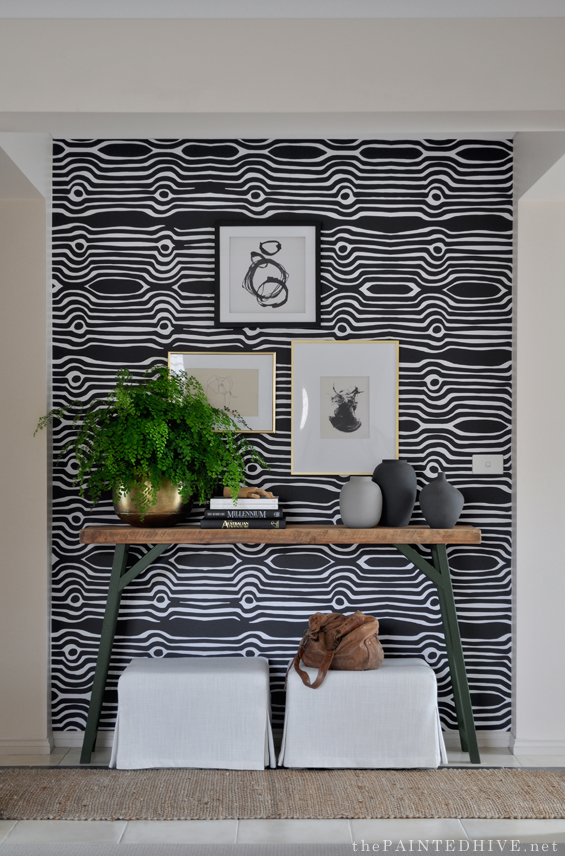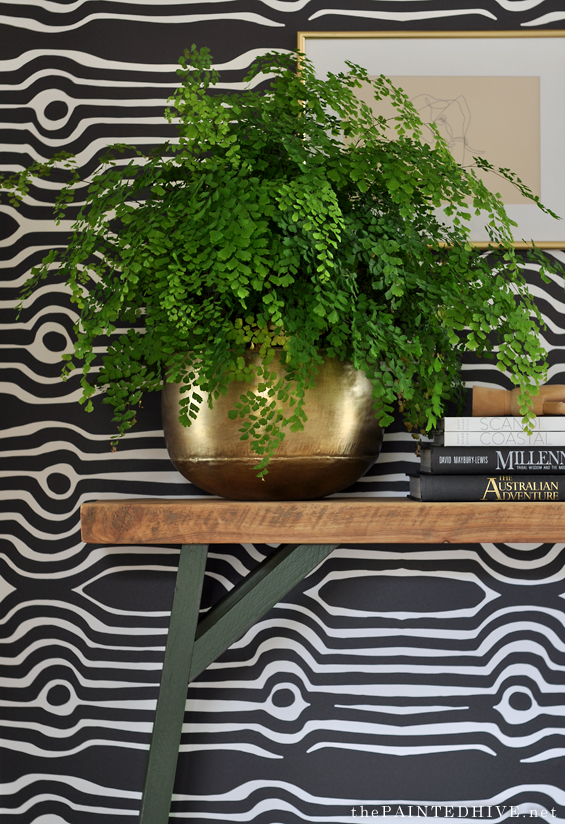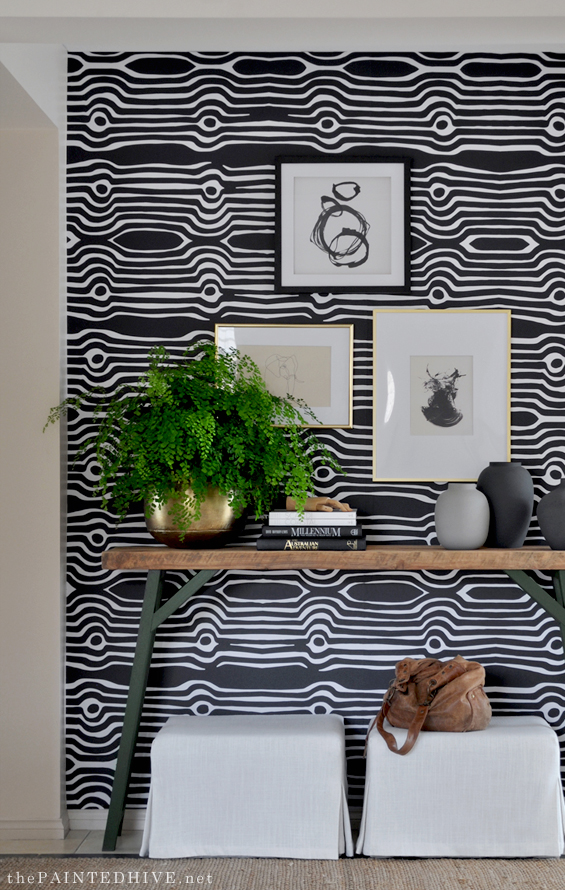 At the risk of sounding conceited, I think I kinda nailed the brief :)
Of course, the stunning wallpaper is the absolute hero in this space. It's from Luxe Walls and is fully removable and repositionable, plus the scale can be customised. As you can see, I went sorta big! Let's not talk about the little moment of panic I had when I first unfurled the roll – the pattern looked super-sized though it's so perfect up on the wall.
I know it can pay to play it safe when styling a property for sale, and some people may shake their heads at my relatively bold choice, however I have no regrets.
The fact is, there is nothing super special about this builder-grade house – which will be competing with several dozens (literally) of similar properties when it's listed – so my aim is to create 'wow' through impactful staging. Of course, I intend to exercise restraint and certainly have no plans to use statement features all over the place, however the entry offers a perfect platform to capture people.
Thankfully my DIY console table turned out great (if I do say so myself!) and looks as if it was made for the space – funny thing that!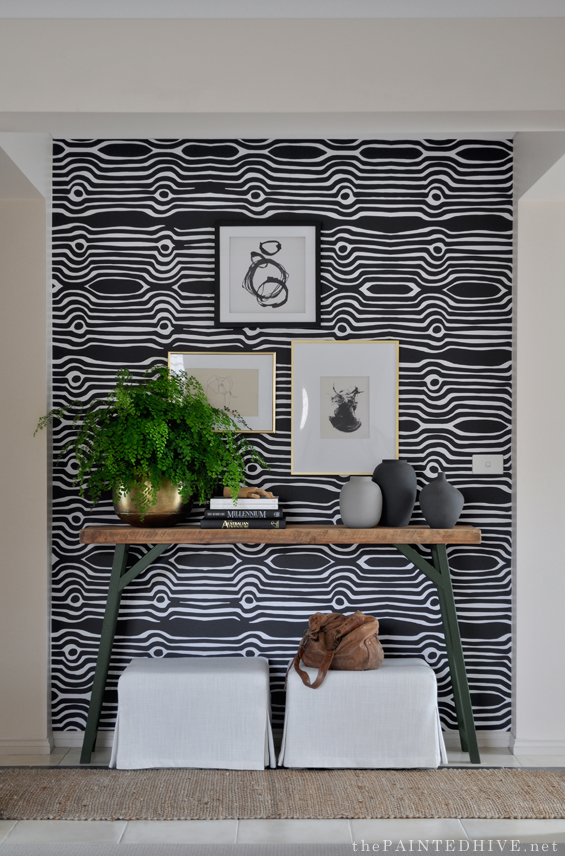 I decided to leave the top raw and absolutely love the rustic charm it lends.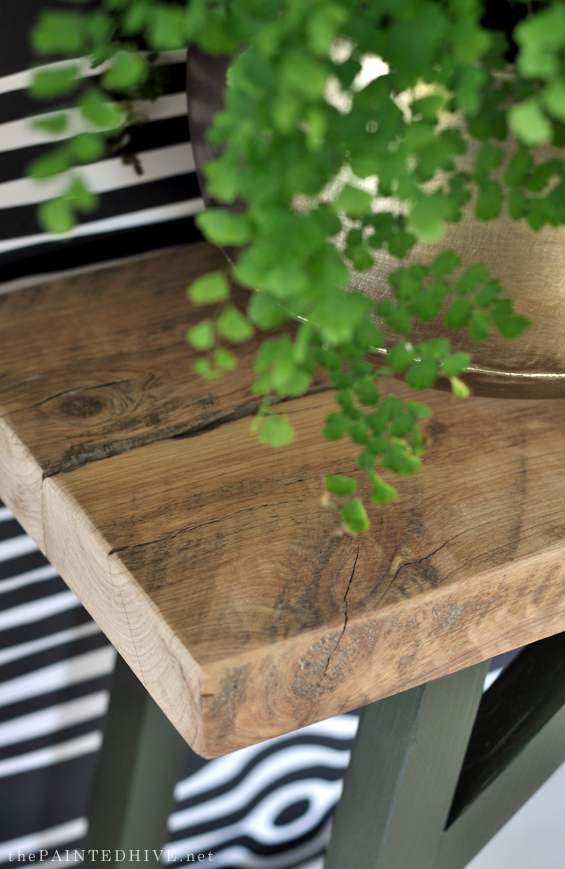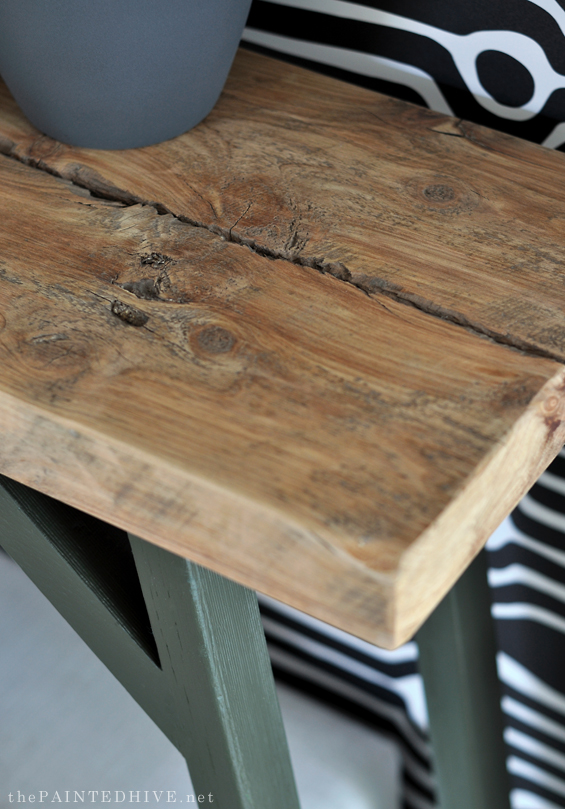 Getting the leg colour right took a few goes though I eventually landed on Dulux "Amazon Depths" with a touch of added black to tone-down the yellow.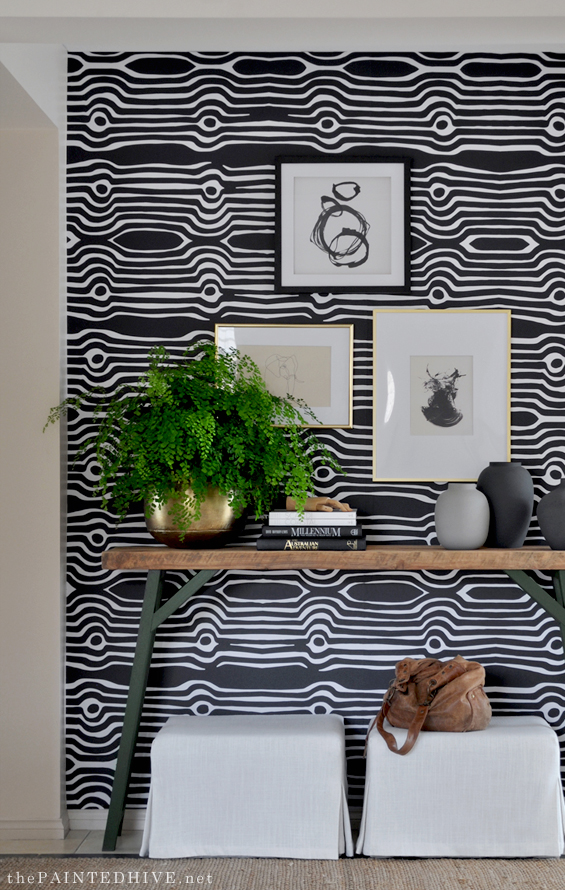 It looks a bit more vibrant in reality than it does in the photos. I simply used a sample pot which provided good coverage and left a nice matte finish.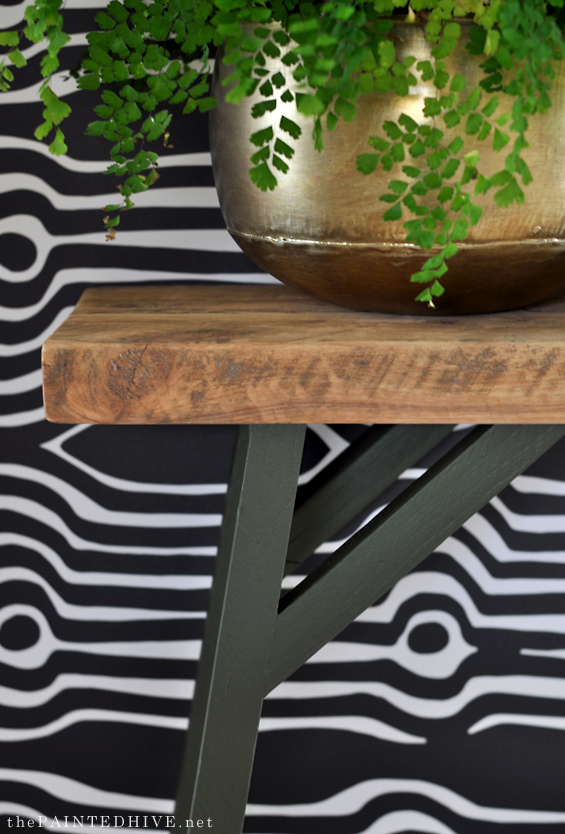 If you missed my previous post about constructing the table, you can find it HERE.
As mentioned when I shared my initial concept plan, I had my heart set on two ottomans for beneath the console table.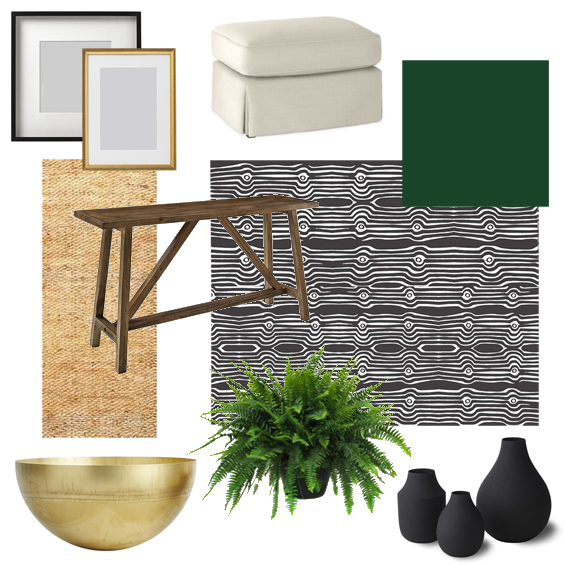 My original idea was to "cheat" by simply upholstering some off-the-shelf storage tubs or baskets though I couldn't find anything quite the right size. So I ended-up building basic boxes using left-over MDF/ply I had in the shed then weaving webbing on top. It was a pretty quick and simple project.
To turn the boxes into ottomans I added thick foam tops then wrapped everything in wadding. As buying new foam can be pricey I salvaged some old sofa seat cushions from the flip house and actually used the foam from them. To finish, mum sewed simple pleated slipcovers from inexpensive linen.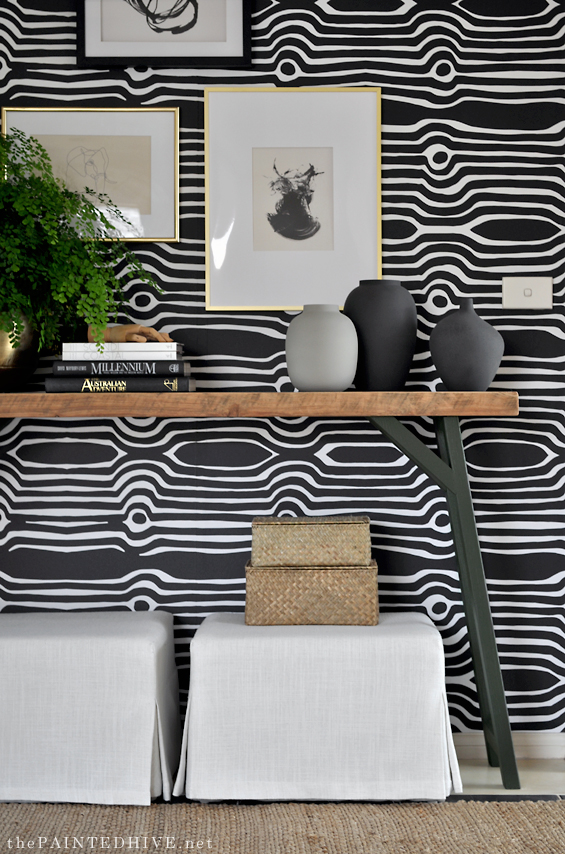 I love them!
The wall art is simply a collection of downloadable prints in frames from Kmart and Big W.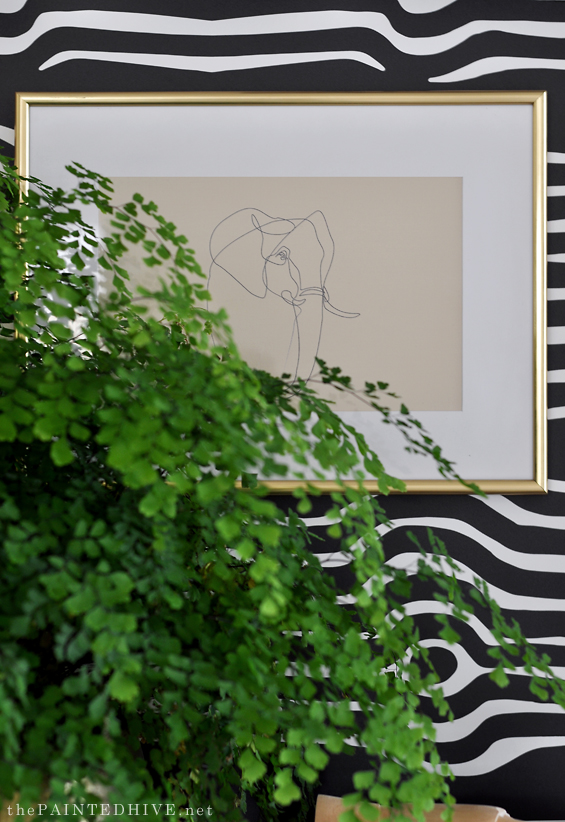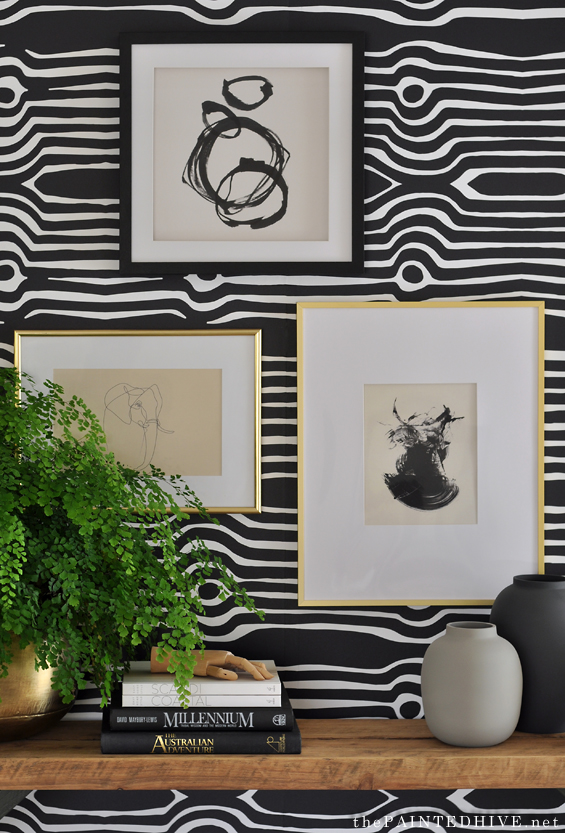 I was originally going to go with straight black and white though decided to edit in sepia toned backgrounds to provide a bit of warmth and softness. So happy with how they turned out!
One of my favourite little projects from the space is the collection of vases.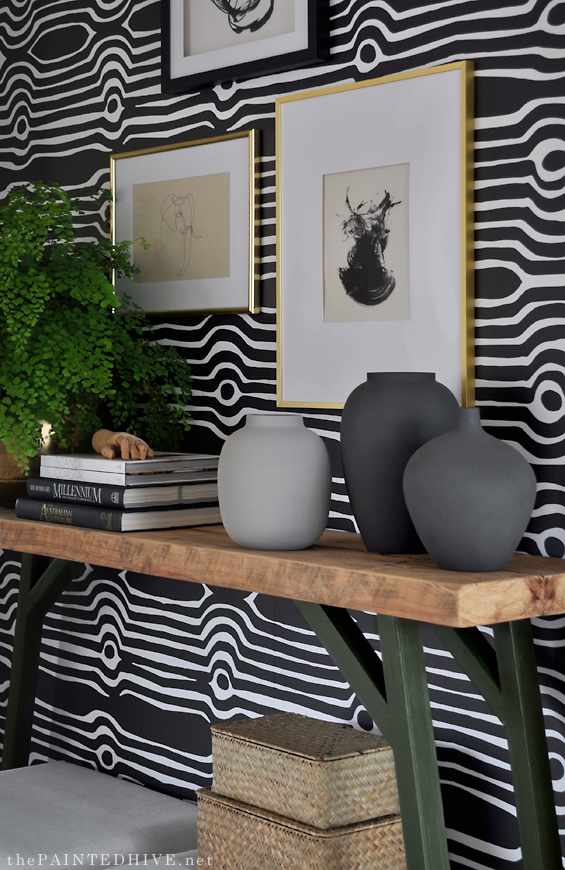 I found a variety of different vessels at charity stores (I think the most expensive one was like $3.50), gave them a good clean, then hit them with a few light coats of Dulux Duramax Chalky Finish spray paint.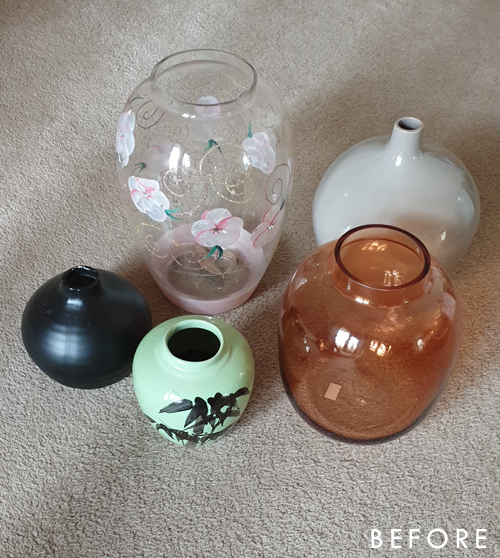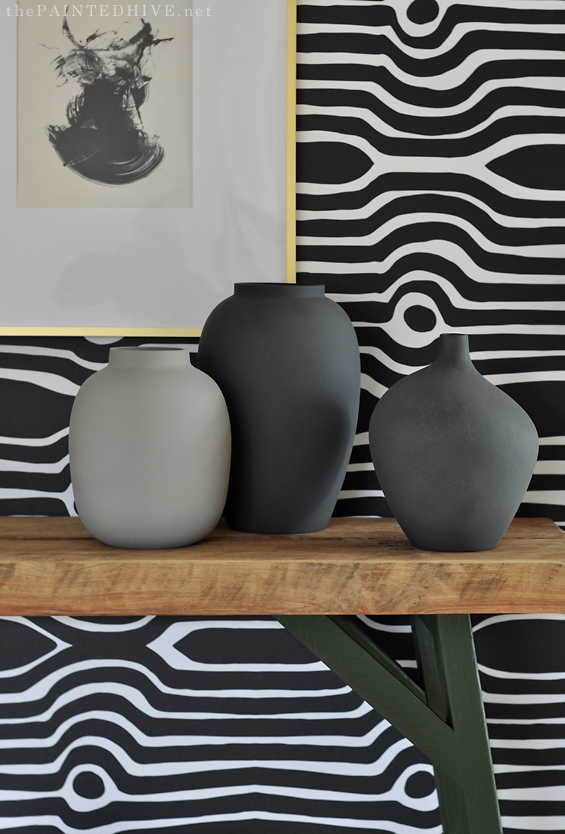 The difference is AMAZING! I've said it before, and I'll say it again: spray paint is actually, like truly-ruly, magic!
The gorgeous brass planter is from Early Settler.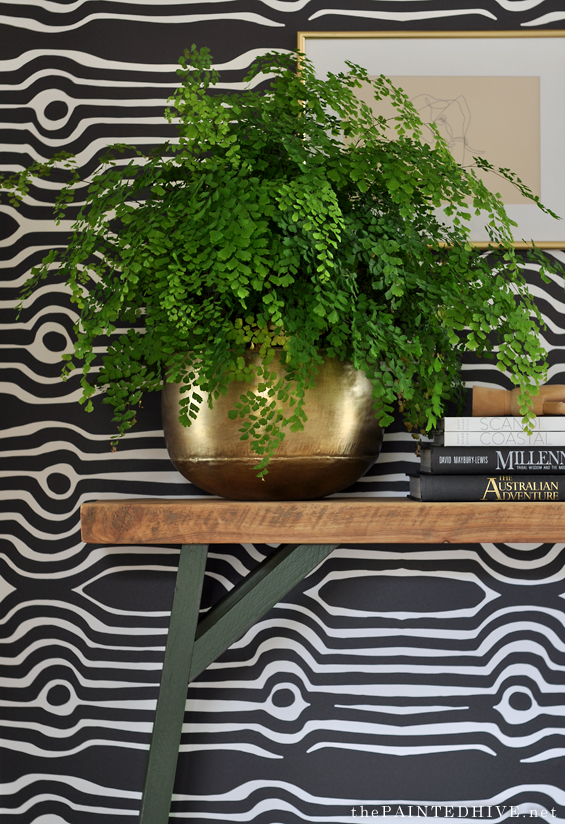 Absolutely adore the way the warm gold lifts the scheme and compliments the green of the Maidenhair Fern.
To somewhat hide the floor tiles and inject some earthy texture into the space I used a simple jute rug. This one is just from Kmart. The woven baskets (which you can see in some of the pics) are also from Kmart.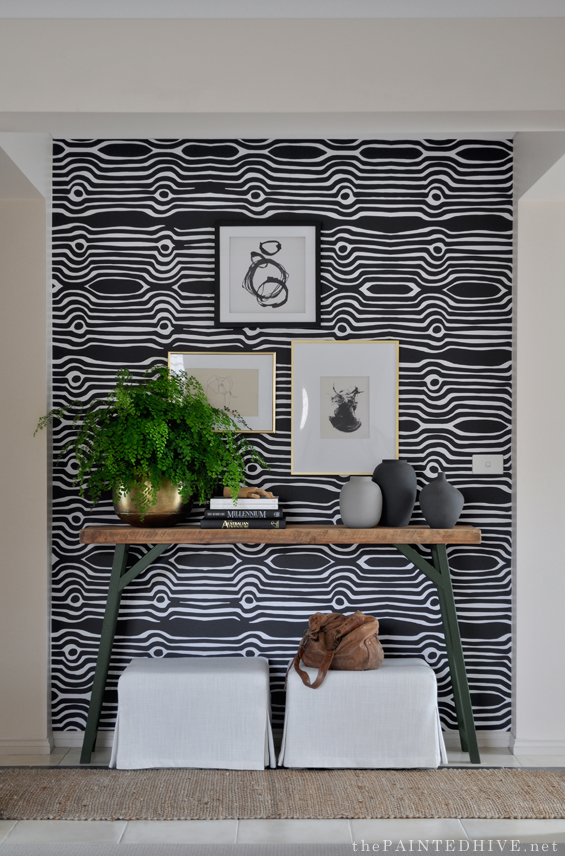 And what's a console table without a book stack?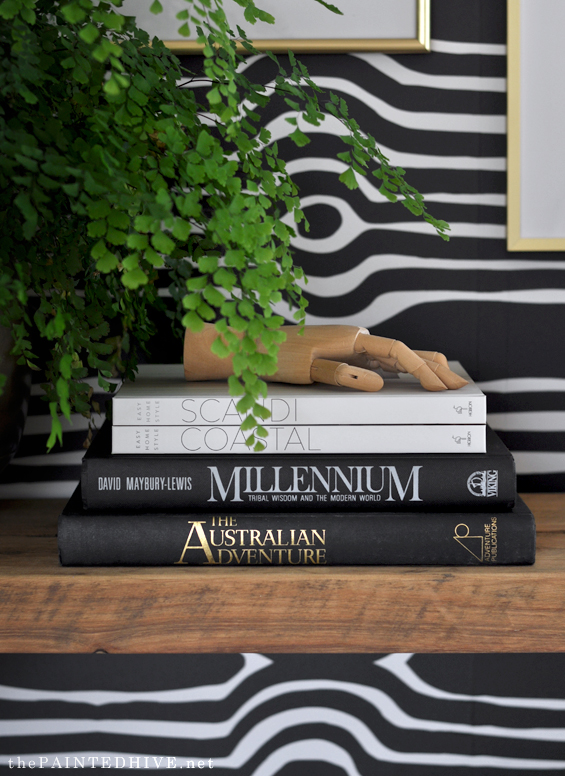 The black books are from charity stores, the white books are from Kmart and the wooden hand is from Typo (they're also widely available on eBay).
So, that's about it.
Excluding the wallpaper ($300) and brass planter ($70), which I was lucky to be gifted, the total cost was around $130.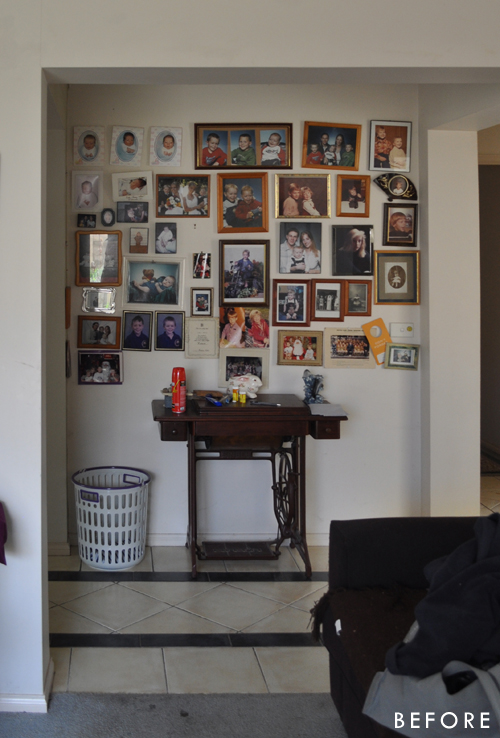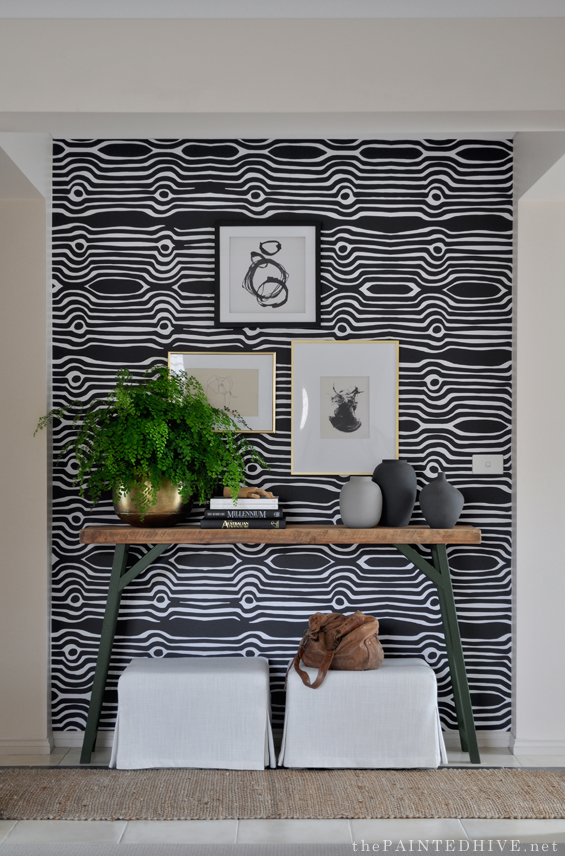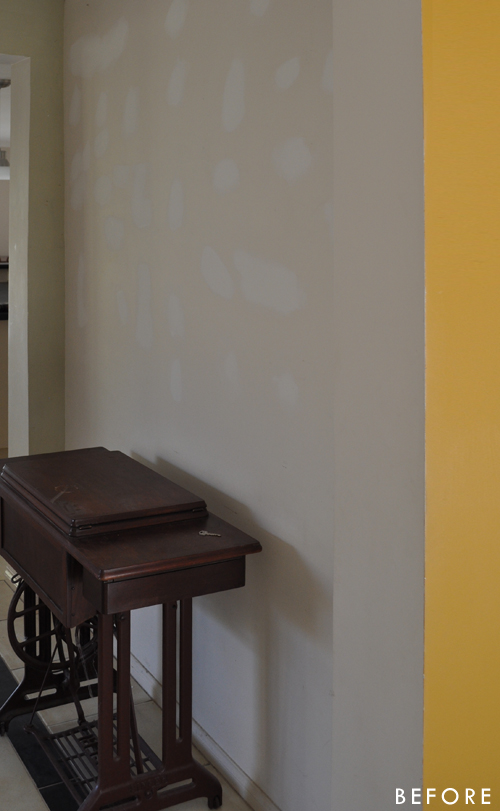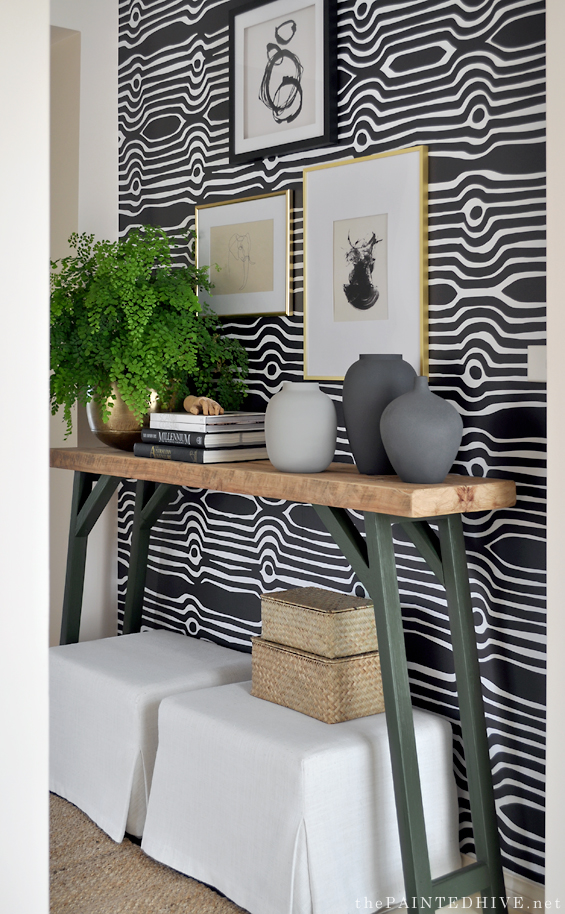 So rapt with how it came together! I hope you guys like it.
I'm aiming to share the finished facade next week and then move on to styling some of the other interior rooms. Can't wait!

As always, feel free to ask any questions and I'll do my best to help.
WANT MORE? CHECK OUT SOME OF MY OTHER POSTS