Following is some information regarding costing and details of how I achieved the look in my entry.
WALLPAPER
Sorry, I can't recall its name or brand (poor, I know) though it was purchased new from a home decorator centre. It was my favourite and the most appropriate out of all the thousands I looked at so fortunately, when it came to checking the price, I was pleased to find it sitting in the lowest bracket.
Mum and Dad (who informed me they were wallpaper hanging experts after going through the early 1980's revival) helped me hang it one week while hubby was out of town. He got a pleasant surprise on his return – or so I like to think.
$120 (for two rolls)
CONSOLE TABLE
I looked everywhere for ages to find the right table for this space.
The proportions needed to be 'just so'. I was more than prepared to refurbish and modify a pre-loved one if need be, though eventually this brand new rustic weathered cedar console showed up on eBay. It was just right.
$80

DÉCOR
Wreath – Found at a post-Christmas sale at a furniture store – $8
Cases – They look like vintage chests though are actually new reproductions purchased from a discount clearance store – $18 (for both)
Large Wire Basket – I purchased this from a special boutique store using a gift certificate we received for our wedding – $0
Terracotta Pots and Plants – Just your stock standard cheap pots and plants from a local nursery – $30
Lanterns – Again, new from a discount clearance store – $15 (for both)
Wire Basket and Twine – I painted the basket (originally gold) after finding it at a local charity store and added some cheap hardware store twine – $7
Picture – The frame I already had (it's actually from my bedroom when I was still living with Mum and Dad!). I just painted and distressed it then added some scrapbook paper – $1
Urn and Jug – Both found at local charity stores. The jug was purple and gold crackle so I spray painted it white – $6 (for both)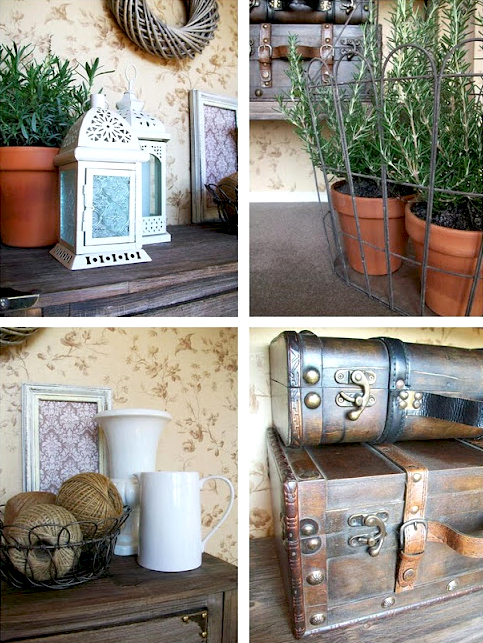 TOTAL $285
It could have been more thrifty without the wallpaper and with a cheaper table though they were perfect for the space and sometimes you've just gotta splurge a little (by 'splurge' of course, I mean be less cheap).
I can't wait to show you some more spaces. The entryway is one of my only complete rooms so it will be fun to share all of the evolving ideas and projects I have planned and in-progress for the rest of my house. I'm really looking forward to hearing everyone's thoughts and suggestions too!