Thanks for all the lovely comments about my little dining space.

As promised, here are the item origin and cost breakdown details.

DINING TABLE
I found this vintage Kauri farmhouse table on eBay. Unfortunately, someone had roughly lacquered it so to get the natural rustic finish I was after it needed a strip and light sand back. Luckily, the character of the timber remained and to retain its integrity I just sealed it with beeswax. The drawer handle and porcelain castors are original.
$80
DINING CHAIRS AND PADS
I had always loved the styling of these IKEA chairs and after seriously considering buying them brand new I eventually found a used set for sale on eBay for a quarter of the price. When I went to collect them, the seller mentioned she also had the matching chair pads (which had never been used!) and I could take them too if I liked – need she really ask? YES, please!
If I'd bought the chairs and pads new from IKEA it would have cost me $420, which isn't too bad, though with a little time and patience it's amazing how much you can save.

SIDEBOARD
It took me a while to find this piece. Once I brought it home and put it in place I wasn't quite convinced though. Its subtle deco lines seemed a little too masculine. I played with the adorning vignette until I found the balance I was after and now I absolutely love it! I found it on eBay (surprise, surprise) and chose to retain its original patina with all the character bumps and bruises.
$50

SINGLE CHAIR
Although our table's a standard four seater, you can always squish a few more in so I like to have some chairs nearby. This vintage blackwood chair is one of my great grandma's old kitchen chairs.
$0
MIRROR
I bought the massive mirror as is from a local country market. I got $10 off just for asking!
$40
WINDOW TREATMENT
The roman blinds are the same as those in our living room. They weren't particularly cheap though we needed blockouts (for light filtering and weather reasons) and I certainly wasn't going to make them! I had seen these ones at a homeware store and knew they'd be just right so waited until they went on sale. The day I chose to buy them there was also a storewide 20% off everything including sale items so I ended up saving quite a bit.
$180

DÉCOR
Vintage Fan – An eBay find – $25
File Drawer – Found at a local antique store – $30
Obelisk – Birthday gift from Mum – $0
White Jugs – Found at local charity stores. The large jug was bought as is though I spray painted the smaller one white – $8 (for both)
Little Box – I've had it since forever and it's been reincarnated a few times. Originally a gift from Mum – $0
Terracotta – I found all three pots when I shopped the backyard. I already had the spanish moss, the twine is from the local hardware store and there are tonnes of pinecones waiting to be collected from the reserve behind my house – $2
Breadboard – A recent purchase from Kmart – $8
Wire Lanterns – I LURVE these. Found them recently at a local homewares store and bought the twine from a hardware shop – $35
White Urn and Hydrangeas – I've got a vast collection of white ceramic ware. This urn is from a local thrift store and the faux hydrangeas were bought from a furniture shop – $20
Gallery Wall – Some frames were gifts, others are from thrift and dollar stores. All the pics are black and white family shots. The baby is me! – $15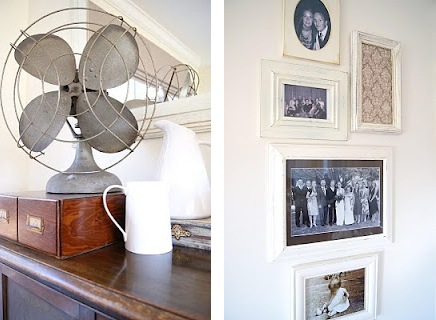 Overall total $578.00

The next room on my list of reveals is the master bedroom. It's been sorely neglected since we moved in and is in serious need of some love (which is funny because given the personal, possessive nature of bedrooms you'd think it should be one of the first spaces to concentrate on making your own).
Anyways, given its current sad state, rather than wait til it's finished to blog about it I'm hoping to take you guys on the whole messy, fickle journey with me.