I bookmarked an amazing site a few years ago though only got around to checking it out properly just recently.
It's called Plant Illustrations and, as the name suggests, is an extensive online catalogue of public domain scientific plant illustrations scanned from old books.
One of the great things about this site is its search function which allows you to find a specific plant with ease. The greatest thing about this site however is the fact that only illustrations are returned. So there's no clicking and hoping or wading through page after page of book text to find the good stuff!
And the selection is HUGE! Most illustrations are offered in large format and whilst the scan quality does vary there are so many to choose from you're bound to find what you're after.
TO DISCOVER & DOWNLOAD ILLUSTRATIONS
1 Enter a vernacular or scientific plant name in the corresponding search box on the top right of the site (or browse by one of the categories listed below the search boxes).
2 A list of relevant plants will be returned (a handy feature is the "Number of Illustrations" category on the far right which tells you how many images there are for each plant).
3 Select a plant to browse all illustrations.
4 Once you find an image you like, click it to be taken to its source page.
5 Click the "Full Size" link in the left sidebar to open the large scale version of the illustration.
6 Once open, click the illustration to enlarge it to its maximum size then right click and save it to your computer.
Note: The source page also includes a publication title (second from the top in the left sidebar). This link opens a new page containing all illustrations from that associated book. This can be helpful if you find an illustration you're particularly fond of as the book may contain similar ones.
Tip: You can also search by artist (click the "Artists" tab in the header). So, once you find a particular illustration you adore, take note of the artist's name to discover works of similar style.

Once you download your images, you may need or want to customise them a little. If you're unsure how to go about this be sure to check out my Free Printables series which covers everything you need to know.
I've just finished editing a series of simple greenery to fill frames for a gallery wall we've decided to install above the couch in my parent's living room (yep, we're not going with one big piece of art there anymore). I thought it would be nice to share them with all of you  :)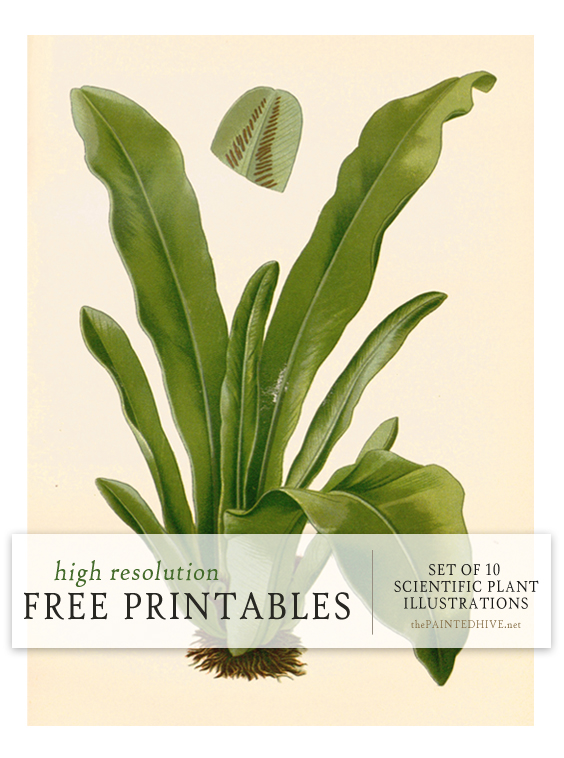 Although we are creating a slightly eclectic gallery using a selection of frames in different sizes, for consistency I have scaled these ten images to fit standard A4/Letter sized paper (with a slight border).
Of course, you can always re-size the images to fit smaller or larger frames. Just be aware that over-enlarging can cause blurriness or pixelation – a great alternative is to use big mattes.
Although I did digitally enhanced and tidy-up the images a little, I have kept most of the imperfections. I also deliberately left the background colours slightly different and chose illustrations which varied in scale and design.

I think these slight inconsistencies give them an interesting edge, yet the overall feel is still quite cohesive.
I printed my images at home using my Canon printer however you could opt to have yours professionally printed.
I hope you enjoy them!