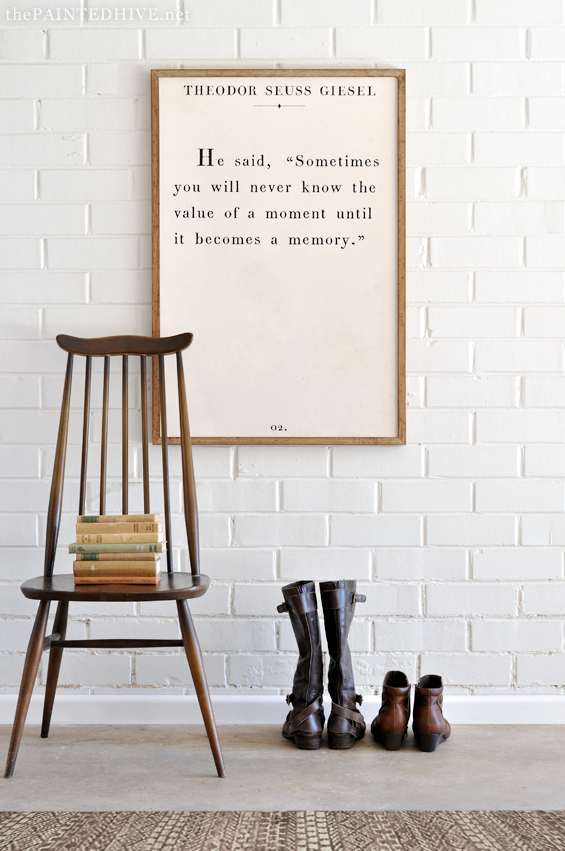 UPDATE
You can now purchase your very own CUSTOM quote art sign here.
I'm so excited to finally share this project with you guys!
I started dreaming-up this DIY and designing these free printables almost two years ago (yes, you read right, two years ago) after I published this post about my little DIY quote art sign.
Don't ask me why it's taken me sooooo long to finally get the project and printables done. Seriously, don't ask me. I honestly have no decent answer :)
Anyhoo, I got there in the end, right? And I'm loving the way everything turned out.
I was inspired by some of the large farmhouse style book page quote signs I had seen on Pinterest…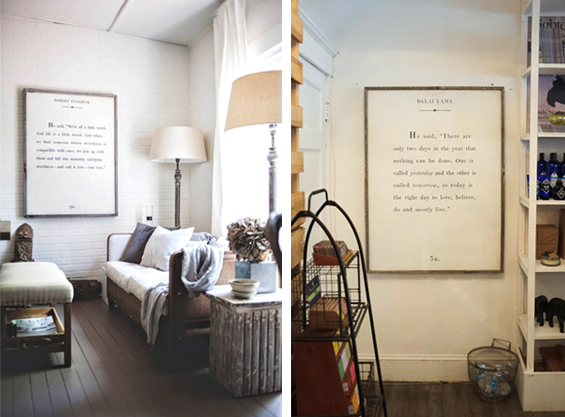 Fable & Flame | Unknown
Some Googling around revealed that this style of wall art isn't exactly cheap. Like around $400 not cheap. Yikes! Surely I could do a bit better than that.
All up this project cost me about $40 though you could easily do it for under $10 if you're feeling extra thrifty. I've included some savvy tips and tricks in the info below.

PRINTING THE ARTWORK
There are heaps of places which offer printing services. If you're not certain where to start looking, check out your local office supplies store or have a Google around for "print and copy services". I've also seen some super affordable printing services being offered through eBay. You can visit a store in person or use an online upload interface. I personally prefer the ease and convenience of uploading my artwork online then having my print delivered directly to my door. This is maybe because my nearest print store isn't exactly near-by.
For ease, I've designed these printables to fit within standard large poster frames (60cm x 90cm/24″ x 36″) however you may reduce or enlarge the size within reason to suit your particular needs (be aware that excessive re-sizing can result in a poor quality print).
You should be able to find a service which will print a full colour, large poster-sized print on decent paper for around $15 – $40. I used the Officeworks Colour Poster printing service. If you're interested in making this project even more budget friendly, you could opt for a black and white engineering/plan print on bond paper for as little as $2 (you could then add some colour with a tea-stain, or similar). Alternatively, you could have it printed at premium quality onto a specialty material, such as canvas, for anywhere from $50 – $150. The options are almost endless.
For further printing information refer to my Free Printables series.
FRAMING THE ARTWORK
As mentioned above, to make things super easy for you guys, I've designed these printables to fit perfectly within standard large (60cm x 90cm/24″ x 36″) poster frames. If you're unsure where to find large poster frames, check out your local dollar and discount department stores, do a quick Google search or head into Ikea – they have a few to choose from.
Of course, you can always DIY your own farmhouse style custom frame if you'd prefer (refer to my tutorial here – you simply need to up the scale and choose your desired framing wood), or use a thrifted frame as long as the aspect-ratio is compatible. You could also simply top-and-tail the print itself with some dowels and add a cute twine hanger to make a simple wall chart.
For the purpose of this blog post, I framed my printable in a standard large poster frame I found for $15 at a local discount variety store.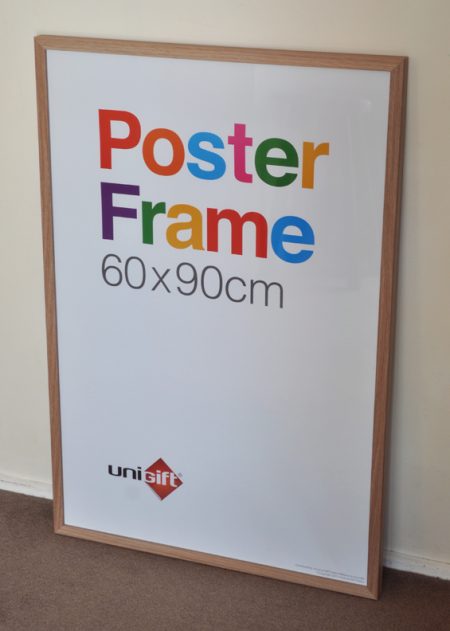 The faux wood frame was a little too perfect for my liking so I decided to attempt a farmhouse style makeover. I distressed it to make it look like reclaimed wood (I simply scratched it up with a serrated knife and banged it with some nails before lightly sanding it – similar to what I did here) then I stained it a warm brown.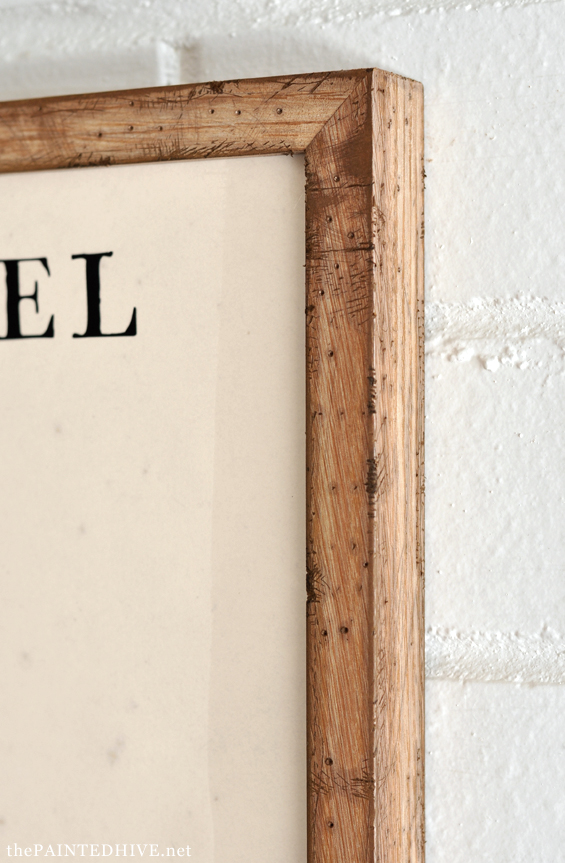 I wasn't sure how the laminate would respond to being distressed and stained though it actually worked really, really well!
For an authentic 'sign' look, I also removed the glass and affixed my print directly to the backing board using spray adhesive.

I'm offering eight printables in total; four different quotes in both sepia and chalkboard. As mentioned above, these are high resolution, large-scale images.
I chose these quotes because they're a little bit unusual and something about them just spoke to me. I especially love the 'Cherokee Legend' which is the first one I designed.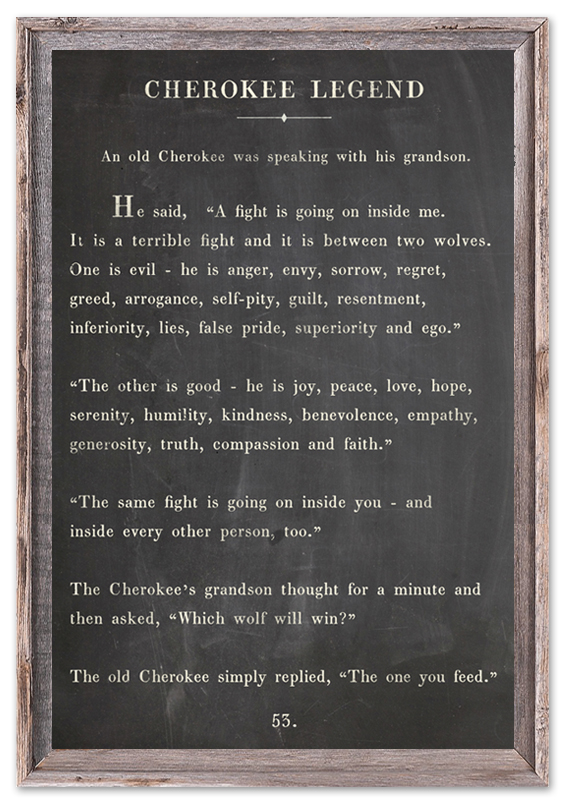 Have you heard this one before? It's so evocative.
Anyhoo, grab your free printables below. There are two separate files; one for the sepia images, and one for the chalkboard images.

I know it can be disheartening when budget restraints push the items you love out of reach, so if you've been coveting these lovely farmhouse style signs I hope my free offerings give you a little "squeee" moment and help make your walls beautiful.
UPDATE
As a budget-focused decorator and blogger, conjuring and sharing ways to "get the look for less" is something I relish. This project was no exception.
Originally, it was my belief that these artworks were merely part of the prevailing typography sign trend; mass-designed, mass-produced and mass-distributed. I have since learned the concept for these designs originated with a small business.
As such, although this style of quote art is now everywhere, I will not be offering any further bulk free printables in this exact style.
That said, I do plan to design and share further quote art of my very own (you can browse my other free printables here) and will continue to offer one-off custom book page signs as requested.
As always, if you have trouble or are unsure of anything, feel free to ask.
Oh, and I just wanted to let you know that the photos in this post are of my actual finished sign. I was looking at them and the artwork almost appears to be super-imposed. Believe me, it's truly ruly real!
Free for personal non-commercial use only.
Click the below image to see and download my latest round of dictionary inspired free printable quote art signs!