The furniture is sold!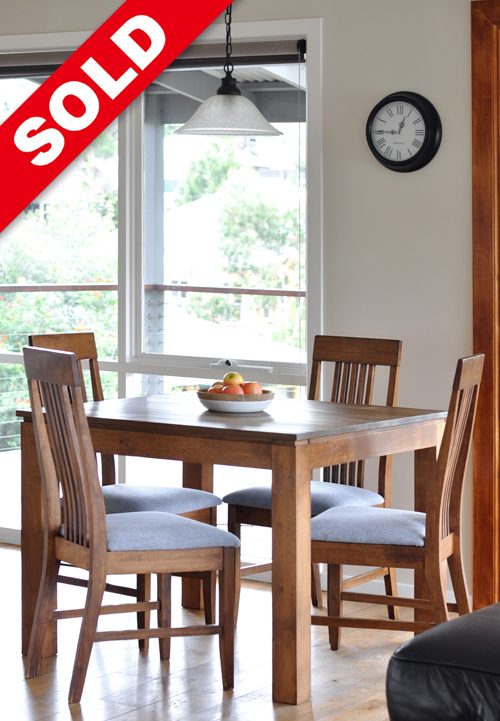 The dining setting fetched $180 and the light went for $20. This gives me a grand total of $200 (I know, don't be too impressed by my amazing math) to overhaul the space. What a nice round figure.
In all honestly, I was hoping for a tad more though this will absolutely suffice.
So now, onto the fun bit – decorating!
Like many people, my sister doesn't really know her interior style. In fact, she's not even sure she has one! In a way this offers an advantage as it provides lots of flexibility, though with flexibility comes indecision. And I think we all know how awesome I am at making decisions (insert sarcastic emoji here).
So, with no clear scheme to dictate the direction for the new design, I've taken some cues from the surrounding rooms and furnishings along with the general vibe of the house itself.
And I've landed on Transitional.
For those of you who aren't familiar with the term, Transitional is basically a blend of classic and contemporary.
This makes it sound like you can simply throw anything together, however Transitional is generally a considered collection resulting in something quite clean, fresh and understated. It can be a tricky balance to strike, though when done right is a lovely fusion of sophisticated and homey.
How you meld the old and new is entirely up to you. Here's my vision…
PENDANT LIGHT
Lighting can set the tone for a room and make a real statement. I see something quite modern and geometric with exposed bulbs, probably finished in brass to help lift the space (there is lots of wood and a dark leather lounge in the adjoining living room). Given there is no defined dining room a substantial pendant will help anchor the table and define the zone.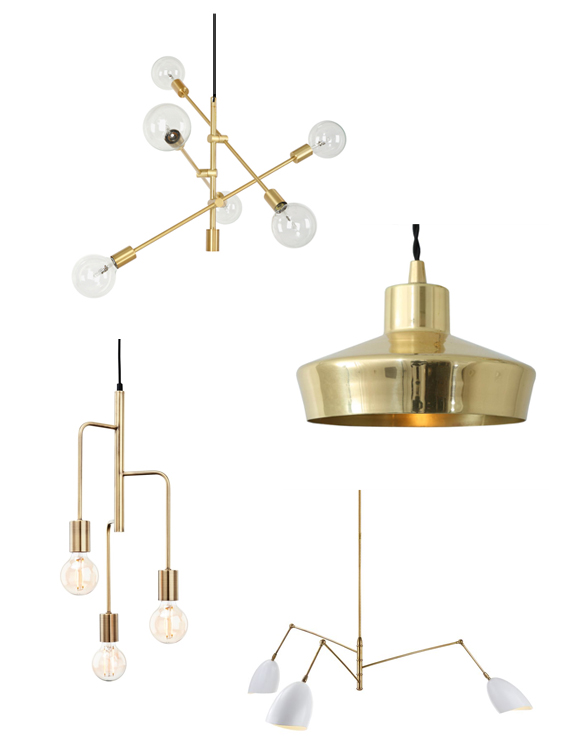 Note: As here in Australia all electrical work must be certified, paying an electrician to install a pendant light is simply unavoidable. And in my case it's an expense which would most certainly blow my tiny budget out! As there's simply no way around the cost, ordinarily I would factor it in as additional, however we're lucky to have a good friend who's an electrician and will do the install for free.
DINING CHAIRS
I love a classic dining chair. Nice ones can be pricey, even second hand, so I'll probably be looking for something a little neglected and unassuming I can elevate with a little bit of paint. My initial vision included Windsor or Bentwood style chairs though I'm doubtful I'll be able to find a set within budget. So, I'm now also looking at more generic cottage style chairs, which seem abundant and affordable.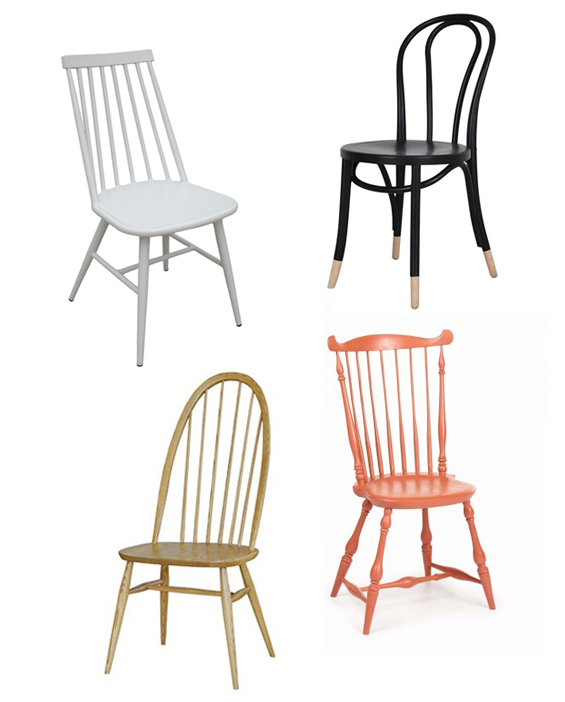 Given my sister has young kids she doesn't want anything with fabric – who can blame her? I'm thinking of a two-tone dipped look though am still undecided on colour. I'm guessing that lovely coral will not get past her husband though :)
DINING TABLE
To off-set the traditional chairs I want a modern dining table. The problem with that being modern dining tables are expensive! Even the second hand ones get snapped up super quick for far from cheap. My solution at this stage is to make my own! Well, the base anyway. My sister wants a petite round table and I figure I should be able to find one for pretty cheap, remove the legs and add my own new stylish ones! I've been crushing on the angle braced style and think it shouldn't be too hard (famous last words?) to DIY something.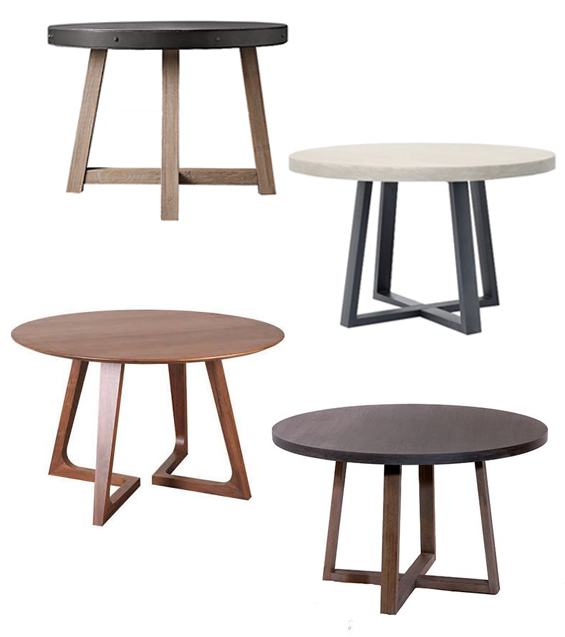 I did consider simply using a cottage style table (which are abundant and affordable and would have looked quite sweet) though decided I want a bit more edge, and something which can "talk" to the light fitting. Again, I'm still undecided on colour for the table though am thinking a timber top with a painted base to provide some contrast against the wooden floor.

So, there you have it. Of course, all of the items in my inspo pics are waaaaaay over budget and probably much more fancy than any I'll be able to find! Remember, I need to source comparable pieces for $200 collectively, and this includes the expense of any DIY materials and final styling decor too. That said, I'm all about the power of a well considered space and believe money should be no obstacle!
Still…wish me luck.
The good news is this should be a relatively quick makeover because at present my sister's husband is less than impressed about having to eat dinner on their outdoor table!


UPDATE
You can now find the finished room HERE.