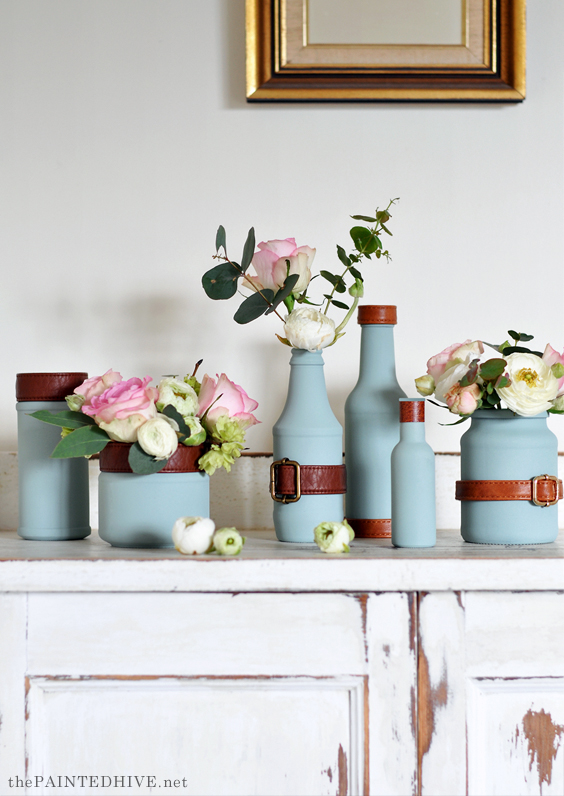 Who woulda thought an instant coffee jar wearing a belt could look so cute?
Not me, if I'm honest.
This was one of those experimental projects which could have gone one of two ways…epic fail or surprising success.
Thankfully, it appears to have been the latter!
STEP 1  |  CLEAN JARS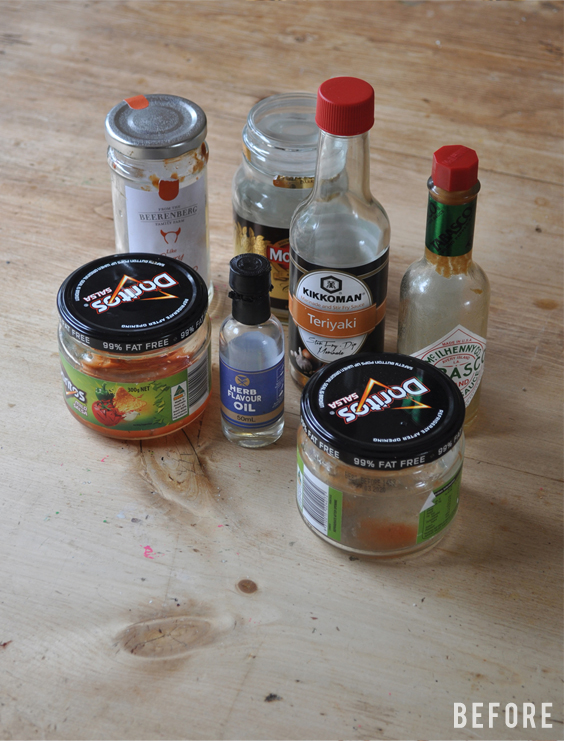 Of course, the very first thing to do is gather a collection of old food jars, remove the labels and clean them thoroughly. I simply used some warm soapy water and a dash of eucalyptus oil for the more stubborn label glue.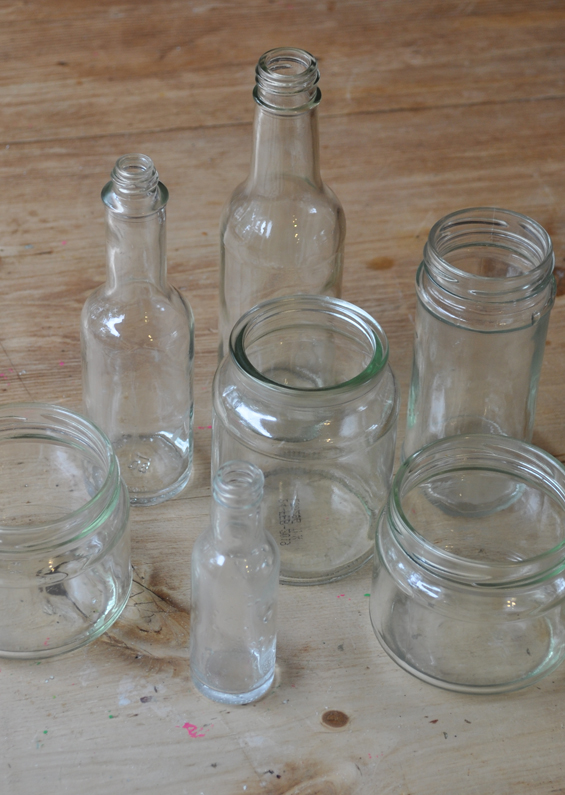 To finish I wiped the jars with isopropyl alcohol to remove any residual oil or grime and ensure they were squeaky clean.
STEP 2  |  PAINT
Next I hit the jars with several light coats of spray paint. I used Dulux Duramax Chalky Finish in Classic Duck Egg. Absolutely love the matte velvety finish of this paint. And, as a bonus, it adheres super well too!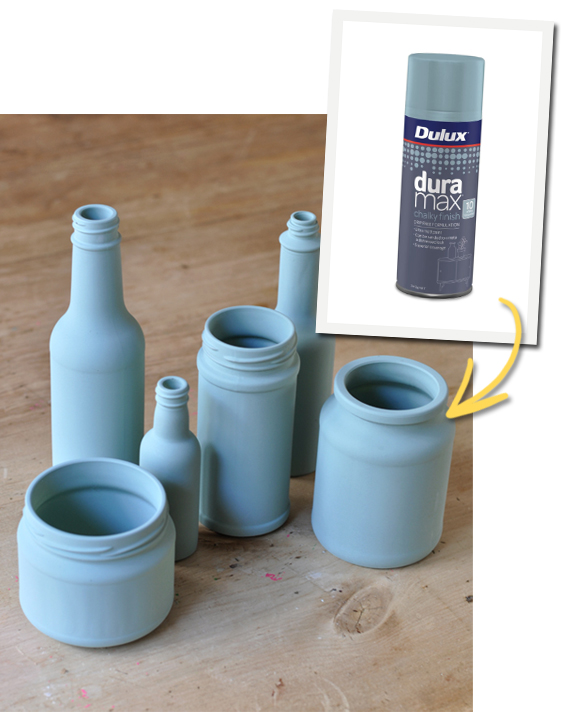 STEP 3  |  ADD LEATHER BANDS
Although I'd always wanted to try revamping some old food jars, there was one thing holding me back…how to deal with the threads left visible after removing the lids.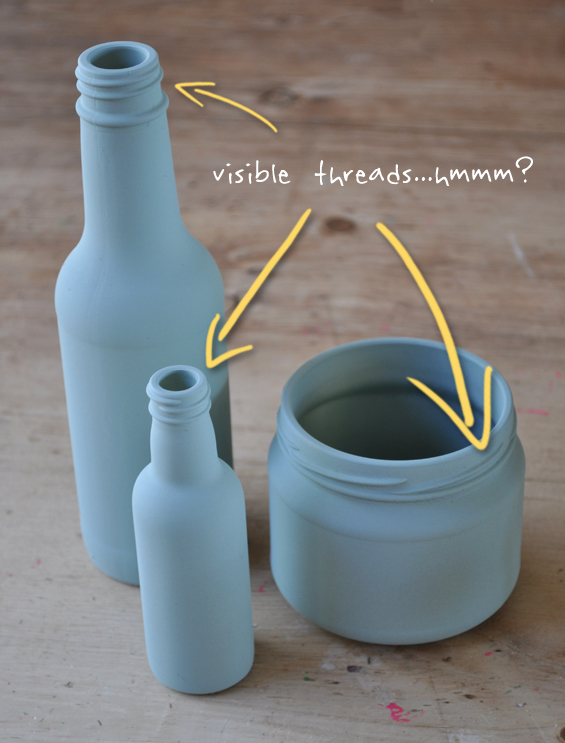 Granted, it's not a huge problem and can actually be desirable if you want that upcycled feel, though I wanted my jars to look quite refined, like 'proper' vases. So, for me, the visible threads simply gave away the fact they were merely old food jars.
Enter…vintage handbag straps!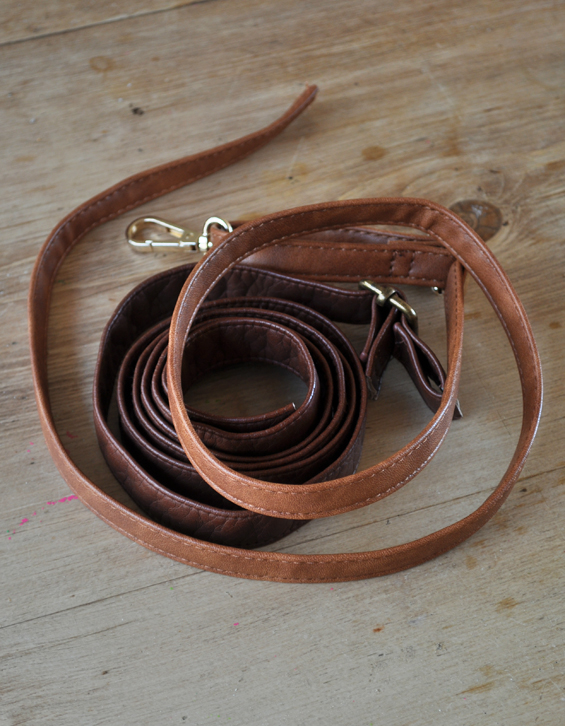 I removed these from some leather handbags I bought from an op shop for just a few dollars each. You could also use pet collars, skinny belts or dog leads.
I figured that by using straps of leather I could conceal the jar threads AND give the jars a stylish twist to boot!
I contemplated and trialed several methods of attaching the leather though settled on creating snug bands which can be slipped on or off, just like (tight) bracelets. Not only does this provide the means to remove the leather if ever desired, though I found it much easier to create neat joins this way.
To make the bands I first cut a strap of leather to fit. This meant ensuring the ends of the strap just touched when wrapped around the jar. Next I applied rapid set super glue to each end before bringing them together and holding neatly in place until bonded – around thirty seconds.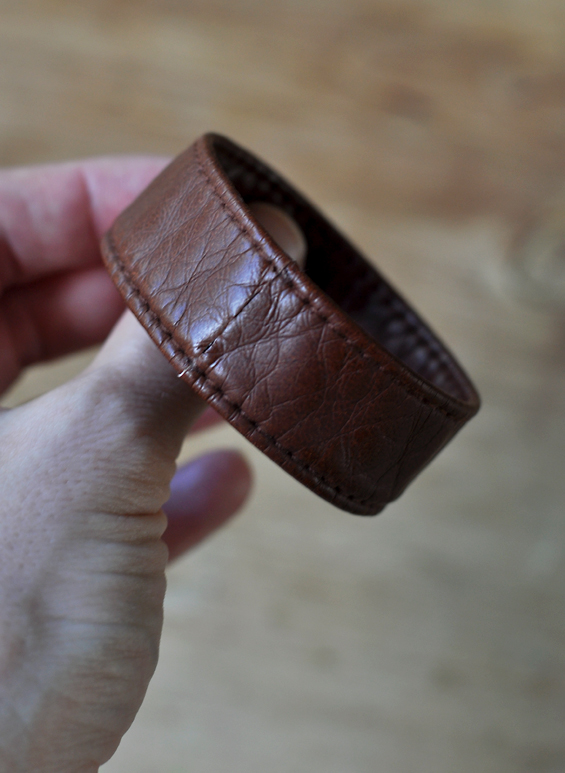 I was skeptical as to how well this would work, though it created a very neat and strong join.
Once the glue was fully set I carefully shimmied the bands into position on their jars.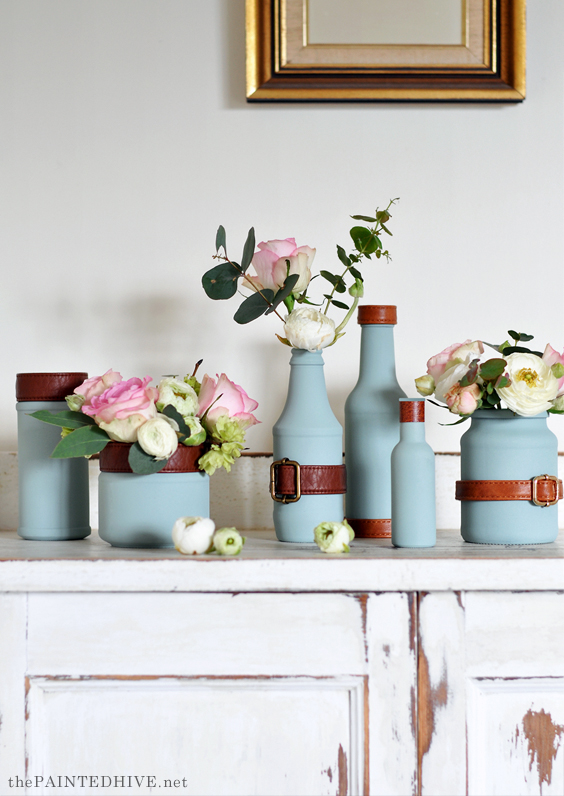 The leather has some give though you don't want to test the glue too much so take your time. I found twisting the bands worked well.
STEP 4  |  STYLE!
Now all that's left to do is make everything look pretty!
You can leave the jars empty and display as a collection of vessels, dress them up with flowers as I've done, or use them for general storage (maybe holding pencils, jewellery, cotton tips, kitchen utensils, or so on).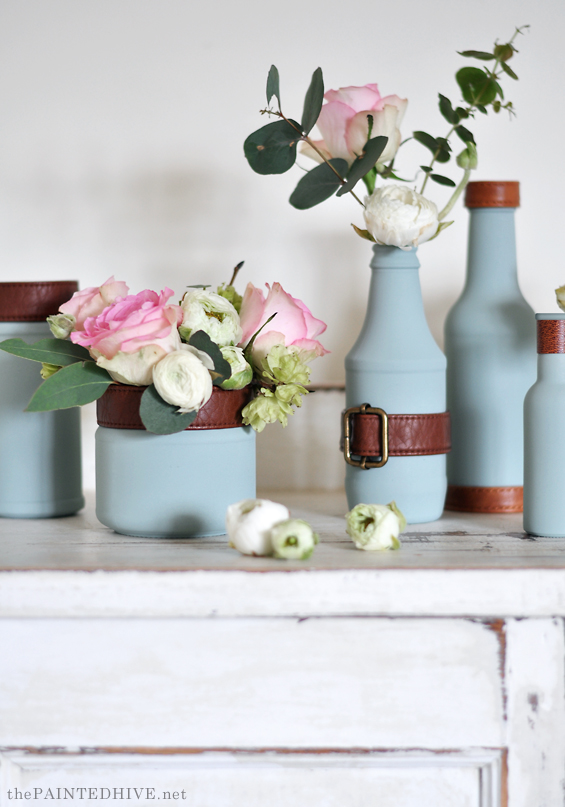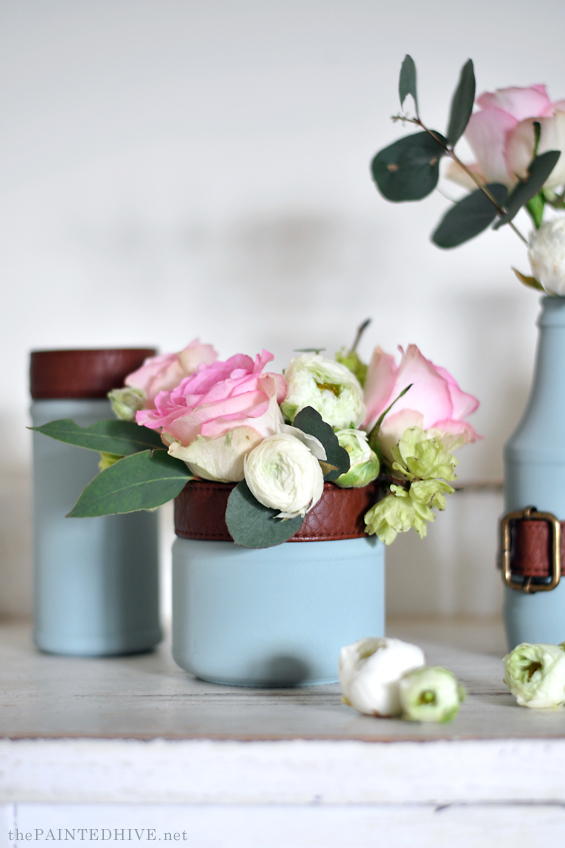 And of course these are great for table settings or decorations at weddings and other events.
A few of my jars didn't have threads because the lids were push on caps. For these I used the buckles off the handbag straps to create little "belts".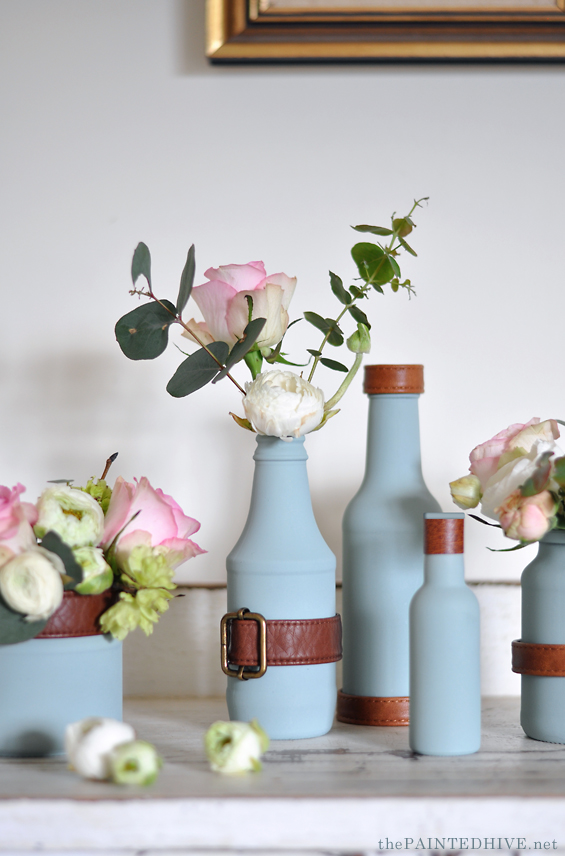 For the littlest jar, I found that the radius was too tight to create a neat band using the leather. Instead, I concealed the thread using a strip of faux leather contact paper I had left-over from this old project.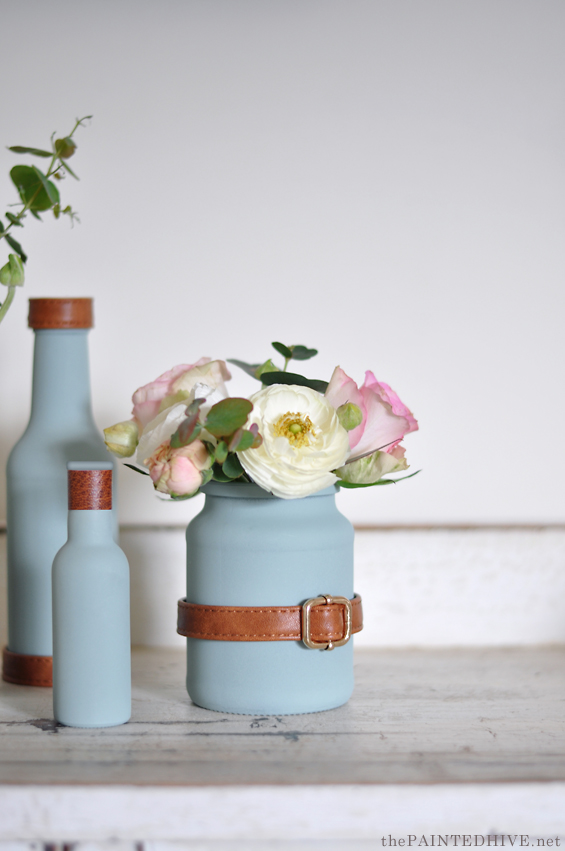 Hope this helps inspire!