I never thought I'd be able to create another kid's space I'd love quite so much as my daughter's bedroom…but I may have done just that.
In fact, I might even love it more!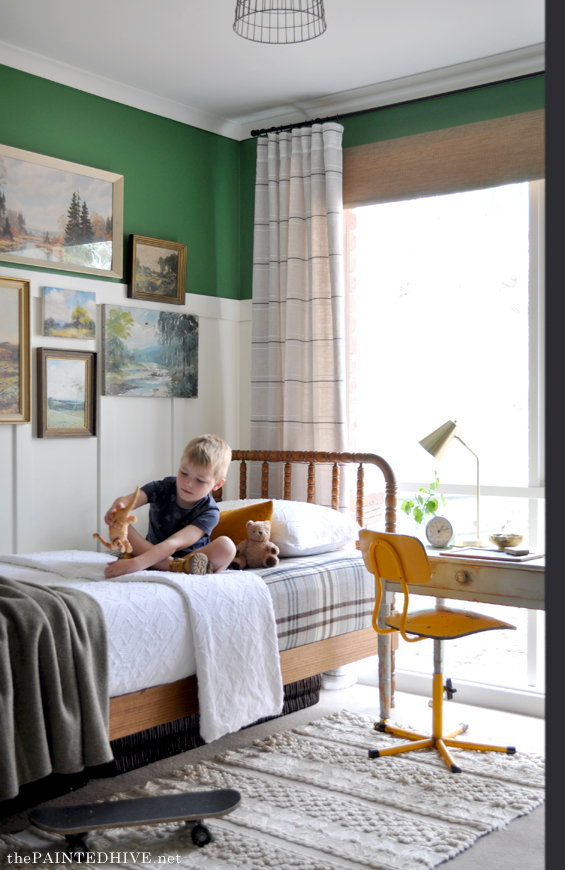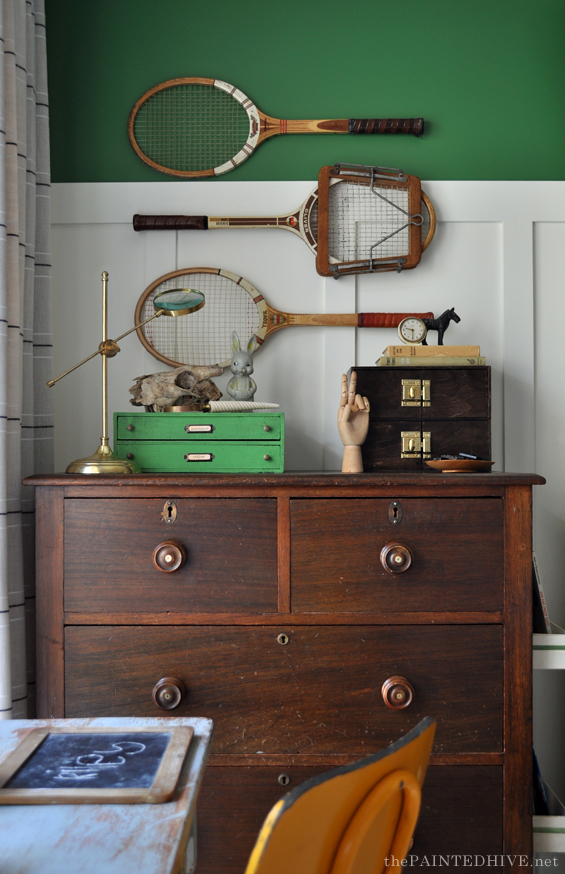 From the start I was excited about the rustic-earthy-vintage-collected-lodgey feel I was hoping to encompass in this space. I love moody and masculine schemes though it's not a look I get to play with often so decorating this room was fun! And I'm thrilled with how everything came together.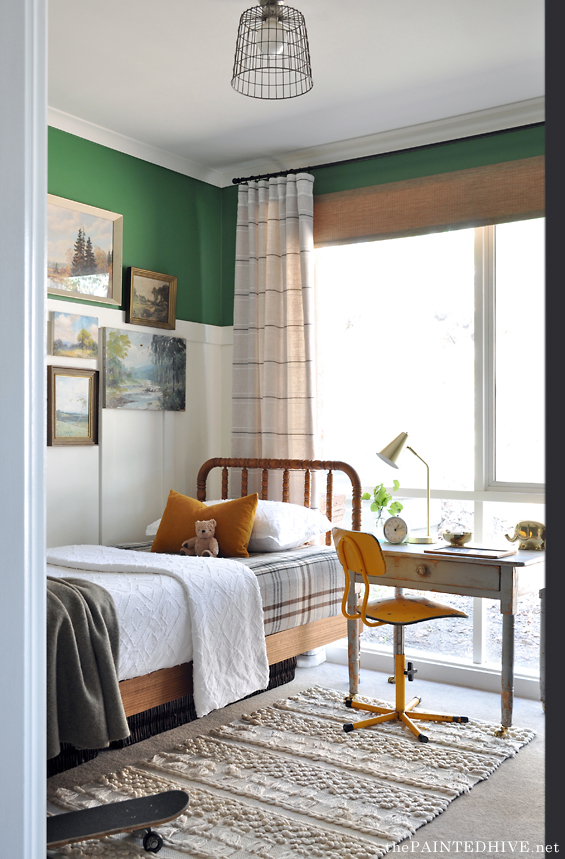 As I've mentioned before, Riley's bedroom is kinda teeny – just 2.4 meters x 2.4 meters (7.8′ x 7.8′). Whilst small spaces can present a challenge, they can also offer relief in terms of decisiveness as certain factors, such as furniture configuration, are immediately dictated. As there was really only one decent position for Riley's bed this helped determine the overall layout.
I've spoken about most of the items in the room throughout my previous posts.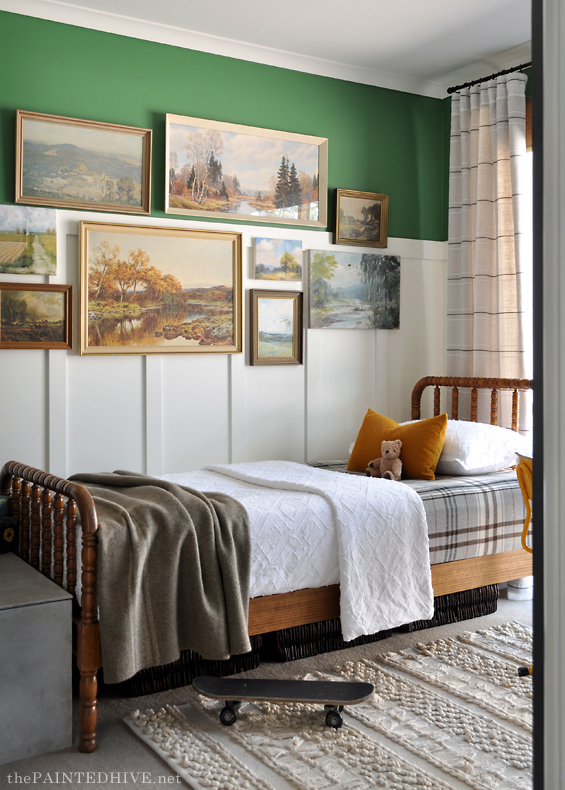 The old cotton reel bed was an antique store find. I scored it for $110 though it was missing its rails and slats so we added them. It's my most favourite bed ever!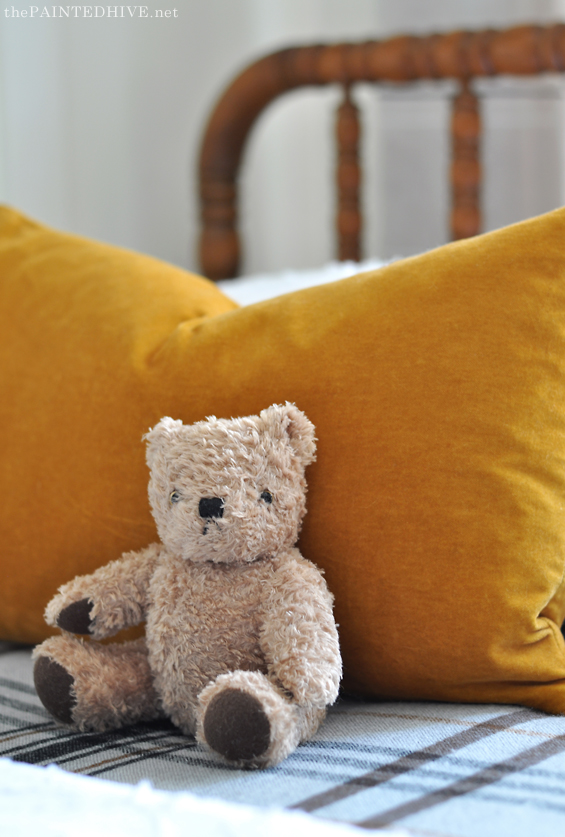 The antique cedar dresser is also one of my favourite pieces.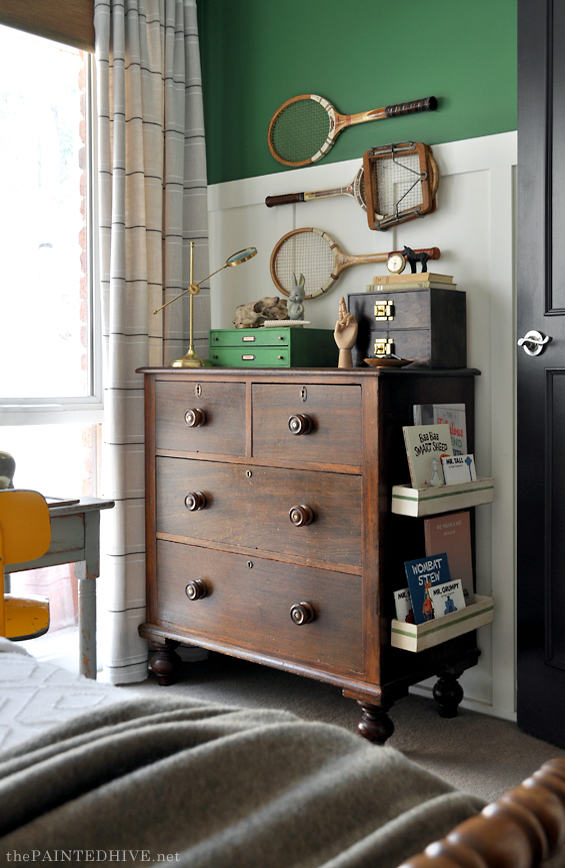 I may, or may not, have been squashed into the back of the wardrobe whilst taking this pic.
I bought it eight years ago to act as a change table in the nursery. Since then it has been used for general storage in both my kid's rooms. I found it on eBay for $350.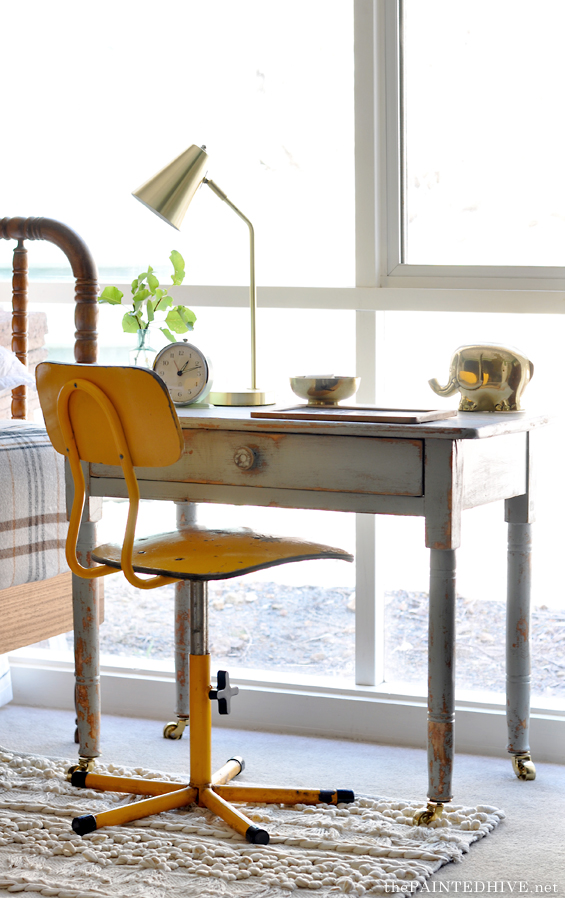 With little floor space remaining, I sourced an old hall table to do double duty as both a nightstand and desk. It was $120 from an antique warehouse.
If you've been following along with this room makeover then you're probably aware of the "painting debate". After living with the desk in its natural pine state for over a year I decided to paint it this soft blue-grey to provide some relief from the brown of the bed and dresser.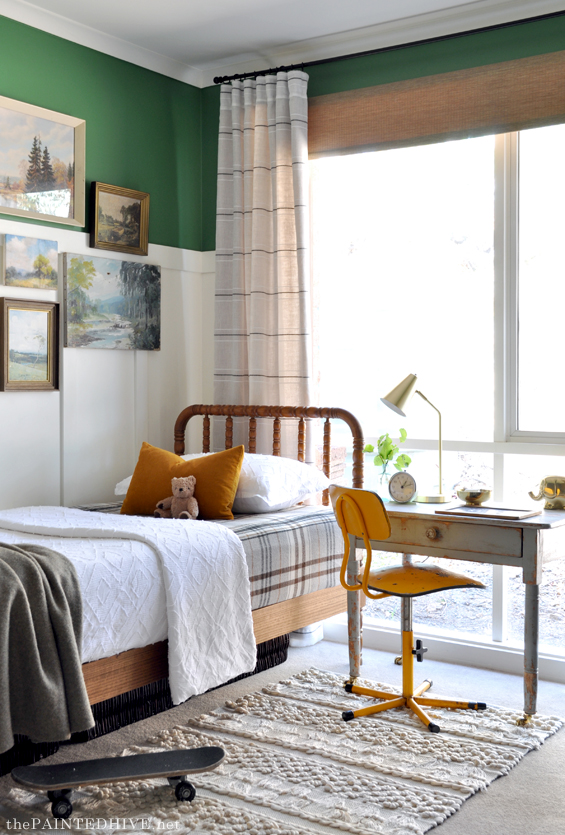 It's hard to grasp the impact in these pics (as I'm shooting directly into a full size window plus it's impossible to get all of the furniture in one frame) though I'm so glad I painted it. It adds that touch of softness and references the blues in the landscape artworks beautifully.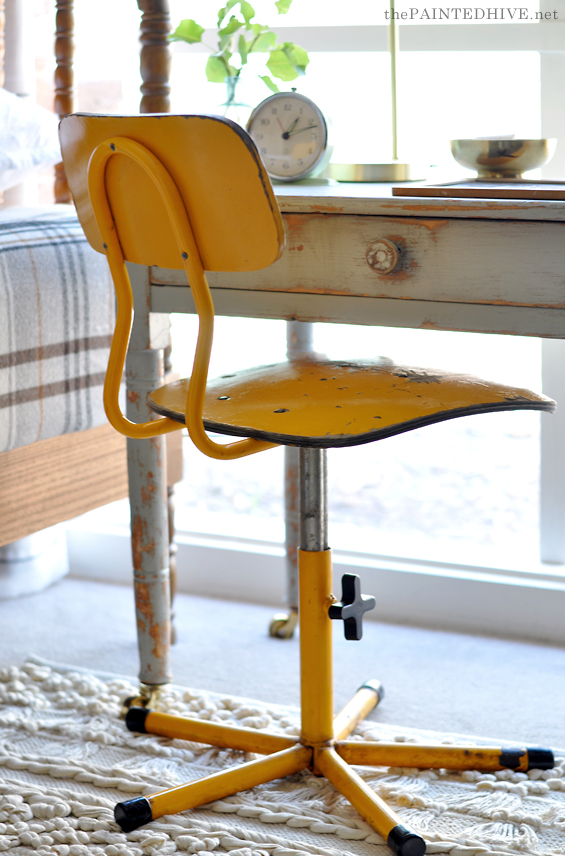 The desk is teamed with this vintage ochre swivel chair which adds a fun colour punch. It was $19 from eBay.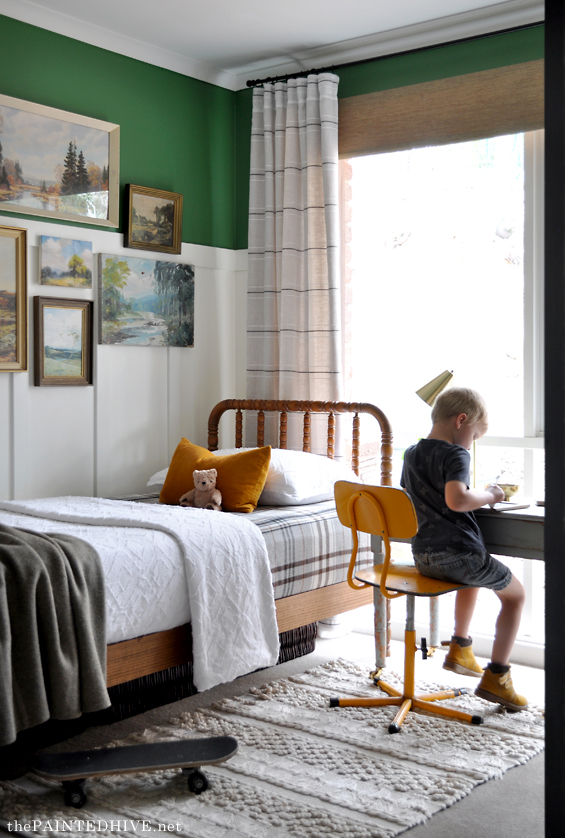 Furniture-wise, the only other piece in the room is a basic narrow toy box at the foot of the bed.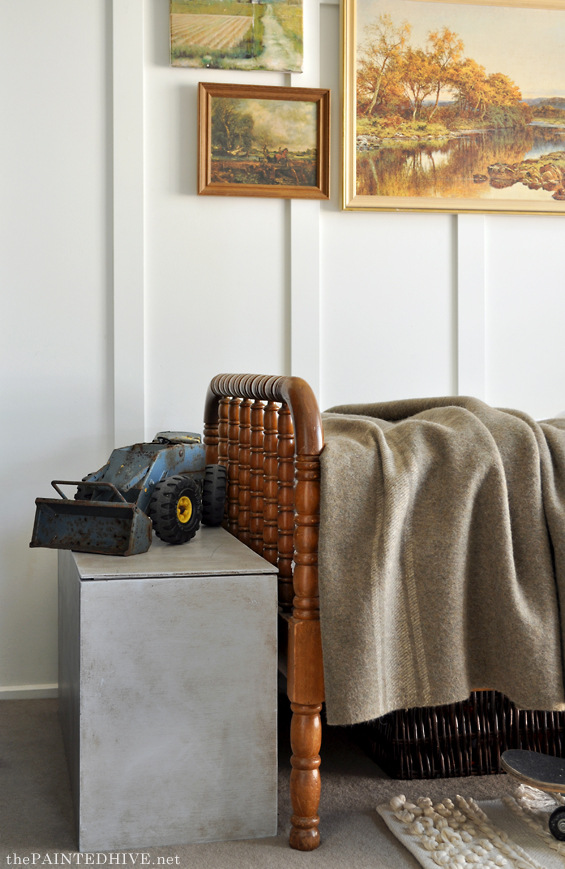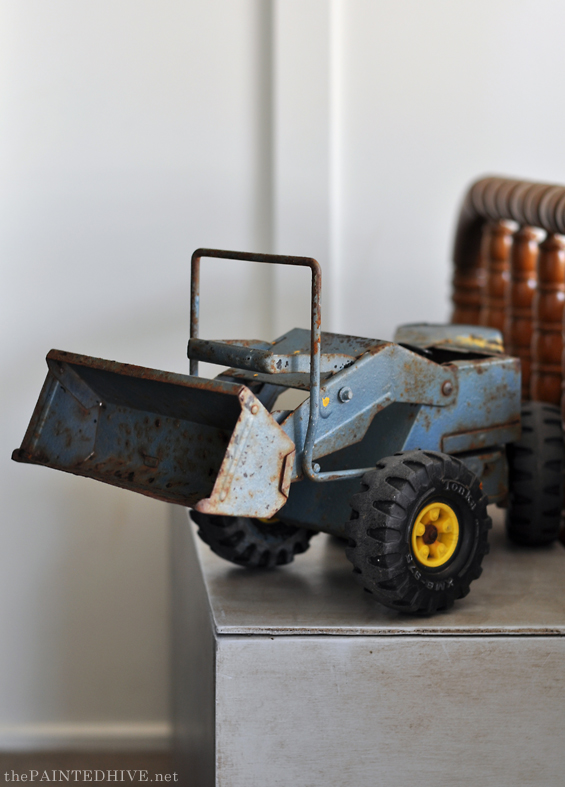 We custom built this from plywood because I couldn't find anything the right size. I was going to dress it up like a trunk with some leather straps, brass catches and carriage handles though as it's essentially tucked away I decided to save my energy and simply paint and dark wax it.
The latest addition, and the finishing touch I was waiting on to complete the room, are the curtains.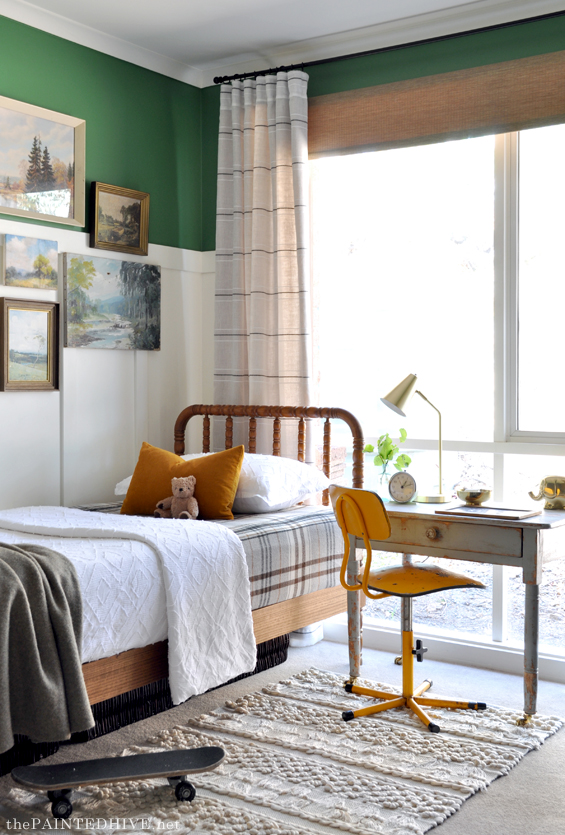 My initial idea was for something with a vertical pin stripe though just the other week I happened to come across these for $20 a panel in TK Maxx. I couldn't say no.
Horizontal stripes aren't normally my thing, so at first I was skeptical, though now I absolutely love them! They were just standard sheers with a basic rod pocket so I added hook tape and rings and lined them with some old IKEA curtains I had to give them more bulk.
Opposite the window is the built-in wardrobe.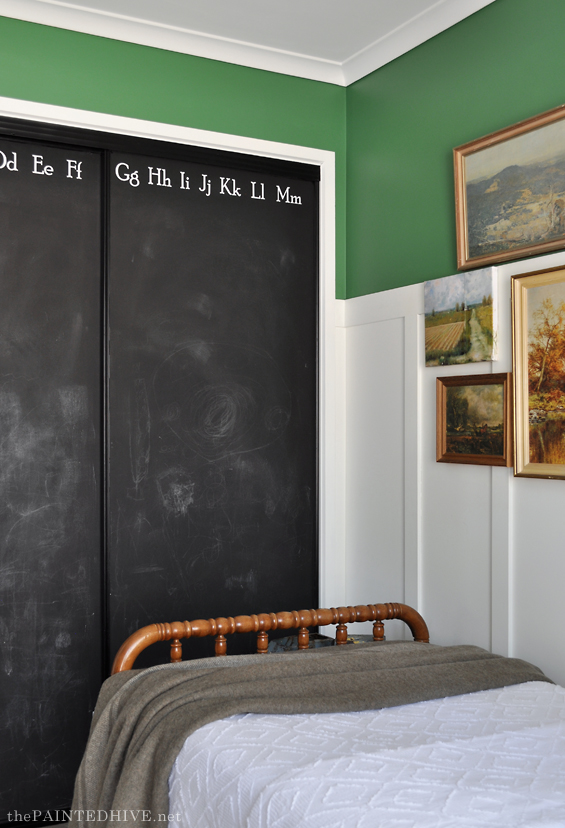 The frame and doors were originally plain beige however I painted them with chalkboard paint and added the alphabet decals when this room was being used as a nursery. I contemplated making them over again (possibly in a barn door style) though decided it wasn't necessary. Plus the kids still use the chalkboard and I like its rustic simplicity.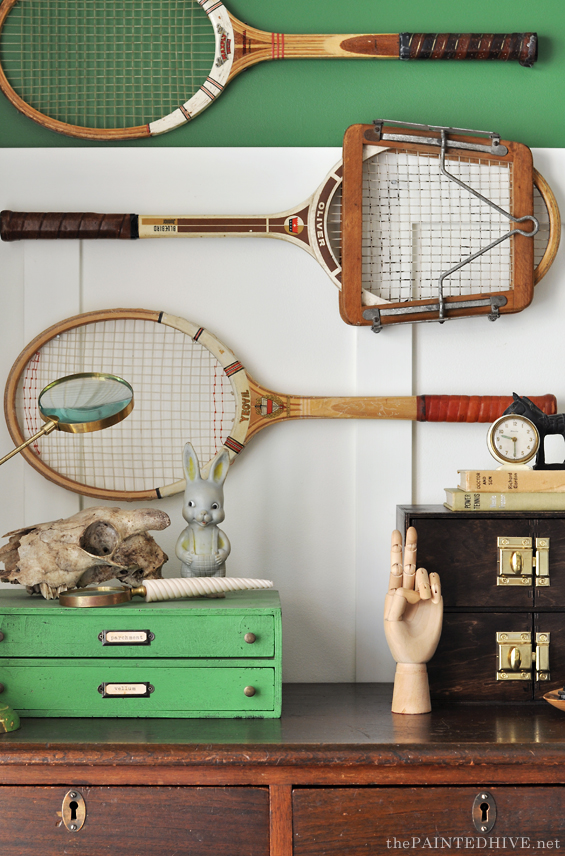 Amidst the decor atop the cedar dresser sits an old (slightly freaky) bath toy which belonged to my Mum, a book titled "Power Tennis" which came from Riley's Grandpa, and a warrior horse which was a gift bought home from China. It's always nice to include meaningful items among the purely decorative ones.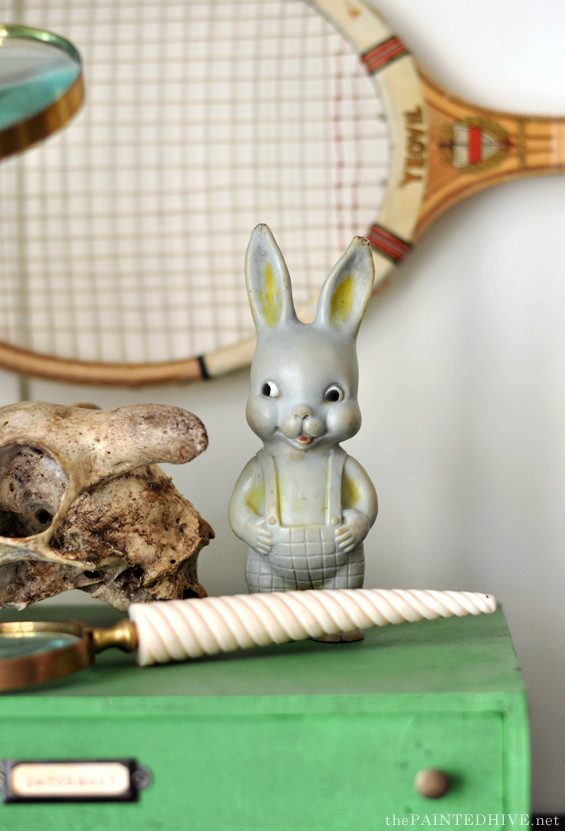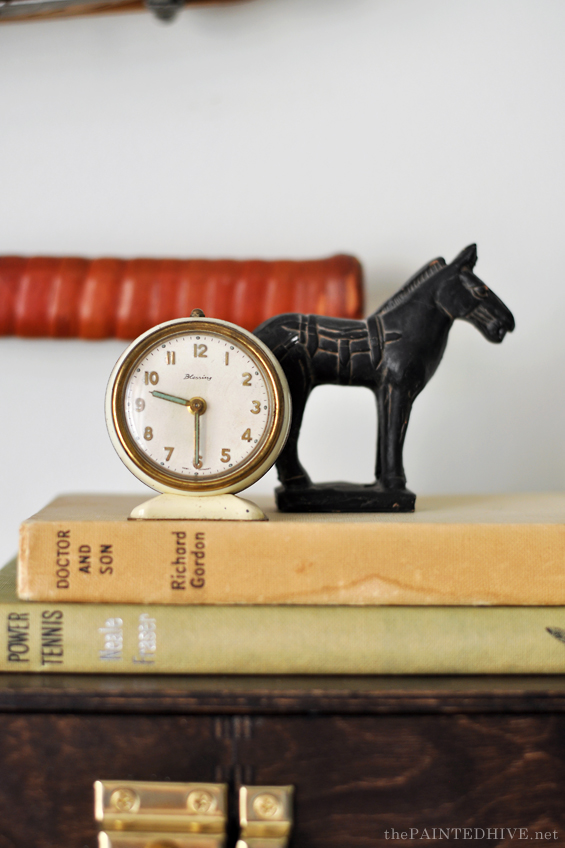 The little drawers with the brass latches are a simple IKEA hack I'll share soon!
On the desk a thrifted brass "pachyderm" bank holds Riley's pocket money and the desk lamp, which was just $10 from Kmart, adds a touch of modernity.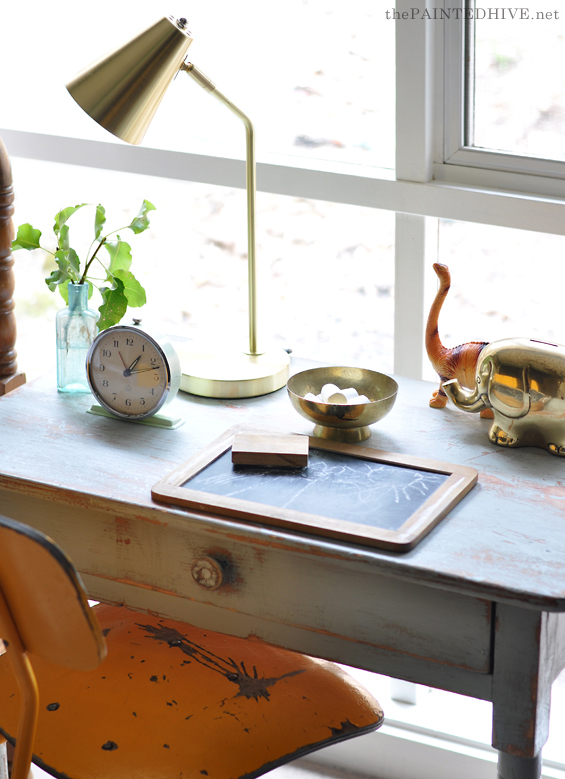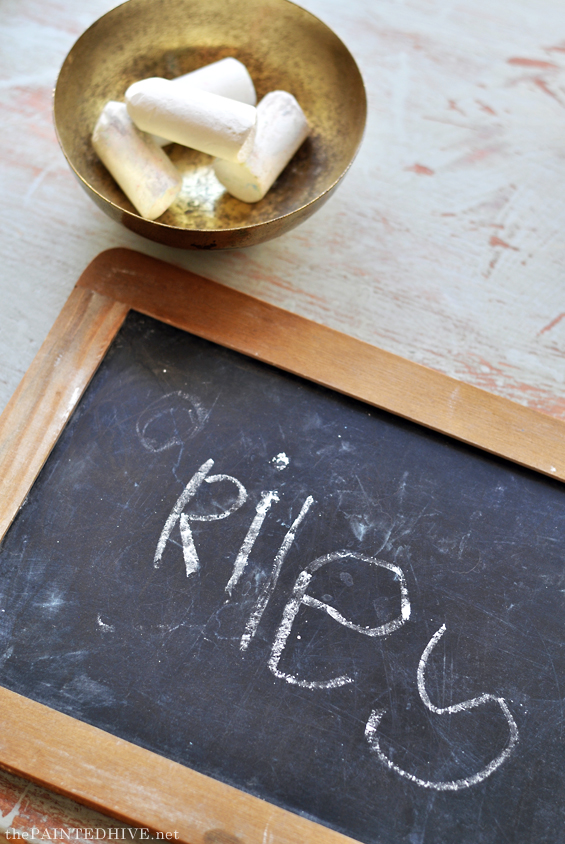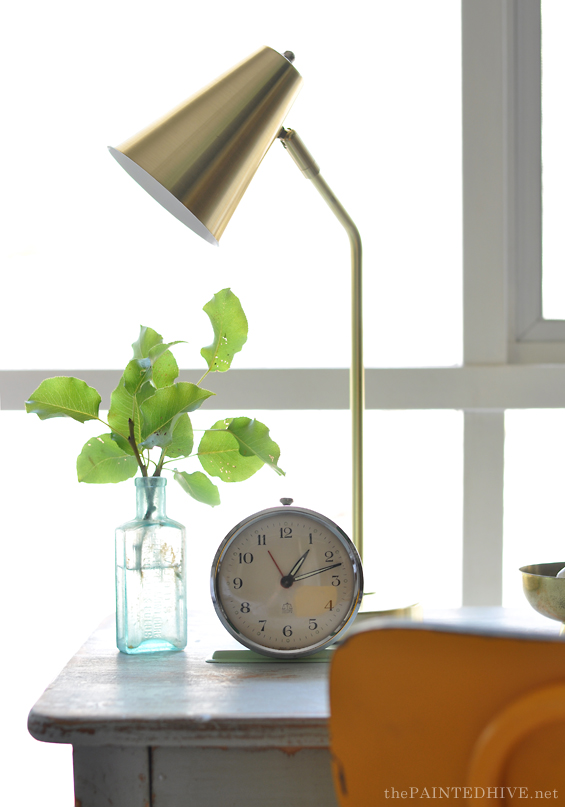 Now, here are some comparison before and afters just for fun…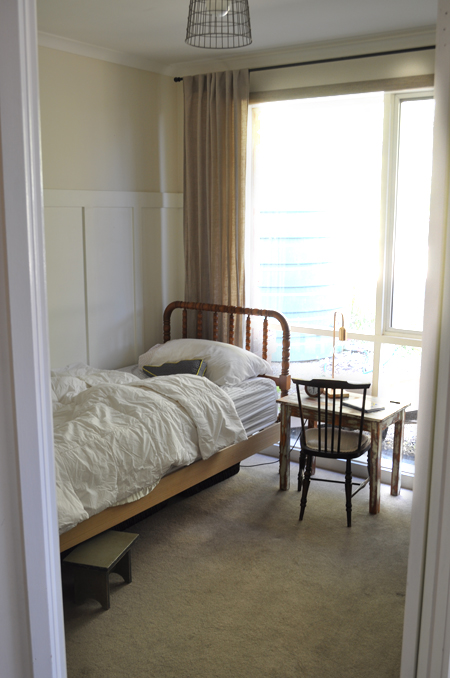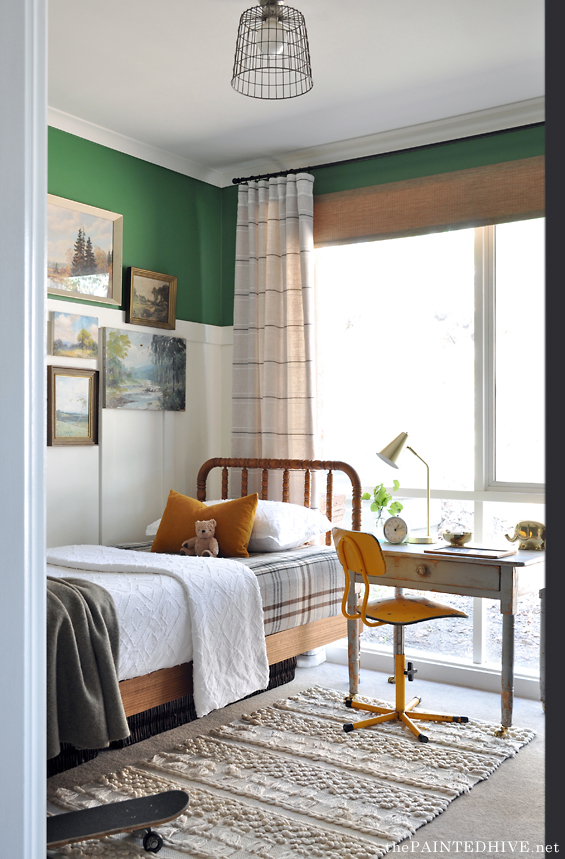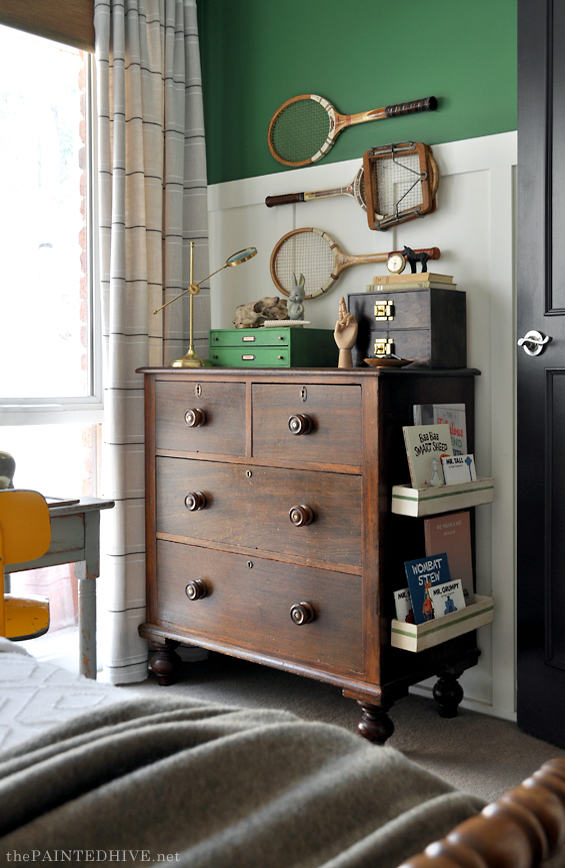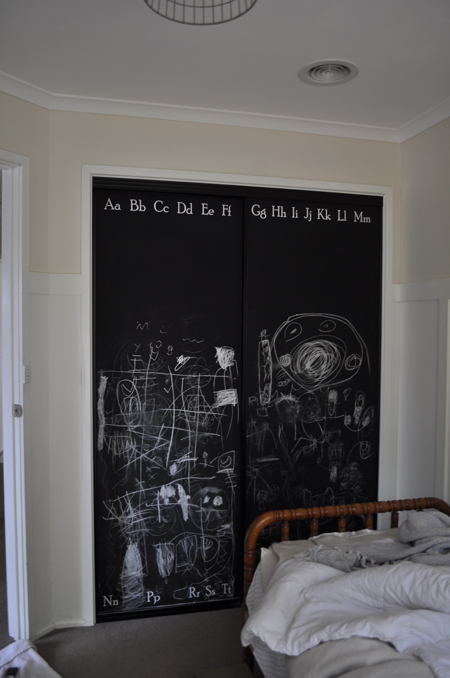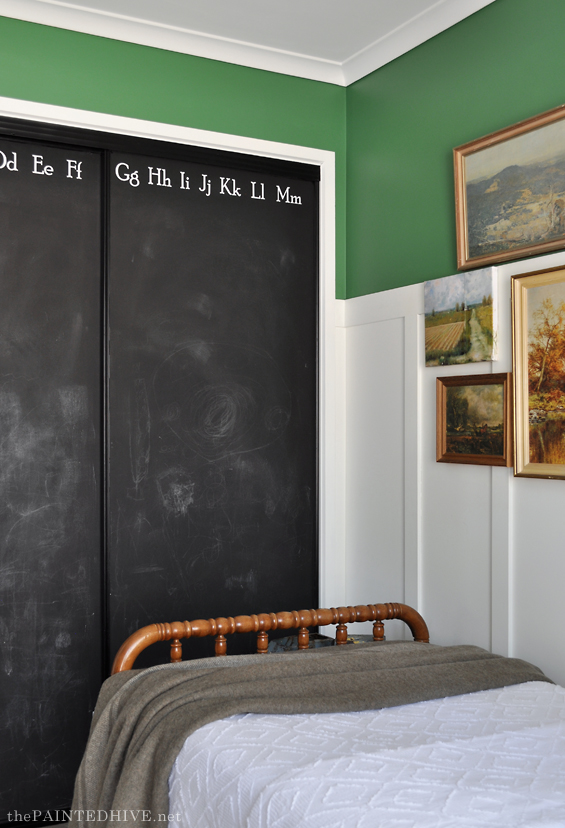 As mentioned earlier, as I've already spoken lots about this room in my previous progress posts, I didn't go into super fine detail here. Feel free to ask if you'd like to know more about anything in particular.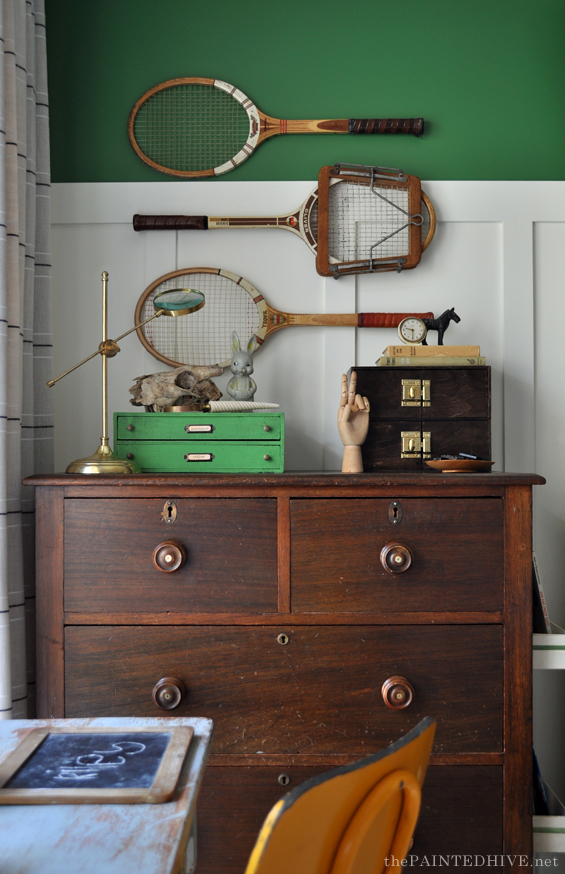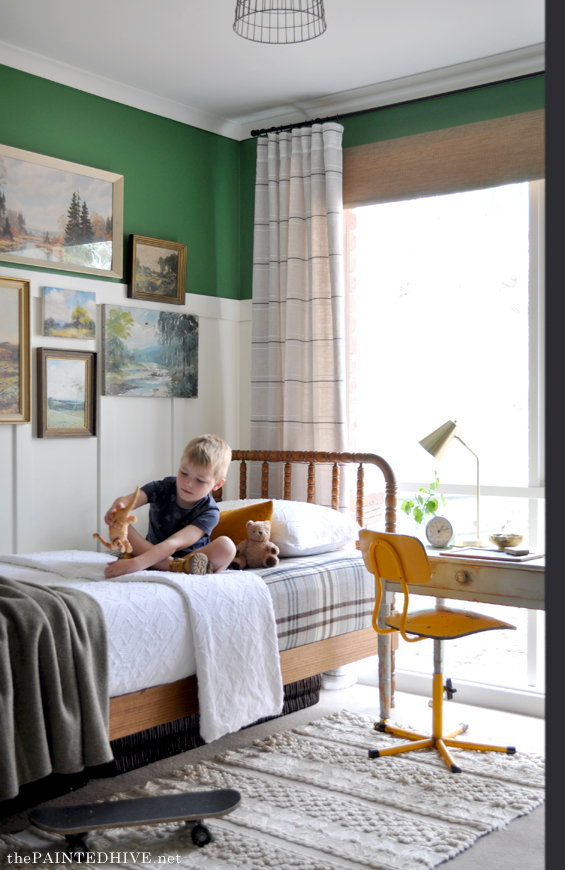 Hope you like it.