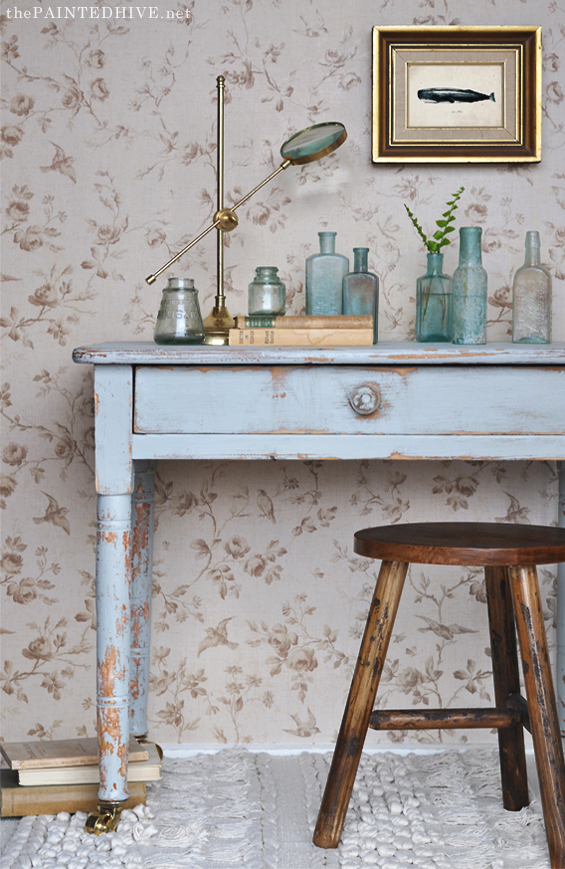 You know that old saying, "Too much of a good thing is never a good thing."
Well, aside from the fact they forgot to exclude wine…and pistachios…and Friday nights, it's pretty sound advice, and perfectly apt in the case of this cute little desk.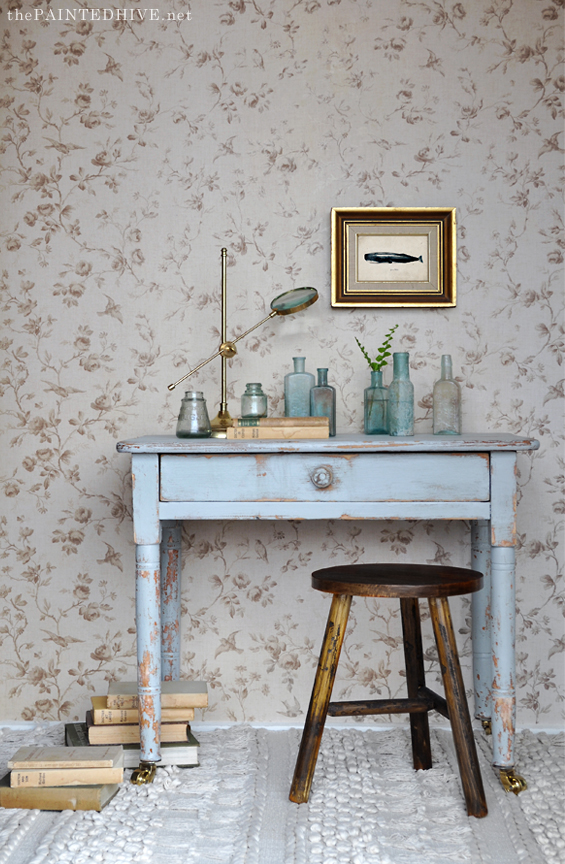 As good as its original pine finish was, when teamed with the warm walnut bed and the dark cedar dresser already in my son's tiny room, it was just all too much.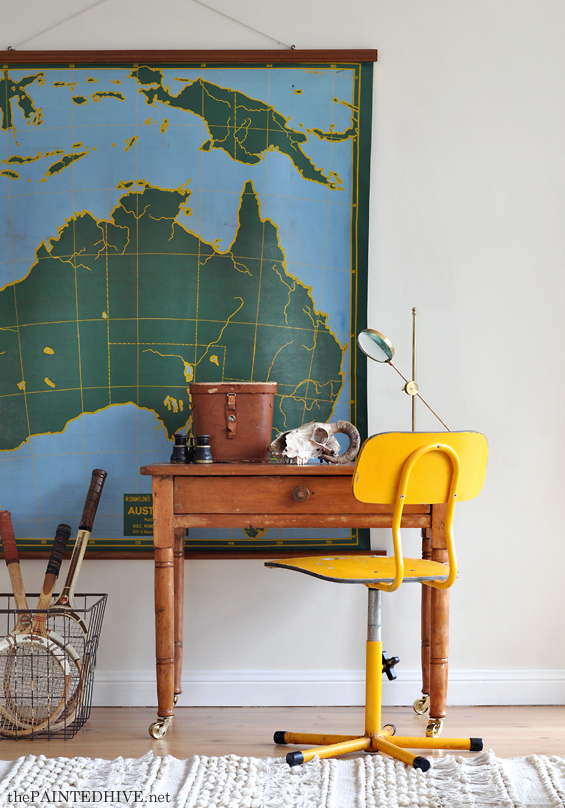 Here's how the desk looked this time last year.
I loved the natural rustic timber (as evidenced by my aforementioned collection of unpainted items), however, aside from the fact the ocean of wood made Riley's bedroom feel a bit dark and dull, the pieces were competing which meant nothing had a chance to shine. It was death by brown!
Something had to give. And the desk lost…or maybe that should be won?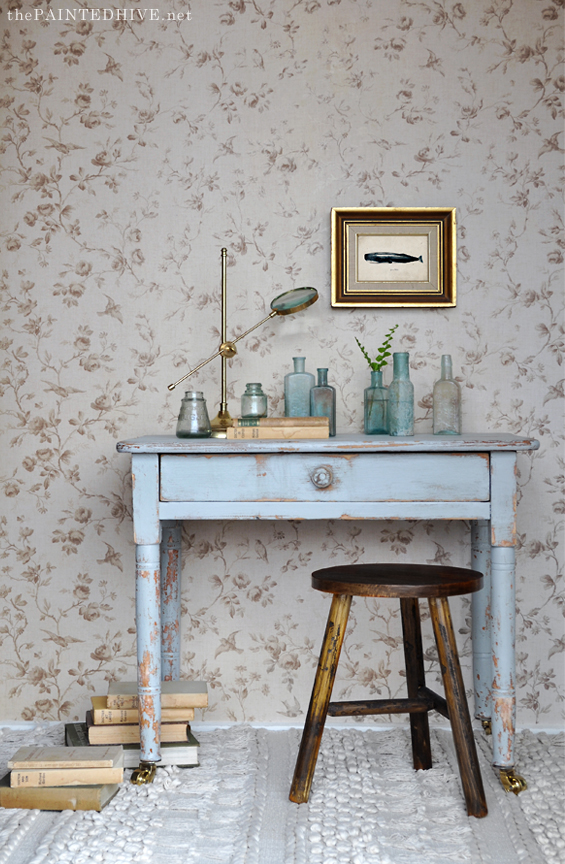 I've seen enough heated debates over painting wooden furniture to know it's a contentious topic. Personally, I believe both finishes can be beautiful and it usually comes down to context. I'm happy with the call I made here.
Anyhoo, this was the easiest makeover ever.
The trickiest part was deciding on a colour. I didn't want anything which would fight against the green walls and eventually landed on a muddy blue-grey. Not only is this relatively neutral (and my son's favourite hue) though it also references the colours in many of the landscape artworks.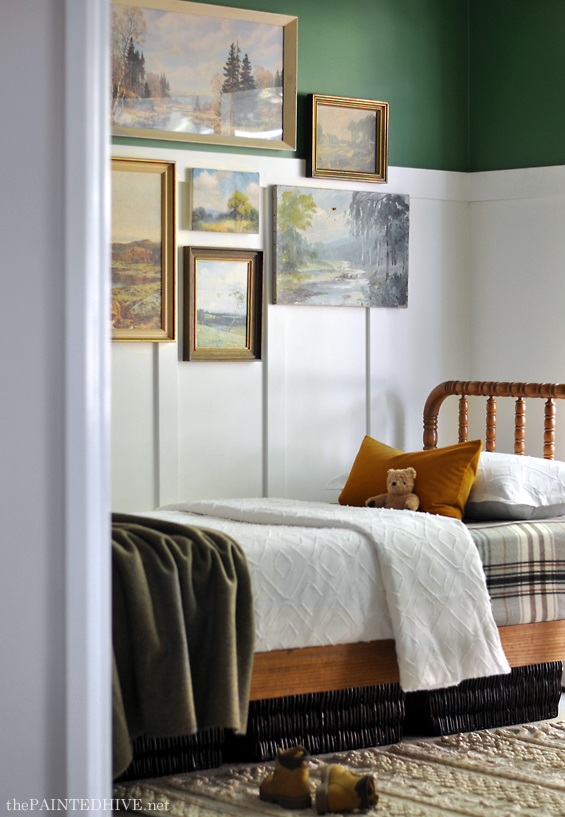 I made the paint colour using some left-overs I already had.
Given the desk was in rough shape, I thought a heavily distressed finish would work best.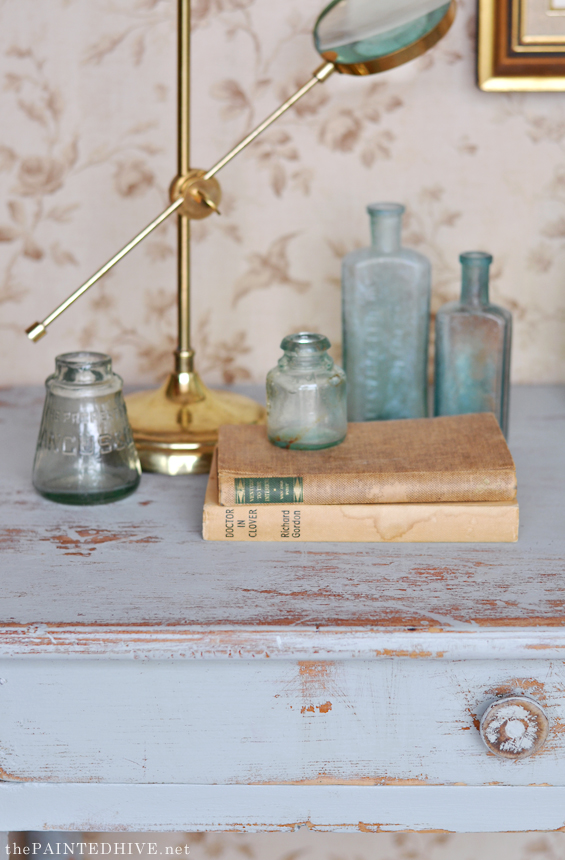 My son wanted to help me paint and, whilst I'm always willing to take-on little apprentices, for a project like this I wholly welcome them! In my experience the best distressed finishes come from being entirely haphazard and kids are the absolute best at that!
After masking off the brass castors with some tape we brushed on two coats of paint in the most random manner possible. There were drips and blobs and obvious brush strokes, though that was just how I wanted it (you can find some previous tutorials where I used a similar method HERE and HERE).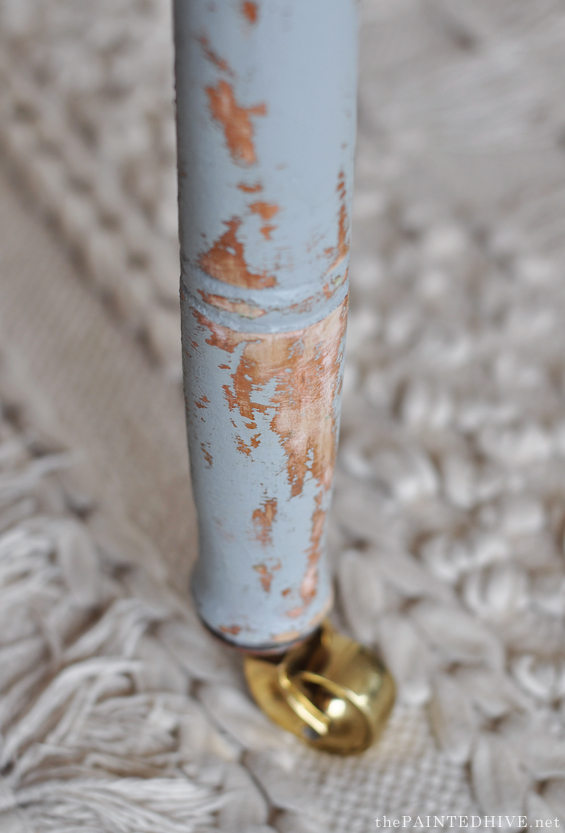 To distress, I did something I've never done before. Whilst some of the thicker areas of paint were still tacky, I began randomly sanding the desk by hand using medium grit paper. I don't know if wet paint distressing is actually a 'thing', and, to be honest, I only did it because I was being super impatient, though I liked the effect!
The tacky paint balled-up and peeled off with ease resulting in a clean chippy look, whereas the dry paint distressed as per usual for that more scratchy rubbed effect.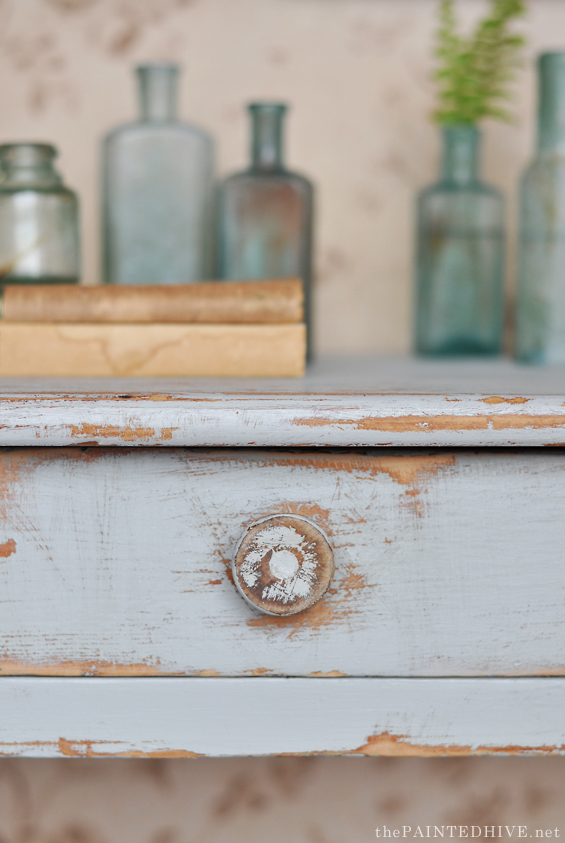 I like the super matte finish and am obviously not fussed about the desk becoming more disheveled with use so I didn't bother applying any kind of protective topcoat. A clear wax or water-based poly can help if you're after a more polished look.
Due to Riley's room being so small it's a bit tricky to take decent photos of the desk in place so I had some fun dressing it up in my entryway.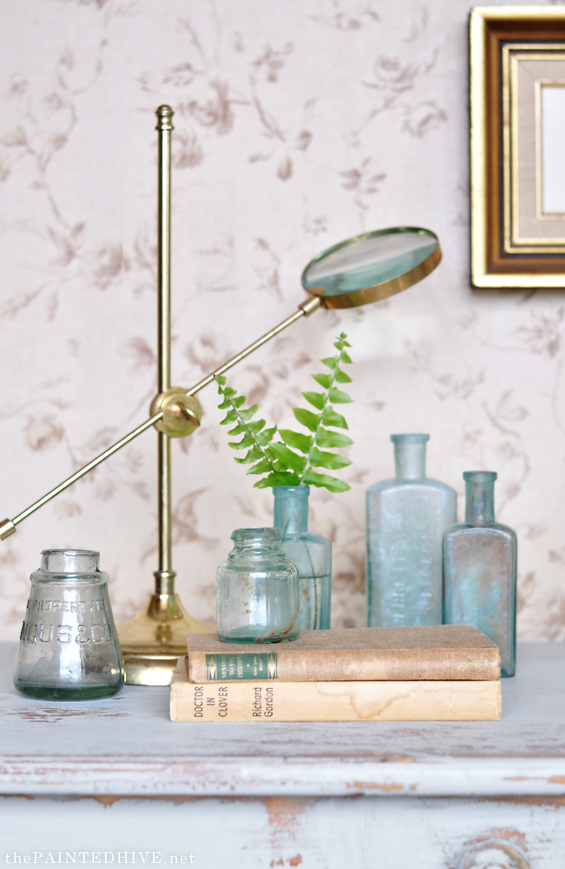 Granted, the toile wallpaper makes things look a bit girly though the desk itself is gender neutral.
I used some of my collection of blue-green glassware, vintage books and the stool I hacked earlier this year.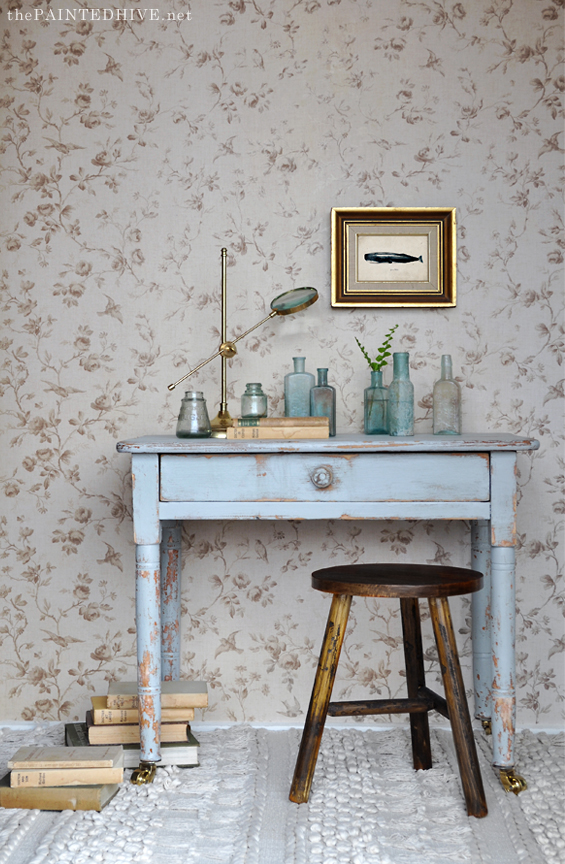 Although I love both versions of this desk I know the painted finish will suit my son's room best.