I must admit, from the start it's been the 'street appeal' transformation which has had me most excited about this house. I haven't had the chance to work on many (any!) full facades so it's something I've always been super keen to tackle.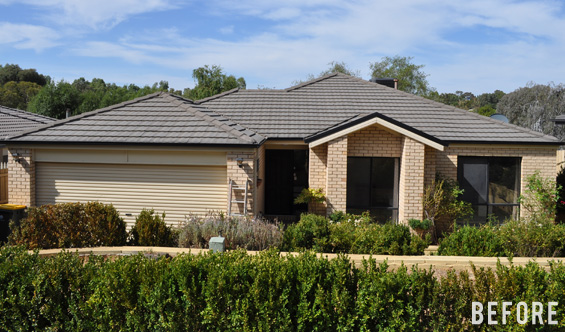 Whilst the original state of things was clearly far from spectacular, I think the classic style and basic bones offered so much potential.
Of course, there are lots of different ways we could have gone with this however to me the general design lends itself to 'cottage' so we're going to try and inject some modern country charm. Not only will this help distinguish the house from most of the other (numerous!) nearby properties on the market, though it should also impart a homey welcoming vibe and work with the semi-rural location (oh, and my personal love of contemporary cottage may or may not have influenced things slightly!).
Obviously we're on a tight budget so for the most part I'll be looking for easy and affordable ways to update existing elements and layer character on top.
PAINT
It goes without saying that one of the best ways to transform a house is with paint.
Now, some of you might like to look away because I know not everyone will like this however…the brick is now painted!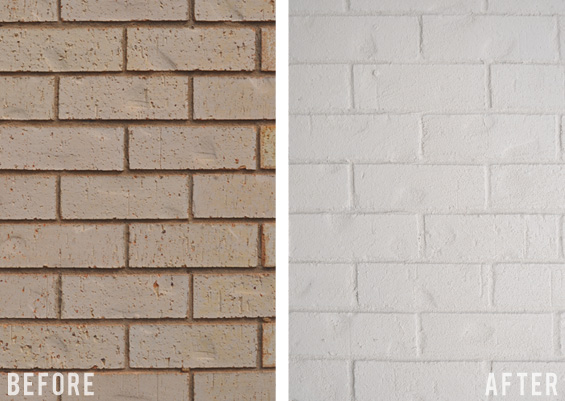 Although the original brick wasn't completely hideous (bear in mind it does look much better in the photos than in reality though), when teamed with the ashy roof and black trim the whole scheme simply came across as dated and lackluster. There was just no zing!
I wanted to create more contrast and after playing around with a few options eventually decided on white.
When choosing the white I wasn't sure whether or not we would be painting the existing cream fascia and eaves, and also needed to account for the nearby yellow-toned boundary fences and retaining walls (which we probably won't be painting) so settled on a warm white which would harmonise well. Dulux 'Antique White USA' is a rather creamy white which actually presents as quite crisp outdoors yet still has a hint of softness.
Rather than use regular paint, I decided to try something different.
Dulux Texture Medium Cover is a thick and flexible acrylic paint which provides the rustic look of bagged brick. It's similar to render though as it allows the brick structure to show through it offers more character – which I personally love.
I'd never used anything like it before and absolutely adore it! You cut in with a brush first, just like regular paint, then apply straight from the bucket using a mitt. It's a little bit messy though actually fun! Of course it was kinda tricky for me to document the painting process whilst decked out in my stylish painting glove, however if you'd like more information we basically followed the manufacturer instructions and this video tutorial.
Once the brick was painted we decided the cream fascia and eaves were letting the new fresh feel down so painted them to match using Dulux Weathershied in Low Sheen.
Our black and white scheme is now crisp and simple and ready for a soft colour pop (more on that below).
GARAGE DOOR
Unfortunately there's nothing much we can do to salvage the existing dented cream roller door so have decided to replace it.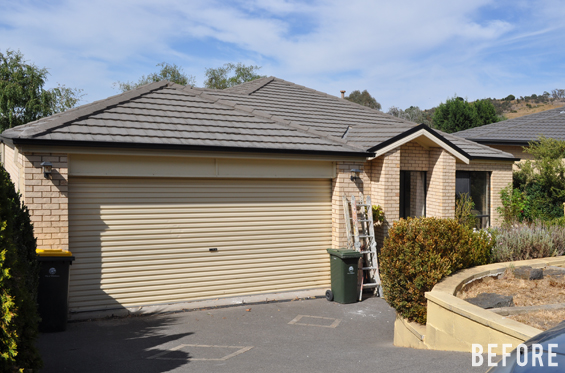 This is one of our biggest ticket items of the entire flip. The garage accounts for almost half of the entire facade so I figure making it look great will be money well spent.
I've been to-ing and fro-ing over colour options though think I've finally landed on matte black to break up the white and bring in the other black accents. Ideally I'd love a carriage style door though I'm sure you can imagine that they can be pricey.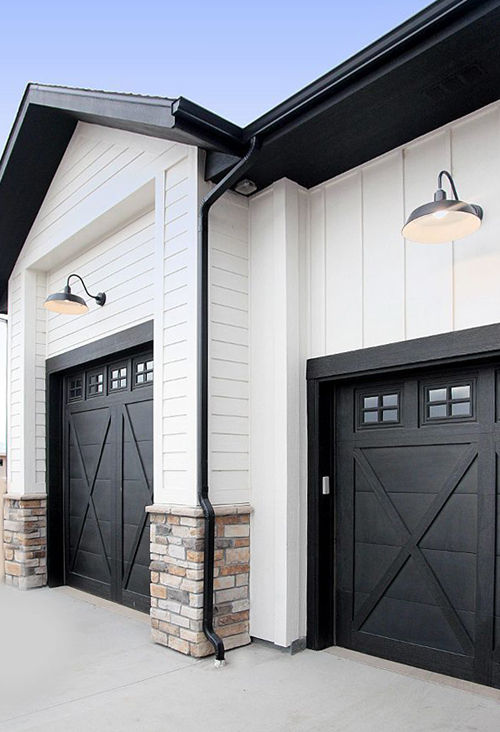 This is just a rough inspo idea.
So I've been looking into some DIY options and affordable alternatives and am excited to see what's possible. Can't wait to share what we end up doing!
ARCHITECTURAL ELEMENTS
As mentioned above, something I'm exited about bringing to this house is a sense of charm.
There's not a huge amount of scope for adding decorative elements, and I certainly don't want to go over the top, though two areas I've identified which could do with some zhoozhing are the feature gable and the window wall.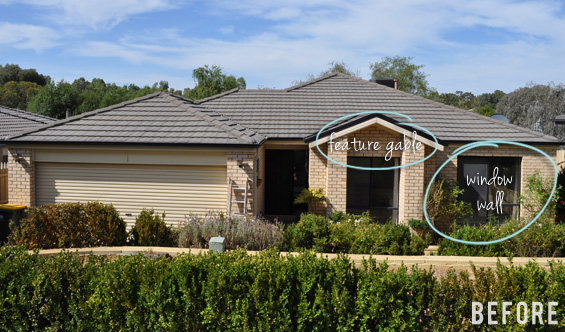 For the gable I'm planning on adding a timber accent pediment. I've actually already built it (from a $14 length of treated pine) and am hoping the rustic wood will warm up the white and impart some earthy texture.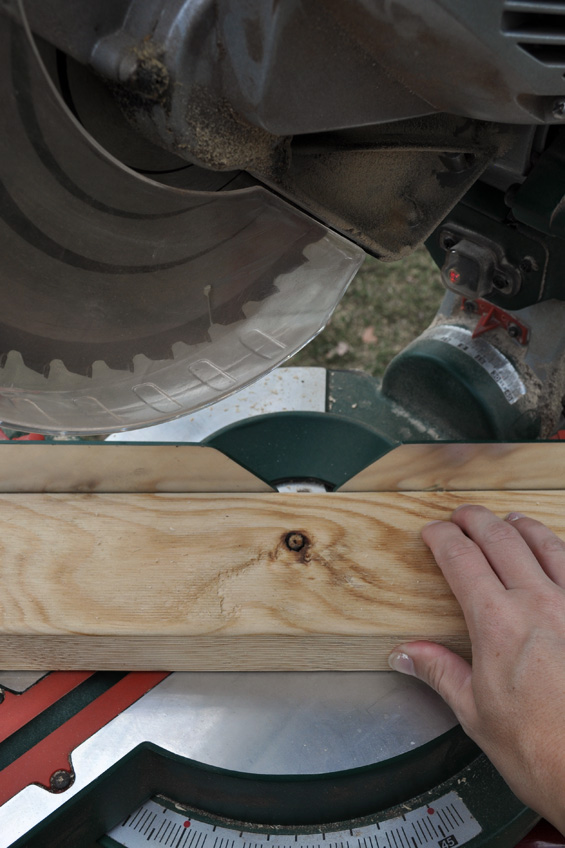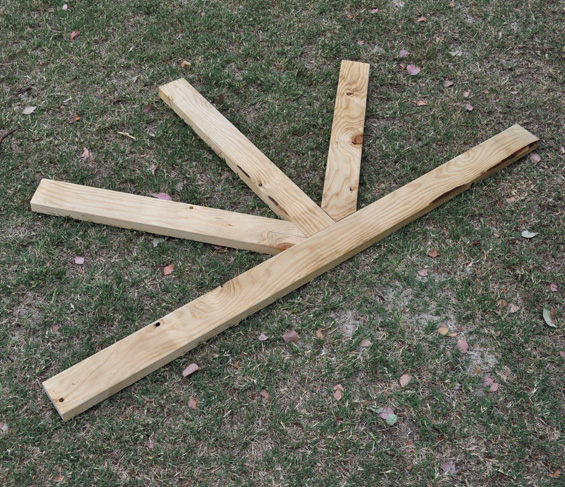 I had visions of creating something more decorative though decided that was a bit beyond me (and my tools!) so stuck with nice simple lines. Because I built it at home I made it slightly larger than required so I can easily cut it down to fit when I'm next at the flip house.
The large window on the right will be flanked by decorative shutters. Again, I've already built them (from $40 worth of cypress pickets) and plan to finish them in a soft duck-egg blue.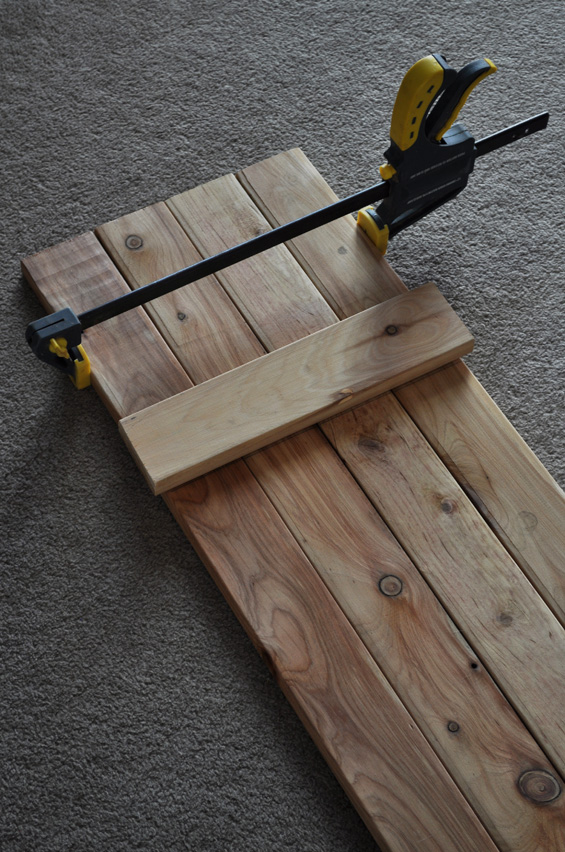 The front door, which is currently dark indigo and comes across a bit like an unwelcoming black hole due to its recessed position, will probably be painted the same duck-egg colour to provide some continuity and brighten things up.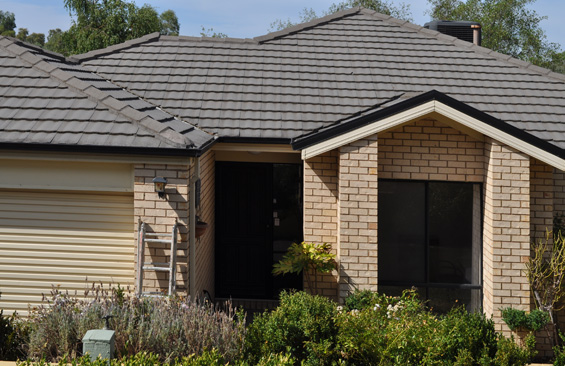 Although black and white alone can be stunning, given the house is quite simple architecturally I want to add one feature colour to provide a bit of interest, liveliness and pop.
GARDEN
When I first saw and photographed the property it was late spring and the garden, although overgrown and weedy, was quite green, lush and pretty.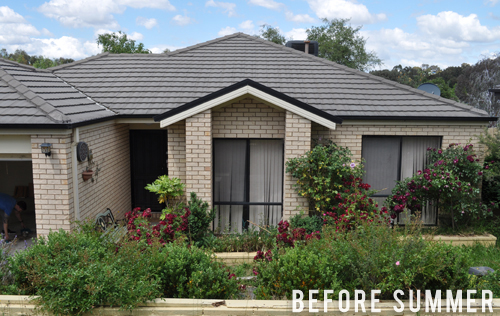 Then summer hit – and it's been a long, hot, dry summer. With no-one living in the home to care for the plants many struggled and several died. We've had to remove a lot and drastically cut back others so right now things are looking rather brown, withered and barren.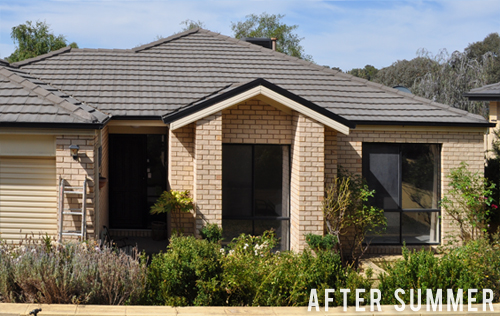 We're going to try and retain as many established plants as possible then fill the key areas and sparse patches with a simple mix of shrubs. Not certain at this stage though given the house is north facing we're thinking tough varieties like Westringia and Dietes. We'll see.
STYLING
At this point of the flip adding the finishing touches, such as lighting, pots, decor and furniture, is still a bit of a distant dream though I can't help but look forward because they are the elements which will bring everything together – plus, to me, it's the funnest bit! I have visions of matte black lighting, pretty pots and lush greenery, and natural materials such as wicker, among other things.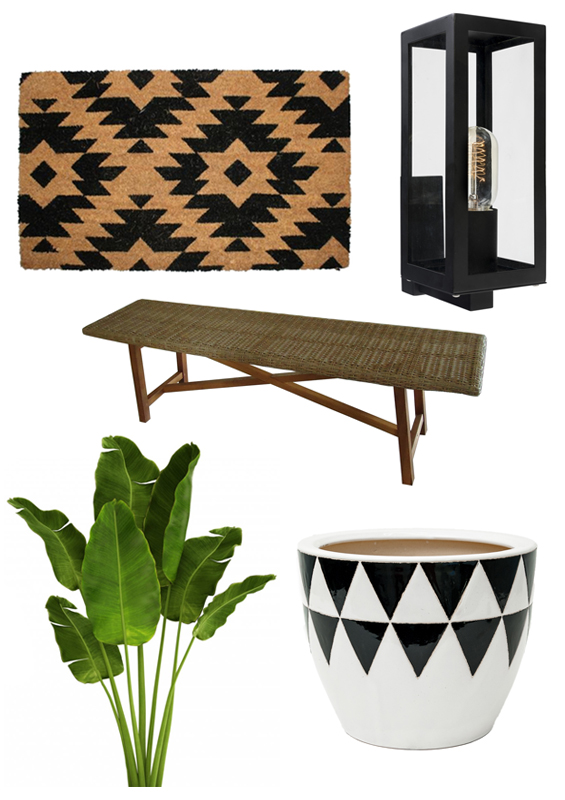 DOOR MAT | OUTDOOR SCONCE | WICKER BENCH | BANANA PALM | GLAZED POT
This is just a rough mood board I put together. Like I said, we're not quite ready for this yet though I can't wait!

If reading all this has made you think I must be super self-assured and confident, let me tell you that I've actually been doubting and questioning myself the whole way! Like I mentioned, this is my first time working on a facade and, just like anyone doing anything new, I'm simply learning as I go. At this stage all I can do is cross my fingers and toes and hope that, just like with my interior makeovers, things all come together in the end!
Thanks so much for following along.
You can catch up on Part One of the house flip HERE.