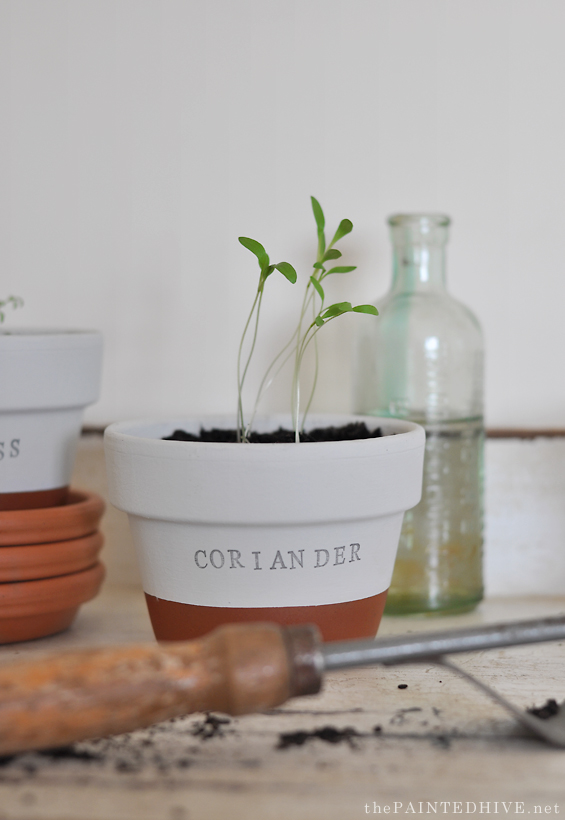 I don't do a lot of crafts, though every now and again I get a hankering for an easy little project.
If you follow me on Instagram, you may have seen that I've been growing plant babies as per the Woolworths Discovery Garden initiative.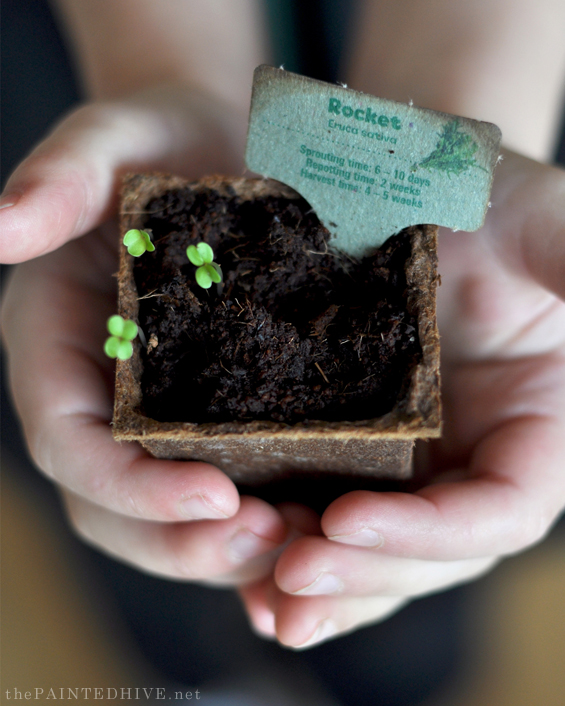 Well, those babies got big fast! And after just a few short weeks were ready to be transferred into new larger homes.
The veggies and flowers will make their way into our garden, though I wanted to keep some of the herbs near the kitchen.
Initially I was just going to plonk them in plain terracotta pots (which would have been fine and dandy), though whilst I was brainstorming a way to label the herbs I decided a bit of upcycling was called for.
Of course, there are a million different ways to label potted plants and I was originally just going to use wooden pop sticks, but this was an easy and cute alternative.
I started with some new terracotta pots and saucers (which cost just $3 each) and made sure they were clean and dry.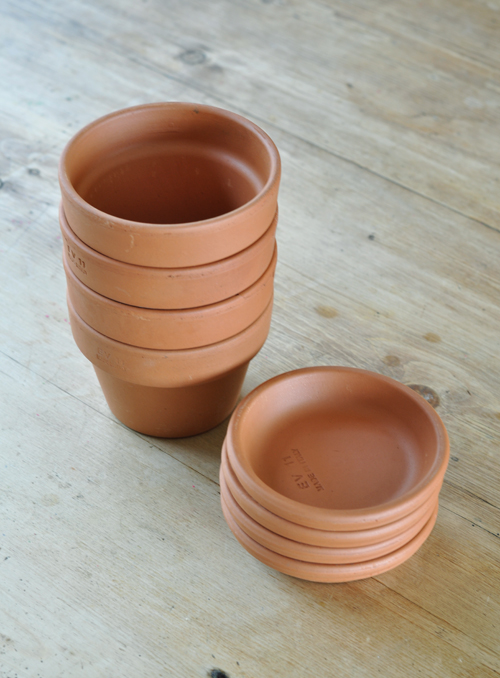 Next I masked off a section with painter's tape, making sure the tape edge was really well sealed.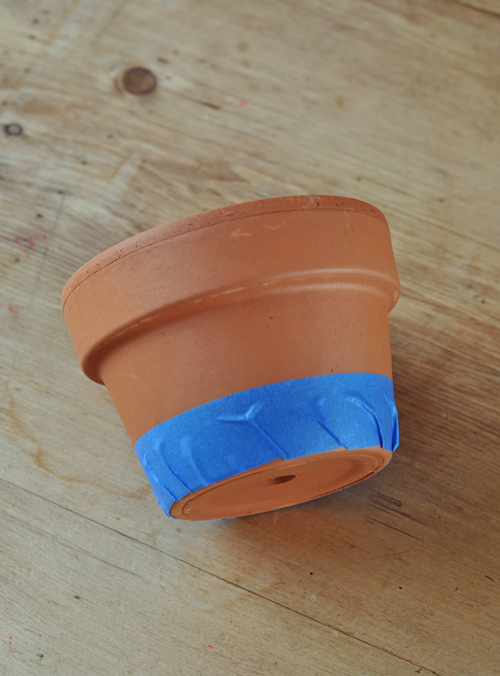 Then I painted the remaining portion of the pot with some water-based paint I already had (it was just a mix of left-overs and included some chalk paint and mineral paint too – it created a nice velvety matte finish). It took two coats.
NOTE: Sealing the interior of the pot is an optional additional step. As terracotta is porous, there is a chance that water seepage may effect the paint over time, resulting in peeling or cracking. As I've had great long-lasting results in the past without sealing the interior, I didn't bother. Plus, I'm not opposed to a bit of an aged weathered effect if the paint does deteriorate a bit. Just bear in mind that sealing will also diminish the breathability of the terracotta which can result in excess water retention in the soil.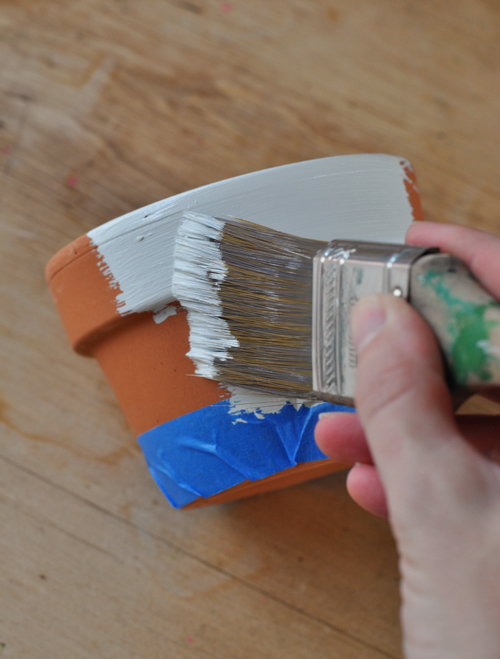 Before the paint was entirely dry, I peeled the tape off (removing the tape before the paint is totally dry just means the paint is still a bit "soft" which helps avoid little chips).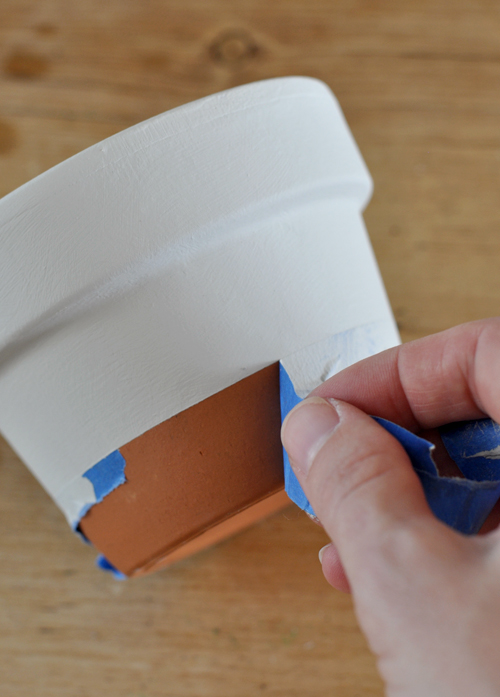 Once the paint was nice and dry, I used my daughter's rubber stamp kit to add the herb names.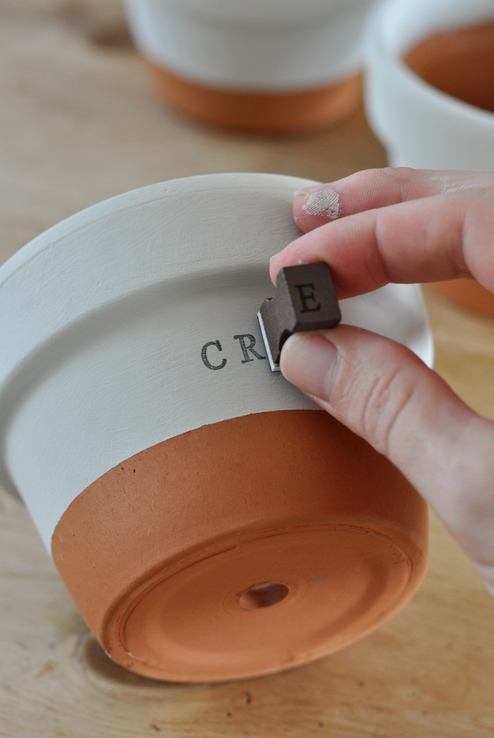 The kids helped and the words are deliberately a bit weird and wonky which I think adds charm. Ideally I would have liked lower-case letters, though I only had these and they're fine.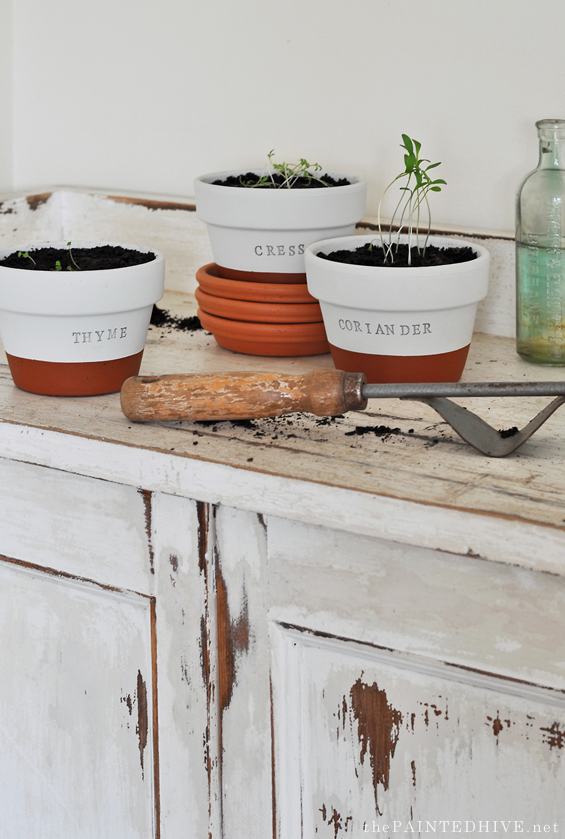 I wasn't sure how the ink would hold-up to the possibility of getting wet, so I tested it prior and it didn't run at all. I guess you could seal the pots if you really wanted to protect the finish though I think they'll be fine. Plus, I don't mind a bit of grunge if the paint or ink does end up wearing a little.
So simple and cute.
PS Now that the flip house is entirely wrapped up (settlement was yesterday!) I'll be back soon to share the new design project I'll be working on…very excited!