Yep, I am publishing two posts in the same week – I hope you were sitting down! But in a departure from the recent room reveals from my mother-in-law's house, today's content focuses on an entirely different makeover I've been keeping under wraps!
One of the client projects I've been working on over the past several weeks is a budget-friendly update to an Airbnb bungalow located in Warrandyte, Victoria.
Although it's a traditional mud-brick building, the interior had been renovated in a somewhat modern style with a contemporary kitchen, white plastered walls and timber-look floor tiles. But it's still afforded character through exposed steel beams, a planked vaulted ceiling and large windows. For my purposes it offered a relatively clean and neutral canvas to build upon which is always a bonus when you're concentrating on a cosmetic refresh.
My client wanted to re-decorate in order to make it a more stylish, and hence appealing, place for her guests, in turn providing an avenue to capitalise on revenue.
Here are some photos of the living and dining area from when I first visited…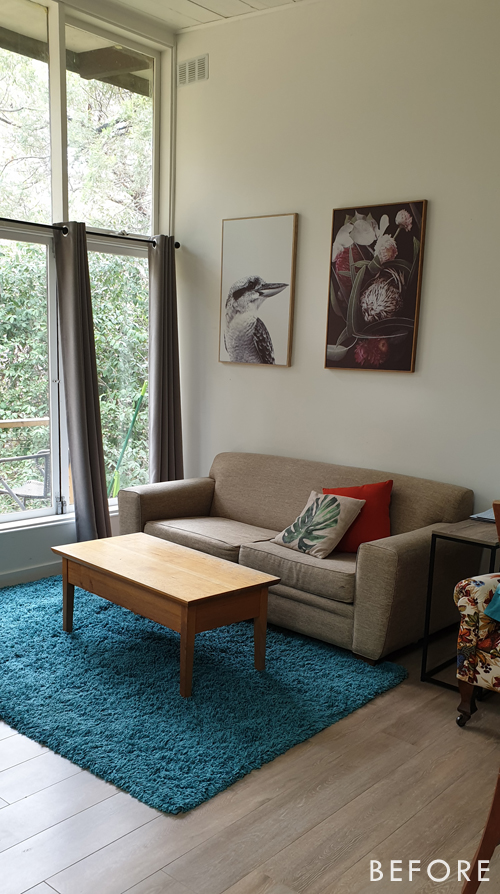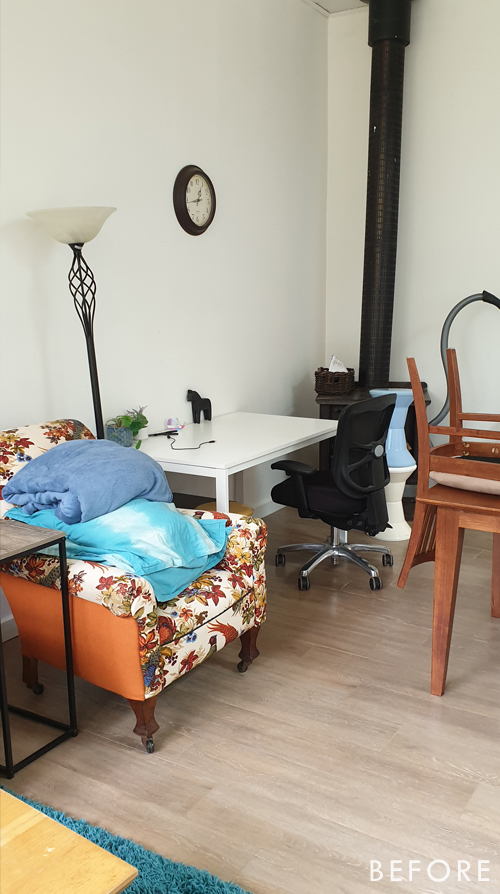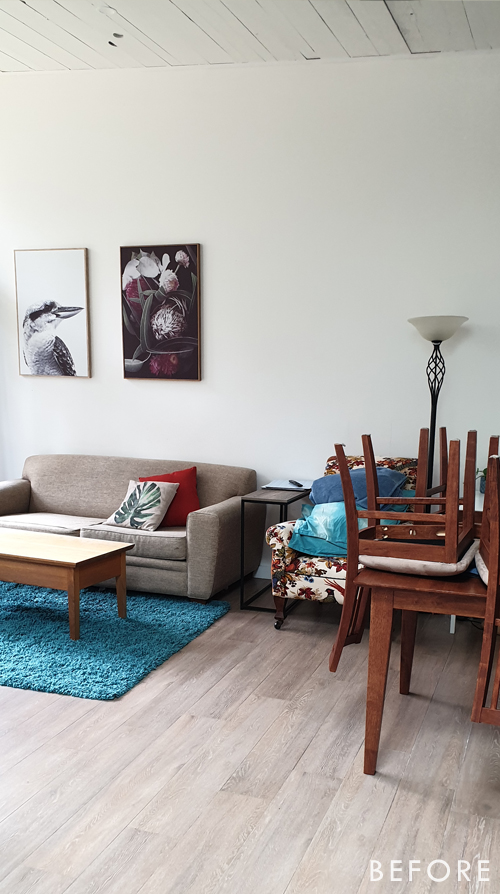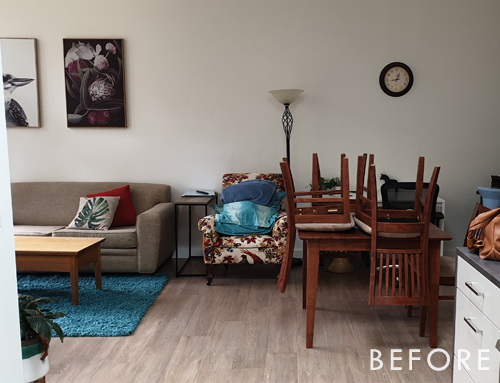 And here it is now…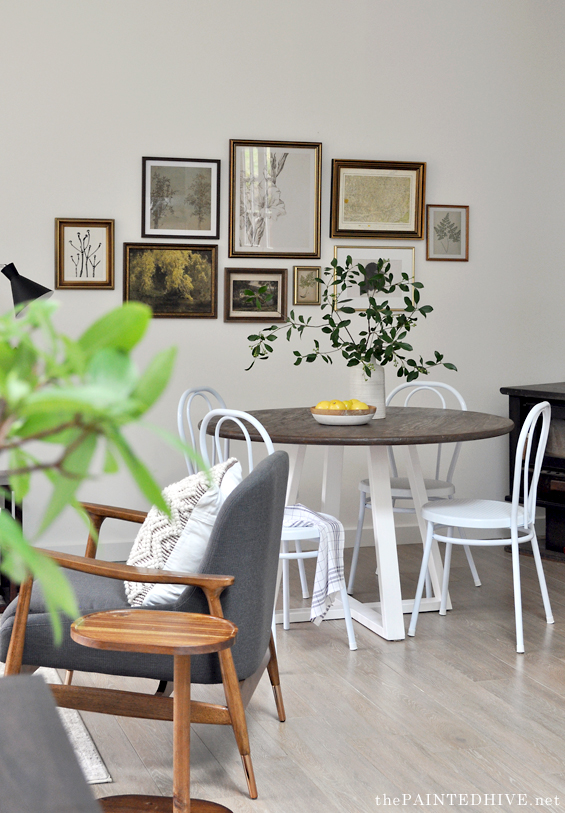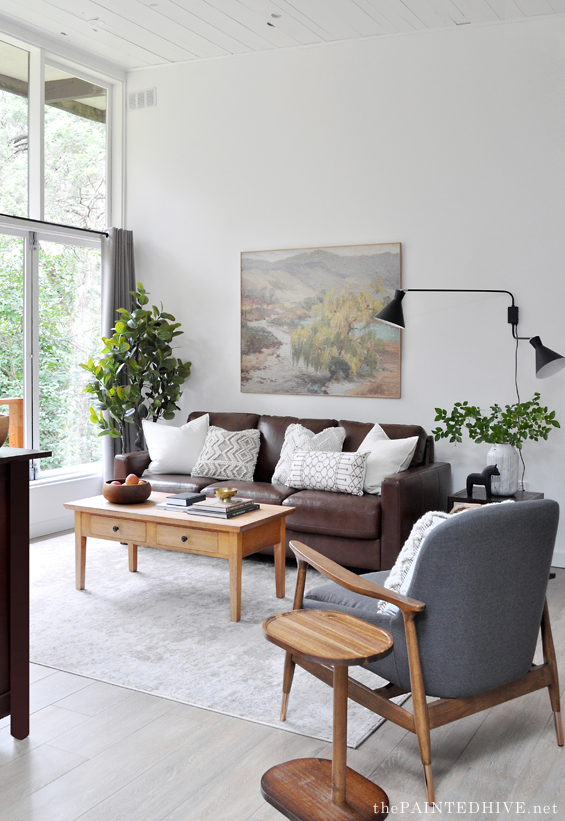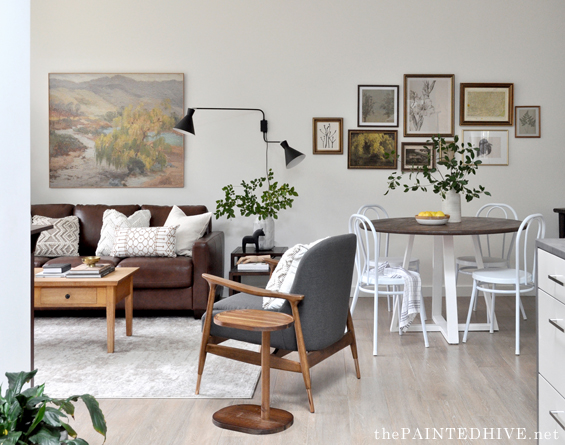 With the exception of the new leather sofa bed, which my client decided to splurge a little on, everything else is quite budget-friendly.
In the dining room I switched out the bulky timber setting for something lighter and fresher.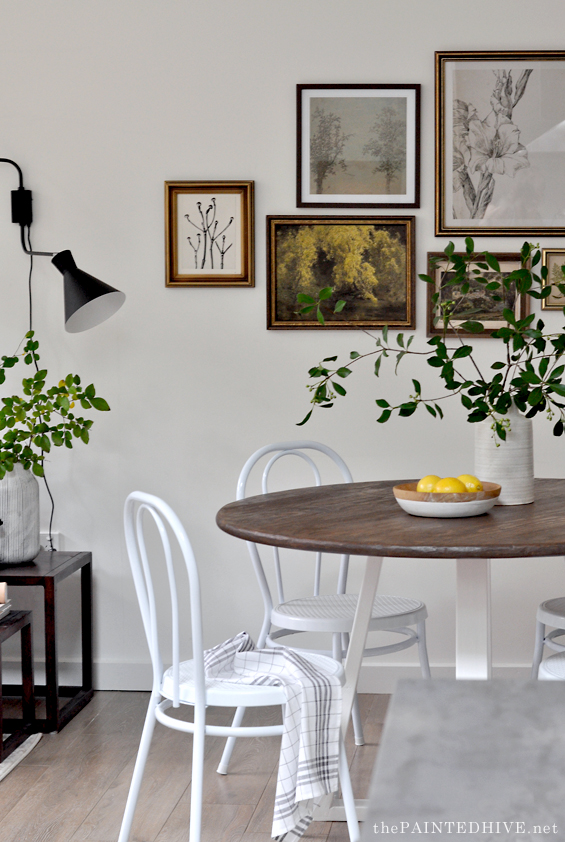 I had virtually no money to work with here, so I did contemplate retaining the original setting, but I just couldn't shake the idea of using something softer, and a round table felt so right for the space. After searching high and low for quite some time, I eventually had a light bulb moment…what about that table I built for my sister a few years back?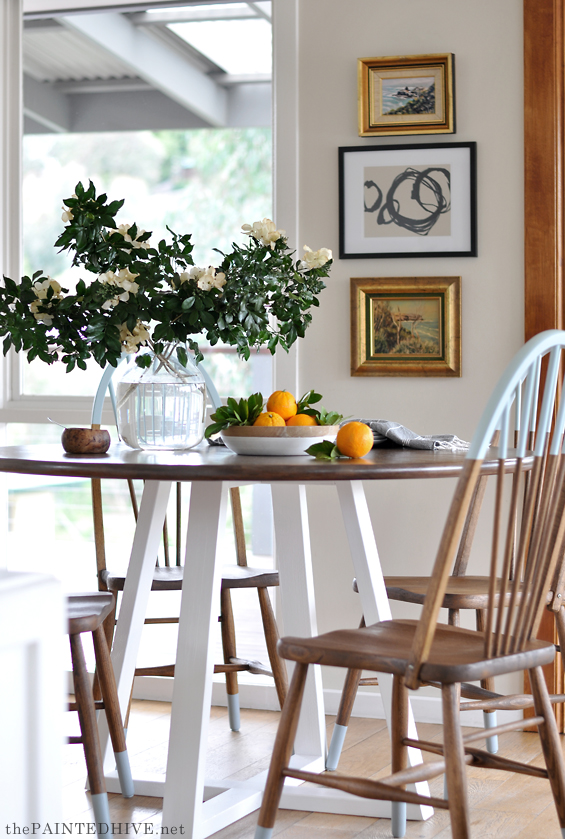 My sister is actually about to begin a big home reno and won't be using the same table moving forward, so I posed the question and she was happy to give it back to me! Of course, after three years being used by a busy family of four I had to give it a bit of a refresh but that was easy enough.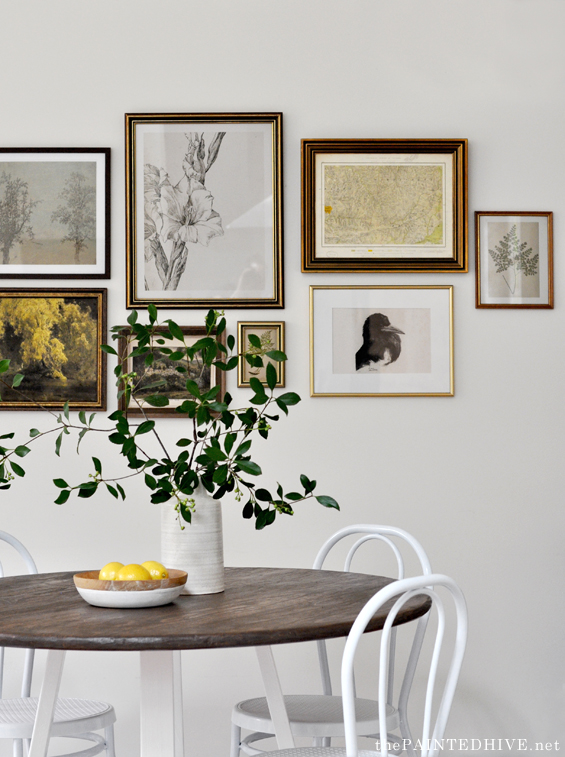 I paired it with some simple bentwood chairs from Fantastic Furniture.
The gallery wall uses a mix of thrifted frames (some are mine from past projects) and free printables, most of which I found on the Rijks Studio website.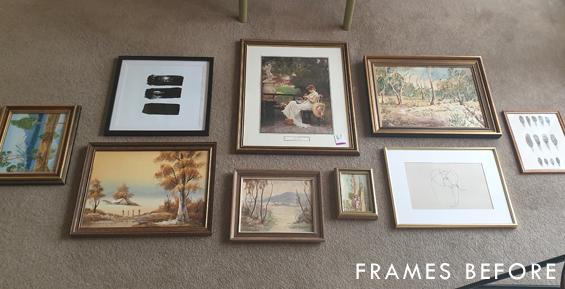 Some of the works are merely cosmetic, but three hold local significance: there is a print of a map taken from an original 1893 geological survey featuring several local parishes, there is a wattle tree image which is taken from a painting of trees in Warrandyte by local artist Penleigh Boyd titled 'The Breath of Spring' (1919), and finally, there is also a print of the town of Warrandyte from 1945 taken from the personal sketchbook of artist Charlie Hammond. The thing I loved most about this one is that I'm pretty certain the property location is visible!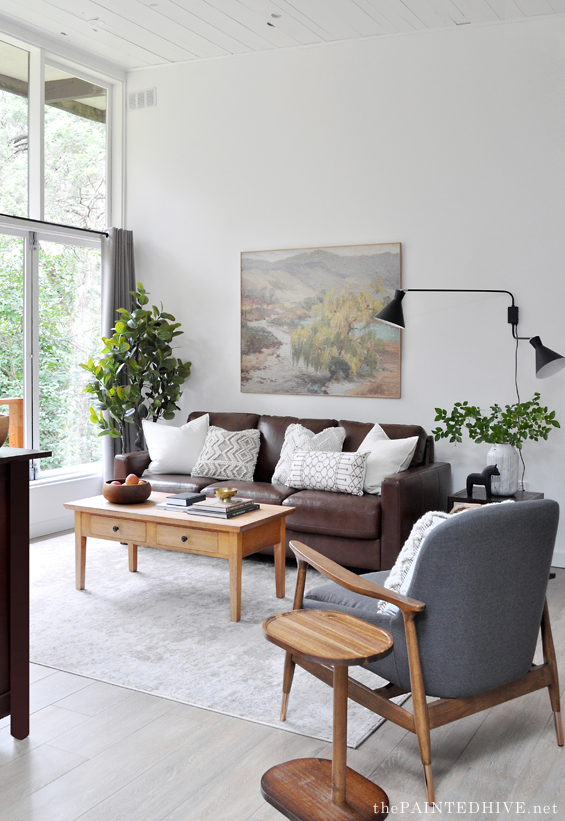 Because the vaulted ceiling gives so much height to the living room I wanted quite a substantial statement piece over the sofa. Again, I didn't have a heap of money so most off-the-shelf products were not an option here. But that was okay, because I wanted to create something custom with meaning anyway.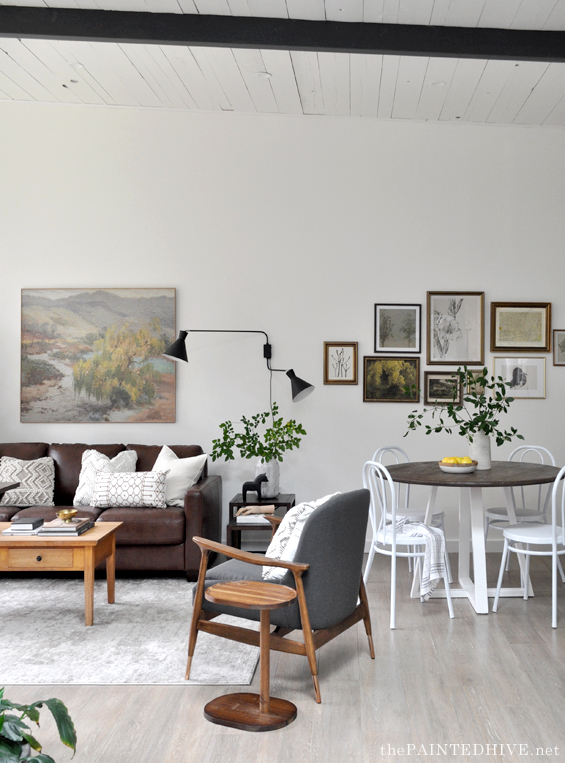 After quite a bit of research I settled on this landscape work which is taken from a digital image of an out-of-copyright painting by local artist Clara Southern. It depicts a bend in the Yarra River in Warrandyte itself!
The digital image I had to work from was very low resolution so I decided to treat it as an abstract of sorts. Upon close inspection the piece is quite mottled and painterly, though from a short distance away the subject becomes vibrant and apparent.
After I had edited the image as needed, I had it printed through AJ Wallpaper onto peel and stick canvas. This is the same company and product I used for the wallpaper in my parent's bathroom.
I didn't document the framing process sorry, however it was very easy. I simply attached the wallpaper to a sheet of MDF before boxing it out with some mitred timber trim.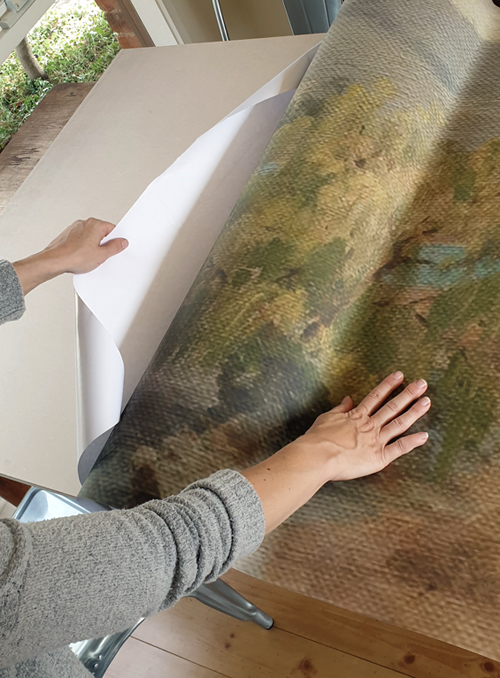 Here's one pic my daughter took of me attaching the paper to the MDF sheet.
For obvious reasons my client didn't want a "fussy" rug. Unfortunately none of the photos capture it very well, but this is the Oregon from AU Rugs which I picked up on sale for half price! It's a transitional style rug which has a distressed ivory and beige pattern which hides marks super well. It's also polypropylene which is easy to maintain and very hard-wearing.
The original floral armchair was kind of cool, but it was old and a little worn so my client wanted it removed. In fairness, it was also too large in scale for the space anyway.
I replaced it with this stunning Desmond Armchair from Castlery which is just so perfect in the space!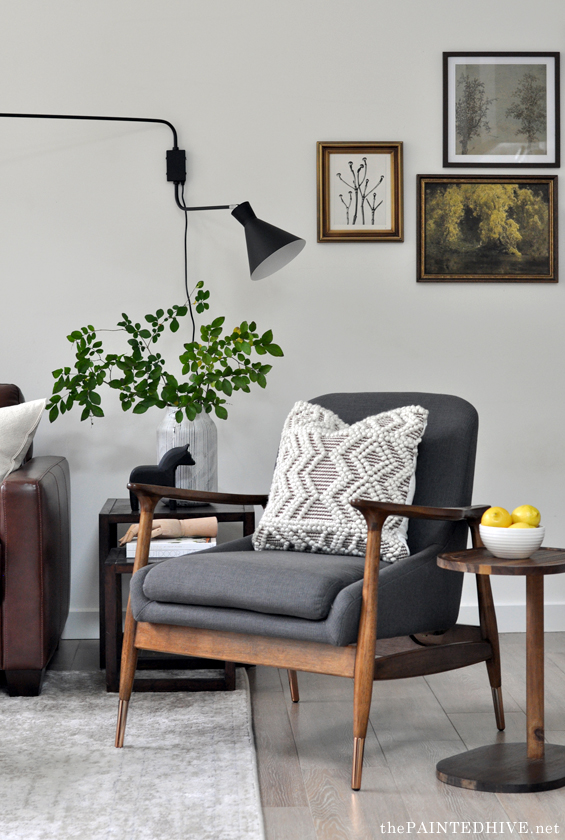 How awesome are the brass tipped legs?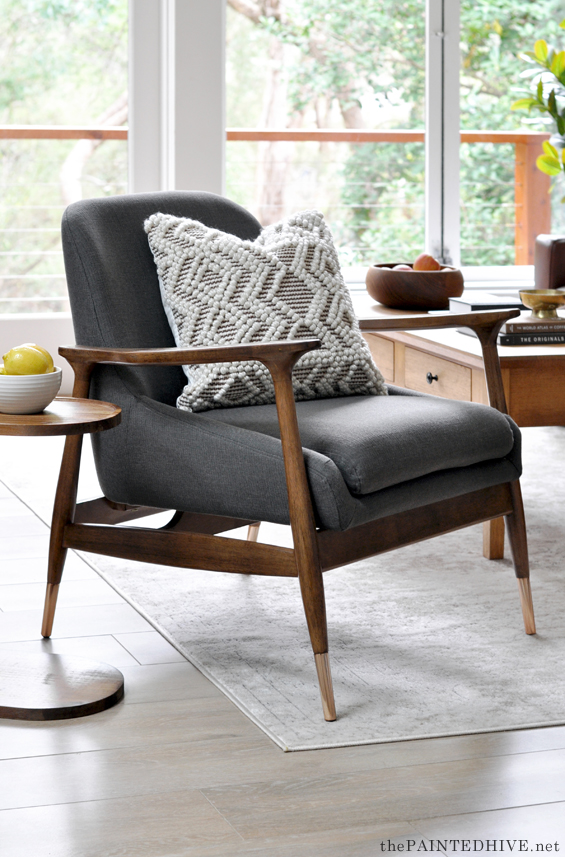 The charcoal fabric adds depth to the room whilst being forgiving in terms of general use, and as a bonus the seat cushion is even removable for washing!
Along with being just plain gorgeous, I also love the way the lines of the armchair play off the new wall lamp.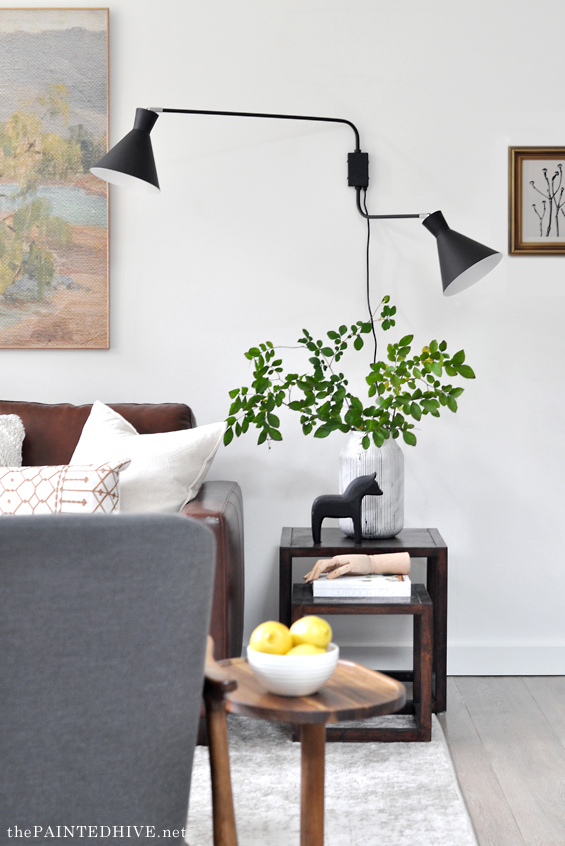 I'd been eyeing off this lamp at Bunnings for at least two years but never really had a good place to use it. Thankfully it's absolutely ideal in here to add that bit of architectural interest. In many ways I feel like it totally makes the space!
I'm sorry, though I can't find the lamp on the Bunnings website anymore, but my local store still had some last week. It's called the Verve Tori DIY Wall Light if anyone wants to try and track one down.
Obviously we retained the existing coffee table, which fits well in the space, and I brought in some simple side tables which can be moved around here and there as needed by guests (the cube tables were a Marketplace find, the oval stand was from Aldi).
I also added some new decor touches, including an array of coffee table books (some from Amazon, some simply from Kmart) so guests have reading material at hand.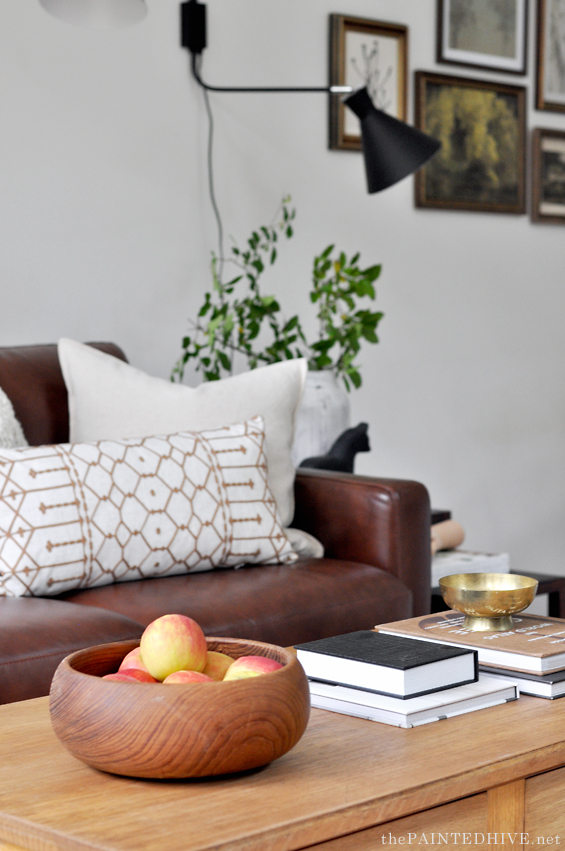 The cushions are a mix of IKEA and Kmart, with the embroidered lumbar one being from Manchester Warehouse.
So, here are some comparison pics…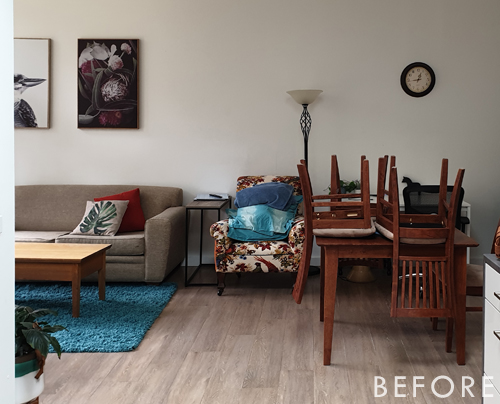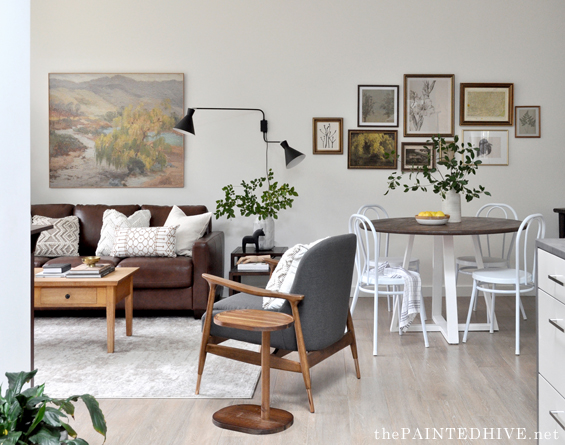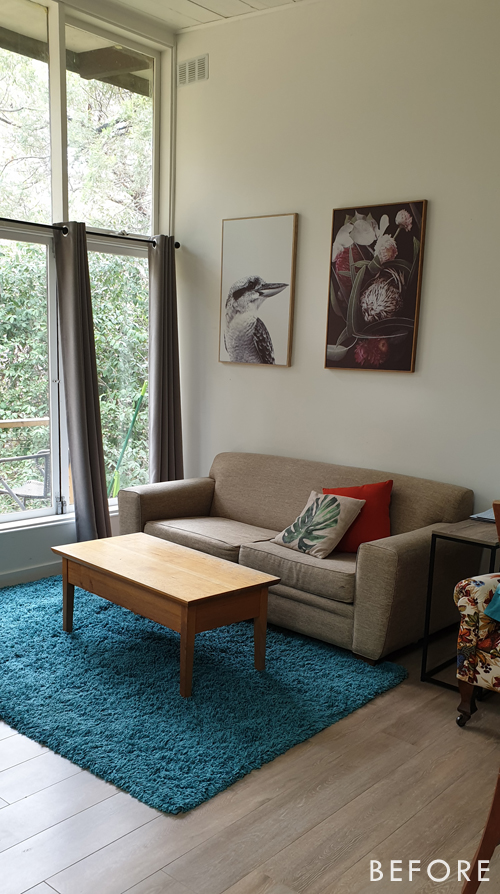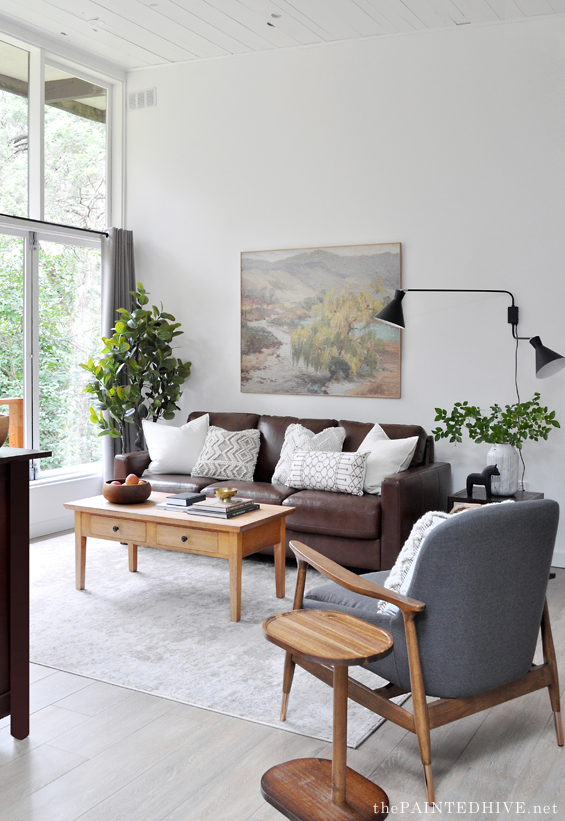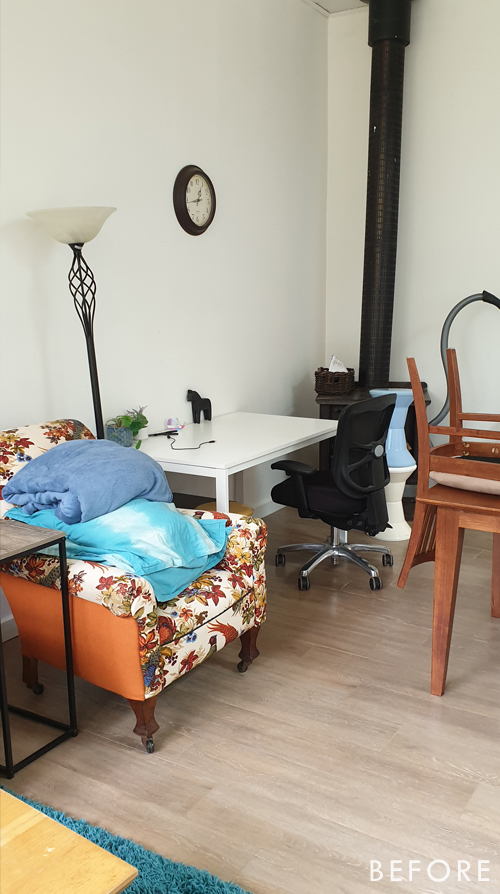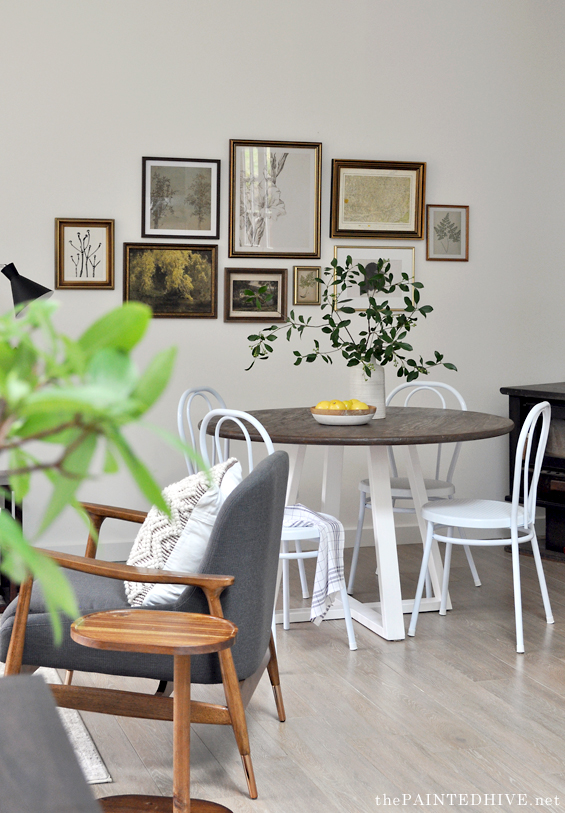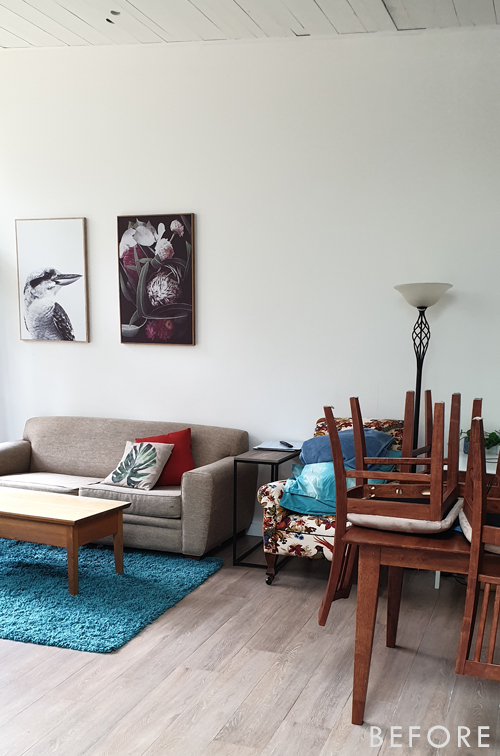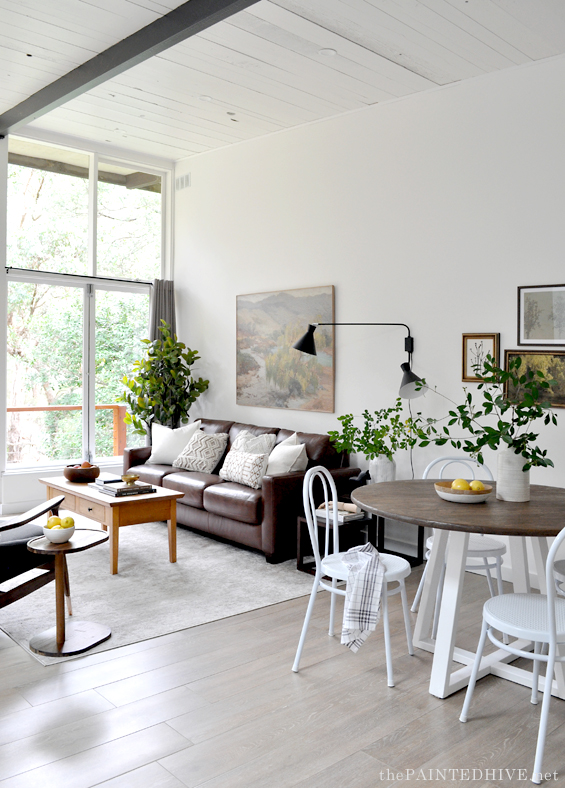 I hope you guys like it!
Sorry to interrupt the room reveals from my mother-in-law's house. As part of this bungalow makeover, I told my client I would provide her with my after photos so it was a priority to get them all ready. And once they were I just couldn't wait to share them with you!
Along with the living and dining space, I also refreshed the bedroom so will share that area soon too!