It may have been a long time coming but the bathroom reveal is finally here!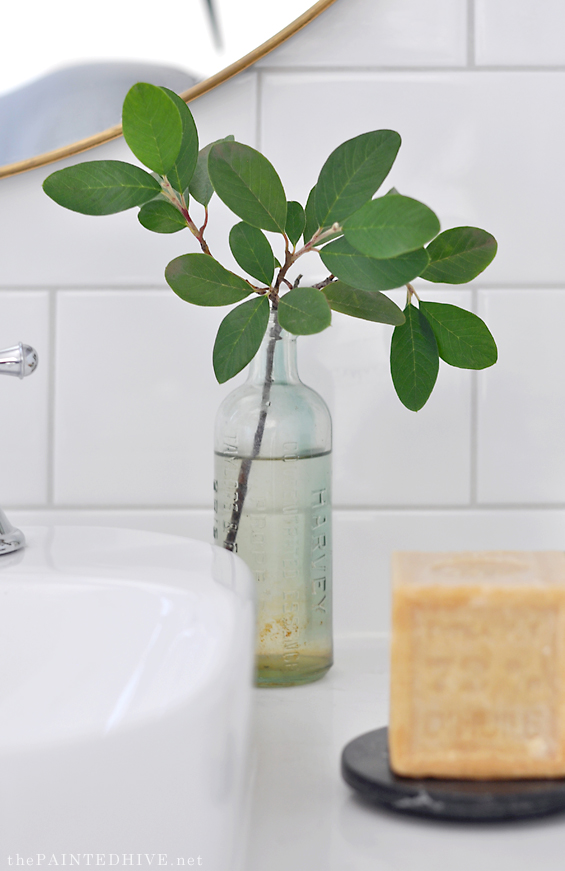 Just to recap, and for anyone new to my blog, this bathroom is part of an upper level suite extension at my parent's house. So, in a departure from my usual "make the most" style of decorating – where I tend to cosmetically refurbish dated, existing spaces – this room actually needed to be created from scratch. Yikes!
It was a slightly daunting and weird experience to forgo the need to upcycle and DIY pretty much everything, and instead look at using mostly brand new stuff (new stuff is mildly foreign to me)! But even in a new build, there's still always room for some creative little projects, and of course, being budget savvy never goes out of style!
Although my parents trust me (way more than they probably should – LOL!), they both had some strong ideas about the design direction of this space and weren't about to sit back and let me run wild with it – which is wise given their conservative taste. The resulting room is a transitional mix with timeless bones, an overall classic feel and some more unique ephemeral touches, which can be changed out from time-to-time. I hope you guys can appreciate what we were trying to achieve.
I've covered most of the bathroom progress in my previous posts, however will touch on some aspects as I share this reveal. For your convenience I've linked to all of the products and projects at the end of the post. And, as always, feel free to ask any questions if you'd like more info about anything in particular.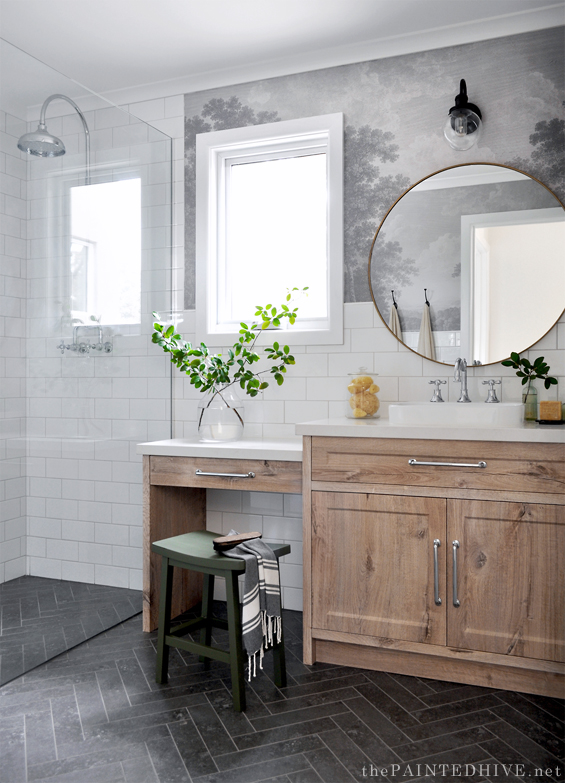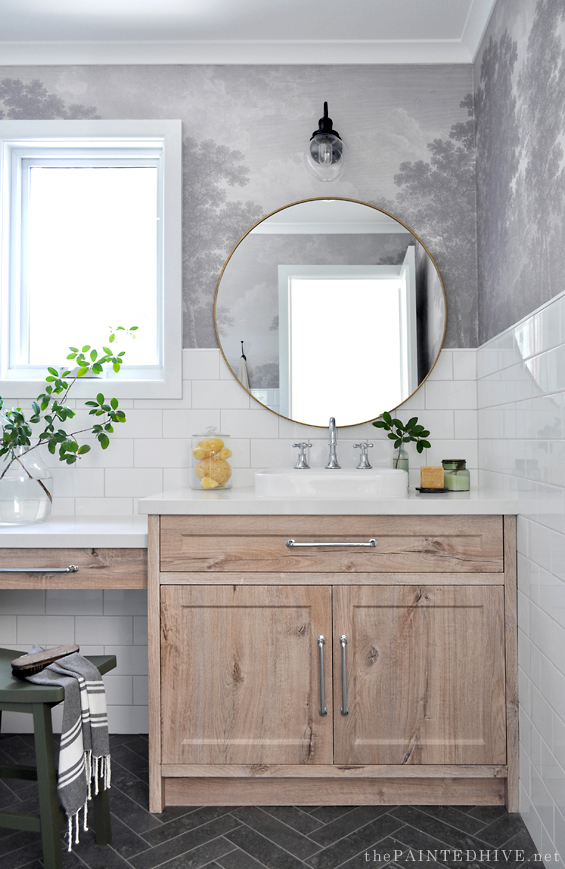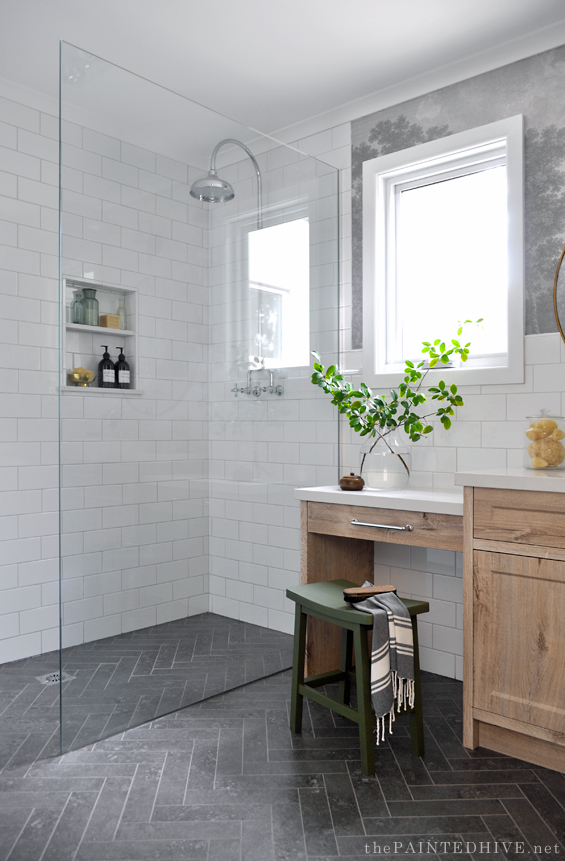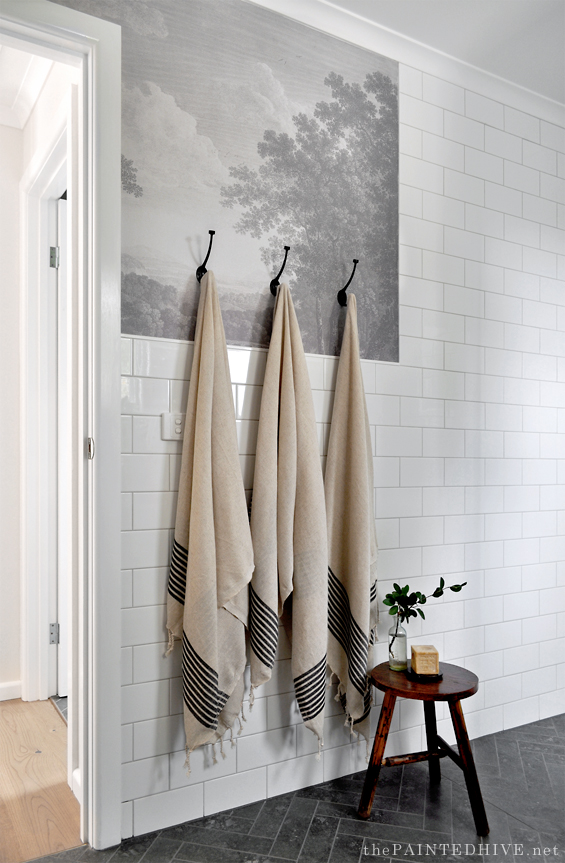 I say it every time, though for me there's always some doubt when a room is in progress, so when things come together nicely in the end it's such a good feeling!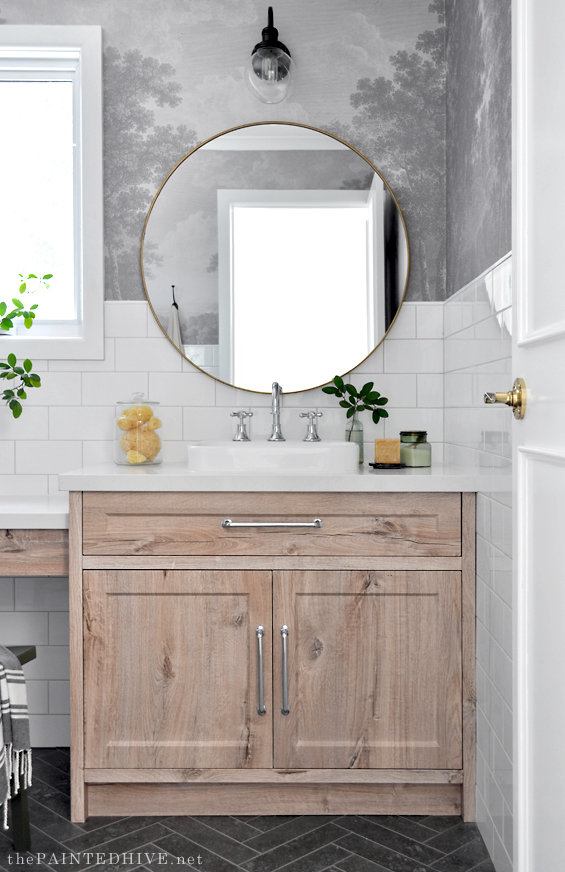 The vanity was one of the more major 'unknowns' as we designed it ourselves (which is always a little dicey) and were limited in terms of the finishing materials we could choose.
The timber grain vinyl was a bit of a risk though it looks so good and adds just the right amount of warmth.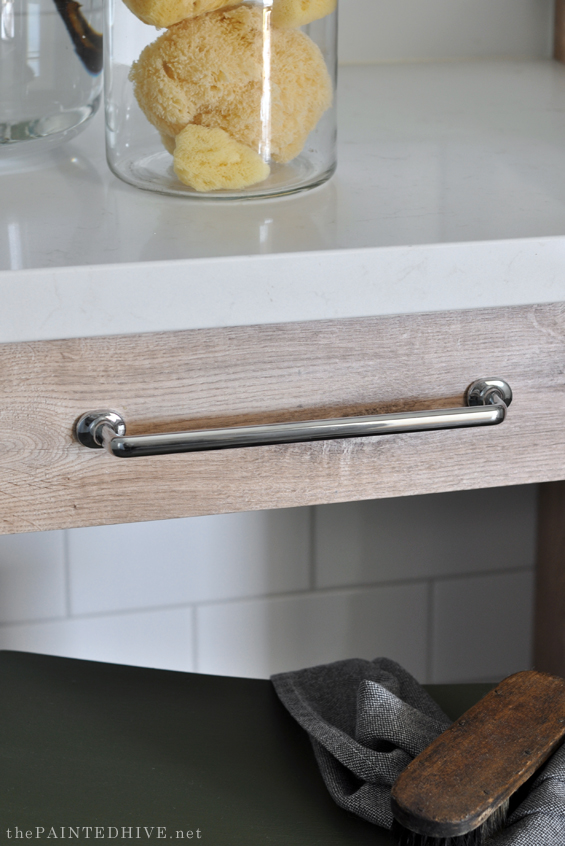 To finish it off we added these simple, almost utilitarian, handles from Handle House which I just love! I was originally going to use black handles (and even tried some out) though they felt too jarring. I thought chrome would be lost against the timber grain vinyl, though their subtlety is just perfect!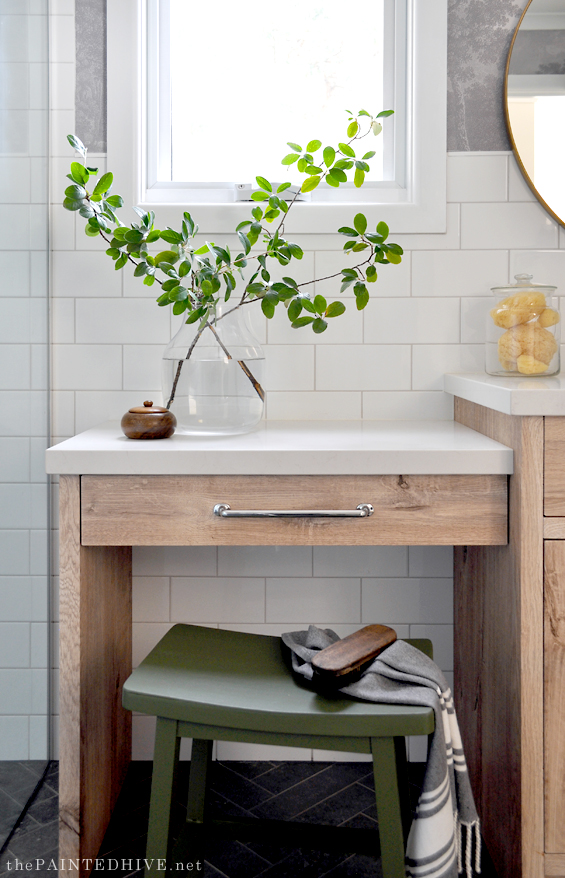 We plan to place a free standing mirror on the make-up bench eventually but just haven't found the right one yet.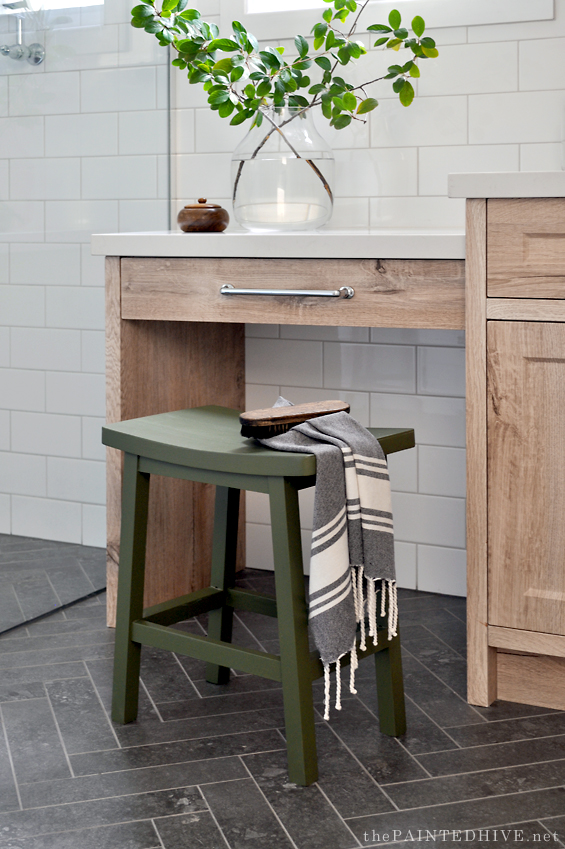 And my basic hacked Kmart stool is still going strong!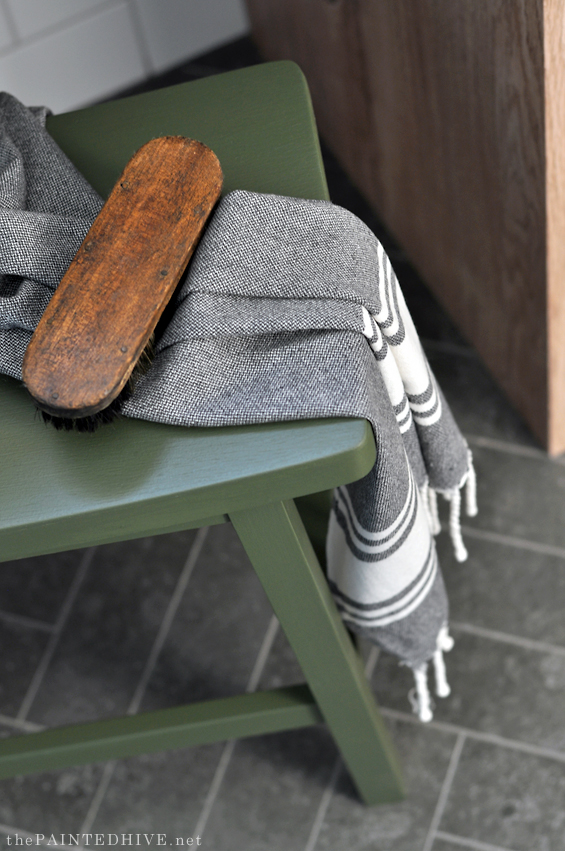 Without a doubt the riskiest element was the landscape mural, which I custom designed.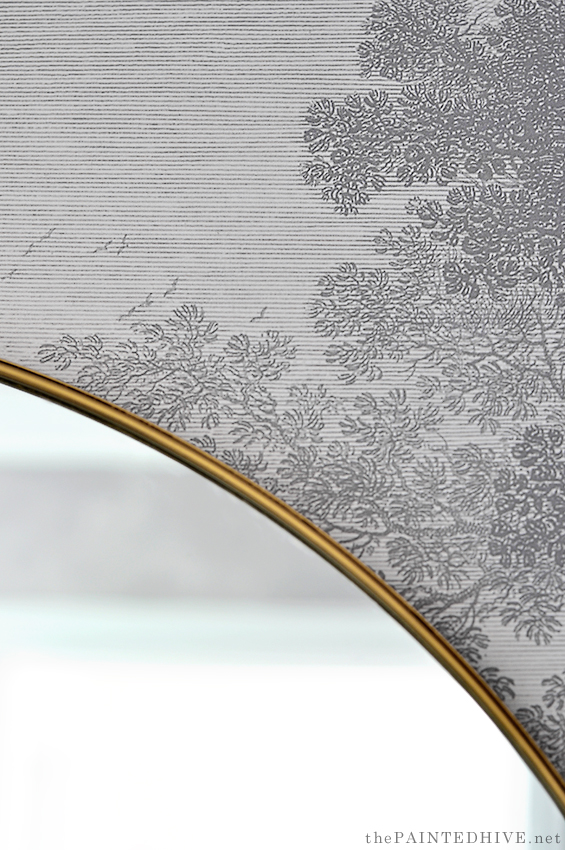 Having never done anything quite like this before, I really had no idea how it was going to turn out. There are probably a few little things I might change if I was going to do it again (mainly relating to the contrast and tone of the print) but that's just me being fussy. It's really lovely as is, and gives the room such a unique vibe.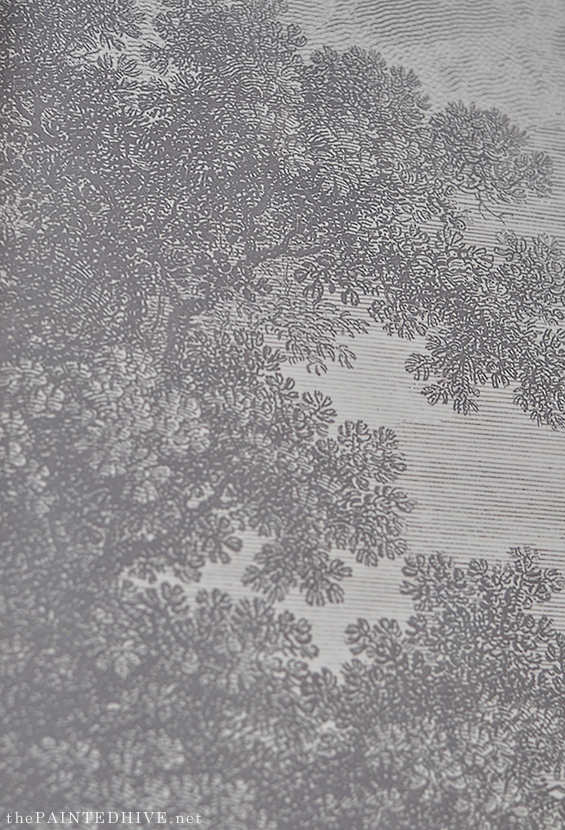 It cost a total of around $280 to have it printed through a company called AJ Wallpaper, which, based on all of my research, is a great price. Wallpaper can be sooooo expensive!
Unfortunately the wide-angle photos don't really do justice to the detail in the print so you need to use your imagination a little.
Over the vanity I love the way the trees seem to cradle the mirror.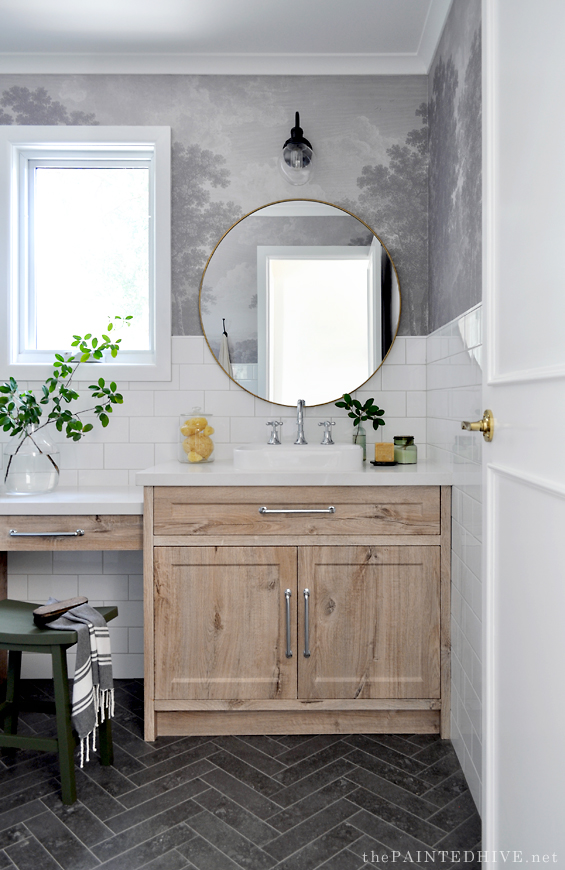 As promised months ago, I'll be back to share some free printable large-scale landscape images you can use to make your own wallpaper or art!
The shower niche is nice and simple with its pencil tile border, and Caesarstone shelves which match the vanity top.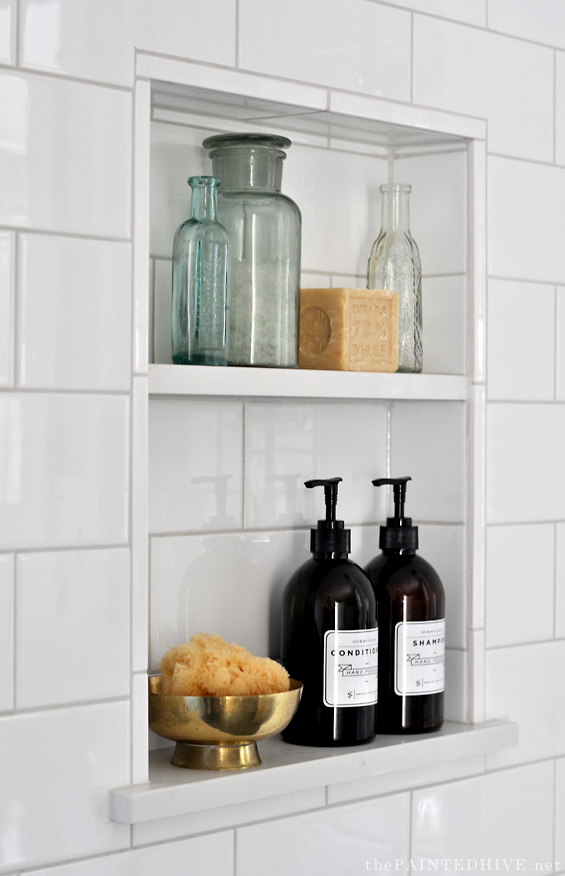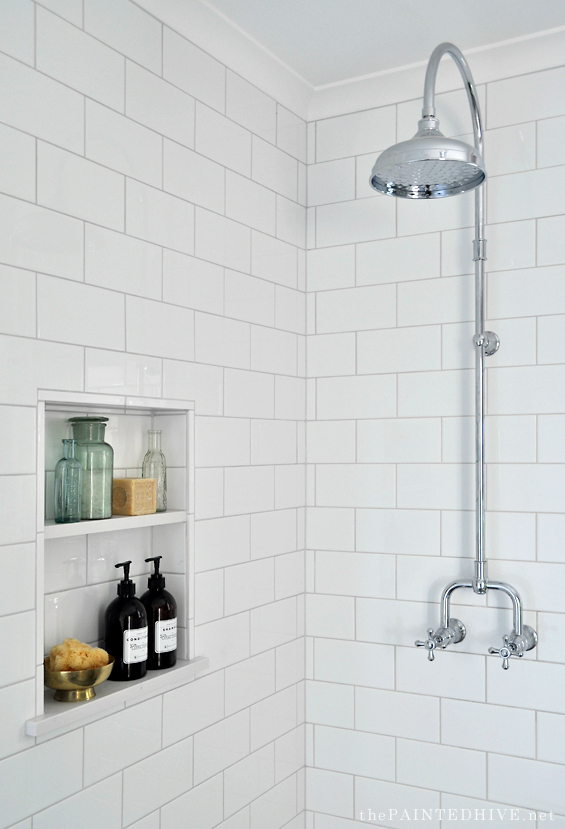 And I adore these static cling labels I found on eBay (I simply removed the stickers from some supermarket bottles and attached these instead).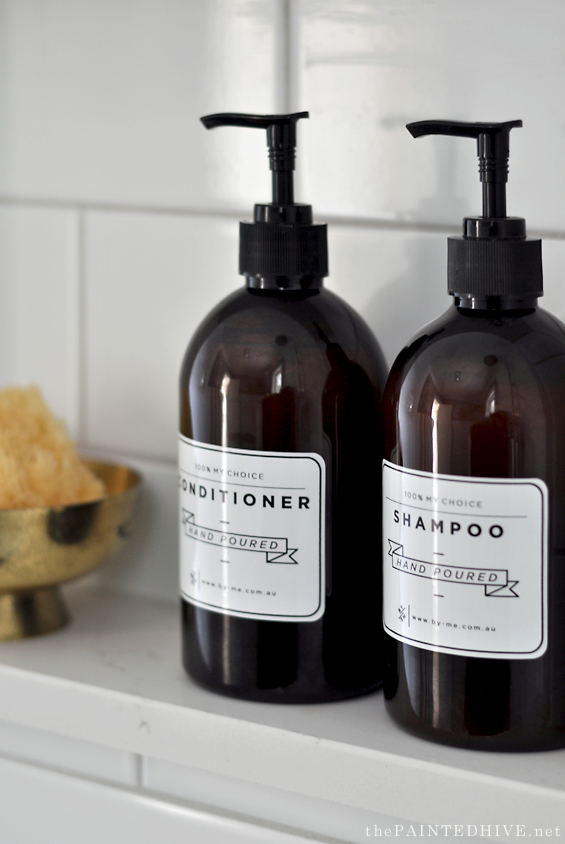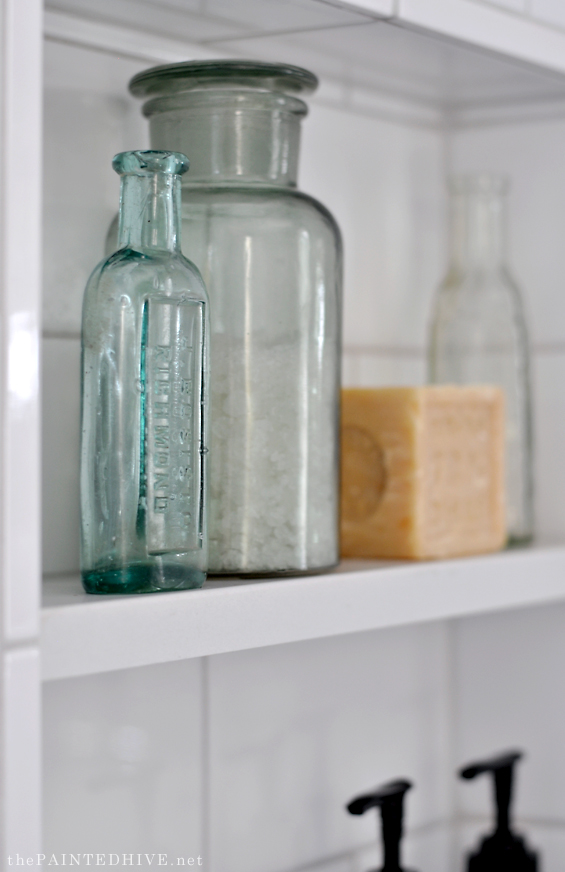 Of course I found a bit of room for some of my blue-green glassware!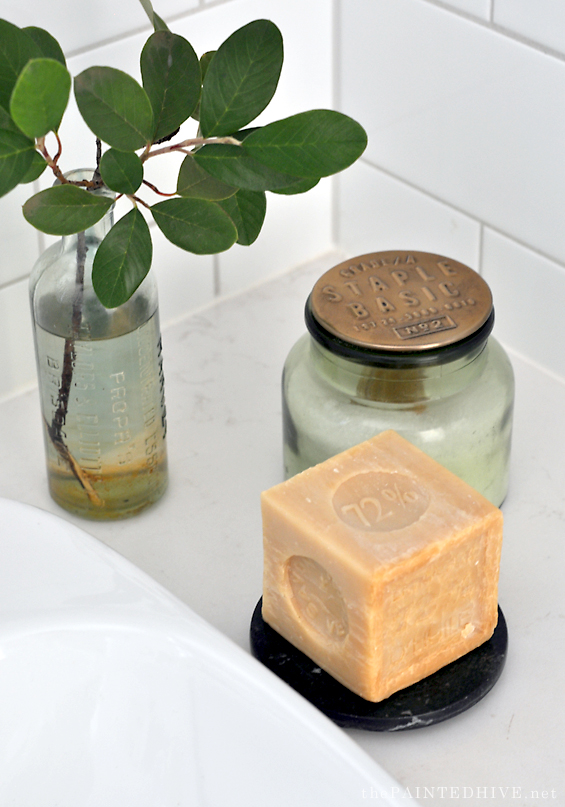 Deciding on tiles was surprisingly simple. My parents knew they wanted classic white subways on the walls from the start, and choosing to pair them with a mottled charcoal herringbone on the floor just came easy.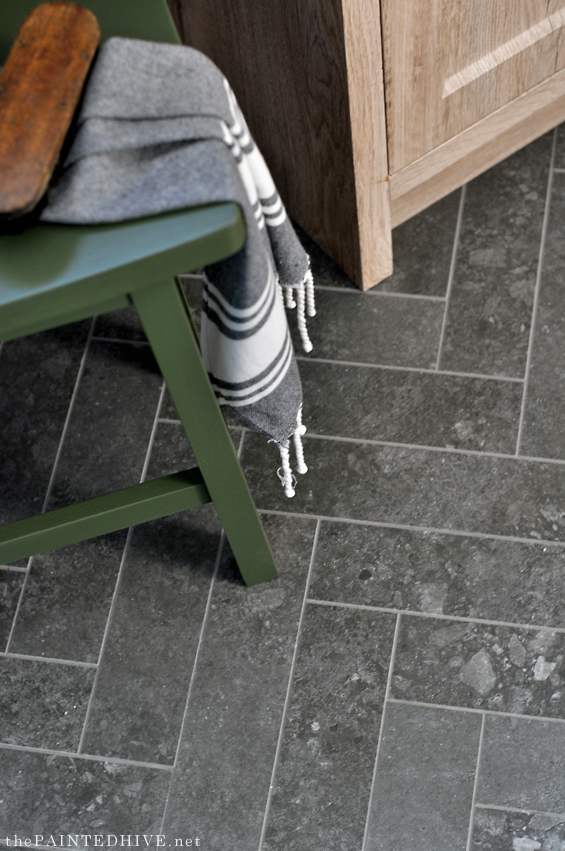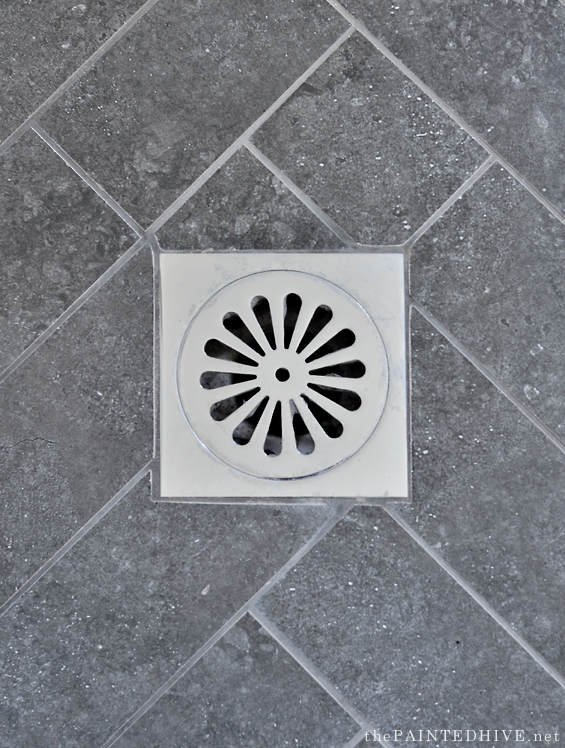 It's a great timeless combo which works beautifully to provide both freshness and depth.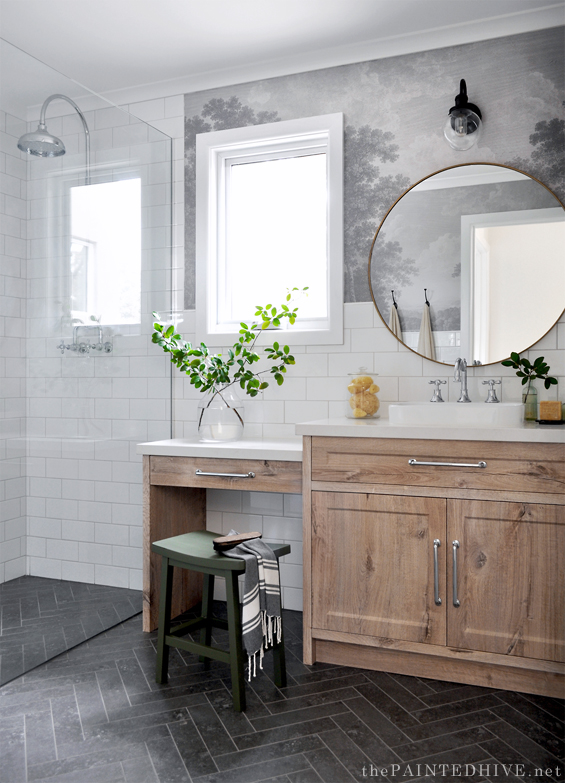 It's easy to get caught-up on the idea that every individual item in a room needs to make a statement. And, I must admit, when I first saw this very basic vanity basin, I was a little underwhelmed. But, I knew that in the context of the space as a whole, something simple like this would work well to 'sit back' as needed. And it's just right.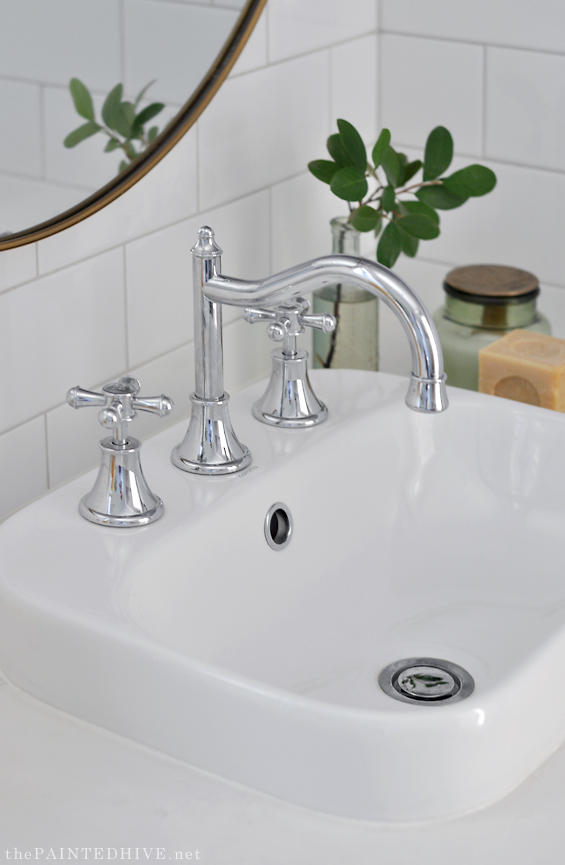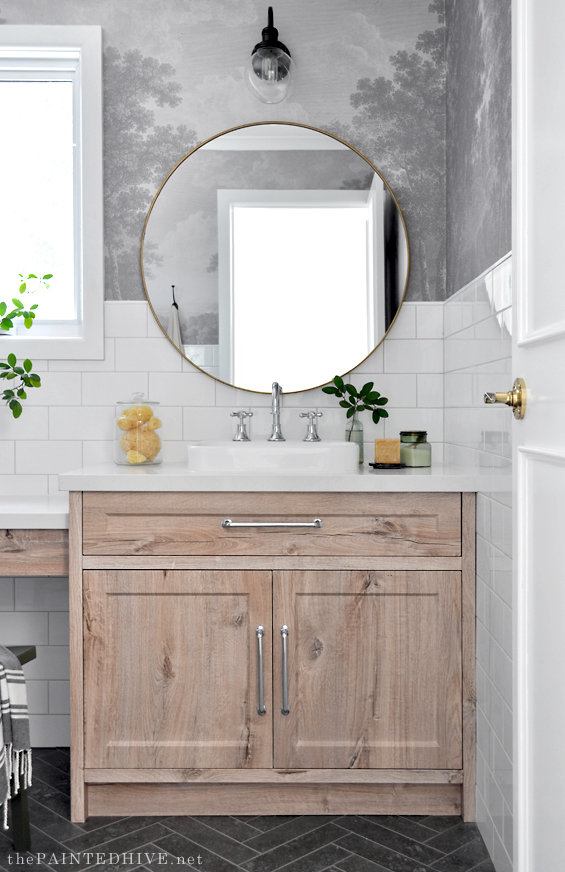 Initially, I wanted a wide oblong mirror for this room, though we couldn't find anything affordable. I contemplated DIY'ing something, but in the end it was just easy to use this round mirror from Kmart for now.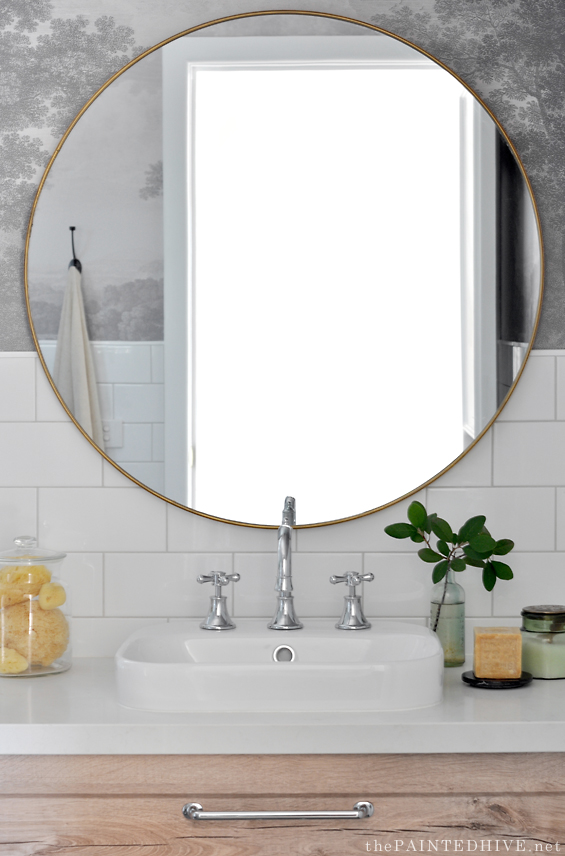 The faux brass finish was a little dull so we coated it with 'Gold Leaf' Rub 'n' Buff for a bit of extra oomph.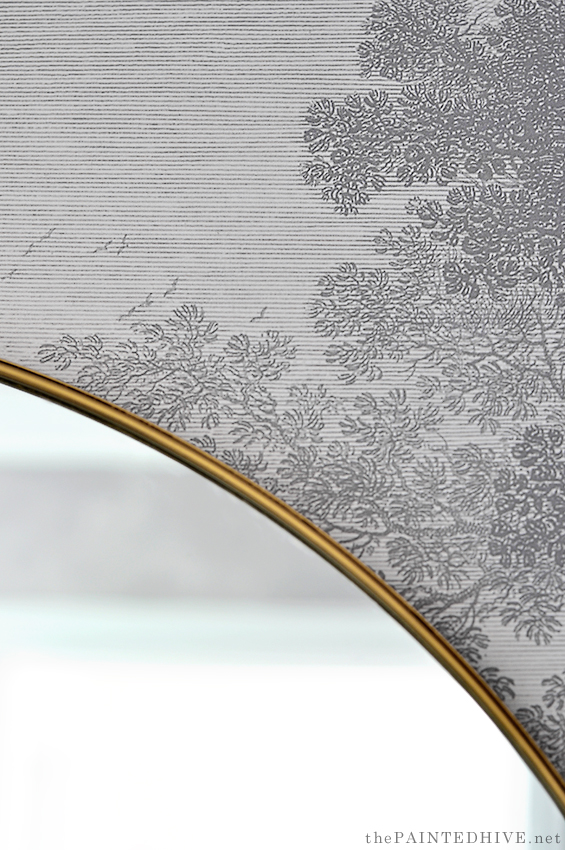 The sconce light is simply from eBay.
It originally had an antique brass finish, which I thought might work, but in the end it was too much so we painted it black for simplicity.
And it works well to reference the classic towel hooks on the opposite wall.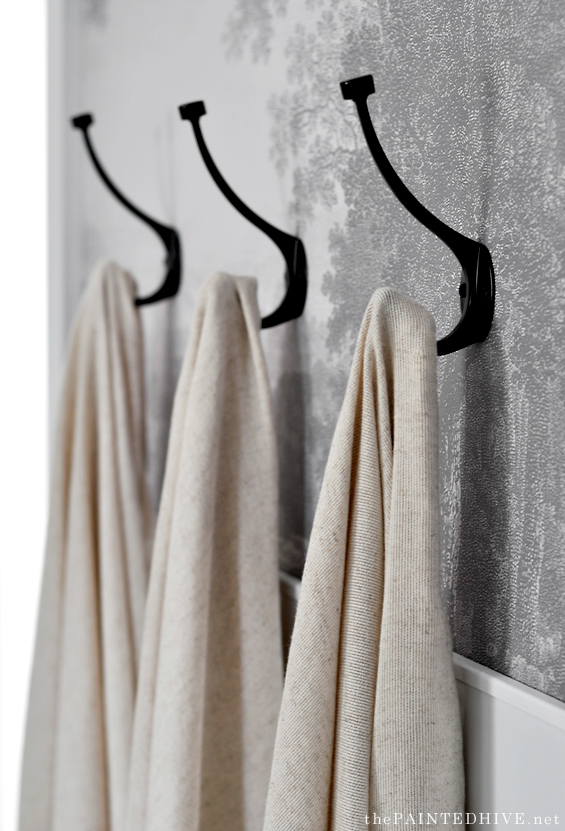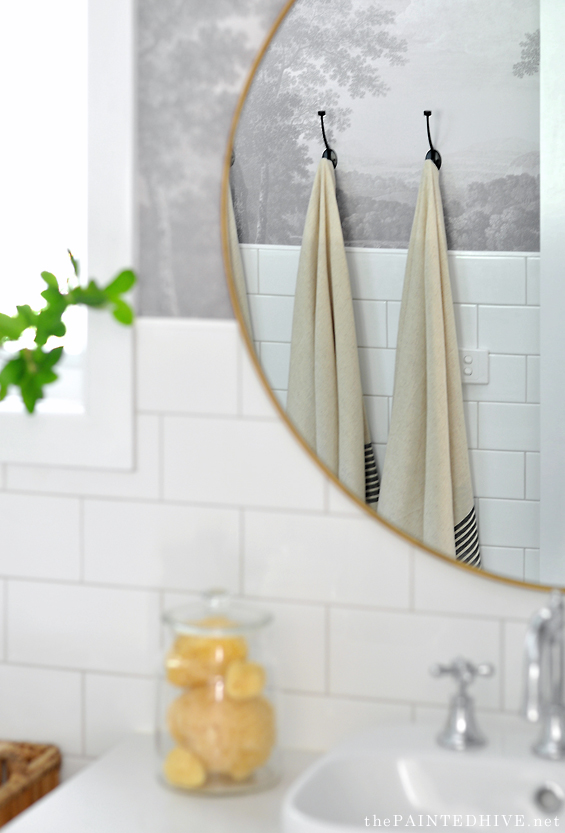 It feels so strange sharing a room reveal without any before shots!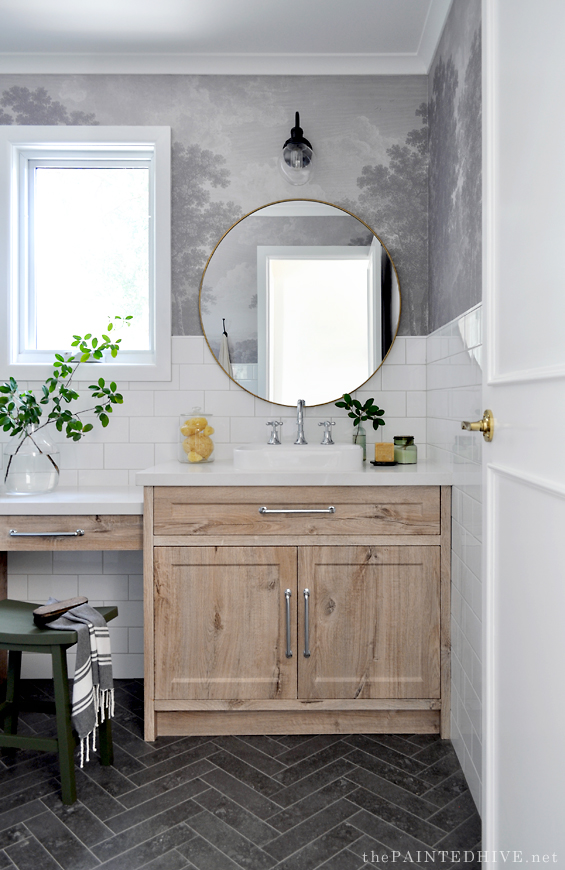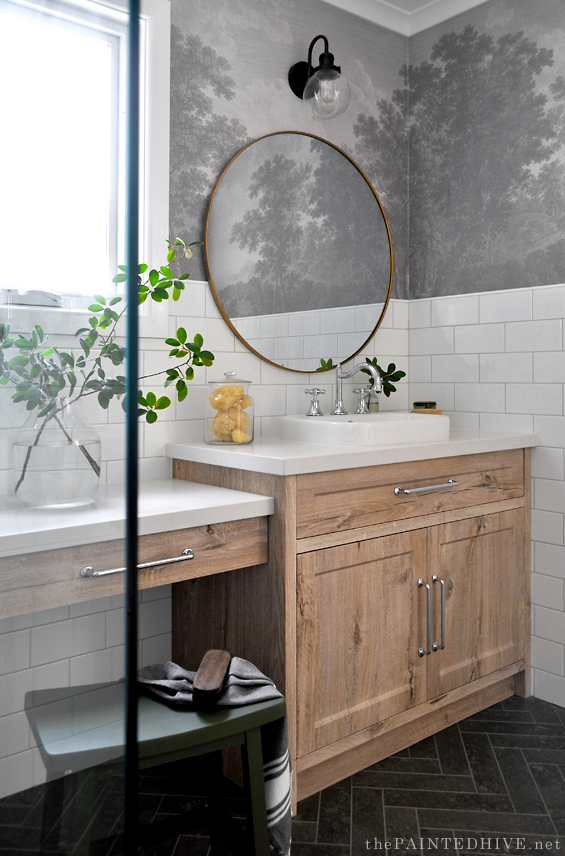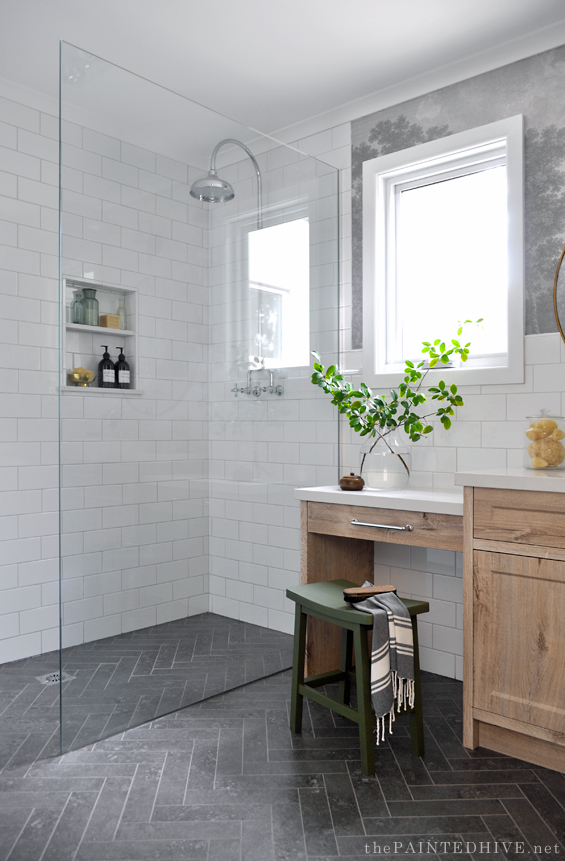 Although it looks quite luxe and custom (if I do say so myself – LOL!), there's actually nothing expensive about this bathroom. My parents did splurge a little (by our standards, anyway) on the tapware though it was still far from extravagant. For the most part the entire space is actually quite budget savvy. Hopefully it goes to show that with a bit of resourcefulness, patient shopping and thoughtful compromise you can achieve a champagne look on a beer budget!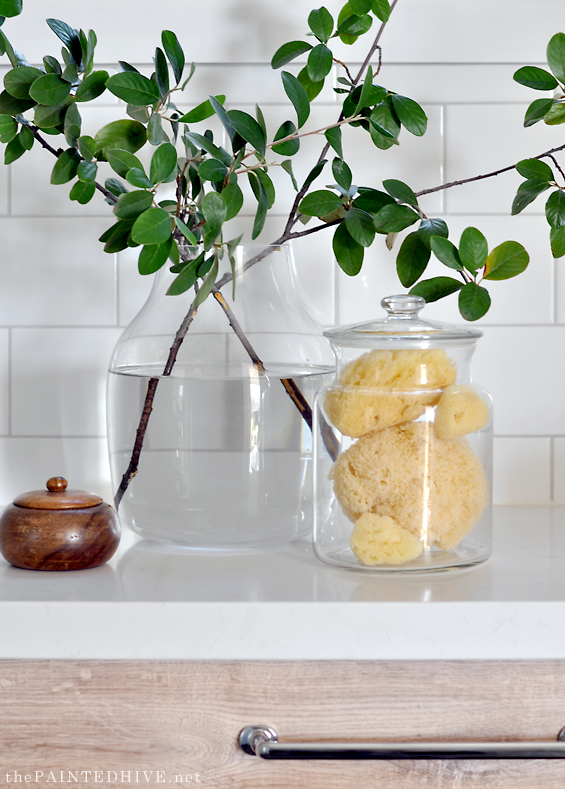 Hope you like it!

PRODUCT & PROJECT LIST
Floor Tile – Conazzo Charcoal Brick Matt (300mm x 70mm) with Charred Ash Grout ($49 square meter)
Wall Tile – White Subway Gloss (200mm x 100mm) with Misty Grey Grout ($22 square meter)
Wallpaper – DIY Custom Designed Vintage Mural Printed by AJ Wallpaper ($280 total)
Shower Glass Panel – Custom Manufactured ($500 approx.)
Vanity – Custom Designed in Gislaved Sebastion Oak Vinyl with Frosty Carrina Caesarstone Top ($1,200 approx.)
Vanity Handles – Minyana Cabinet Handles from Handle House ($12 each)
Vanity Stool – Kmart Hack ($30)
Sconce Light – Round Sphere Wall Lamp from eBay ($55)
Shower Tapware – Phoenix Nostalgia Exposed Shower Set ($730)
Basin Tapware – Phoenix Nostalgia Basin Set ($420)
Basin – Caroma Luna Inset Basin ($130)
Shower Waste – Sunny Design Brass Waste ($12)
Mirror – Large Brass Look Mirror from Kmart ($30)
Towel Hooks – Adoored Black Deco Robe Hook from Bunnings ($8 each)
Towels – Linen Turkish Towels from Etsy ($12 each)
Soap Blocks – Savon De Marseille ($12 each)
Shampoo & Conditioner Labels – By Me from eBay ($3 each)
Note that the shower panel and vanity costs are labelled as approx. because they were general inclusions in the build contract so their prices weren't individually specified.

Catch up on all of the other suite extension posts HERE.