Hey all! Just chiming in with an easy, non-earth shattering, little spray paint project…
As with our two built-in robes (one in the master bedroom and one in the nursery) which were originally fitted with ugly beige metal tracks and surrounds, we also have an external sliding door complete with the same unsightly hardware with the added bonus of a clunky, though kinda necessary, locking handle. The sliding door forms what is technically a side access-way (into our soon-to-be-finished home office space) though due to logistics, more often than not, it's actually used as the house's main entrance.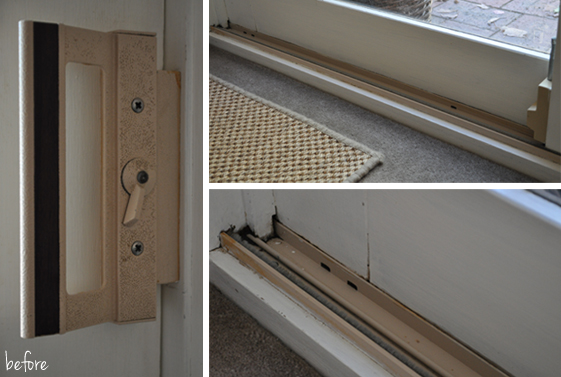 Sorry I don't have a shot of the door in its entirety – at the moment it's kinda tricky to photograph though when I reveal my home office I'll include some better 'whole' images. Anyhoo, as you can see, along with wearing messy remnants of timber stain and paint from the previous home owners, the beige track and handle are clearly old, tired and just plain yuk. In the future I might consider replacing the sliding door completely with some lovely french double doors though for now I'm simply after a quick, affordable freshen-up.
When I first decorated our master bedroom I transformed the metal robe surrounds with some white spray paint…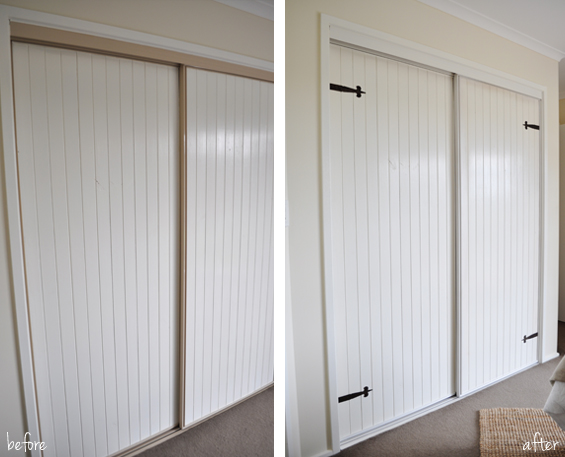 I did the same thing in the nursery with black spray paint…
So again, rather than fork out unnecessary cashola to replace our perfectly functional sliding door track and handle, I decided to make the most of what we already had and opt for an easy, budget cosmetic update.
I considered using a metal effects paint (like antique bronze or iron black) though instead decided to camouflage the handle and track by spraying them white to match the existing door frame. This made the painting process relatively easy as over-spray wasn't too much of a concern. I simply cleaned the metal thoroughly, taped-up the nearby carpeted areas, put down an old towel and carefully painted everything in situ.
I applied around four or five fine coats of gloss enamel spray paint from all attainable angles until the coverage was even and thorough. And, no, the spray paint wasn't colour matched to the existing door frame. Using an aerosol is pretty forgiving so I just bought an off-the-shelf white and it blends in seamlessly.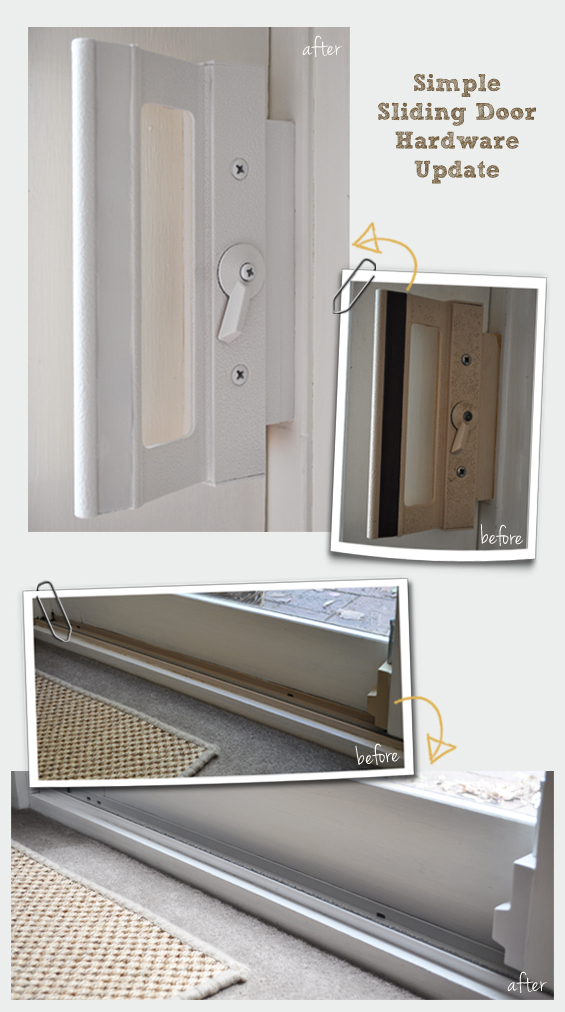 It's a subtle change, and whilst the door isn't suddenly beautiful, it's no longer an out-dated eyesore. Finishing the hardware to match the surrounding architraves makes for a much more cohesive and clean overall look, with the previously prominent handle and track now 'disappearing' into the woodwork (at least I like to think so).
I completed this project around a month ago now. We use the door frequently and so far the new paintwork is holding up great with absolutely no signs of chips or wear. As a cheap and easy temporary fix I'm pretty happy with how it turned out. Gotta love spray paint!
Like I mentioned earlier, it's certainly not an earth shattering project (well, hey, I guess I can't be super fabtabulous all the time :-) though it is a very do-able, simple yet effective one.