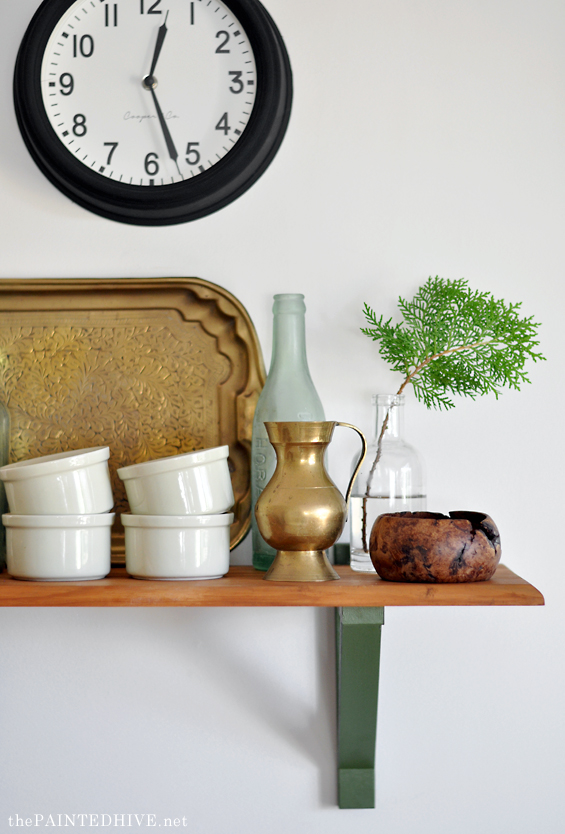 I must admit, when I posted about this impromptu room refresh last week and received lots of excited "Can't wait to see!" messages, I felt a little worried.
Aside from the fact the budget was just meager, the room itself was quite nice and neutral to begin with. This meant there was no call for any particularly major changes so the transformation was never going to be super astounding (some of you may even struggle to spot the differences!). It might sound strange, though I find that the most striking makeovers tend to begin with the most hideous of spaces! I guess that makes sense given they offer so much scope for change.
Here, on the other hand, it's all in the details. Well, mostly.
As mentioned in my previous post, this is my parent's little kitchen.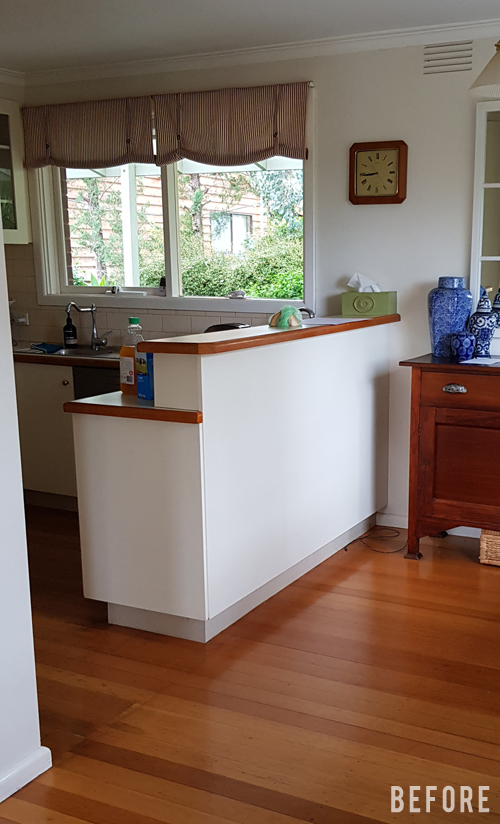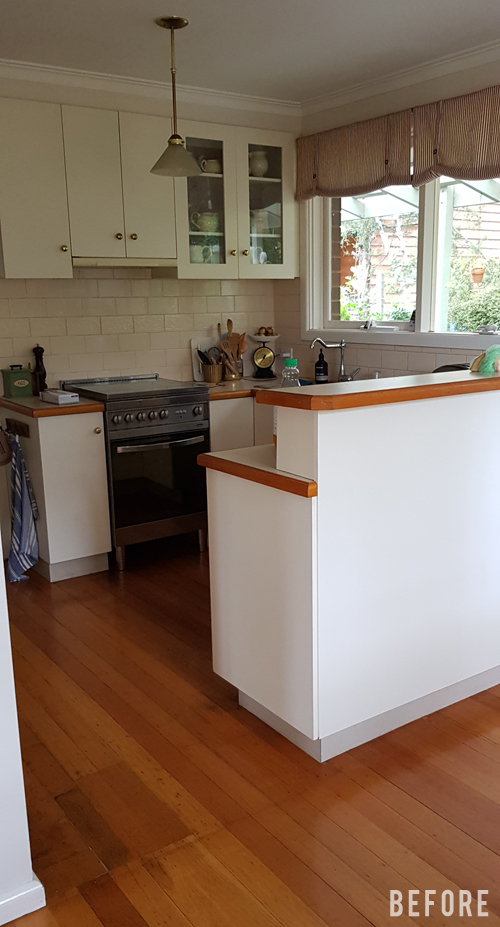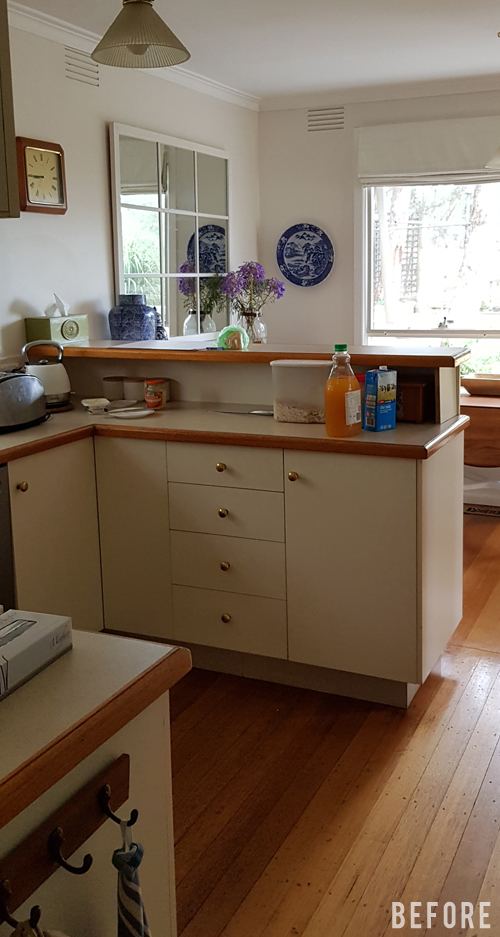 After 25 years mum decided a freshen-up was in order so she took to it with a circular saw late one afternoon. True story.
She has plans to undertake a more extensive remodel in the next few years so this is just an interim solution.
I helped with a few minor decisions, a couple of little projects and the final styling, though overall this is mum's project.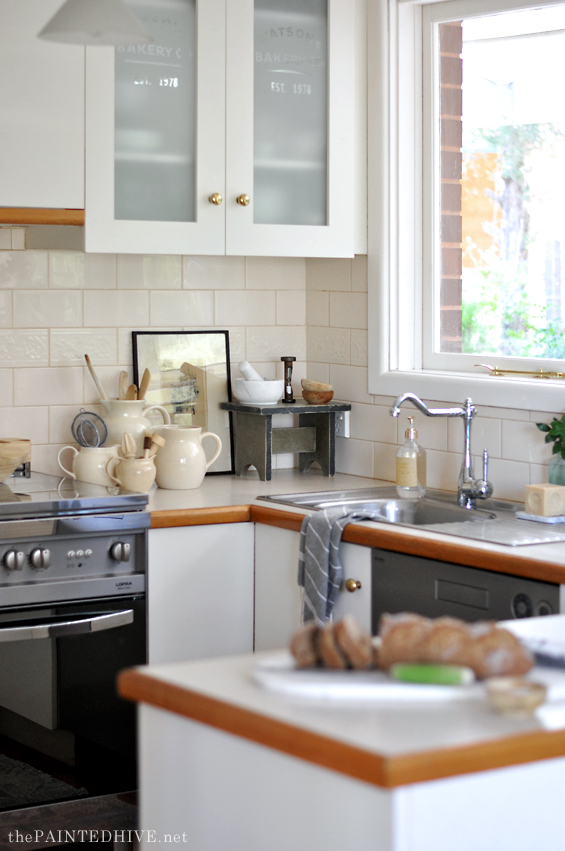 And she's thrilled with the outcome! Although the changes are only subtle, they've had a big impact on how the space both feels and functions.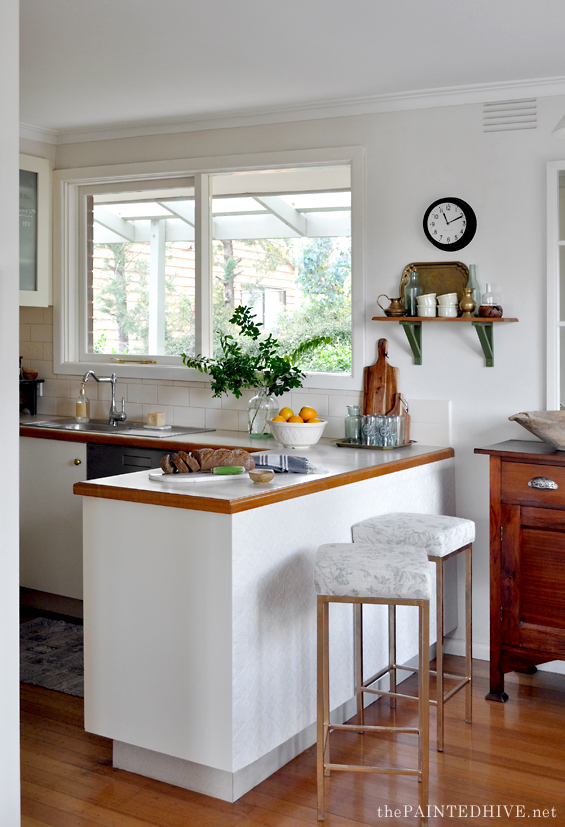 The big change (and where the circular saw comes in) is the re-imagined peninsula.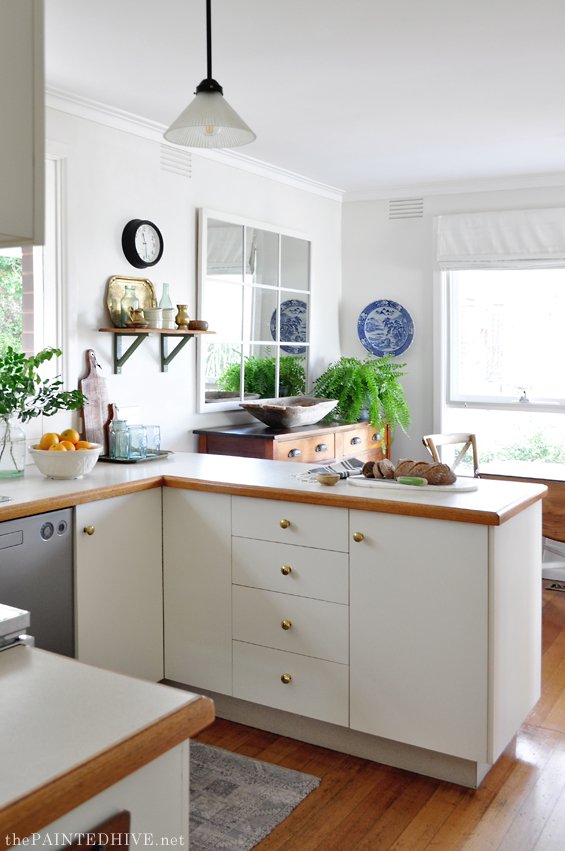 Where there was once a dated raised bar, obstructing sight-lines and further constricting the already tight kitchen, there is now a spanning benchtop which opens the kitchen up (from both sides) and invites people to gather. It's hard to grasp the impact from the photos though it really is a game changer.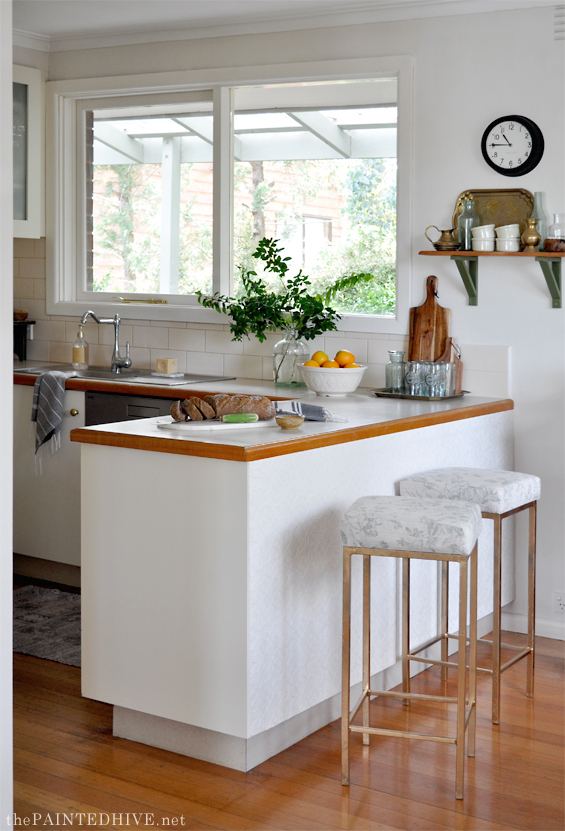 Due to the way the raised bar was originally constructed, mum worked out she could remove the entire panel, cut it down, then screw it back on again. She then carefully prized the timber moulding from the discarded bar and attached it to the existing benchtop to continue the trim line. To finish she covered the "new" panel with some paintable wallpaper (it's Anaglypta 'Waxwell' which I bought a few years ago from eBay – she only used around 1/5 of the entire roll). Once painted the same colour as the walls (Dulux Antique White USA) it looks just like pressed tin!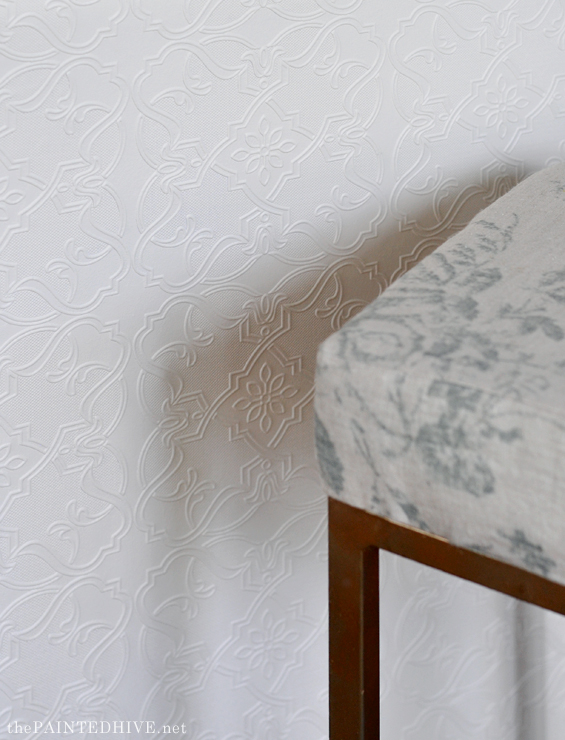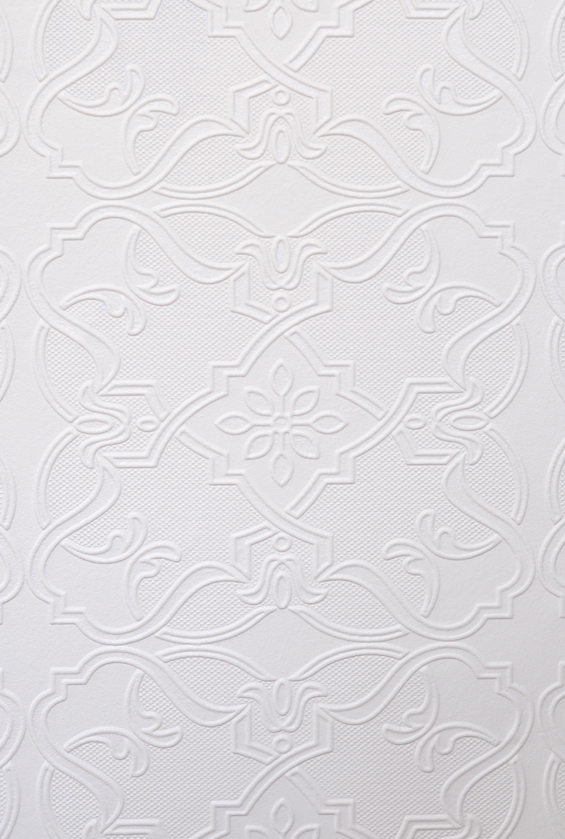 Although, like the previous raised bar, there is no over-hang on the new bench, it's still a great little spot to sit. Mum had two old school stools in the shed so decided to renew them with some gold spray paint (Dulux Duramax Bright Finish in Bright Gold) and fresh upholstery.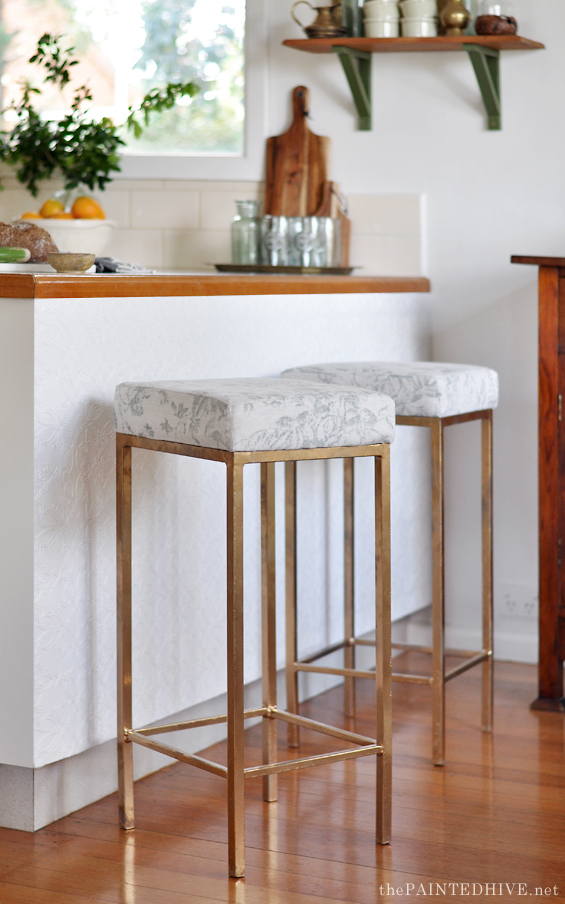 The metal legs were badly pitted so the spray job isn't perfect though it does the trick.
For the seat she used thick foam from an old ottoman and sewed covers to give them a more tailored look. The fabric is actually a linen table runner from TK Maxx. I love the distressed feminine design.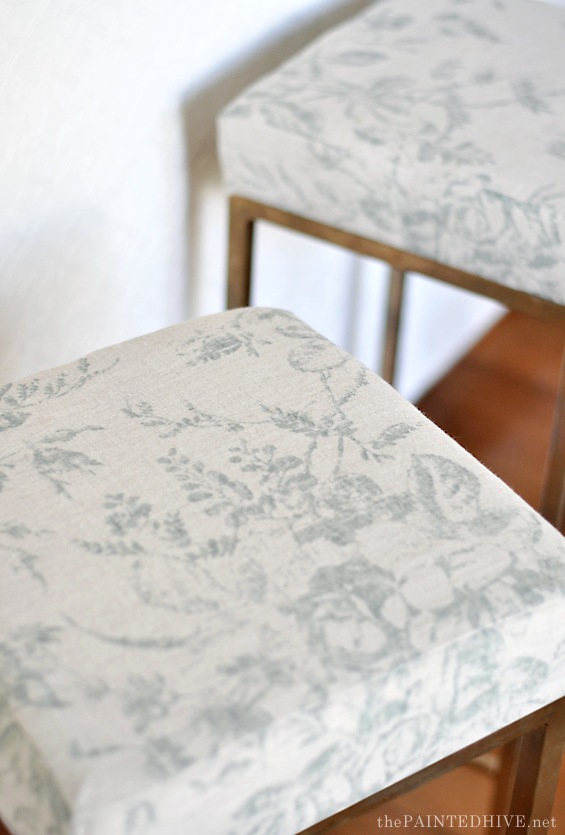 A subtle detail which is easy to miss is the change we made to the glass fronted overhead cabinet.
Mum decided she wanted to re-claim that cupboard, which had only ever been used purely for display purposes, as a space to house all of her regular crockery. Though she didn't want to have to worry about keeping it neat all the time.
Our solution was a bit of an experiment.
At first we were merely going to frost the glass, though then decided to try adding a vintage style graphic. Almost like the glass had been reclaimed from an old store or something.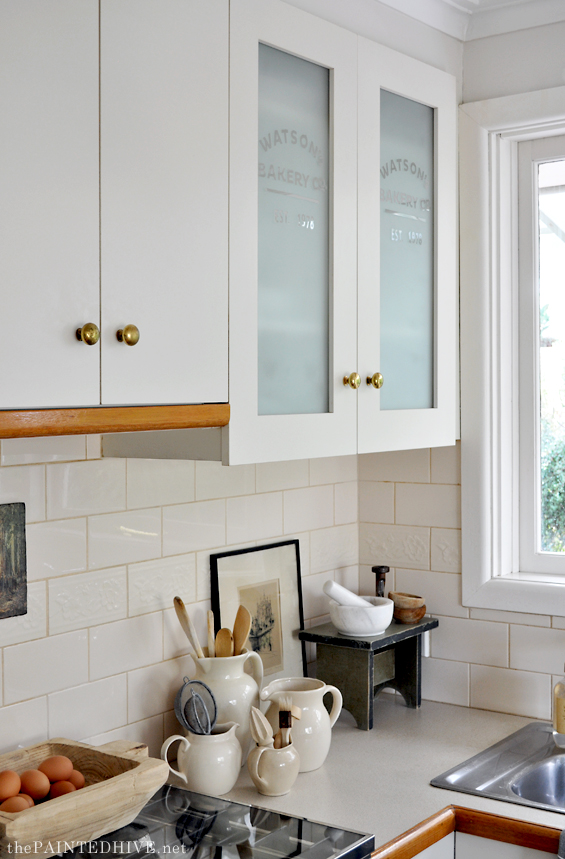 We cleaned the glass, attached basic alphabet stickers in a simple design (Watson's Bakery Co. Est. 1978 – 'Watson' being my parents surname, '1978' being the year they were married), taped off the door surrounds to protect them from any over-spray, then coated the glass with frosting spray paint (Dulux Duramax Frosted Glass Effect).
Once the paint was dry we carefully peeled the stickers off to reveal the design. I was skeptical though it actually looked pretty cool!
YOU CAN NOW FIND THE FULL TUTORIAL HERE
Like I mentioned, it's just a subtle detail, and can only be properly seen on certain angles, though it adds a nice point of personalised difference. And the frosting works perfectly to conceal the contents as intended.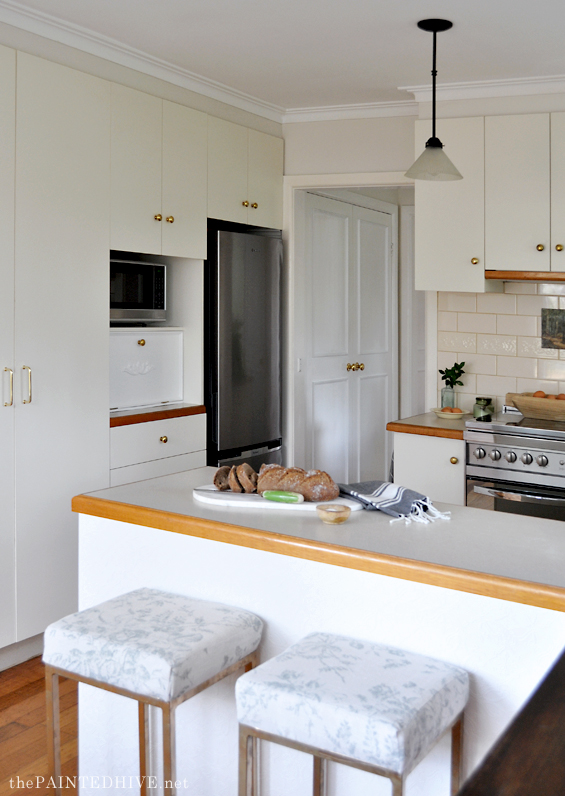 You can see the laundry cupboard I added trim to a few years back through the doorway.
Along the 'cabinet wall' there was an open cubby (just below the microwave) which mum could never keep tidy. Dad built a basic cupboard front using scraps from the shed and hinged it from the bottom so it drops down like a bureau.
Not only does it work to now hide all the crap which accumulates there though mum uses it as a little work station to write shopping lists and pay bills.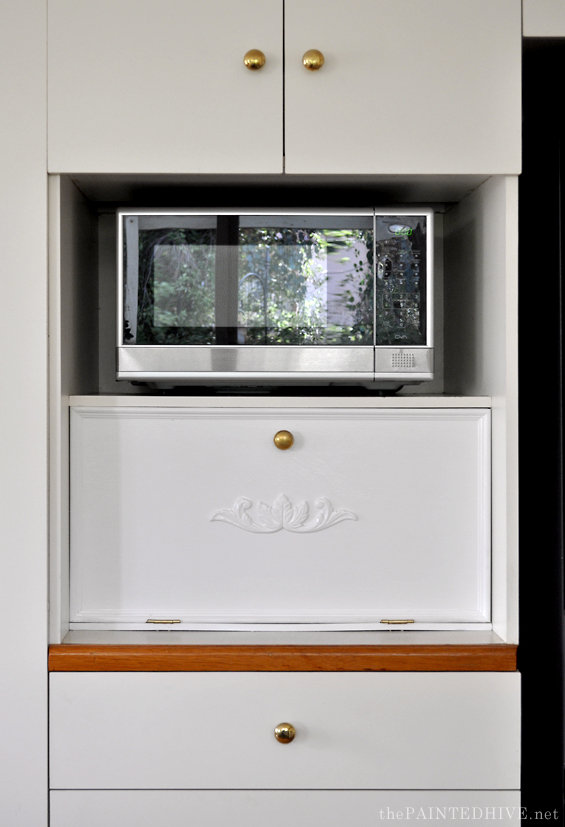 It's painted semi-gloss white to match the trim, rather than satin cream to match the cabinetry, though because it's different I think it works.
Removing the raised bar opened up more wall space above the bench, providing the opportunity to install a simple open shelf.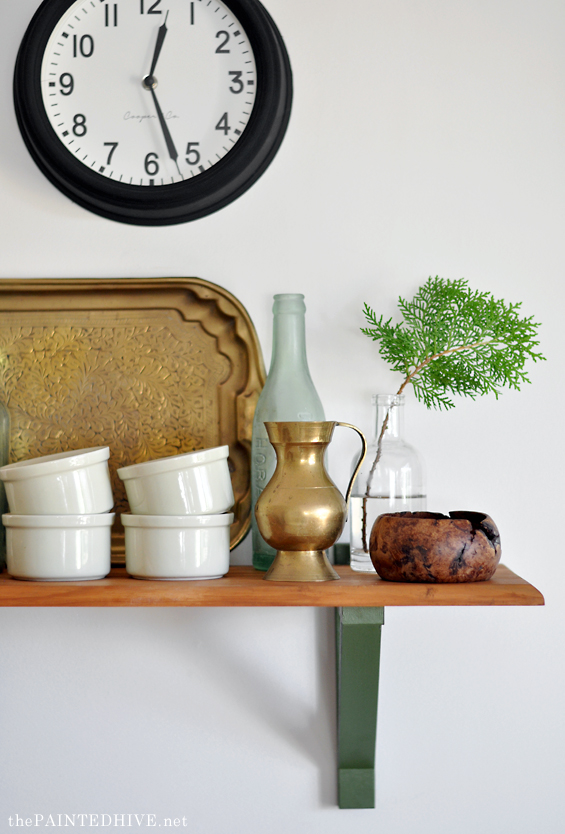 Open shelving is always a great solution in basic rooms which can benefit from having some pretty decor on display.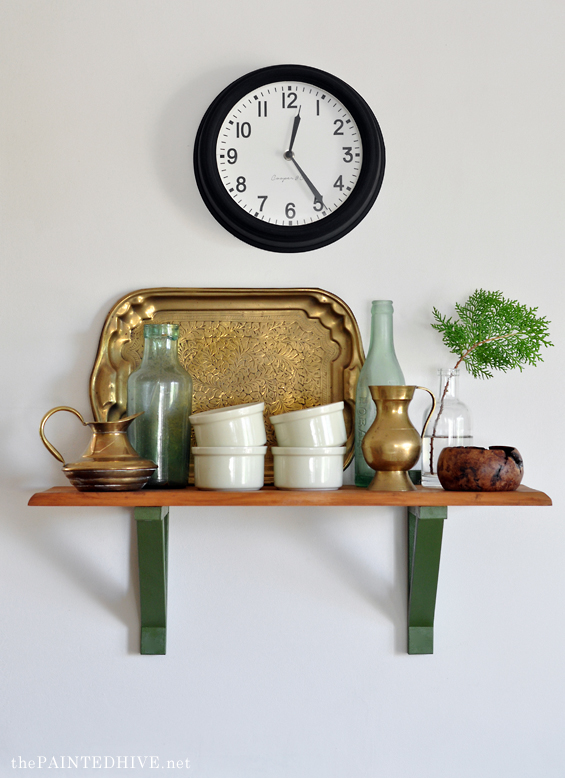 The brackets are the EKBY VALTER from IKEA which mum painted an earthy green and the shelf itself is a relic from my brother's childhood bedroom.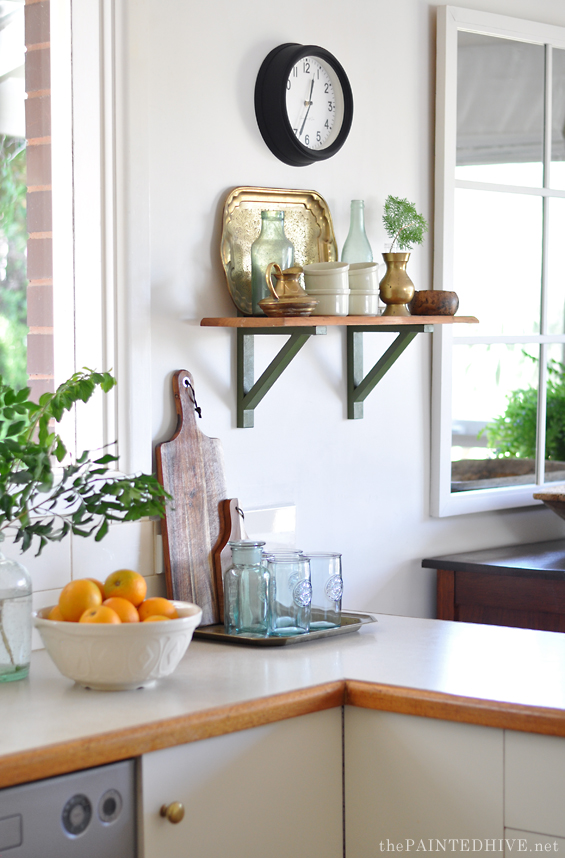 A few other simple updates include…
…switching out the generic window winder for a cute antique style brass latch. Mum found it at Bunnings.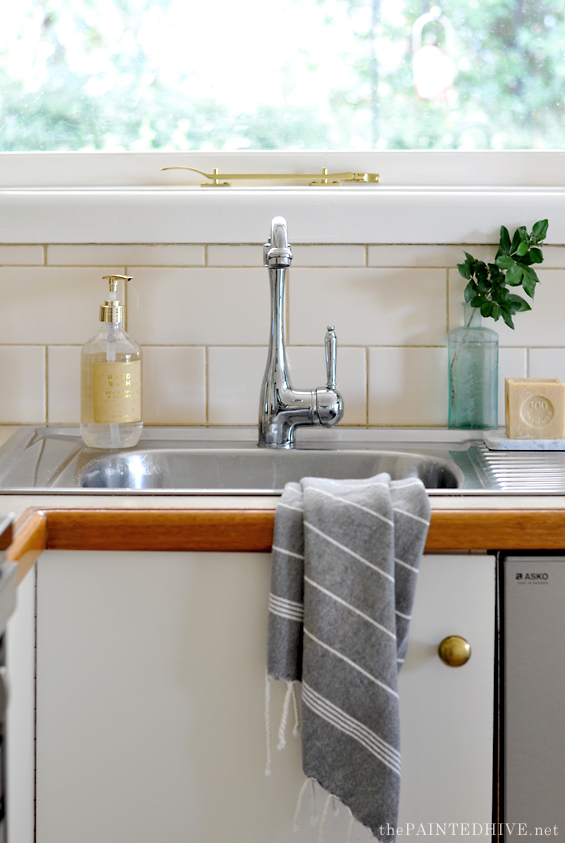 …changing the pantry door hardware to more modern style gold pulls. These ones are from IKEA.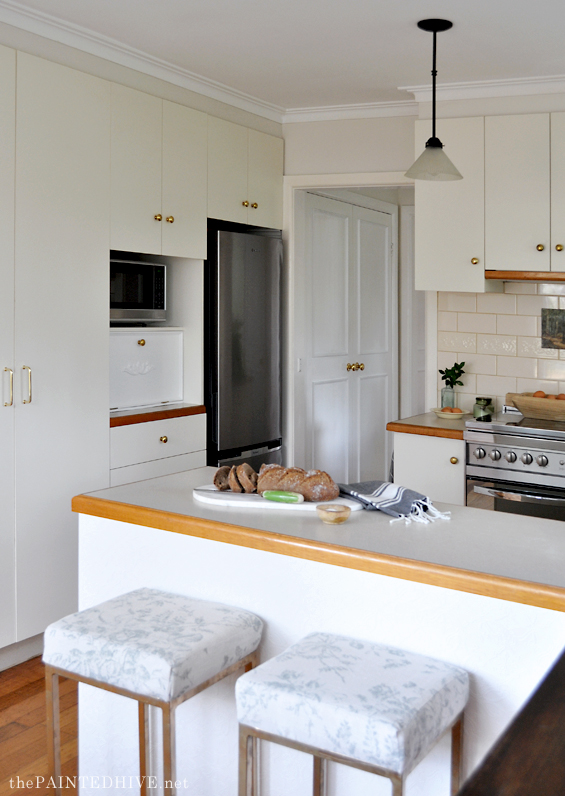 …removing the blinds. They were sweet though after twenty years it was time for a change. It's nice having the windows free from any dressings though I think some colour and pattern would be nice here. Mum will probably put some new ones up in the future.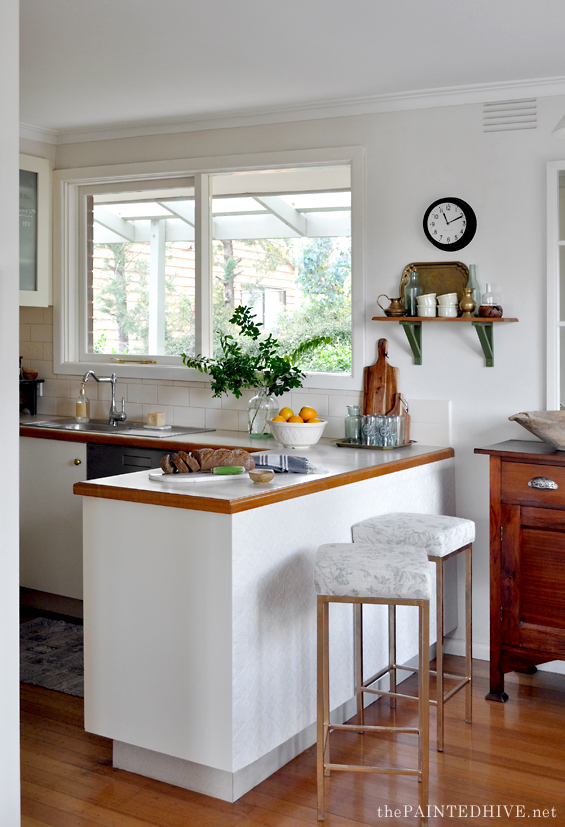 …painting the brass pendant black. I love brass and don't mind when it's a bit worn and weathered, though the pitting and tarnish really bothered mum so she hit with some black chalk paint she already had.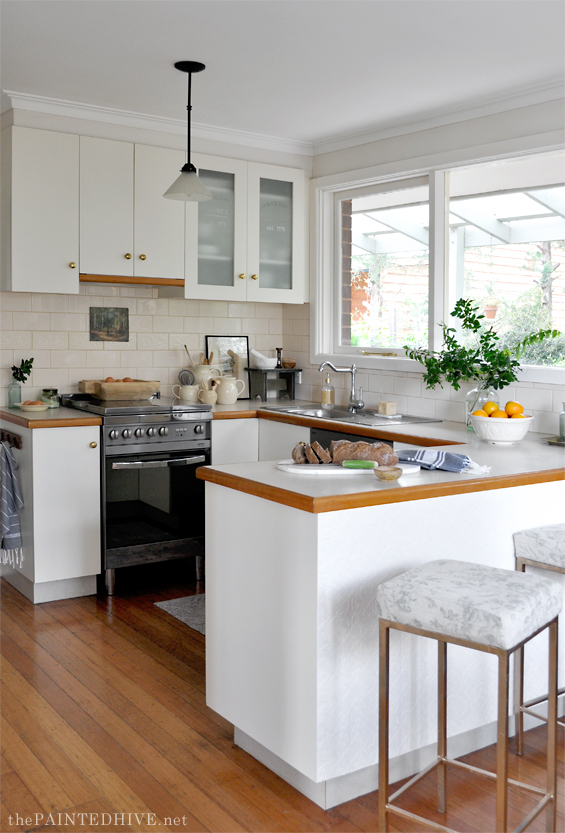 …replacing the range fan cover with a piece of timber trim. The original plastic cover was yellowed and just plain meh. Mum attached a left-over section of moulding from the old raised bar to better integrate it with the cabinetry.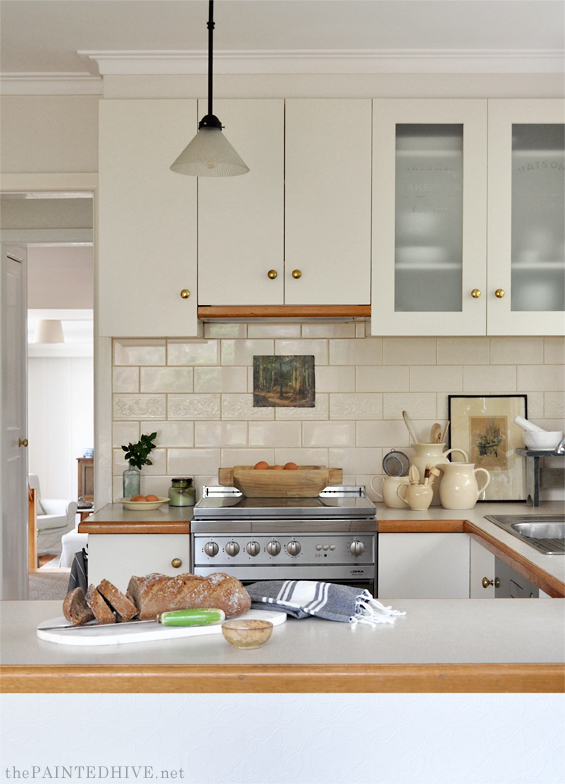 These little changes don't always translate well in photos however all add-up to make the room as a whole feel fresher, updated and more refined.
Of course, some pretty styling never hurts either.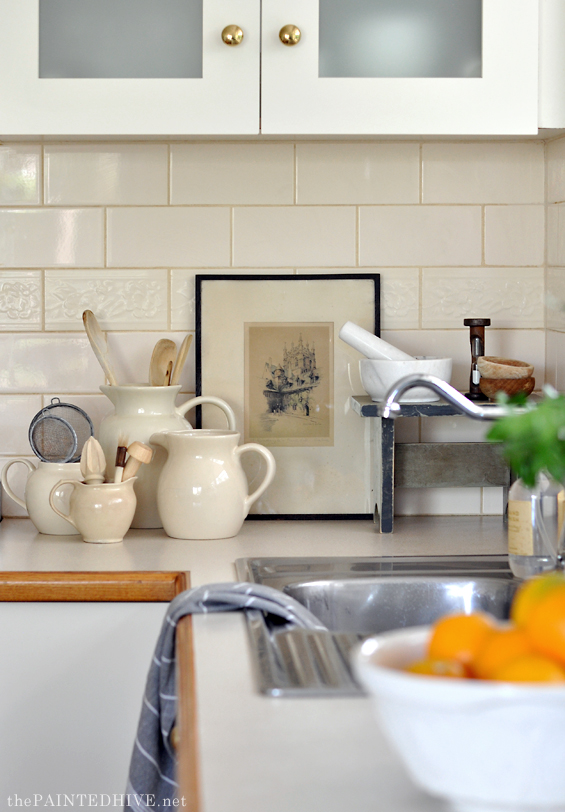 I was careful to use only bits and pieces we already owned (most of which are inexpensive op shop and charity store finds). Bringing a room to life with accessories is probably my most favourite thing about interior decorating.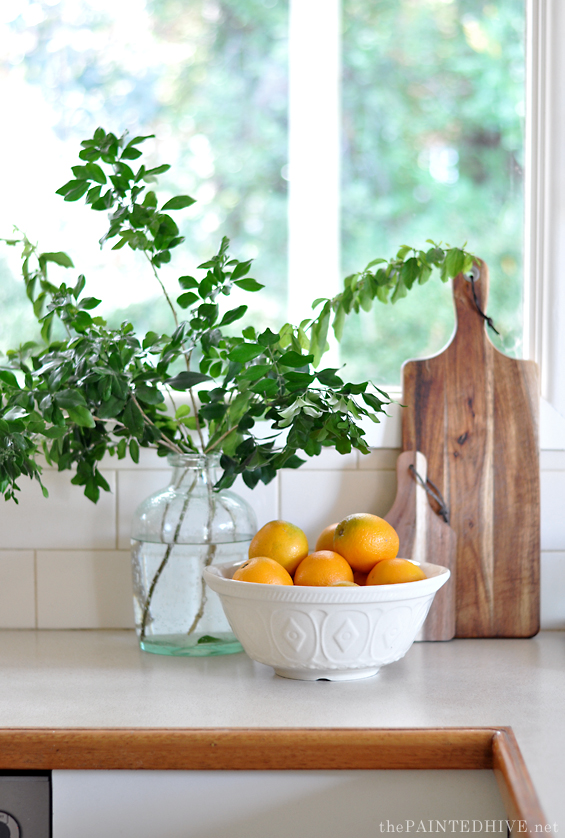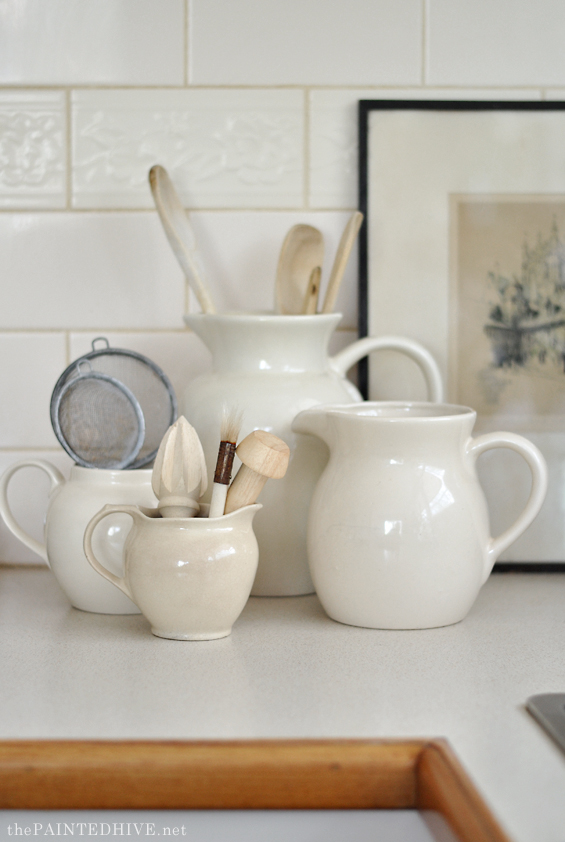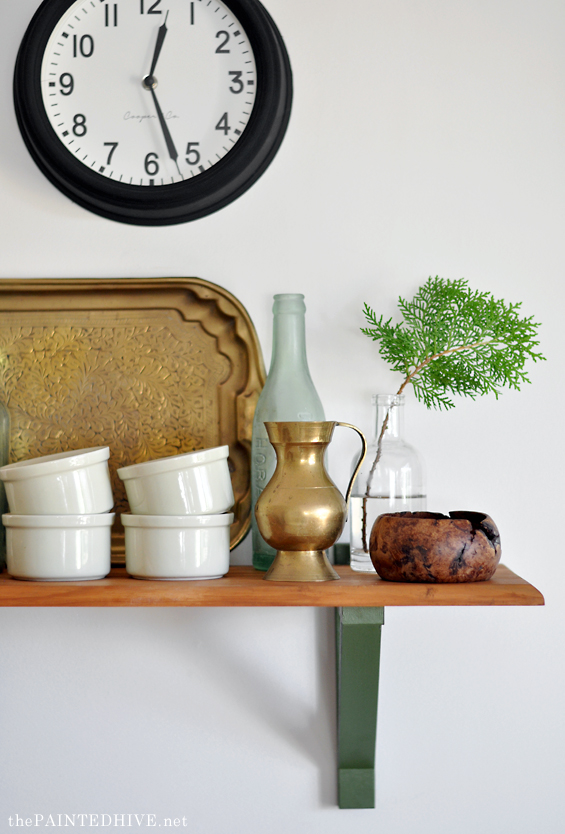 I'm sure there are those among you who may prefer the more old-fashioned charm of the 'before'. That's cool. I know it was never a terrible room however I think we can all relate to needing a change.
And I'm well aware there was sooooo much more we could have done to really change things up (adding trim to the cabinets, maybe painting the lowers a dramatic colour, switching out the hardware, altering the benchtop in some way, adding new lighting) however, like I mentioned, with so much of the original kitchen being nice and neutral it just didn't feel warranted. Plus, remember, this is only a temporary fix.
The main thing is that mum released her creative tension and absolutely adores her "new" space.
Here are the comparison before and after pics…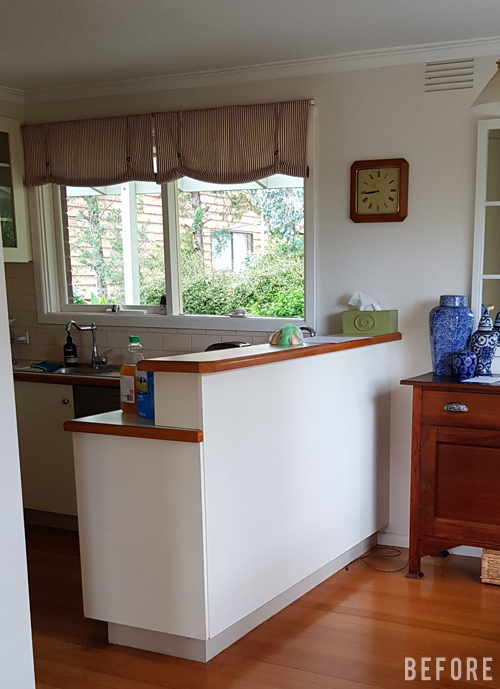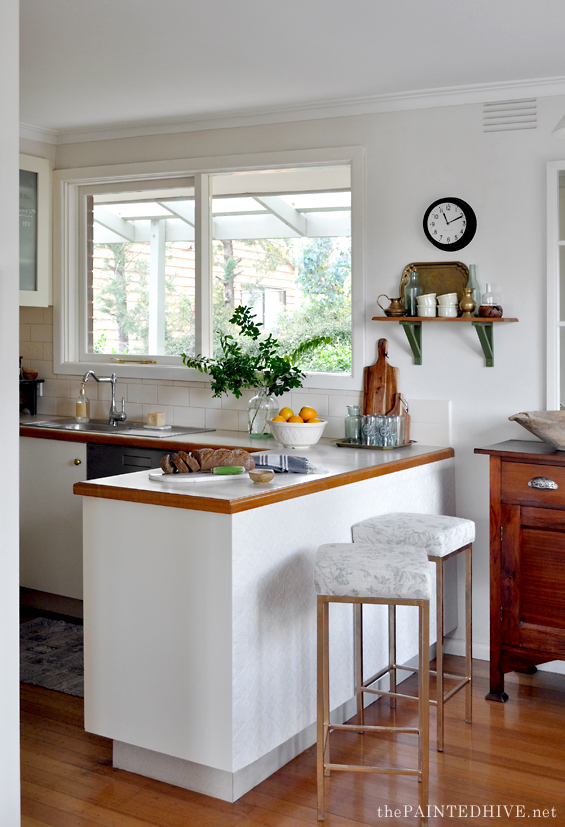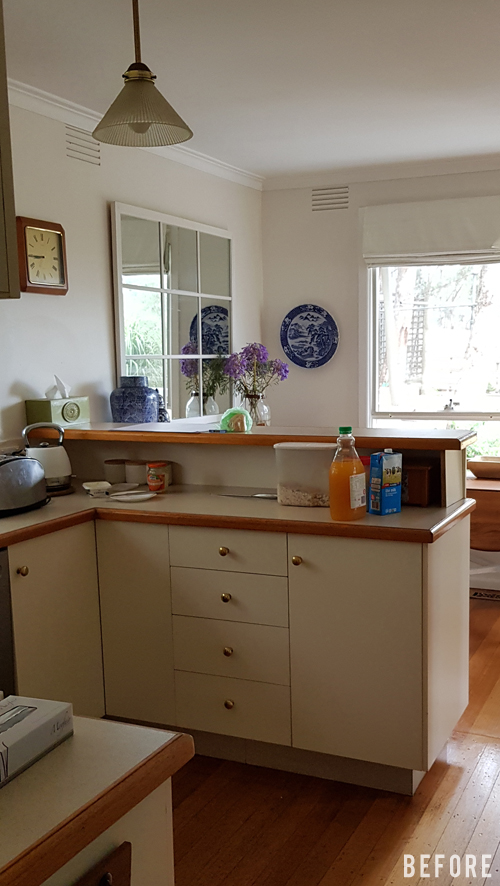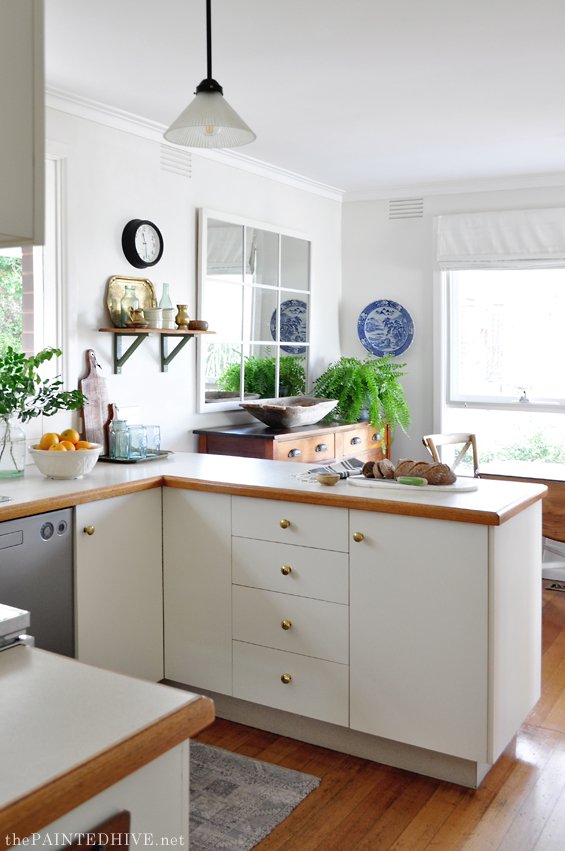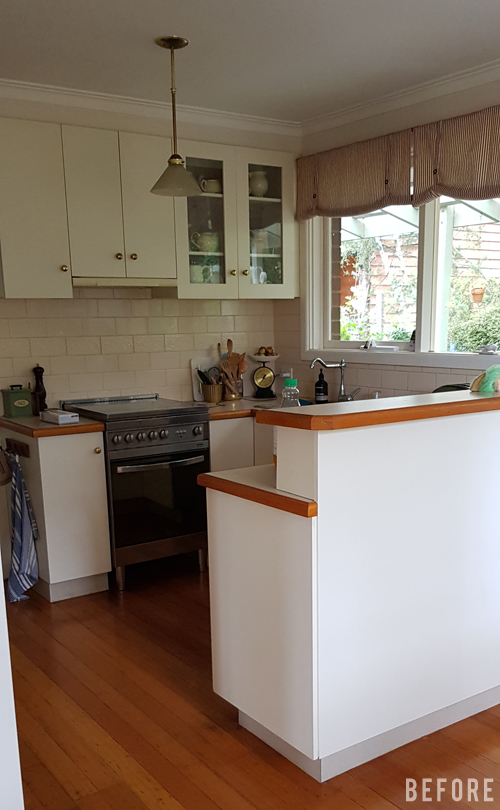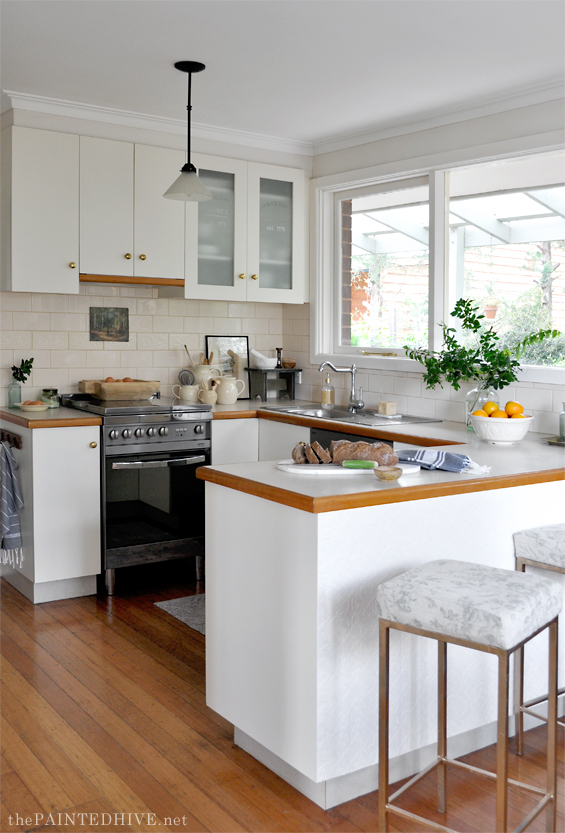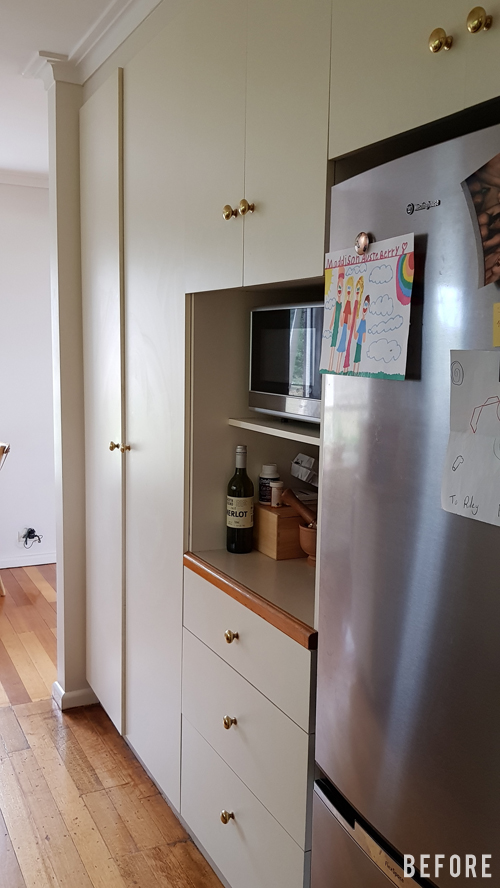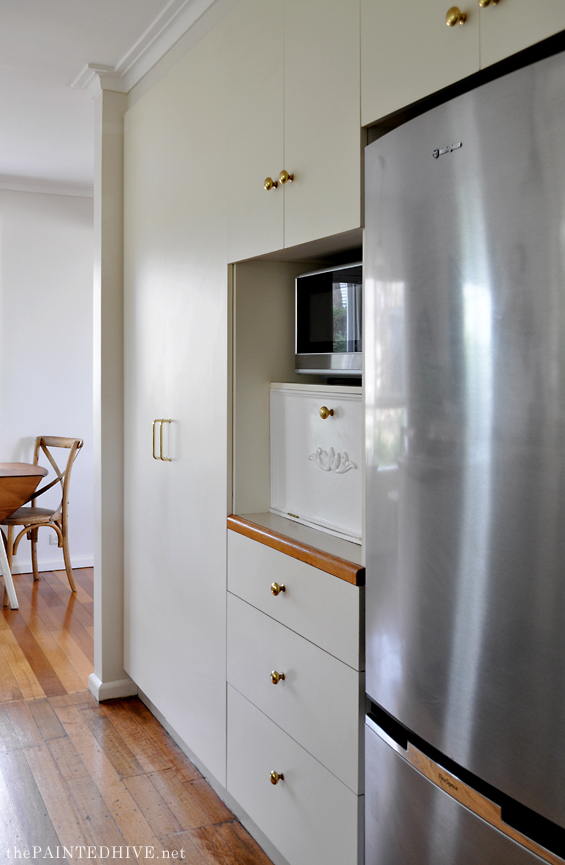 As always, feel free to ask any questions.
I hope it helps inspire!