When I shared my parent's $100 kitchen refresh a few weeks back the frosted glass doors were probably the most loved project.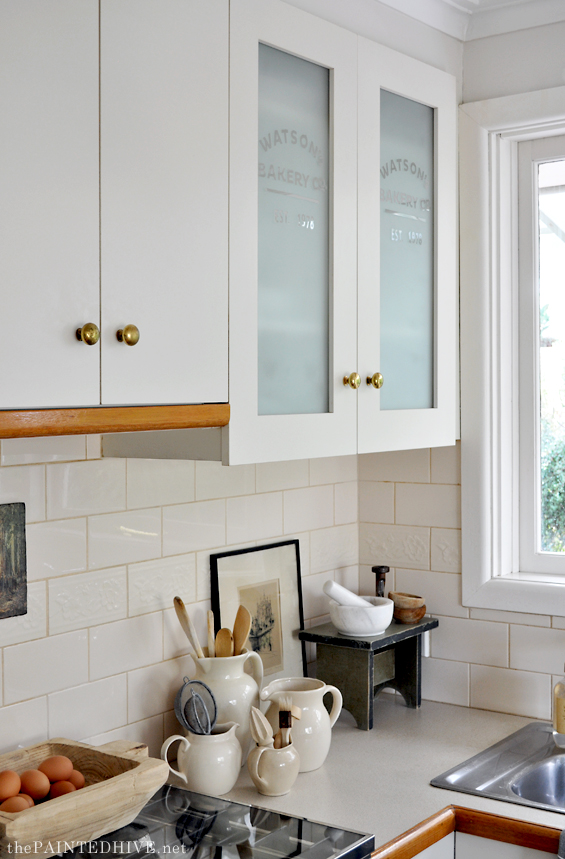 It was a quick and easy little transformation which anyone can have a go at. Although subtle, the graphic adds a little hint of charm and interest whilst the frosting works perfectly to provide concealment.
As mentioned in the original post, my mum wanted to hide the contents though rather than frost the glass entirely we decided to experiment! I was skeptical though the outcome is really cool. A few of you asked to see a tutorial so here it is.

I didn't record the process first time around so for the purpose of this tutorial I'm using an old picture frame.
Ideally, you want to apply this treatment to glass which has either a light or dark cavity behind it, or is positioned in such a way it's often viewed from an angle, in order to enjoy the full effect.

STEP 1 | ENSURE GLASS IS NICE & CLEAN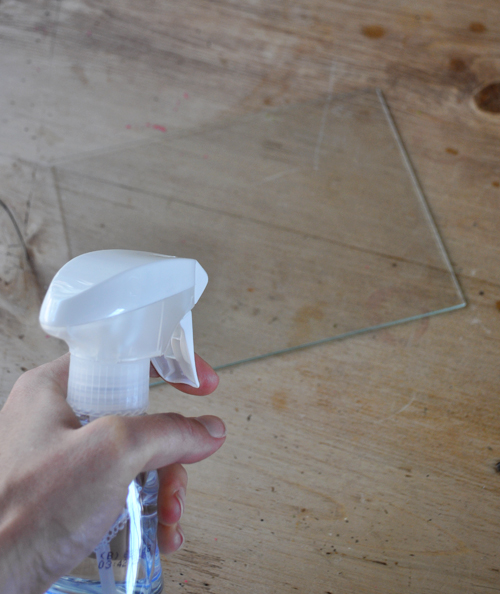 I simply wiped mine with some window cleaner.
STEP 2 | DECIDE ON YOUR GRAPHIC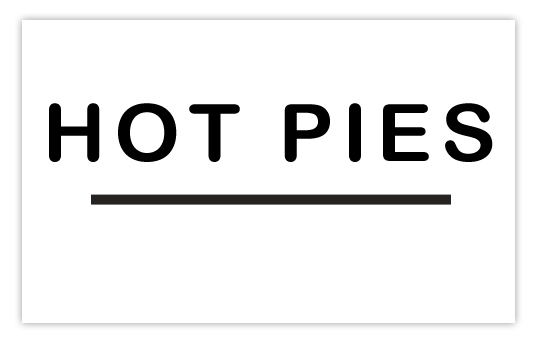 Of course, this is entirely up to you. For the purpose of this tutorial I went with something very basic. For the kitchen cabinet doors I wanted to create a vintage feel. It's hard to make out in the photos though the door graphic states "Watson's Bakery Co. EST. 1978" ("Watson" being my parent's family name and "1978" being the year they were married).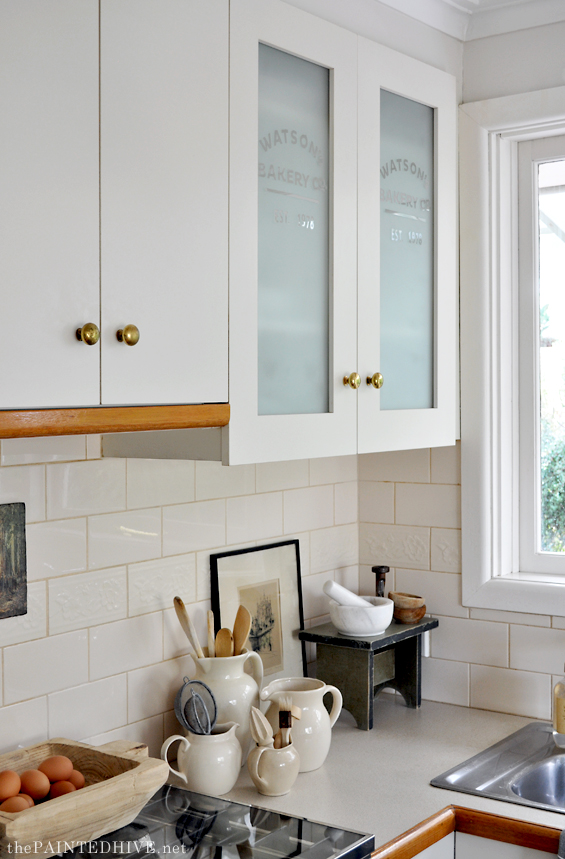 Unless you're feeling incredibly patient I would suggest avoiding anything too long, complex or intricate.
You can draw a rough sketch, create a template using a graphic design or word processing program, or simply wing it like I did! If you do happen to want a more intricate design, you could even use a vinyl cutting machine (if you're lucky to own one) or engage a vinyl cutting service.
Of course, whatever your design, just ensure it works with the scale of your glass and size of your stickers.
For my 'Hot Pies' sign I simply drew a straight line on a sheet of paper then placed it behind the glass to act as my guide.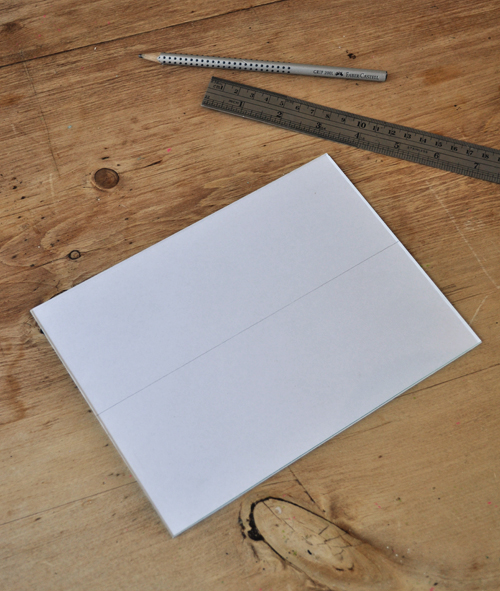 I did the same thing for the kitchen cabinet doors however I drew an arch (using the rim of a dinner plate) and lines for each row of text. It's pretty straight forward.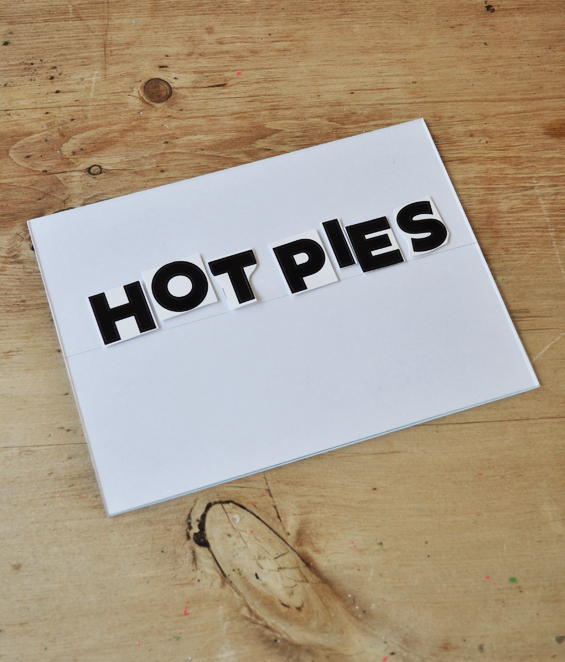 Before I attached my stickers I cut them out individually and roughly arranged them to ensure they would fit.
STEP 3 | ATTACH THE STICKERS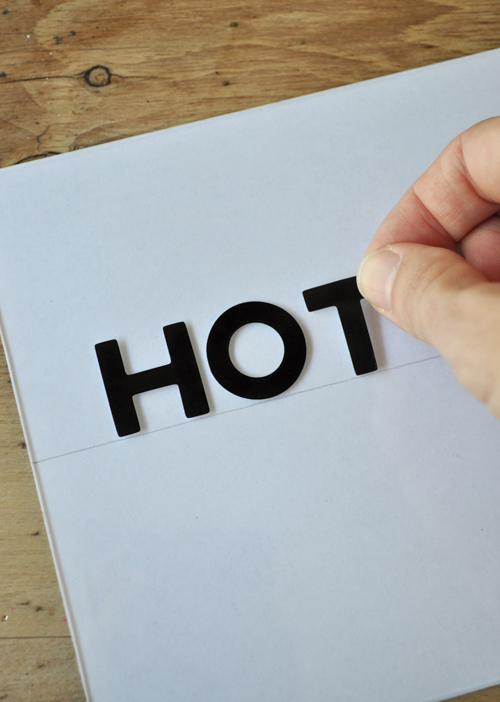 To keep the spacing nice and even, I started with the outer letters then worked my way back in toward the center. As mentioned above, I simply used a single line as my guide and just eyed the placement (fortunately stickers are pretty forgiving as you can simply peel them off if you make a mistake) however if you'd like to be super precise you can create a more detailed template. Once adhered, press firmly to ensure the edges are well sealed.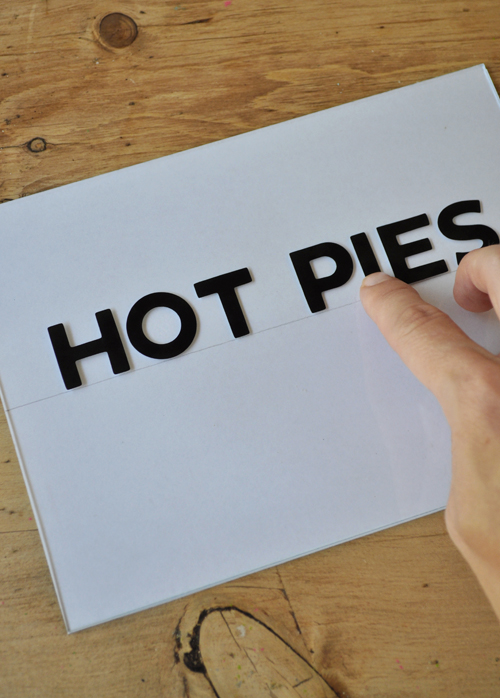 In addition to my letters I also added a simple line which I cut from a strip of painter's tape.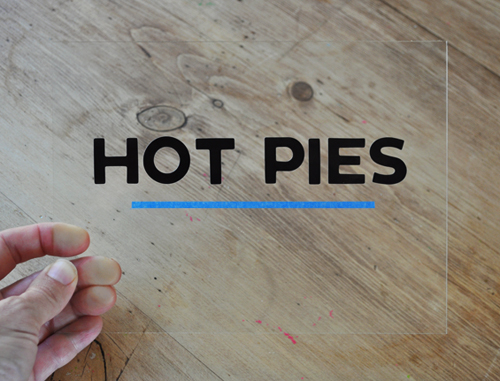 STEP 4 | PAINT!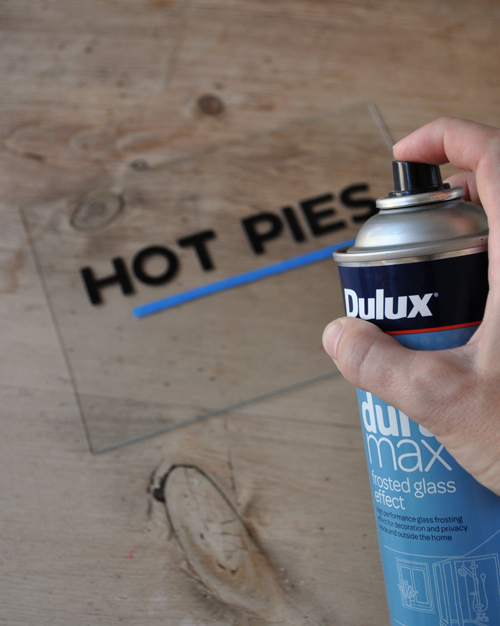 Mist the glass with a light coat of frosting spray paint. I used Dulux Duramax Frosted Glass Effect. At first it may appear quite clear though after a minute or two the effect should emerge. Repeat with a second coat if required.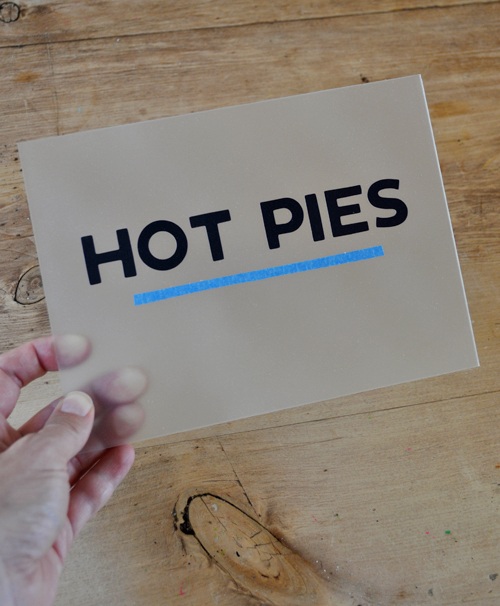 Of course, I didn't need to mask off anything for my picture frame glass however as we couldn't remove the glass from the kitchen cabinet doors I did use tape and old newspaper to protect the casing from any over-spray.
STEP 5 | PEEL THE STICKERS OFF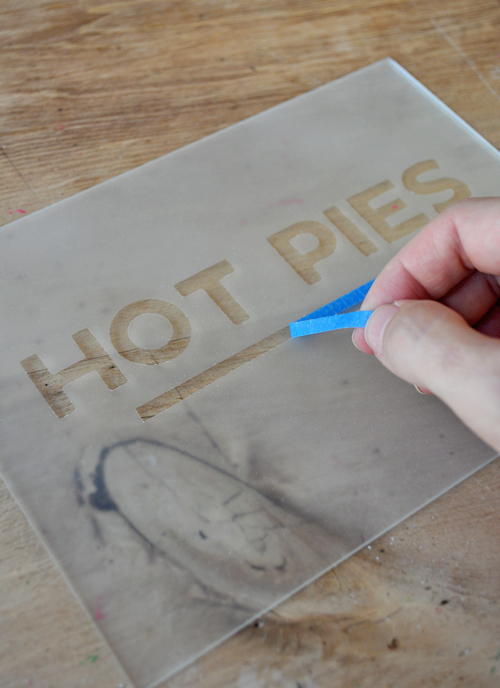 Once the paint is touch dry, slowly peel the stickers back. I used a pointy implement (a metal skewer) to carefully lift one edge of each sticker first.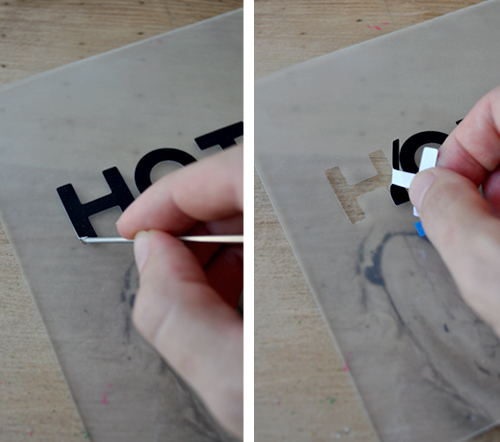 You may notice a very slight raised edge of frosting around the perimeter of the letters. This can simply be brushed back with a soft cloth or your finger.
DONE!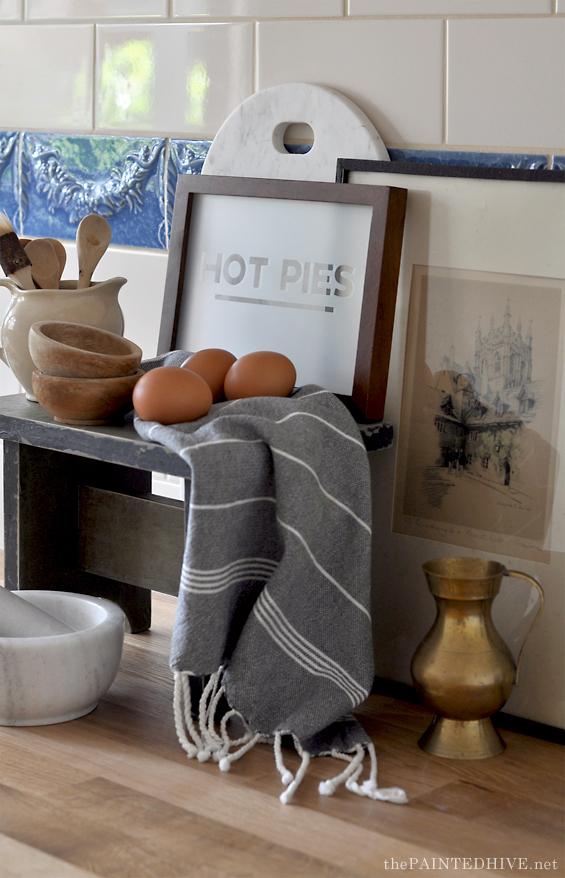 It's as simple as that!
Depending on how the sign captures the light, at times the graphic looks quite bright and distinct whereas at other times it can be barely visible (and very difficult to photograph!). Though there's something about that I like. It's almost as if it's a little mystery you need to view from the right angle. And it's perfect if you're wanting something subtle and simple.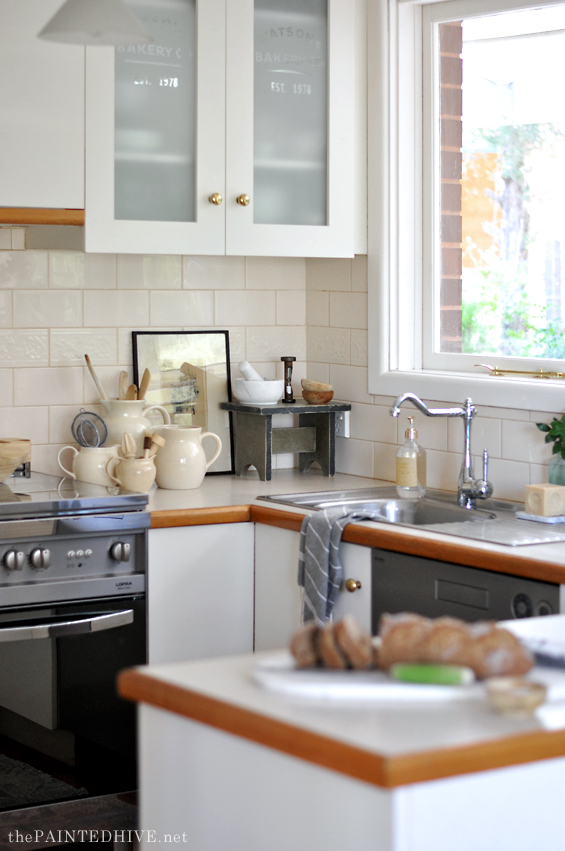 Have a great week all.