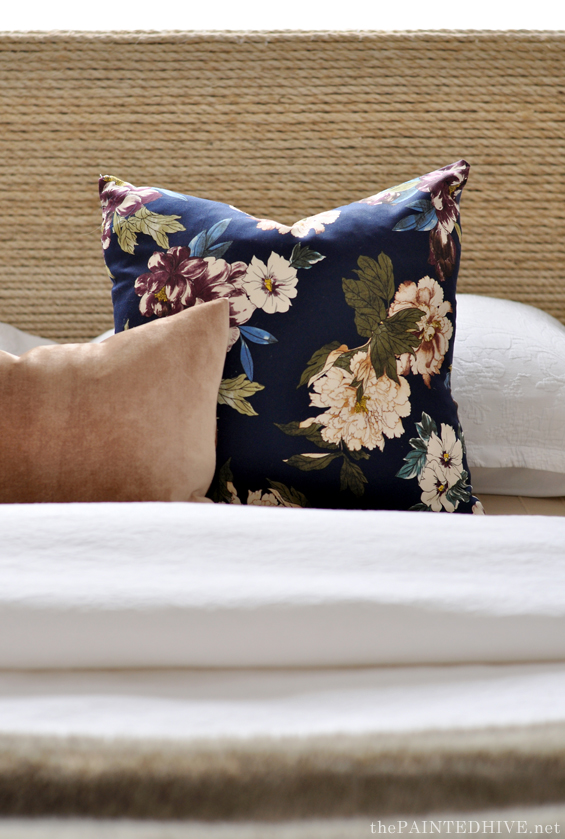 Thanks so much for everyone's comments, emails and messages following my last post. I honestly feel like you've all been beside me throughout this house flipping journey and I really don't think I could have done it without you!
Anyhoo, returning to my regular scheduling now by sharing two of the last three spaces from the property!
The 'guest bedroom', as I'm calling it, was originally a dumping ground for anything and everything – including a huge billiard table! For the purpose of selling the house, it made sense to switch that huge billiard table for a nice queen size bed.
Here's the space before…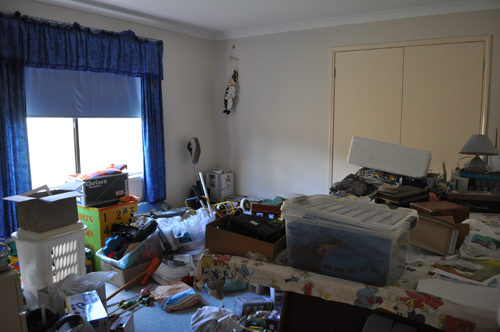 And here it is now…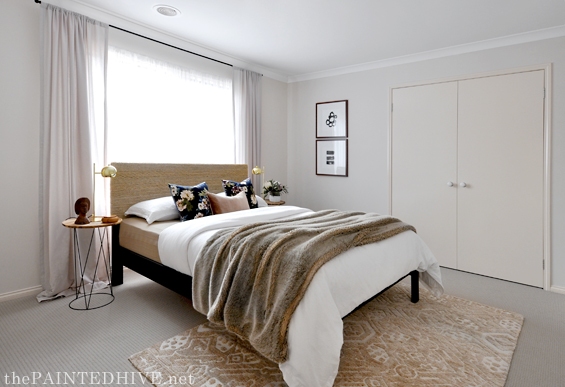 Sorry, it's a tricky room to capture so I had to use a wide horizontal shot.
I went for a slightly different vibe in here.
It all started with the bed, which we picked up for free, that I decided needed to be wrapped in rope.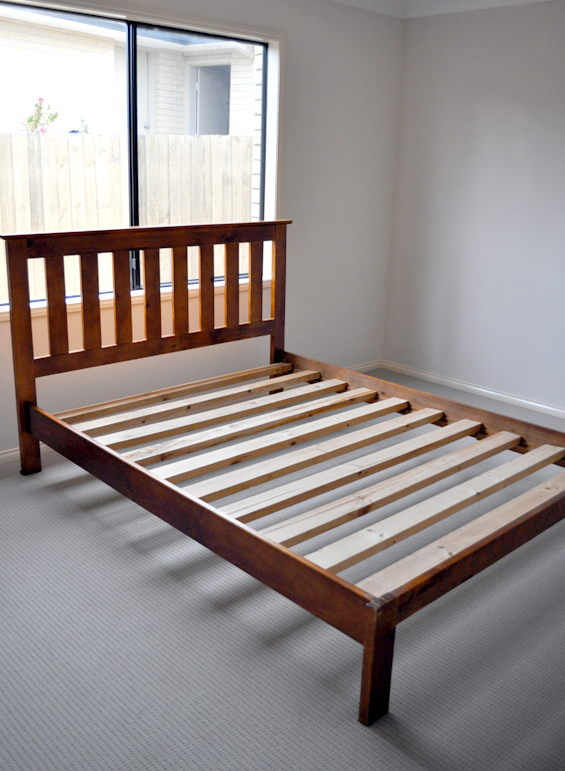 BEFORE
It was a pretty straight-forward project though it took about ten times more rope, and twenty times longer, than I had anticipated! Still, I'm glad I did it.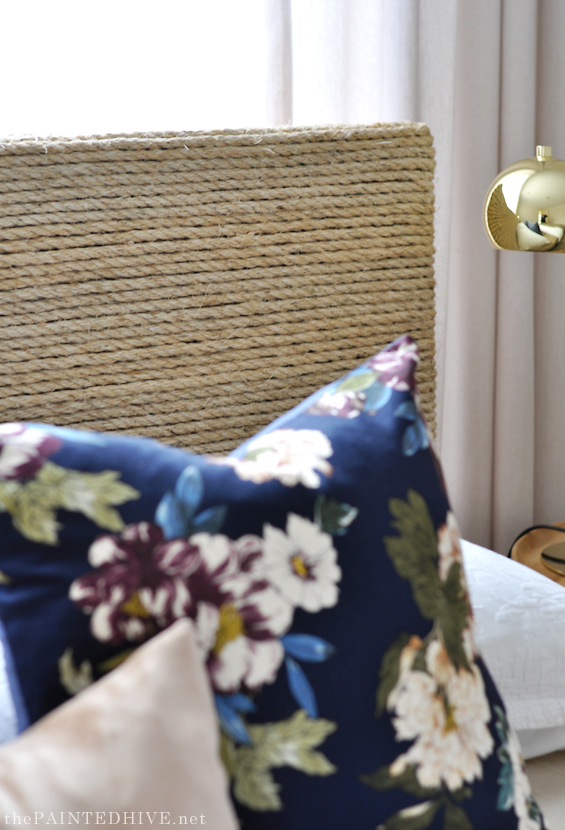 In short, it was just a matter of hot-gluing strands of rope across the headboard until it was completely covered. I can probably rustle together a more detailed tutorial if there is enough interest. Obviously, I also painted the rest of the bed frame black.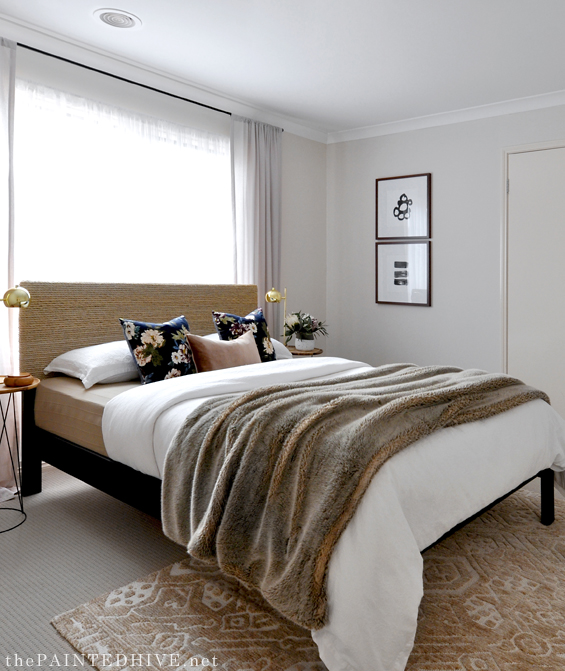 Next came this lovely floral fabric I found at Spotlight (which mum made into these accent cushion covers).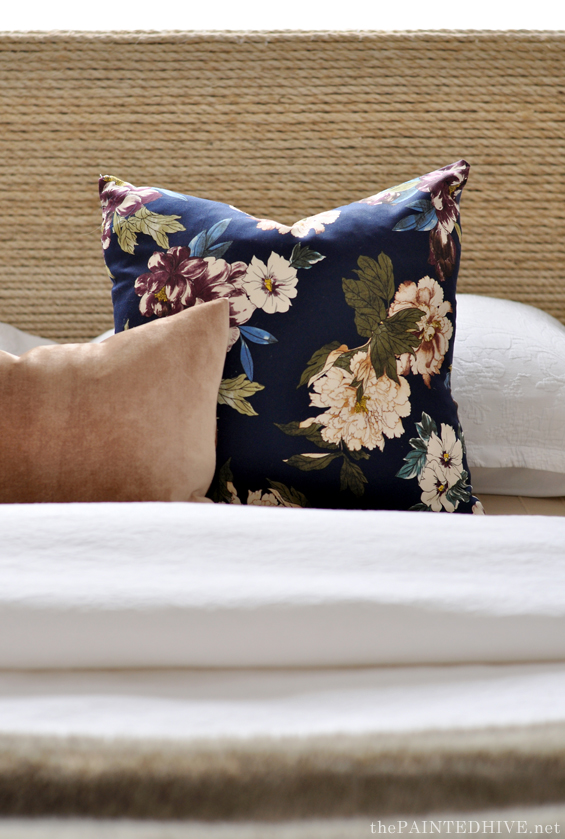 Isn't it gorgeous?
It was tempting to play up the indigo though I decided to leave that as a pop by keeping everything else more neutral. So, instead I went with a soft rusty velvet (which mum made into this lumbar cushion cover) which pulls a less obvious colour from the floral fabric.
Using a secondary colour, rather than the predominant colour, from whatever is your jumping-off point (whether that be a rug, artwork, or fabric like in my case) is a good tip when putting a scheme together. It can help tie everything together without drowning out any statement elements.
All of the other bedding are things we already owned. You might recognise the faux fur throw from my own bedroom.
I always like to use a rug to help anchor a bed and provide an extra layer of texture. Like the rug in the master bedroom, this one was a bit of a happy accident. I chose it before I really knew which direction the room was going in though how perfectly does it reference the rope headboard and add that little point of interest?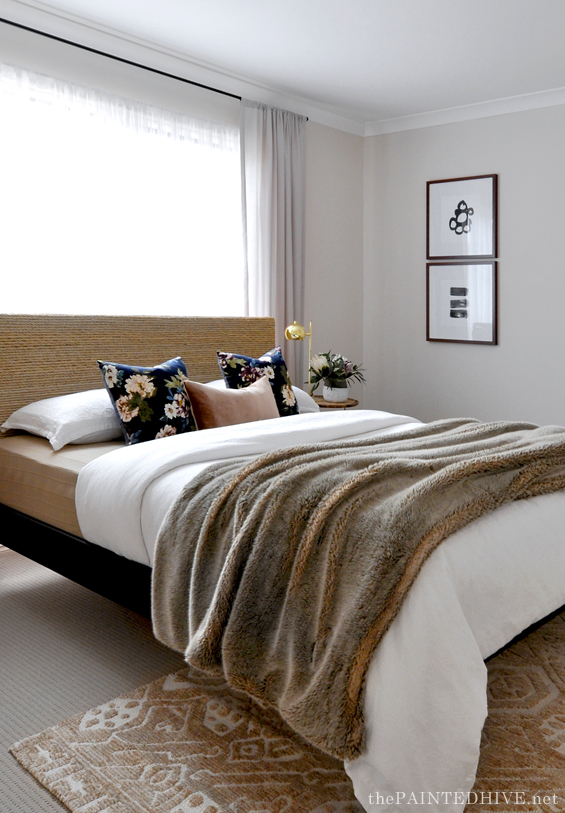 I'm absolutely in love with the subtle aztec-style pattern too.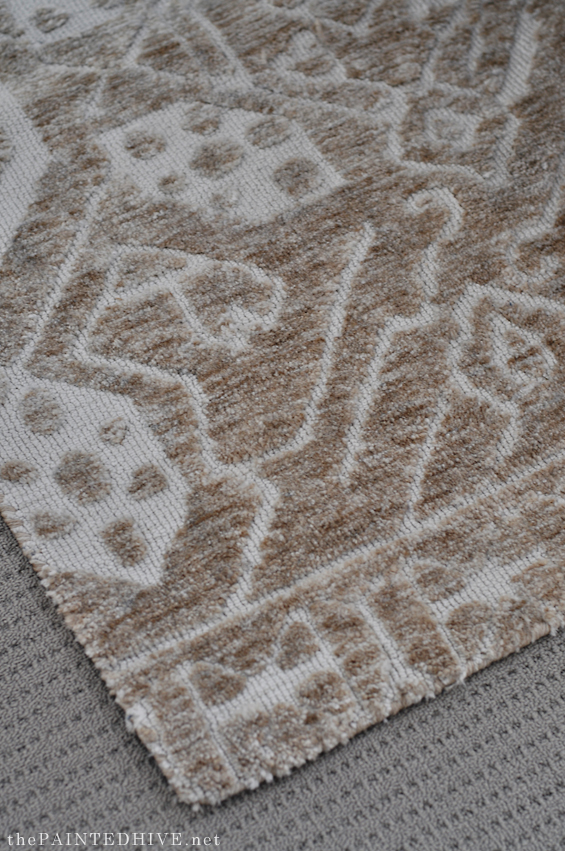 As you'll be able to see in the before pic of the bed, the window in this room looks straight into the neighbours house. Not the nicest of views.
We added simple pocket rod sheers to obscure things, which also work to soften the room for a subtle romantic edge. To finish the window I hung these long linen-look drapes which I found at Spotlight for just $30. I don't normally puddle my curtains though when I was testing these for hemming height, they looked just right softly spilling on the floor so I decided to leave them.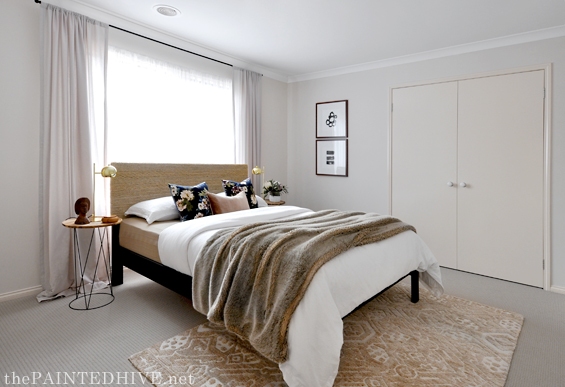 The bedside tables are simply Kmart plant stands with Kmart wooden serving trays on top. The gold lamps I got on sale from Big W.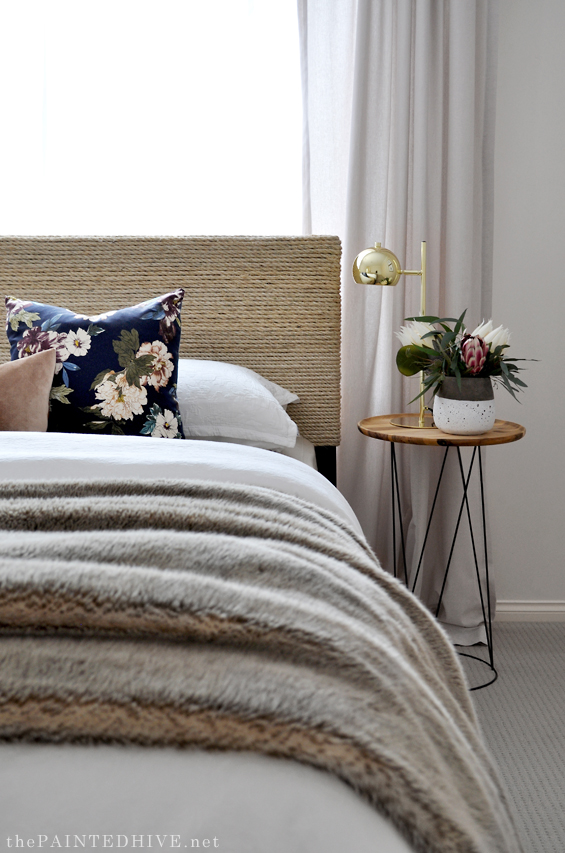 The concrete pot holds some artificial native flowers from Koch & Co. which I've teamed with a few sprigs of real gum leaves.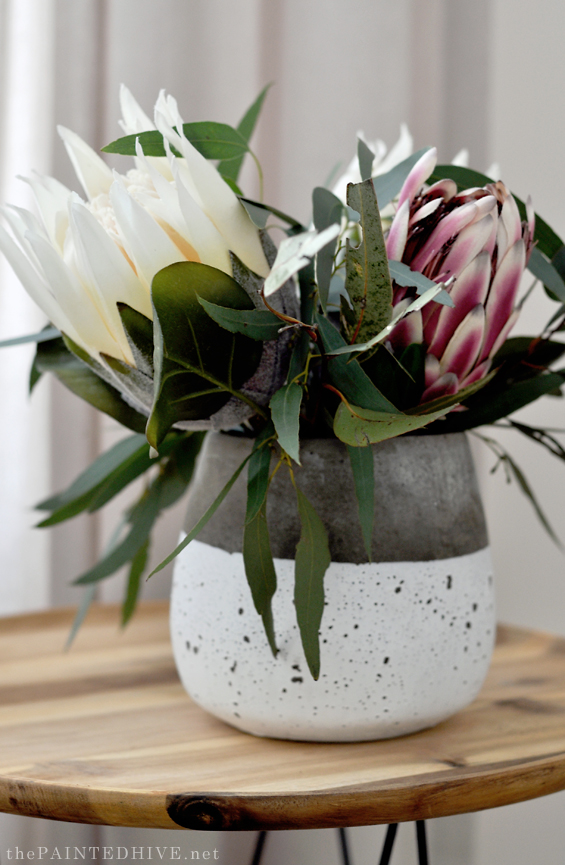 Finally, the artwork are digital downloads I purchased years ago from Etsy (you may recognise them because I use them often). I had them printed through Officeworks then placed them in these large square frames from Spotlight. It's a nice little modern touch which references the other abstract art in the house to give the room a sense of belonging.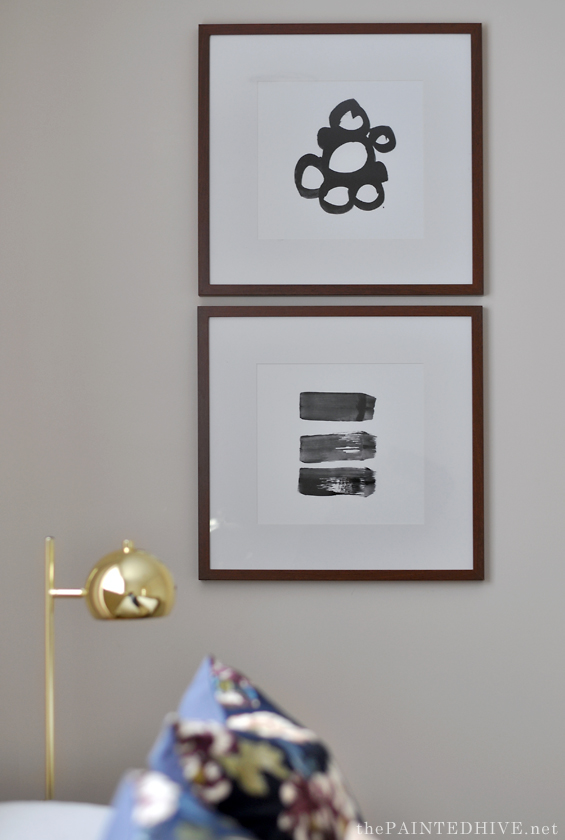 Like many of the rooms in this house, the main bathroom was being used for storage and just needed a declutter, a really good clean and some fresh styling.
Here it is before…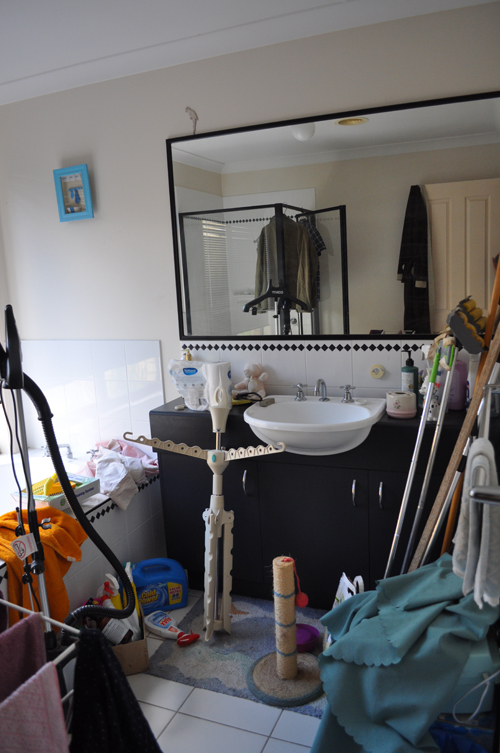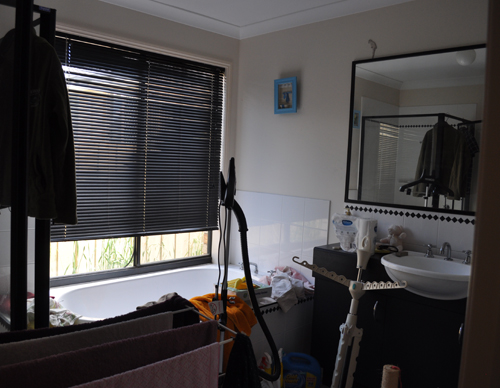 And here it is now…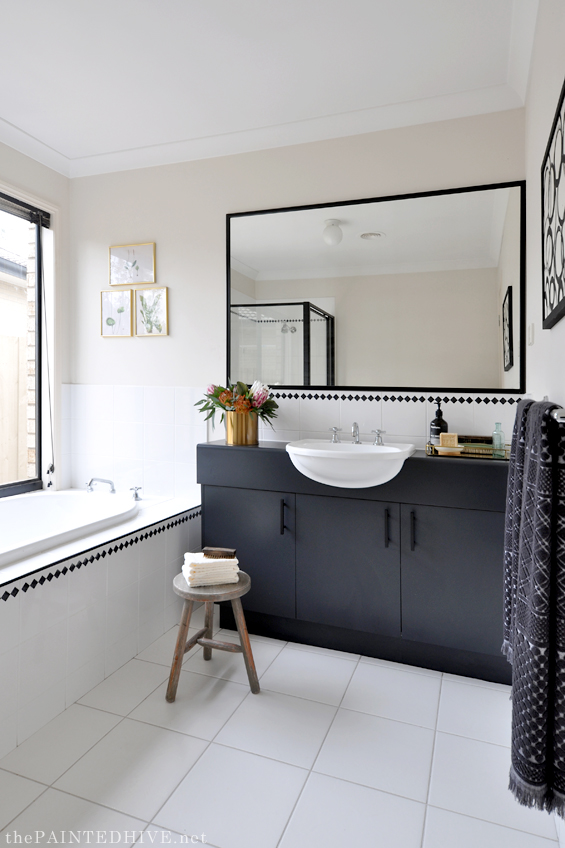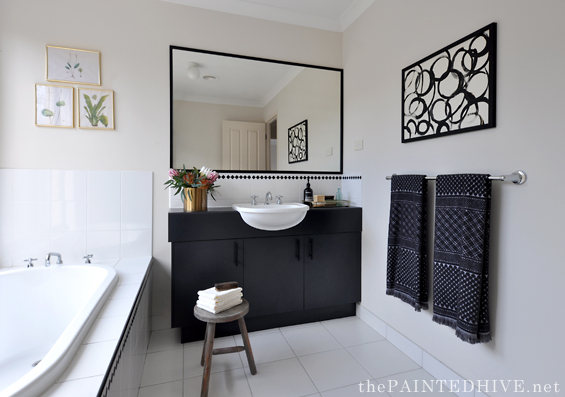 Aside from switching-out the vanity handles (using left-overs from the kitchen cabinets) we haven't made any actual changes.
It's merely staging, using mostly things we already owned.
The gold framed botanicals are free printables you can grab from my blog HERE, and the abstract over the towel rail was an easy DIY I painted with my son (using an old print from Kmart).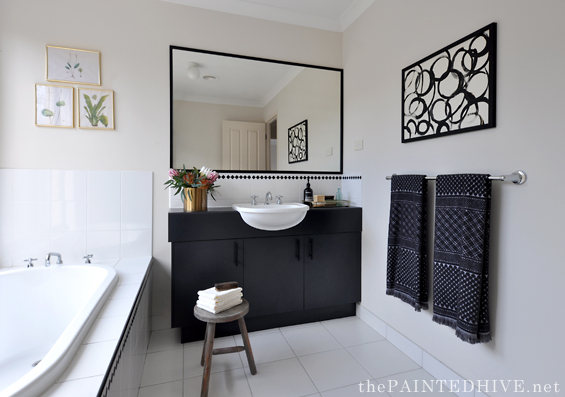 The brass tray (originally from H&M) holds some pretty accessories and a fancy cake of Savon De Marseille soap.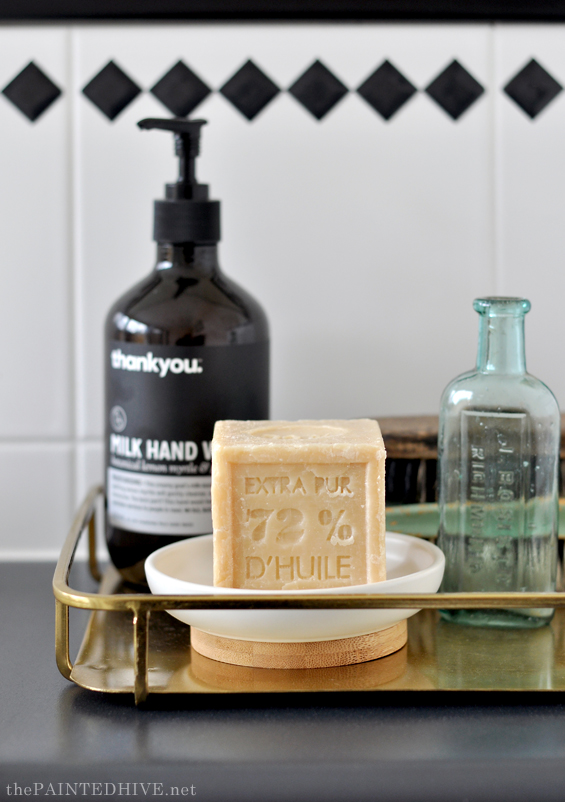 And to add a bit of life I filled a brass pot with some faux native blooms from Koch & Co.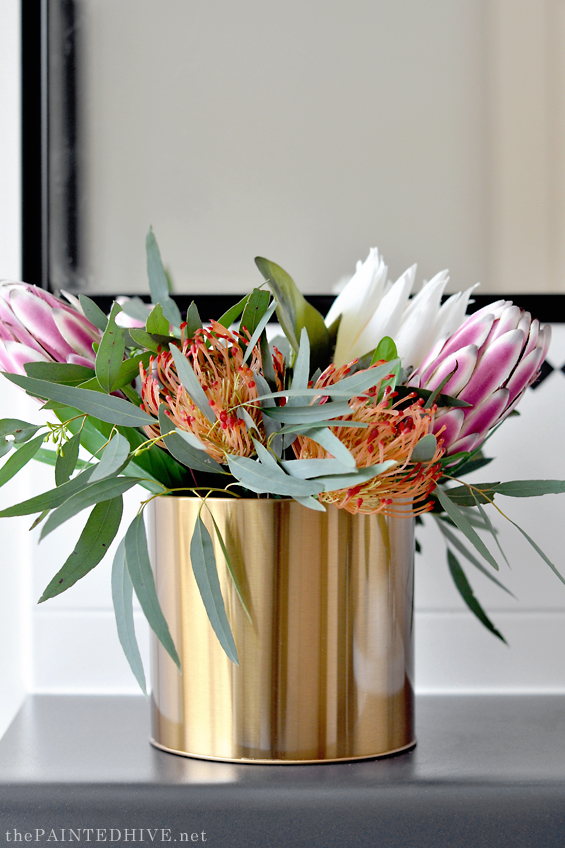 Again, I teamed them with a few real gum leaves to make them appear extra authentic.

PRICE & SOURCE LIST (BEDROOM)
Carpet | Beaulieu Daytona in 'Green Beige' | $400
Bed & Mattress | Originally Free from Facebook BSS then DIY Rope Treatment Applied | $100
Rug | Lotus Hi-Low Rug in Beige from Spotlight | $200 on sale*
Window Dressing | Pocket Sheers, Cotton Drapes, Rods and Fittings, all from Spotlight | $80*
Indigo Floral Fabric | Spotlight | $10*
Light Rust Velvet Fabric | Spotlight | $8*
White Quilt Cover Set | Already Owned | $0
Beige Coverlet | Already Owned (originally from IKEA) | $0
Faux Fur Throw | Already Owned (originally from Bed, Bath & Table) | $0
Feather Cushion Inserts  | Already Owned | $0
Bedside Tables | Kmart Plant Stands Topped with Kmart Wooden Trays | $18 each
Gold Lamps | Big W | $22 each on sale
Concrete Dipped Pot & Artificial Flowers | Koch & Co. | $20 total*
Frames | Square Walnut Frames (48cm x 48cm) from Spotlight | $8 each on sale*
Abstract Artwork | Printed through Officeworks | $6 each
Other Decor | Already Owned | $0
TOTAL $592
PRICE & SOURCE LIST (BATHROOM)
Stool | Already Owned | $0
Abstract Wall Art | DIY using Old Kmart Print | $5
Botanical Wall Art | DIY using Free Printables and Frames we Already Owned | $6 total
Cabinet Pulls | eBay | $3 each
Brass Pot | Large Metal Plant Pot from Koch & Co. | $17*
Faux Artificial Flowers | Koch & Co. | $15*
Other Decor | Already Owned | $0
TOTAL $40
*We were super lucky to be gifted some items from Spotlight and Koch & Co. 
I've provided their costs however they are excluded from the total.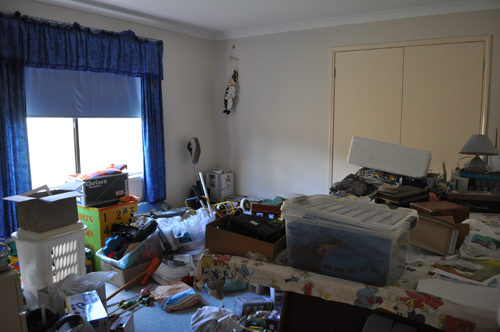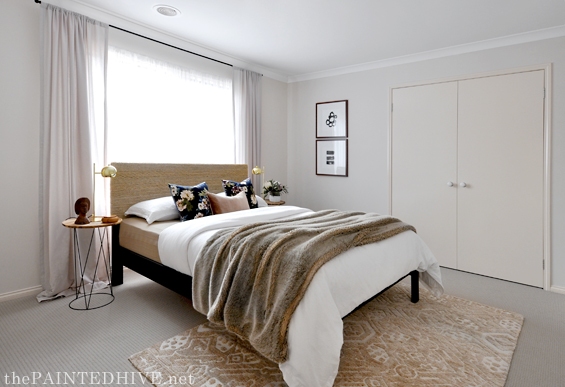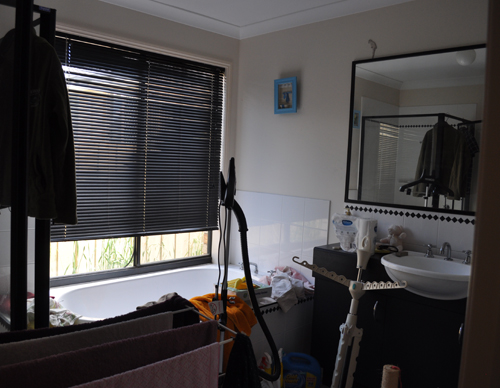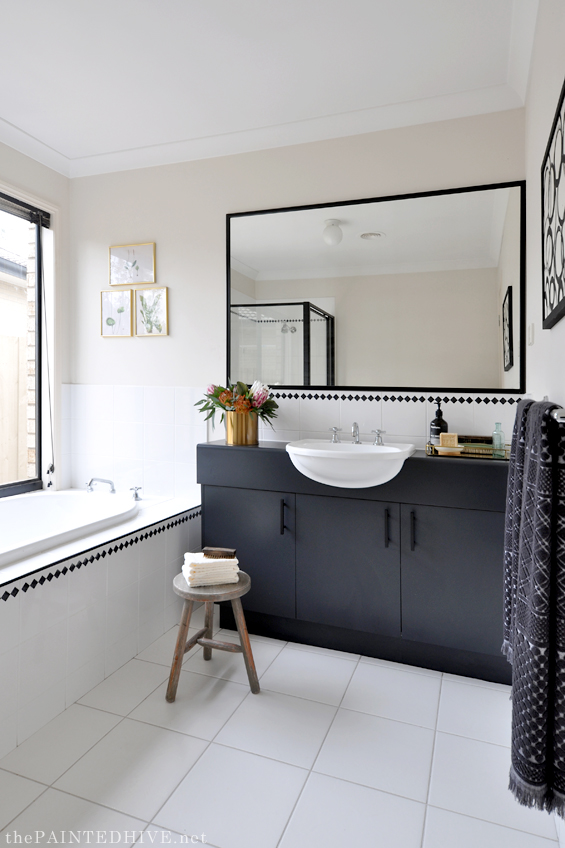 Find all of the previous flip house posts HERE.