It's here! The last of the flip house reveal posts!
Did anyone else get the feeling this was becoming like the magic pudding of houses? It just seemed to keep going and going!
Thank you so much to everyone who has been following along.
I'm so sorry I haven't been able to respond to all of the previous comments yet (I'm normally really good at that) though things have been a bit hectic lately plus my reply function is playing-up which makes it a bit tricky. Please know that I do read and thoroughly appreciate all comments and will find some time to respond as soon as I can.
This is the third bedroom in the house, which I decided to stage as a girl's room.
Somehow I failed to get a before of this room right at the beginning of the flip, so this is actually a mid-way pic…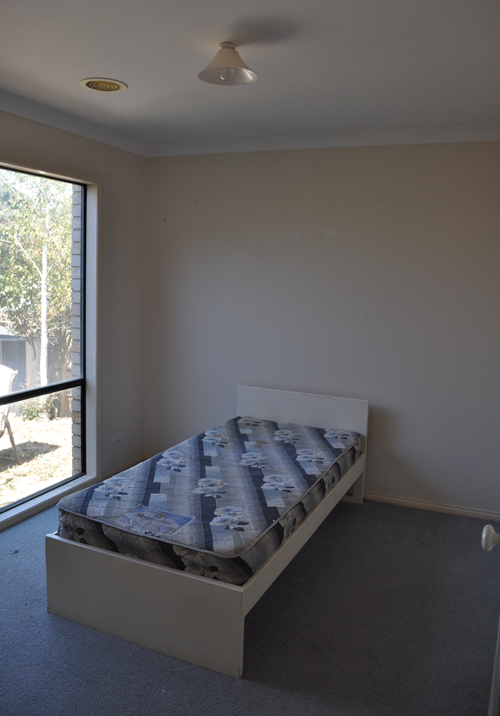 And here is the space now…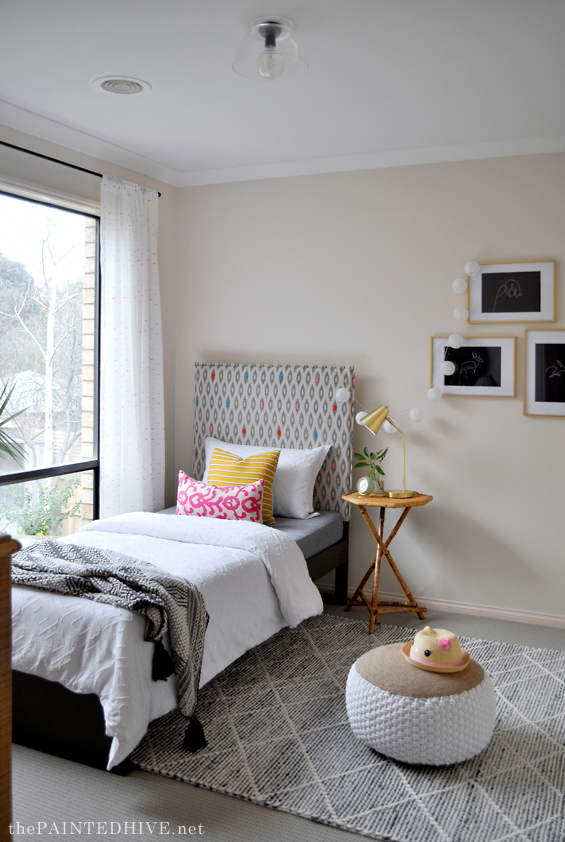 I kept things sweet and simple in here.
The bed was already in the room (yes, that's the same bed as in the before pic!). I was originally going to replace it because it was so basic, though then I figured the fact it was so basic meant it had unlimited upgrade potential!
We painted the base green (looks darker in the pics than in reality) with left-over paint from my DIY console table, then lengthened the headboard using some scrap plywood before covering it with wadding and this gorgeous boho fabric I found at Spotlight.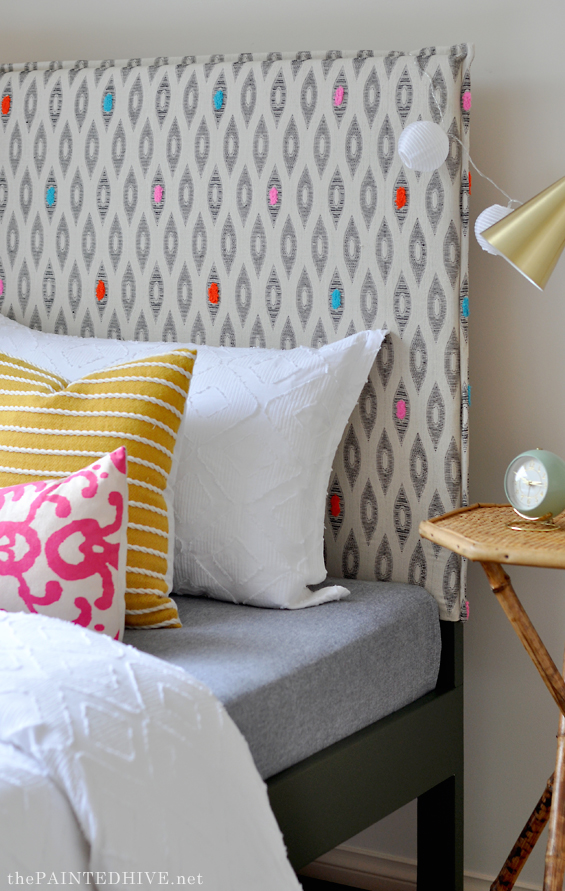 Isn't it cool?
Mum sewed a simple tailored slipcover which pulls straight on.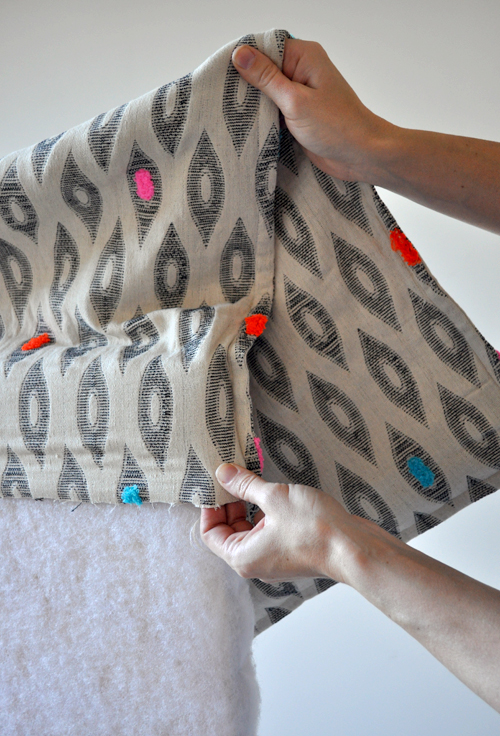 The raw bottom edge was simply tucked under then stapled to the bed frame in a few places to keep it nice and taut.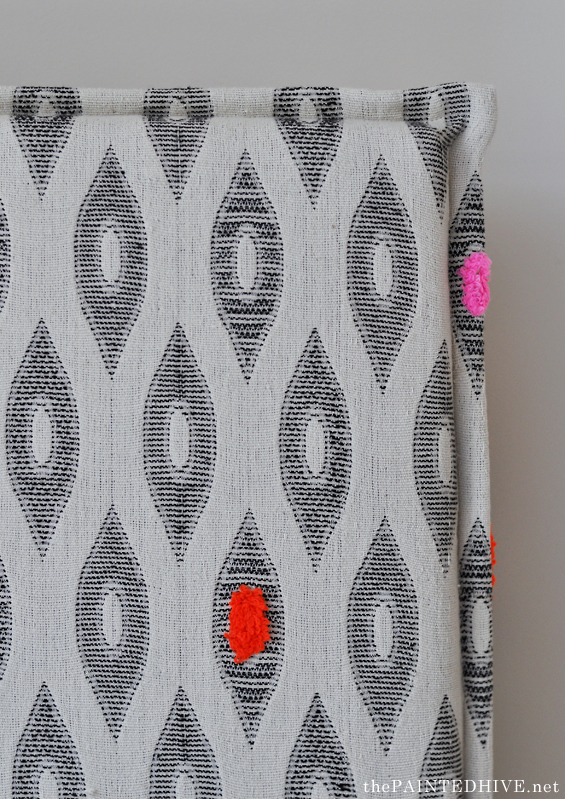 You may recognise the white quilt cover set from my little man's bedroom, and the colourful accent cushions, along with the tasseled throw, are from Spotlight.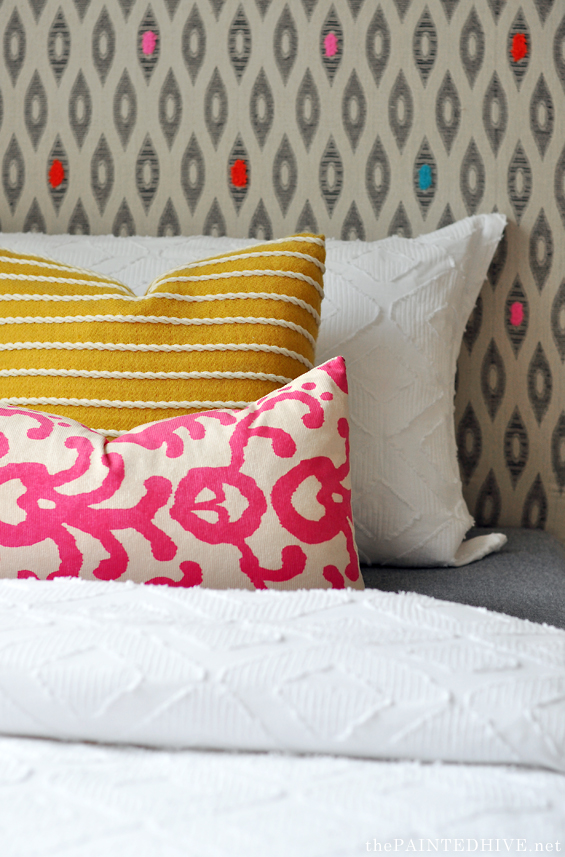 The bamboo gypsy table usually lives in my lounge room and it co-ordinates with the chest of drawers I picked up for $40 from Marketplace which sits near the foot of the bed.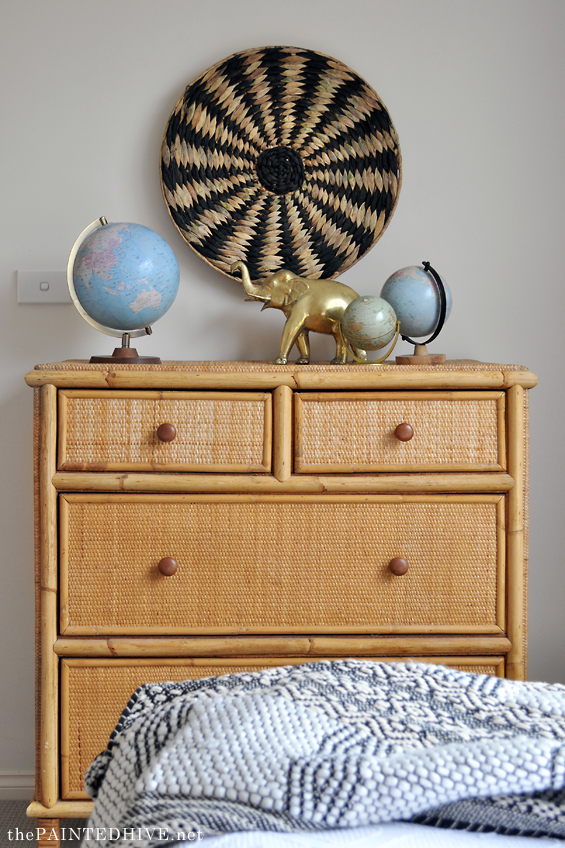 To tone things down and add some subtle pattern, I went with this soft geometric rug.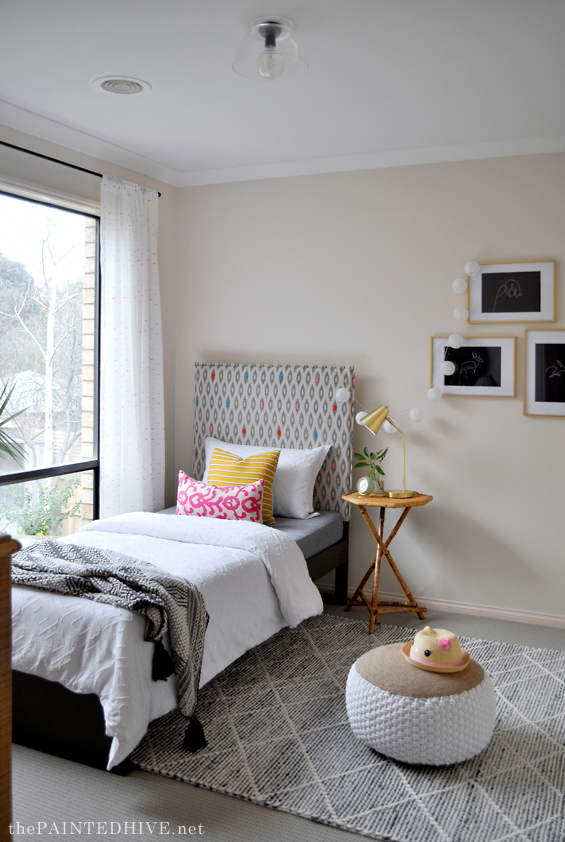 It has a gorgeous felt-like feel, with plenty of lovely texture and a nice casual fringe.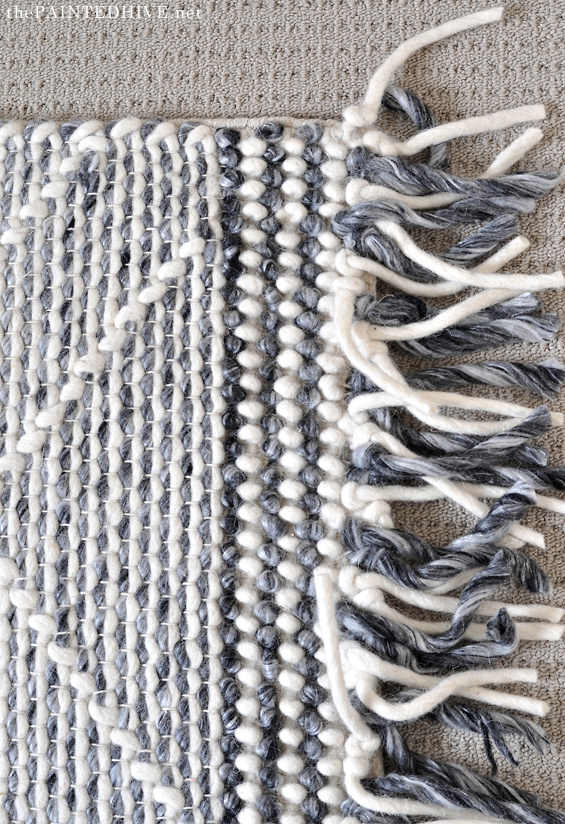 I popped this woven ottoman on top just to help break-up some of the empty floor space and add to the homey feel.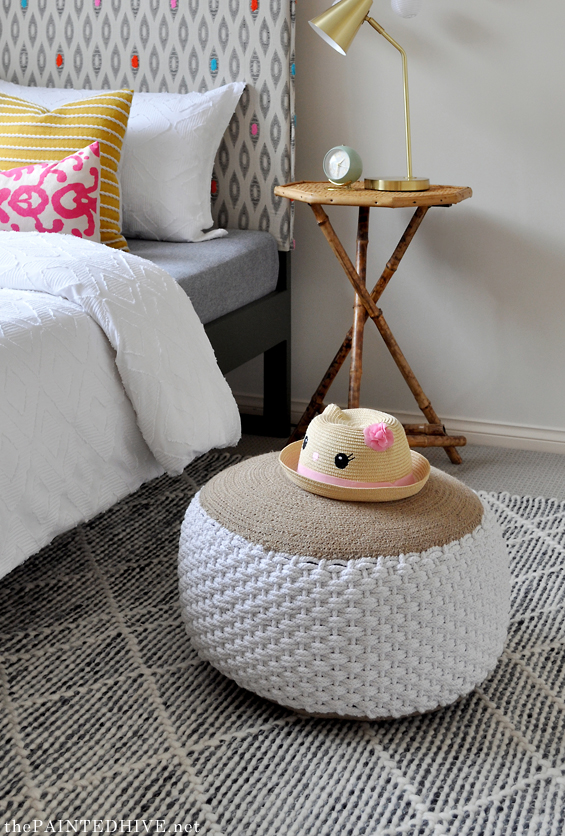 The sheer curtains have this cute rainbow sprinkle detail which plays up all of the colourful accents without feeling like too much.
Isn't it sweet?
I was going to use bright whimsical artwork in here, which would have been cute, though decided on something a bit more sophisticated just to help give the room a slightly grown-up edge.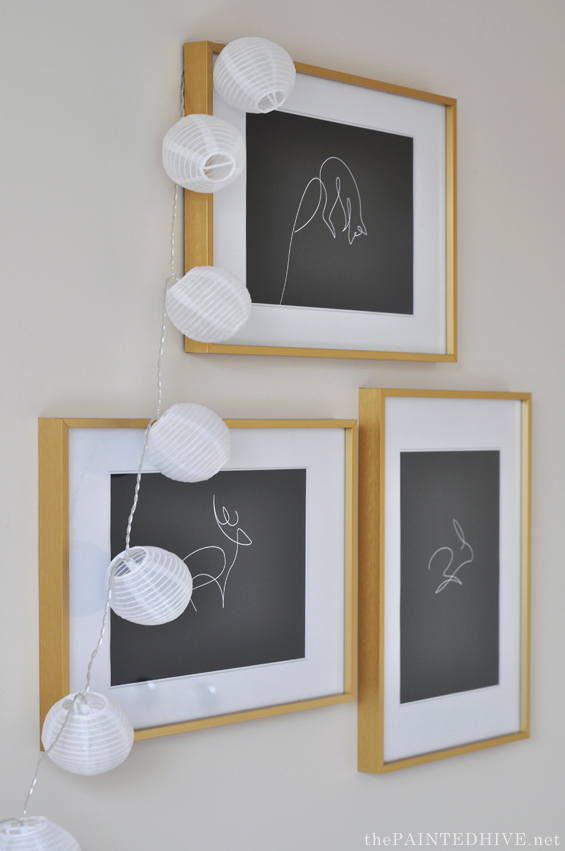 These are just free clipart animal line drawings I grabbed online then inverted onto black backgrounds.
I had them printed through Officeworks (for just 30 cents each!) then popped them in these matted gold frames.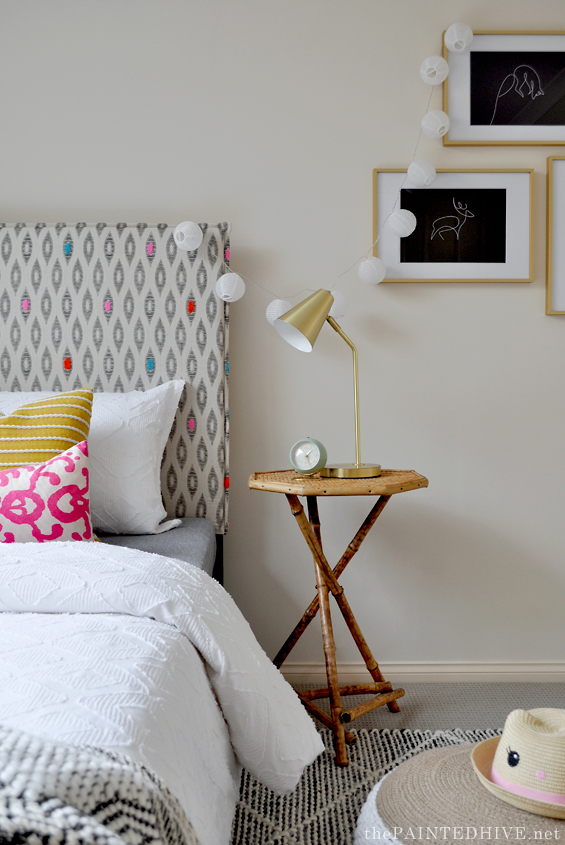 Most of the decor are things we already owned.
The lamp is from my little boy's bedroom, the world globes are from my little girl's bedroom.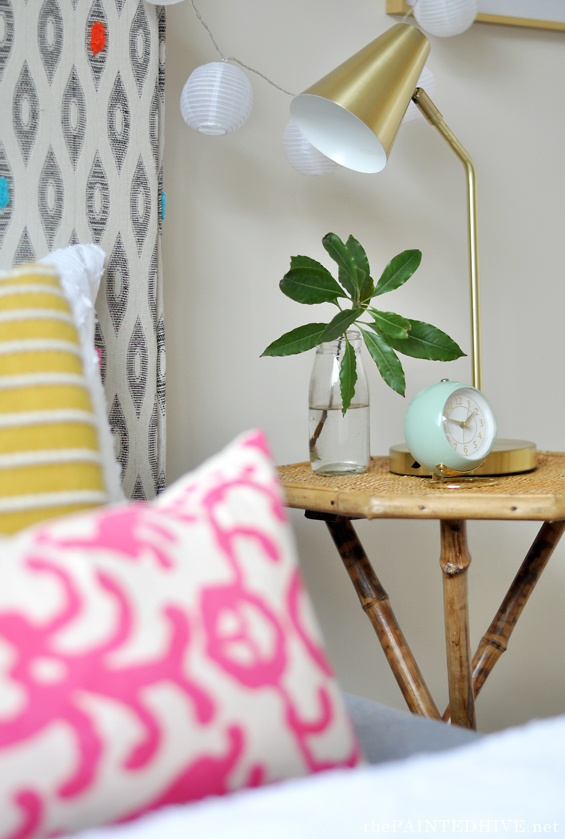 The string lanterns are from Spotlight and the wall basket is from Early Settler.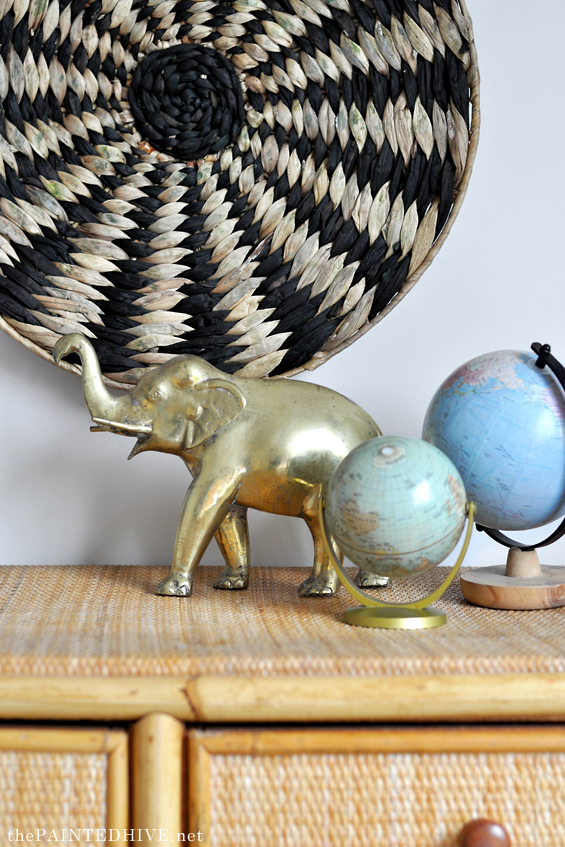 PRICE & SOURCE LIST 
Carpet | Beaulieu Daytona in 'Green Beige' | $300
Bed & Mattress | Already Owned with DIY Headboard using Spotlight Fabric | $0*
Rug | Labin Textured Rug from Spotlight | $150 on sale*
Window Dressing | Sprinkle Pocket Sheers, Rod & Fittings, all from Spotlight | $50*
Bamboo Gypsy Table | Already Owned | $0
Cane Dresser | Facebook Marketplace | $40
Light Fitting | DIY using Clear Serving Bowl from Kmart | $5
White Quilt Cover Set | Already Owned | $0
Tasseled Throw | Spotlight | $25*
Blue-Grey 'Coverlet' | Already Owned (actually a tablecloth from Kmart) | $0
Pink Ikat Cushion  | Spotlight | $12 on sale*
Yellow Ribbed Cushion | Spotlight | $15 on sale*
Gold Lamp | Already Owned (originally from Kmart) | $0
Wall Basket | Vientiane Flat Tray from Early Settler | $25*
String Lanterns | Spotlight | $10*
Artwork | DIY Line Drawings printed through Officeworks | $.30 each
Gold Frames | Spotlight | $8 each on sale*
Other Decor | Already Owned | $0
TOTAL $370
*We were super lucky to be gifted some items from Spotlight and Early Settler.
I've provided their costs however they are excluded from the total.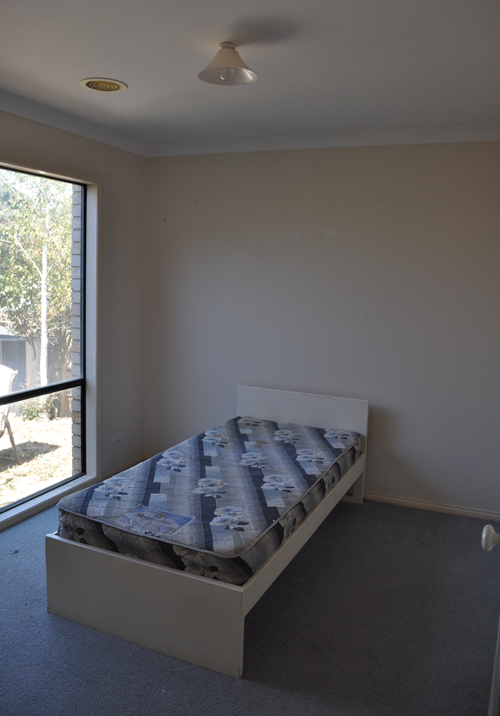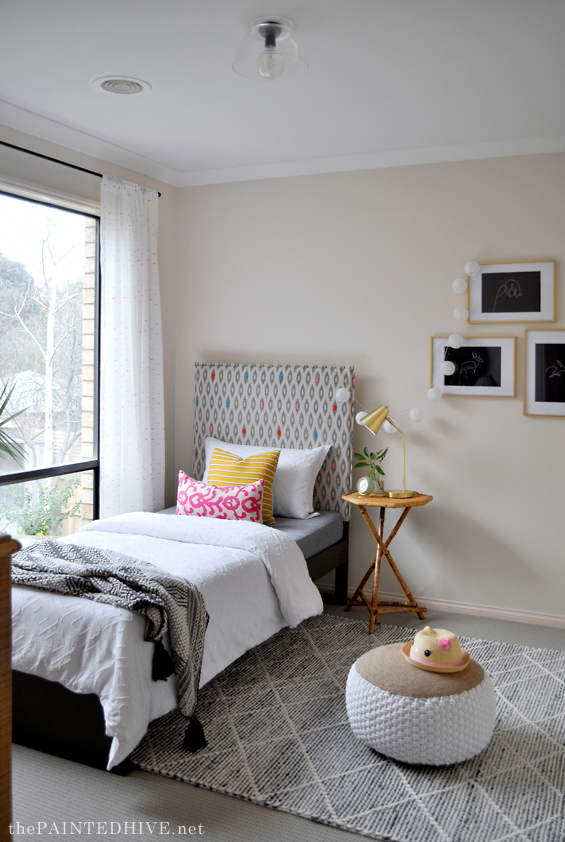 The sale of the house is now final (yay!) so I'll work on putting together my round-up post where I'll also share all of the financial nitty gritty!
Had a go at filming a walk-through however apparently I kinda suck at them! Spent too much time pointing at blank walls and turning in circles (LOL!). Now that I've had a bit of practice though I'll make another attempt before we begin removing the furniture and decor.
Speaking of the furniture and decor, I'm still not entirely sure what I'm going to do with the pieces we can't keep. Am thinking they will need to be sold through Marketplace, or maybe via auction on eBay? Either way, I know some of you have expressed interest in certain pieces so I'll be sure to share once items are listed.
So, that concludes the house tour! Of course, I'll be back with some tutorials and hope you'll continue to follow along.
In other news, I already have a new house project on the very near horizon which I can't wait to share more about soon!
Find all of the previous flip house posts HERE.