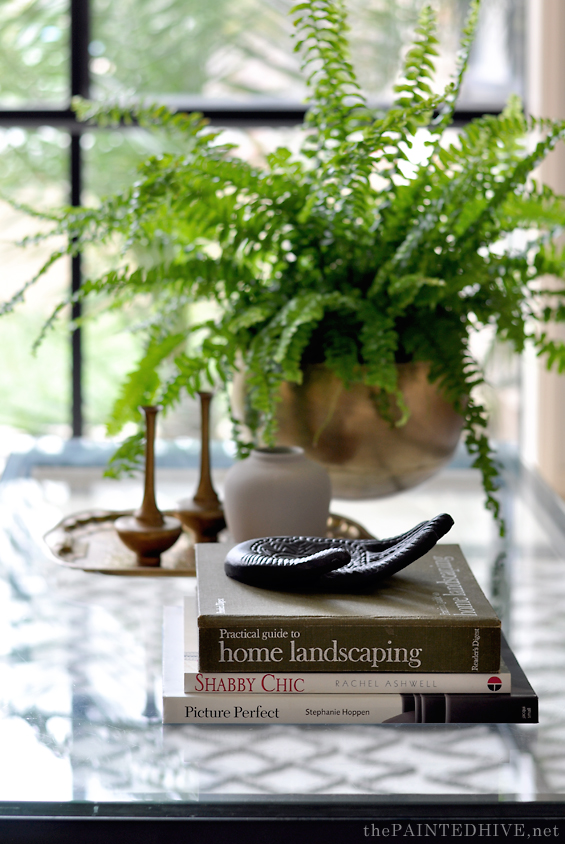 So, I know you guys already know this but…I have the best readers in the whole wide world!
Thank you all so much for the lovely comments on my previous reveal posts. You have honestly floored me with your kindness. I was actually worried some people might feel the need to jump on and leave critical feedback purely to puncture my presumably over-inflated ego – LOL!
Anyhoo, I've been hanging out to share this space because it's possibly my favourite in the entire house.
Here's how the living room looked at the beginning of the flip…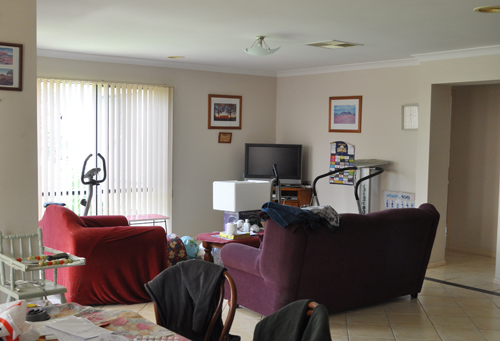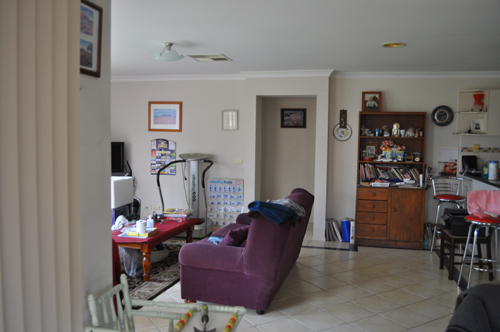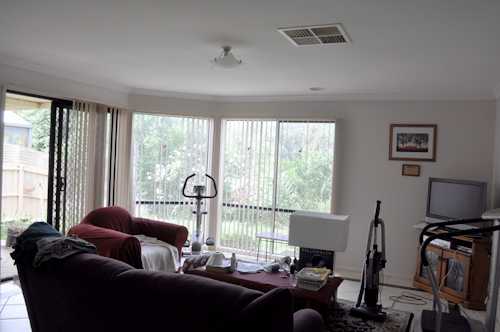 And here it is now…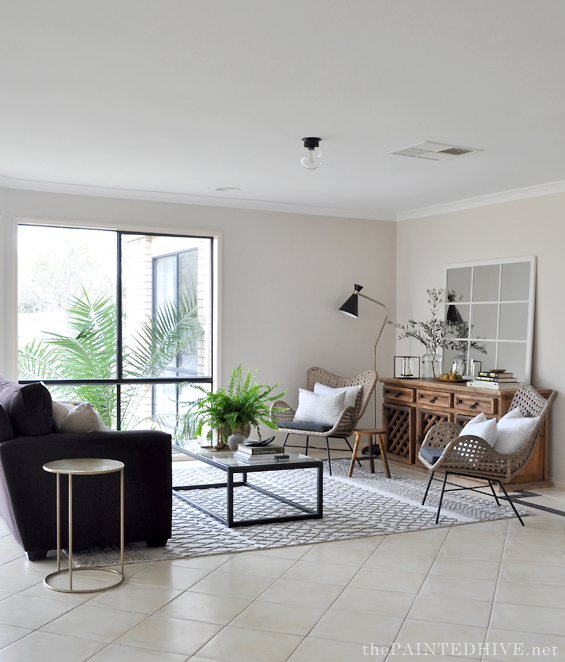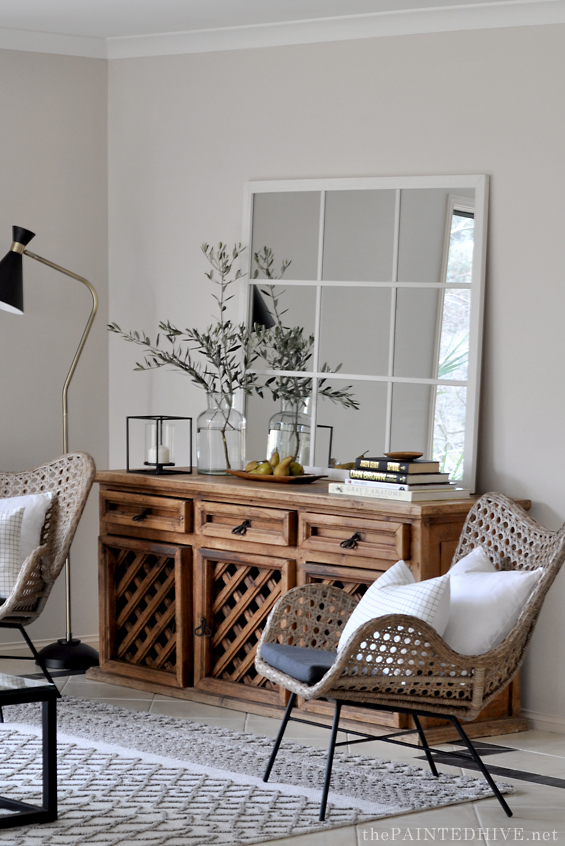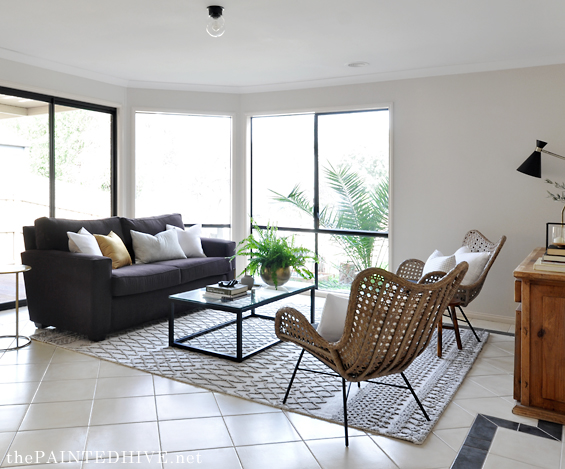 You can find side-by-side before and after images toward the end of the post.
This room was a bit of an evolution.
I started with the sofa, which came with the house (originally in the sitting room). Although it wasn't the style or colour I would have chosen it was simple and neutral enough to work with.
Next came the sideboard which I found for $80 on Gumtree. I must admit, at first I wasn't sure about this piece. I was getting desperate and it was the right scale and price so I jumped on it. It wasn't until I got it in the house that I realised just how perfect it was!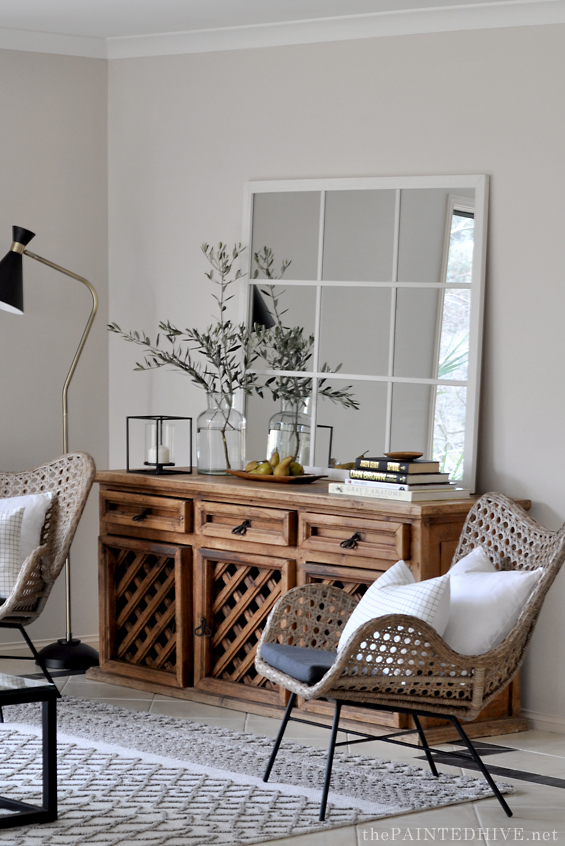 Of course, I needed some armchairs to accompany the sofa, and a nice big rug to warm the space up, help anchor everything together and somewhat conceal the floor tiles.
Ordinarily I would make do with cheap second-hand items, however in this case I was lucky to be gifted some gorgeous products from Early Settler. It was an offer too good to refuse! Whilst they aren't pieces I would normally purchase to stage a prudent flip house (remember, I am super stingy – LOL), for my own home I wouldn't hesitate, and I know many of you will love them!
The stunning rug is possibly my most favourite thing ever! The photos really don't do it justice.
And how cool are the woven armchairs?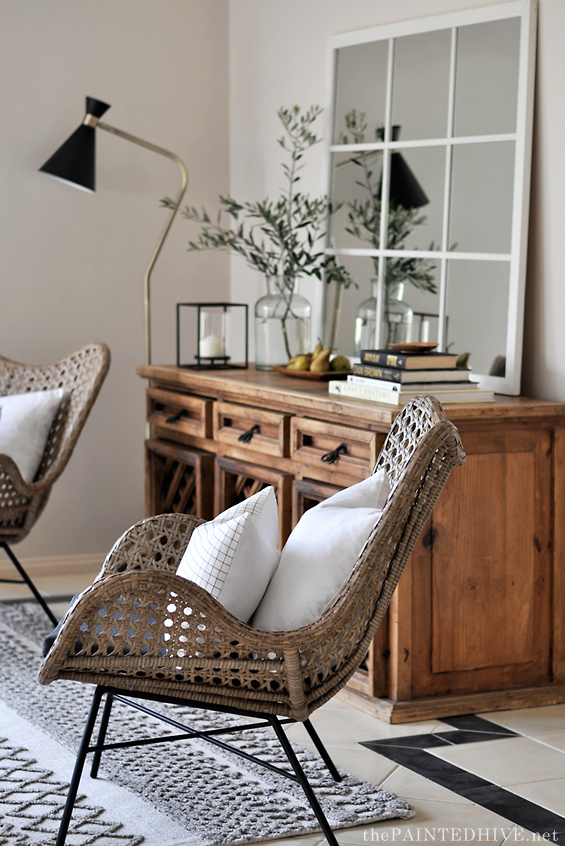 They're sophisticated yet casual and give the room a lovely unique feel.
With the timber of the sideboard and wicker of the armchairs, I felt that introducing more wood or cane could be a bit much so set about trying to find a metal coffee table. I was about to give up and try making my own when I came across this one on Marketplace for just $40.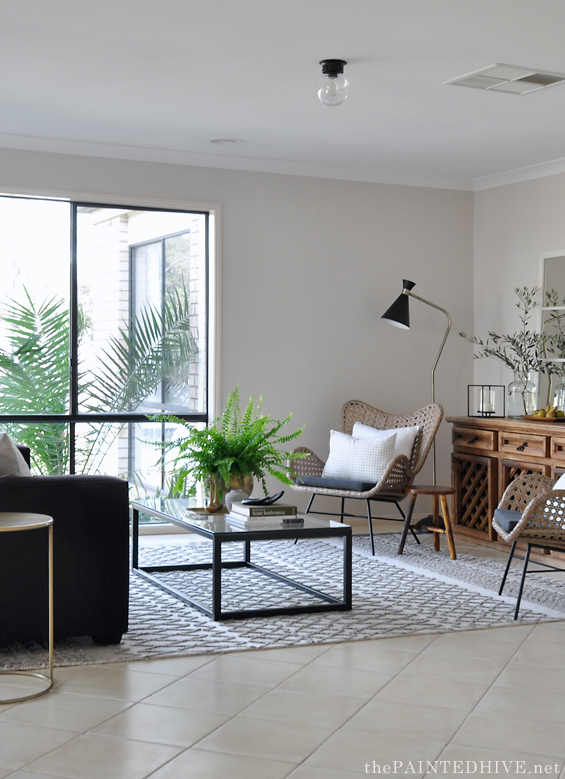 It's simple and contemporary and just right.
When you walk in the front door, you can see the side of the sofa at the end of the hallway.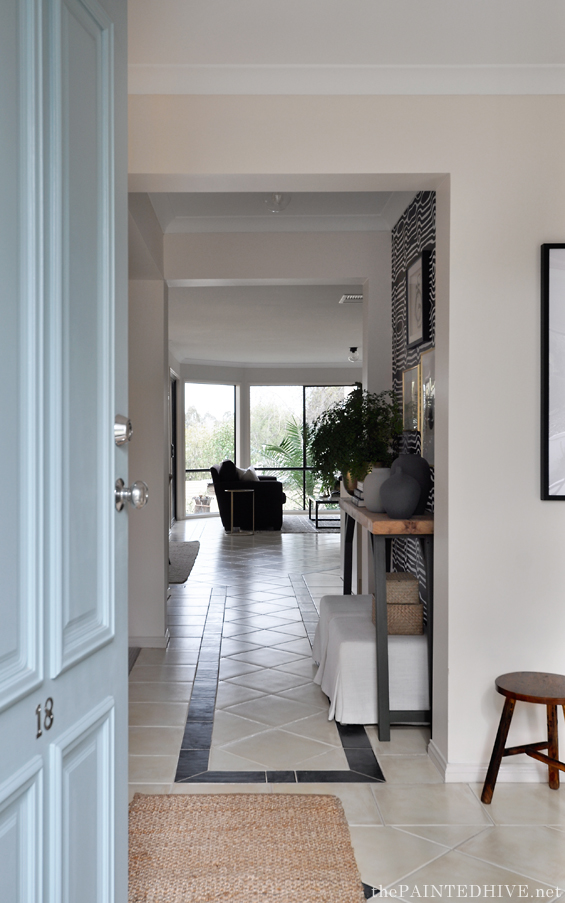 Given it's quite dark, big and blocky I added this basic gold side table (which I found on clearance at Early Settler) to help break it up a bit.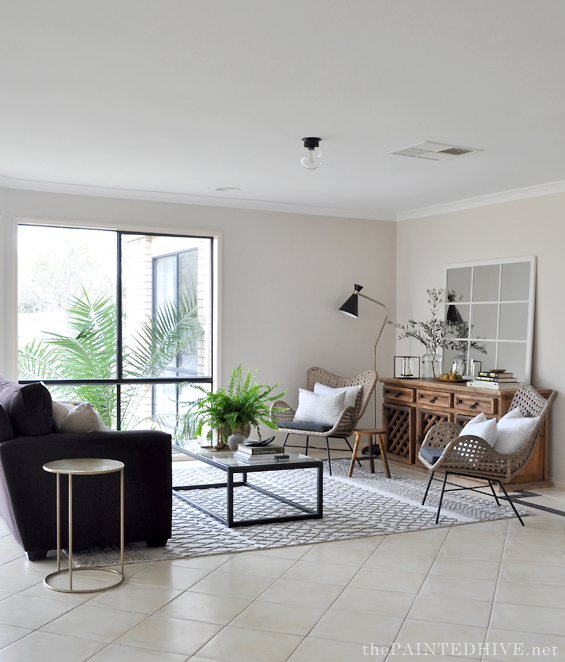 It can be tempting to scatter decor all over the place, though I left the top of it clear to avoid creating a cluttered feel.
For me, one of the most impactful elements in the space is the gorgeous floor lamp.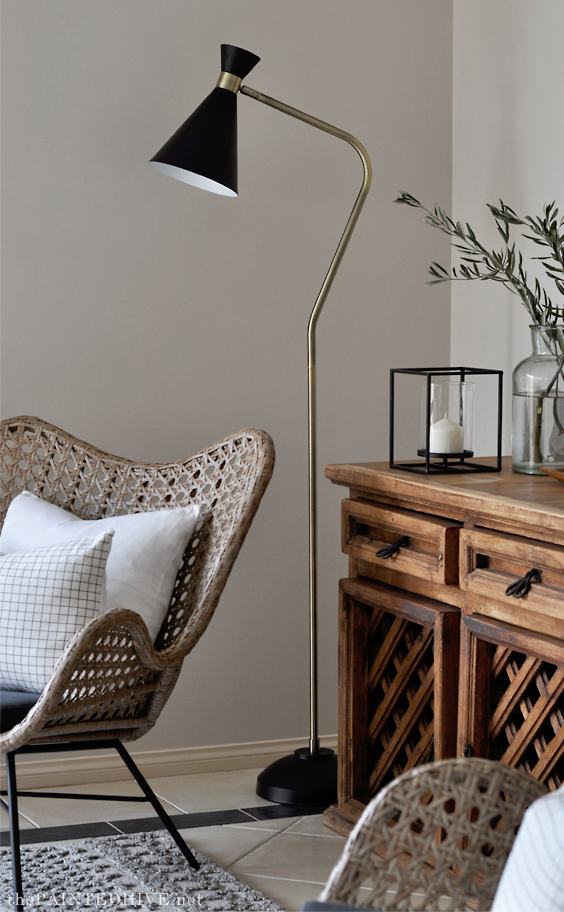 Whilst it's not overly bold or showy, it has a gentle sculptural presence which adds interest and provides a needed modern edge. Plus the black and gold works perfectly to tie the room together. Without it, things just wouldn't feel quite so well resolved and stylish. Don't you think?
To freshen things up, and also link-in with the sitting room, I added a selection of white cushions. They are all filled with feather inserts we already owned and have been sewn by mum using a combination of inexpensive fabrics and tea towels – yep, tea towels make great cushion covers!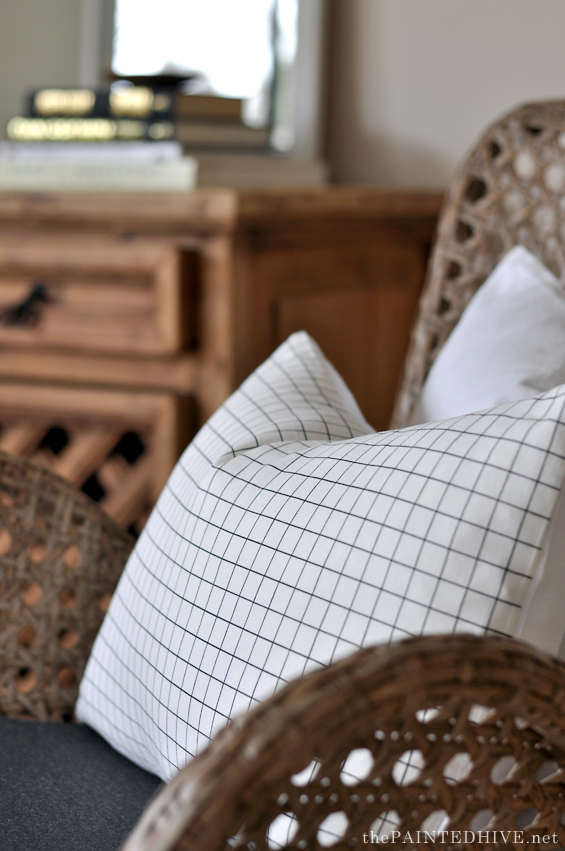 I'm not normally a grid person though something about the understated simplicity of this pattern just seemed so right in here!
And, of course, you can never go past a fine pinstripe.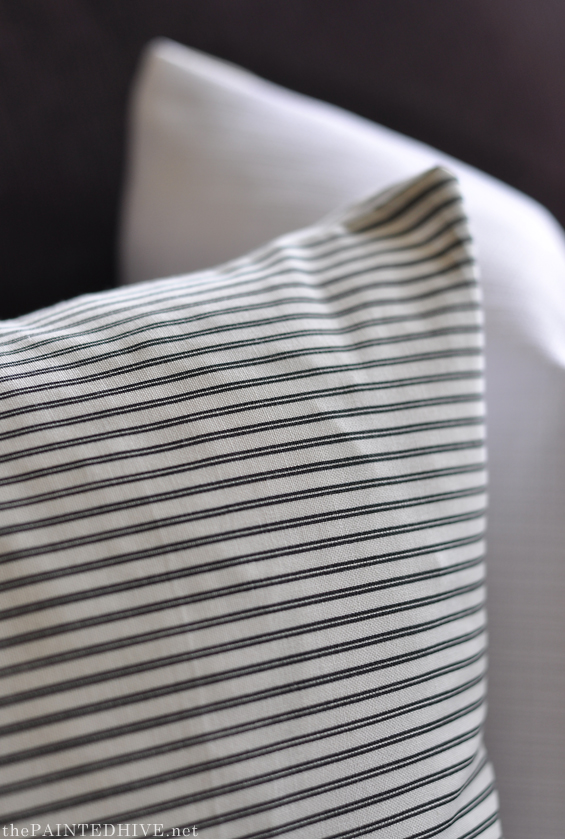 Initially I wanted to hang an over-size moody artwork above the sideboard. As awesome as that would have been, due to time and budget restraints I ended-up using this large gridded mirror we already owned.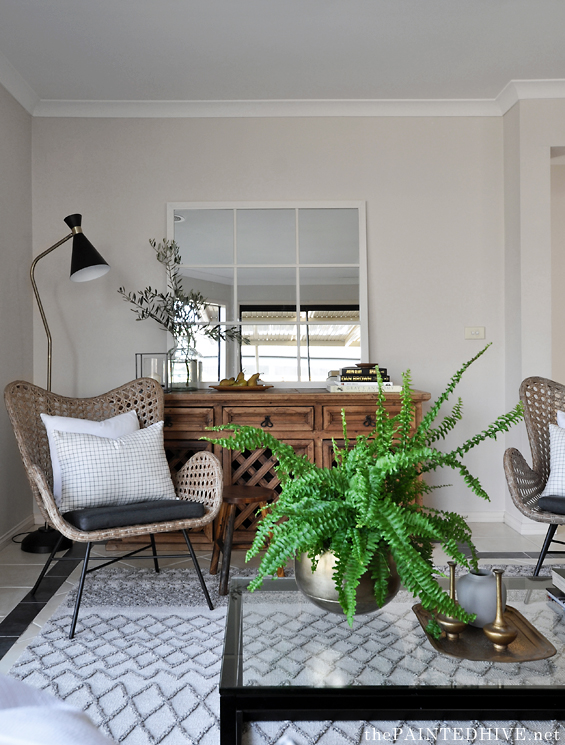 It normally hangs in my parent's breakfast nook (you may remember it from this previous post) and was a $5 Op Shop find from several years back which I added the trim to.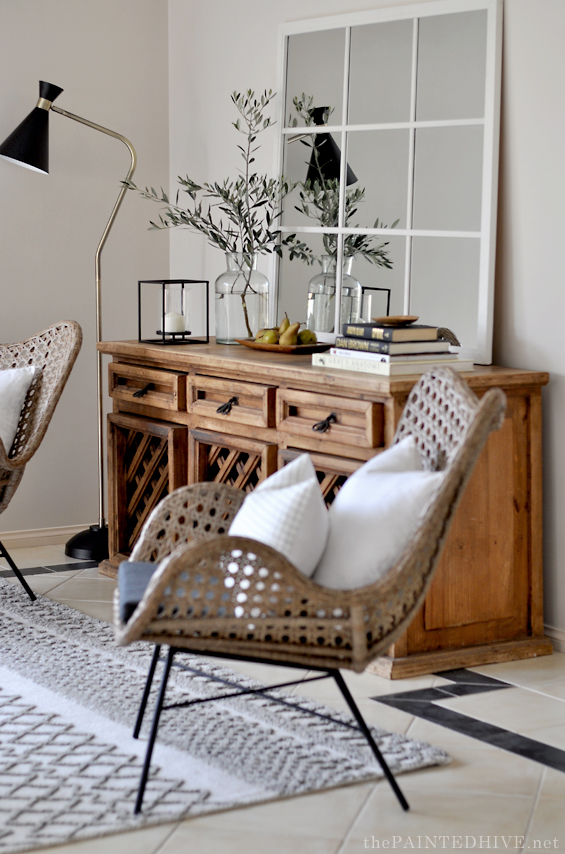 It's super heavy so to avoid hanging it I've merely rested it against the wall which also works to lend things a nice relaxed feel. I absolutely love it in here and am thinking it may work even better than an artwork would have.
My original plan was to keep the decor super minimal, however as I began adding things it just started feeling better and better! I still exercised restraint, so it's far from cluttered, though it has a layered warmth which helps it look collected and genuinely homey.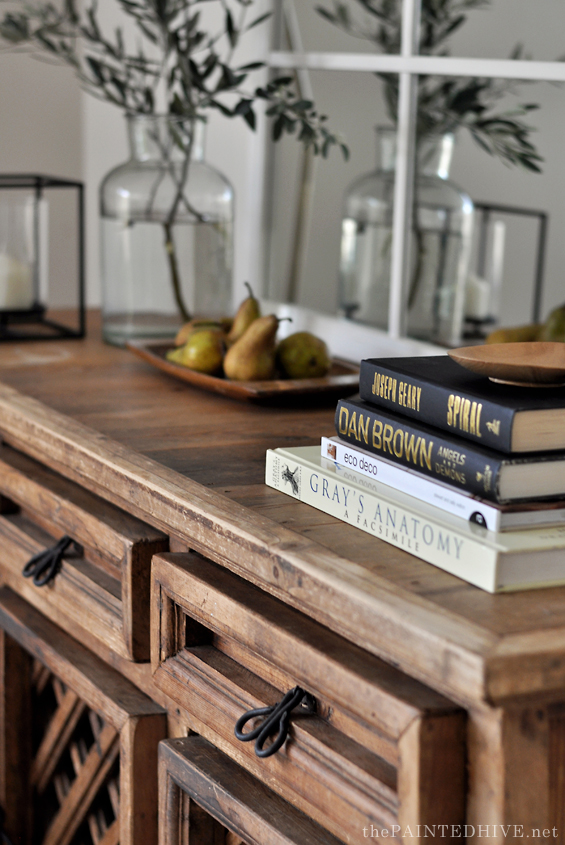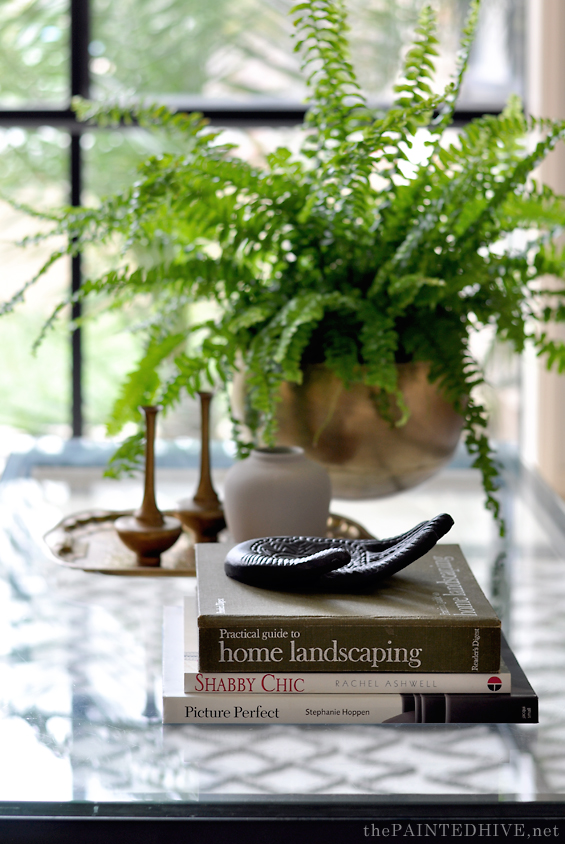 We already owned most of the decor, and the vast majority has been thrifted, so you really don't need to spend much when 'dressing' a room.

PRICE & SOURCE LIST
Sofa | Already Owned | $0
Armchairs | Woven Wicker Occasional Chair from Early Settler | $399 each*
Floor Rug | Nomad Diamond Hand Tufted Rug from Early Settler | $560*
Sideboard | Gumtree | $80
Coffee Table | Marketplace | $40
Gold Side Table | Early Settler | $25 on clearance
Rustic Timber Stool | Already Owned (former DIY project) | $0
Floor Lamp | Williams Trumpet Lamp from Early Settler | $150*
Ceiling Light | Bunnings | $14
Mirror | Already Owned | $0
White Cushion Covers | DIY using Fabric from Spotlight | $5 each
Pinstripe Lumbar Cushion Cover | DIY using Tea Towel from H&M | $6
Grid Cushion Covers | DIY using Tea Towels from H&M | $6 each
Gold Cushion Cover | Already Owned (originally from H&M) | $0
Feather Cushion Inserts | Already Owned | $0
Brass Planter | Ashika Plant Holder (Medium) from Early Settler | $31*
Decor | Already Owned | $0
TOTAL $197
*We were super lucky to be gifted some items from Early Settler. 
I've provided their costs however they are excluded from the total.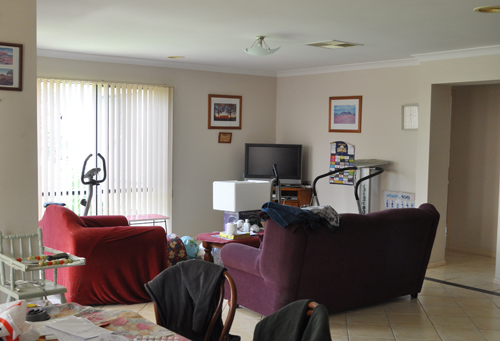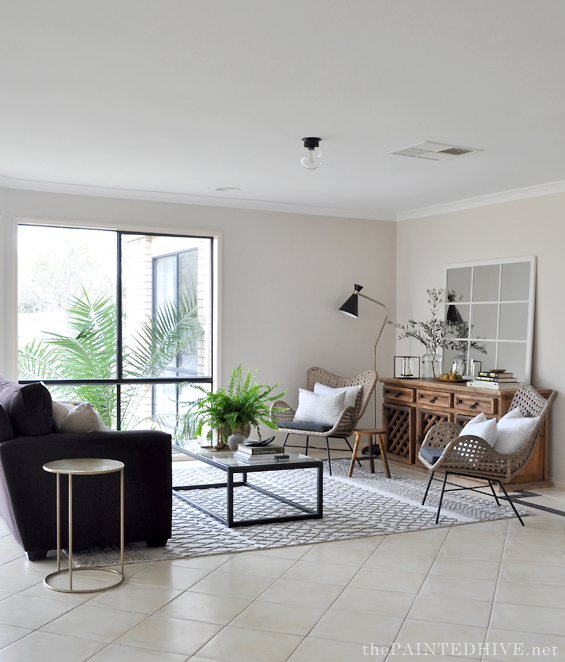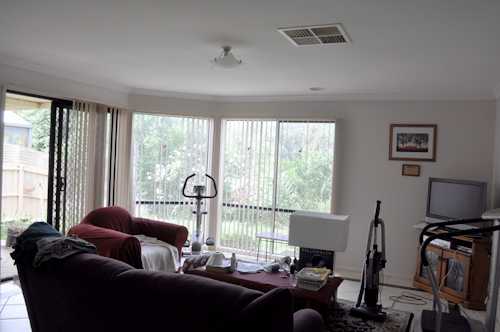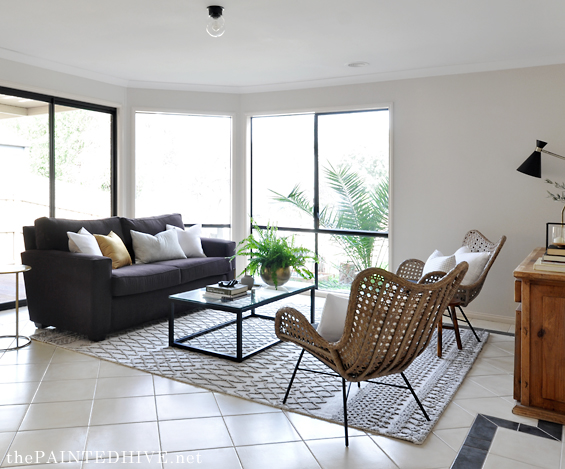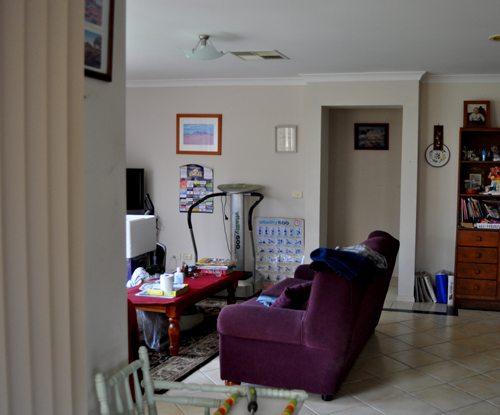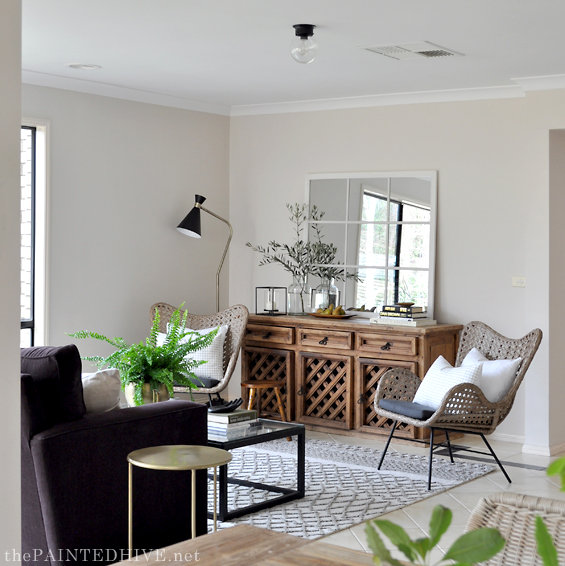 Hope you guys like this space as much as I do.
Will be back soon to share the dining room!
Find all of the previous flip house posts HERE.