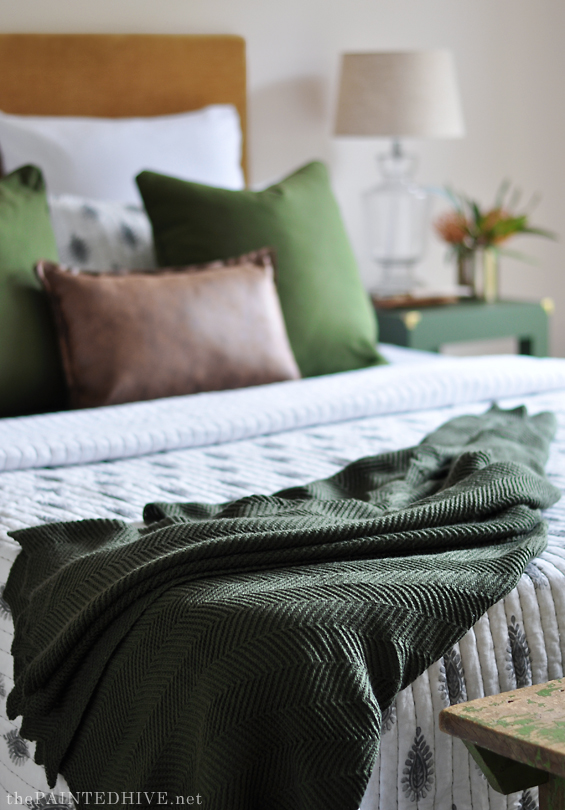 I'm chugging along with the flip house room reveals like a crazy lady. Or maybe just like a proper blogger? Either way I hope you haven't been too alarmed by my level of efficiency – LOL!
This is the master suite which features a bedroom, ensuite and walk-in-wardrobe. Here's how it looked a few months back…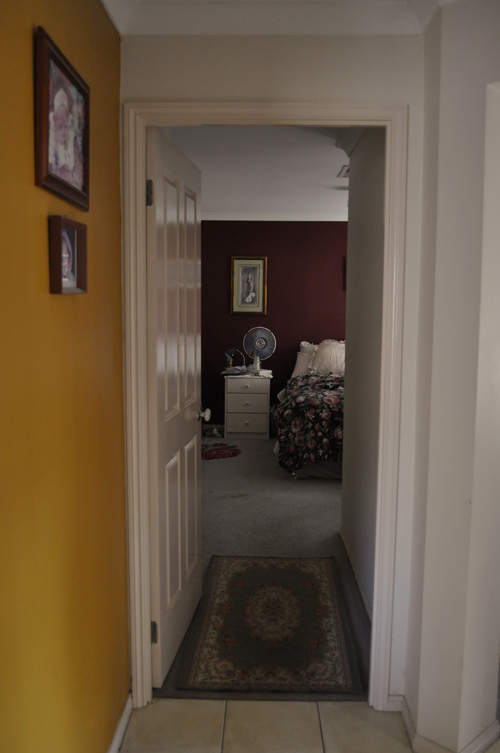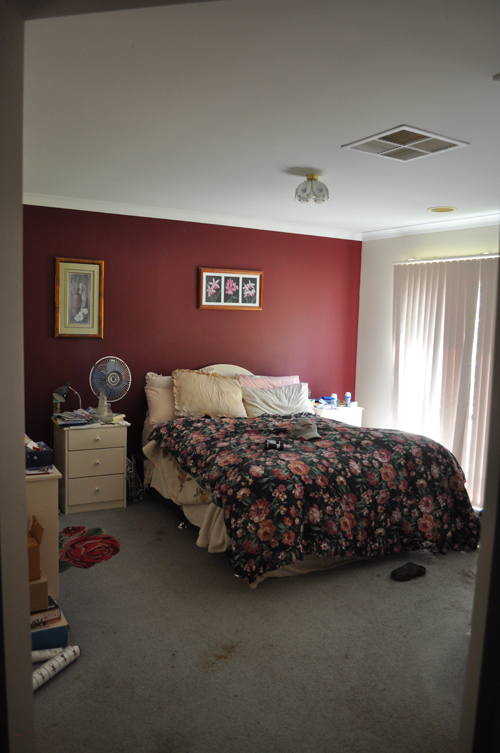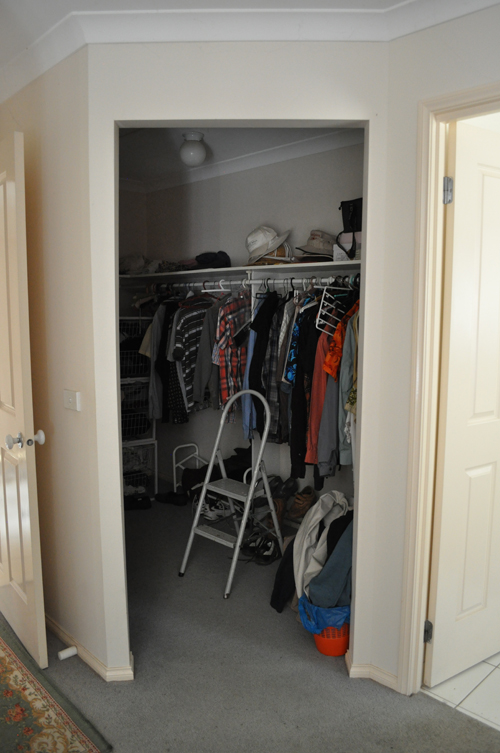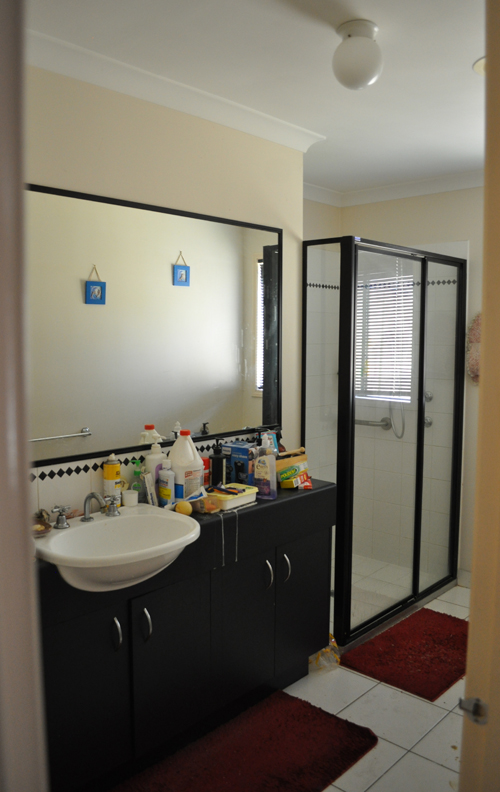 And here it is now…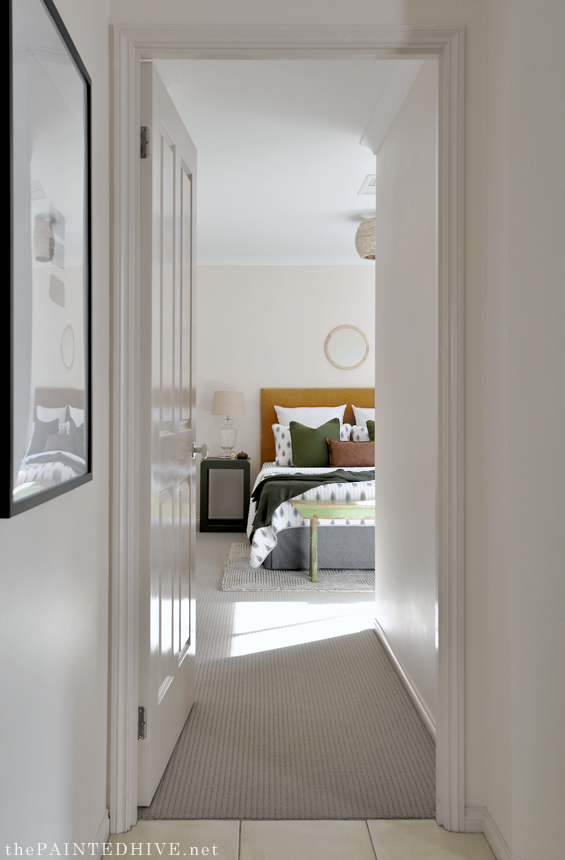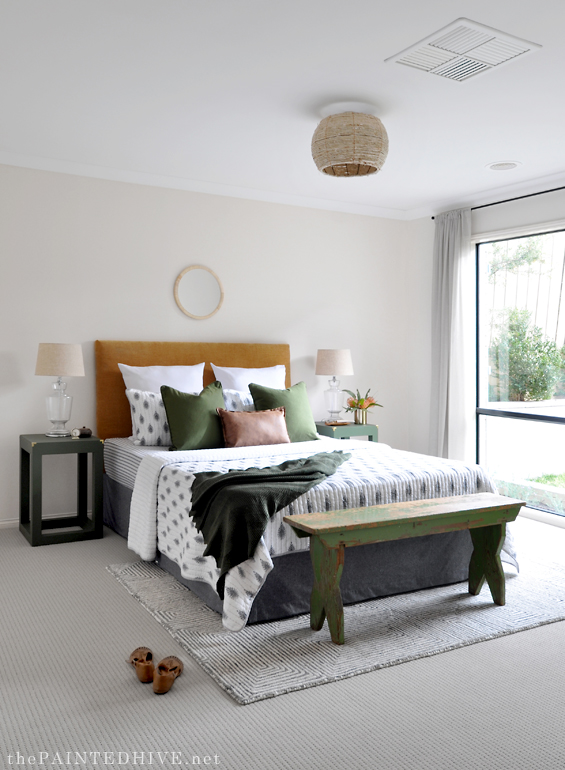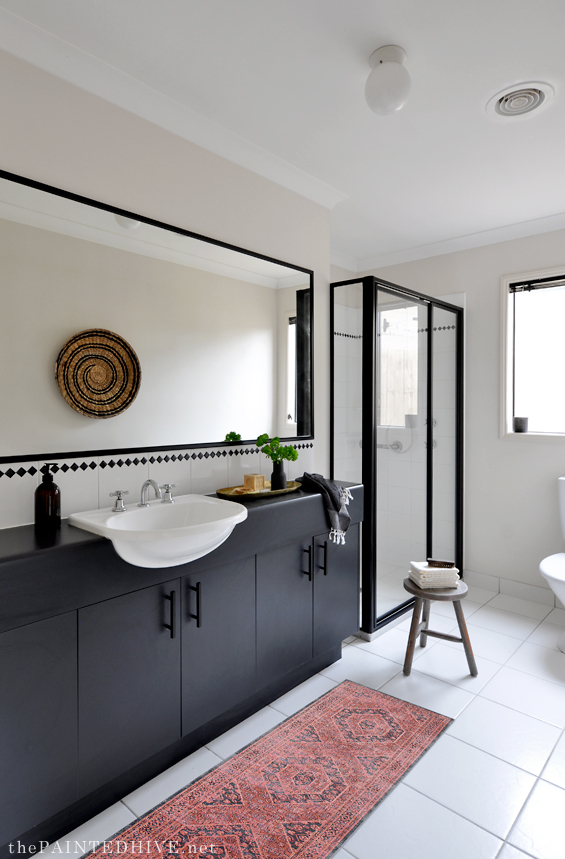 You can find side-by-side before and after images toward the end of the post.
Sorry, I didn't take an after of the wardrobe because all we did was clean it out.
The master bedroom is one of the first rooms you glimpse as you walk in the front door. Given it has its own little entry hall I really wanted to draw people in and set the overall tone for the house with a slightly sophisticated mood.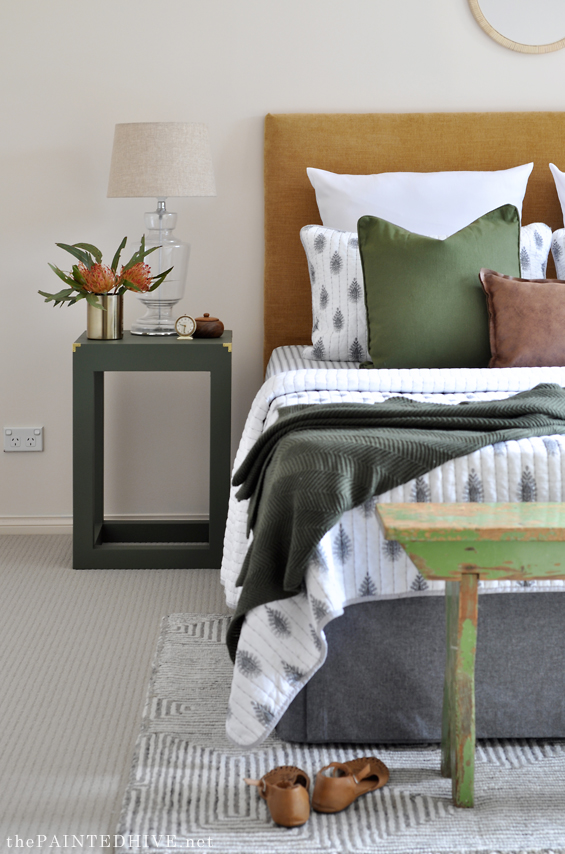 The jumping off point was the mustard headboard which was an easy and affordable DIY (I'll share a tutorial in the coming weeks).
We were lucky to already have the basic bed ensemble (as per the before pic) though the original Queen Anne style headboard just wasn't working with the scale of the room. To give the bed some presence and added oomph something more significant was needed.
Initially I was going to go with a bold and contemporary pattern for the headboard, though I couldn't find quite what I wanted, and then I stumbled across this plush mustard fabric.
I was smitten, and immediately pictured it with deep green, aged leather and shiny brass. It's a slightly unusual colour scheme though I love that it's different.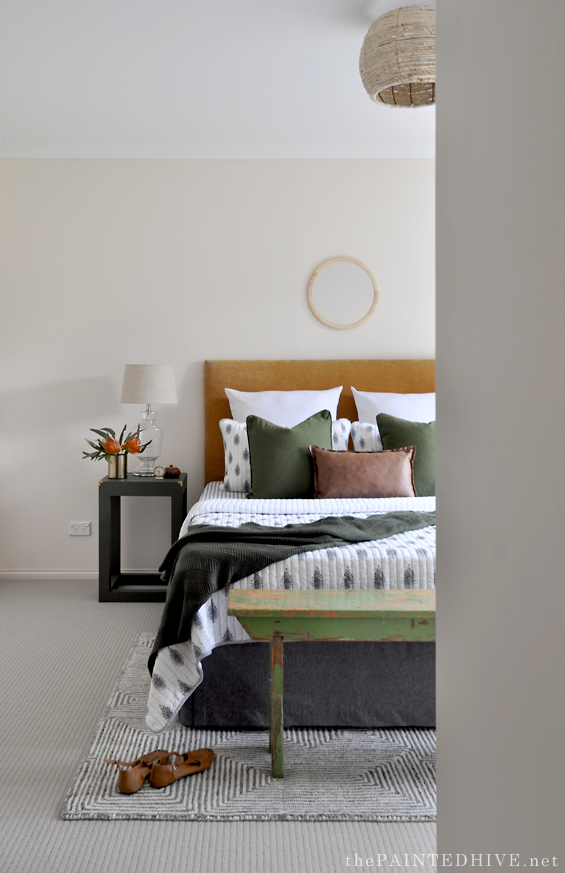 To compliment it I upholstered the bed base in a linen-look charcoal, which is actually a curtain panel!
Bed skirts, or valances, can be expensive, plus they don't tend to come in a great range of styles and fabrics (and often they don't fit well). By making your own you can tailor it perfectly and choose from a wide range of fabrics. I went with a curtain panel because the fact it's already hemmed means there's no sewing required! And often they are cheaper than buying the same amount of fabric off the bolt.
This curtain panel came in a set of two for $21 (on sale) and I used one whole panel plus a small strip of the second panel (I probably could have gotten away with using just one if I'd been more careful with my measuring). I'll share a full tutorial in a future post though I essentially trimmed lengths to size then stapled them directly to the bed base until it was all covered.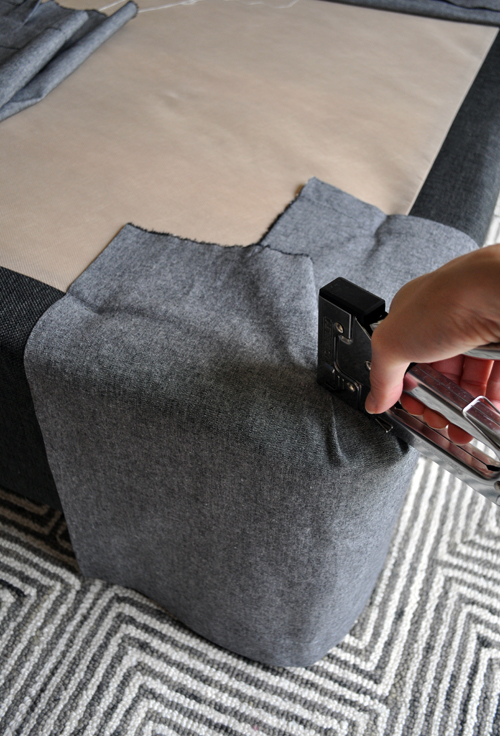 The bedding is a mix of new and old.
The ticking sheet, block-printed coverlet set, faux leather lumbar cushion and green throw are things we already owned.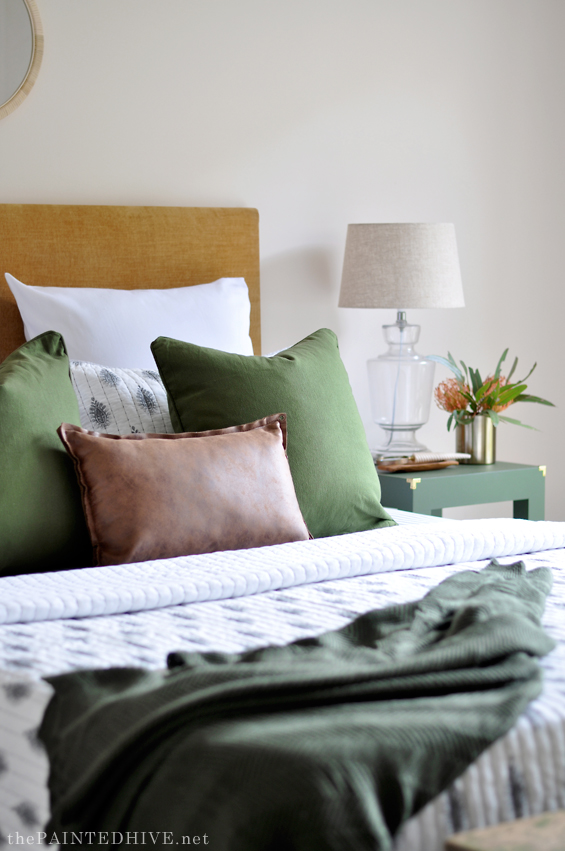 The green accent cushions and white euro pillows are from Spotlight.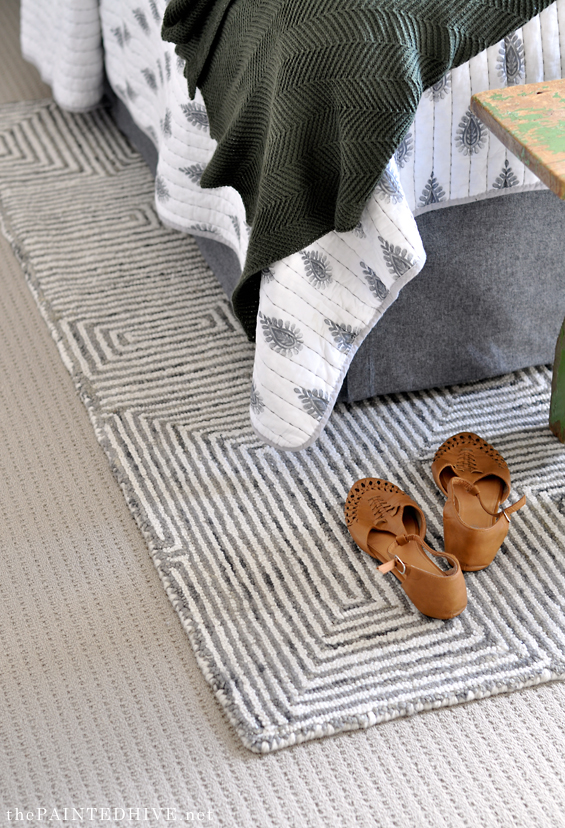 The rug was a bit of a happy accident. I picked this one up on sale, not quite knowing where I was going to use it, and it works perfectly in here. The grey has a gentle green undertone which references all the other green without being too much, and the geometric pattern adds a slightly modern touch.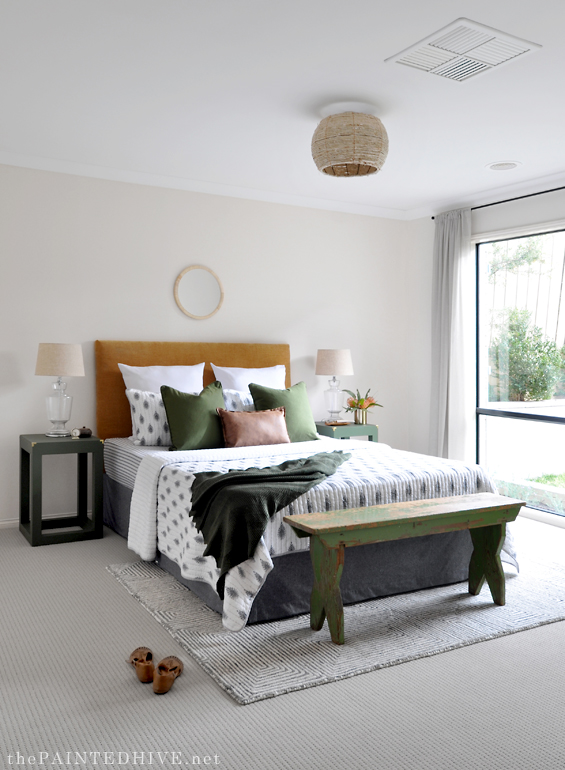 I would have loved some natural timber in here however no-one, myself included, was willing to sand the cube tables I found on eBay back to raw. It wouldn't have been a super difficult job, though it's not the funnest things to do in the world, especially when you already have a million projects on the go.
The original wenge finish was a little too dark, and damaged, so I decided to simply paint them using some left-over green sample pot paint.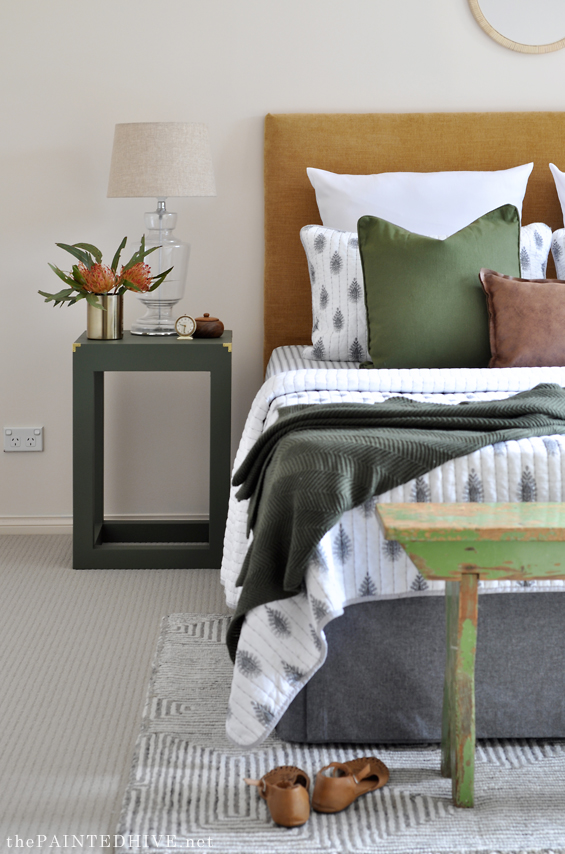 I then added these cute brass corners from D Lawless Hardware for a touch of interest. It's all in the details.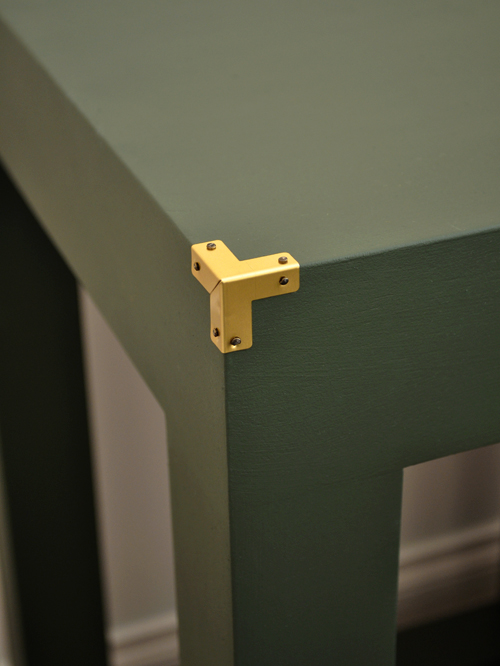 Atop the side tables sit glass lamps which I stole from my parent's beach house (you may recognise them from this old makeover) and a variety of simple decor we already owned.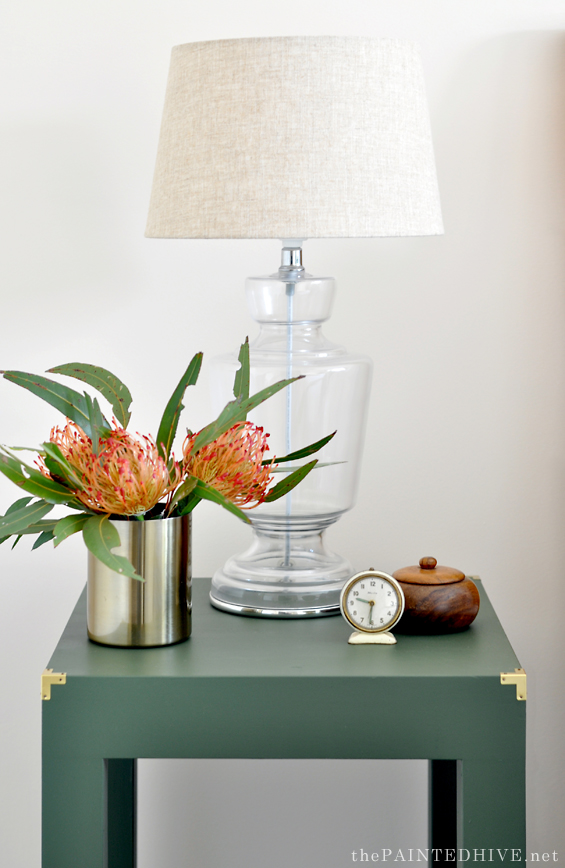 The brass planter holds faux Pincushion blooms (could you tell?) which I've supplemented with real gum leaves. Adding real foliage to artificial flowers is a no fail way of making them appear more authentic (although these ones do look pretty amazing as is). I adore live flowers though when you're staging a property for sale it can get pricey replacing them every other week. This is a great cheat.
Another DIY from this space is the basket ceiling light.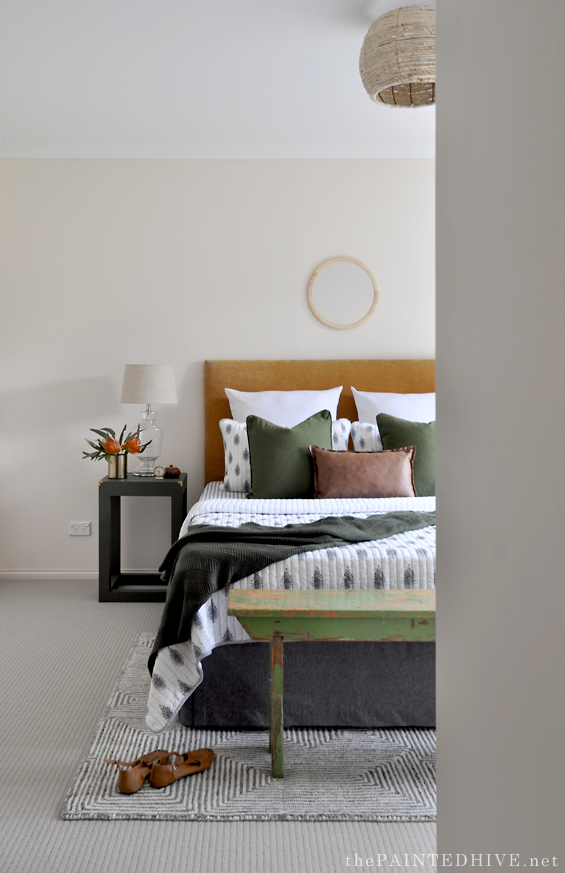 I found this basket at Spotlight and immediately knew it was meant to be a light fixture! As with the headboard and bed skirt, I'll share a full tutorial in the coming weeks though I essentially just re-purposed a lamp frame so I could attach it to the ceiling batten fitting like any regular light shade.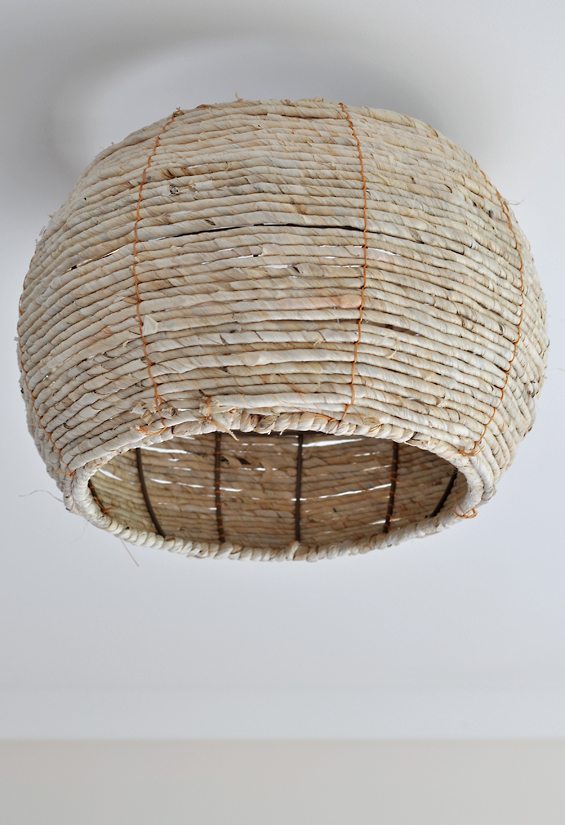 I was initially going to use it as a pendant though it felt a bit too imposing hanging low.
To give the natural seagrass a sense of belonging in the space, I added a simple cane mirror above the bed which speaks to it perfectly.
The curtains are the same sheers I used in the sitting room (Caprice Montego in 'Linen'). I put them up in here first and decided I loved them so much I needed to use them again! They have a beautiful fall and each panel is nice and generous for a soft, full effect.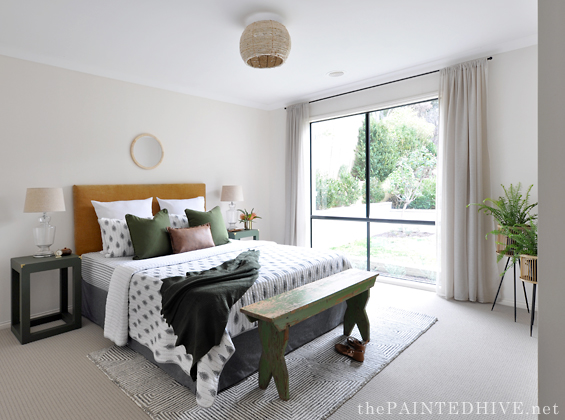 In my wide angle shot above I was able to capture the cute plant stands I have hiding around the corner.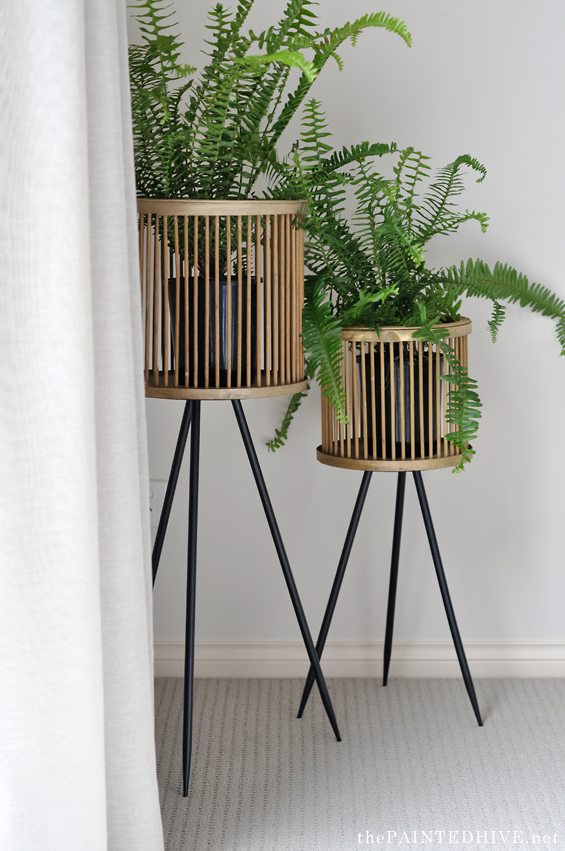 I've filled them with lovely lush ferns and they're the perfect little accent to fill this bare corner and add a touch of life and freshness to the space.
Although the transformation in the ensuite looks pretty extreme, we actually haven't done much.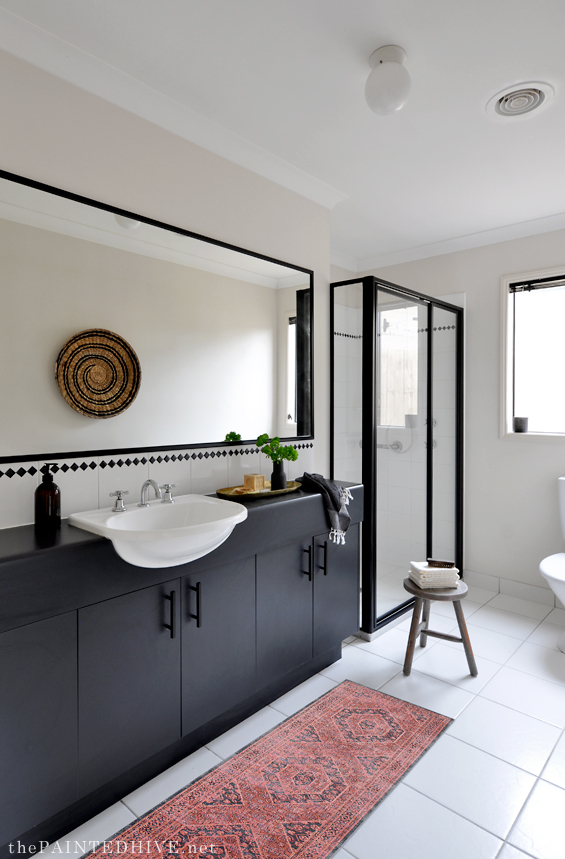 The toilet was a bit run down so we switched-out the seat and cistern to give it a fresh, clean look without replacing the entire thing.
And I had some left-over handles from the kitchen so we changed the original chrome pulls on the vanity for these more on-trend black ones.
Aside from that, it's really just cleaning and staging.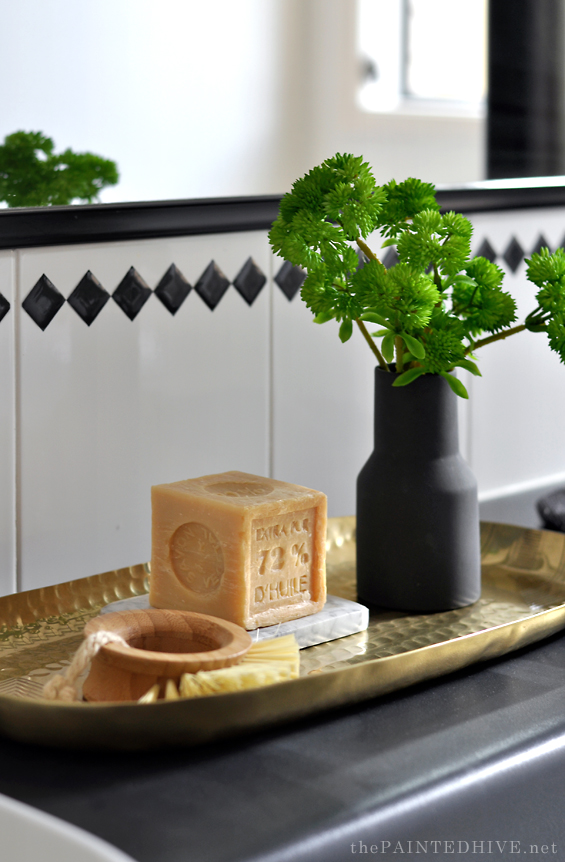 We were fortunate it was so neutral to begin with. If anyone is currently designing their home and wants something which will stand the test of time, you can not go past classic black and white!
Most of the decor are bits and pieces we already owned.
The rug is vintage (borrowed from my aunt), and you may recognise the little stool from this previous DIY.
The little black vessel is another of my spray painted Op Shop finds which I've filled with sweet artificial sedum sprays, and the wall basket you can see reflected in the mirror matches those I've hung beside the front entrance. It looks a little lost here on that big blank wall however it's actually positioned directly over the towel rail.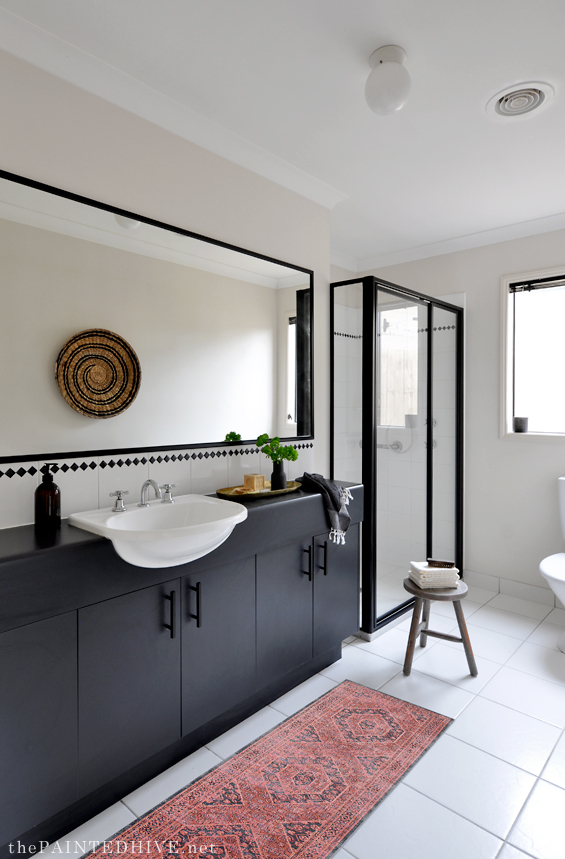 PRICE & SOURCE LIST (MASTER BEDROOM)
Carpet | Beaulieu Daytona in 'Green Beige' | $600
Light Fitting | DIY (basket from Spotlight) | $22 on sale*
Curtains & Fittings | Caprice Montego Sheers in 'Linen' (plus all hardware) from Spotlight | $65 on sale*
Floor Rug | Woolen Payton Maze Rug from Spotlight | $200 on sale*
Bed Ensemble | Already Owned | $0
Headboard | DIY (fabric from Spotlight) | $25
Side Tables | DIY (found on eBay) | $40
End of Bed Bench | Already Owned | $0
Round Mirror | Spotlight | $18*
Glass Lamps | Already Owned | $0
Planter Stands | Spotlight | $46 for both*
Ticking Sheet, Block-Printed Coverlet, Faux Leather Cushion, Green Throw | Already Owned | $0
Green Cushion Covers | Spotlight | $15 each on sale*
White Euro Pillow Covers | Spotlight | $4 each on sale*
Bed Skirt | DIY (using a curtain panel from Spotlight) | $15*
Brass Planter & Artificial Flowers | Koch & Co. | $32*
Other Decor | Already Owned | $0
TOTAL $655
PRICE & SOURCE LIST (ENSUITE)
New Toilet Cistern & Seat | Installed by Plumber | $160
Floor Rug | Already Owned | $0
Stool | Already Owned | $0
Wall Basket | Early Settler | $35*
Cabinet Pulls | eBay | $3 each
Artificial Sedum Sprays | Koch & Co. | $9*
Other Decor | Already Owned | $0
TOTAL $175
*We were super lucky to be gifted some items from Spotlight, Koch & Co and Early Settler. 
I've provided their costs however they are excluded from the total.

Here are the side-by-side before and afters…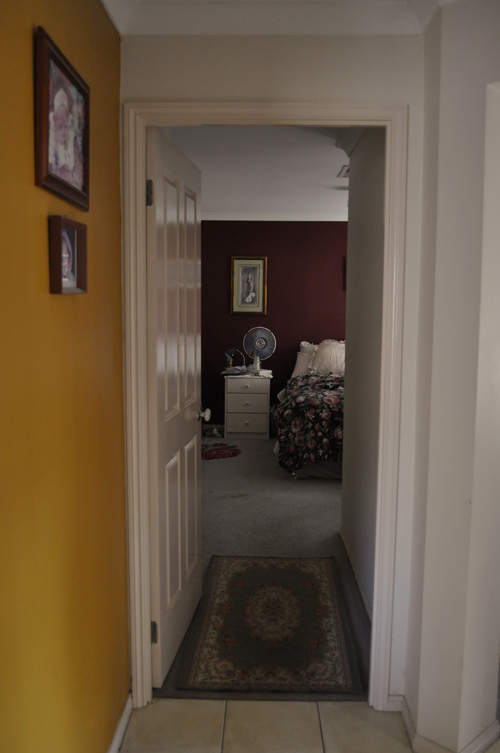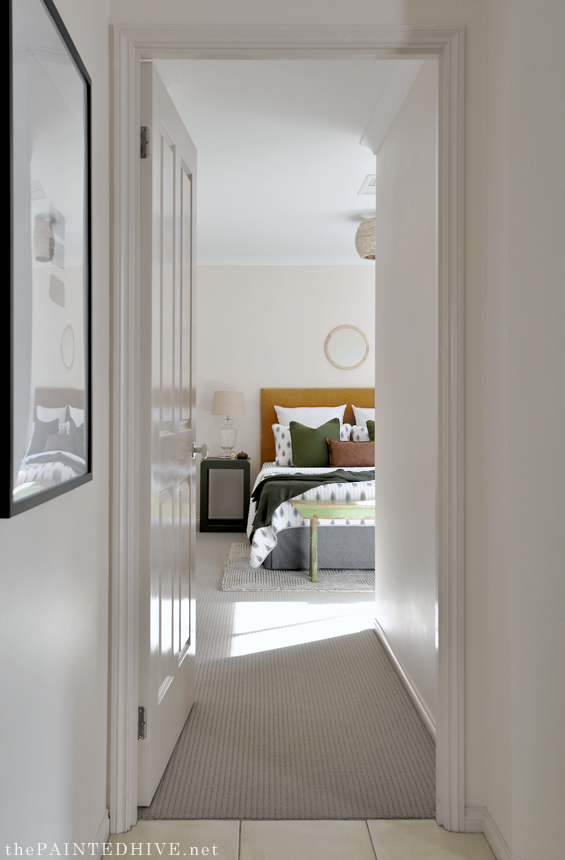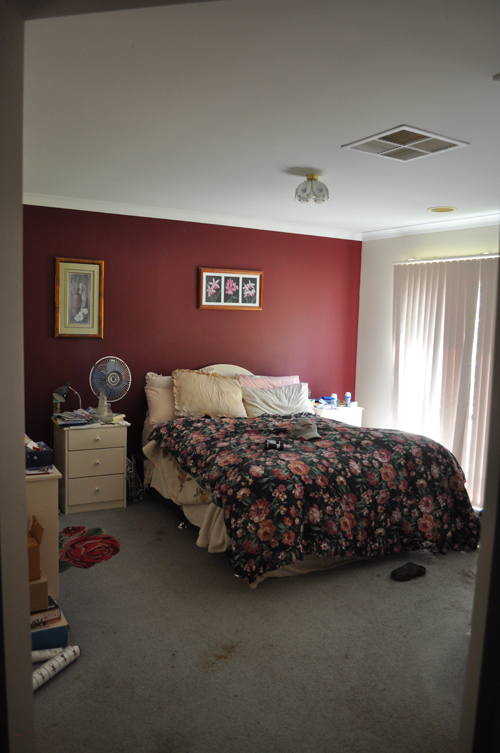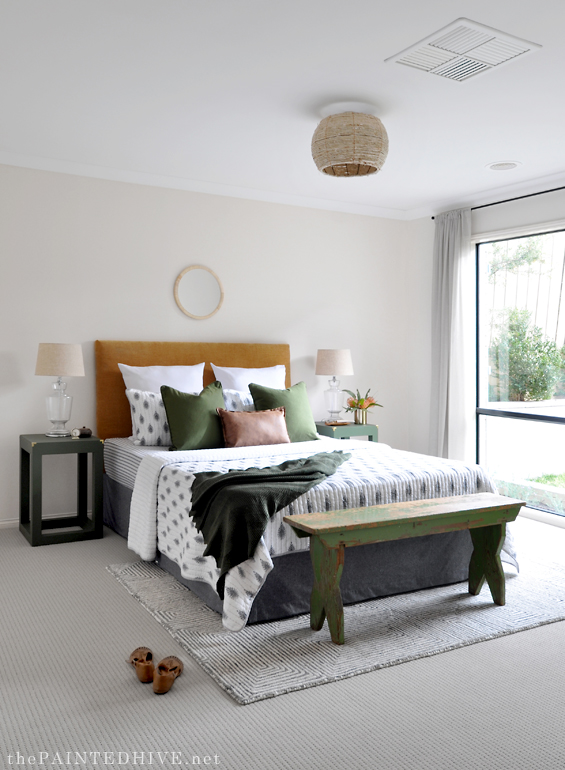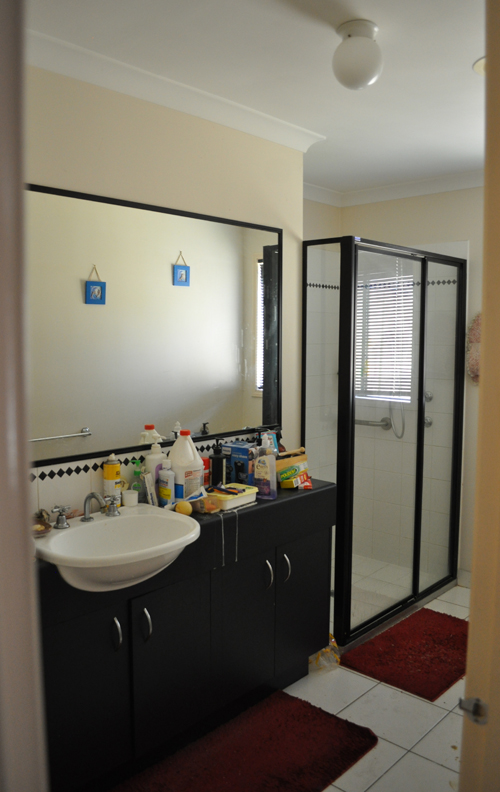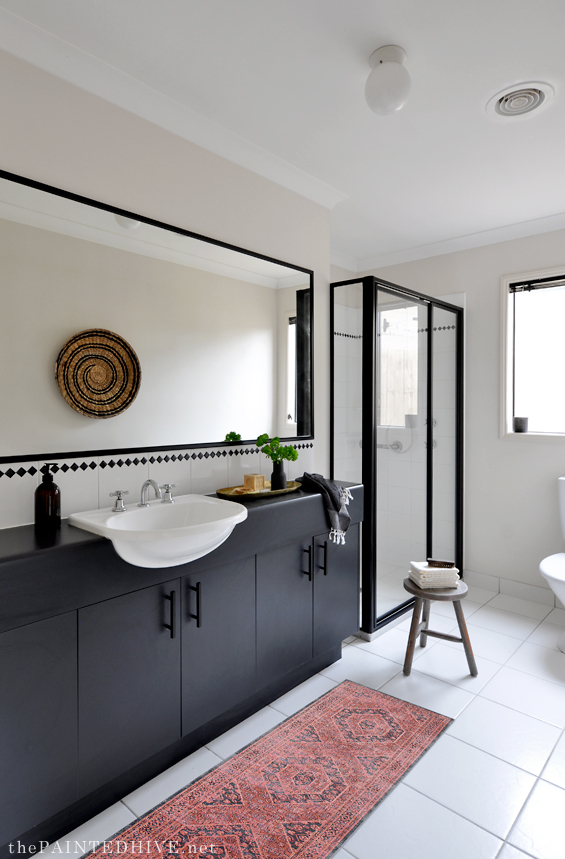 Hope you guys like it.
As mentioned, I'll be back to share the DIY tutorials once the entire flip house has been revealed.
Next up I'll be posting the open plan dining and living spaces (which just may be my favourite)!
Find all of the previous flip house posts HERE.