Surely I'm not the only one who struggles to find bed skirts?
They're either too expensive (like $150 – $250!), too cheap (I find the affordable cotton ones tend to look almost see-through), too big, too small, too plain, too old-fashioned (multiple pleats and layered ruffles just aren't my thing). And the quilted ones, which are relatively plentiful, don't really float my boat (I can't get over the fact that, to me, they look kinda like a doona which needs a cover).
Anyhoo, creating a DIY bed skirt has been on my radar for a while and when we were left with this basic queen-size ensemble in the master bedroom at the flip house, it seemed like the perfect excuse to give it a go.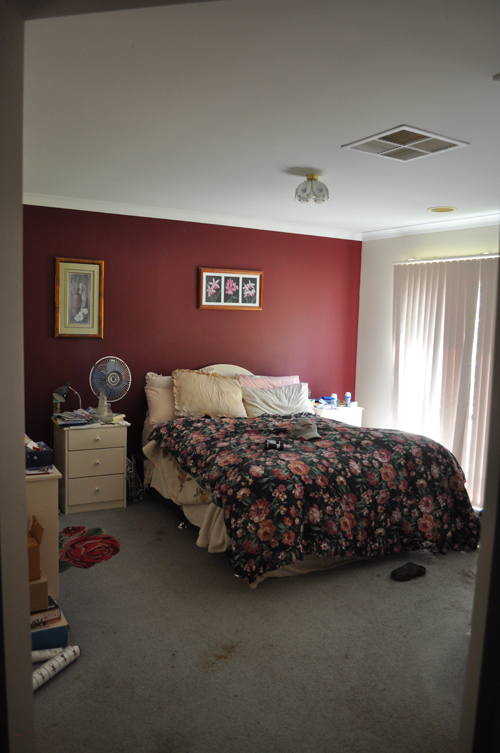 BEFORE
As with most projects from the flip house, time, ease and affordability were foremost in my mind. And when I came across some nice inexpensive curtain panels at Spotlight, I figured they'd work perfectly.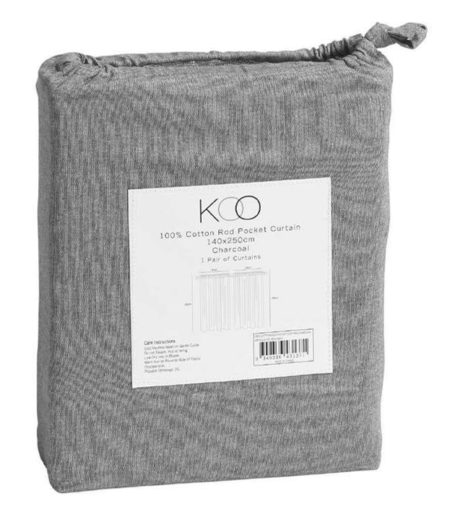 This pack comes with two large panels measuring 140cm x 250cm/55″ x 98″ each.
It was just $15 (on sale at half price)!
The bonus with using something like curtain panels is that they're already hemmed. So no sewing (or even heat fusing) required! Plus, you'll often find that buying the same amount of a comparable fabric off the bolt will be much more expensive – especially if you're able to get the curtains on sale like I did.
Although this particular bed base wasn't exactly hideous and could be used without a skirt, I personally like the tailored finish they provide.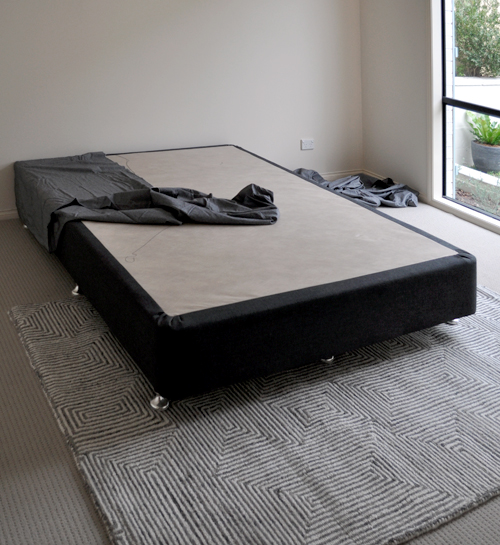 BEFORE

DISCLAIMER
This project was done in a bit of a rush with little forethought and lots of "let's get this thing done already". Due to my lack of planning, I ended up using a portion from my second curtain panel for one side of the skirt, however have since worked out that with more prudent cutting I could probably have made do with using just one panel. It's not a big deal because I did have two panels and they weren't expensive (plus it gave me more wriggle room with my fabric), but still, it wasn't exactly the most efficient method. So, for the sake of clarity – and making myself look more professional than I actually am – I've written this tutorial using hindsight.
Of course, how you go about making your own bed skirt will depend on the size of your bed base and the dimensions of your fabric. As already mentioned, I'm working with a queen-size bed base and my fabric is 140cm x 250cm/55″ x 98″.

To begin, I trimmed my fabric pieces. You will need five in total. My curtain panel could be deconstructed like this.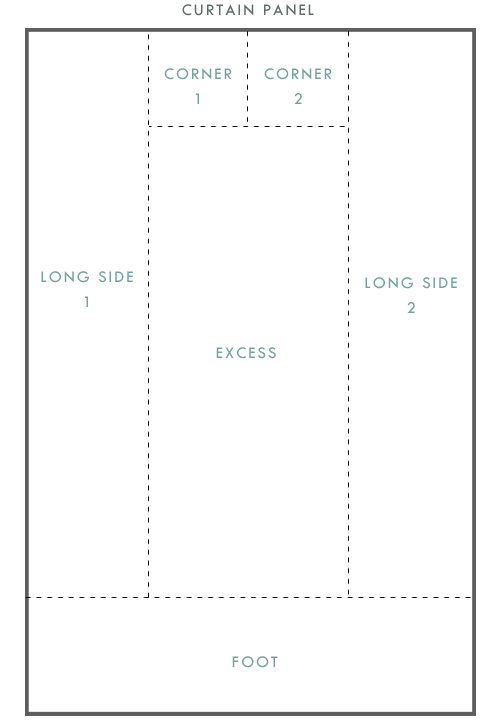 I started with a corner piece. You will notice that one side is hemmed (obviously, this will form the base) and the other three sides are raw. You don't need to worry about the top (as that will be concealed by the mattress) however the other two sides will need to be turned under and ironed in place.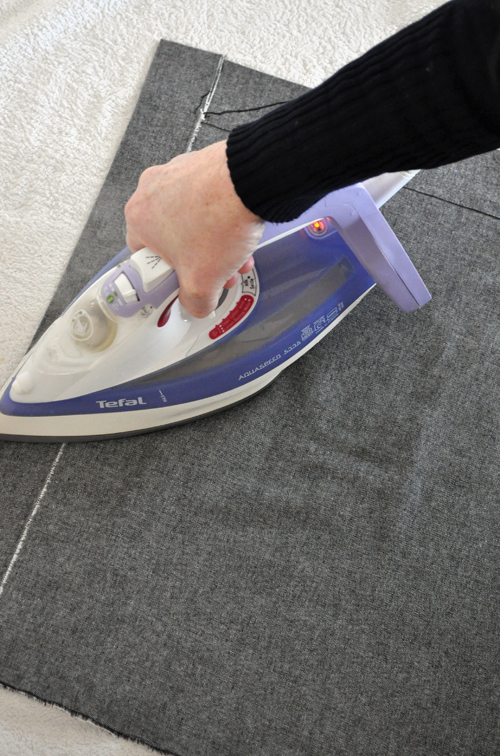 Once that was done, I positioned my piece on the bed base corner as desired, making sure it was almost skimming the floor at a nice consistent level.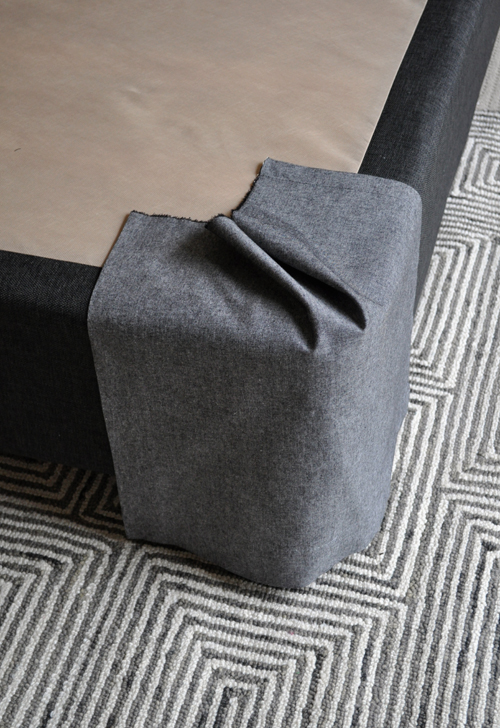 When I was happy with its position, I stapled it in place (just two staples – one near each edge as shown). You'll likely find there are solid and hollow areas in your bed base. Obviously, just make sure you're stapling into the solid areas. Of course, if you want to be able to easily remove your skirt you could velcro, tape or tack it in place instead (but still, undoing a few staples isn't difficult). Stapling was just quick and easy for my purposes, plus I figured lots of beds have fully upholstered bases anyway which aren't designed to ever be removed.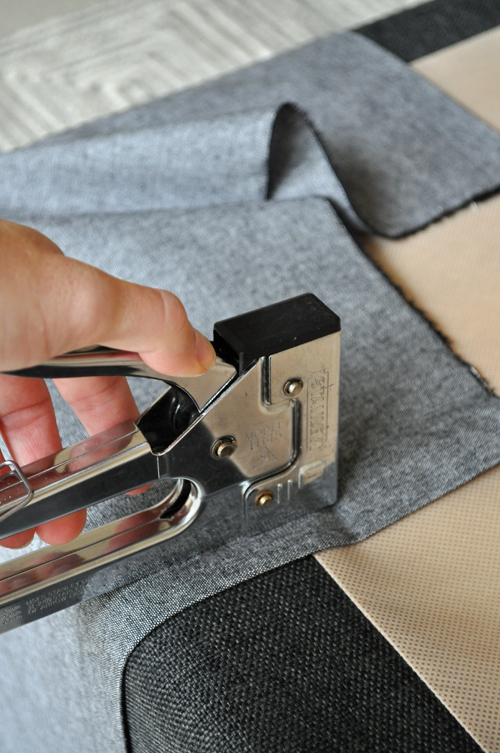 Next, I created a butterfly pleat in the center and stapled that in place.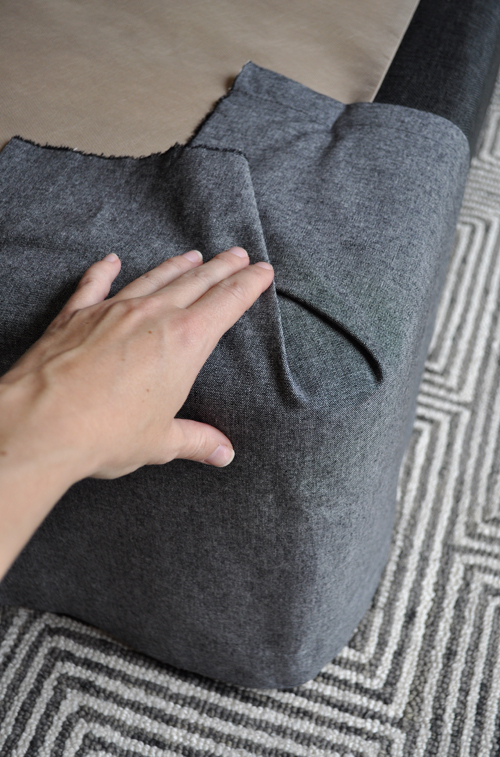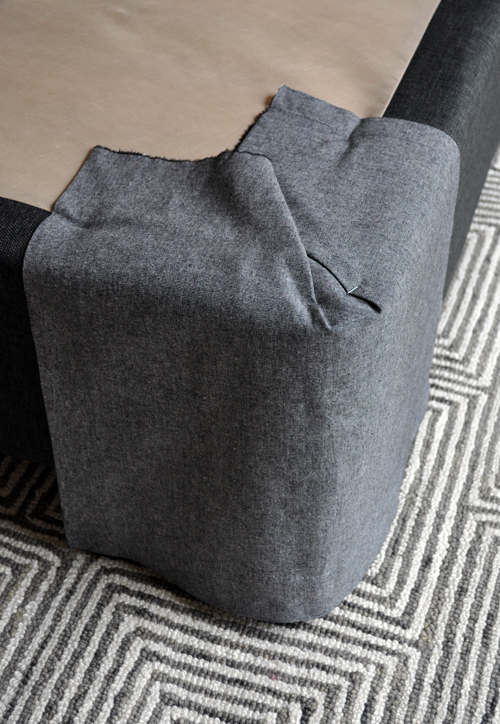 Although I've kept things relatively neat and tidy, the top of the bed base will be completely covered by the mattress and bedding so I wasn't overly fussed. At one stage I was even tempted just to duct tape everything in place! Remember, this was done purely for staging. You can be as fastidious or messy as you like.
I then repeated the process for the other corner.
Done!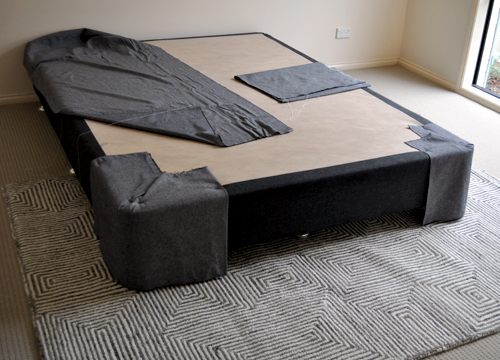 Next I moved onto the foot of the bed base. And here's where I also fell in love with my curtain panel a bit…because, as per my diagram, it was the exact right width along its short side to fit perfectly across the foot!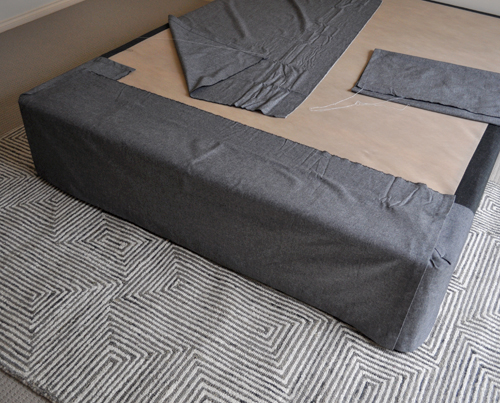 I mean, if it hadn't been the exact right width it wouldn't have been a big deal (I just would have cut it down and ironed one end under) but it was a nice little win to have all three exposed sides hemmed.
Once I was happy with its position, I stapled it in place.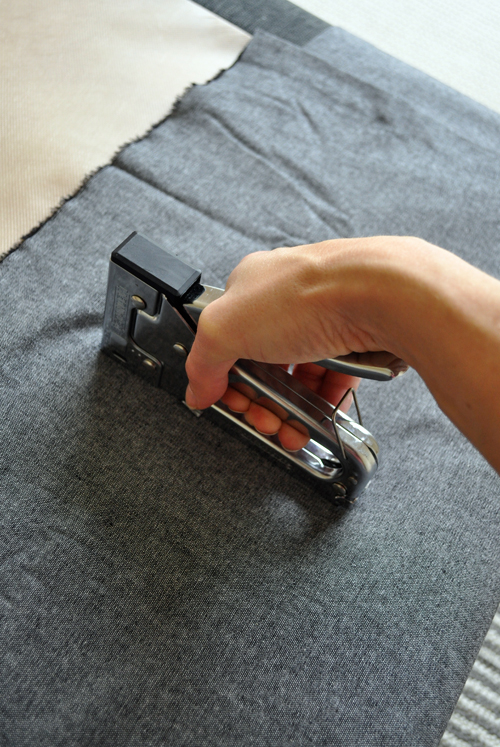 There's no need to go crazy with the staples. You just need enough to keep it from shifting. I think I inserted one maybe every 30cm/12″ or so.
Now, onto the sides.
As per my diagram, each side piece is hemmed along one long side (which forms the base) and one short side. I decided to keep the hemmed short side near the foot of the bed and the raw short side at the head (because, obviously, the foot is in a more prominent location). Once I'd determined the right length for the piece (by simply laying it in place on the bed base), I turned under and ironed the raw side (just like I did with the raw side on the corner pieces).
Then I positioned it on the bed base and stapled it in place.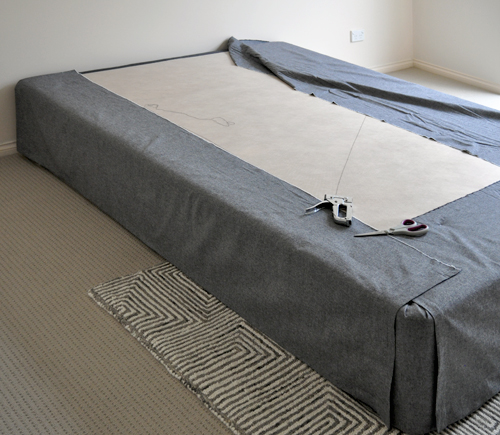 To finish, I repeated the process on the other side.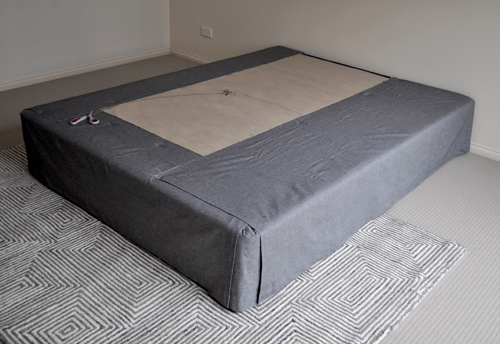 As you can see, I didn't exactly cut all of my pieces to the same depth, though as already mentioned, I wasn't fussed about things looking perfect where they were going to be hidden by the mattress. Still, if I'd had a bit more time (or was doing this project for my own home), I probably would have taken some care to keep things symmetrical and not use as much excess fabric.
Anyhoo, here's how the corners look.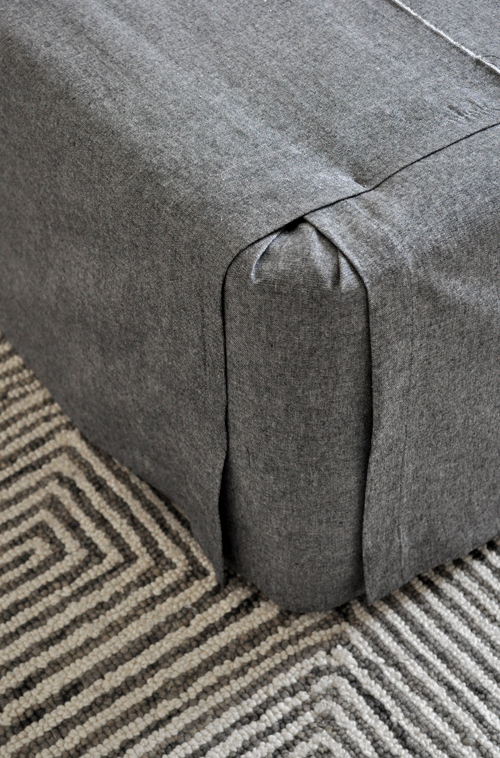 You could make the the pleat more 'closed' however due to the width of my curtain panel (which, remember, I used along the base), I worked with this. Plus, I actually quite like it.
With the mattress on top you can see how everything comes together.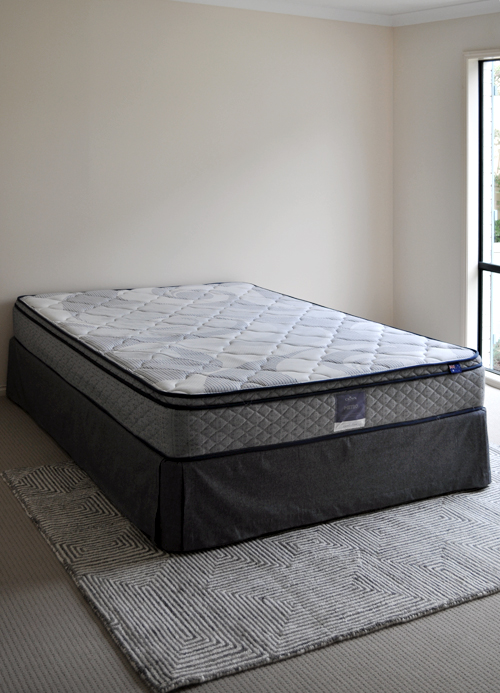 Such an easy and affordable ($8!) little project that looks super custom and professional.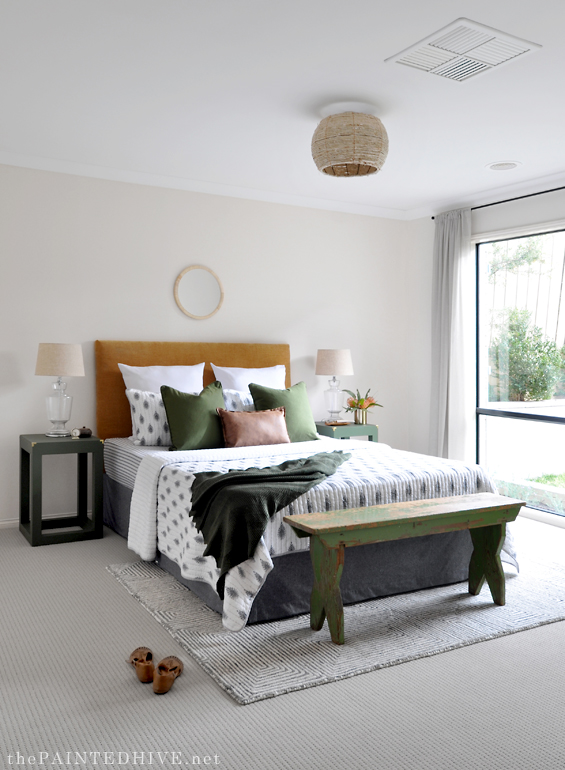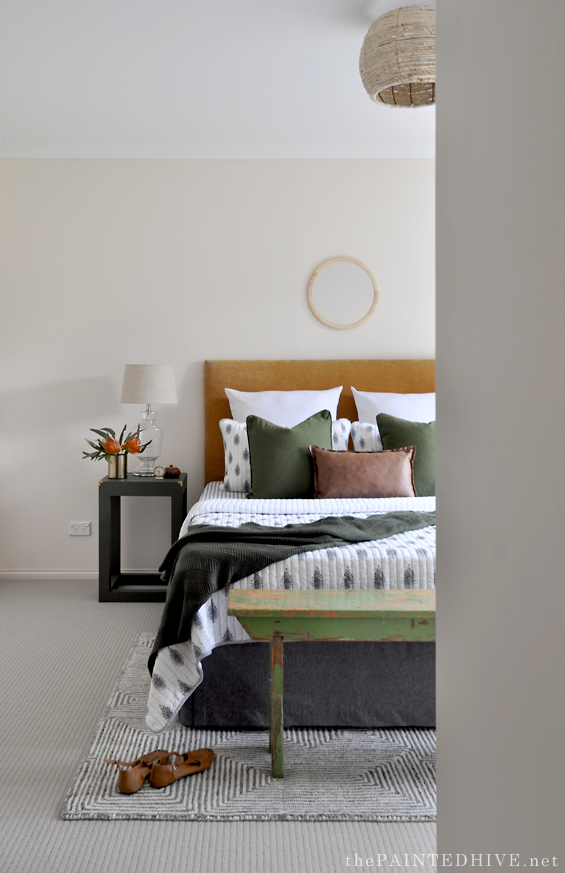 Sorry, it's a bit hard to see it properly in these after pics. I didn't take them specifically to highlight the bed skirt.
Hope this helps inspire :)
See the entire master bedroom makeover reveal HERE.