Time for another before and after from my mother-in-law's house. And this one is a favourite!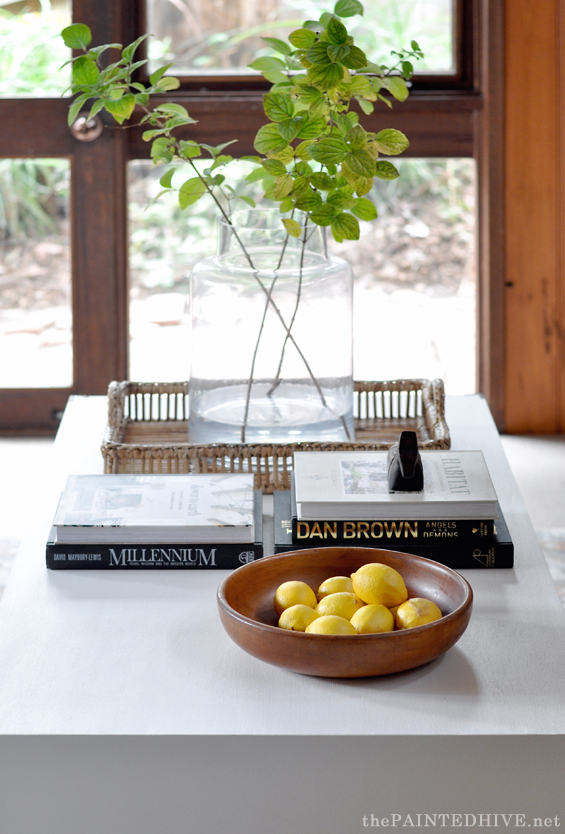 The front door opens straight into the large living room so it's the area you first step into upon entering the house. This makes it especially important in terms of creating impact. You know what they say about first impressions, right?
It's a generous space with soaring vaulted ceilings and lots of timber accents.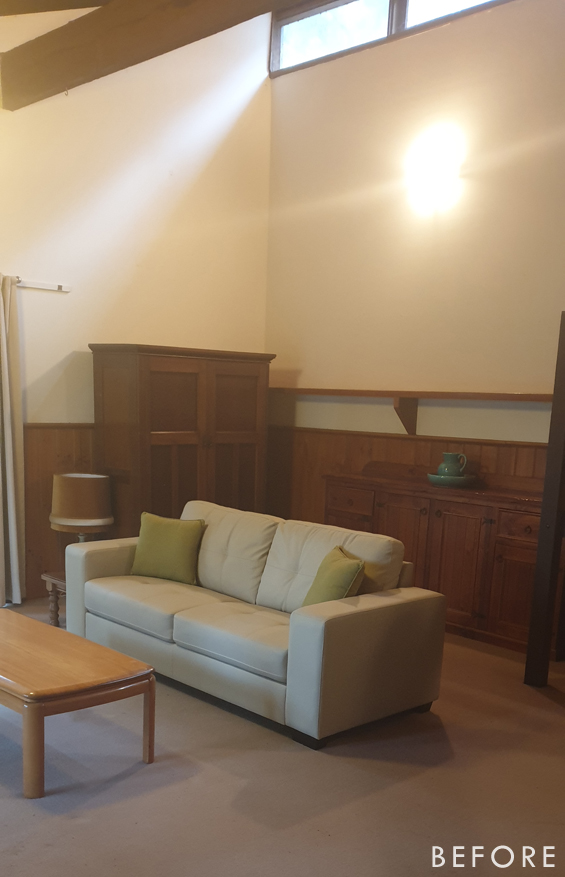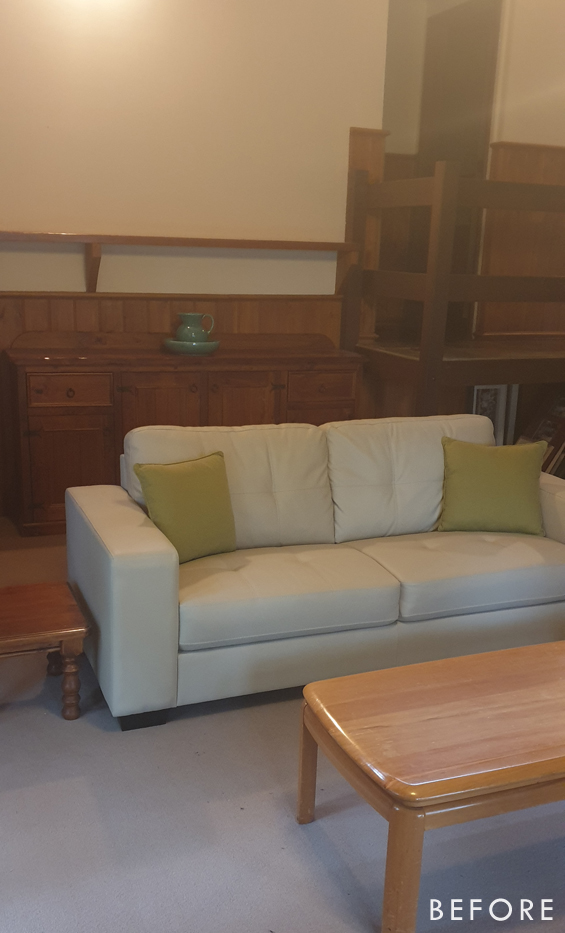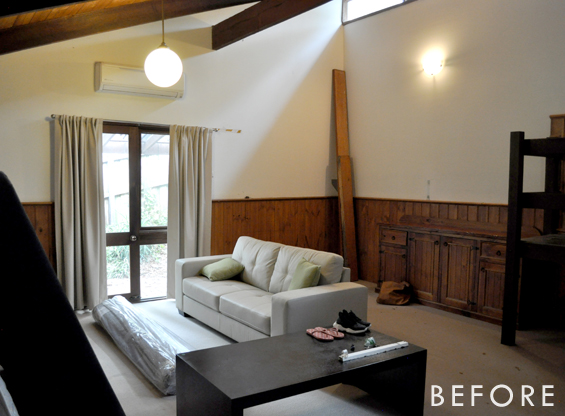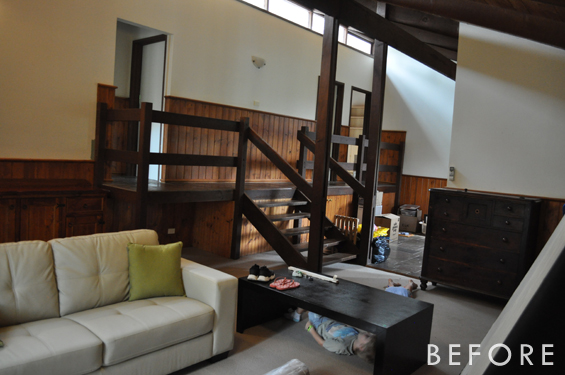 I'm sorry but my before photos are really crappy. I took some of them after I'd already removed all of the wall art and general decor to significantly neaten things up. I then took some more after we'd begun shifting furniture around. Remember, I never intended to share this project so they were just impromptu snaps. Sorry!
Originally the room was quite dark, despite having two large windows, due to all the timber accents plus heavy curtains which greedily consumed much of the light. There was also a lot of big bulky furniture randomly scattered about which didn't exactly help the situation.
We didn't have the budget, time or inclination to completely overhaul the space (I know, I know, painting the wall panelling would have been a welcome change), so for the most part it was a matter of working with what we had. My main goals were to optimise the layout, make it feel brighter, and add some punchy pieces to provide a bit of 'wow'.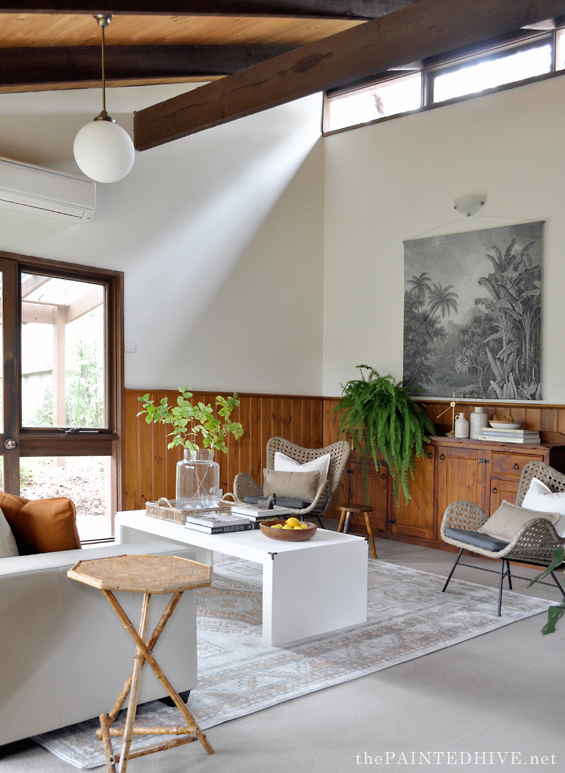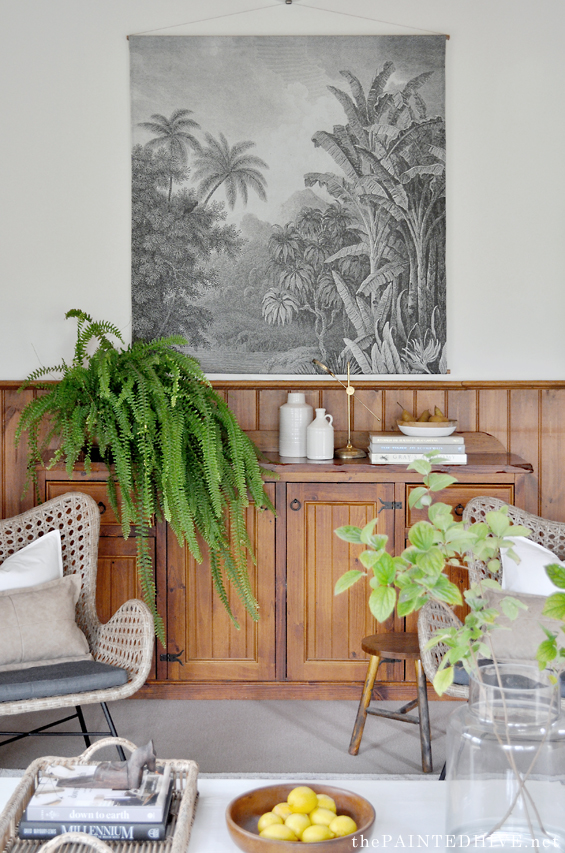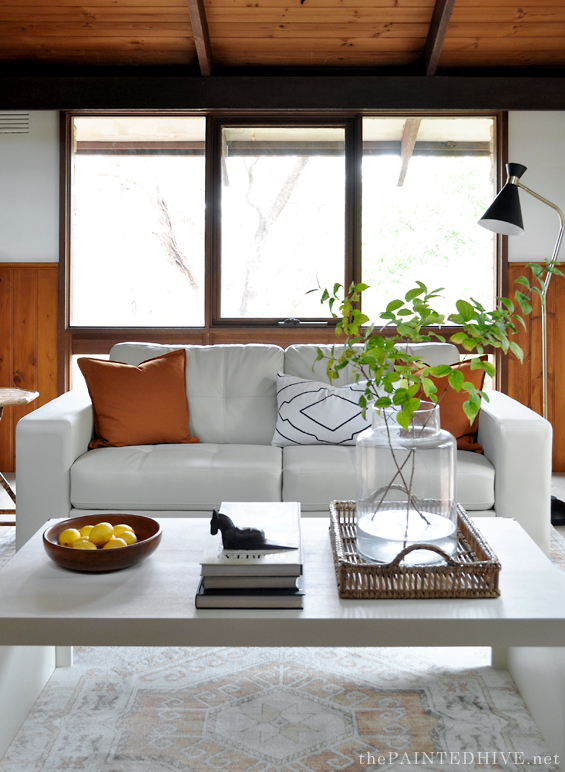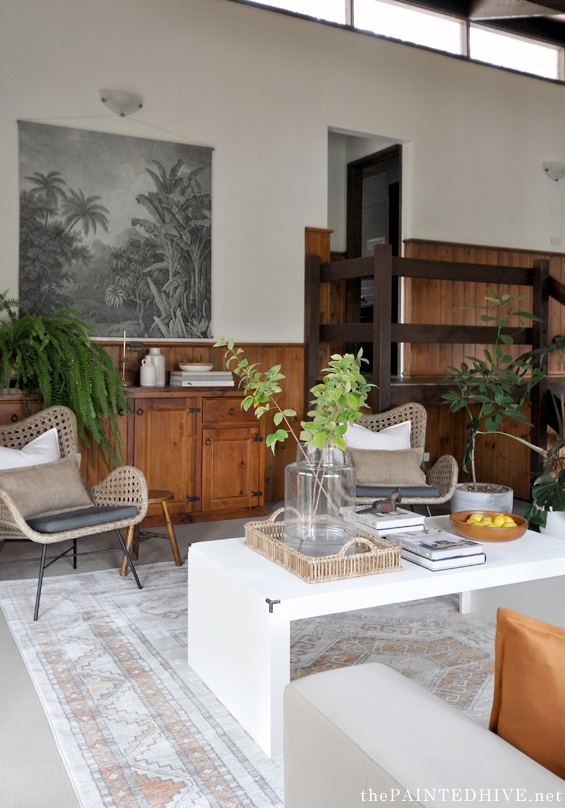 The first step was to create a blank canvas, so I cleared out the furniture (we sold any pieces we didn't need), removed the bulky curtains and took down the long shelf (which was in an awkward position) before patching any holes and spot painting the walls as needed.
Although they weren't exactly ideal, I decided to keep the leather sofa and pine sideboard because replacing large items often isn't easy – it takes lots of patience browsing through second-hand sites to (hopefully) find the right piece, in the right location, for the right price.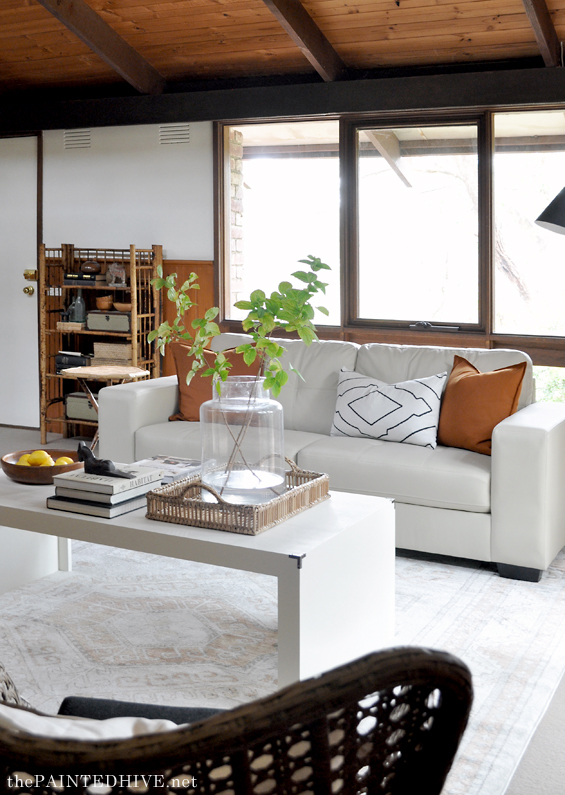 Thankfully they were both well-scaled and neutral enough to be made to work. Yes, it would have been nice if I'd had time to paint the sideboard, but clearly that never happened.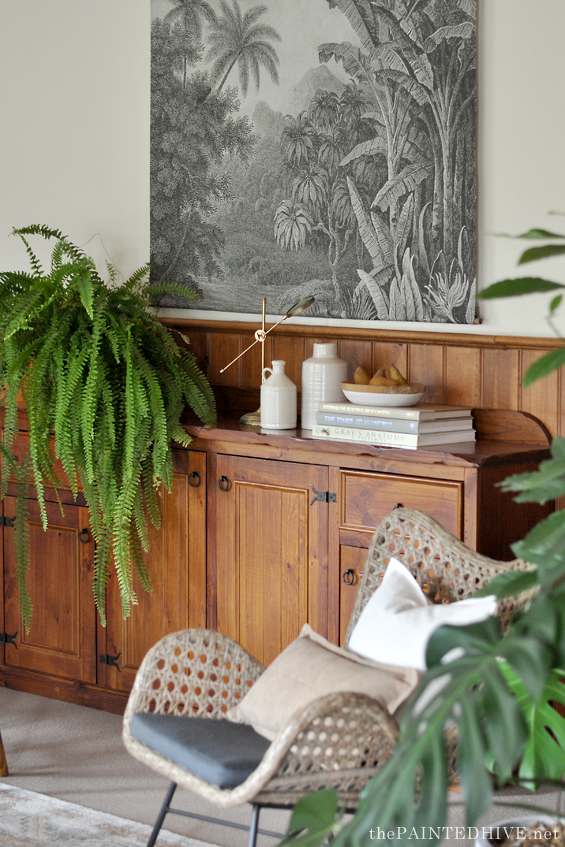 One of the trickier items was the rug. I knew this room needed a really large rug to anchor the furniture and help cosy things up, but affordable large rugs are almost an anomaly! I scoured second-hand sites for a while with no luck, then one day this brand new 3 meter x 4 meter one came up for just $350.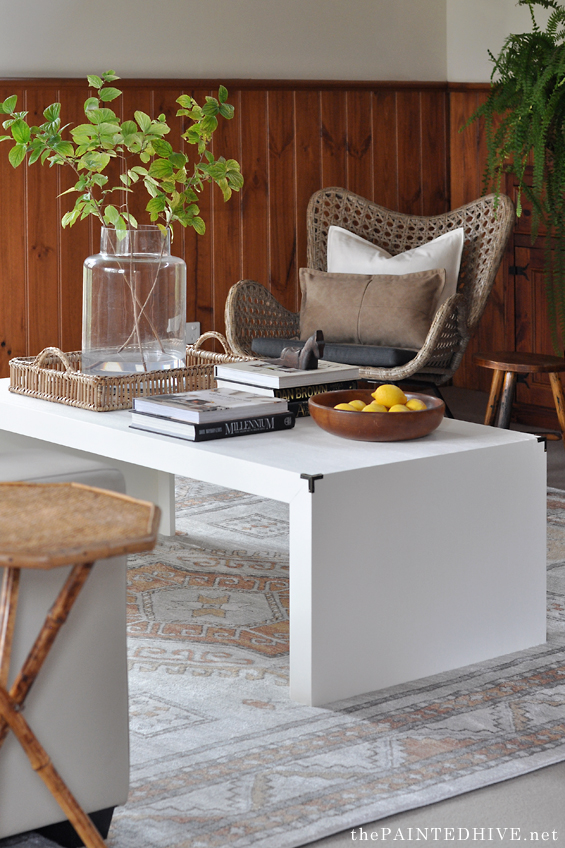 It wasn't as cheap as I would have liked, and the style differed from what I'd had in mind, though beggars can't be choosers, right? If anyone is interested, it's called the Mayfair Caitlen in 'Natural' and the standard retail price for the size I used is actually around $650. So I guess it was a bit of a bargain after all!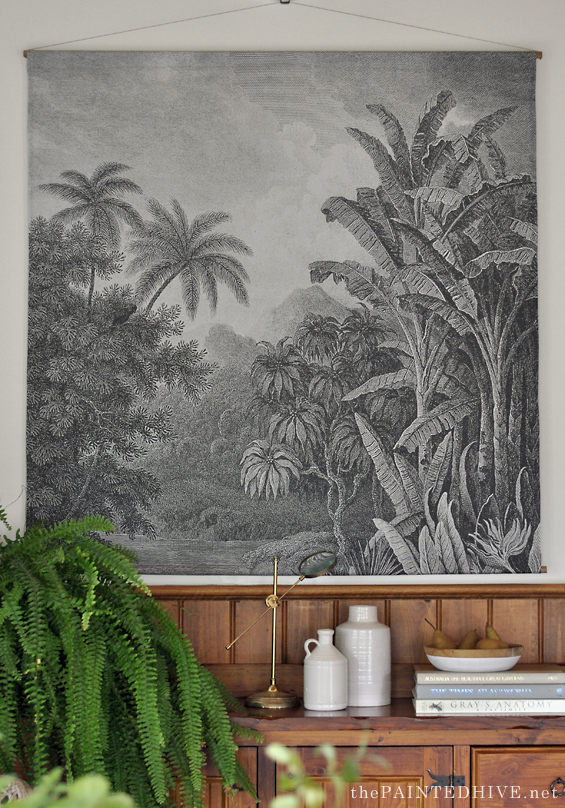 The first thing that grabs you is the over-size wall hanging which I used to take advantage of the high ceiling.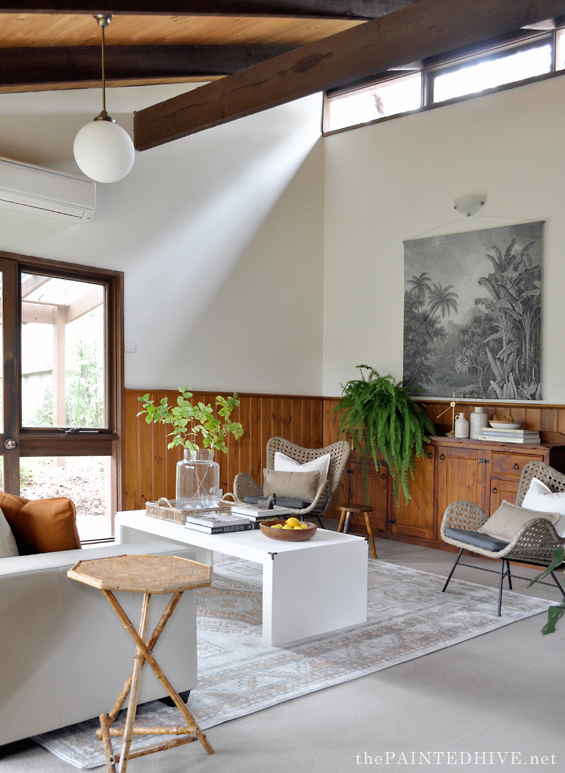 I made the hanging a few years back (from an out-of-copyright digital image I found online then had printed onto fabric through Spoonflower) but haven't really had anywhere to use it, so I was a bit excited to bring it out!
The coffee table was a $15 Marketplace find. I actually bought it last year for a different project though never ended up using it so thankfully the scale was just right for this room.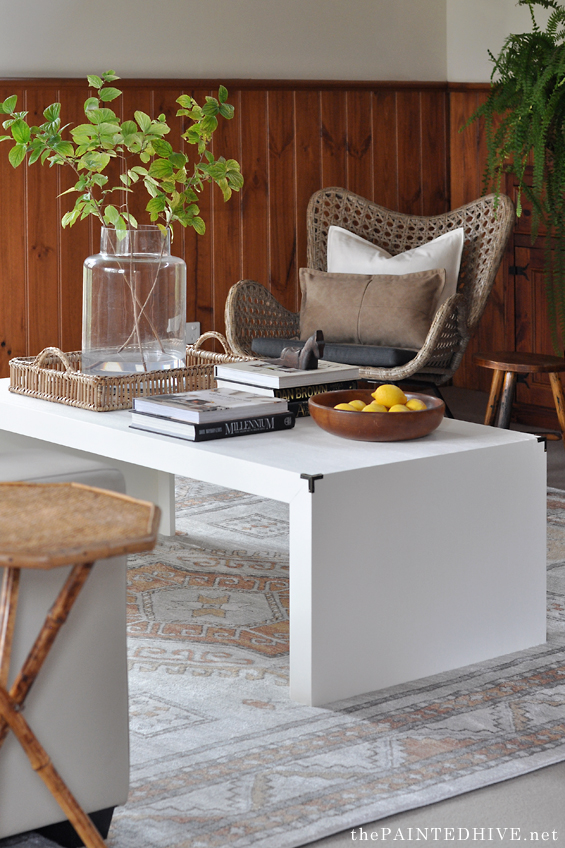 It was originally stained a deep black-brown which wasn't exactly going to help my endeavour to brighten the space up!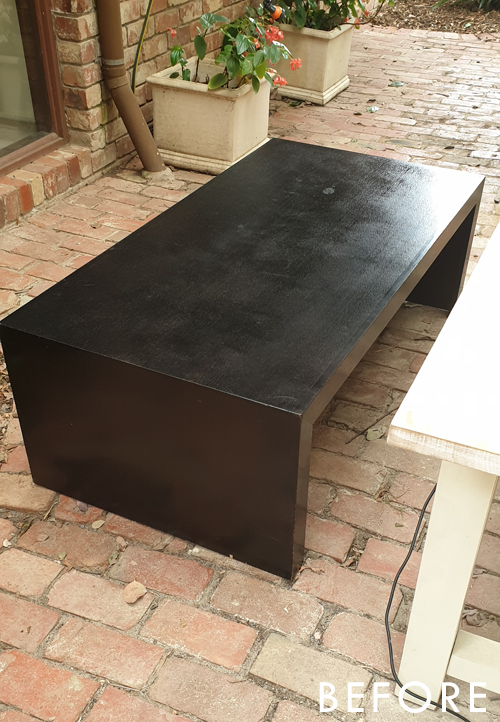 Initially I planned to sand it back to natural, but there were a few penetrating oil stains which I couldn't get out without going through the thin veneer, so white paint was the next best option. I also added some brass corners just to dress it up a bit.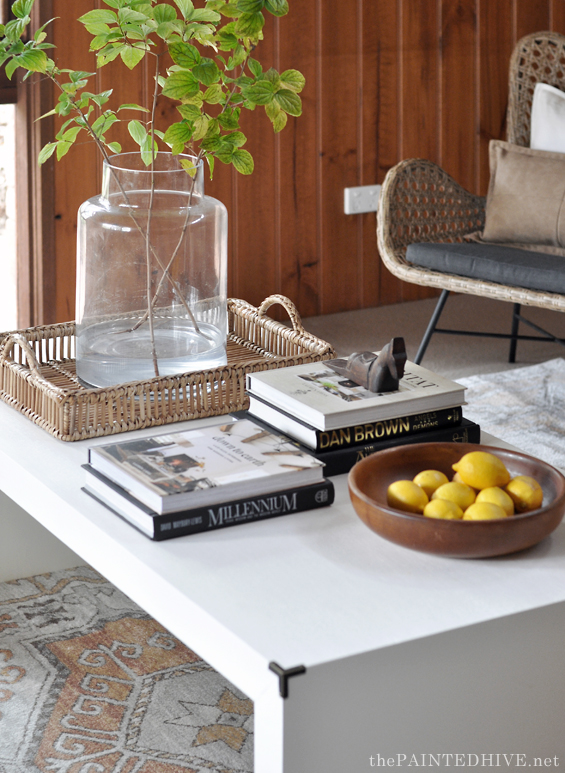 I'm sure some of you will recognise the gorgeous rattan butterfly chairs and trumpet floor lamp from the living room in my friend's flip house.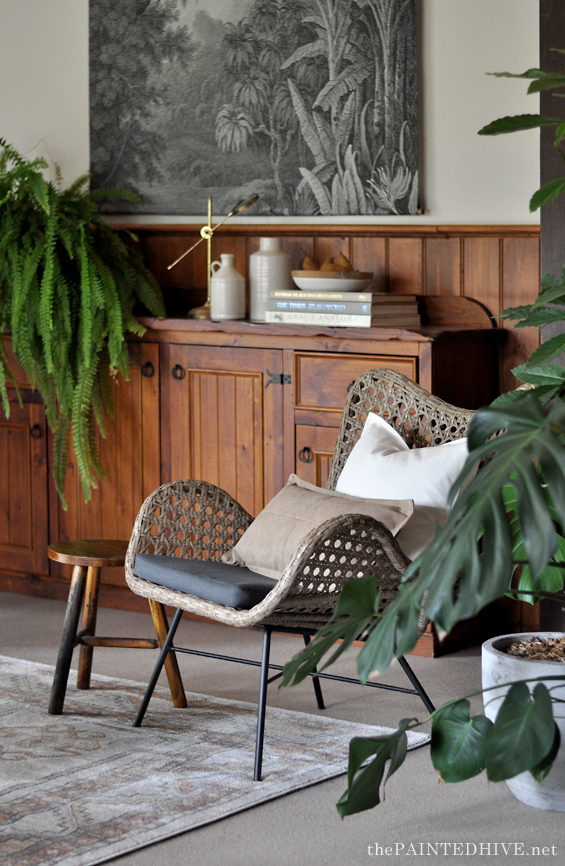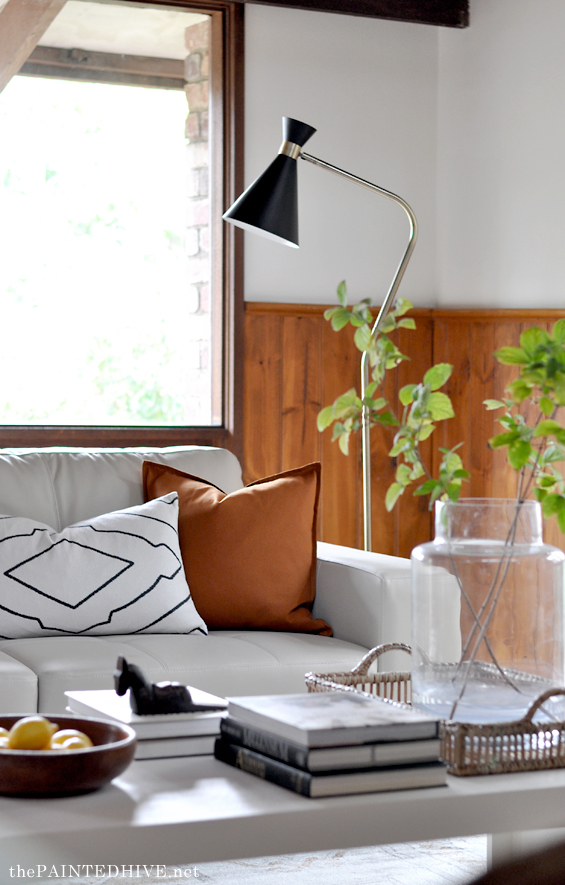 The bamboo gypsy table is from my own living room, and the little timber stool was a Kmart hack from a few years back.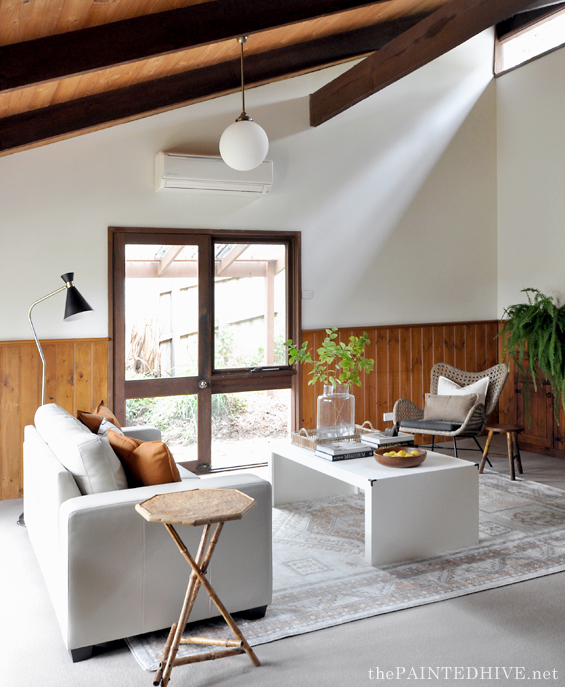 There is a bit of an awkward nook where the stairs and landing protrude which I always wanted to fill with plants.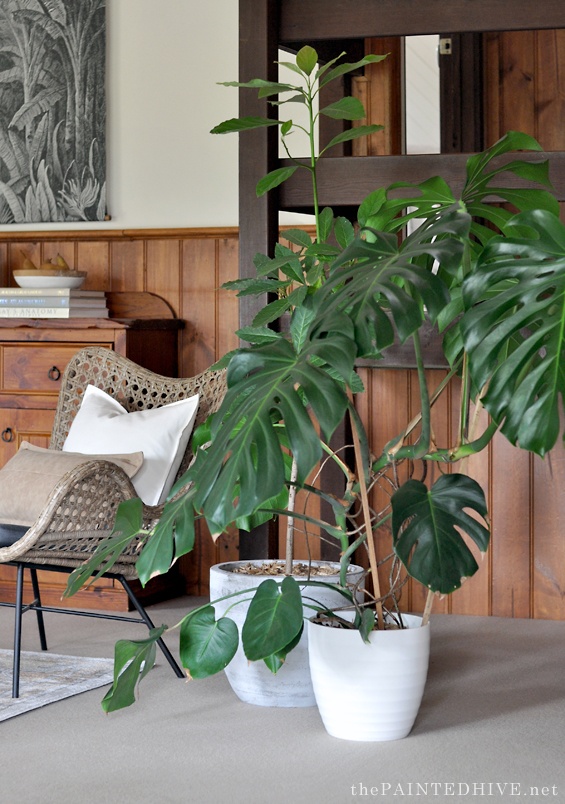 Two of my sister-in-laws came to the rescue here, offering a lovely avocado tree for height, and a totally kick-ass monstera for volume!
Most of the decor pieces are items I already owned but feel free to ask about anything in particular. The only new additions were the rust cushions (from IKEA) and the faux leather lumbar pillows (from Target).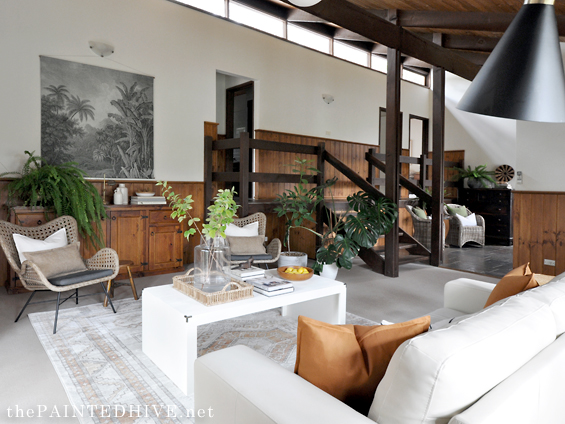 Of course, it's still far from a perfectly designed and curated room, but for sale purposes it did the trick.
Here are the side-by-sides (or, more accurately, up-and-downs, but that doesn't exactly have the same ring)…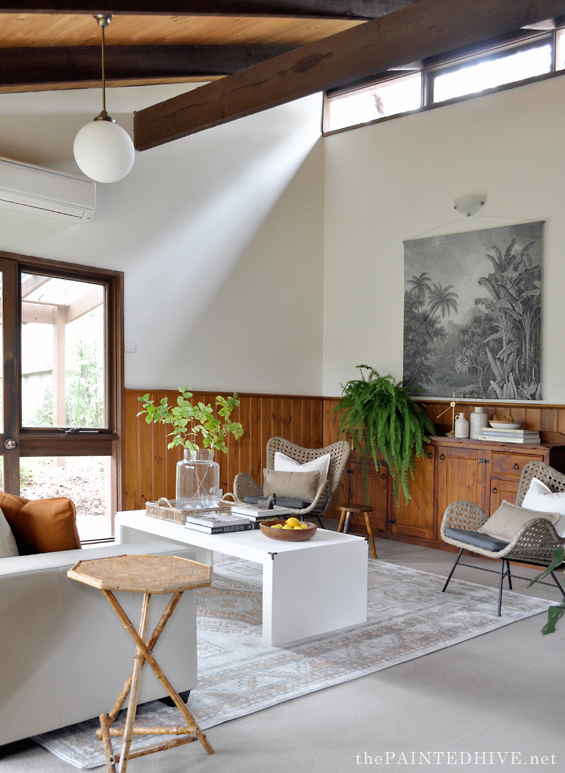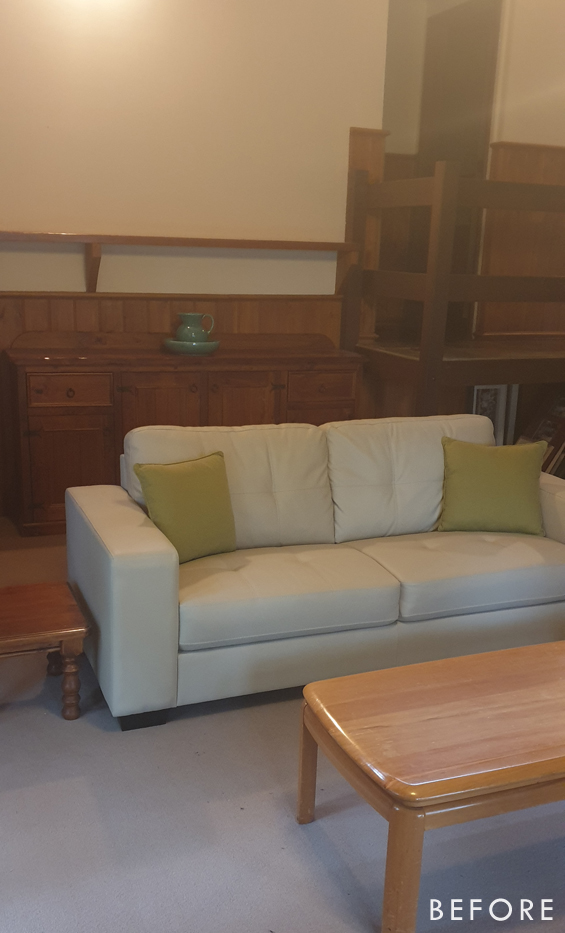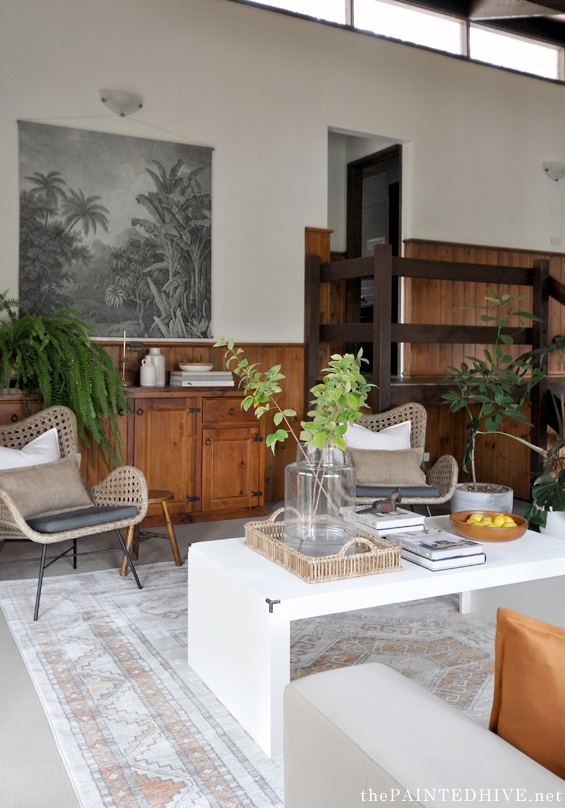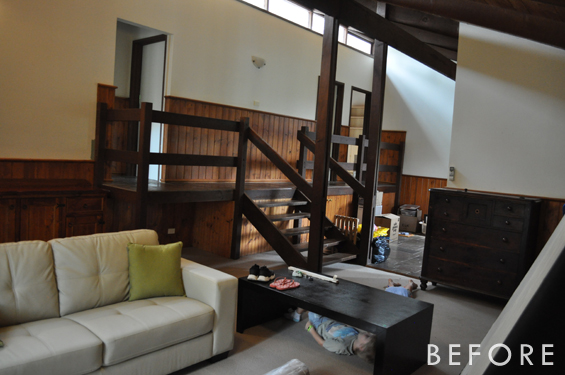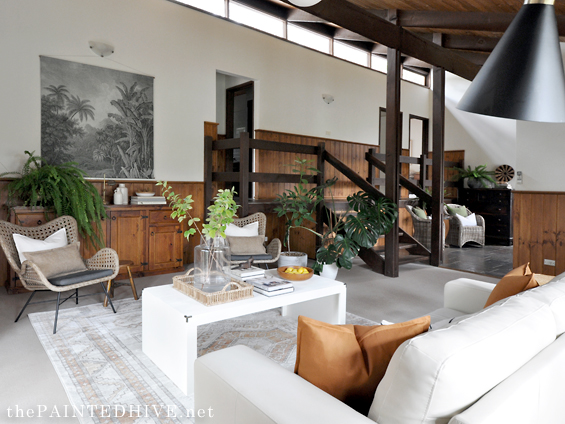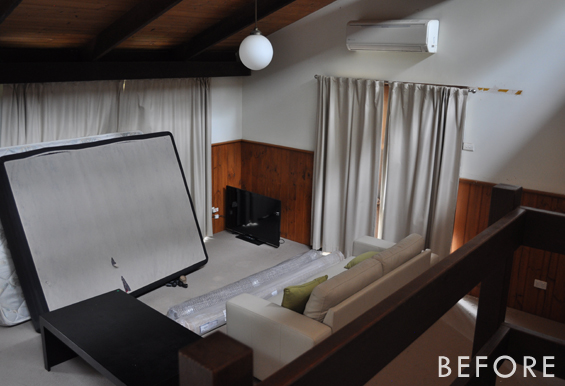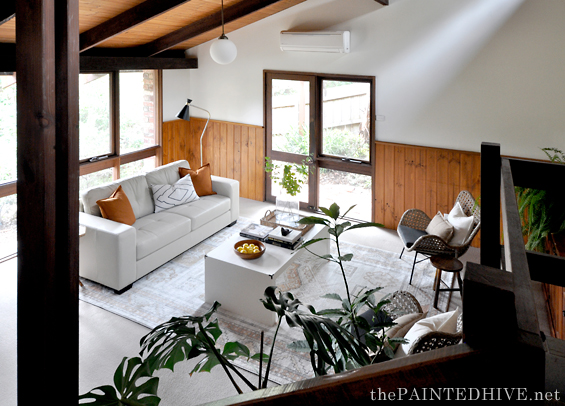 Catch up on all the previous posts about 'The Staged House' HERE.