I always feel a little hesitant publishing posts like this.
Posts which open a chapter on a new room makeover with the implicit promise of ensuing chapters culminating in a somewhat timely finale.
Finales are not my strong suit.
In fact, over the past few years, I've learned to keep my mouth shut about projects in progress. If I wait until I finish something first at least then I can feign efficiency later on. Right? And no-one will have died from boredom (or collapsed with anticipation ;) in the meantime.
Though, enough is enough. This era of procrastination needs to end! So, I'm throwing caution to the wind by blogging about plans for this new room re-do. The idea is that sharing the journey will help propel me to the finish line! You with you?
Anyhoo, here's the plan…
This makeover is for a space at my parent's house: their open plan living-dining room. Mum and dad don't want to make any major changes or spend too much cash so as usual I'll be focusing on making the most of the space using furniture and accessories.
Here are the before shots…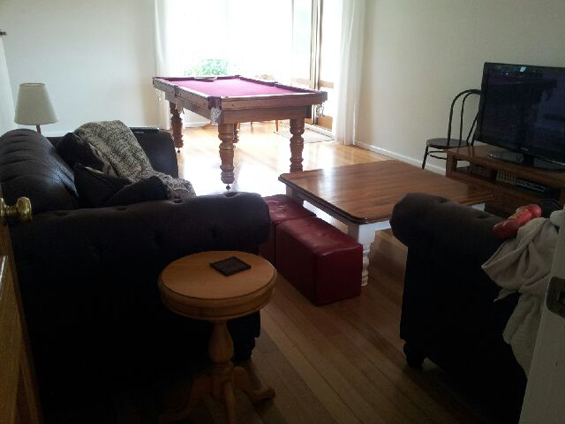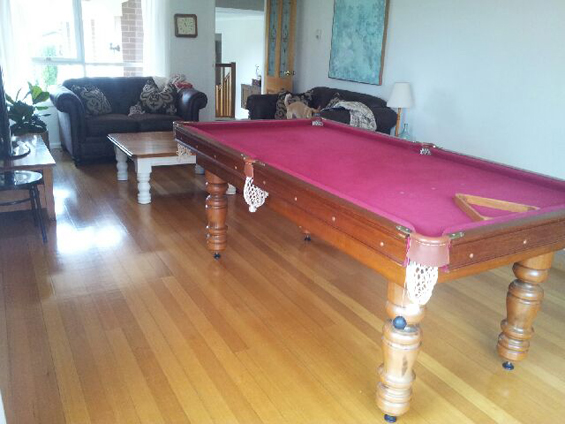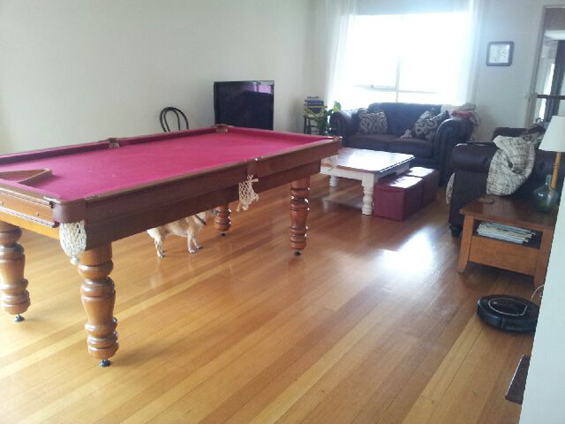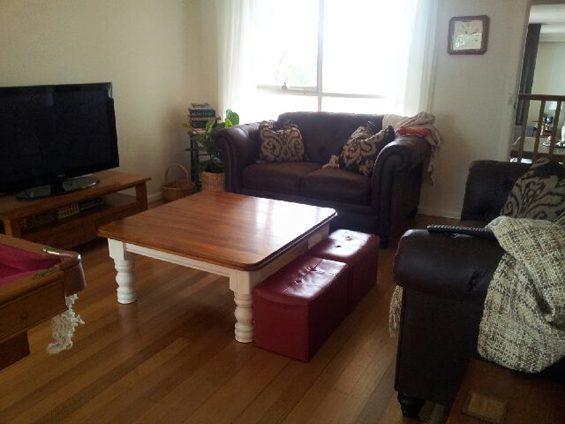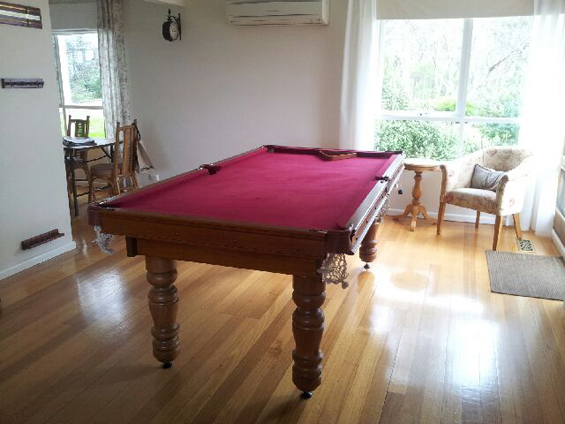 Sorry they're not the best (taken with mum's phone).
As you can see, it's a long-ish, narrow-ish room with a nice, neutral canvas. The main catalyst for re-doing the space is the fact the billiard table will be going (after 20 years!) so the proper dining area can be reclaimed. For the past two decades the dining table has been in the breakfast nook off the kitchen (which you can just see in the above pic) which has always been too squishy. We will be retaining the couches (which are only a few years old) though most of the other furniture (all of which mum has had forever – and now isn't quite right for the space) will be replaced – with a focus on finding second-hand bargains.
Here's my rough virtual plan…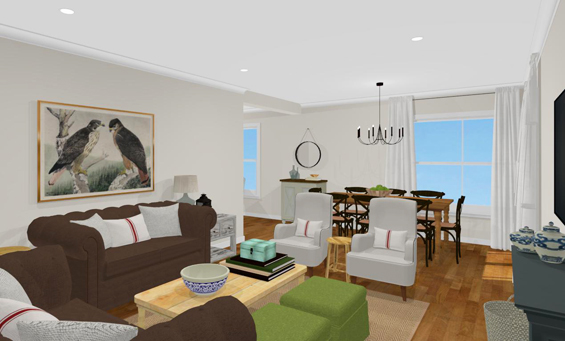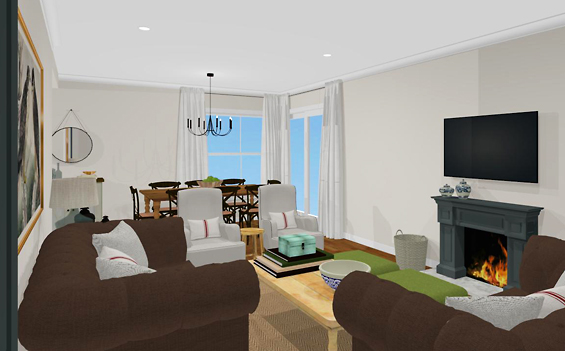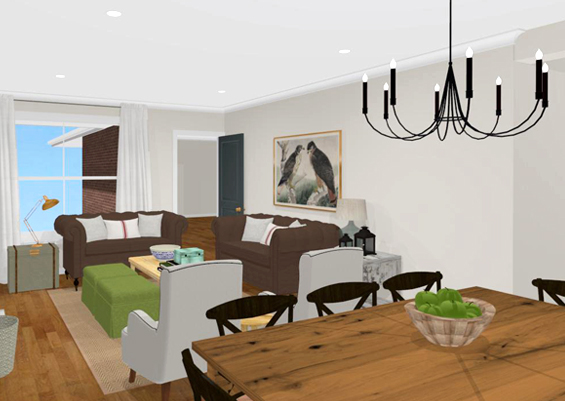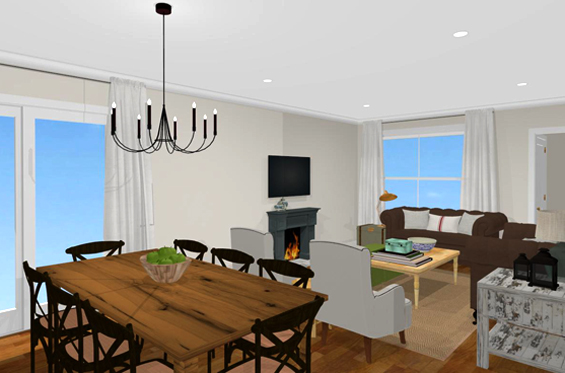 And here's an overhead view to give a better spacial indication…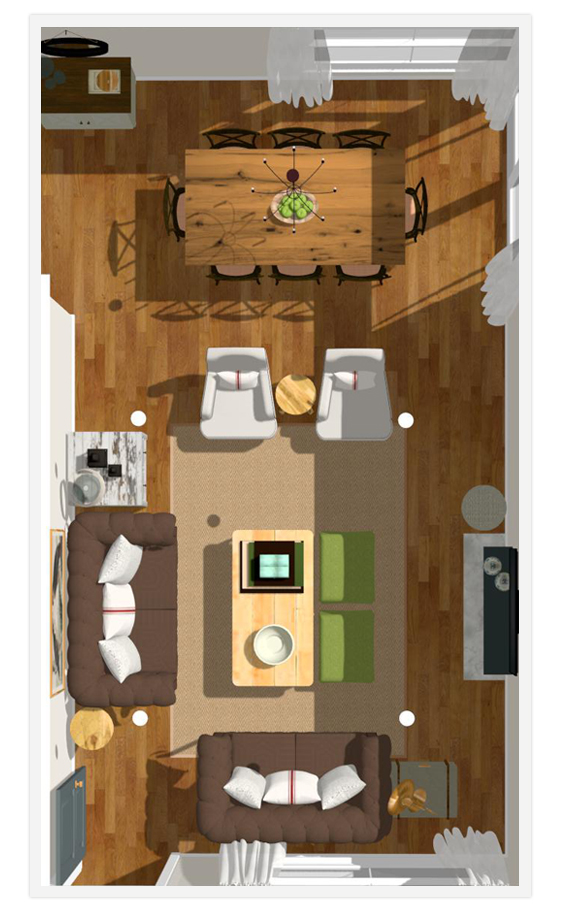 The general layout will remain the same because it just makes sense, plus mum and dad don't want to have to re-wire for the TV. I have convinced them to re-wire the lighting however. You can't see the ceiling lights in the before shots though there are three in a weird zig-zag configuration which doesn't help with zoning the room. Instead, we are going to position four recessed downlights above the living space and one feature pendant over the dining table. I already have a cool DIY plan for that one!
The flooring, walls and ceiling will remain un-changed. I have persuaded mum to paint her old-fashioned lead-light door though.
The fireplace was mum's idea. She has a thing for them though no desire to install a real one. She actually already bought an inexpensive electric unit, complete with surround, around six months back. I know some people have a massive aversion to electric fireplaces. I don't hate them though I'm not sure if I would use one in my own home. Maybe.
Anyhoo, you may have seen my recent post where I gave hers a mini makeover (click the preceding link to see it before)…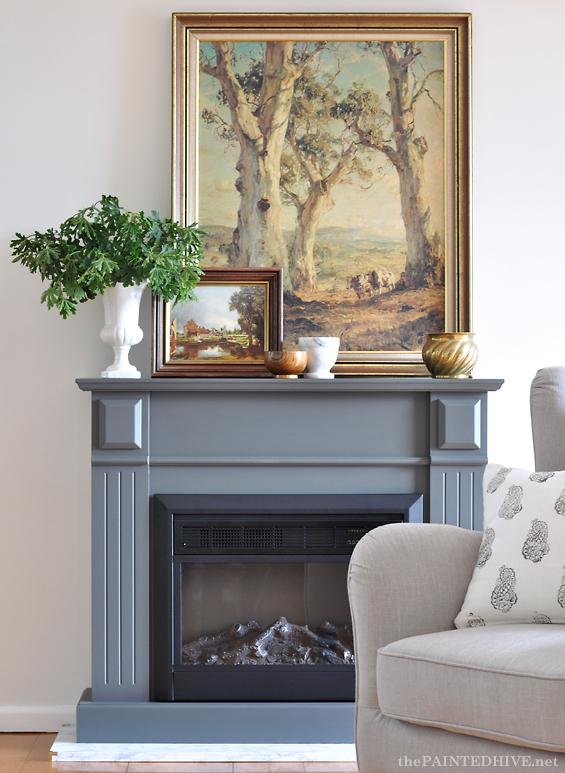 It's perhaps going to look a little lost on that big, blank wall and maybe a bit small in comparison with the TV though we'll make it work. I voiced the addition of some kind of flanking shelving, though mum and dad weren't keen on that idea – and as you might be able to tell from the overhead rendering, there's not really that much space for more furniture. I think we'll wait until everything's in place to decide if the fireplace needs company. Maybe we'll use some surrounding artwork or something.
Speaking of artwork, I'm not decided on that yet either. Once again, I'll probably wait until the room begins to come together to make final decisions on the placement of any wall decor. Same thing with the cushion, ottoman and curtain fabrics.
Soooo, that's the general concept. Remember, it's just a rough plan, though what do you guys think? Would love to hear any suggestions.

PS I'm in the process of upgrading my RSS feed and email subscription service. There may be a few bugs during the migration so apologies if you experience any issues. If you're not already subscribed, now would be an awesome time to sign up! There is an email subscription bar at the end of each of my posts and in my sidebar :)