Thank you so much for the warm welcome back! I was honestly unsure if anyone would still be following along, so it was such a lovely surprise to see all the comments roll in. I really missed you guys!
As promised I'm back to share the reveal of my brother's bedroom.
Here are the before shots…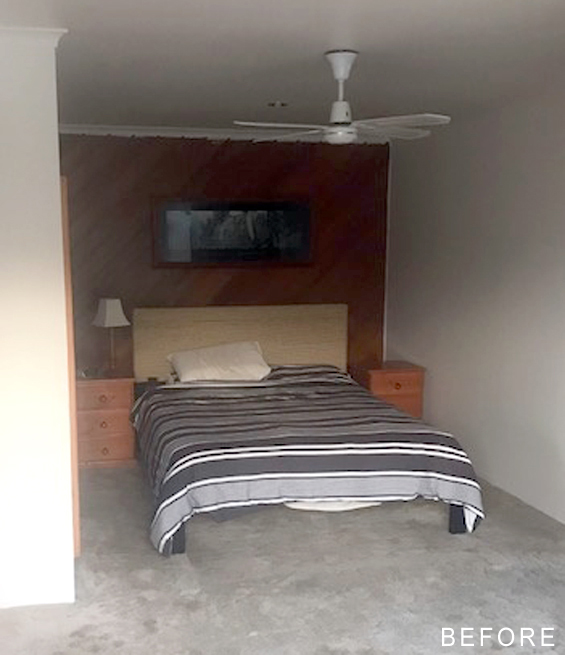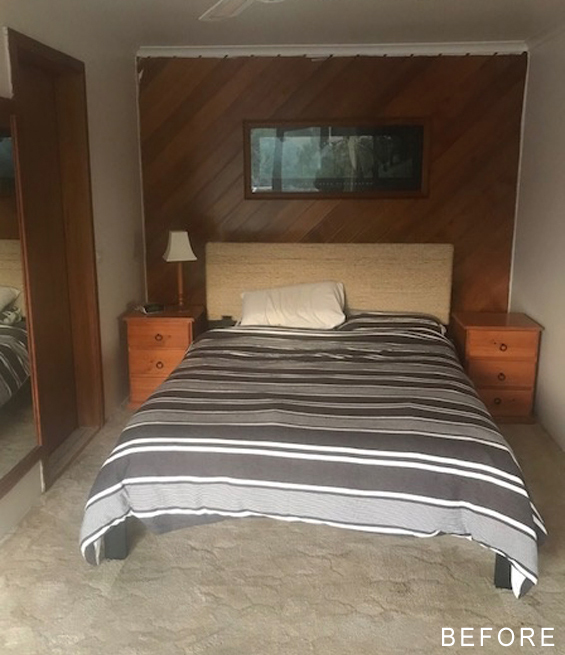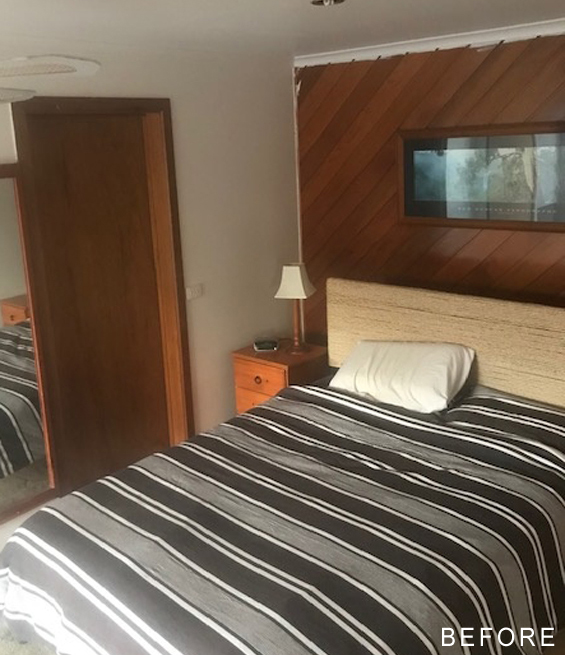 Before we could get to the fun bit of decorating, we needed to create a nice blank canvas to work with.
Several months back, before the latest lock-down began, my brother replaced the stained carpet and painted everything white for a clean fresh feel. He also removed the random wall mirror and took down the old broken ceiling fan (this will eventually be replaced with a sleeker black fan).
So, here's the space now…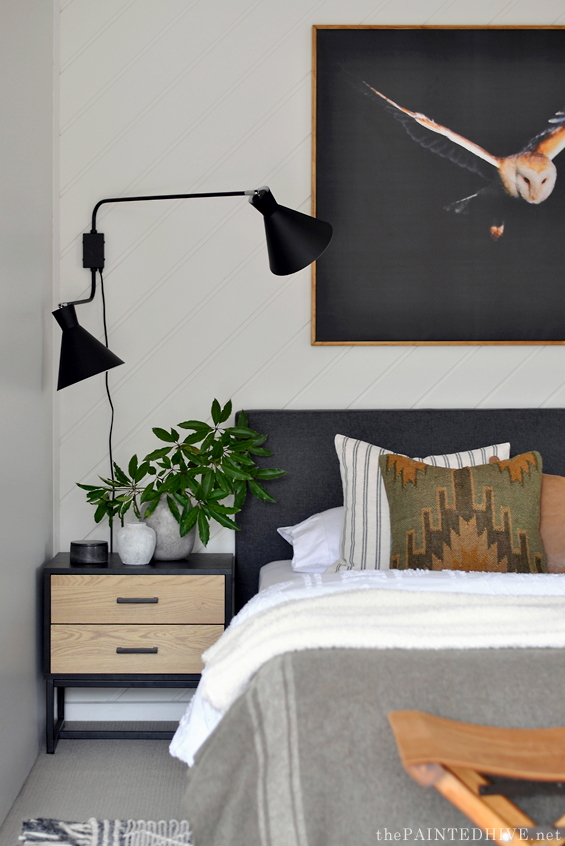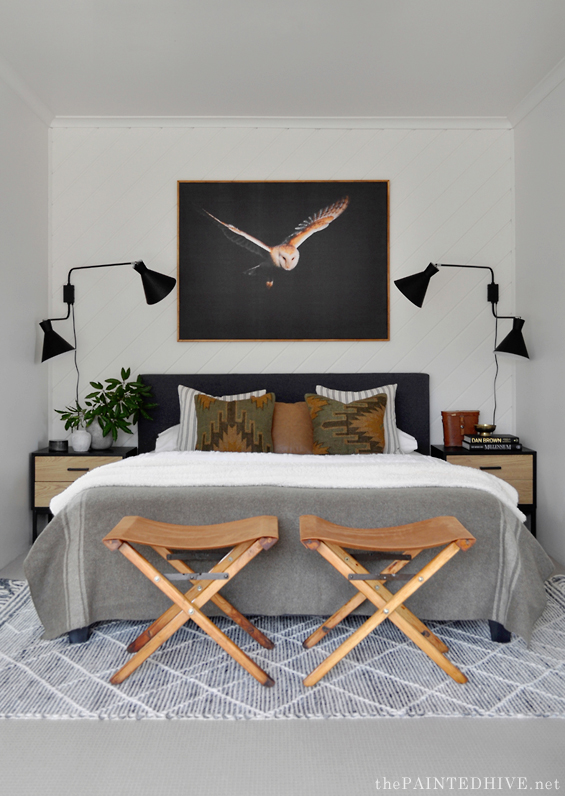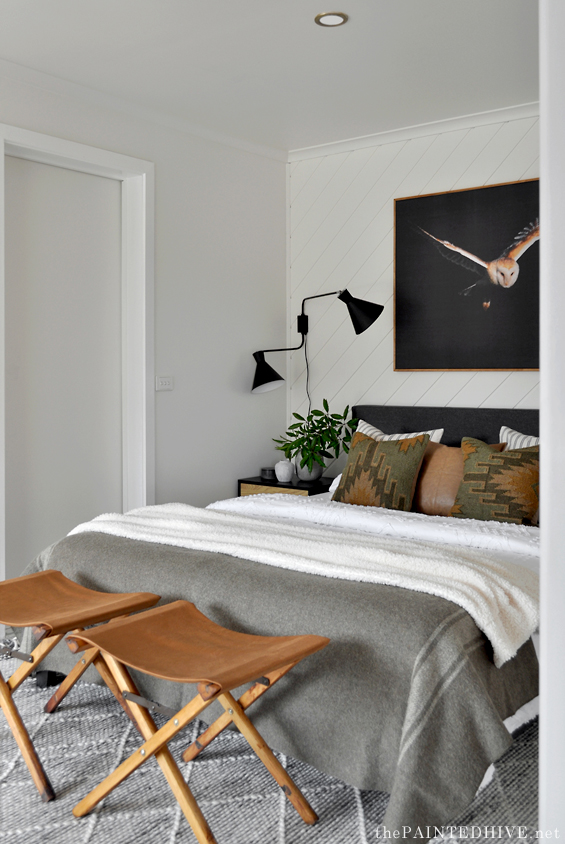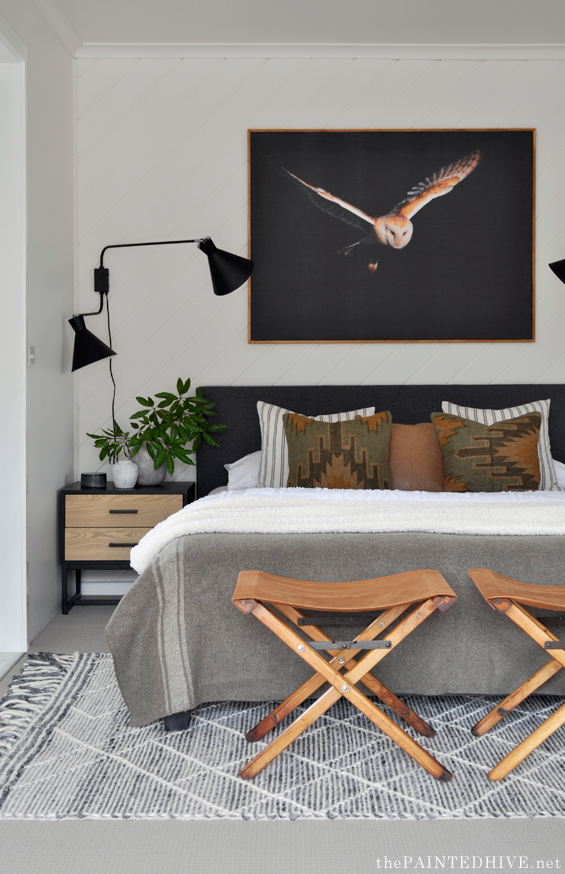 Before you say anything, yes, I realise the wall lamps are a tad intense for this small space.
Slightly more petite versions would have been ideal, but for under $5 each I wasn't going to complain! Plus they will come in handy if my brother ever needs to host a stage show.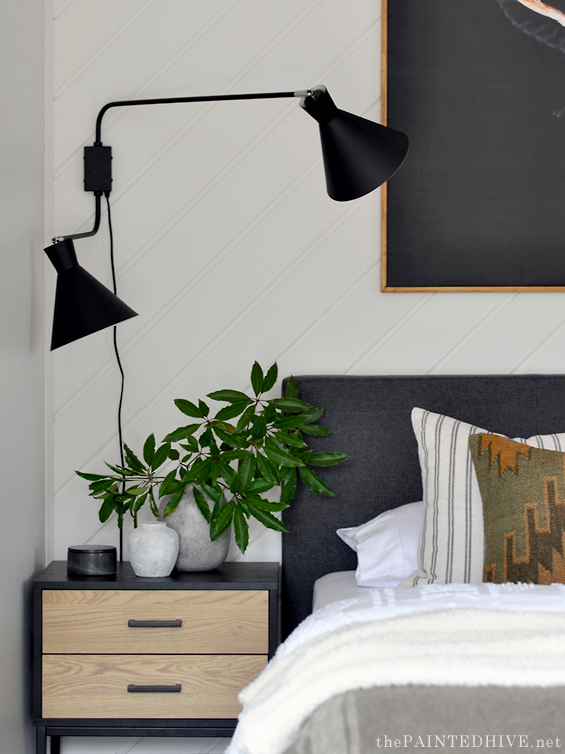 Because I got them on clearance I can't find a link to share, but if anyone is looking for some, they are the Verve Tori Wall Light (from Bunnings). If you're quick there might still be a few left at some stores.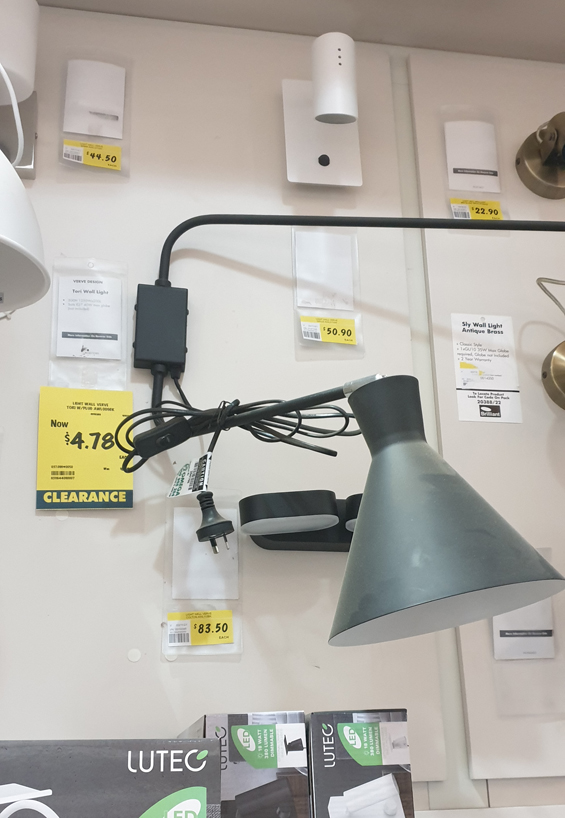 I contemplated painting them (maybe white or gold – brass ones would have been lovely), but as the room came together I decided they were fine as is. Their boldness certainly provides impact, and their sculptural quality lends interest which helps belie the typicality of the room. Of course I've used soft warm bulbs so the lighting itself isn't too severe (so perhaps my brother will need to increase the wattage for any stage shows – and yes, the bulbs cost more than the lights themselves!).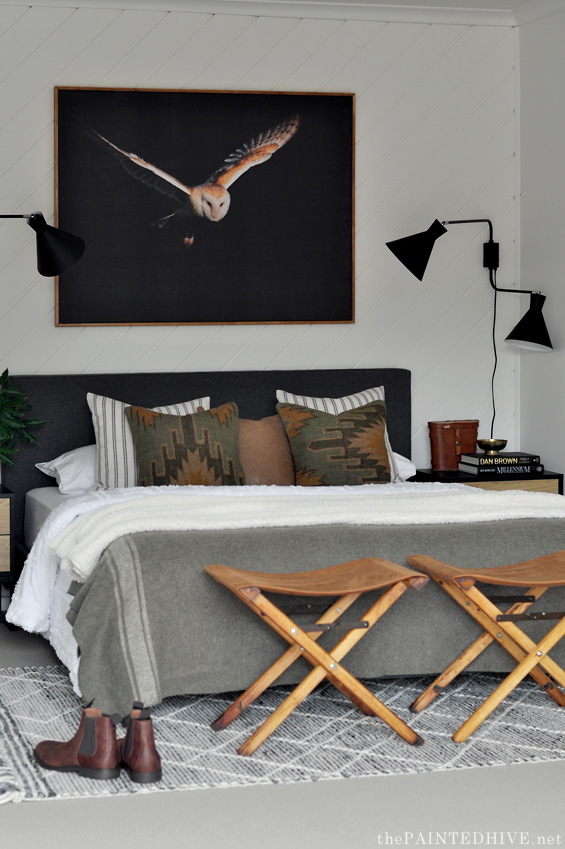 I know not everyone will like the fact we painted the wood panelling. Although I never hated it, and do love the earthy warmth timber can lend to a space (especially a masculine one), given the lack of light in the room it just felt a bit dark and gloomy.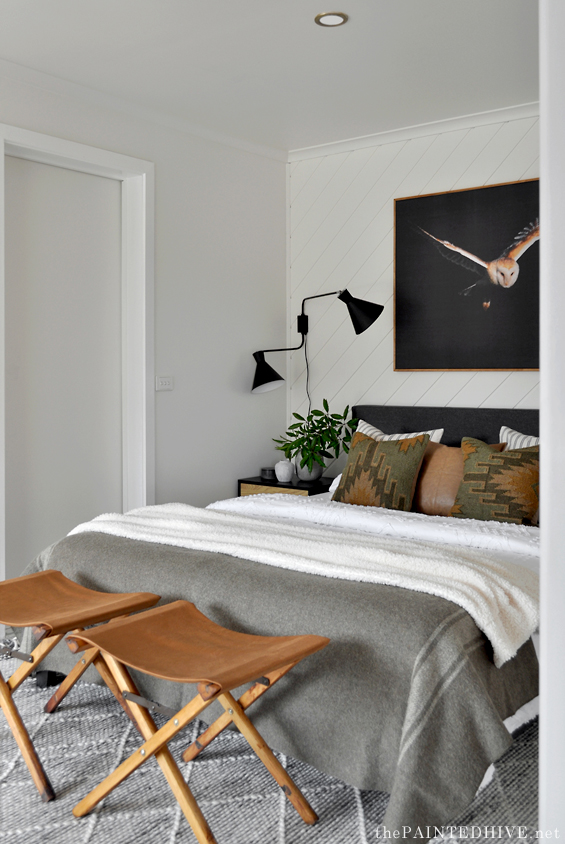 Having all the walls one light consistent colour helps make the room feel more spacious and cohesive. If anyone is interested the colour is Antique White USA by Dulux.
The original bed was actually one I picked up for free a few years back when I was staging my friend's house for sale (you can see it HERE). It was always a bit rickety and after several failed attempts to repair it my brother decided he wanted something new.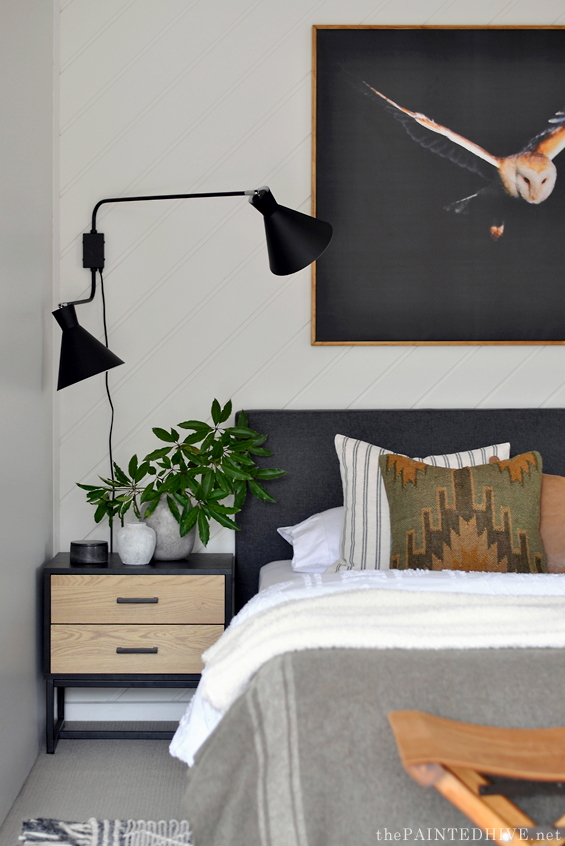 In order to be able to build the room around the bed, we went for something quite understated in this $220 charcoal upholstered bed from eBay.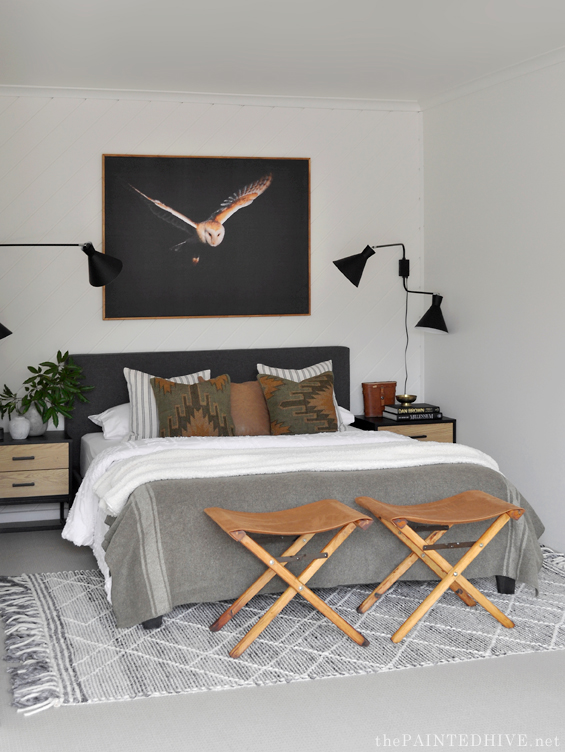 The bedside tables also came from eBay and were less than $100 each.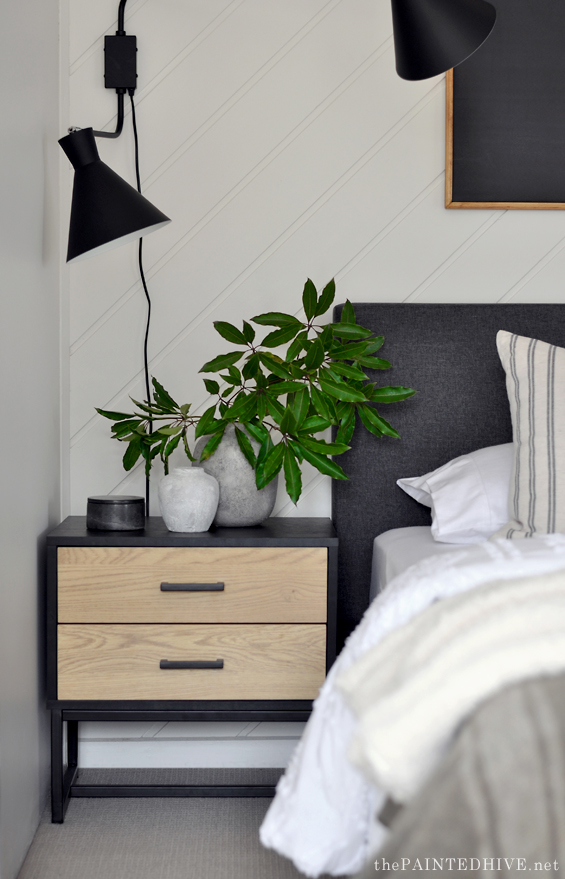 I contemplated keeping and upcycling the original bedsides, which would have been totally fine, but these new ones are just that bit more ideal.
When it comes to decorating, in general I probably agonise most over choosing wall art – there are just sooooo many options! But I surprised myself this time around by being super decisive and selecting one of the first images I came across.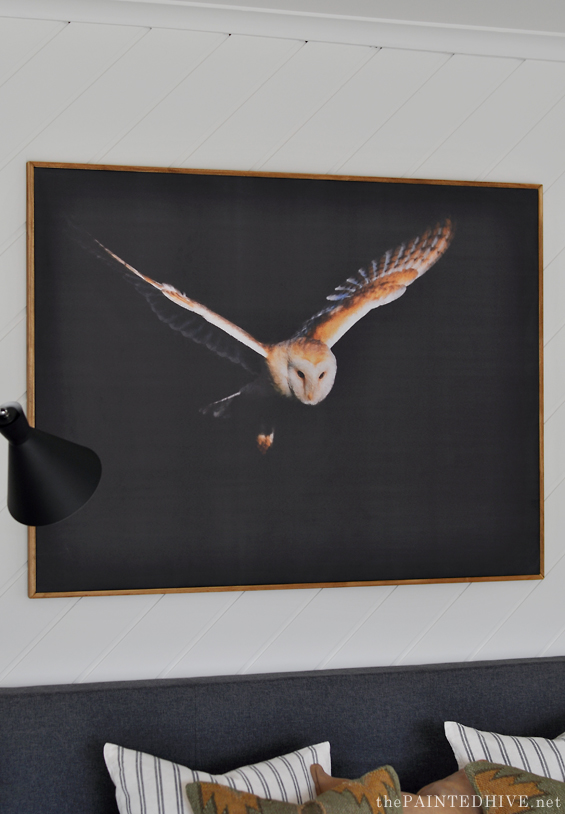 This barn owl was originally a free downloadable photograph from Unsplash.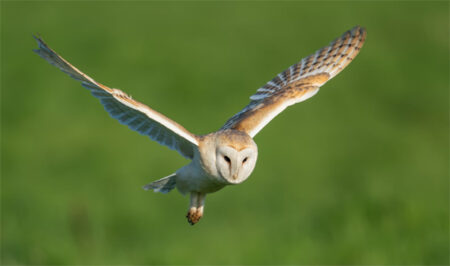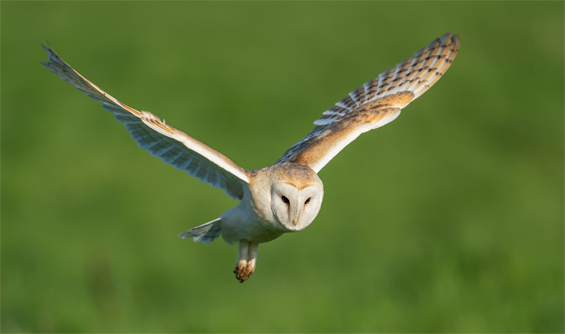 'Barn owl hovering before diving to catch prey' by Bob Brewer.
I edited the colours and applied a digital effect to make it look like a painting before having it printed onto peel-and-stick canvas wallpaper by AJ Wallpaper.
Here's a close-up section which shows the detail a bit better…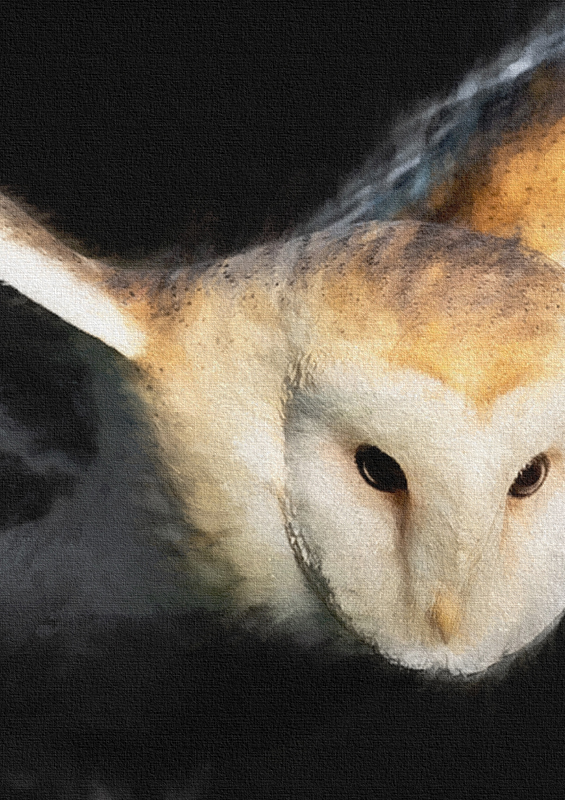 I've used AJ Wallpaper a few times in the past and always find them really helpful and prompt, plus their products and services are amongst the most affordable I've found.
As per usual I didn't document the framing process (one of these days I will publish a thorough tutorial on how I generally frame wallpaper art), but it was super easy and cost less than $40. Essentially I cut a sheet of 6mm/.02″ MDF to size, bordered the back with some deeper MDF planks to give it stability, attached the wallpaper to the front, then boxed everything out with some mitred timber trim. I realise things sound a bit complicated when the steps are summarised so bluntly so feel free to ask if you want clarification.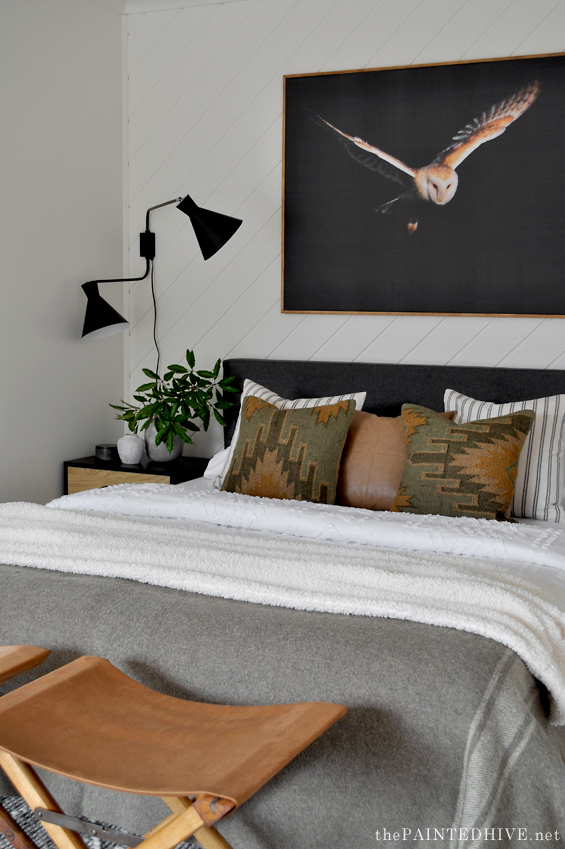 If anyone is interested I'm open to sharing my edited owl image as a free download in an upcoming post. Maybe that will give me a good excuse to finally get onto that framing tutorial!
The end-of-bed stools are one of my favourite elements!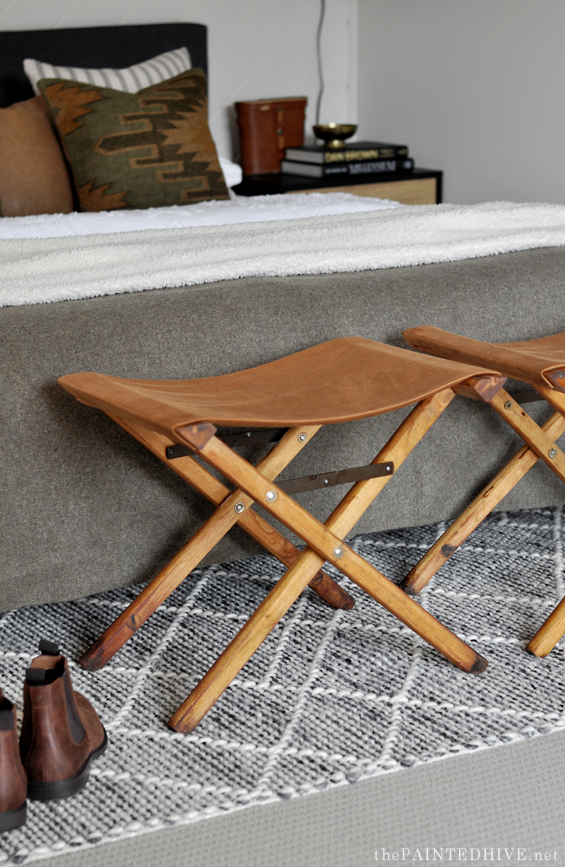 I think they just add so much character and interest.
I've loved the look of folding military style furniture for ages, especially when used in a masculine room. And this was finally my chance!
I shopped around for quite a while for something that could work, exploring lots of different options. I was also always open to the idea of building something from scratch if needed, but then I came across two old directors chairs on Marketplace for just $20.
They were perfect!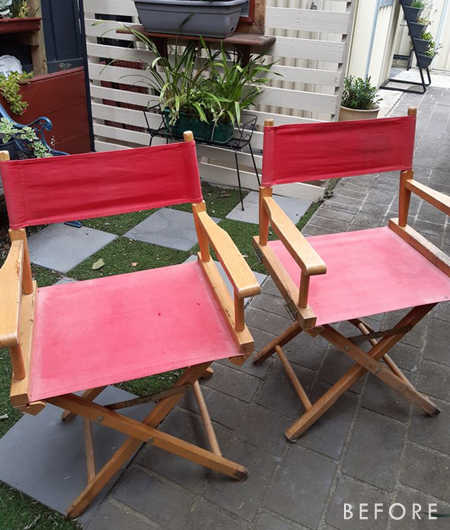 I will publish a dedicated post about the full transformation process (because I actually managed to take progress photos for the most part!) but as I'm sure you can gather it wasn't a difficult project.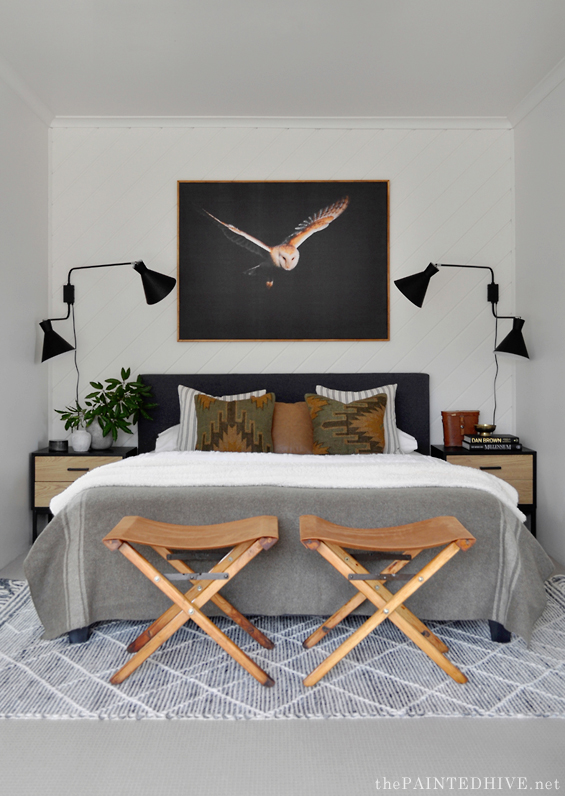 I think many of you will recognise the floor rug from some of my past projects.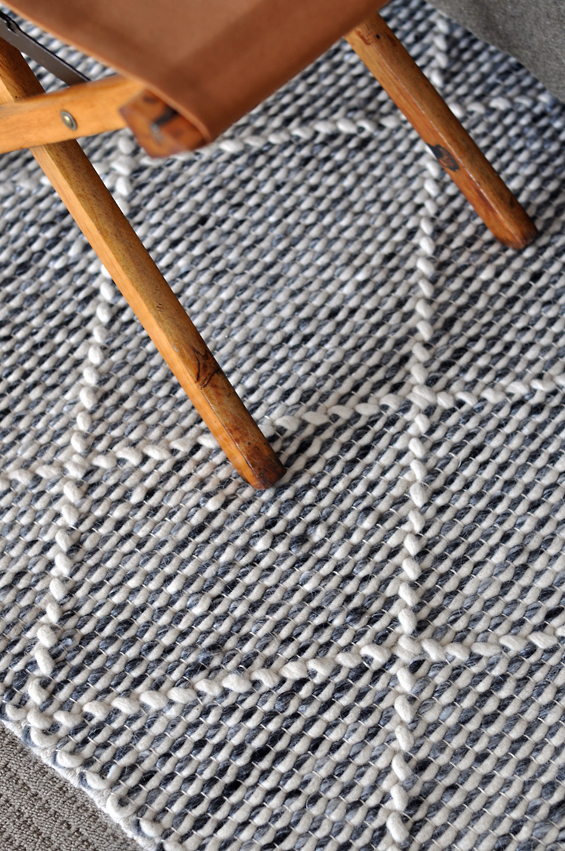 It was originally purchased from Spotlight a few years back to stage my friend's house for sale. Since then it's been deployed on several different missions (including being stored atop my brother's Torana for over a year!) but has always held-up amazingly well. It actually still looks and feels brand new! Such an awesome and versatile piece.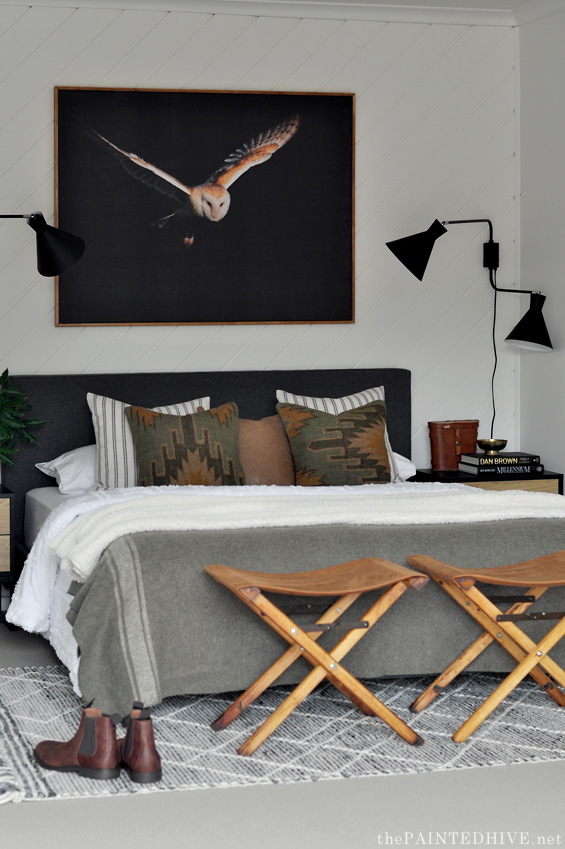 I kept the bedding quite simple in order to showcase the two jute kilim cushions I found on eBay for just $30 each.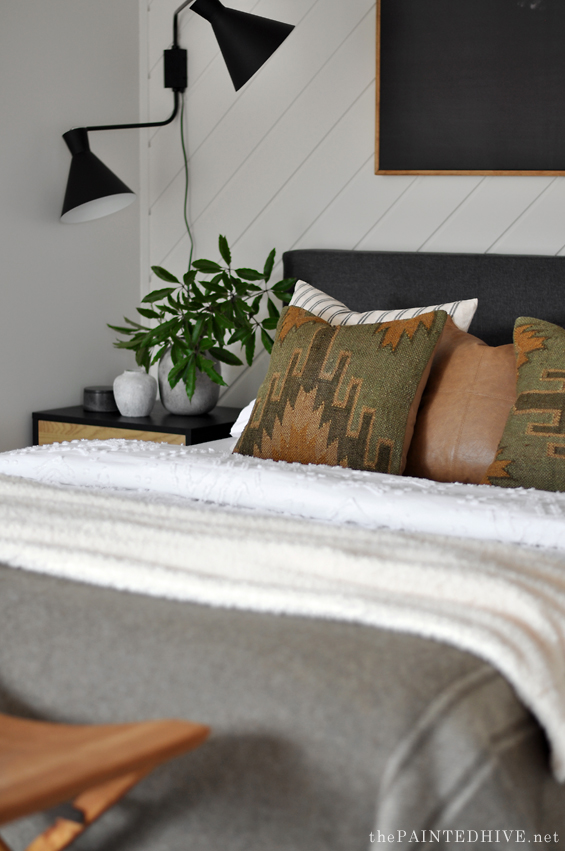 They are quite possibly my most favourite cushions ever!
Originally I had both of them orientated the same way (as they are identical) though decided to switch things up by turning one sideways. Does it make you twitch? Or do you like the slight quirkiness?
I've teamed them with some basic striped cushions ($12 each from H&M a few months ago) and a faux leather one ($8 from Kmart several years back).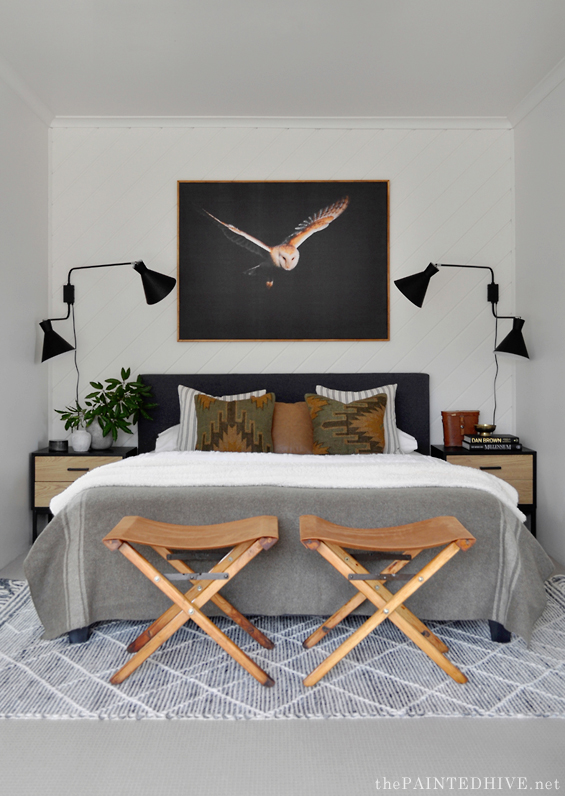 In-keeping with the subtle military vibe I've used a wool army blanket (originally from eBay many moons ago). This ties-in well with the kilim cushions and also works to add some tonal depth to the foot of the bed in order to somewhat balance the dark headboard and artwork.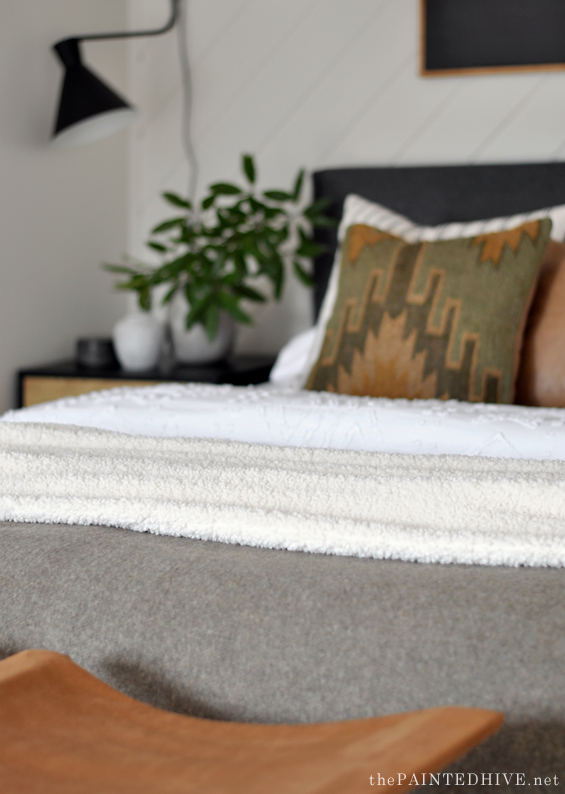 I've layered it with a new boucle style throw (from Spotlight) which adds a nice hit of softness.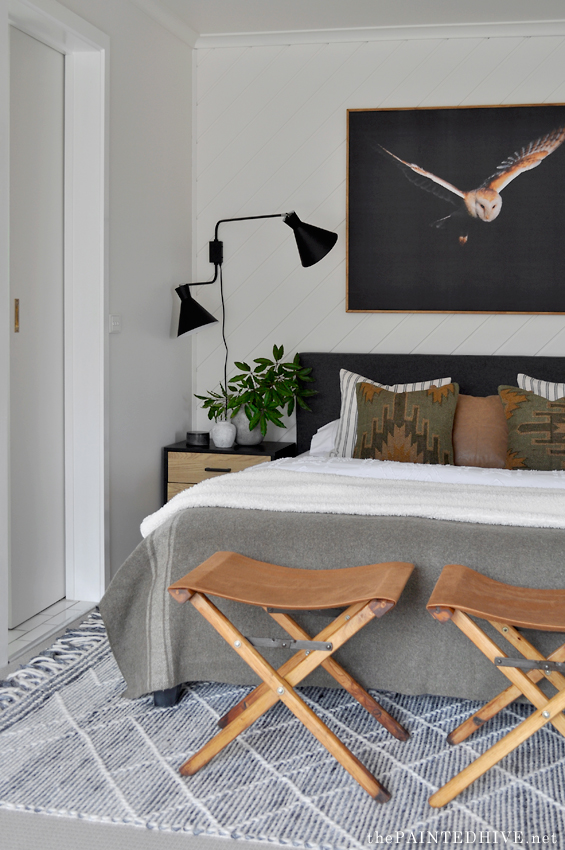 The decor items are just bits and pieces I already owned, mostly thrifted.
So, here are the side-by-side before and afters…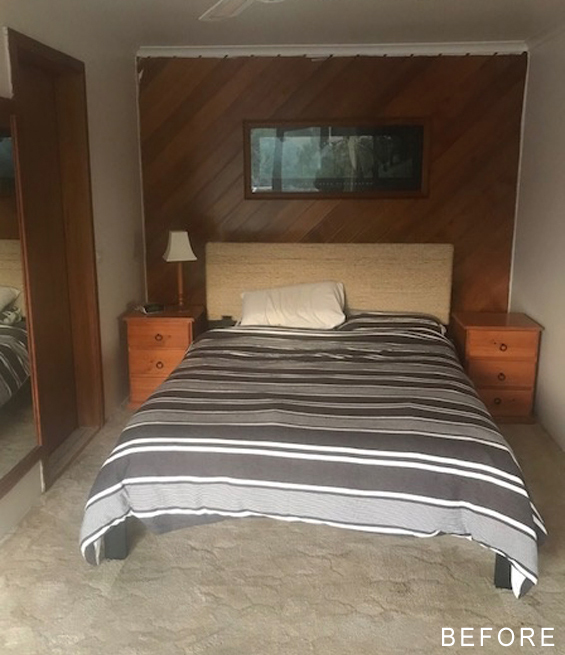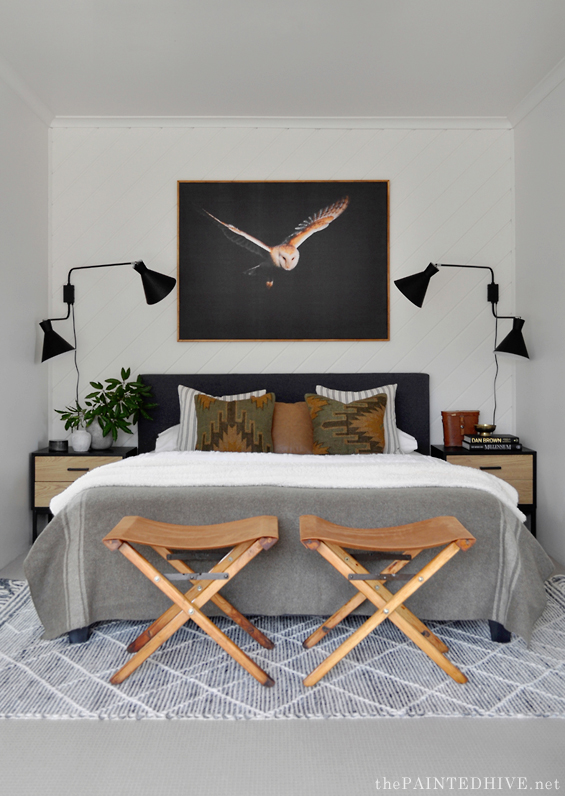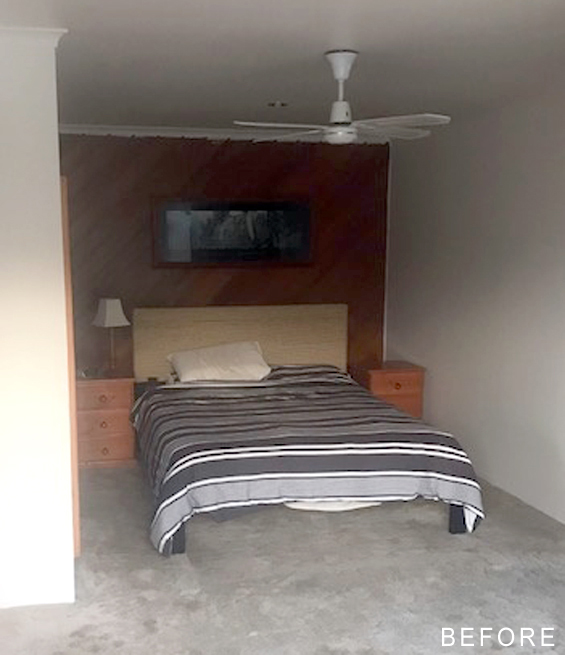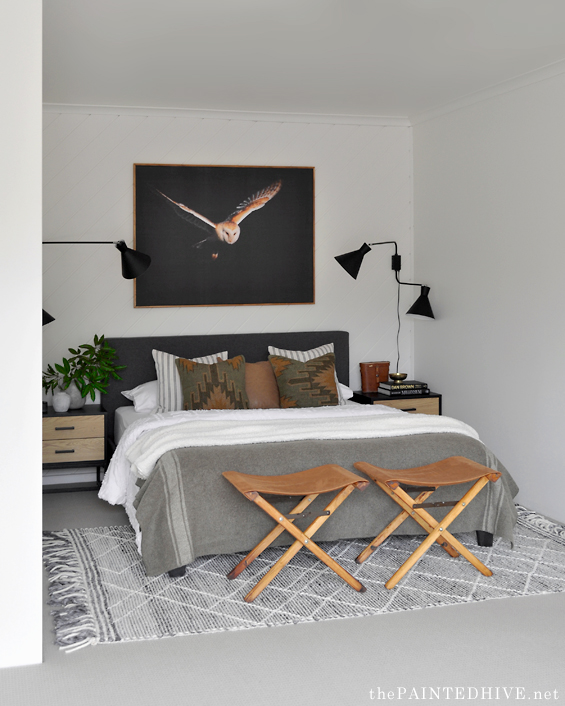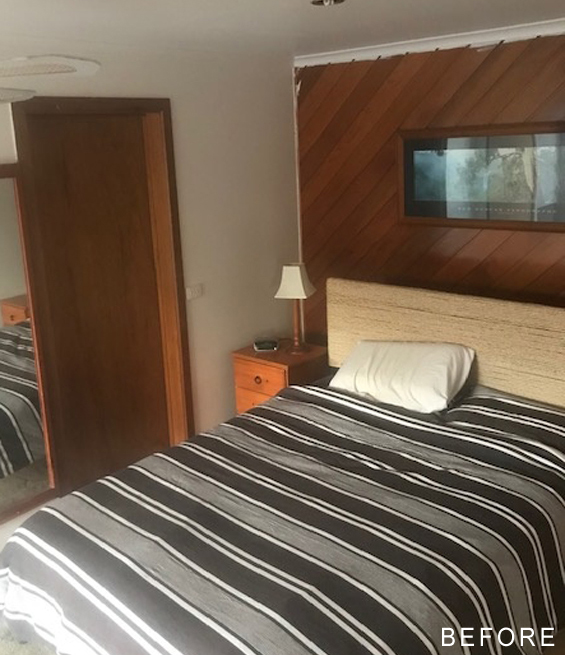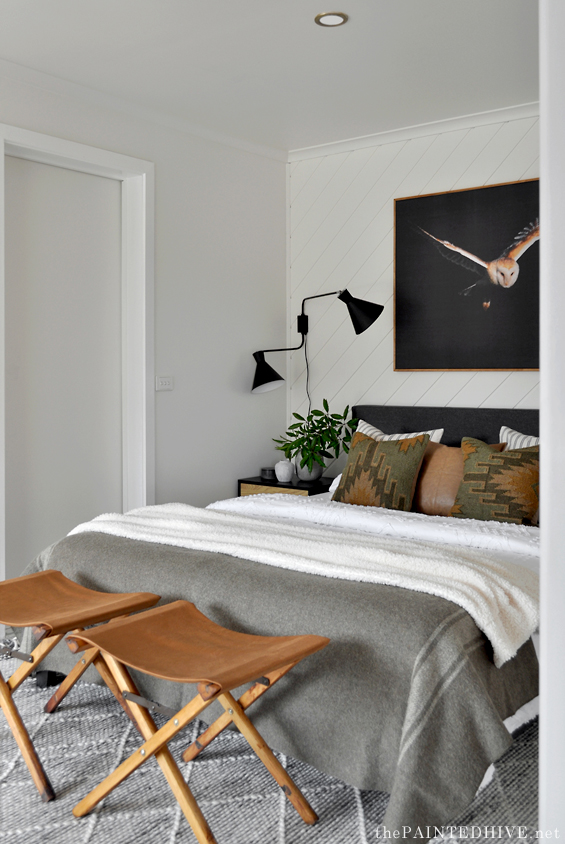 I brought the room together over a few days and it's fair to say my brother was skeptical until everything was in place. And I don't blame him because, to be honest, I was a little unsure myself. It's easy to feel doubtful about a space whilst it's still in progress. Sometimes pieces don't seem to work together or the balance and scale can look off. More often than not it's the final touches which make sense of everything.
Hope you guys like it.