Hi there. Remember me?
Sorry I kinda disappeared for a little while there. I've said it before and I'll say it again – at times I can be a bad, bad blogger.
I'd love to have a really great excuse, though in reality I can only blame lethargy…and laundry…and life.
Anyhoo, I'm back, and as promised here are some more deats about the products used in Charlotte's bedroom.
For easy and clarity, I've broken the space into four zones; Bed, Desk, Dresser and Door.
I've linked to any products which are still available and to the DIY projects I've previously blogged about (be sure to hover over a listed item to check if it's linked).

BED ZONE
Vintage Bed | DIY ($50)
I bought two matching single beds from eBay then attached the head from one to the foot of the other to create one symmetrical bed.
Linen Valance | DIY ($5)
I upcycled a tablecloth from the supermarket.
Block Printed Coverlet | DIY ($90)
I bought a white quilted coverlet and hand stamped it.
Wall Lamp | DIY ($45)
I attached a desk lamp to the wall.
Quote Art | DIY ($10)
I created a simple custom sign and framed it myself.
Window Dressing | DIY ($90)
I repurposed a pretty quilt cover and created a faux bamboo matchstick valance to conceal a roller blind.
Underbed Storage Boxes | DIY ($30)
I made three custom sized rolling drawers.
Pink Fleece Blanket | Kmart ($15)
Herringbone Fitted Sheet | Kmart ($10) 
Pink Velvet Cushion | H&M ($12)
Ticking Pillowcase | Taylor Road Homewares ($30 – part of a sheet set)
Sun Cushion | Kmart ($8)
Sheepskin Rug | Gift
Brass Ceiling Fan | Beacon Lighting ($120)
Wall Colour | Chalk USA (Dulux)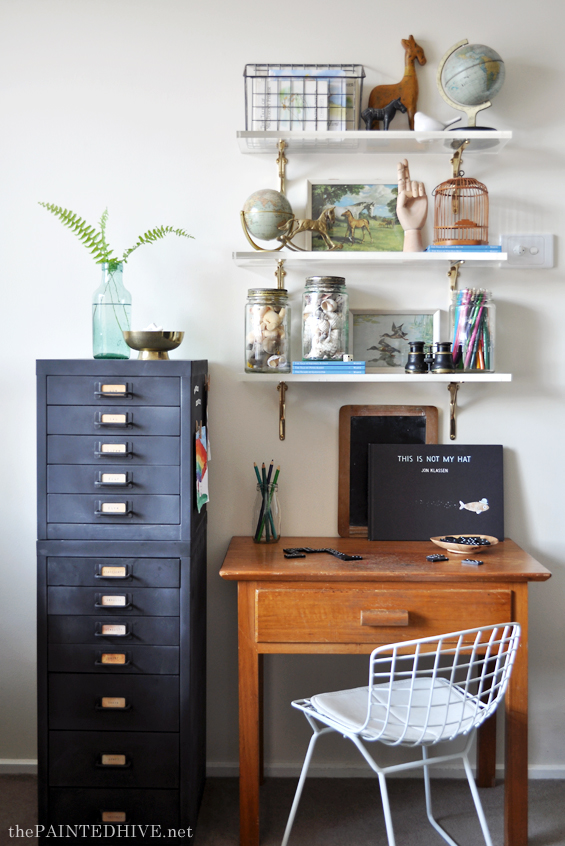 DESK ZONE
Vintage Desk | DIY ($30)
I found an old hall table on eBay and cut the legs down.
File Cabinets | DIY ($170)
I gave some modern drawers from Officeworks a vintage makeover using chalkboard spraypaint.
Brass and Acrylic Shelves | DIY ($70)
I ordered some custom acrylic planks and sweet brass brackets and mounted them to the wall.
Chair | Replica Furniture ($49)
Decor | Mostly Thrifted or Gifted (feel free to ask about a particular item)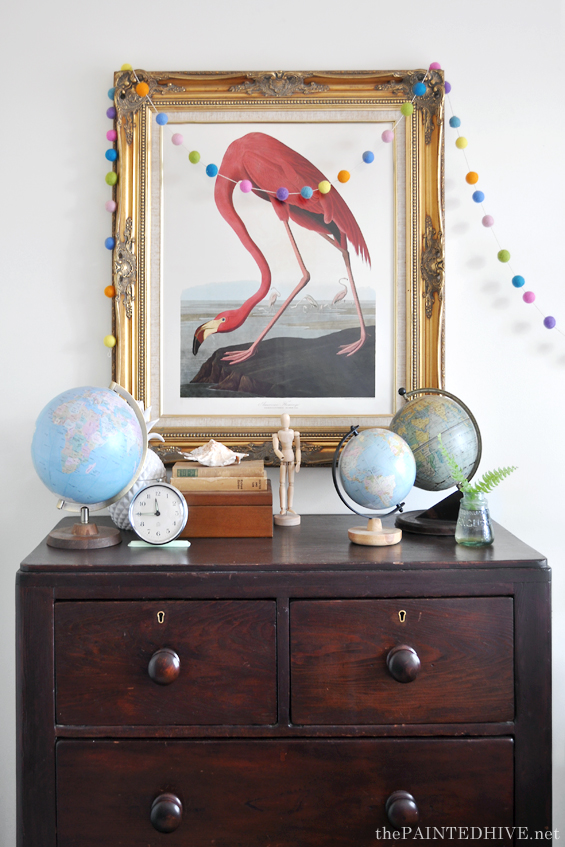 DRESSER ZONE
Flamingo Artwork | DIY ($50)
I had a downloadable image printed then mounted it in a thrifted frame.
Antique Dresser | eBay ($150)
Felt Ball Garland | eBay ($8)
Ceramic Pineapple | Kmart ($8)
Large World Globe | Target ($15)
Other Decor | Mostly Thrifted or Gifted (feel free to ask about a particular item)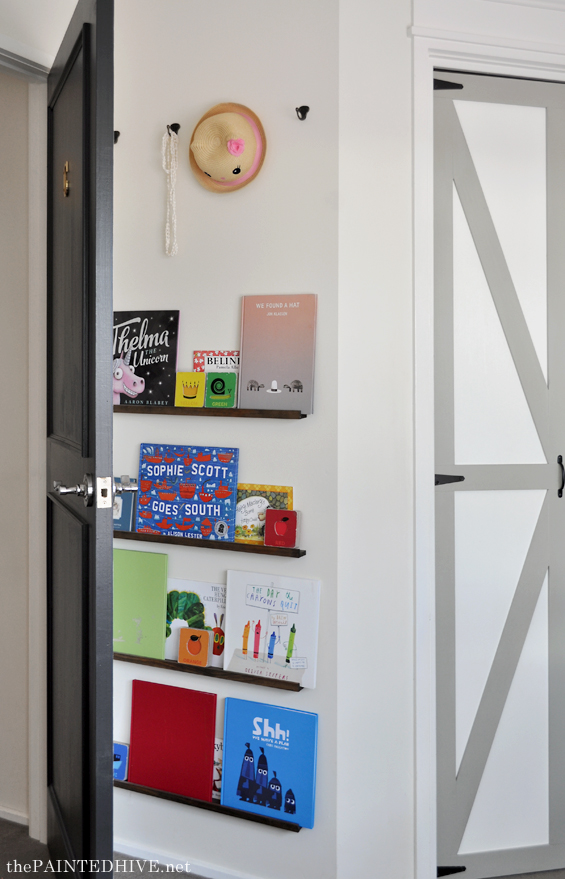 DOOR ZONE
Floating Bookshelves | DIY ($30)
I trimmed some timber moulding and attached it to the wall.
Barn Style Wardrobe Doors | DIY ($40)
I attached strips of timber to the existing bi-fold door and added some strap hinges and new handles.
Crown Trim above Wardrobe Door | DIY ($30)
I added some timber trim to bulk-up the door frame.
Jackalope Decals | DIY ($16)
I printed several (33 apparently!) identical images onto clear sticker paper, trimmed closely around each one then adhered them to the rear of the door.
Wall Hooks | Thrifted ($5)
Flying Swallows | The Reject Shop ($10)
Entrance Door Colour | Domino (Dulux)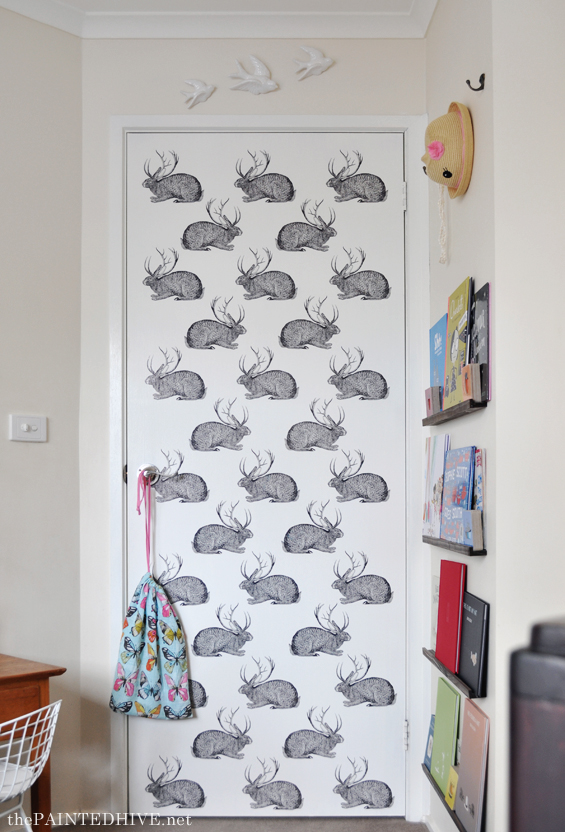 Now I've got this post ticked off my list I can finally focus on moving forward with Riley's bedroom makeover! I'm stepping a little out of my comfort zone with his space and can't wait to share more…green walls anyone?