I must admit, as much as I've been looking forward to sharing this reveal, I'm feeling equal parts nervous and excited!
It's not because I'm disappointed with the outcome, in fact I'm quite the opposite, though I am wary of disappointing you guys.
You see, I knew from the start that translating the success of this makeover through photographs was never going to be easy. In person the house looks beautiful and I'd now say it's even the prettiest in the street (definitely the most stylish), however as it sits on the low side of a sloped road capturing the full effect with a camera has proven difficult. In photos everything just looks a little bit wonky and weird, and somewhat obscured due to the shallow position.
Still, I've done my best and hope you can look past the less than ideal factors. Also, it bears remembering that this was a DIY budget-friendly refresh of a standard suburban house (please don't go comparing me to Joanna Gaines – LOL!).
If you've been following along with this makeover from the start, then you'll be across most of the project and product info. I'll touch on some aspects as I go, and link to past posts where you can find further information, though if you'd like to fully catch-up on all the previous content you can do so HERE.
So, let's remember where we started…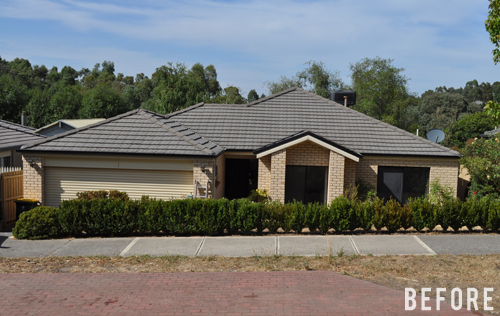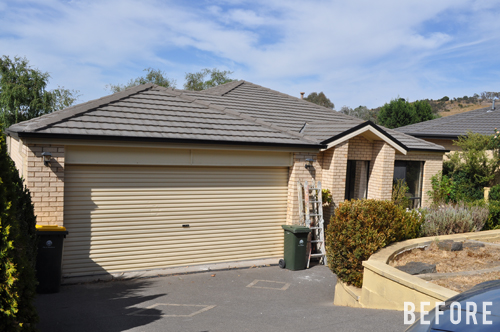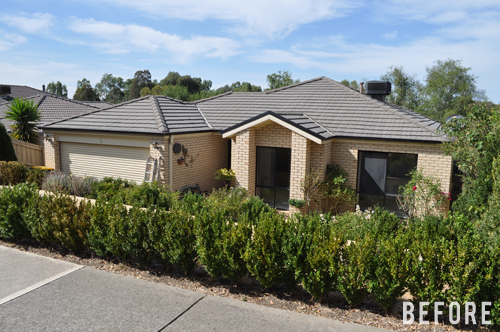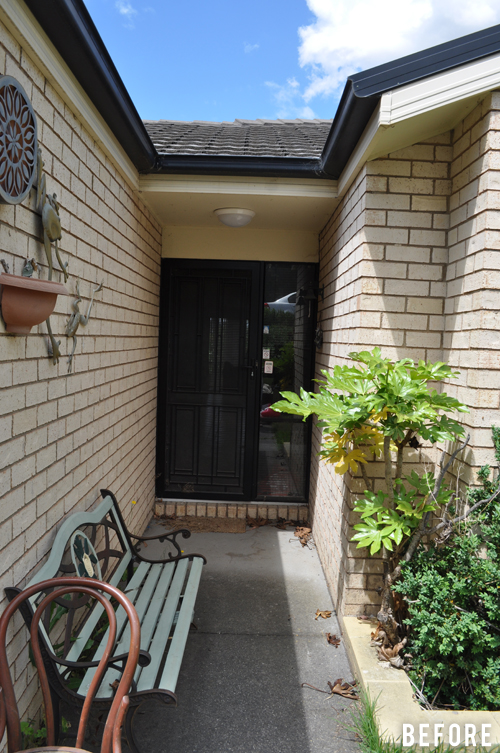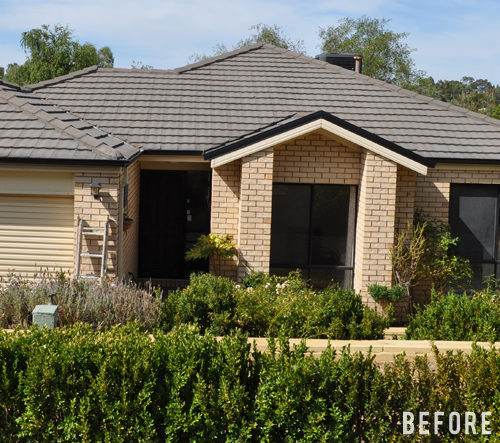 As mentioned in my original post, it's only a relatively young house (around 14 years old) with good bones and lots of potential. There was certainly nothing offensive about it though there wasn't anything special either. It just looked like any other slightly dated, somewhat neglected house in the neighbourhood – particularly the one right next door which happened to have the exact same colour scheme!
A fresh change was called for.
And here is is now…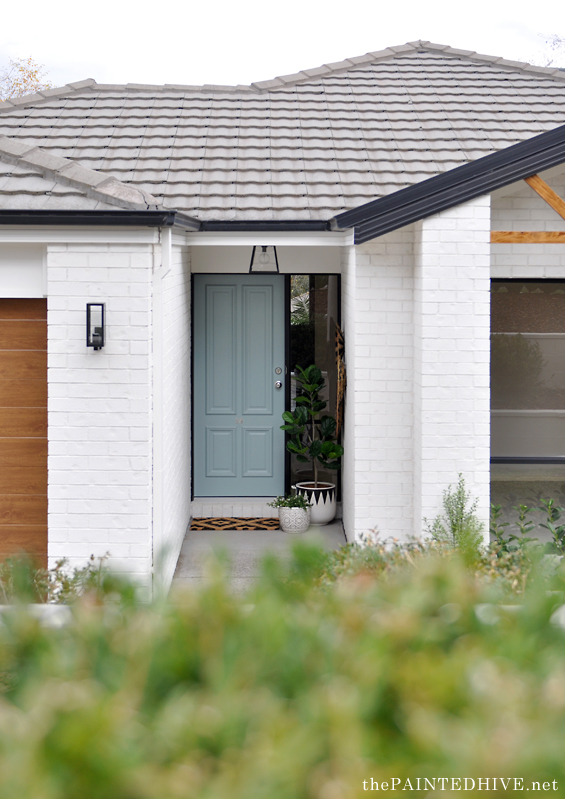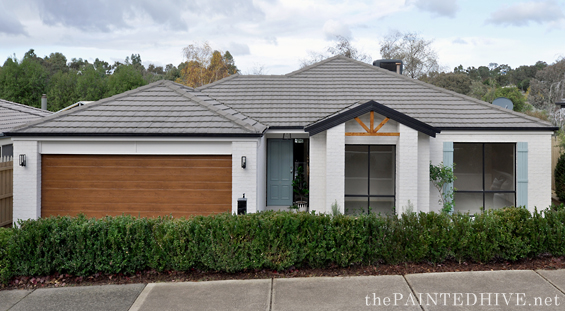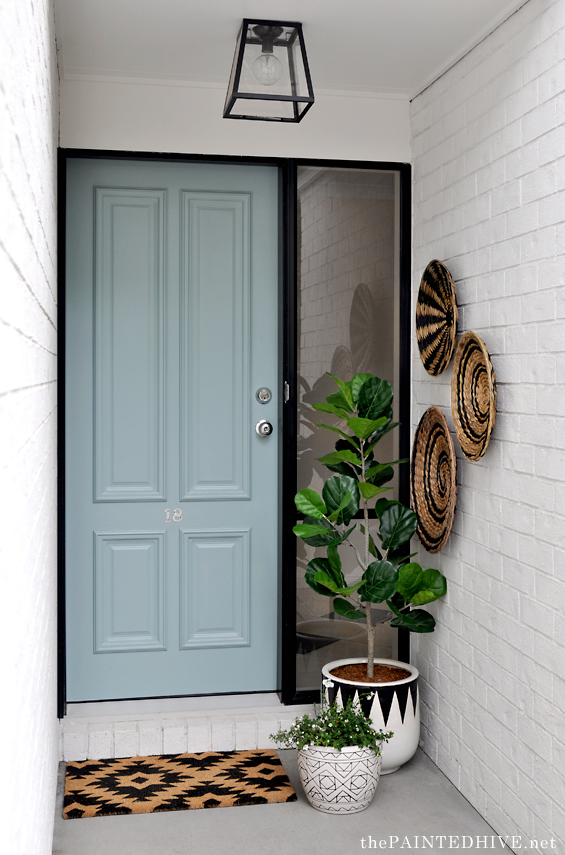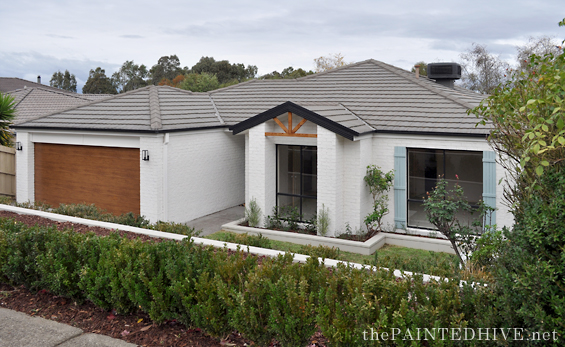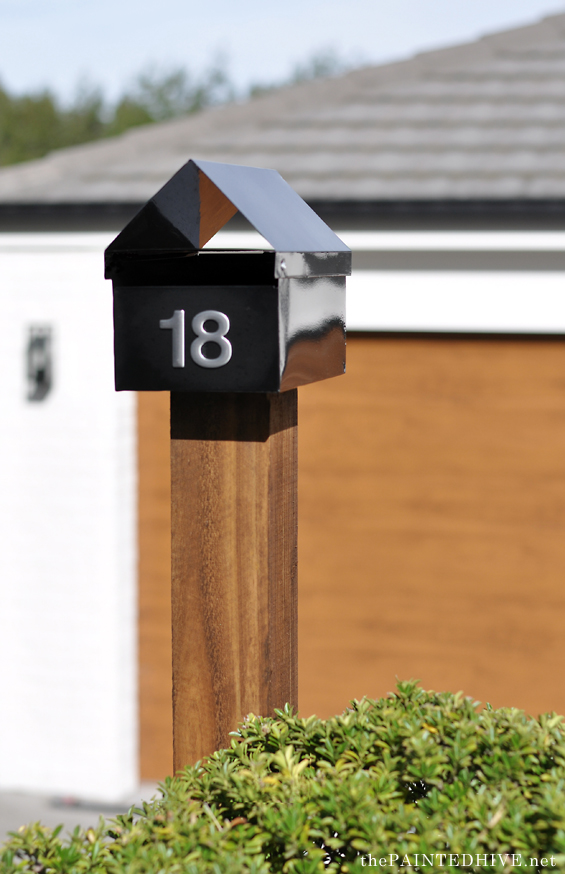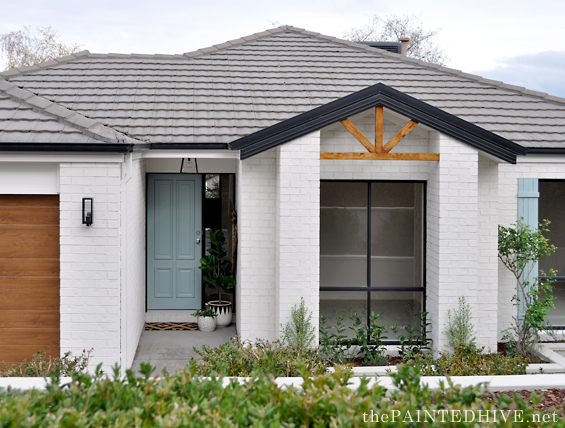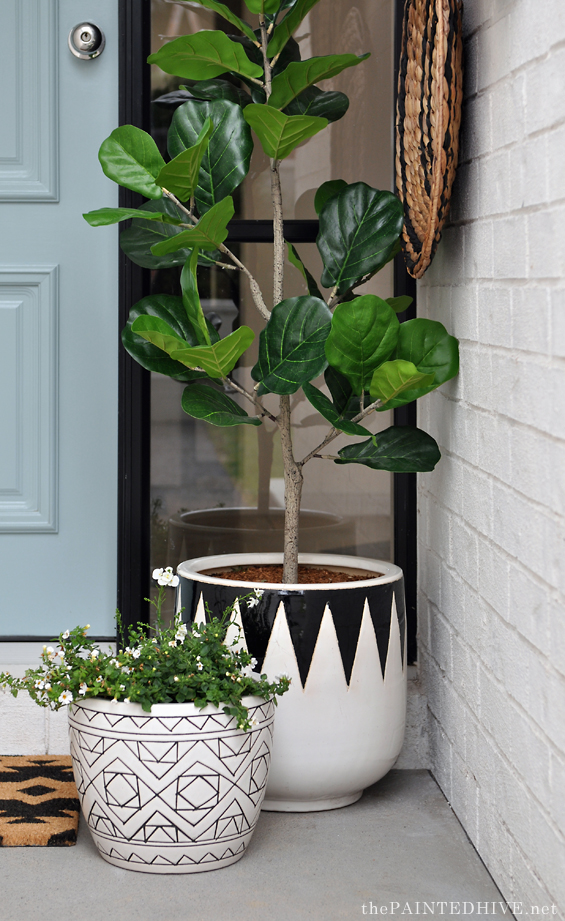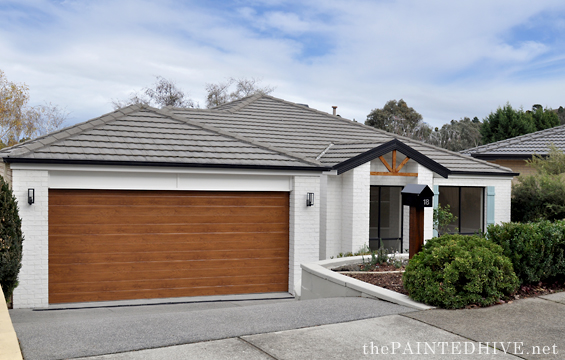 You can find side-by-side before and afters towards the end of the post.
Argh, it feels so weird putting these out there! I so hope you guys like it!
Obviously the big changes are the painted brick and garage door.
When comparing the new white to the original yellow the difference is so dramatic that at first it can seem a little startling.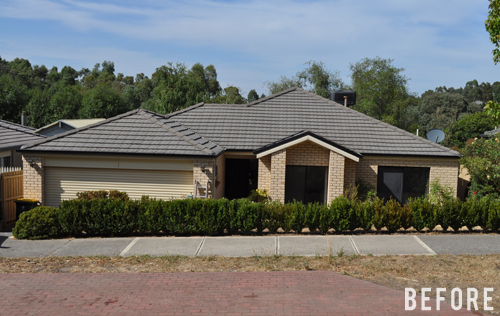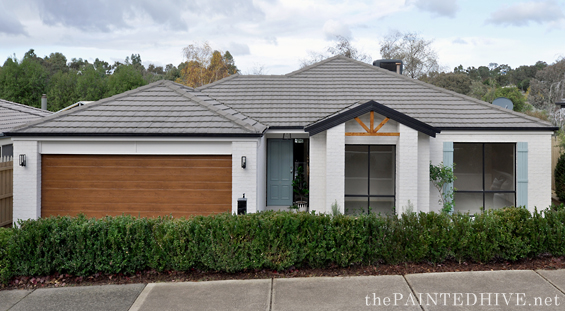 I must admit, I made lots of skeptical srunchy faces at it for a good few weeks before deciding I'd made the right choice. The colour is Antique White USA and the paint is Texture 'Medium Cover' (both Dulux) which creates a gorgeous bagged effect – LOVE it!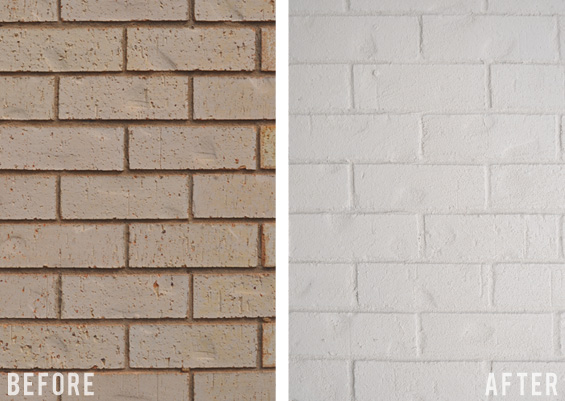 Although my initial vision was for a black carriage style garage door I honestly couldn't be happier with this alternative. In fact, it may even be better!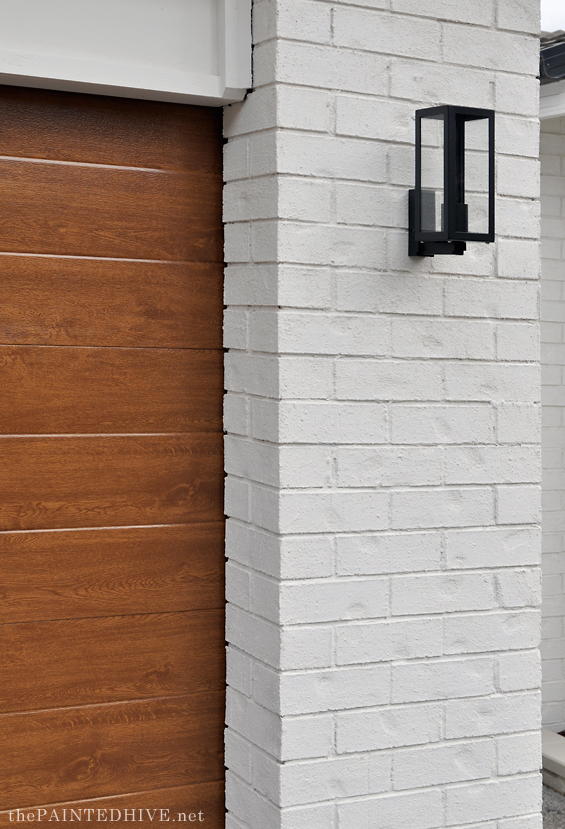 It's a sectional door by Gliderol which I purchased through Bunnings and I love the simple panelled design and warm timber-look finish. It compliments the other timber elements and duck-egg accents perfectly, as well as helps warm-up all the white.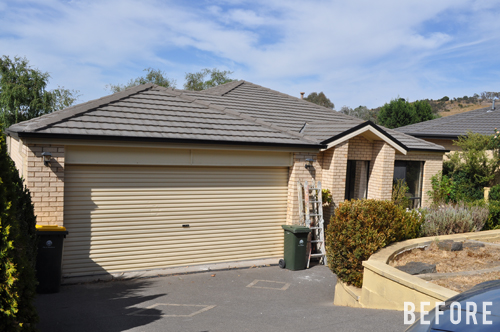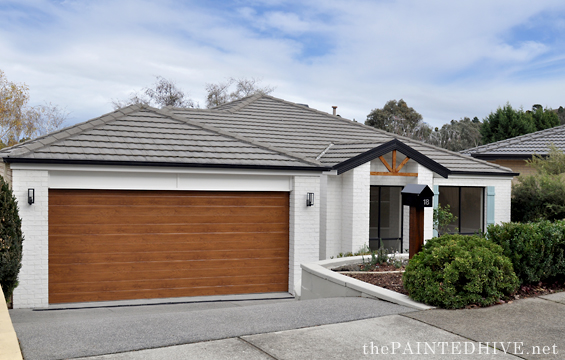 My favourite area is the front door.
It was one of those REALLY easy yet SUPER effective little transformations.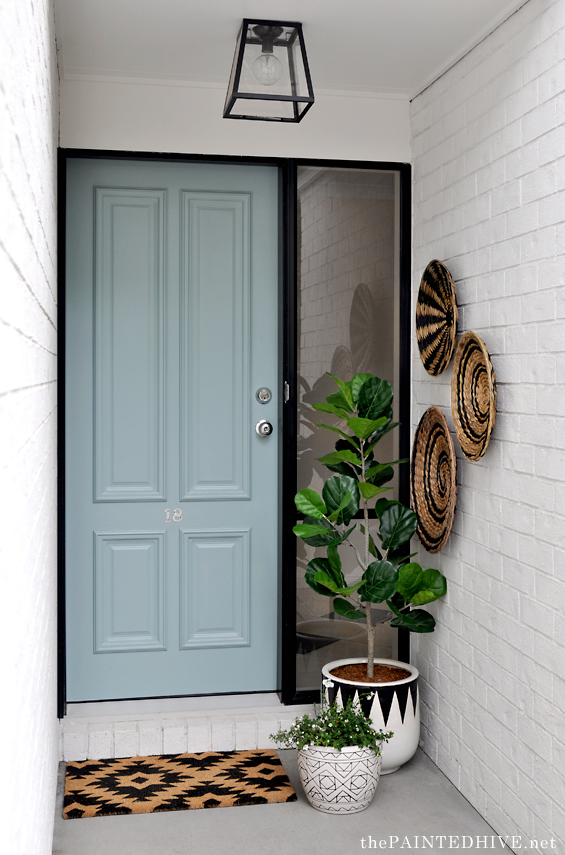 First we decluttered be clearing the old decor, removing the ugly security screen door and taking down the aluminium shade from the sidelight. Then we simply made things look pretty by painting the door a lovely soft blue, installing a new light fitting and adding stylish accessories!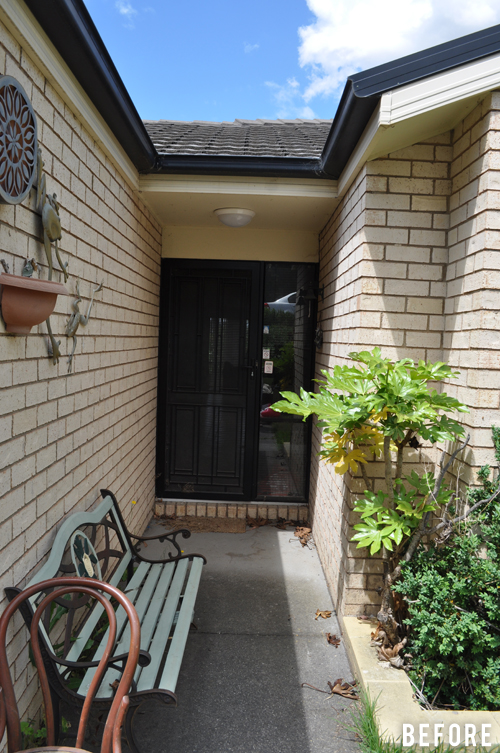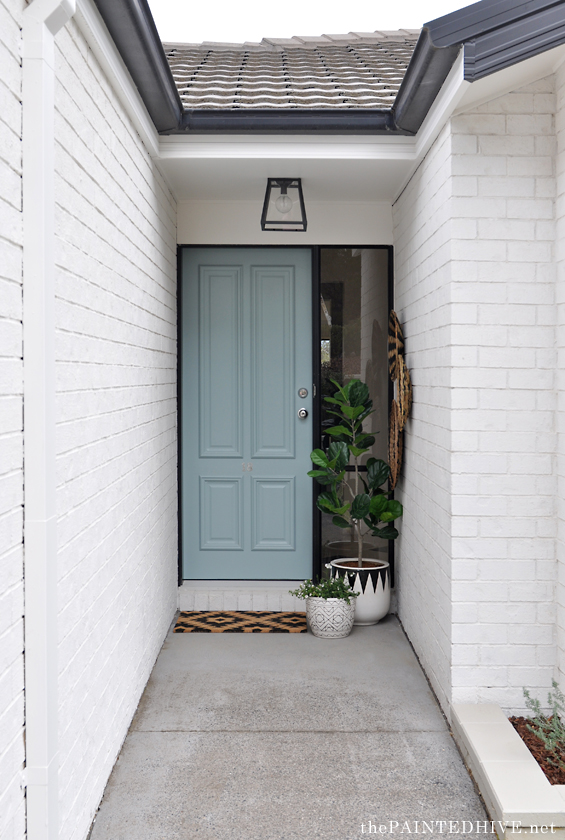 I was struggling to find a nice large plant to use beside the front door. Everything established was really expensive and I was worried that might be wasted money if it simply died (given no-one is living at the house to care for it). So I ended up using this artificial fiddle leaf (bet you couldn't tell, right?) from Koch & Co. which is totally awesome…and definitely will never die!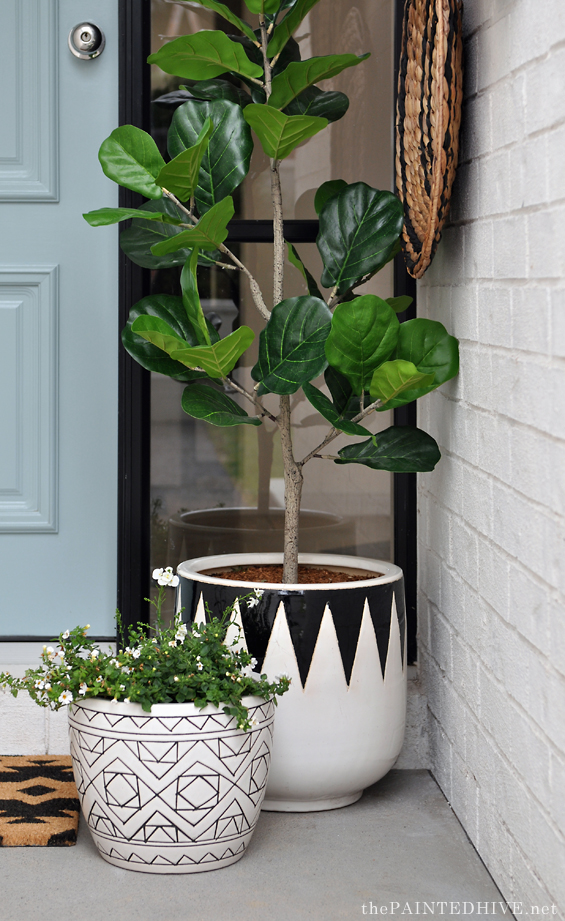 And I'm in love with the wall baskets from Early Settler which add just the right hint of something. Aren't they cool?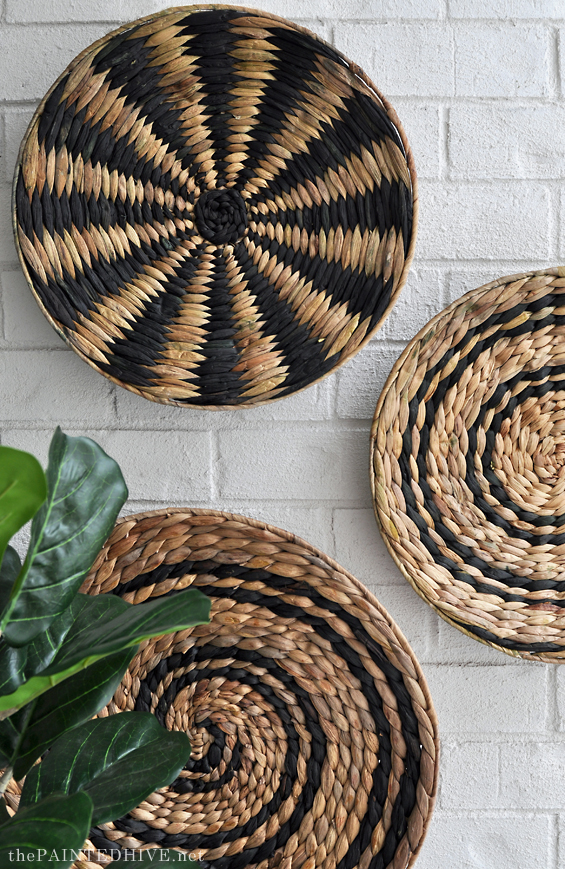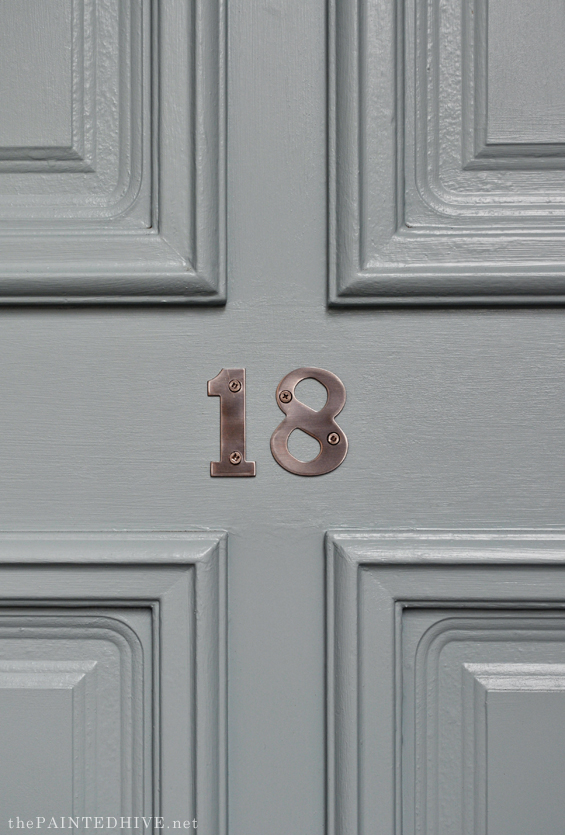 Something I haven't spoken much about is the garden.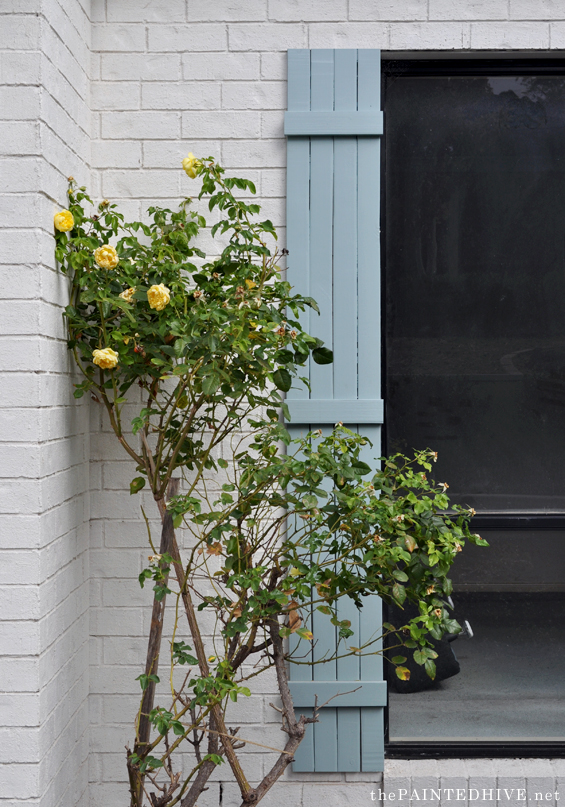 I wish the roses were in bloom for my after pics however this particular shot is from a month or so back.
Although it appears okay in the before pics, that's actually a bit of an illusion. Whilst the plants looked quite green and full from an elevated perspective, at ground level things were very different. Most of them were leggy, sparse and scruffy, there were loads of weeds, and many were half dead by the time summer was over. Unfortunately we had no choice but to remove lots of them and seriously cut back others. It was a shame though it had to be done. I know the garden might not seem as nice now however in reality it's actually a hundred times better.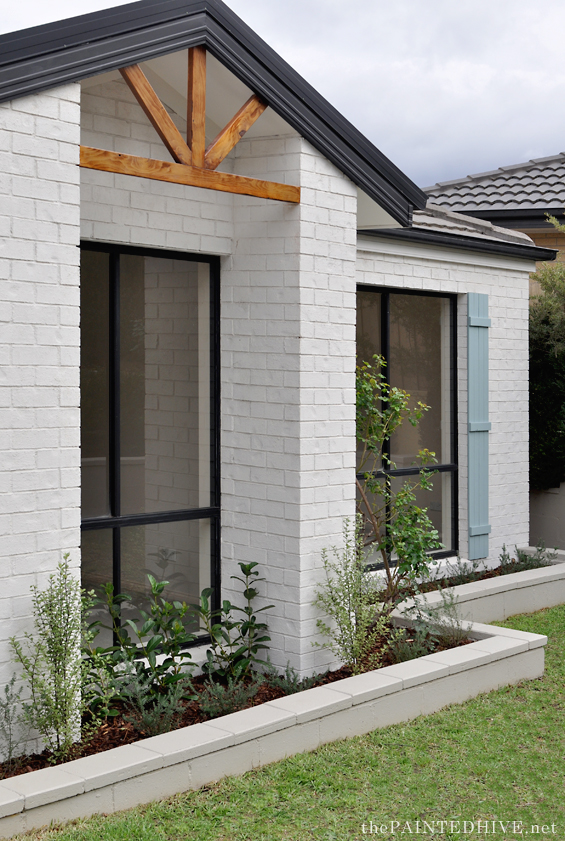 Of course we didn't have the budget to create a brand new "instant" garden full of large established plants so we kept things neat and simple by planting Westringa, Viburnum and Pittosporum around the house and Rosemary, Gaura and Dietes in the retaining walls and street level beds. They're only mostly babies though they are sweet yet tough. Then we mulched everything for that nice finished look.
I really struggled to get a decent photo of the little lawn area. The grass is slowly coming back to life now that we've had some rain and it's staring to look nice so to give the space some purpose and personality I added a simple rattan settee and ceramic stool.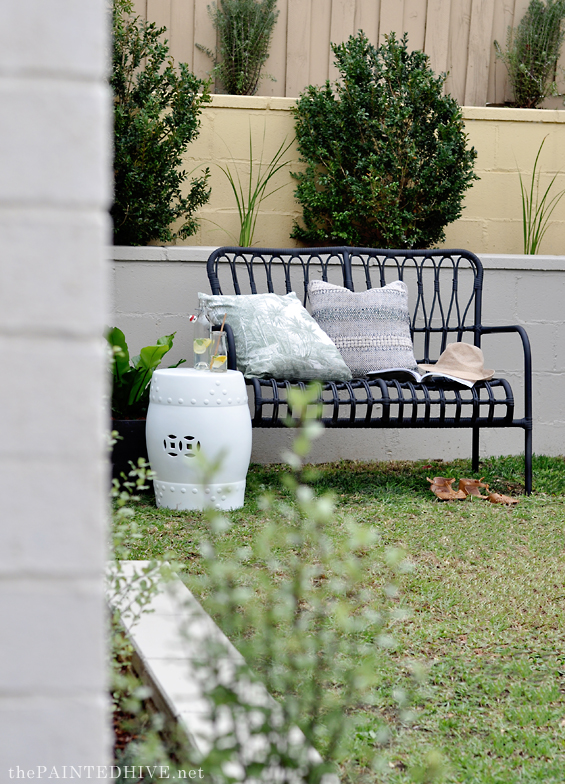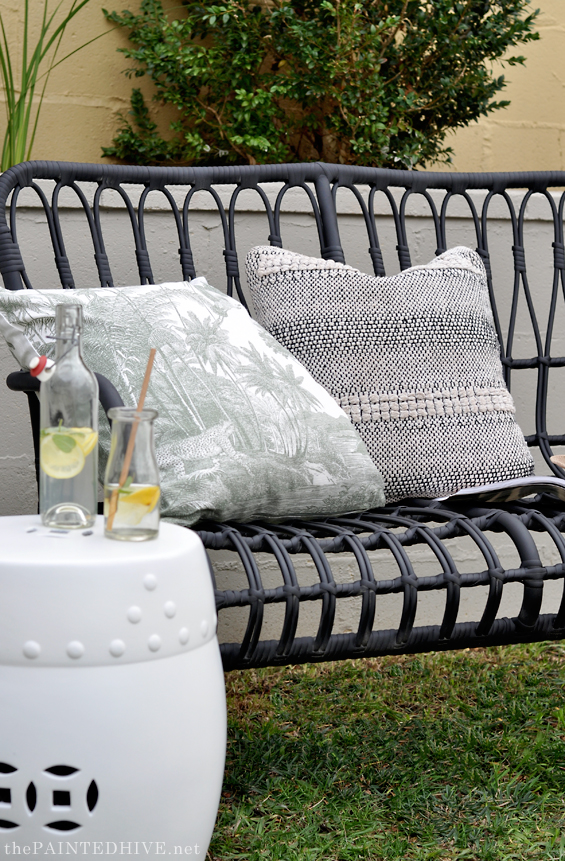 PRICE & SOURCE LIST
Brick Paint | Dulux Texture 'Medium Cover' in 'Antique White USA' | $640*
Fascia & Eave Paint | Dulux Weathershield 'Low Sheen' in 'Antique White USA' | $80*
Retaining Wall Paint | Dulux Masonry Matt in 'Linseed' | $80*
Front Door & Shutter Paint | Dulux Weathershield 'Semi Gloss' in 'Duck Egg Blue' | $40*
Garage Door | Gliderol Tuscan Door in 'Golden Oak' | $2,600* (gifted at half price)
Plants | Variety mainly from Bunnings & Aumans | $220
Mulch | Cottage Bark from Whittlesea Garden Centre | $150
Mailbox | Sandleford Crest Mailbox and Treated Pine Post from Bunnings | $36*
Wall Lights | Brilliant Black Manoir Exterior Light from Bunnings | $73 each*
Porch Light | Batton Fix Cage Cube from Bunnings | $75*
Door Mat | Madras Link Door Mat from Bunnings | $18*
Door Numbers | Nickel Numbers from Bunnings | $8*
Wall Baskets | Early Settler | $120*
Plant Pots | Tuscan Path Glazed Pots from Bunnings | $60*
Artificial Fiddle Leaf Fig | Koch & Co. | $60*
Gable Pediment | DIY | $30
Shutters | DIY | $20 each
Settee | Facebook Marketplace & Black Spraypaint | $30
Drum Stool | Already Owned | $0
GRAND TOTAL $4,433
OUR TOTAL $1,770
*We were super lucky to be gifted some items from Bunnings, Dulux, Early Settler and Koch & Co. 
In the interest of providing an accurate indication of the full overall expense, I've still included all costs in the Grand Total.

And now, for the fun bit…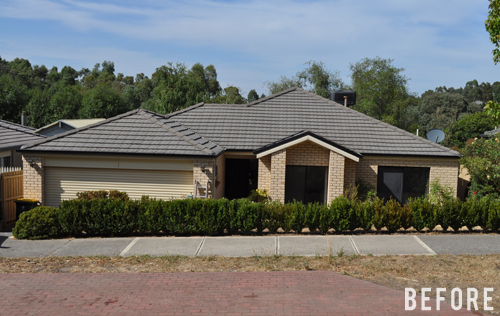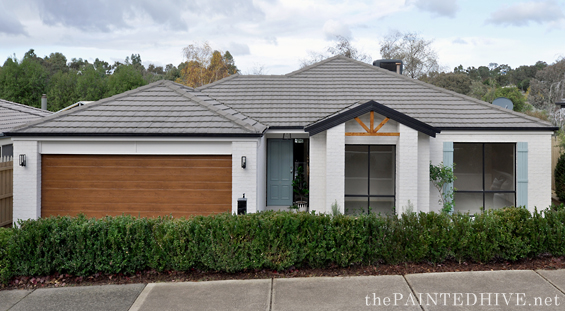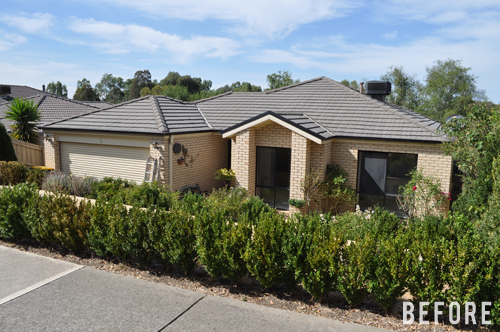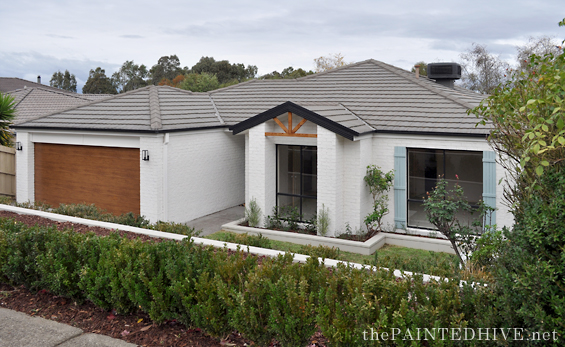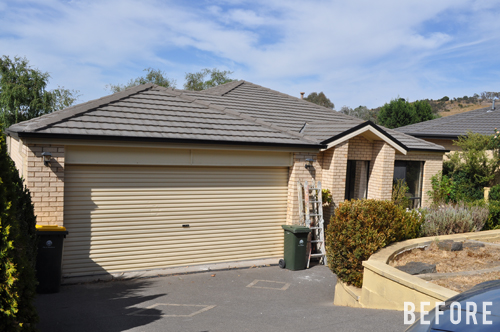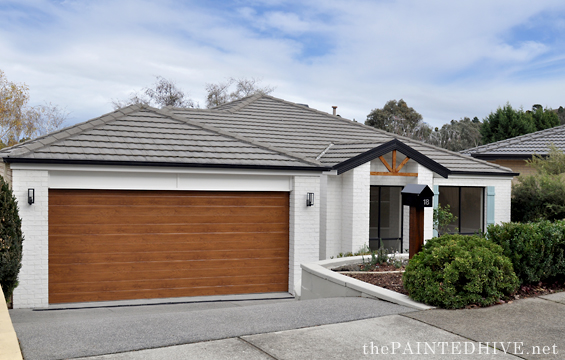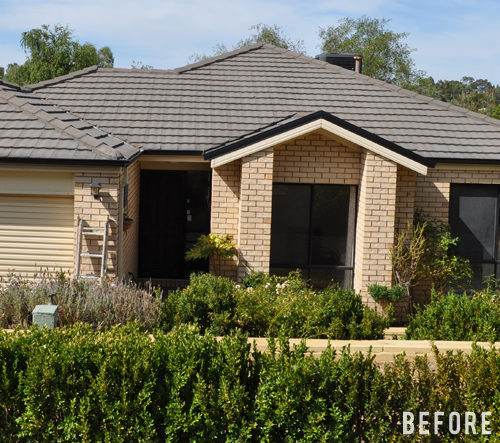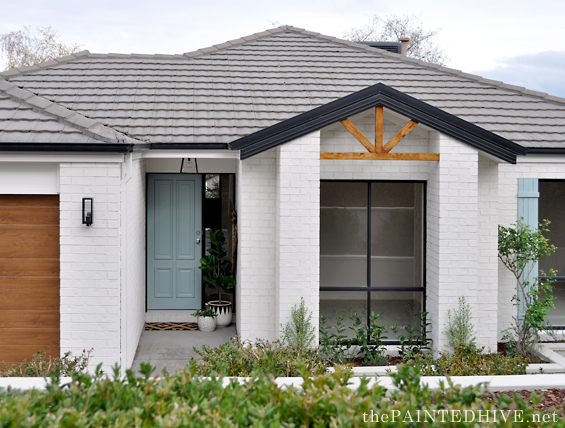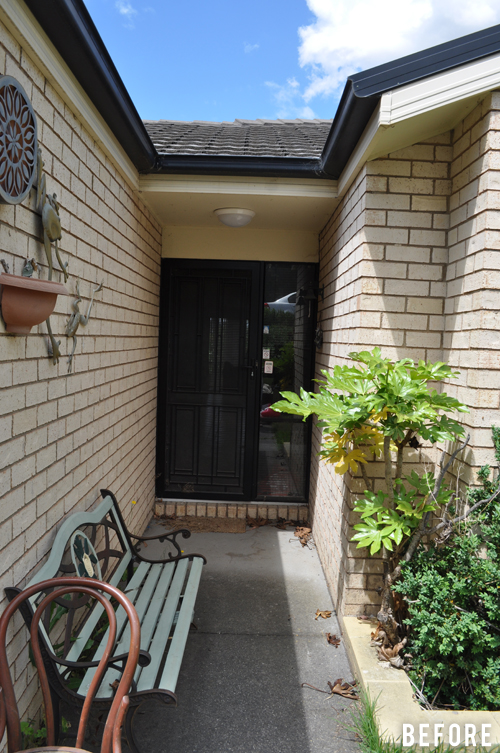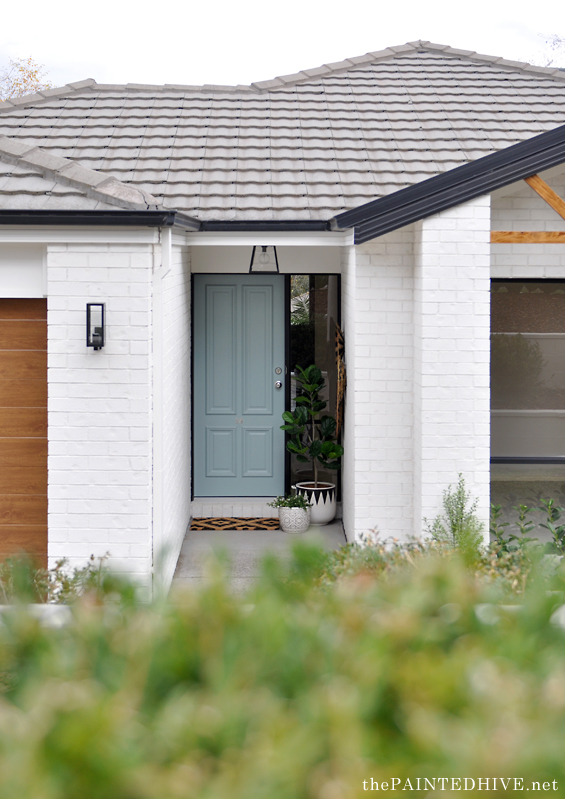 I really want, no, need, to extend a huge thank you to all of you who have followed along with this makeover. I've received countless lovely and encouraging comments, emails and messages which have truly helped drive me to the finish line. I am incredibly grateful.
I also have to recognise my dad, my brother, and foremost my mum, who I absolutely could not have done this without. You know I love and appreciate you endlessly.
Okay, enough with the sap. Anyone would think this was some kind of silver screen awards speech!
Anyhoo, just hoping you guys like it and that it helps inspire you in some small way.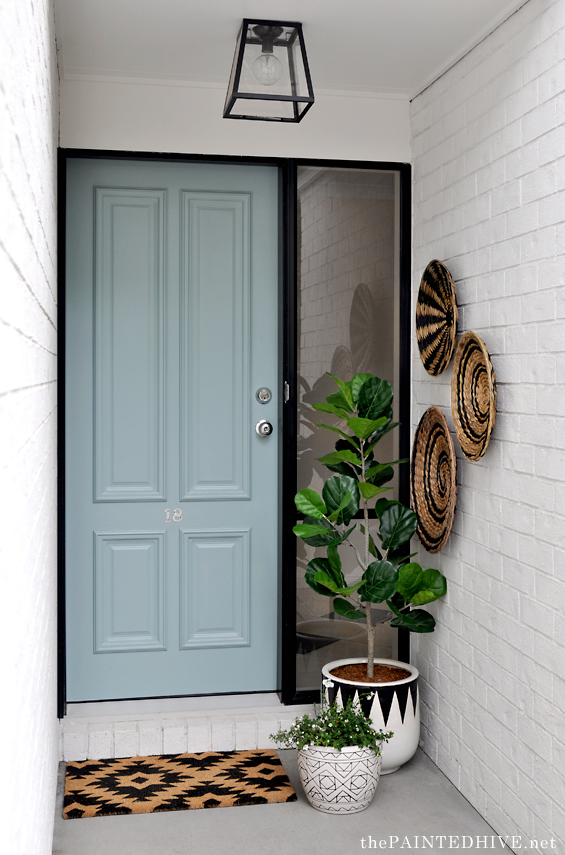 Find all of the previous flip house posts HERE.