As promised, I'm back to share all the details about the living-dining room makeover at my parent's house.
If you've been following along from the start, you'll know this was a DIY, budget-focused refresh so everything has been thrifted, up-cycled, bargain-hunted or hand-made!
I've included a complete source list at the end of this post though I also wanted to talk a bit about some of the projects and items I haven't yet mentioned in my previous posts.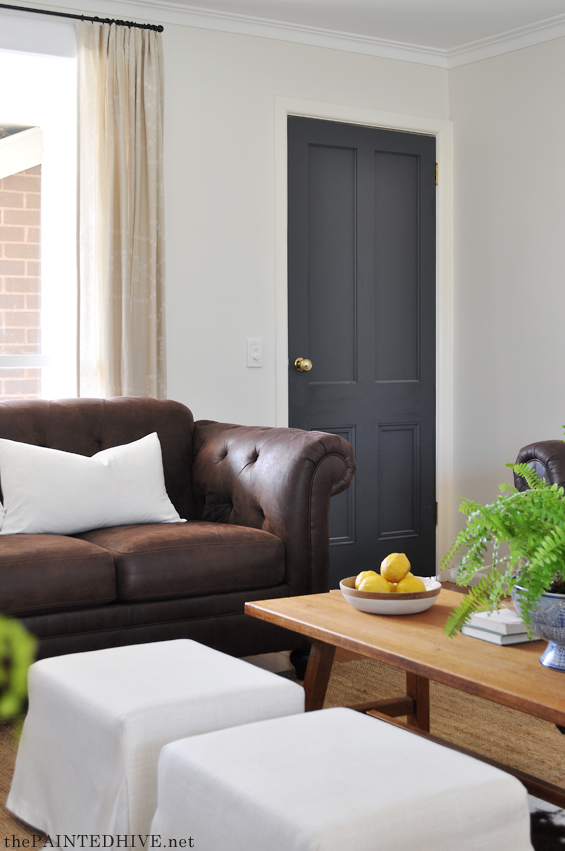 OTTOMANS 
We made these from scratch. Although there were two ottomans in the room previously (refer to the 'before' pics in my reveal post), they were a little pokey for the scale of the space and their frames had begun to sag.
Making these involved constructing a cuboid (rectangular cube) from plywood, attaching a foam pad to the top, covering the whole thing in wadding/batting, then sewing a pleated linen slipcover to fit. Obviously, if you're competent with power tools and a sewing machine, this is a relatively straight-forward project, however it might seem a little complex and daunting to those of you who aren't.
An easier alternative is to find some inexpensive little tables or storage cubes then upholster them using a staple gun – no building or sewing required!
I think each ottoman probably came in at around $30.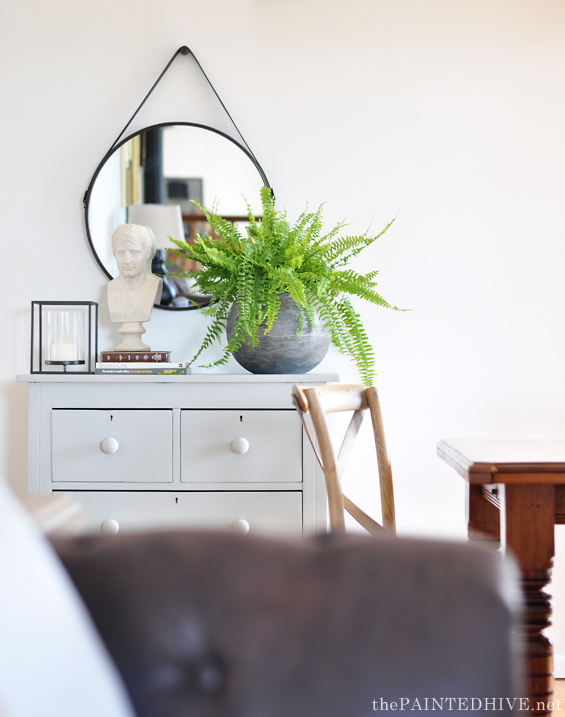 MIRROR 
I'm sure many of my fellow Aussie readers will recognise this $19 Kmart captain's mirror. Bargain!
We didn't have a stud in the wall where we needed to hang it so the wooden peg (which is actually the end of an old broom stick) is only there for cosmetic purposes. The weight of the mirror is really being taken by two screws under the rim.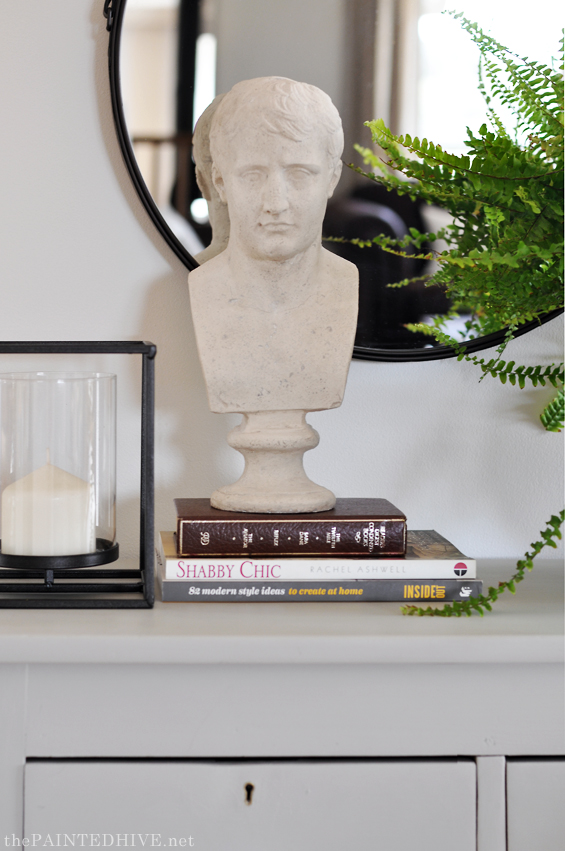 BUST 
I have wanted a bust for ages! Problem was…all the ones I came across were super expensive. I found this guy in the Emporium of Art eBay store for just $60. Unfortunately (or fortuitously for me?), there was a shipping mix-up so I eventually ended up with two – one for me and one for Mum!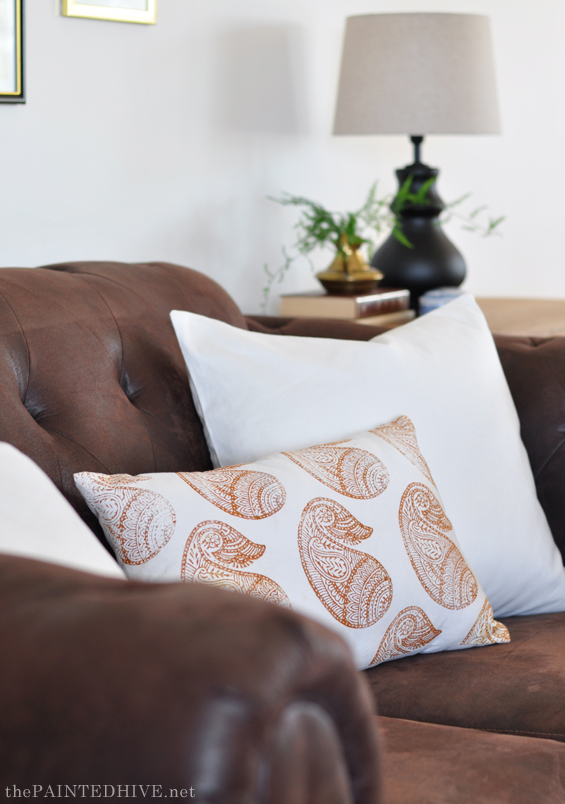 CUSHIONS 
I kept all of the throw pillows light in colour to help off-set the dark sofas.
The plain square covers are from H&M and Mum made the long lumbar one. All of the inserts are feather-filled and came from Ikea.
The block-printed cushions are hand-made. Although I didn't write a dedicated blog post about them, you can find my block-printing tutorial here.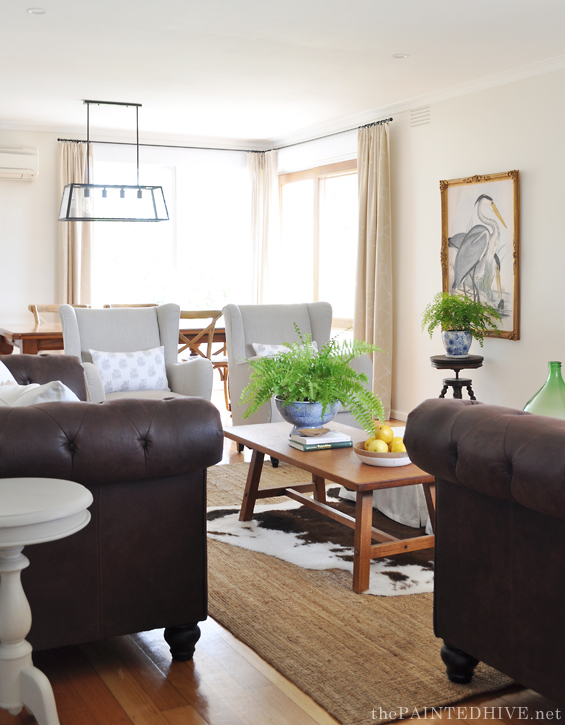 COWHIDE RUG
We already had this and adding it to the room was a last minute decision. It just provides an extra layer of interest, helps anchor the coffee table and ottomans, and references the brown from the sofas. It's a faux cowhide rug we got from Kmart for $49.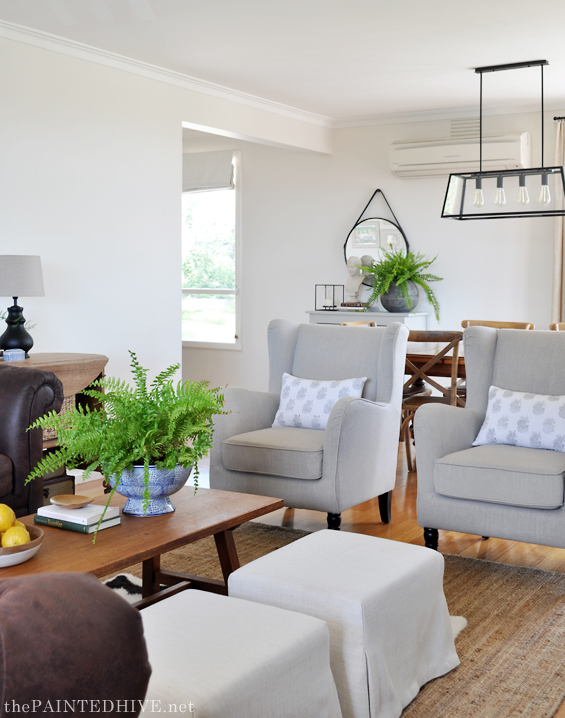 WALLS
Although the room was already painted in a neutral shade, it was a little dull and yellow. To freshen things up we painted all the walls Dulux 'Antique White USA'.

SOURCE & PRICE LIST
FURNITURE
Sofas | Already Owned | Furniture Trader
Armchairs | $185 each (discontinued) | Ned's
Coffee Table | $10 | eBay
Drop-Leaf Side Table | $50 | eBay
Piano Stool Plant Stand | $30 | eBay
Grey Side Table | Already Owned | Home Pine Furniture
Ottomans | $30 each | DIY
Canvas Trunk | $130 (discontinued) | Schots
Fireplace | $180 | Deals Direct
Dining Table | $80 | eBay
Dining Chairs | $75 each (on sale) | Early Settler
Grey Dresser | $80 | eBay
DECOR
Natural Rug | $150 | Ikea
Faux Cowhide Rug | $49 | Kmart
Pendant Light | $170 | eBay
Downlights | $45 each | Beacon Lighting
Curtains | $30 pair | Ikea
Block Printed Cushions | $10 each | DIY
Mudcloth Cushion | $12 | DIY
Square White Cushions | $8 | H&M
Long Lumbar Cushion | $12 | DIY
Green Demijohn | $60 | eBay
Heron Art | $45 | Thrifted & DIY
Botanical Gallery | $30 | Thrifted & DIY
Wooden Lemon Bowl | $15 | Early Settler
Large Blue & White Ceramic Bowl | $20 | Early Settler
Black Lamp | $10 | Thrifted
Cane Basket | $14 | Kmart
Canvas Cases | $80 set of two (discontinued) | Temple & Webster
Round Grey Pot | $10 | Kmart
Bust | $60 | Emporium of Art
Black Candle Holder | $5 | Kmart
Captain's Mirror | $19 | Kmart
Brass Lamp | Already Owned | Online Lighting

PROJECT GALLERY

For further info about the space, check out my previous posts or feel free to ask any questions.
Have a great week all.